Three days, 32 miles (well, 25 if you do it right), 5 towns, 3 hotels, and a whole lotta mountains. Also ups and downs. LOTS of ups and downs. THIS is hiking in Austria: The Arlberg Trail.
We completed the shiny new trail this September (it opened in 2022) and it. Was. Magical. We're talking wildlife, majestic landscapes as far as the eye can see, alpine lakes, mountain huts, colorful villages each night, and three days of non-stop, jaw-dropping, holy-cow-these-photos-are-gonna-be-unbelievable vistas.
We're talking a once-in-a-lifetime experience, here (for most people anyway…we'd totally go back and do it again). Think you're up for it? Here's everything you need to know about hiking in Austria on the Arlberg Trail, from the route, to mileage, to booking, to where to eat, and more.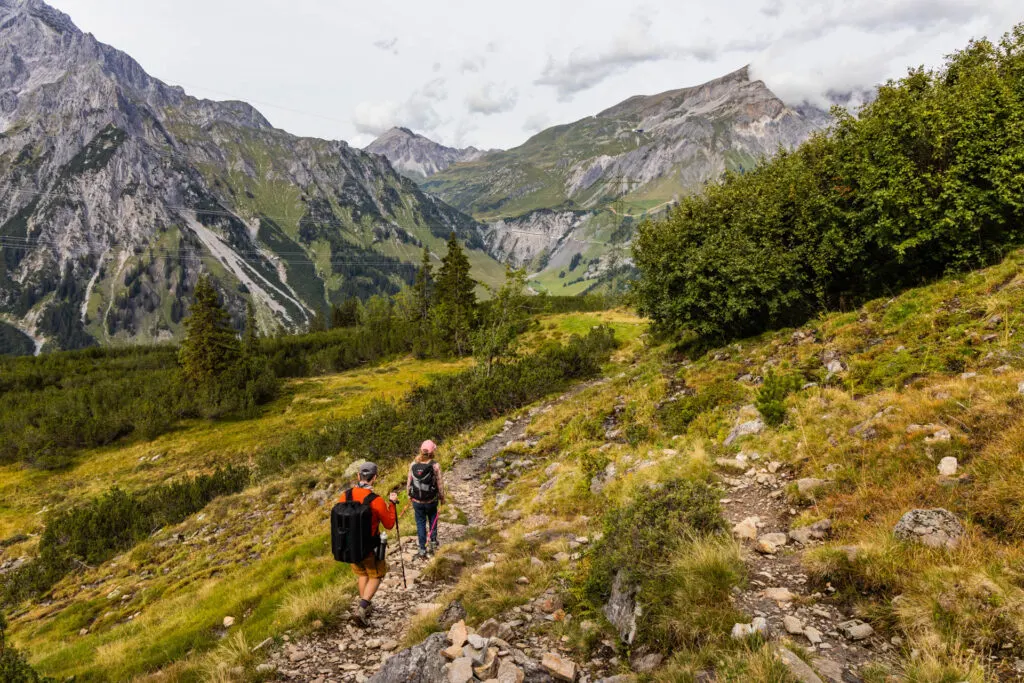 Arlberg Trail: The Route
The three-day, 25-32 mile Arlberg Trail hike goes in a big loop that could technically start and end in St. Anton, Lech, or Stuben, but St. Anton may be the preferred location. From there, you'll hike clockwise through much of the Arlberg region, including the states of Vorarlberg and Tyrol.
As for mileage, well, that varies and depends on several factors. Like whether you take the recommended lifts to get up and down a handful of steep and arduous sections or if they're closed on the day you pass by. 😅 That was the case with one lift (the Seekopfbahn) we had to bypass on day 2 of the hike because the lifts weren't running on Mondays. So a word to the wise: if you don't want necessarily long and painful climbs, plan your hike wisely.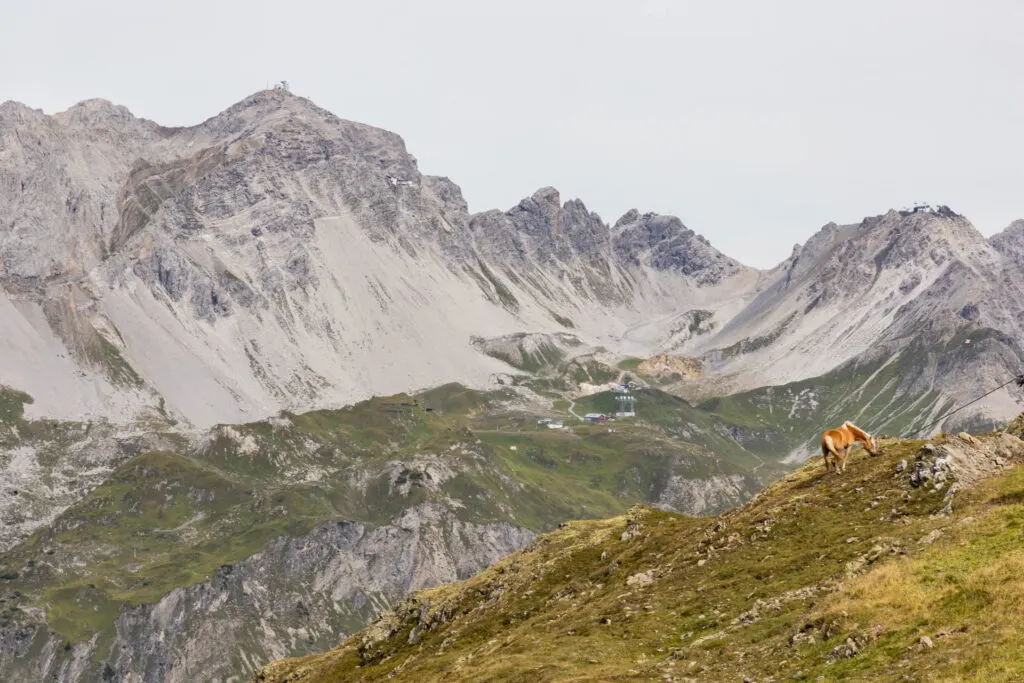 Likewise, the last lift down at some gondolas is as early as 4:00 or 4:30 and the first up is often around 8:30, so if you need to get back down to the valley or an early start in order to cover more ground, make sure you keep an eye on the time and schedules.
Which may be a difficulty on the last day from Lech to St. Anton: it's the longest day of the trek with plenty of ups and downs, even with the use of a lift up in the morning and lift back down to St. Anton, and you absolutely must make it in time for the latter or you're in for another 4 miles or so of brutal downhill to finish your hike.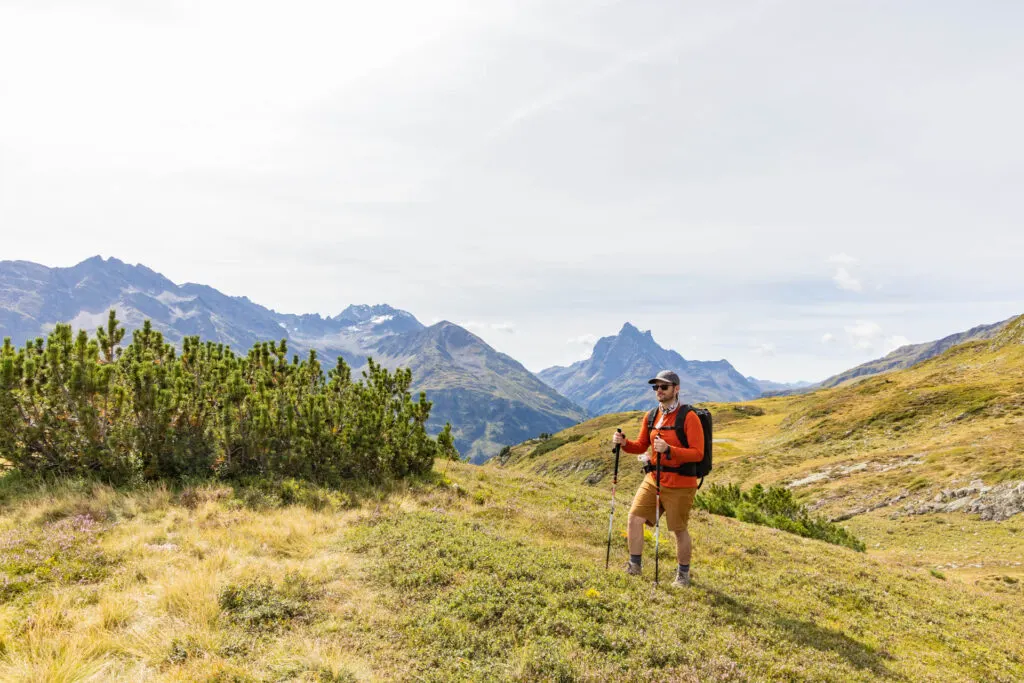 What to Pack when Hiking in Austria on the Arlberg Trail
Maybe the best part about hiking the Arlberg Trail: If you plan to stay in hotels along the way and book a whole trail package with ASI Reisen, the region's preferred organizer, you don't even have to carry all your camping gear and luggage (there's actually no wild camping allowed in the area anyway)! All you have to pack is snacks and water for the day (or a water filter and purifier bottle so you can refill in the many creeks and lakes along the route) and a few extra layers! The 10 essentials wouldn't hurt, of course. And youll obviously need a daypack to carry it all. I was a big fan of the Waymark Gear Co. Mile 28 (check out our review here).
ASI will take care of the rest and even transfer your luggage from hotel to hotel each night so it's waiting in your room when you arrive.
You can hike it without a guide and it's pretty well marked with signage and painted blazes most of the way, but we do recommend downloading offline GPS maps like from AllTrails so you never get turned around.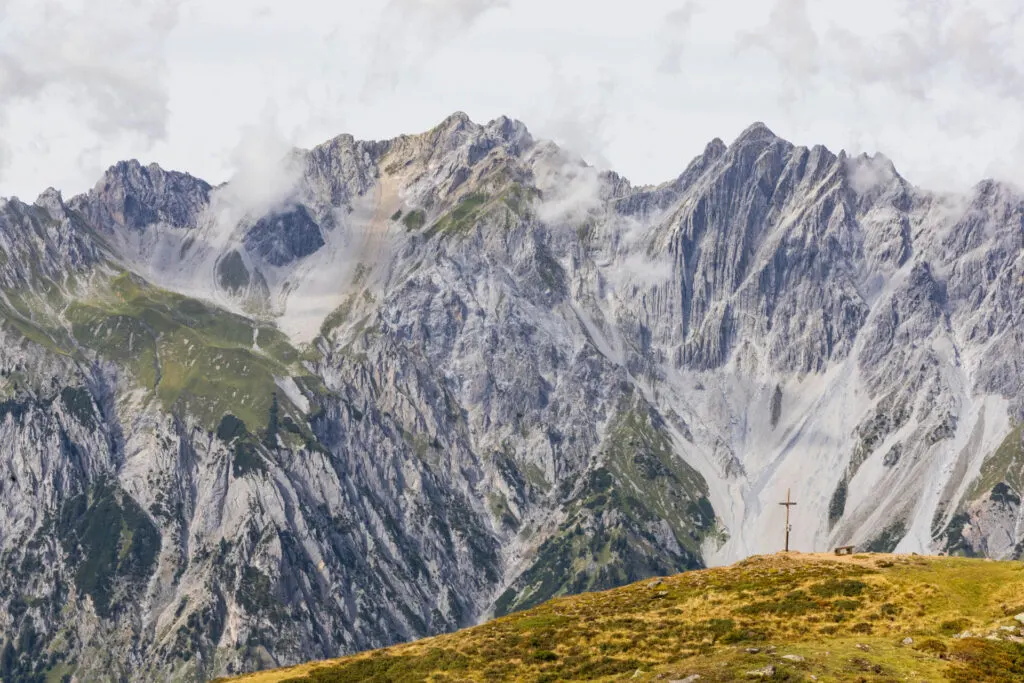 Day 1: St. Anton to Stuben (11.3 miles, 5.5 hours)
You'll start your first day of trekking in Austria day at the Galzibahn gondola in ST. Anton, which you won't want to skip unless you want to add nearly 3 miles and 750 feet of elevation to the start of your hike. You can, of course, but it's long and exhausting. Fortunately, once you're at the top, there's not a terrible amount of up and down to tackle on day 1 until you have to descend to Stuben at the end of the day.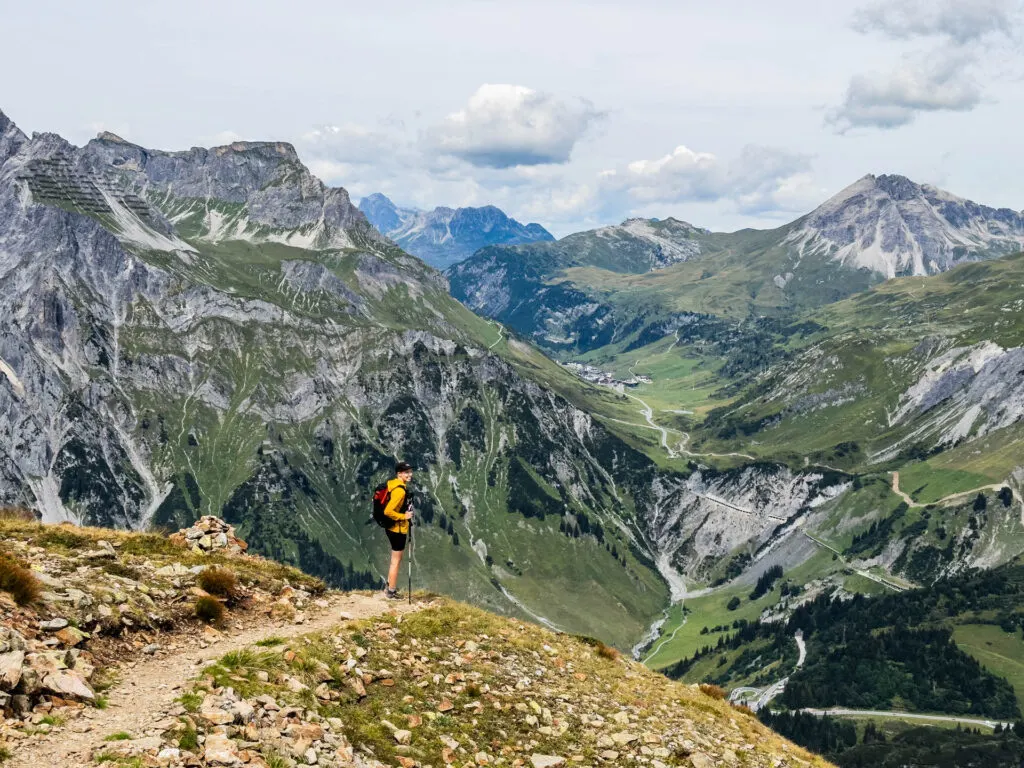 What you will get are insane views of the mountains, probably some marmot sightings, a delightful lunch at Kaltenberghütte (a mountain hut), alpine lakes (take a dip if you feel so inclined), and miles and miles of epic landscapes and exceedingly pleasant hiking.
At the end of the trail is a Kneipp Pool, designed to be a refreshing cold water walk to soothe your feet, and restful Stuben.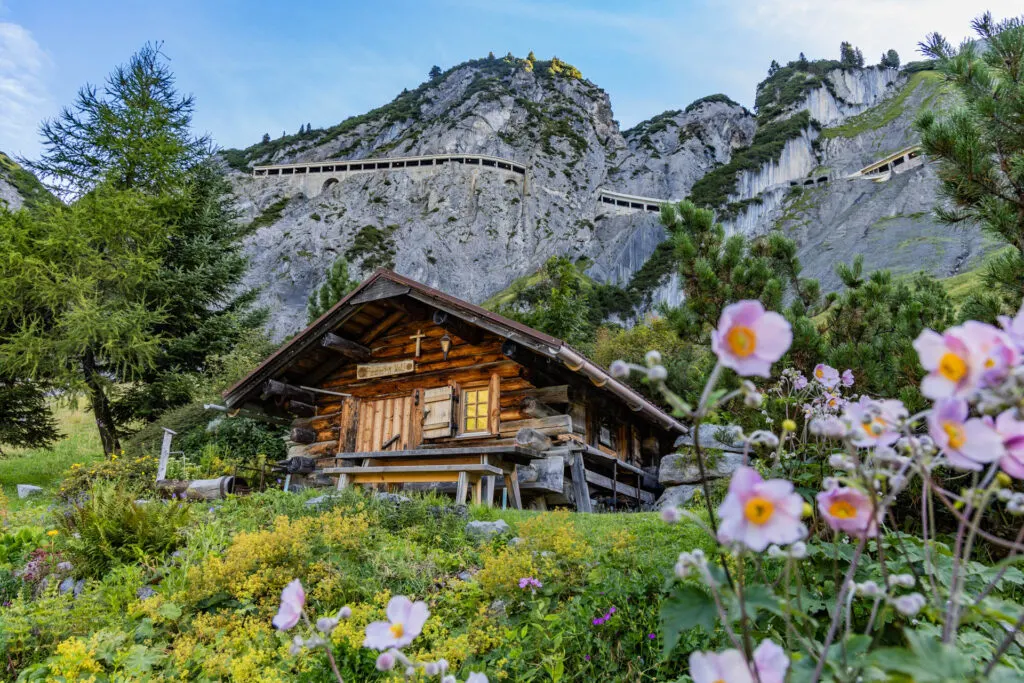 Day 2: Stuben to Lech (8.4 miles, 4.5 hours)
Day two isn't as long, but it starts uphill and stays uphill for a looooong time, so it's exhausting, especially if the lifts aren't operating the day you complete the section and you can't skip the 1.5 miles or so between Zürs and Seekopf. With the lift, the route for the day is about 7 miles, without it, it's 8.4.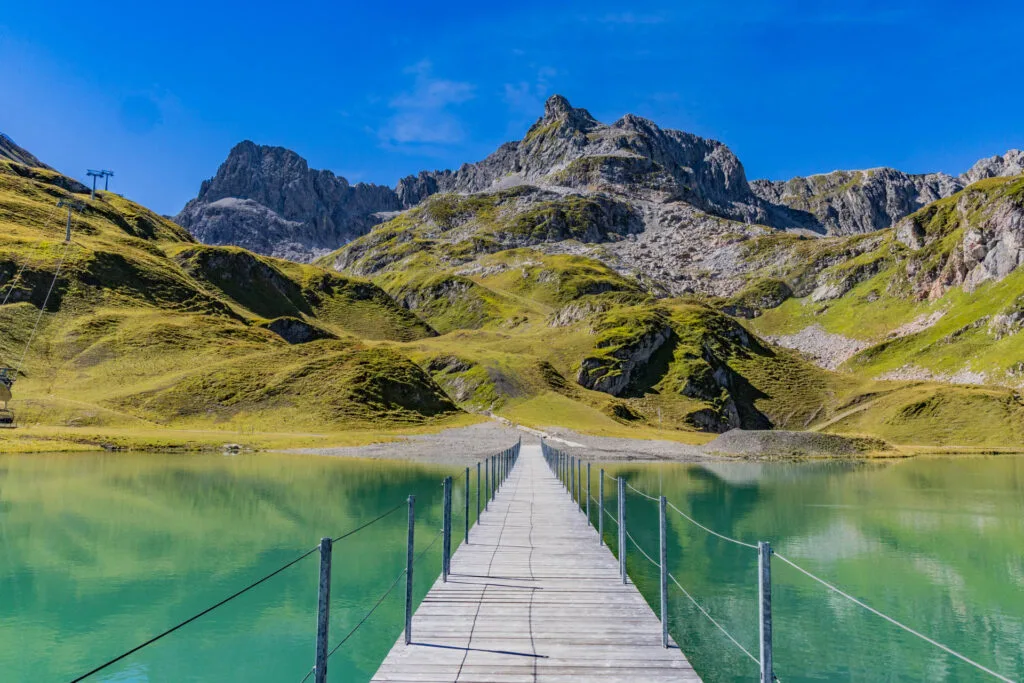 On the upside, there's a delightful lake (Zürser See) in between uphill slogs that is the absolute perfect place to pause, rest, have a snack, and take a dip.
The views aren't quite as mesmerizing as on day one, but there's still plenty to dazzle the senses, and if you're moving at a good pace, you'll reach Lech in plenty of time for a hearty late-afternoon snack, a wander, and a re-stock on protein bars.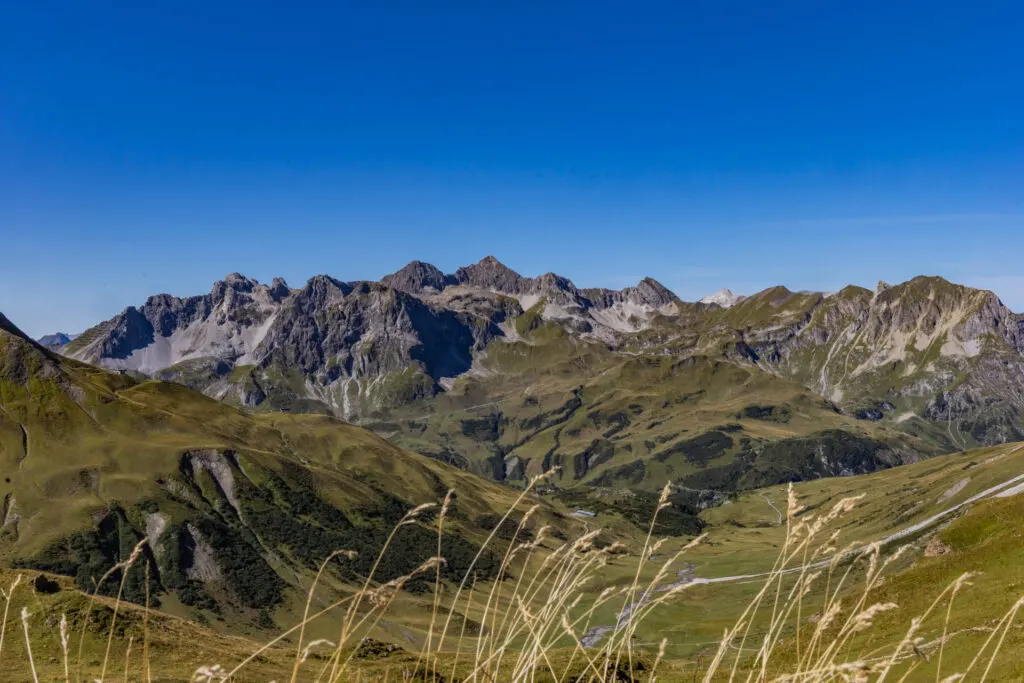 Day 3: Lech to St. Anton (10 miles)
If you plan to complete the entire length of the hike today, ideally, you'll catch the first lift up the mountain at 8:00 am (be there early so you don't miss it). There are some up and downhill challenges, but nothing compared to the first days. There is, however, a section on the last half of the route you should traverse at your own risk. I didn't get to complete the last half because our guide refused to take us, citing safety concerns with ropes bolted into walls. I'm still kicking myself for not doing it anyway, but there you have it.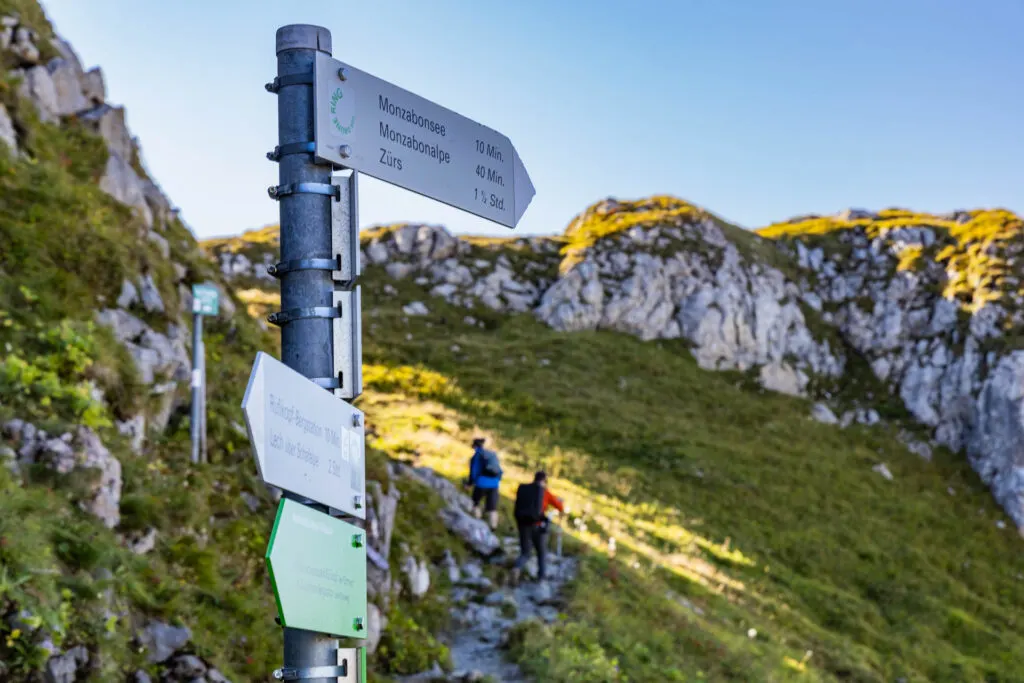 Timing can also be an issue as you do need to arrive at the Vallugabahn gondola on top of Mt. Valluga by 4:15 to take the last lift down or your hike just got a lot longer (about 4 miles) and more brutal on your knees as it's allllll downhill (about 1,200 feet).
But along the way are epic photo ops, some ibex if you're lucky, beautiful scenery, and the Sttutgarter hütte, which is a great place to stop for a snack and a beverage. That's about where we took a side trail back out to Zürs and took a cab back to St. Anton.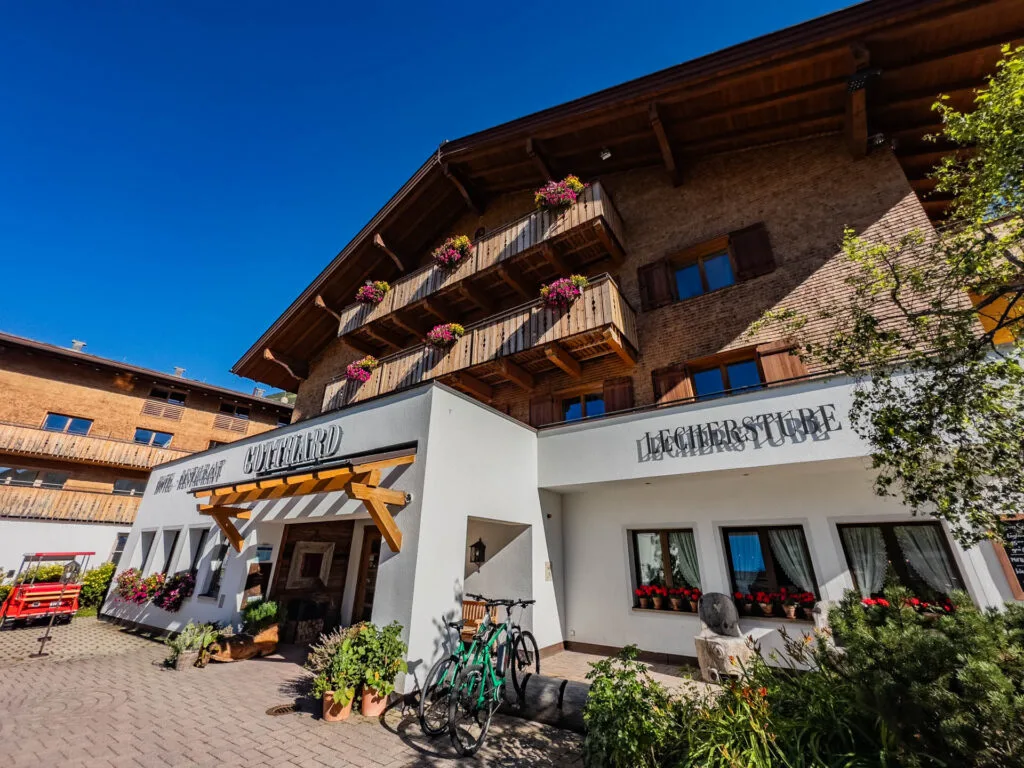 Where to Sleep
There are two options when it comes to crashing at the end of a long day of hiking in Austria on the Arlberg Trail: head into town each night–all of which are located directly on the routes–and book a comfortable room, enjoy a few minutes in a sauna, indulge in a tasty dinner, shower, and sleep in a comfy bed.
The alternative is to stay in mountain huts, which are peppered along the route. Think of these like a hostel at higher altitude: simple rooms with multiple beds where you may or may not be sharing the space with other trekkers. You can book these rooms in advance, which is advisable, because while they're not allowed to turn anyone away, if you haven't reserved a bed, you might be sleeping on the floor next to the kitchen.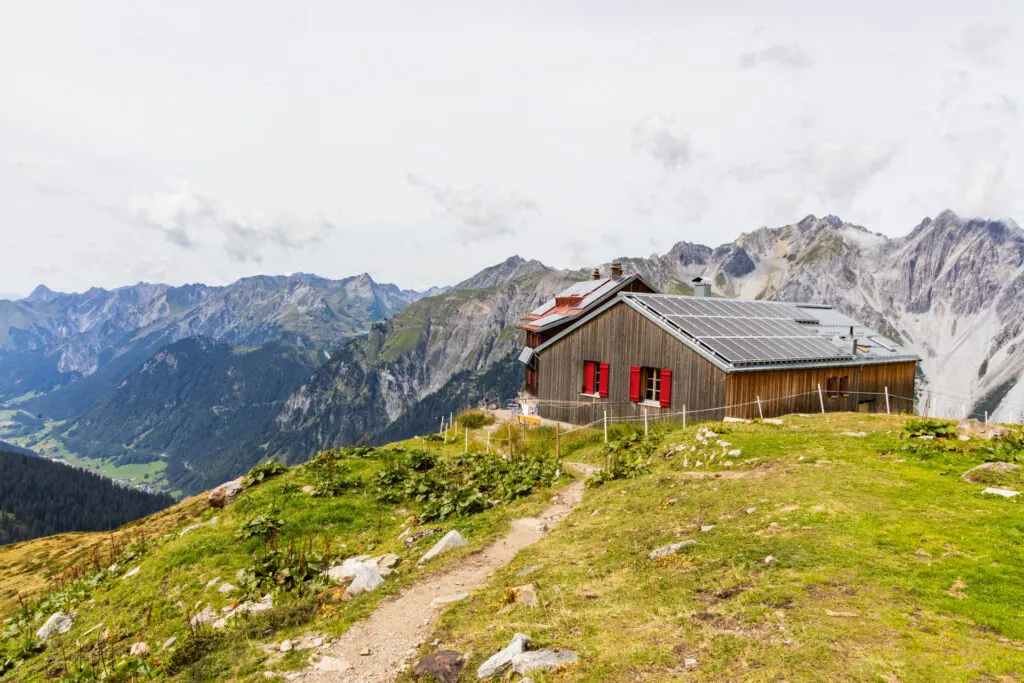 These huts also have bathrooms, showers, and often small kitchens where you can order a meal or a drink and sit out on the patio to enjoy the views.
While I would have loved to spend my night sin a mountain hut, we kicked it in style in town each night. In St. Anton we stayed at the new and very modern Ullr hotel before our hike and the comfortable and sunny Die Arlbergerin afterward. In sleepier Stuben, we crashed at Das Johann. And in Lech, we spent the night at the well-appointed The Gotthard. I can recommend each wholeheartedly.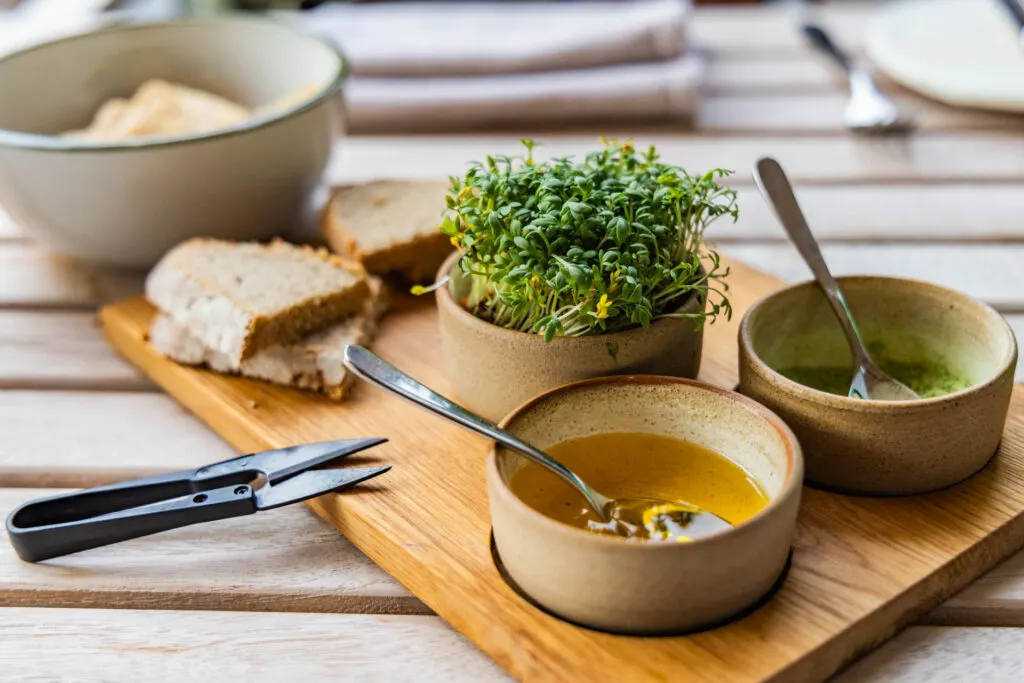 Where to Eat
As mentioned above, You can indulge in a nice dinner in any of the towns you pass through. We dined at the Ski Museum restaurant in St. Anton, Fuxbau in Stuben, and the hotel restaurant at The Gotthard in Lech. All had at least a couple of vegan options and libations.
Of course, there are plenty of restaurants in each town, as well as grocery stores if you'd prefer something quick, cheap, and easy. Just know that microwaves in hotel rooms doesn't seem to be a thing in Austria, so don't opt for a frozen burrito.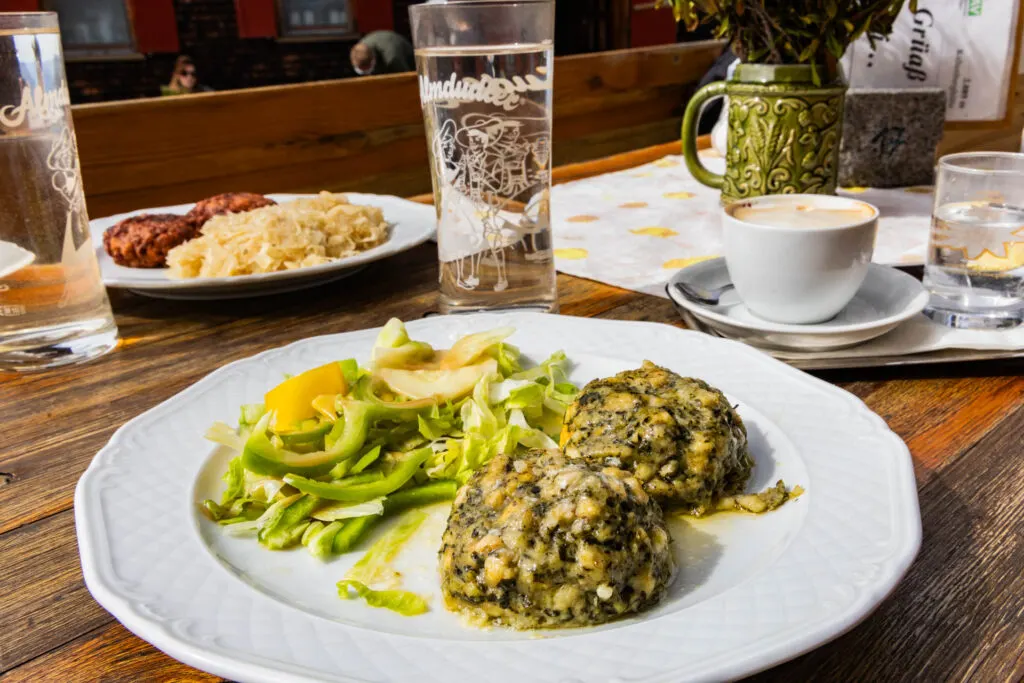 You can also dine at the mountain huts whether or not you're staying the night. We had lunch at Kaltenberghütte on the first day and refreshments at Sttutgarter Hütte on the last. If you have dietary restrictions like we do, don't count on getting a full meal, but we did actually have a very filling lunch of vegan dumplings at Kaltenberghütte and sides like sauerkraut and fries were often an option. Just be smart and make sure you're traveling with enough food to sustain yourself, just in case.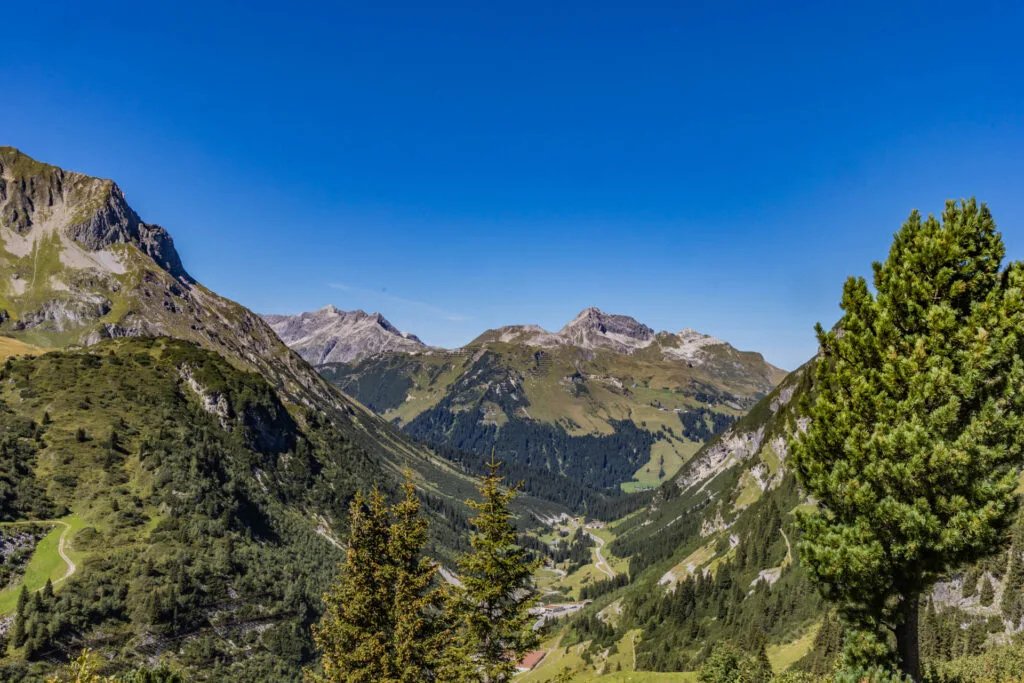 How to Book
You can do all the booking and organizing on your own if you really want to, or use a travel agent, but it's a heckuva lot easier if you organize it all through ASI Reisen. That allows you to pay once for everything and let ASI Reisen handle the bookings and details, from your lodging to trail info to your luggage transport.
All that's left for you to do is purchase an Arlberg Trail lift ticket, which will give you access to the lifts and gondolas for four days, which is €65 per adult and can be purchased at ticket offices at the Galzig, Rüfikopf and Seekopf lifts.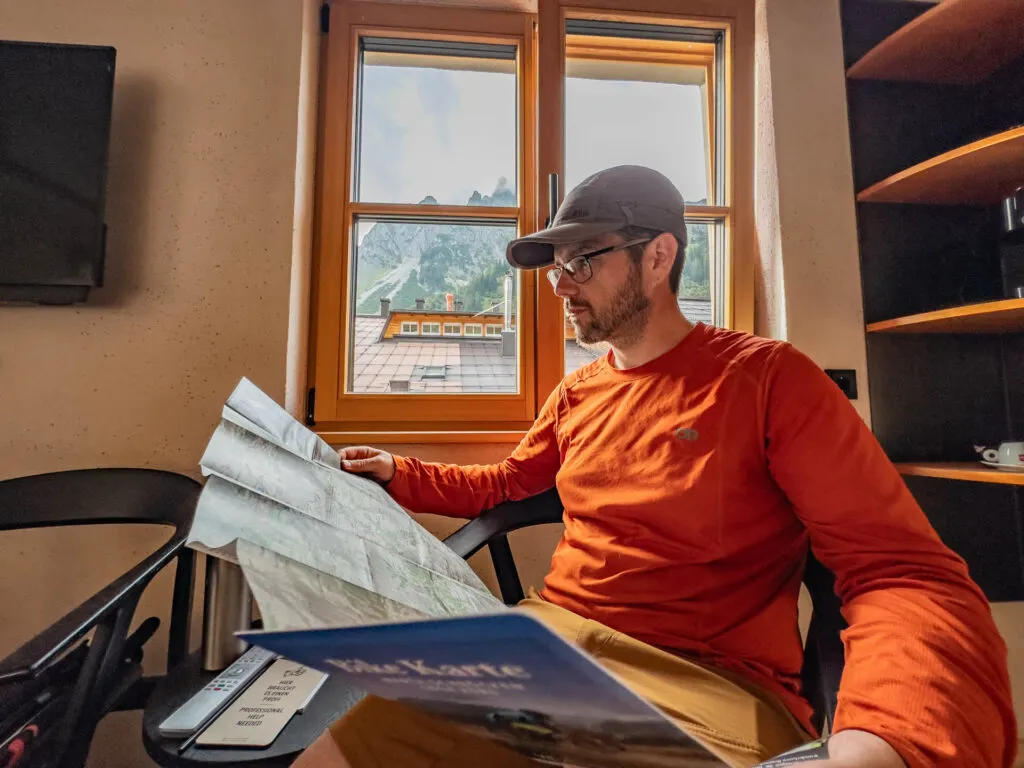 As for the booking packages. there's a standard package and a Comfort Plus option, which differ a bit in price and feature different hotels–3 and 4 star for the standard, 4 and 4+ for the Comfort Plus–but are otherwise the same and include three breakfasts at your hotel, lodging for four nights, and your luggage transfer so your bags will be at your hotel when you arrive in the afternoon. They are priced around €595 per person for the standard package based on double occupancy (€695 if you're hiking solo) and €685 (double) and €795 (single) for the Comfort Plus option.
As for hotels, we stayed in two hotels from the Comfort Plus package and one from the standard booking option–and we were not disappointed in any of them.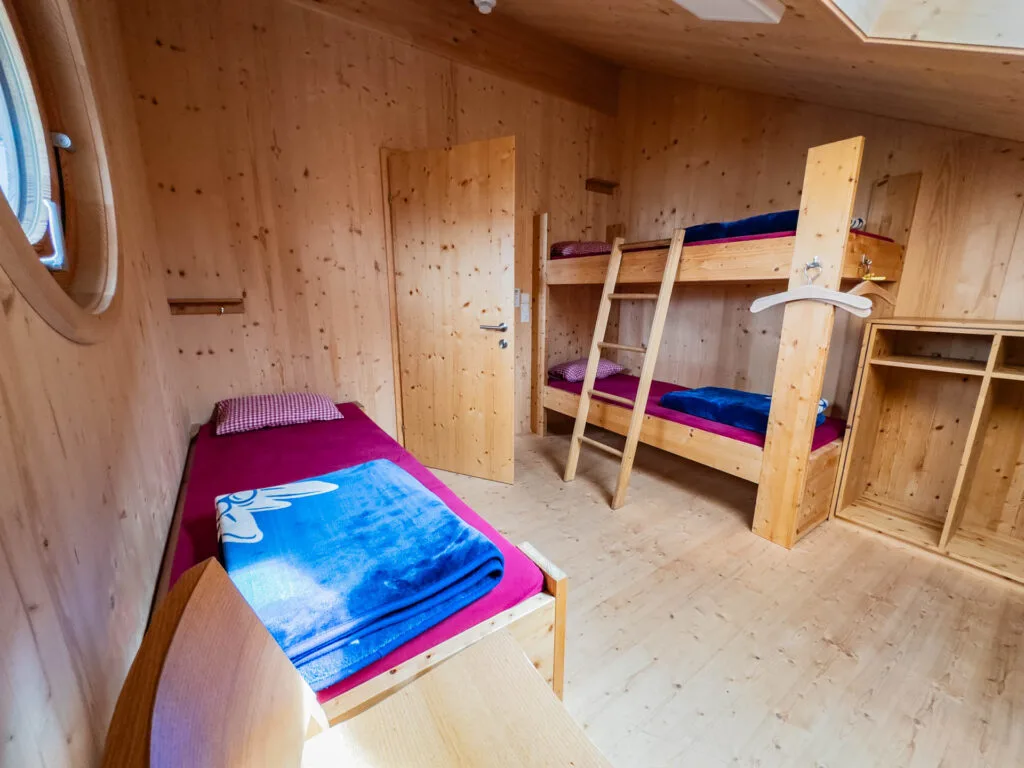 As mentioned, you can also opt to backpack the whole trail and stay in mountain huts along the way instead of hotels. In case that's more your style or if you're on a tighter budget.
Gear We Loved
Naturally, we tested plenty of gear on this trail. Here's what we're glad we brought along.
Jack Wolfskin Pre-Light Alpha Jackets: A near-perfect ultralight layer for moving fast and keeping the wind out. Strategically-placed insulation was super breathable, the jacket shed light precip and layered perfectly over other insulating layers and acted as a great windbreaker on its own. It was comfy even when working up a sweat.
TSL Carbon Connect 5 Trekking Poles: Ultralight and ultracompact FTW! These poles fit in our carry-on luggage, stashed easily in backpack side pockets, and were comfy to use. Plus, I love the multi-point boots that go over the metal tips: they eliminate clicking noises and stick to rocky surfaced better than more traditional smooth-bottom caps.
Vivobarefoot Magna Lite SG: My new fave barefoot hiking and backpacking boots (see our full review here). They're super light, ultra flexible, have aggressive tread, are supremely packable, and so dang comfortable.
Waymark Gear Co. Mile 28: We've tested this pack before, but frankly, international adventure trips may be what it's made for. It held plenty for day hikes in the mountains, packs flat if it needs to go in luggage, is ultralight but still comfortable, and those big side pockets are too easy to slide bottles in and out of.
Houdini Pace Flow Houdi: If there's a better midlayer for hiking in the mountains in summer, we haven't found it. We tested it while backpacking in Grand Teton this summer and loved it, and no surprise, the ultimate combination of warmth and breathability excelled while hiking in Austria. Win.
Outdoor Research Echo Shirts: We both wore our favorite sun shirts every day of this hike. I won't say the "anti-odor" tech performed perfectly, but when tech shirts are this lightweight and breathable while still protecting your skin from UV, I have no complaints.
Hiking in Austria on the Arlberg Trail: Bottom Line
Is it an investment? Yes? Is it worth it? Absolutely. Is it one of the best hikes in Austria? Maybe. The Arlberg Trail is officially in my top 5 multi-day hikes of all time. Ready to start planning? Find more info about the trail here, peruse maps here, and book with ASI Reisen here.
Have more questions about hiking the Arlberg Trail? Ask away! Then get out there and wander on!
Alisha is a freelance writer and photographer based in Austin, TX. She loves her tiny house, vegan food and experiencing the community of travel in far away places. She's also pretty sure she's addicted to coffee. alishamcdarris.com