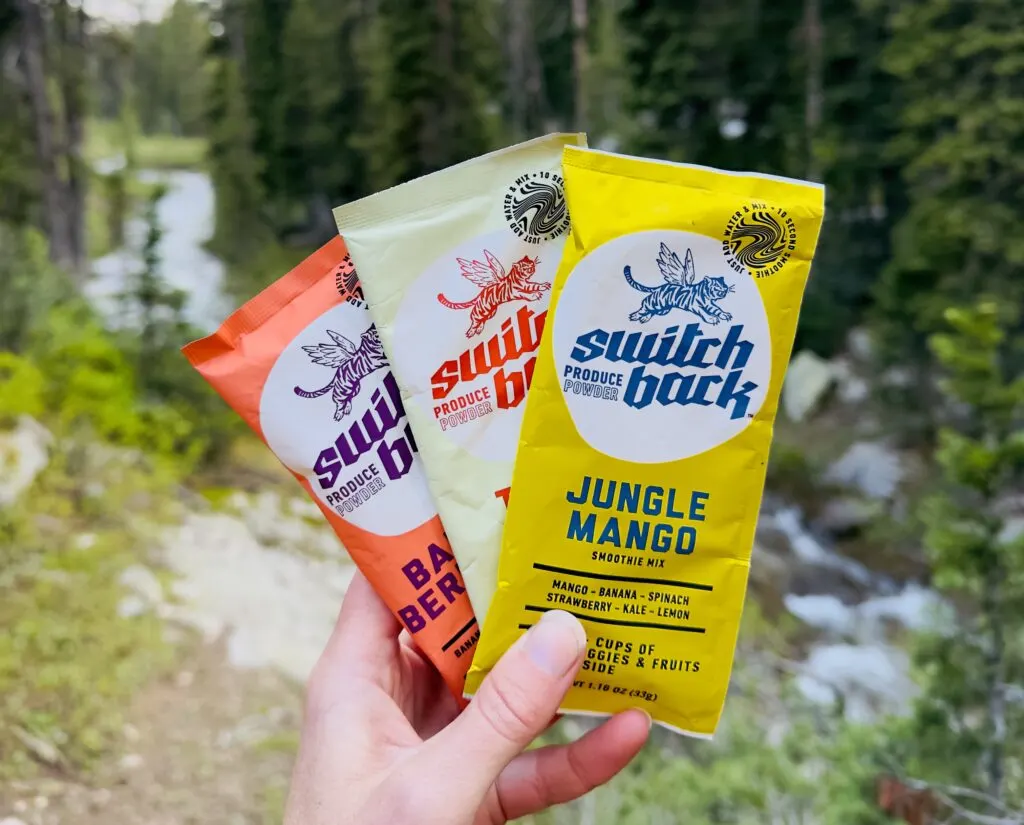 We. Love. Snacks. True story. If I could just snack all day long every single day I would be a happy camper. Fortunately, when we're hiking and backpacking, we can snack practically all the time. And we do. Because your body needs more consistent fuel when you're working hard. Our general rule of thumb on a hard, long hike: consume about 100 calories every hour or two. Fortunately, that's easy to do when we're fully stocked with our favorite hiking snacks. But if you're in a snacking rut and tired of the same ol' trail mix (we feel you), reach for one of these vegan, Terradrift-approved snacks for hiking and backpacking instead!
---
Best Hiking Snacks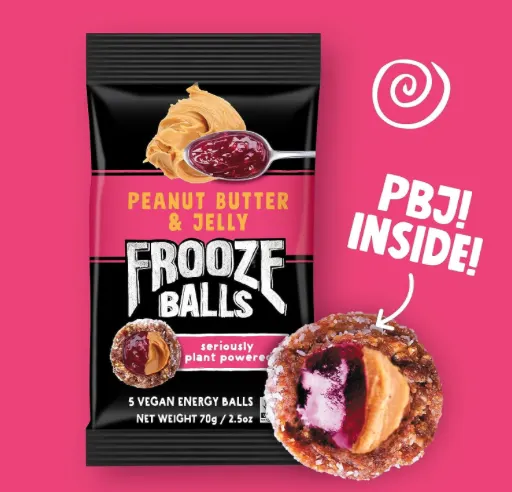 Frooze Balls
Generally, we like to make our energy balls at home. It's less wasteful, we can control what goes into them, and they just taste good (don't believe us? Check our our fave recipes in our downloadable cookbook). But whipping up a batch isn't always an option. When it isn't, FroozeBalls, date balls filled with jam, nut butter, and other goodness, are a new favorite substitute. They come in flavors like peanut butter and jelly, chocolate hazelnut, and caramel, and are all vegan, plus have a good amount of protein and one pack is likely to last me a few hours as I tend to pop one or two balls at a time to maintain a steady supply of energy. Order Frooze Balls here.
---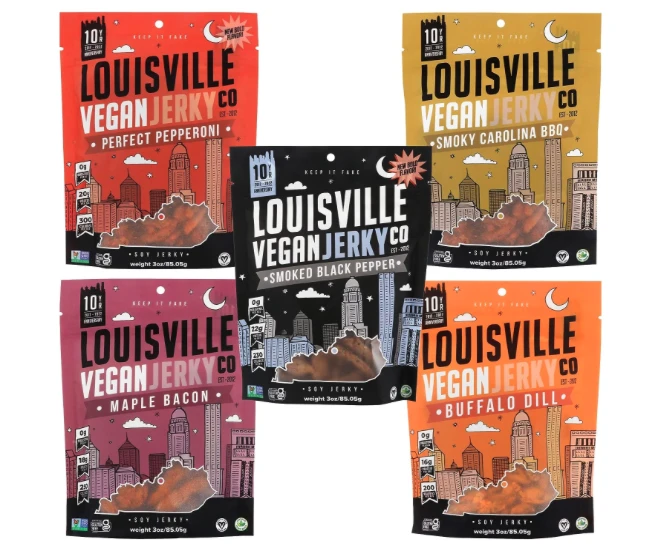 Vegan Jerky
Jerky is a trail staple. And just because you don't eat meat (or maybe you'd like to reduce your meat consumption, on-trail or off), doesn't mean you need to give up a chewy, salty, savory, protein-rich snack like jerky. There are plenty of vegan varieties out there. Primal Vegan Jerky is one of our favorites, but doesn't tend to be popular with newbies to vegan jerky. Beyond Meat makes a jerky that has a similar texture and toughness to beef jerky and Louisville Vegan Jerky is a softer chewing hit with just about everyone. Try a couple and see what you like best.
---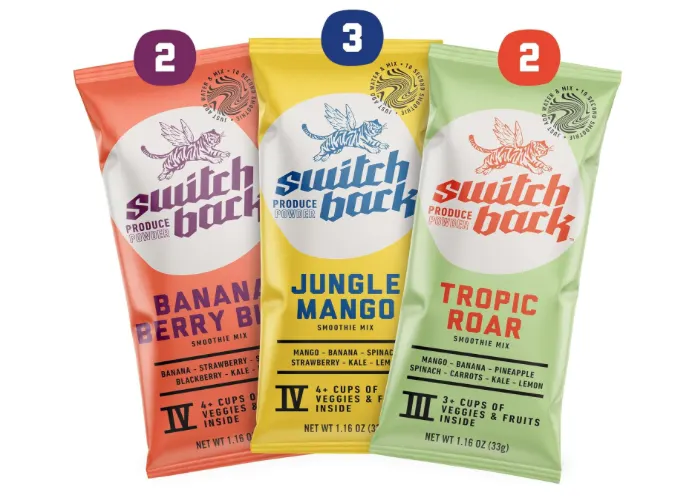 Switchback Smoothie Mix
Smoothies are not typically a thing that you get to enjoy on the trail. Maybe at a Jamba Juice after you return to the trailhead and drive home, but who's carrying a blender on the trail? Not us. So imagine our surprise and delight when we discovered Switchback Smoothies, perhaps our new fave afternoon trail treat or before bedtime backpacking snack. These powdered mixes are made with real actual fruits and vegetables and offer a flavorful, nutritious, and delicious snack. And yes, they totally thicken up and drink just like a smoothie. All you have to do is add water and shake! Brilliant! We want a packet for every day we're on the trail for every backpacking trip here on out. Order some here.
---
Flavored Nuts
Nuts, too, (and trail mix) are born for the trail. Fiber, protein, salt, carbs, they've got it all. But we learned about ourselves that when we're hiking, we don't tend to reach for traditional trail mix over other snacks. What we DO reach for is a bag or can of flavored Blue Diamond almonds. Many varieties are vegan (check the ingredients to make sure they don't contain milk powder), and our go-to's tend to be the spicy varieties like Smokehouse. They're crunchy, flavorful, and provide much-needed electrolytes via salt. They're nuts we actually want to eat!
---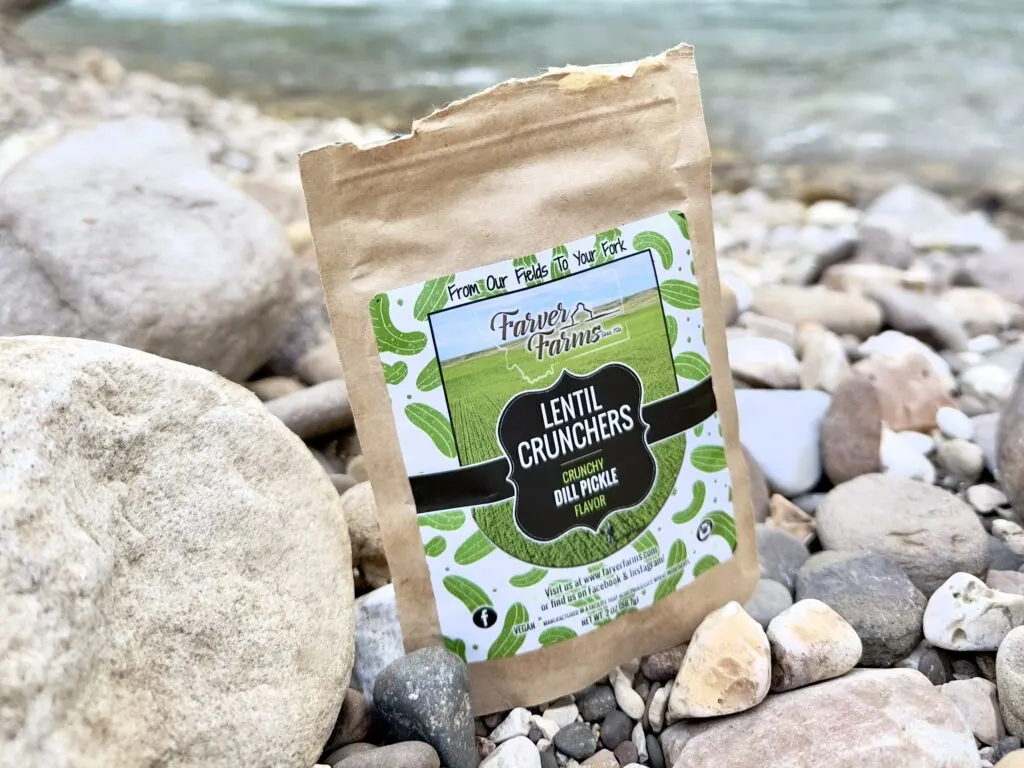 Farver Farms Dill Lentil Crunchers
We didn't know that anything that wasn't an actual dill pickle could taste so much like a dill pickle until we tried our first heavenly handful of these crunchy roasted lentils. But oh boy, were we pleased. We're not sure how Farver Farms, a small, Montana-based company, does it, but these things are as addictive a trail snack as we've ever sampled. They're crunchy, full of fiber, perfectly salty, and did we mention they taste exactly like dill pickles?! Magic. We recommend buying bulk bags as shipping is expensive and dishing handfuls into smaller bags for your hike. Shop here.
---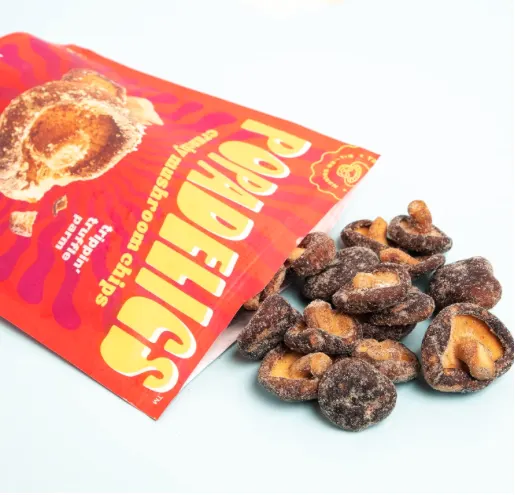 Popadelics
We love mushrooms here at Terradrift, but dried snacking varieties can be hit or miss. Not these. They come in several flavors, all of which are stellar, and are the perfect combo of crunchy and salty. Seriously, we emptied a bag in record time. They have tons of fiber, a bit of fat, are surprisingly robust in the calorie department (yay!) and are just exploding with flavor. Honestly, I want these for snacking all the time, not just when hiking! Find all the flavors here.
---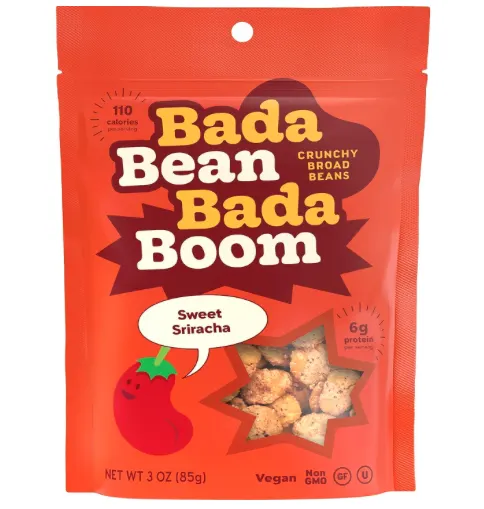 Bada Bean Bada Boom
We bought a few snack packets of these dried fava beans on a whim a while back because they looked interesting, had lots of protein and fiber, and were available in flavors like vegan ranch and sriracha (yum). Needless to say, we were blown away by the texture and flavor and bought ourselves a whole dang bulk box because they instantly became one of our favorite backpacking snacks. #NoRegrets. They have more substance than dried edamame, a more toothsome crunch, and really pack some serious flavor into each little bean. These might be our new-go-to hiking snack because they're the perfect balance of flavor, nutrition, and belly-filling fuel. Snag a bag here.
---
The Only Bean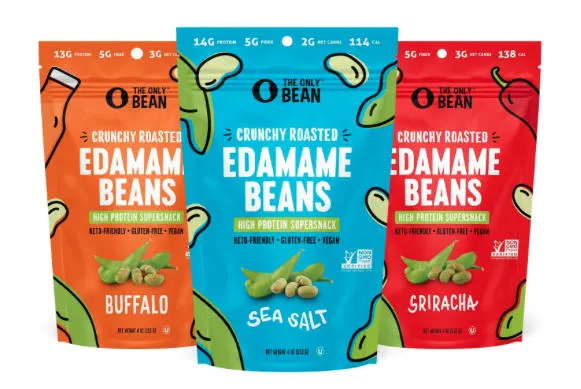 If it's crunch you want, these crunchy dried edamame snacks have it in spades. These bad boys may not feel like they offer a lot of substance–just crunchy, salted air–but they have loads of protein and fiber. Plus, they come in more flavors than plain salted. Buffalo is our personal favorite. So if you like some crunch and could use an easy boost of protein and fiber (who doesn't when backpacking?), put The Only Bean on your shopping list. (Oh, and for pretein-packed trail dinner, The Only Bean makes baller noodles with a soft, chewy texture we can't get enough of.)
---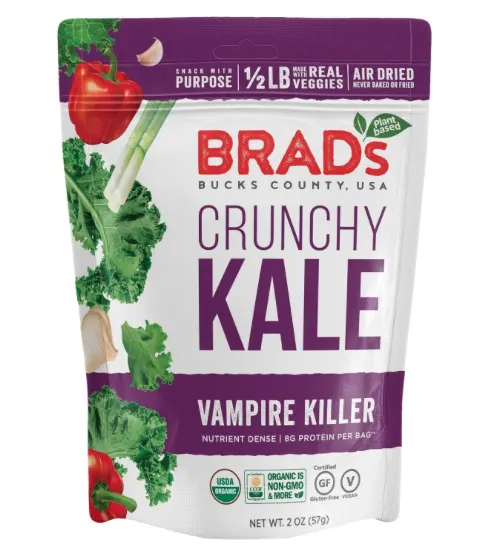 Brad's Crunchy Kale Chips
On long hikes, especially multi-day hikes (aka backpacking), vegetables can be hard to come by. And hiking snacks aren't always super nutritious. So we love to pack kale chips, which weigh practically nothing, offer a satisfying crunch, and have plenty of vitamins and other good stuff. If we aren't making out own, Brad's Crunchy Kale Chips offers some stellar flavors we can definitely get behind. Get your veggies here.
---
Protein Bars
We taste-tested a bunch of vegan protein bars a while back, but we have always had our favorites. Josh is a die-hard Clif Bar fan (and, by extension, Builder Bars and Nut Butter bars). I like them too, but because of the high sugar content, I tend to reserve them for backpacking. I tend to lean instead toward either Luna Bars or NuGo bars, which have less sugar than Clif, but still somehow taste more like a candy bar. Try 'em out and find your fave.
---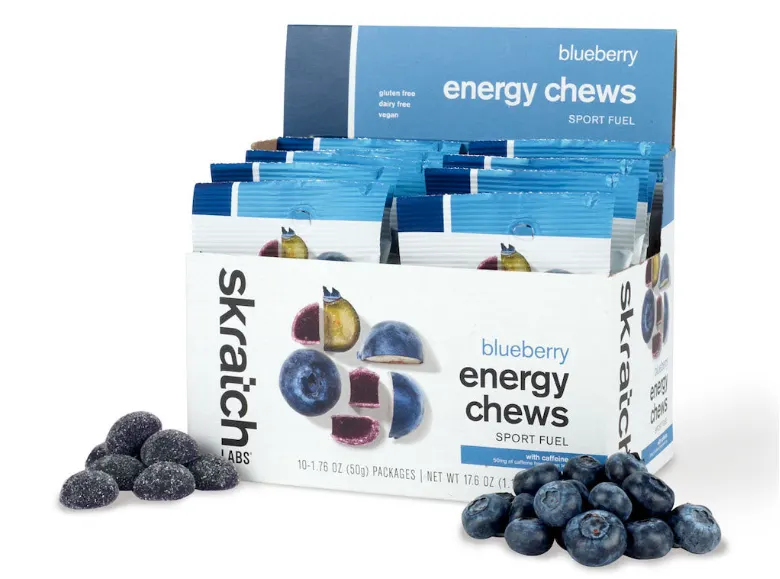 Skratch Labs Energy Chews
You may have seen our roundup of vegan energy chews from a few weeks ago. If you didn't, spoilers: these are our favorite. The caffeinated ones especially offer a good boost when you're starting to feel sluggish mid-day on a long excursion, taste freakin' great, and are easy on the stomach. They're especially handy to keep in your pack if your plan is to move fast and you don't want to take time to stop every hour or so to sit down, eat, and digest a heavier snack. Find your favorite flavor here.
---
Bottom Line
These are all good hiking snacks that are vegan, often gluten-free, and will keep you fueled and focused on the trail wherever you roam. So stock up and wander on, friends.
•
This post contains affiliate links, which means when you clicky-click and make a purchase, we may receive some compensation. Don't worry, it won't cost you any extra, but you will be supporting Terradrift! That's what we call a win-win!
Alisha is a freelance writer and photographer based in Austin, TX. She loves her tiny house, vegan food and experiencing the community of travel in far away places. She's also pretty sure she's addicted to coffee. alishamcdarris.com