They're hiking shorts! You can pee in! Yup! If you were stunned and amazed and oh so impressed with our Gnara Go There Pant review, then you're in for a treat, because this summer, the brand launched our new fave pair of hiking shorts, the Gnara Go There Short: shorts you don't have to remove in order to pee outside, even if your anatomy dictates that you have to squat to pee.
So if the idea of shorts intrigue and delight you, read or watch, fellow sit-to-pee-er. You're gonna dig these.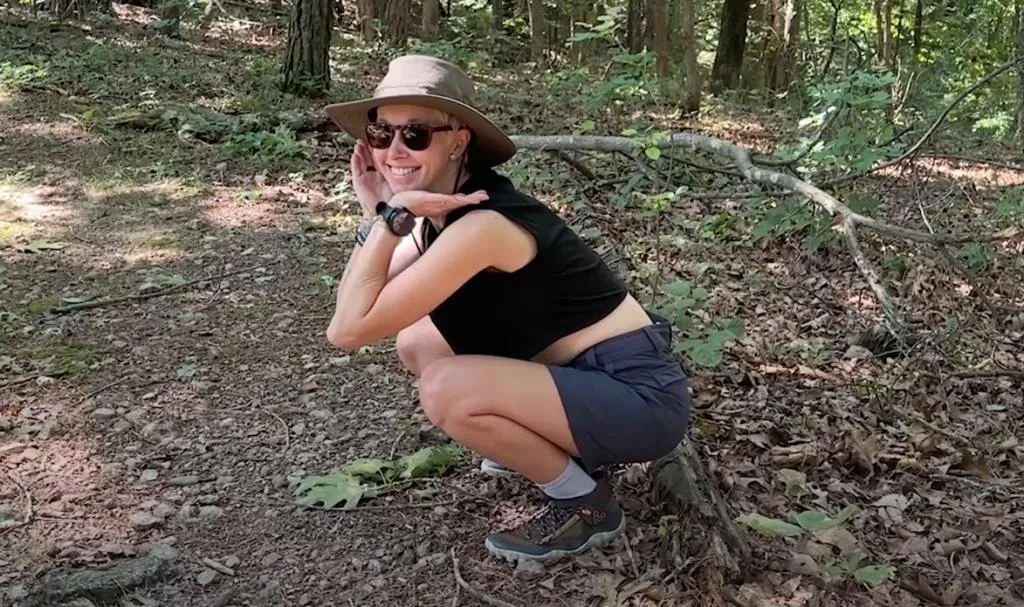 Gnara Go There Shorts: The Technology
If you've seen our Gnara Go There Pant review, you already know I'm a big fan of the brand's patented zipper technology. I mean, a discreet zipper that lets anyone and everyone pee discreetly and easily? Uh, yes please.
It's patented and called GoFly Technology and it's basically a hidden second zipper (the main zipper being the fly) that begins below the normal zipper fly and extends between your legs all the way to the back waistband. Its function? To let anyone and everyone who squats to pee go to the bathroom outdoors–or wherever–without having to yank your shorts down to your ankles and risk exposing yourself to innocent passersby.
It's brilliant. And no fumbling with damp, sweaty clothes, which let's be honest, is a struggle when you're trying to return layers to their proper place after a quick pit stop before a group of Boy Scouts wanders past. (Want more tips and tools for peeing outdoors? Check out this post!)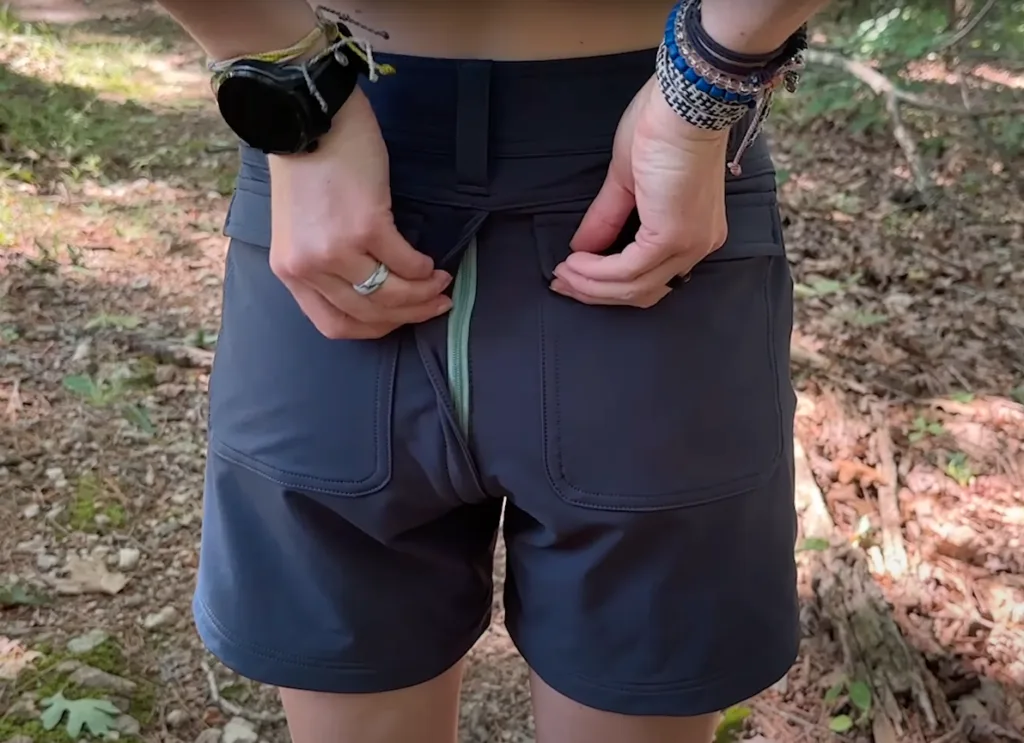 And yes, it really is hidden. And no, strangers won't be able to tell that it's there: it's covered by a fabric flap. And on the inside, your delicate areas won't notice it's there, either because there's a soft fabric flap that separates your bits and pieces from the zipper so you stay safe from zipper teeth whether or not you're going commando.
And yes, you can go commando. Or wear underwear. Totally up to you.
However you choose to gird your loins (or not), the shorts are super easy to use: just unzip as far as you need to, pull your undies to the side one-piece swimsuit style if you're wearing them, assume your preferred position, and go. Then just zip back up and you're on your way.
You don't even have to remove your climbing harness or backpack. You've never peed so fast on the trail, lemme tell you. But the shorts aren't all about the zipper. They're made of a really nice, durable, high-quality nylon with four-way stretch. I mean, these are seriously heavy duty and feel like they're gonna last a long time.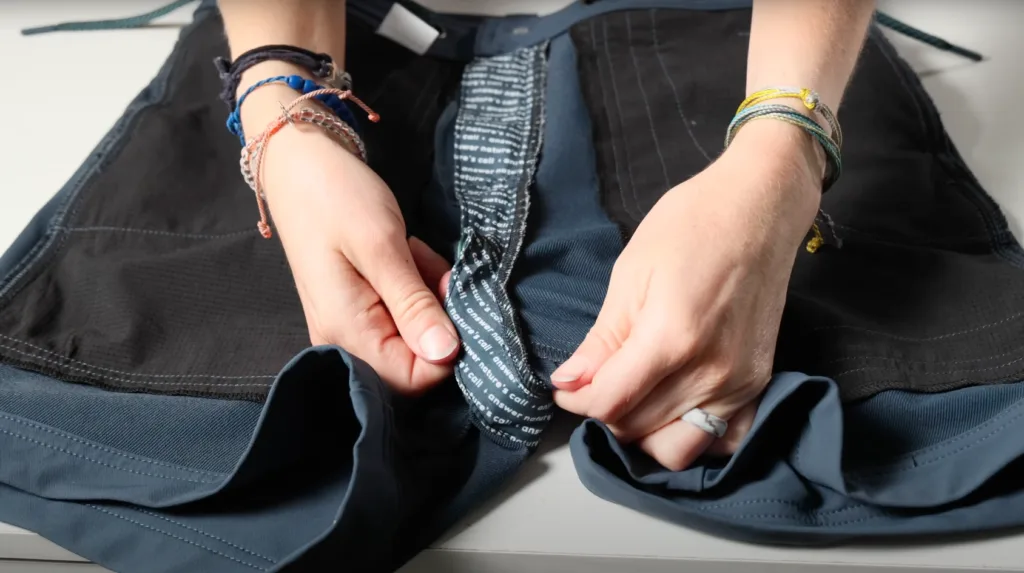 Plus the inseam length is a win in my book: 5.25″, not too long or too short.
There are belt loops AND a waist tie, the fit is a comfortable high rise, and of course no apparel designed by women would be complete without pockets. So many spacious pockets. There are five: two deep hand packets, two back packets with semi-secure flaps, and a secure zipper pocket nestled in the right hand pocket.
So these hiking shorts have got the goods. But how did they function on the trail?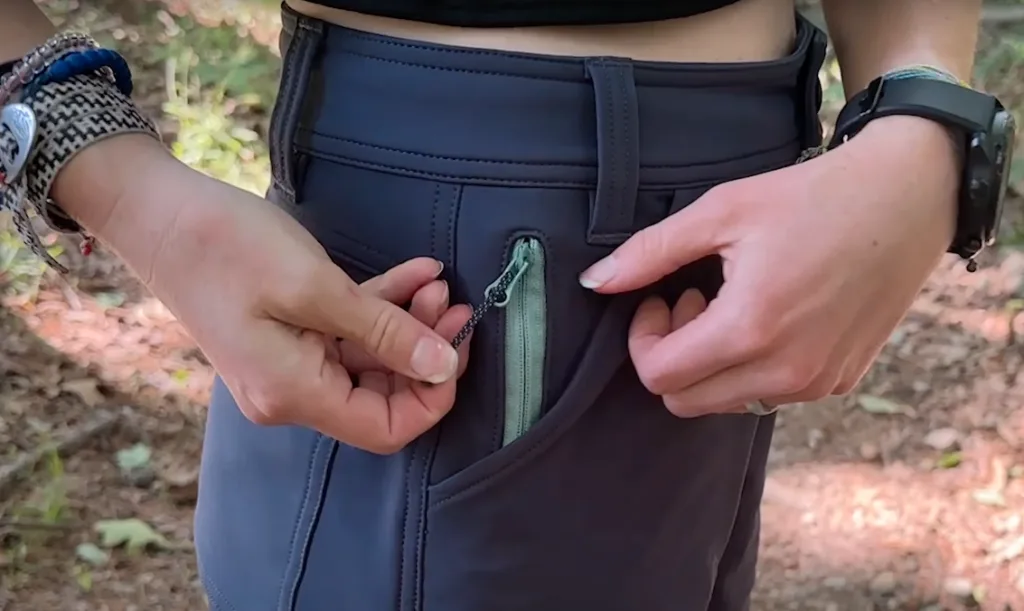 Gnara Go There Shorts: The Review
For starters, the shorts do run a smidge big. Gnara told me the shorts fit a bit more snuggly than the pants, but I wear a 00 in both. Which is why I say they run a size or so large: I don't wear a 00 in literally anything else.
The waist fits me perfectly, but they feel a bit roomier than the pants. Like people with more muscular thighs will likely fill them out better. But I'm not mad about the fit. They're still well within the stylish range.
And speaking of ranges, the size range is fantastic, too: these hiking shorts are available from 00 up to size 22.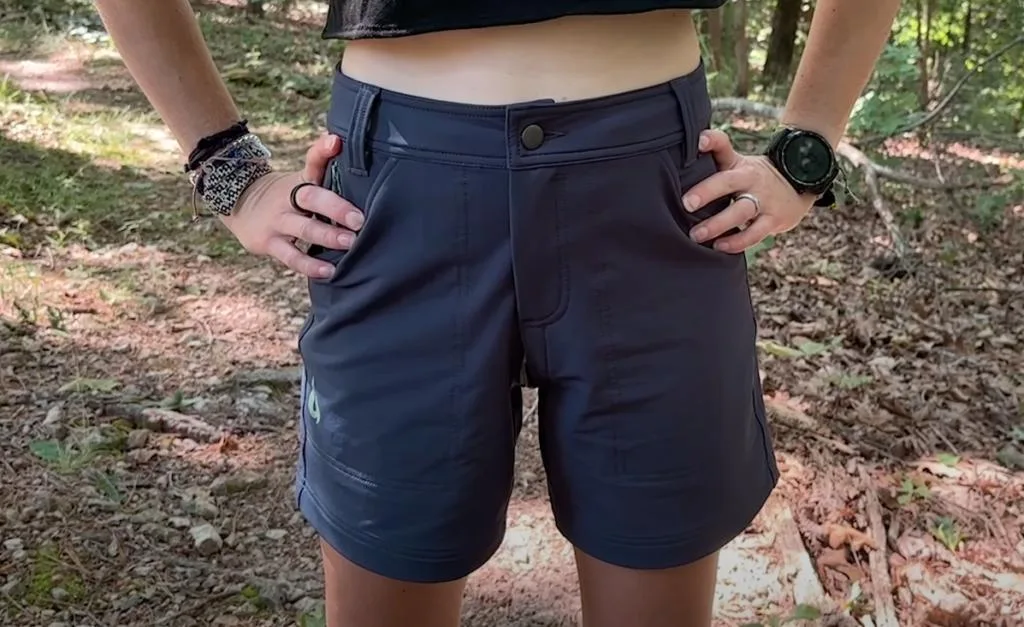 Now, as for actually using them, I said it in the pant review and I'll say it here: I've never been afraid of peeing in the outdoors. Nervous and a little anxious about someone walking past WHILE I'm peeing in the outdoors, sure, but the thought of it has never been enough to keep me from going outside.
And my mind was STILL blown by how much they improved the entire experience. No more holding it until I found the most secluded spot, no hiking half a mile off trail to avoid other hikers, no fumbling with pulling clothing up and down in the dark late at night, no more pee anxiety.
And if *I* was that impressed, imagine how much someone who is pee shy in the outdoors will love these shorts!
The tech is fantastic, is what I'm saying. And could quite literally change the way you think about spending time outdoors. Which I think is what Gnara wants: to remove barriers so more people can enjoy time outside.
About Gnara (Formerly SheFly)
If you saw our original pant review and noticed that we referred to them as SheFly pants, sway to be perceptive. That's because the brand went by SheFly until this spring and are now Gnara. There were 3 reasons they say they did that:
To separate the name of the brand from the name of the patented technology so they can license this rad zipper to other brands. To which I say, Yes please!
The design team wants the freedom to create other new, problem-solving apparel that isn't necessarily centered around the patented zipper technology without people being like, wait, I thought they only made pee zippers?
Gnara realized not all their customers identify as "she," so they opted to create a more inclusive brand name, which is rad and I fully support!
As for the name itself, it's a fun, feminine twist on a term we all love: "Gnarly." Which the brand wants to feel kinda like reclaiming the "bro culture" that's frequently unavoidable in the outdoors. (Ugh, bro culture. I know, right?)
Now, you may notice I didn't say anything about sustainability. Unfortunately, there's not a lot happening at Gnara on that front yet. The shorts aren't made with recycled materials and they do contain a DWR with PFAS (read about why PFCs are bad in this post), which I don't love and hope they're able to replace soon.
But this is a stupendously small startup, so we hope as they grow that changes and they're able to leverage their expanding customer base to make a more sustainable product.
Until then, equality and equal access is the big story here. As in, these shorts are designed for people who may be uncomfortable spending time outdoors because they're worried about when, where, and how they're gonna go to the bathroom without exposing themselves to everyone.
People who may avoid extended outdoor adventures altogether for that very reason. And that should never be the case.
Because everyone belongs outside. Whether your gnarly adventure is a slow walk in the woods or finally sending that bouldering project you've been working on or shredding a black diamond trail. You do you.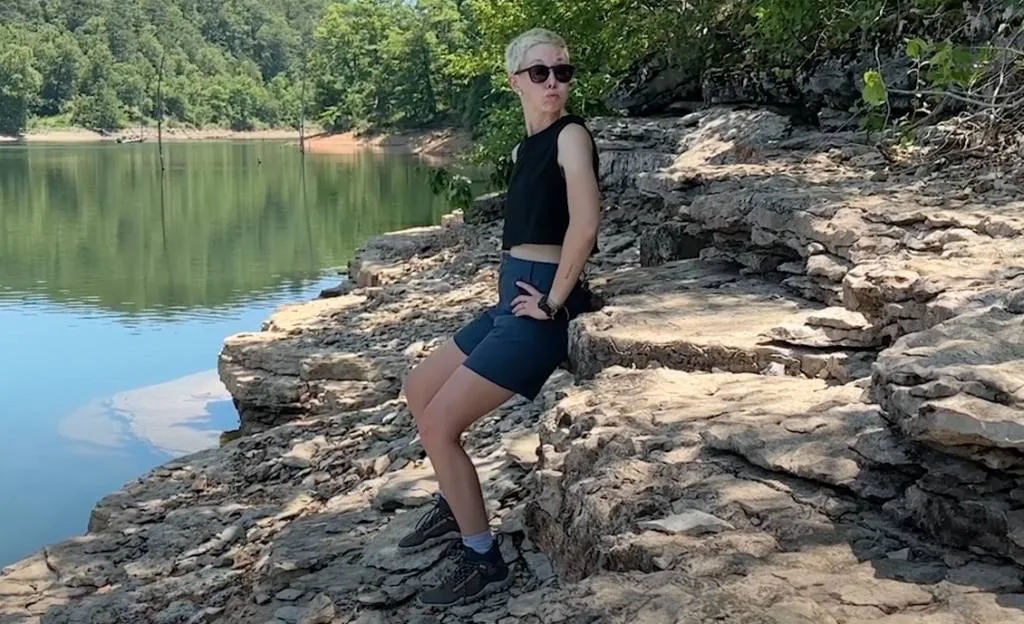 Bottom Line
And if an extra zipper in a rad pair of high quality hiking shorts will help you do it more often or with more confidence, well then I highly recommend you get yourself a pair. Find the Gnara Go There Short in a slew of colors here.
•
This post contains affiliate links, which means when you clicky-click and make a purchase, we may receive some compensation. Don't worry, it won't cost you any extra, but you will be supporting Terradrift! That's what we call a win-win!
Alisha is a freelance writer and photographer based in Austin, TX. She loves her tiny house, vegan food and experiencing the community of travel in far away places. She's also pretty sure she's addicted to coffee. alishamcdarris.com