I hate cruises. There. I said it. Cruises just aren't for me. I went on one as a family vacation when I was 18, and while good memories were made (except for the time my sister almost drowned me when we were snorkeling because–apparently–she's afraid of fish and didn't think that was pertinent information to share when snorkeling), I was bored out of my mind. I hated the long days at sea, shore excursions were fun but were missing something (the joy of exploration and discovery, I'd later come to understand), and it just seemed to lack something in the experience department. As I got older and more passionate about sustainability and travel that has a meaningful impact, I disliked the idea of cruising even more. Not only was it not my style, from what I understood, it was doing actual harm in more ways than I could count. Eco-friendly cruises just didn't seem to exist.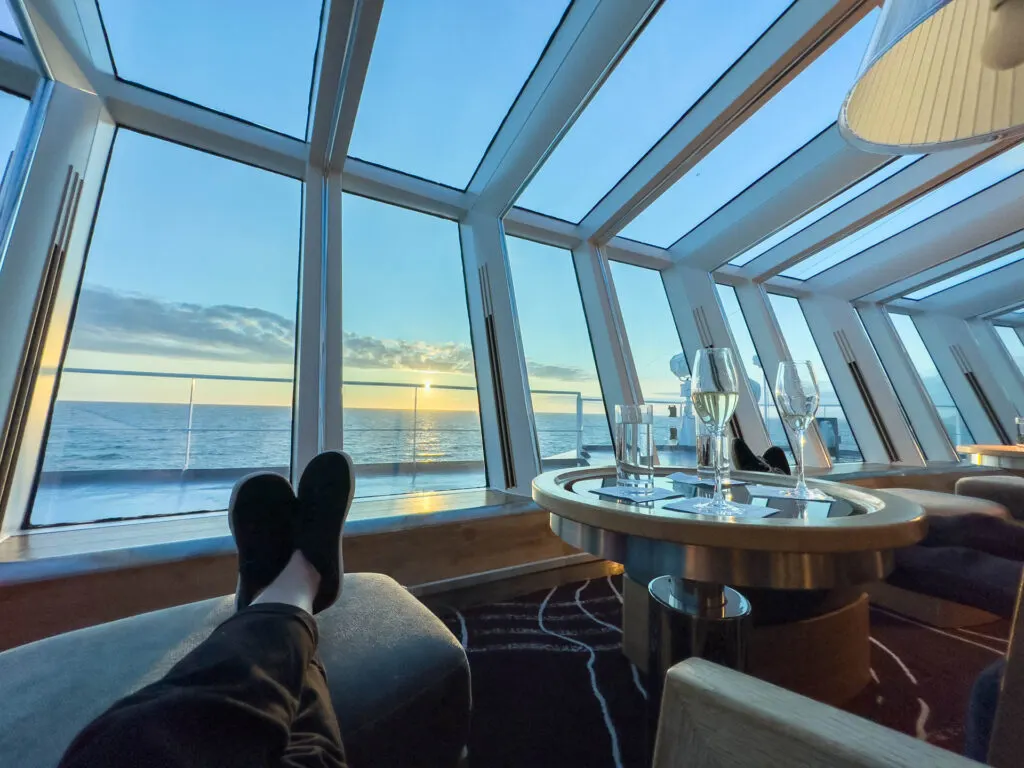 So I swore off cruising forever. Or so I thought. Until my travel agent cousin mentioned Hurtigruten at some point, some sustainable cruise line, and I was mildly intrigued. A couple years later, I got an email from that cruise line inviting me to come check it out. They were making some pretty big claims about sustainability, and they offered expedition cruises perfect for adventurers who might also be interested in science and the outdoors. After mulling it over for a while, I–somewhat reluctantly–said yes. And found myself booked on on a Hurtigruten Expeditions (recently rebranded as HX Hurtigruten for the English speakers who hear the name and immediately say, "What?") cruise to remote East Greenland, a destination I didn't know I'd soon be obsessed with.
So let's talk about the HX Hurtigruten experience and East Greenland specifically, but to understand how HX Hurtigruten and their parent company Hurtigruten Group is different, you have to understand the cruise industry as a whole and why I have such a vendetta against it.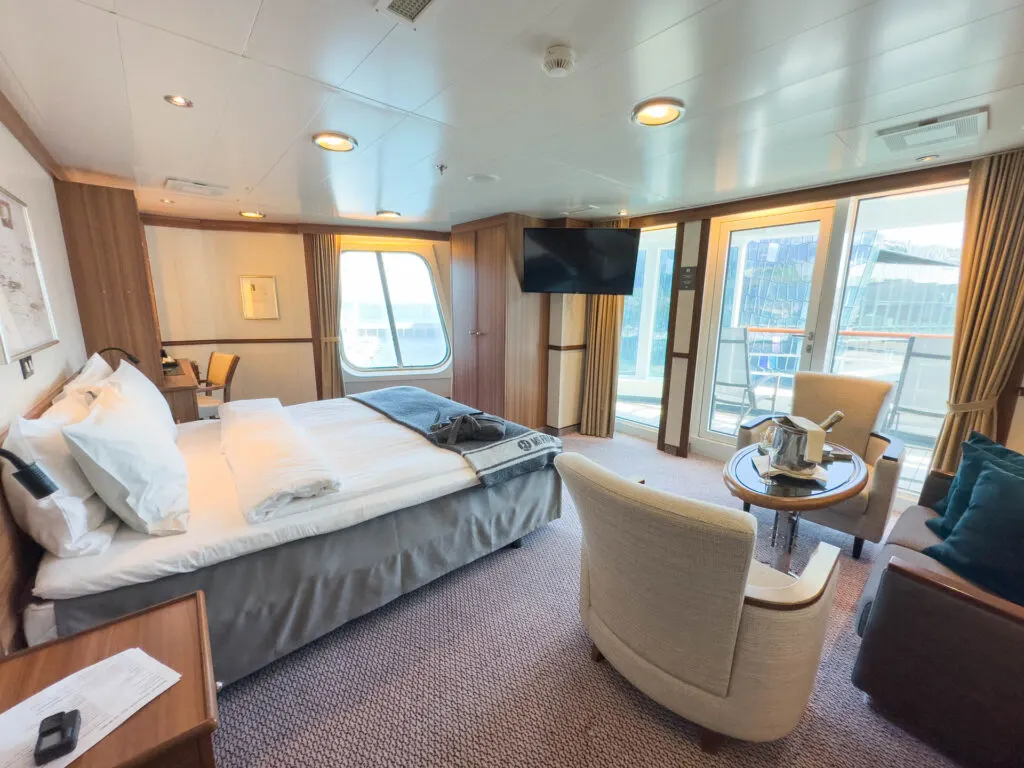 Why is Cruising Not Sustainable?
Let's get one thing straight: cruising is a notoriously filthy and controversial sector of the travel industry. Sure, air travel isn't doing the climate any favors (though we never recommend you stop flying entirely–travel has the power to change you and challenge you and we're all for it–learn to offset flights responsibly here), but cruising's negative impacts are so much more far-reaching.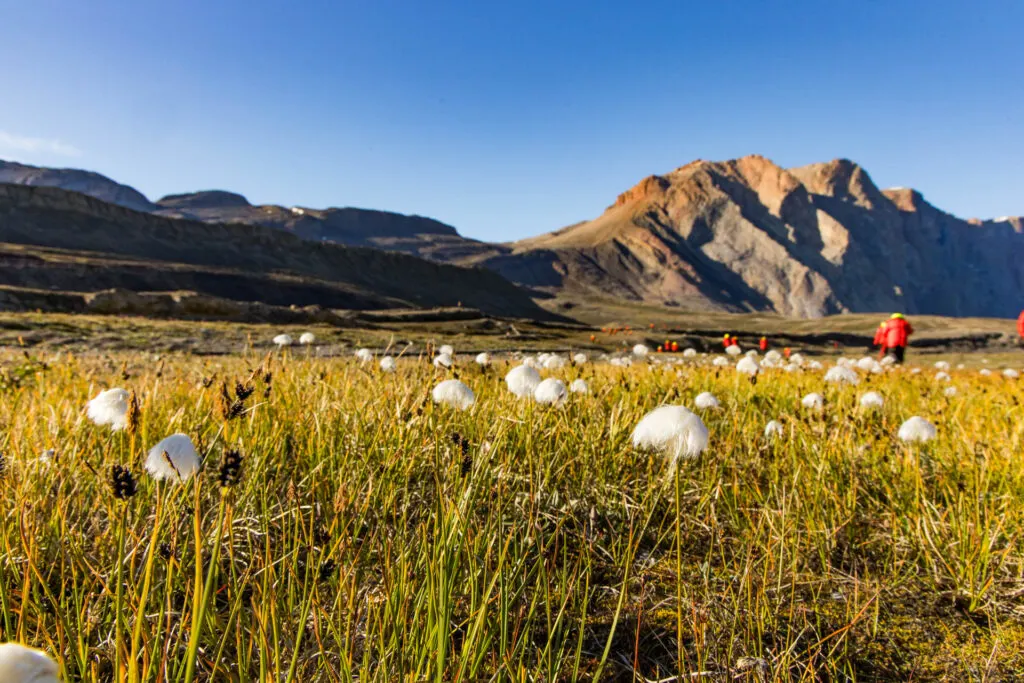 Here are some of what makes cruises so unsustainable (keep in mind, these things are mostly about huge cruise corporations and largely ones that operate out of the U.S. I have no experience with European cruises, so think Carnival, Princess, Disney, MSC, Royal Caribbean, cruise lines that take you to places like Mexico, the Caribbean, Alaska, even Antarctica):
Most cruise lines use heavy fuel oil, which is more toxic and polluting than most other fuels. It contains a high sulfur concentration and emits nitrogen oxide. It's thick and sticky and if spilled remains in ocean habitats for ages. It has extremely harmful effects on human and animal health and longevity.
Food waste on cruise ships is typically monumental. All those buffets mean tons of food is getting thrown out every day, which is not only a waste of resources, but results in harmful greenhouse gases.
Cruise ships often jettison treated waste (yes, human waste, grey water laden with washing chemicals, etc.) into the waterways in which they cruise. And it's occasionally allowed! This is often toxic to wildlife and plant life. Even when it's not allowed, cruise lines have done it and paid fines to "make up for it."
The single-use plastic waste on cruises is often insane. There's a straw in every drink, plastic water bottles everywhere, travel-size toiletries, and copious amounts of bags and wrappers. Think all that gets recycled? Think again.
Some lines claim to be more environmentally friendly because they use something called scrubbers to reduce air pollution, but this technology simply captures the pollution and dumps it in the water, thus trading air pollution for water pollution. Not better!
Then there's the local environment to consider. Cruise ships often roll up into ports, vomit out thousands of passengers at once who create a destructively cumulative impact on the landscape, and don't stick around long enough to do any good or give back in the places they visit.
And let's not forget the social and economic impact. Chances are, when you arrive at port, you're probably taking more from the local economy than you're giving, which isn't sustainable. Even if you booked excursions through the cruise line, you can be reasonably sure the ship keeps most of the money charged for that experience while locally-based tour operators get very little. And in many ports, visitors aren't going to dine or spend the night (all that is provided on the ship, so why would they?), so they're often not supporting the economy in any meaningful way unless they're buying tons of locally made souvenirs. Emphasis on locally made.
Just look at this Cruise Line Report Card from Friends of the Earth, who did a deep dive to grade major cruise ships on their environmental impact. It's not good: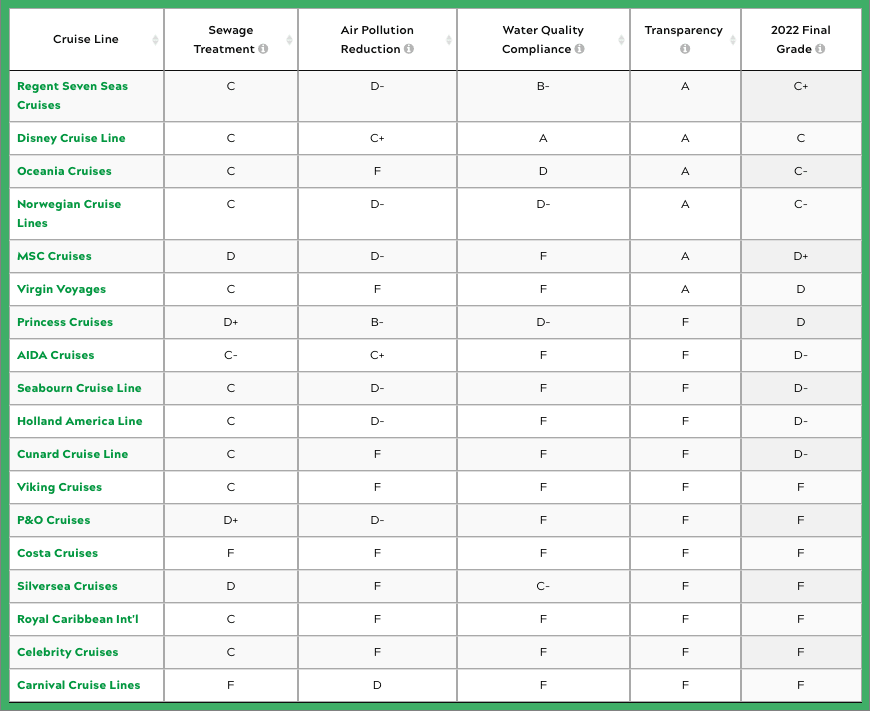 What's more, dozens of cruise lines have gotten caught and fined for illegally dumping waste and not adhering to required sustainability measures. And they just keep doing it and trying to cover it up.
Sure, cruise ships pay destinations to dock at many ports (except for when the ships only visit their own, corporate-owned private islands), but that money doesn't tend to benefit anyone beyond the small radius of the port itself.
Also, and this is less tangible but still important, many cruise lines don't offer opportunities to learn about the local culture, the people, the economy, the environment, or the struggles the places they visit face. And learning about and connecting with a destination is what makes us more passionate about protecting it.
Want more insight? Check out my article about what sustainable travel looks like and my friend Ketti's post about the sustainability of cruising on Tilted Map here.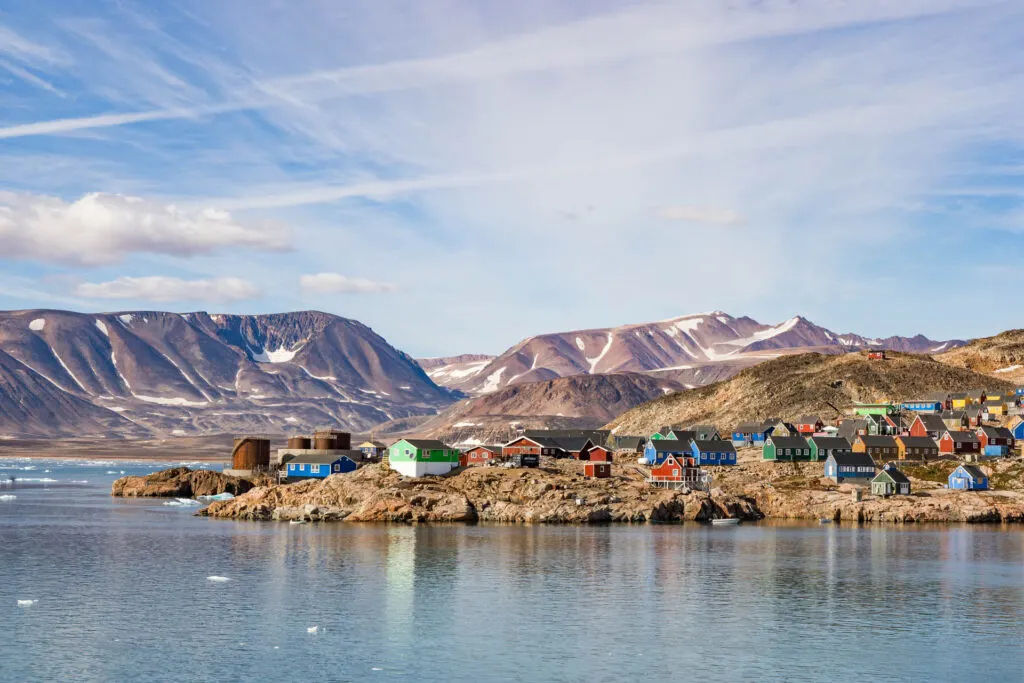 It's not a bad thing to want to relax and take it easy for a while (I could use some relaxation myself), but often on a 3-hour shore visit, you've taken advantage of the unique aspects of the destination and haven't offered anything in return. And a sustainable, responsible traveler should always respect the places they visit and leave them better than they found them.
So if it sounds like I hate cruising, I do. Or rather, I did. Before I realized there were cruise lines out there who see these problems the same way I do and decided to do something different. Cruise lines like HX Hurtigruten.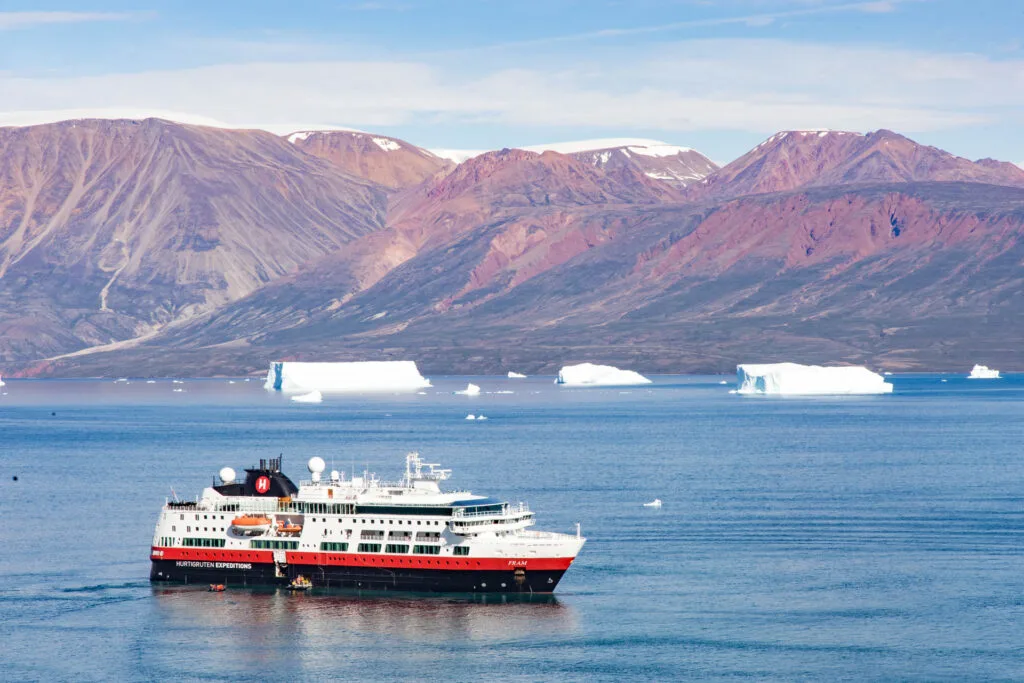 How HX Hurtigruten is Different
When it comes to sustainability, nobody is perfect, especially in the travel industry. But progress matters, so here's what makes HX Hurtigruten more sustainable.
The cruise line publishes an annual sustainability report that transparently states what their impact was the previous year, from emissions to donations. And quantifiable data and transparency are huge when it comes to sustainability.
HX Hurtigruten Expeditions ships are smaller. Think 150-500 passengers (only 2 ships have the capacity for the latter) to Carnival's 2,500. Why does that matter? Smaller ships have a smaller footprint, but fewer people also means less cumulative impact to places the ships docks. Which all makes for more eco-friendly cruise ships.
There's no single-use plastic onboard HX Hurtigruten ships. At least, none that can be avoided. They were the first cruise line to ban single use plastics, in fact. You'll never see a plastic water bottle (there are refill stations everywhere), no plastic straws, and no plastic bags. Toiletries in cabins are in full-size, refillable bottles, and I was never offered a snack in a plastic baggie.
Hurtigruten was the first cruise line to ban heavy fuel oils from their entire fleet and is advocating for a ban on the fuel in Antarctica and Norway.
On many ships, there is a person whose job it is to offer guests a glimpse into the places they'll be visiting. On the cruise to East Greenland that I was on, there was a guide from Ittoqqortoormiit (the only town we stoped at in 12 days) who gave presentations on what it was like to grow up there, how the economy functions, what to do and not to do during the afternoon visit, and the struggles and celebrations the remote village deals with on a regular basis. Meaning passengers are doing more than visiting a place, they're learning about it and understanding it.
Passengers have an opportunity to do good while they travel. Guests can participate in various citizen science programs to collect data for biologists and NASA, but can also attend lectures every day about biodiversity, geography, and climate change. HX Hurtigruten also gives back. They donate every year to a handful of social and environmental non-profits that support the places the ships visit, including €0.50 per day per passenger that declines having their room cleaned.
Food is prepared and a menu offered daily to reduce food waste. At the one buffet, smaller trays of food are prepared and replaced more often so less has to be thrown away.
On land, guides offer insight to not only the towns, but the natural landscapes as well. Guided hikes, kayak and tender trips give an up-close and scientific perspective on what makes the area unique. Adventure plays a large part in the HX Hurtigruten experience, and recreating responsibly is of the utmost importance.
Hurtigruten Group currently has 5 hybrid ships in it's fleet and is on track to have the world's first zero-emissions ship in Norway.
They've spent millions on upgrades to their ships to reduce emissions and on research and development.
All ships have shore power connectivity so they don't continue to produce fuel-based emissions while at port, and they're the first to connect to shore power in Iceland.
The company puts a massive emphasis on people, including employees, hiring a more diverse staff, including women in positions of leadership, and supporting the people in the places ships visit via donations and programs from the Hurtigruten Foundation.
Basically, while there's still plenty to be done and Hurtigruten hasn't solved all the industry's environmental problems (or all of their own) just yet, their commitment to people, environment, and animals places them far beyond most of their competition.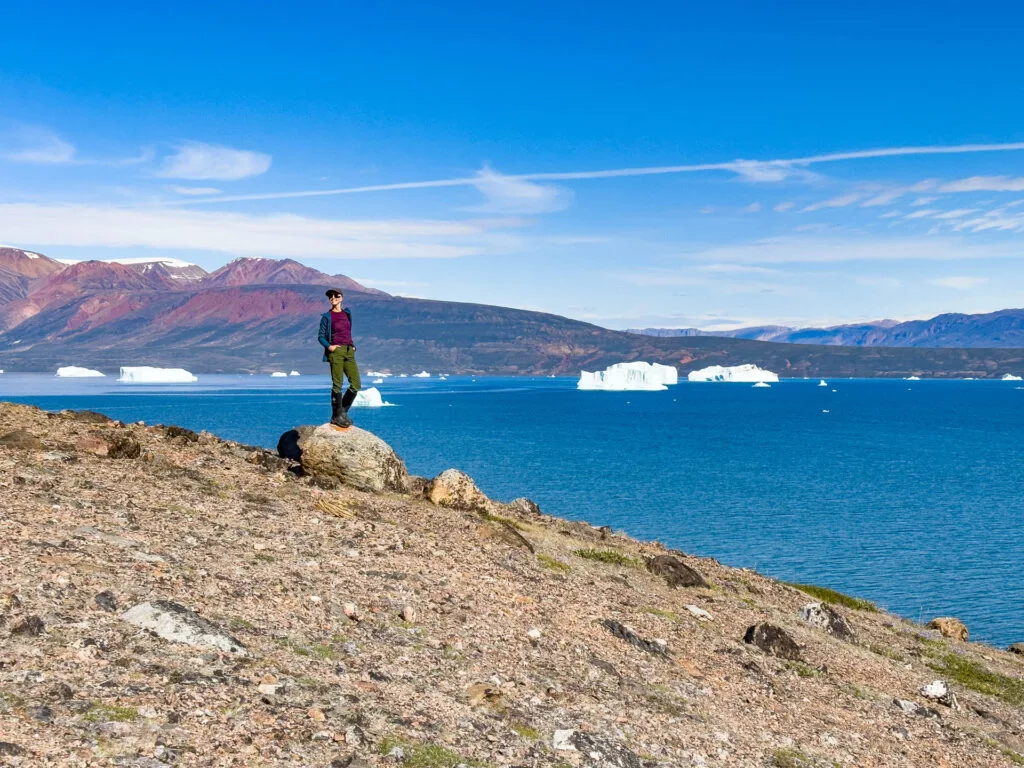 But What's an HX Hurtigruten Expedition Cruise Like?
If you want a peek at what the 12-day East Greenland cruise through fjords and up the east coast specifically is like, definitely watch the video above. But in summary, an HX Hurtigruten cruise is for people who a.) have no desire to sit by a pool and/or get massages all day, b.) want to learn something while they travel, c.) want to do good and give back wherever they go, and d.) crave active adventures like hiking and kayaking.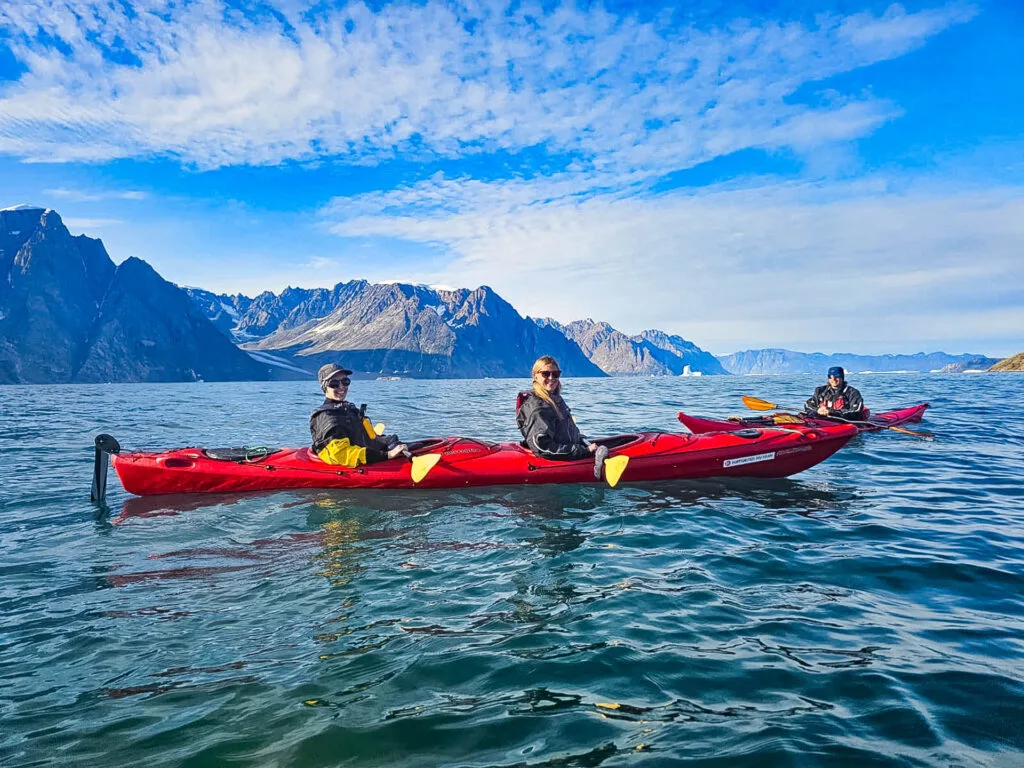 In short, these trips are for people who want adventure and understanding and to not only leave places better than they found them, but better understand the destination as a whole. The East Greenland cruise in particular was full of days spent marveling at sea ice and attending lectures on seals and geology that inevitable got cut short because there were whale sightings on deck.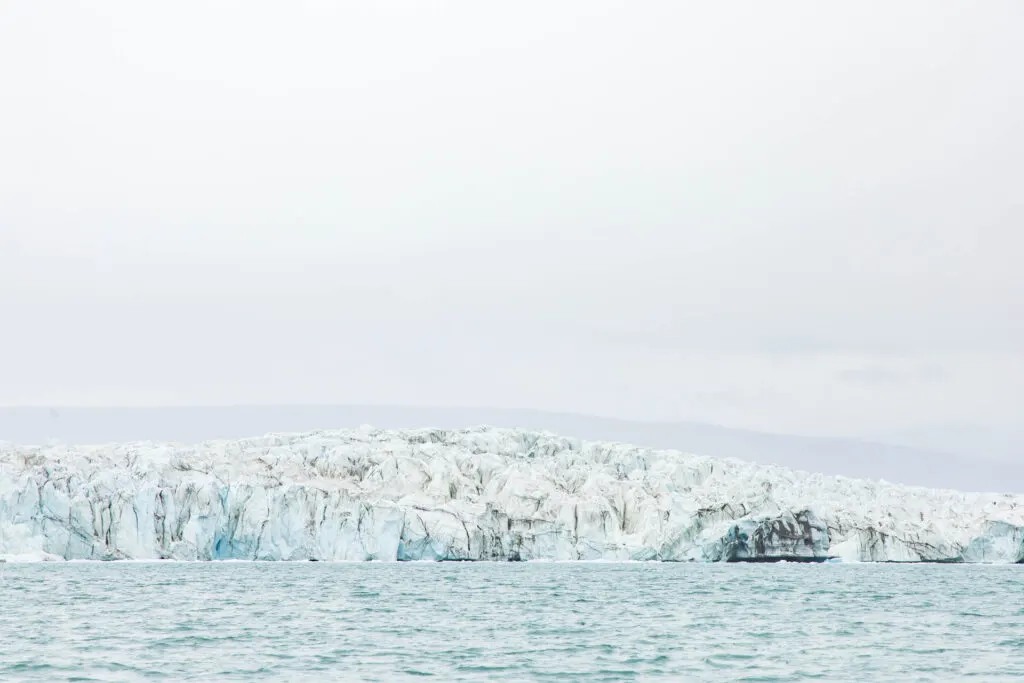 We circled icebergs in a zodiac and craned to see the tops of glaciers from the water. We kayaked in fjords and hiked over tundra to gaze at perfectly still lakes and mountains robed in clouds. We collected water samples to identify plankton and recorded visual depth in the icy water for the sake of science. We collected cloud data for Nasa and submitted photos of whales for a biodiversity database.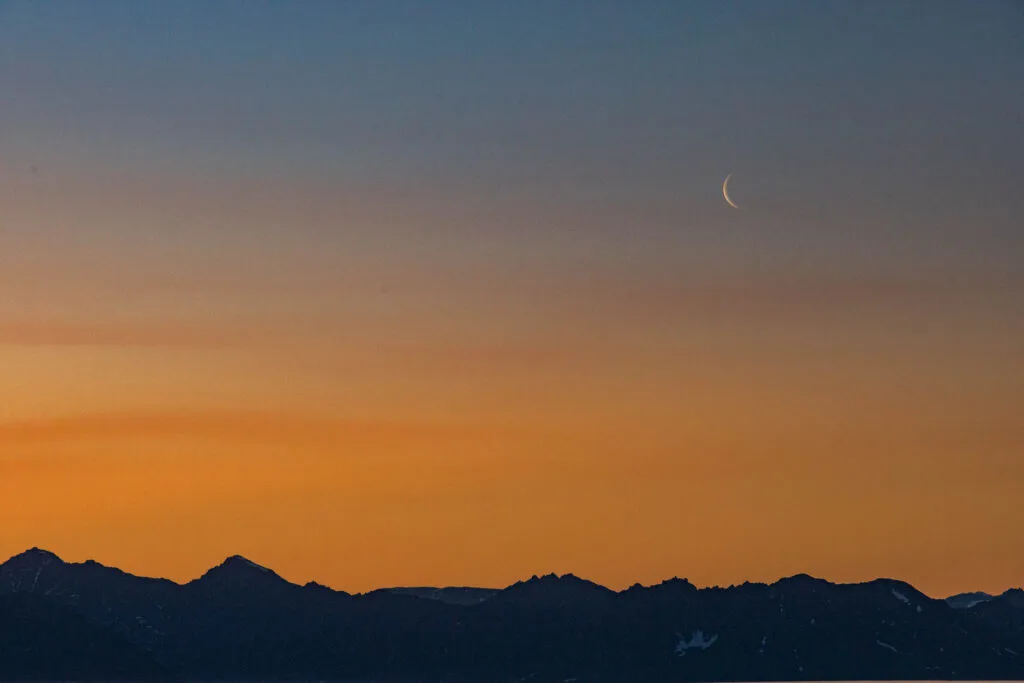 There were polar plunges and watercolor sunsets (at 1:00am) and rooms with giant balconies that made it impossible to go to bed because who wanted to close the curtains to cut off that view (they were great blackout curtains, btw, I just didn't want to be blacked out, lol). We explored a remote village and learned about its history and its people's way of life and chatted with them on strolls around town. We dined and drank and listened to stories from staff from all over the world and…I don't know how to say this, but I enjoyed it. I enjoyed a cruise.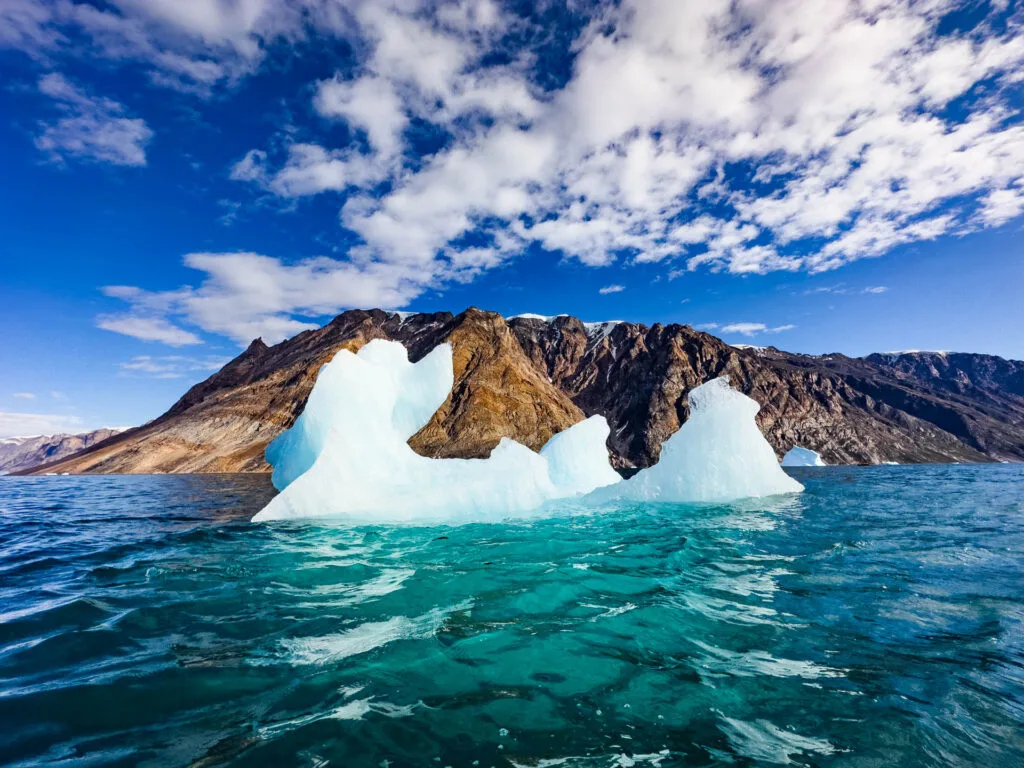 Who knew that was a phrase I'd ever utter. And most of the other guests were twice my age! My only complaint the whole trip was the vegan food. While there was always an option, it was usually only one, so if you didn't like what was on the menu, tough titties. The kitchen was usually happy to accommodate, but they preferred requests a day in advance, which made it hard to ensure I was getting enough calories. Otherwise, the food was lovely.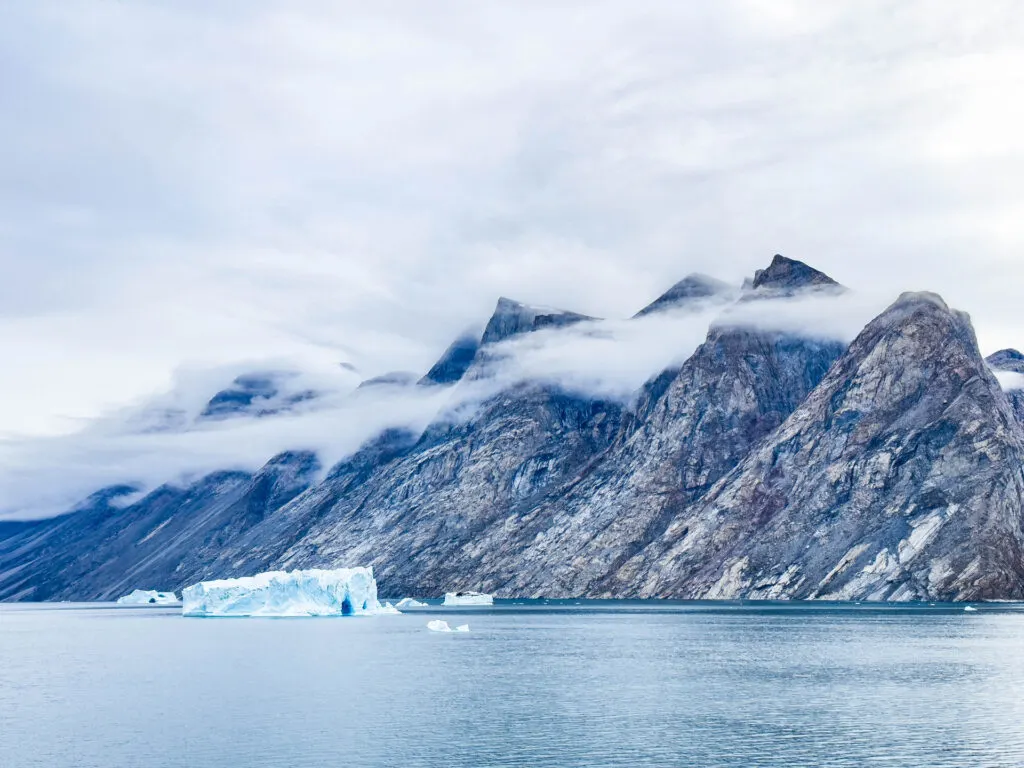 I will say that this may not be a cruise for someone who always needs to be entertained. While there were plenty of lectures, hands-on activities, adventurous outings like hikes and kayak excursions, Zodiac cruises, citizen science programs, and majestic landscapes and animals to watch out for, this cruise in particular offers a lot of down time. I used it to work, because that's my job–to travel and work–but there are also libraries, a gym, sauna, jacuzzis, and a stunner of a bar and lounge (that also has an espresso machine, FYI). I'm just sayin', there's still plenty of time to relax and chill on an HX Hurtigruten expedition cruise.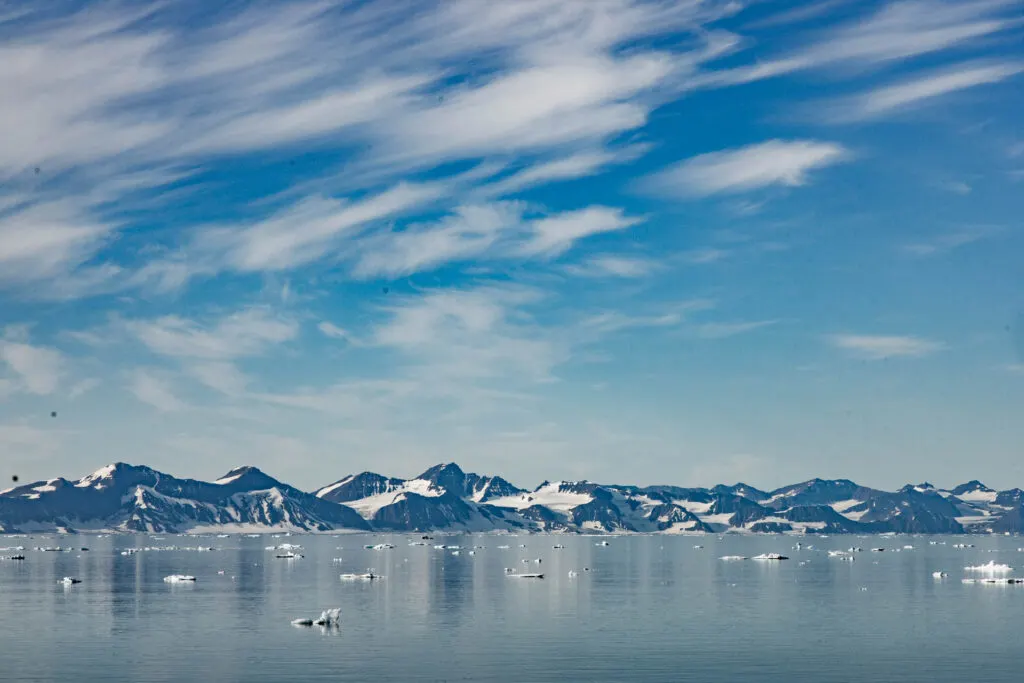 Bottom Line
For years I've had a strong distaste for cruising. And if we're talking about most major cruise lines, I still offer a vehement "No, thank you!" and recommend them to no one. But HX Hurtigruten may just have restored just a little bit of faith that eco-friendly cruises do exist as long as you pick the right cruise line, ask the right questions, and do your research. Heck, you can even still enjoy a bit of adventure.
An HX Hurtigruten Expedition cruise isn't a budget vacation (cabins for 2 on this 12-day voyage start at $8,600+), but this one in particular is practically guaranteed to be the trip of a lifetime.
Find out more about HX Hurtigruten Expeditions here and book the once-a-year East Greenland cruise that starts in Reykjavik, Iceland here.
•
This post contains affiliate links, which means when you clicky-click and make a purchase, we may receive some compensation. Don't worry, it won't cost you any extra, but you will be supporting Terradrift! That's what we call a win-win!
Alisha is a freelance writer and photographer based in Austin, TX. She loves her tiny house, vegan food and experiencing the community of travel in far away places. She's also pretty sure she's addicted to coffee. alishamcdarris.com