There are a pair of shiny new hiking pants for women on the market and they. Are. Legit. Why? They are designed to finally give anyone who has to pee sitting down the chance to laugh directly in the face of the patriarchy. What makes them so great? They allow women to pee in the outdoors with their pants still 100% on and their privacy protected.
Got your attention? We thought so. Well, buckle up, because we're gonna talk about these new SheFly Go Anywhere Pants, what we thought of them, and whether they're worth the price right here, right now.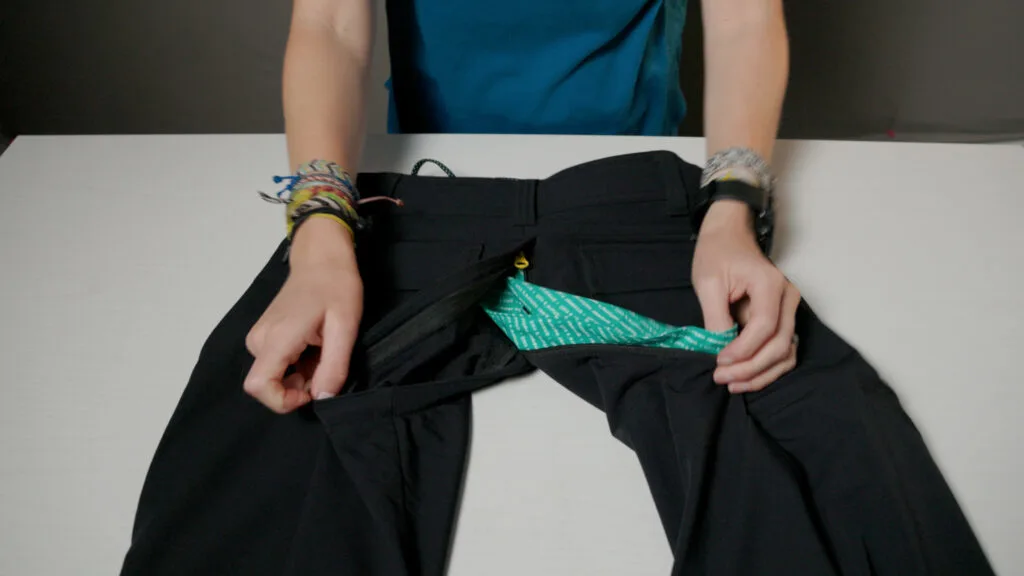 The Problem with Pants
For years, men (or more accurately, anyone who can pee standing up) have enjoyed the convenience and ease of a zipper fly: No pants around their ankles or baring their entire lower half to all creation, just unzip, angle their body, and go. No one sees anything. In the outdoors, they hardly have to step off the trail (though they still should–I've walked up on one too many dudes trying to put everything away on the middle of the trail). And they're not worried about strangers getting a full view of their entire lower half.
Those of us who have to squat to pee, on the other hand, can only enjoy a semblance of that convenience if we happen to be going commando under a skirt (which is ill-advised at best when in the outdoors). On the contrary, there's a constant paranoia that as soon as you've fully exposed yourself, someone's comin' around the bend down the trail who's gonna witness your bare butt hovering over a pile of leaves.
Then there's the issue of practically disrobing in the outdoors in the winter when it's 10 degrees outside. It's stupid cold! And you don't warm up from that quickly. It's very uncomfortable.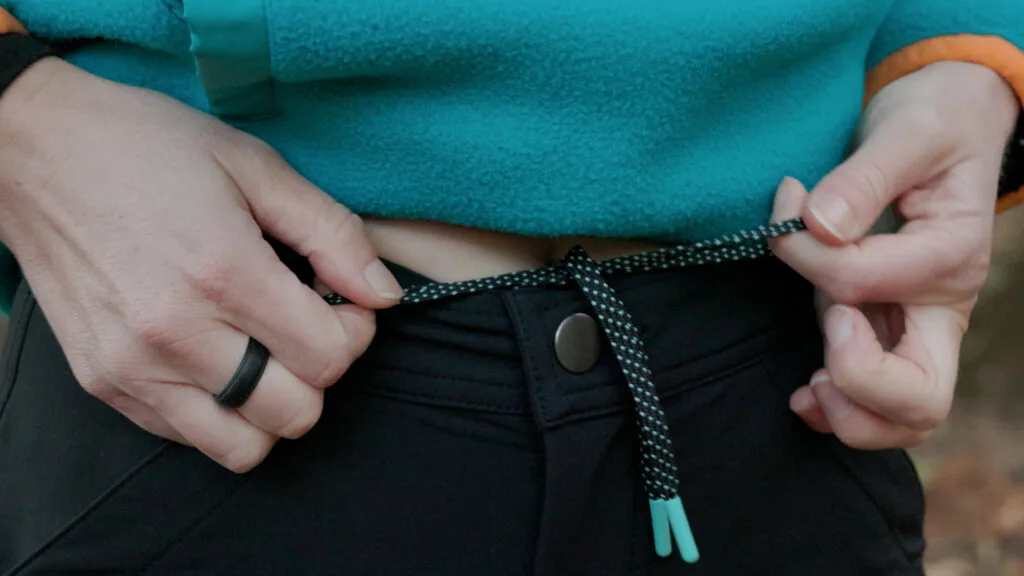 Plus, It takes so. Freaking. Long. to remove your pack so you can unbutton your pants, shimmy them down, trip over them when you try to pull them up too fast because you're certain you heard someone coming down the trail, and then load everything back up again.
Personally, I'm all about efficiency. I just wanna go and be done and move on. Preferably in under 30 seconds.
And if you're asking right now, "what about those female urination devices?" You've clearly never used one with pants on. I don't know who designed those things (probably a man), did they think you'd be fully naked when you used one? I have about a 50% success rate of using a pee funnel with traditional pants on.
But anyone who has to pee sitting down is used to this stuff at this point. Unfortunately, it's just something we have to deal with. And up to this point, we've learned to live with it.
Well not anymore, kids. You can be done with all of it. Because lucky for you, there's a rad team of women who decided they weren't gonna take it anymore and made THESE: The SheFly Go There pant. And they're gonna change your life.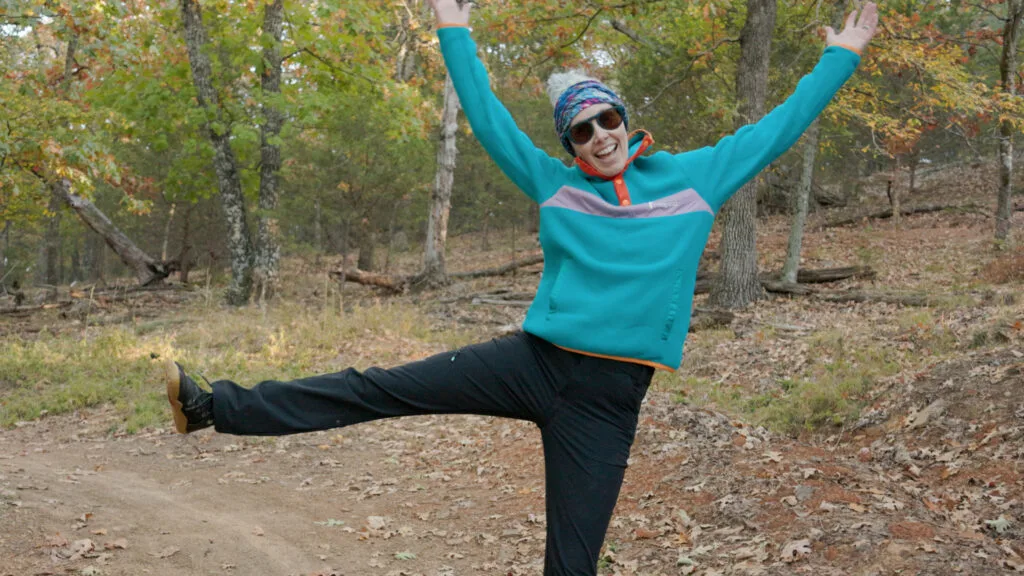 Introducing the SheFly Go There Pant
What makes these hiking pants so glorious, you ask? One thing: an extremely handy, extra long, zipper that unzips all the way from front…to back.
Yup. These pants have your typical zipper fly and button closure, just like all your other pants (most of your other pants, maybe), but ALSO a patented secondary zipper that starts just below the fly and unzips all the way to the back waistband.
The result? Hiking pants for women that you don't have to pull down in order to go to the bathroom outdoors. You just unzip them as far as necessary and go! So let's dish about how they work and what we thought of them.
But let's talk about functionality, cause I know you've got questions.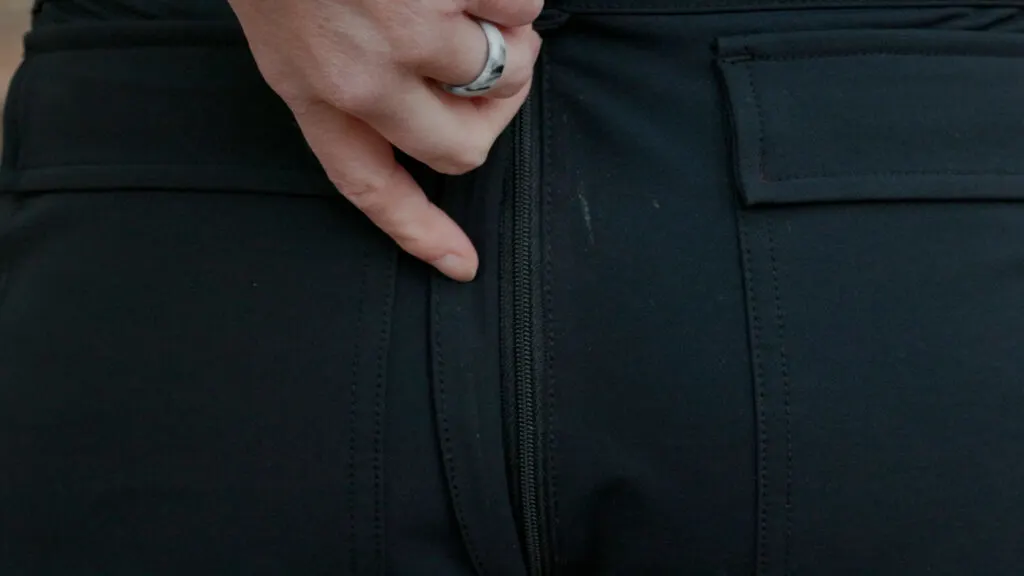 How to Use these Women's Hiking Pants
First of all, the pants have two completely separate zippers: You've got the normal zipper fly, then a separate one that starts below it and runs along the crotch seam all the way to the back waistband.
On the inside of the pants, there's a fabric flap to separate your delicate bits from the zipper itself, so you don't have to worry about catching anything in there, even if you're going commando. On the outside, there's another flap that covers the zipper, making it practically invisible.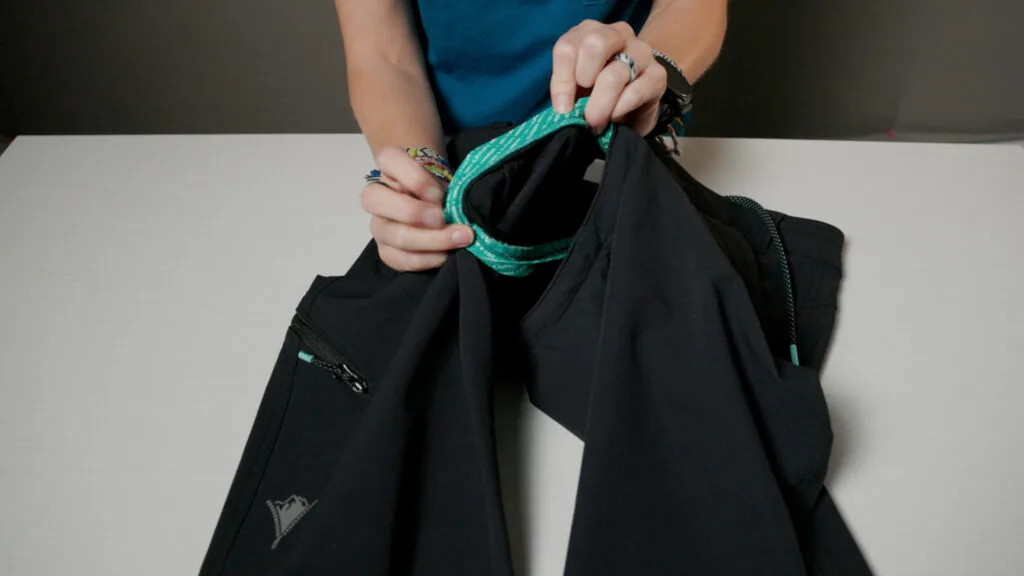 And no, that zipper isn't uncomfortable. I mean, I'm not saying I'd go on a three-hour bike ride in these pants, but you know what, if you're wearing a chamois or padded liner, you probably won't even notice the zipper. I didn't even think about it during a multi-day backpacking trip, while hiking or climbing.
How do you use them? Well, put em on, unzip that patented second zipper as far as you need, assume your preferred squat position–or use a funnel if you prefer to stand–and if you're not going commando, just pull your undies to the side and go. You know, like you would if you were in a one-piece swimsuit.
Then use our other favorite pee tool, a Kula Cloth antimicrobial and reusable pee cloth–or toilet paper if you promise to pack it out–re-zip, and go on your merry way!
It's seriously that easy.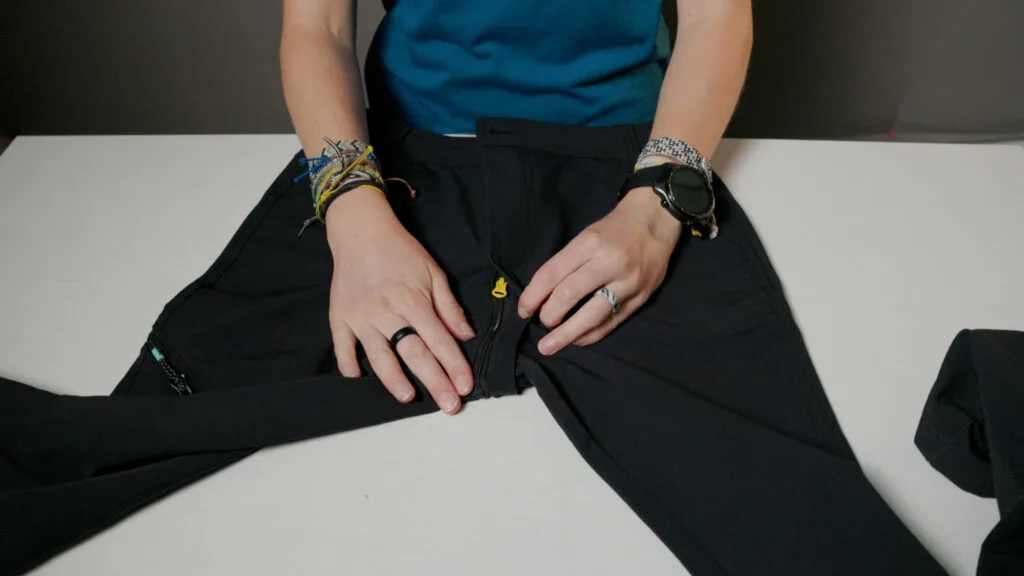 SheFly Go There Pant: The Review
Honestly, I was not expecting to love these pants so dang much. I really wasn't. Mostly because I'm used to the stresses of peeing outdoors as a woman and it doesn't usually bother me that much. I've figured out how to go quickly and hide well.
But during testing these pants saved me multiple times–and would have saved me many more had I had a pair years ago–from the embarrassment of being approached while peeing, or when just about to pee.
Once during testing, someone came right up to my campsite just as I was about to let loose and I'm pretty certain she had no idea what she had interrupted (despite the pee zipper being fully unzipped) because my pants were still up.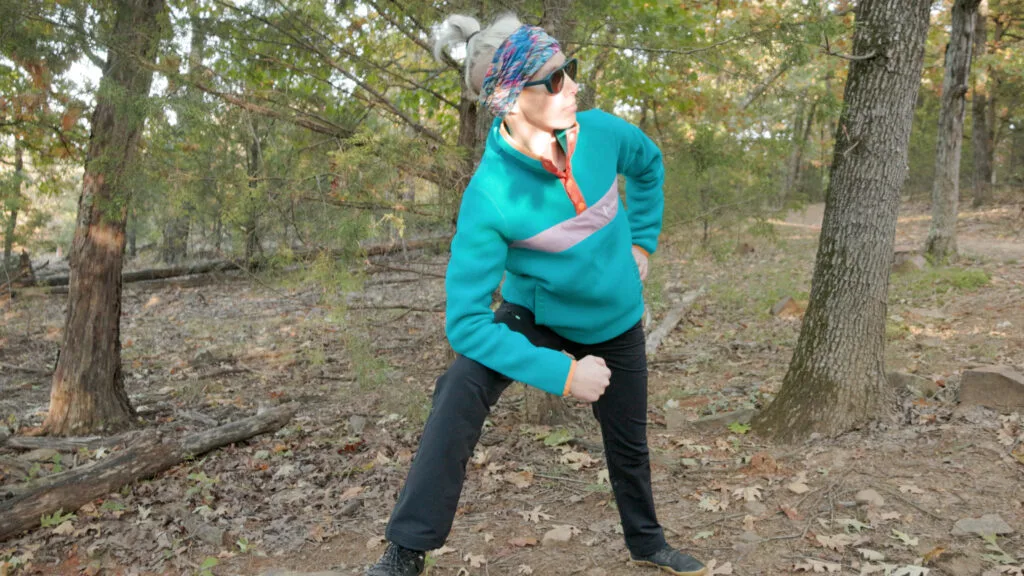 Wearing these meant I didn't feel the need to hike half a mile into the trees in search of privacy, they allowed me to keep my pack on while going, and in the cold and rain, they made going to the bathroom way more pleasant.
I wasn't prepared to think of them as "life changing" before testing, but I gotta say, I am a 100% true believer. Bonus: I can use a pee funnel with 95% success when wearing the SheFly pants. Just sayin. They just make sense together.
As for other features of these dope hiking pants, they've got plenty. The fabric is super stretchy. Like I put these on for the first time and–as someone who always prefers shorts over pants–was impressed with the range of motion and flexibility they offered. They're very stretchy. And also made of a durable and middle-weight fabric. As in, they're not ultralight, but they're not winter weight either.
They're a solid all-season hiking pant. Unless you're me. Then there's no such thing as "summer pants." If it's over 75 degrees…I just can't. But for mild, cool and cold temps? Perfect.
They feature a DWR treatment to repel water and in addition to belt loops, have adjustable ties in the mid-rise waist so you can absolutely dial in the perfect fit, which means they don't slowly shift downward as the day progresses.
And naturally, because they're designed by women, they have pockets: Five of them. Two back pockets have flaps over the tops to help secure your valuables and the front hand pockets both have zippers so you can keep change and lip balm secure even if you end up hanging upside down in your climbing harness.
There's also a zipper pocket on the thigh that's big enough for most cell phones.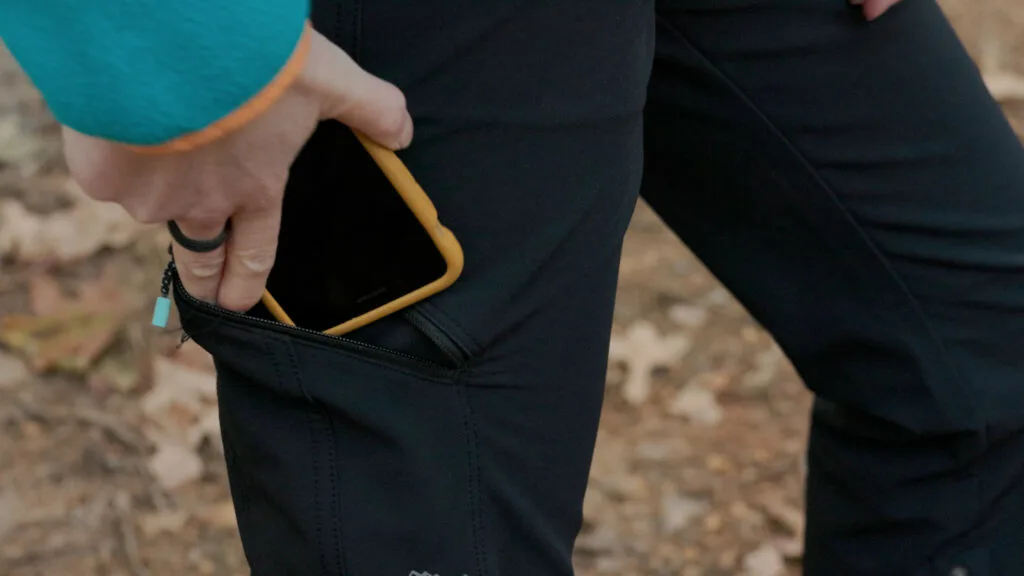 On top of all that, there are bungees around the cuffs so you can cinch them up, PLUS straps with snaps so you can roll your pant legs and secure them in place if that's more your style.
Now, I will say that while most hiking pants for women run long, these run a bit short. So if you're tall, embrace the ankle pant look.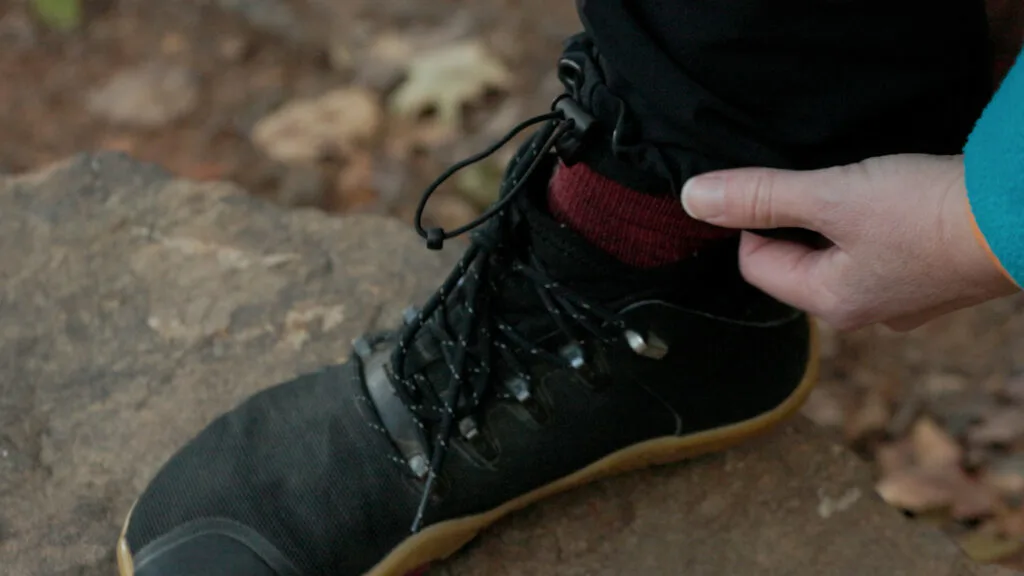 As for sizing, and this is kinda a big deal, the SheFly Go There Pant is available in sizes 00 to 22. Because they wanted these pants to be available for everyone.
I wear a 00, by the way, so yes, the pants do run a little on the large side, so consider ordering a size smaller than you usually wear. I did.
They're also available in 4 colors, and yes, yes, shorts are coming next season. Huzzah! As well as some other rad layering options (according to rumors).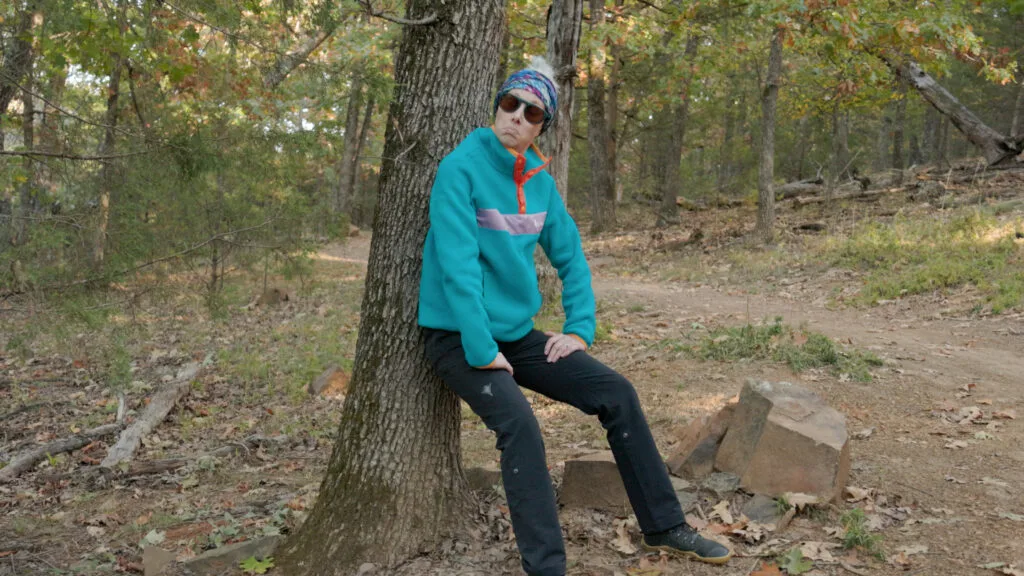 Bottom Line (As in, Don't Bare Yours)
Anyway, bottom line: If you pee sitting down and you spend a lot of time outdoors, you're gonna dig these hiking pants. Probably more than you think you will. They aren't a budget-friendly item, but they may just be your only go-to outdoor pants from now on.
They are comfortable, feature-rich, functional, durable, super high quality, and, uh, did I mention you don't have to pull down your pants to pee? 'Nough said, am I right? Totally worth the price.
Honestly, I cannot wait for more styles and products from SheFly.
Find the women's hiking pants here. We suggest you snag yourself a pair toot suite.
And then, you know, don't take life sitting down. And definitely don't get caught with your pants around your ankles.
•
This post contains affiliate links, which mean when you clicky-click and make a purchase, we may earn a small percentage of sales that result. The best part: you help support this channel and it doesn't cost you an extra cent!
Alisha is a freelance writer and photographer based in Austin, TX. She loves her tiny house, vegan food and experiencing the community of travel in far away places. She's also pretty sure she's addicted to coffee. alishamcdarris.com