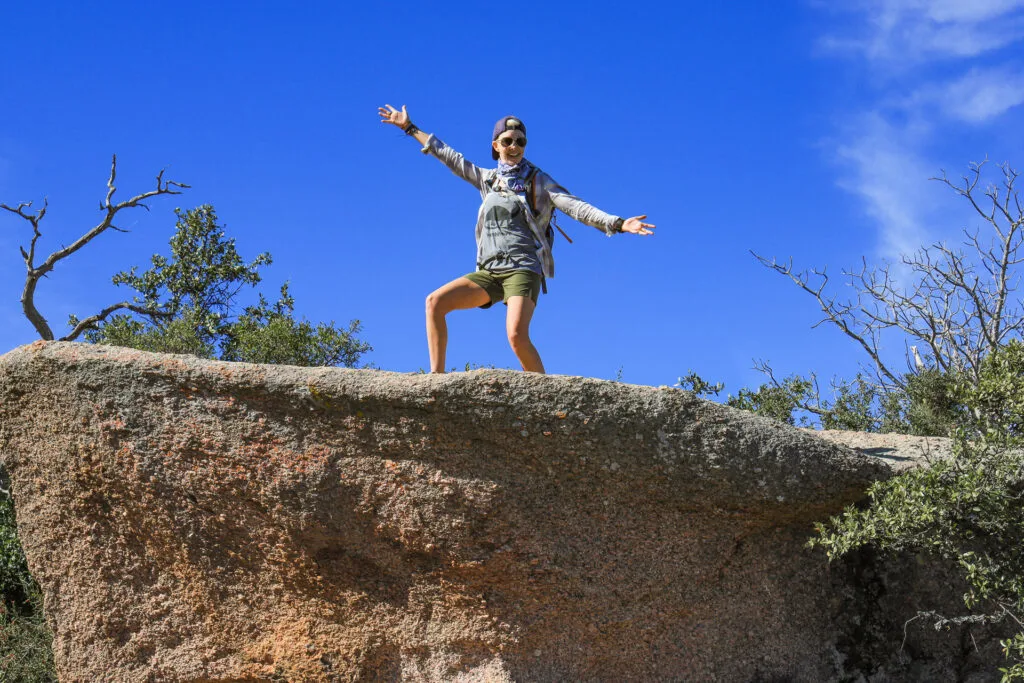 Fredericksburg, Texas, located centrally within the state in a region warmnly known as Hill Country, is known far and wide for its wine. Dozens and dozens of wineries call Fredericksburg home and a drive into town from Austin or San Antonio will take you past many of them. In the spring, wildflowers pop up everywhere and in the fall you may even spot a few fall colors on the deciduous trees. But whether you're headed to Fredericksburg for the wine or the German heritage or the holiday festivities (check out our post highlighting more to do in Fredericksburg here), if you find yourself getting a little antsy and eager to explore, these hikes near Fredericksburg will not disappoint.
5 Hikes Near Fredericksburg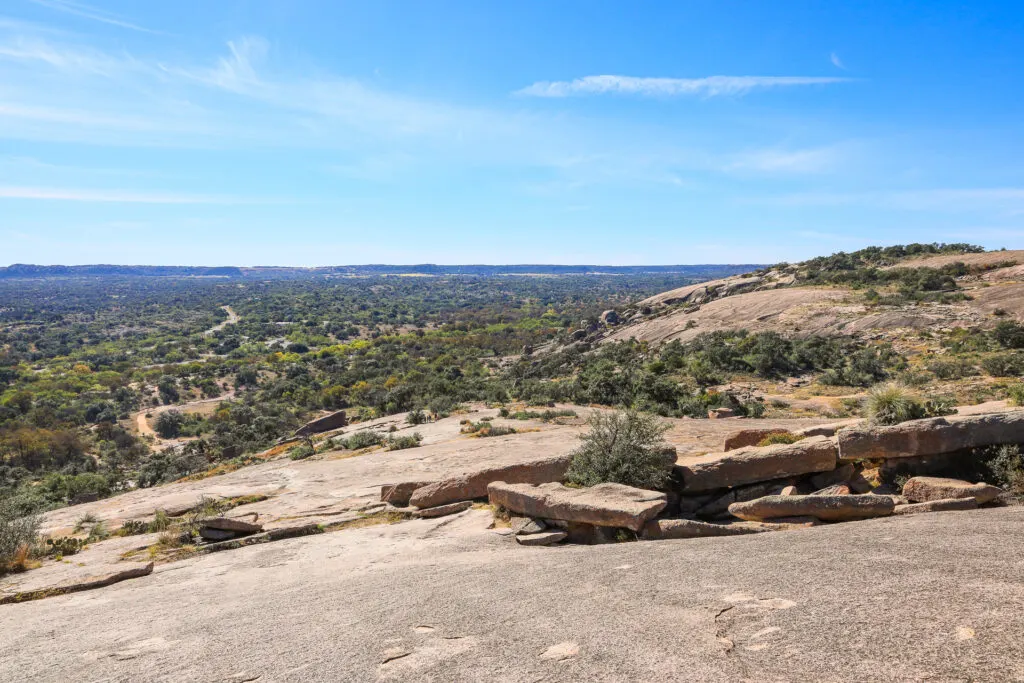 Enchanted Rock State Natural Area Summit Trail: 1.3 Miles
Listen, if you're gonna be in F-burg, E-Rock is an absolute must. It's one-of-a-kind, in Central Texas or otherwise. The giant pink granite dome is a geological wonder and a hike to the top is worth the effort. Sure, it's short (barely more than a mile out and back), but it's steep. Fortunately, the granite is nice and sticky, so any decent shoes will do the trick (no flip flops, though–you'll be very uncomfortable). The trail itself is less of a designated trail and more of a meandering wander to the top, but once you get there you'll enjoy 360º-views of Hill Country and plenty of area to wander, scramble over more rocks, and just chill.
Tip: There is a per-person entry fee of $7 and day-use reservations are highly recommended on weekends and holidays. Learn more and book here.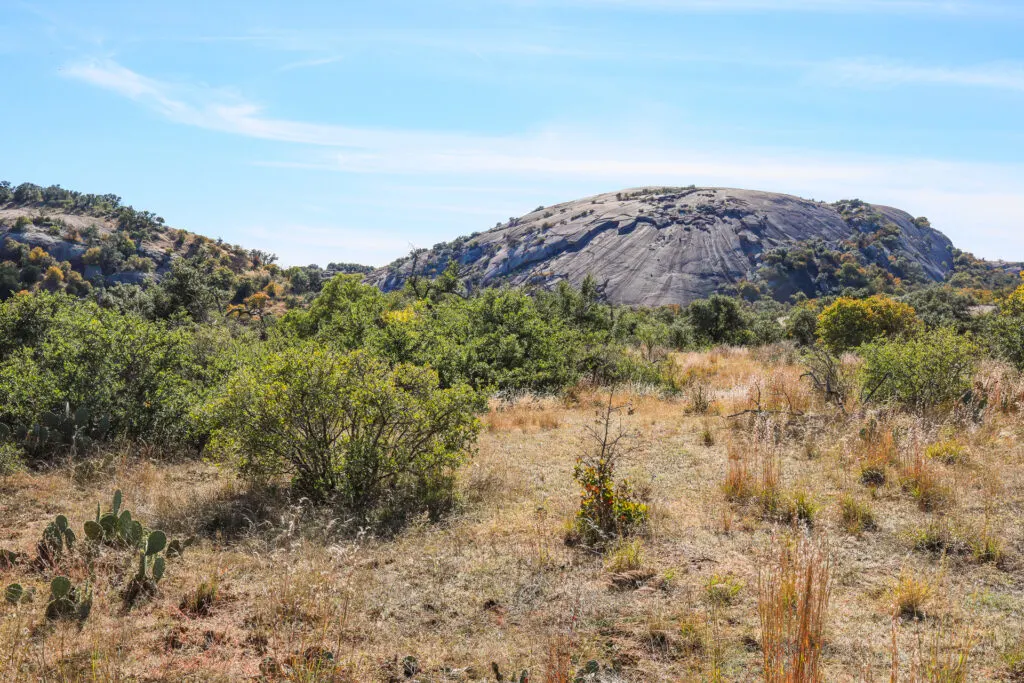 Enchanted Rock State Natural Area Loop Trail: 5.4 Miles
While the summit trail may get all the love at Enchanted Rock, we highly recommend you also hike the relatively flat rim trail. It offers a longer hike, plus a different view of the rock itself. You'll circumnavigate it, so you'll get to investigate from all sides. It is in full sun most of the way, so be prepared in warmer months, but keep an eye out and see how many native plant species you can spot along the way (hint: lots). If you want to cut the hike a bit short, take Echo Canyon Trail toward the end of the hike, which offers totally unique views (and shade).
Tip: There is a per-person entry fee of $7 and day-use reservations are highly recommended on weekends and holidays. Learn more and book here.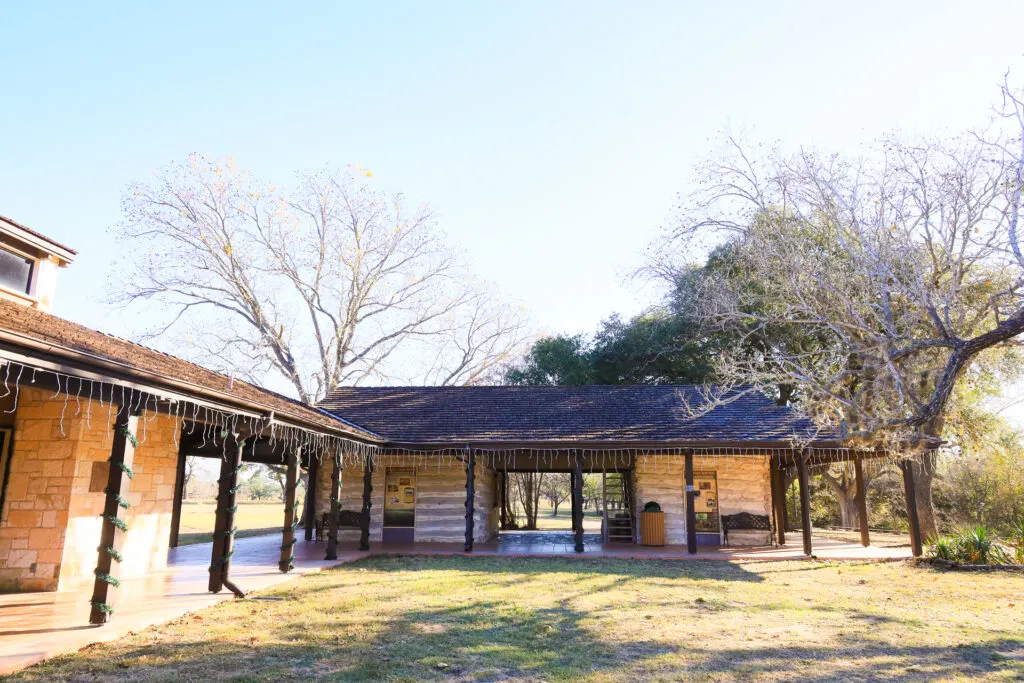 LBJ State Park: 1.2 Miles
While a stroll around this park won't get your heart pumping and muscles burning, it's still a pleasant looping wander. Especially if you take your time and meander out to spot the small herd of bison and the *official* Texas longhorn herd that live on the property. While you're there, learn about the park's namesake president and the area in which he lived (Fredericksburg/Johnson City, more or less) via a small indoor museum and lots of informational signs along the trail. There's also the Sauer-Beckmann Living History Farm on site in case you want to experience what a WWI-era farm was like in Fredericksburg.
Tip: This park is free! Learn more here.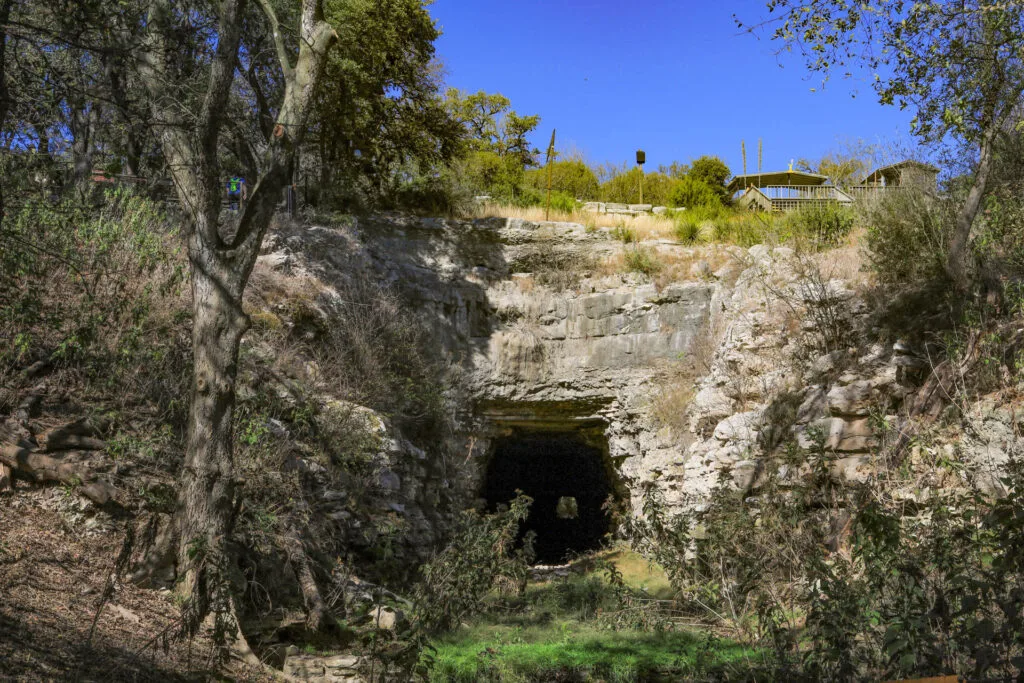 Old Tunnel State Park: 0.7 Miles
For a short but slightly more strenuous hike than at LBJ, head to Old Tunnel State Park for a hike, then stay to watch the Mexican free-tailed bats take flight! You'll have to make a reservation ahead of time to stick around for the bat show around dusk when they take flight en masse from the old railroad tunnel from May to October ($5 per person on the up-close and personal lower platform, $2 to view from the upper platform near the parking lot). There's also lots of informational signs throughout the park about bats, birds, plants, and more.
Tip: Park entrance is free, but bat viewing reservations can be made here.
Lady Bird Johnson Park Trail: 1 Mile
Some hikes in Fredericksburg are strenuous, others aren't. For another leisurely stroll, short and without much elevation gain, but still plenty picturesque, hike this natural trail not far from Main Street. It'll lead you through partial shade, along the reservoir and Live Oak Creek, and you'll spot lots of Texas flora (and maybe fauna, including birds and butterflies) along the way. It's a pleasant morning hike before you hit the town (and sample too much wine).
Tip: This park is free to visit!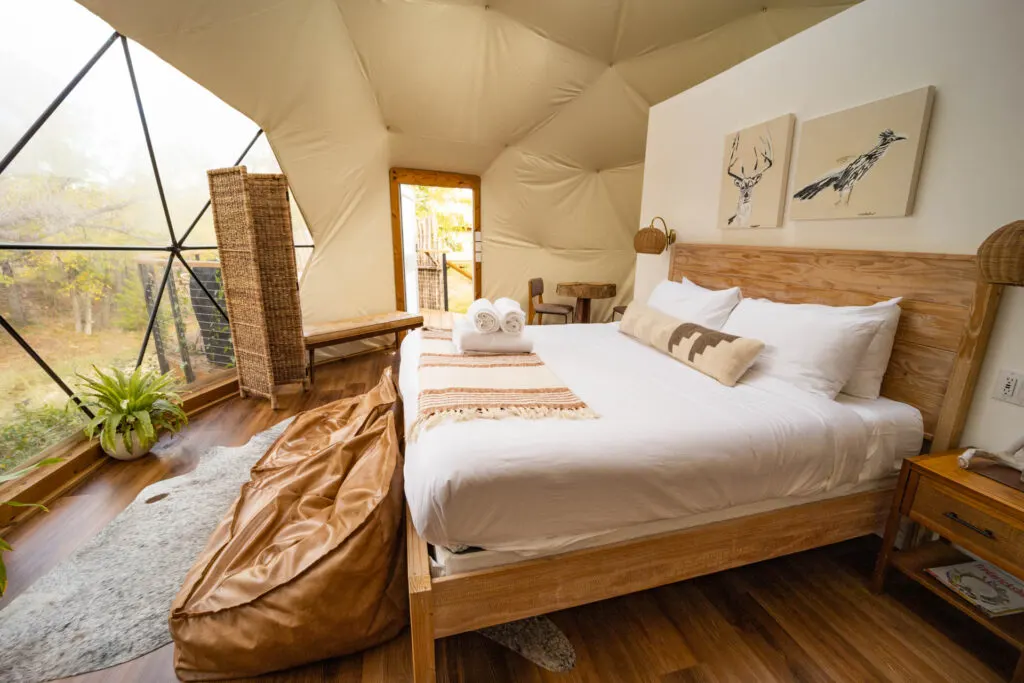 Stay Here
Wanna experience a totally baller stay after you complete some hikes in Fredericksburg? With conveniences like a full kitchen, bathroom, outdoor fireplace and hot tub, all in a private space that keeps you connected to the great outdoors? Onera Fredericksburg is THE place to be. Seriously. There are a handful of very cool and unique accommodation options ranging from treehouses to safari tents, but we stayed in the Lantana Dome and can whole-heartedly recommend the chill, cozy space with big views of the surrounding natural landscape (and wildlife). You may never want to leave! ("Josh, we live here now," may have been uttered once or twice…) Book your stay here.
Then enjoy some hiking in Fredericksburg and wander on!
Alisha is a freelance writer and photographer based in Austin, TX. She loves her tiny house, vegan food and experiencing the community of travel in far away places. She's also pretty sure she's addicted to coffee. alishamcdarris.com