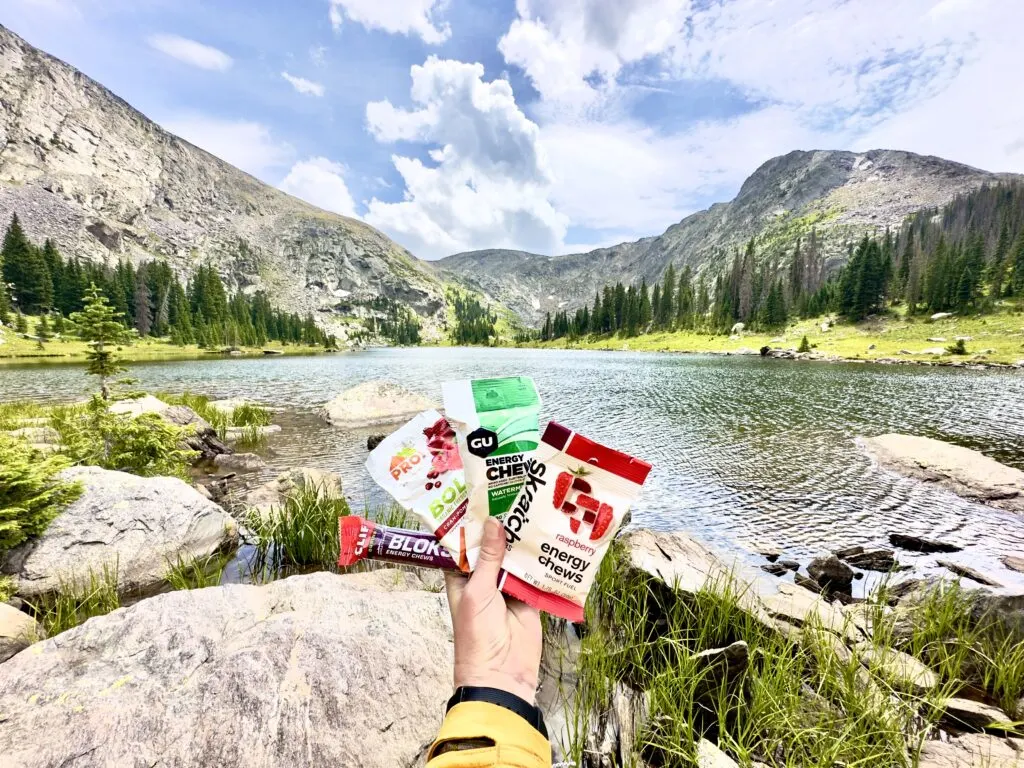 Whether you're backpacking, bikepacking, trail running, cycling, or whatever the heck else it is you do, it's kinda important to keep your body fueled and engine running. Almost as important as staying hydrated. But a lot of easy, tasty options out there for fueling quickly on the go aren't vegan, including some energy gummies and chews (many contain gelatin, which is made of fish or animal bones). Fortunately, there are some baller and delicious vegan energy chews out there for the plant-based crowd. Huzzah! Here are 5 that we've tried and why we dig 'em.
Why Snack on Energy Gummies?
First things first: is there a good reason to stock up on chews for any and all of your outdoorsy pursuits? Maybe, maybe not. While these types of products are designed to be easily digested and offer the most efficient source of energy with the least amount of fuss, a piece of fruit can be just as effective at fueling you with a similar amount of easy-to-digest calories and natural sugars and carbohydrates. So frankly, if I'm hiking (as opposed to cycling or running when I may not be able to functionally consume a piece of fruit) you'll more frequently find a mandarin orange or banana in my day pack than a pack of vegan energy chews. But that's just me.
Additionally, plain ol' vegan gummies like those from Yum Earth or Surf Sweets can also be effective. The sugars may not be as easily utilized and digested by your body, but if you're not competing in an endurance-type feat of athleticism and don't feel like you need extra ingredients like electrolytes or B-vitamins, you may not even notice the difference.
Of course, everyone's body is different, so if one type of gummy or food causes GI distress, try another. You do you, boo. Starting with one of these 5 vegan energy chews.
Vegan Energy Gummies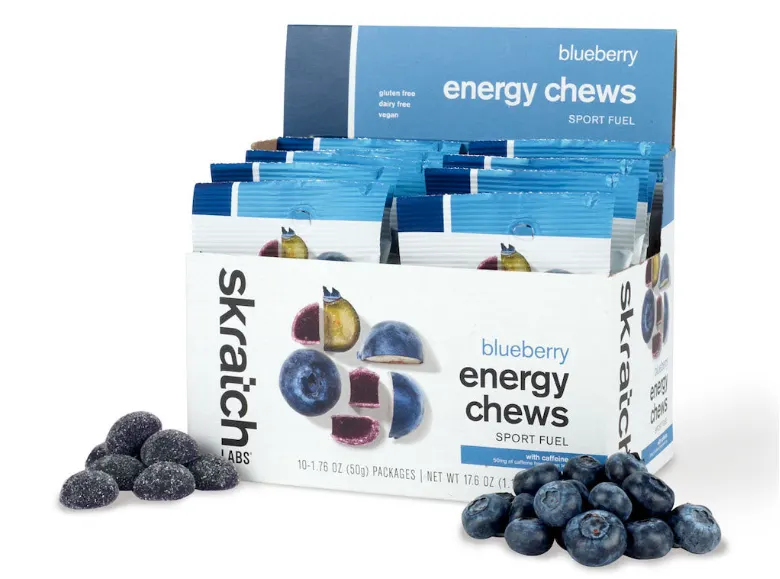 Skratch Labs Energy Chews
And the award for tastiest energy chews goes to…Skratch. Not only are the available flavors totally baller, but they're more refined (and grown up) too. They're soft, just the right amount of sweet, and contain real fruit juice, blessed B-vitamins and some flavors even contain caffeine. Long story short, when we reach for energy gummies, these are at the top of our list.
We also love the ingredient list, which is simple, short, and sweet, meaning there aren't any weird ingredients (or wax). They're specially formulated to be easy on your gut and quick and easy to digest, so if other gummies give you issues in that department, try these. Bonus: they're also gluten-free.
---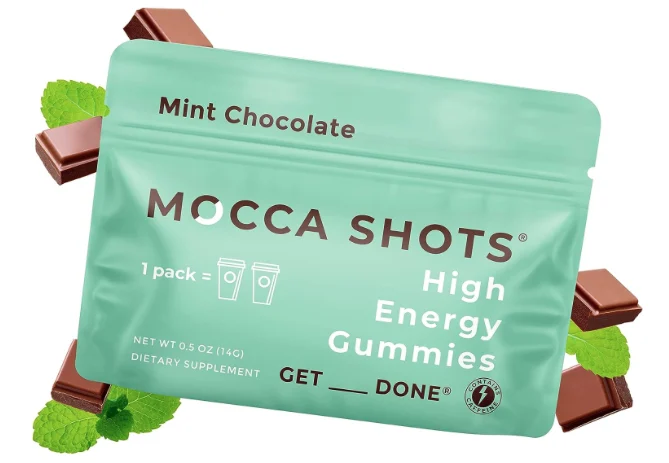 Seattle Gummy Company Mocca Shots
The first time we tried these stupendously tasty caffeine gummies we were blown away. I mean, when they say they taste like mint mocha, they freakin' taste like mint mocha! There's also a salted caramel, raspberry chocolate, and even red hot chili pepper! And each gummy contains the equivalent of a cup of coffee, so they're perfect for staving off those afternoon energy lulls when you've been hiking for 5 hours and you're starting to feel sluggish.
Each pack contains 2 gummies, and while a serving is only one, so they offer more in the way of a pick-me-up from caffeine than calories, they also contain B-vitamins. There are even sugar-free options available.
---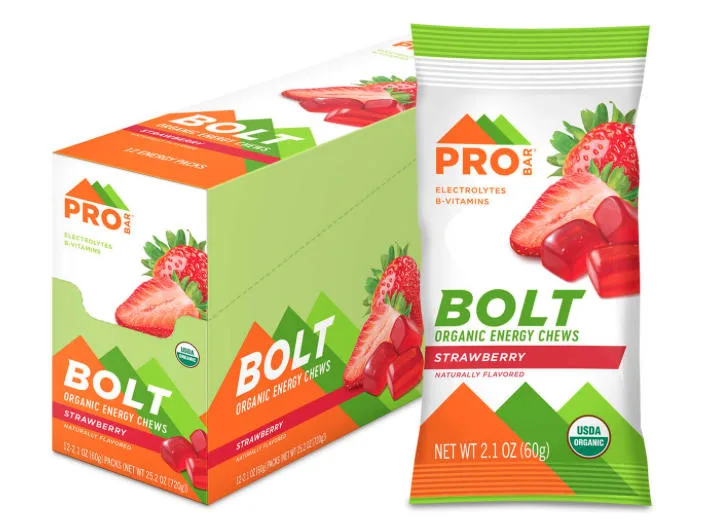 ProBar Bolt Gummies
Super soft and full of fresh, fruity flavor, these chews are also fully organic, contain electrolytes AND B-vitamins, and taste pretty dang good, too. The ingredients list isn't too tough to follow, either, and these bites contain real fruit, which is a plus. There are plenty of delightfully bright flavors to choose from and we love that the whole brand is plant-based and gluten-free. They make for solid workout gummies.
---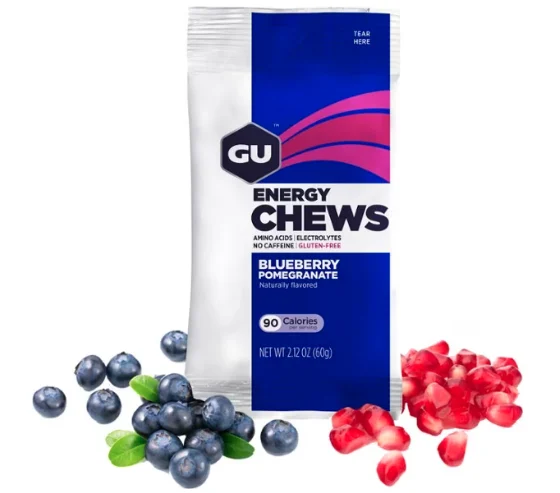 GU Energy Chews
Similar in nutrient profile of GU energy gels, Gu Energy Chews offer a flavorful burst of energy with each gummy bite. Each packet contains amino acids (BCAA's) and a small amount of electrolytes (salt) in addition to simple energy via sugar. We tried the watermelon flavor, but, as watermelon often is, it tasted fairly synthetic, even though it's made with natural flavors (but not real fruit juice). That said, they're available in a variety of flavors and the chews are vegan and gluten-free.
GU also takes sustainability seriously, so they partner with Terracycle, an organization that recycles stuff that your local center can't recycle (like snack wrappers). Simply collect your snack wrappers (including wrappers from other brands), request a free mailing label on the GU site, and send in your waste! FYI, many REI locations also have wrapper recycling bins in stores.
---

CLIF BLOKS
If you're looking for an energy gummy that most closely resembles those of your childhood, this is the one. It's denser and chewier than many of the others and the flavor I tried tasted…like the synthetic flavors of childhood. Not gonna lie, this one wasn't my favorite and didn't come in many flavors that made me want to load up my cart, but they're simple, straightforward, don't contain anything extra like B-vitamins, though several flavors do contain extra electrolytes or caffeine.
They are a bit more expensive than most of the other brands on this list, but do contain several organic ingredients and still make for decent and easy-to-find mid-workout or pre-workout gummies.
---
Bottom Line
When it comes to fueling your workouts or outdoor pursuits, try a few different products–including whole foods like fruit–to find what works best for you, fuels your adventures, and doesn't give you the farts. 😅 Then get energized and wander on!
•
This post contains affiliate links, which means when you clicky-click and make a purchase, we may receive some compensation. Don't worry, it won't cost you any extra, but you will be supporting Terradrift! That's what we call a win-win!
Alisha is a freelance writer and photographer based in Austin, TX. She loves her tiny house, vegan food and experiencing the community of travel in far away places. She's also pretty sure she's addicted to coffee. alishamcdarris.com