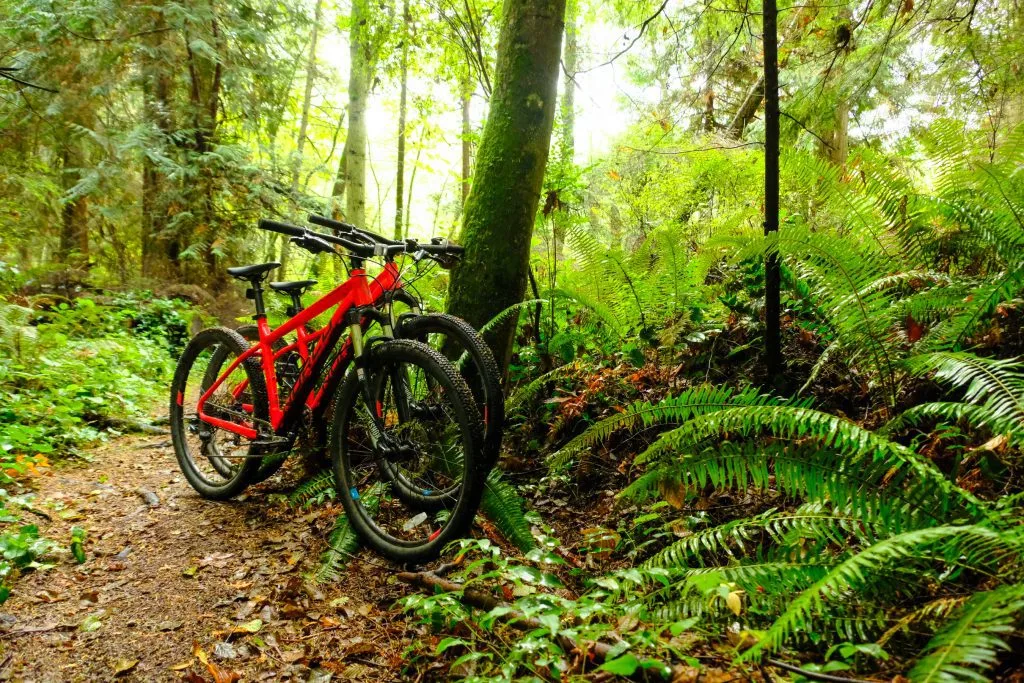 Here at Terradrift, our newest passion is most definitely mountain biking. Exploring dirt trails, feeling the wind on your face, and the thrill of speeding downhill on two wheels brings a sense of childlike joy like nothing else does and we're all about it. Naturally, we've taken plenty of gear out on the trails to test and compare, so we've rounded up some of our favorite sustainable mountain bike gear to help you have more fun (and stay safe) out there.
But right off the bat, let's get one thing straight: If you're just starting out with mountain biking, you don't need most of this dedicated mountain bike clothing or gear. You may never. You can ride in hiking shorts and regular crew socks, most helmets and a cotton T-shirt, trail running shoes and your favorite hydration backpack if you want. We aren't trying to say you need any of this to hit the trail (although you might want to make buying padded chamois liner shorts a priority). But if you are ready to upgrade your wardrobe or gear to include purpose-built items perfect for mountain biking, these are some of our sustainable favorites.
Just keep our tips in mind: shop sustainable, opt for gear that's multi-purpose (stuff that you can wear hiking or trail running or whatever in addition to cycling), and that is comfortable and functional. Then get out there and send it!
Favorite Mountain Biking Gear: Hers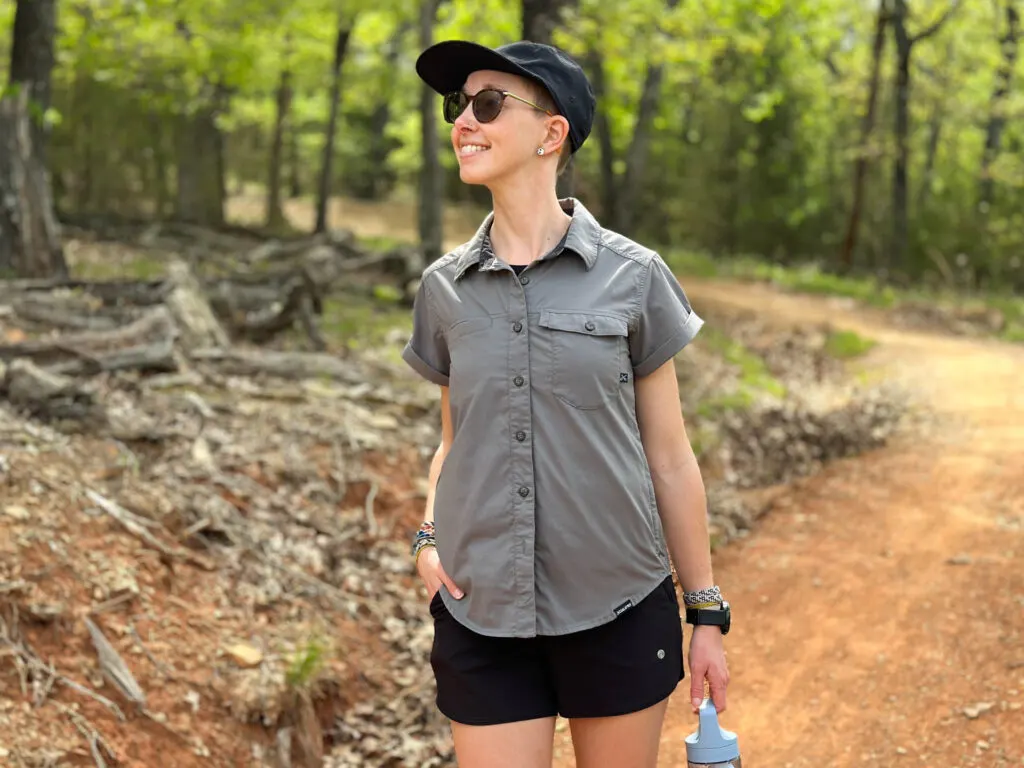 Coalatree Switchback Shirt
Mountain bike clothing can be hit or miss. Mainly, we hate articles of clothing that look like they can only be MTB clothing (looking at you, mountain bike jerseys). We love this shirt because it looks rad and totally not bike-y, which means you can wear it hiking, biking, to the farmer's market, to a casual dinner, to a backyard BBQ, to travel, you name it. I love the cuffed sleeves, collar and the flattering cut with the slight drop in the rear, all while maintaining a nice breezy and not overly feminine fit. On the trail, unbuttoning a few buttons aided breathability, the collar protected my neck on sunny rides, and did I mention all the pockets?! There are four: two on the chest (one of which features a secure button closure), and two zipper pockets on the side seam that are plenty roomy enough for a large phone. I'm obsessed. Bonus: it's made of recycled materials that are infused with coffee grounds to stave off stink longer. Order one here.
Pearl Izumi Summit Shell Shorts
Super lightweight, stretchy and comfortable, these 10″ shorts are a great length for shorter riders (like me) and warm temperatures. I love the fact that there's no button–just a hook and loop–that there's a fair amount of adjustability, and that these shorts not only have two hand pockets, but one secure zipper pocket on the thigh AND two small back pockets. Those back pockets may not be good for much when you're riding, but they're handy for when you're strolling around downtown or into the grocery after your ride. They come in several colors, are available in size 2-22, and they're made with mostly recycled materials. Bonus: Pearl Izumi features a Pedal to Zero™ initiative that inspires customers to ride instead of drive to offset the carbon footprint of their purchase. For these shorts, if you swap a car for a bike and ride 17 miles you've done it! One downside: they run a bit on the large side for smaller riders. I got the smallest size and still had to cinch the waistband quite a bit. Find a pair here.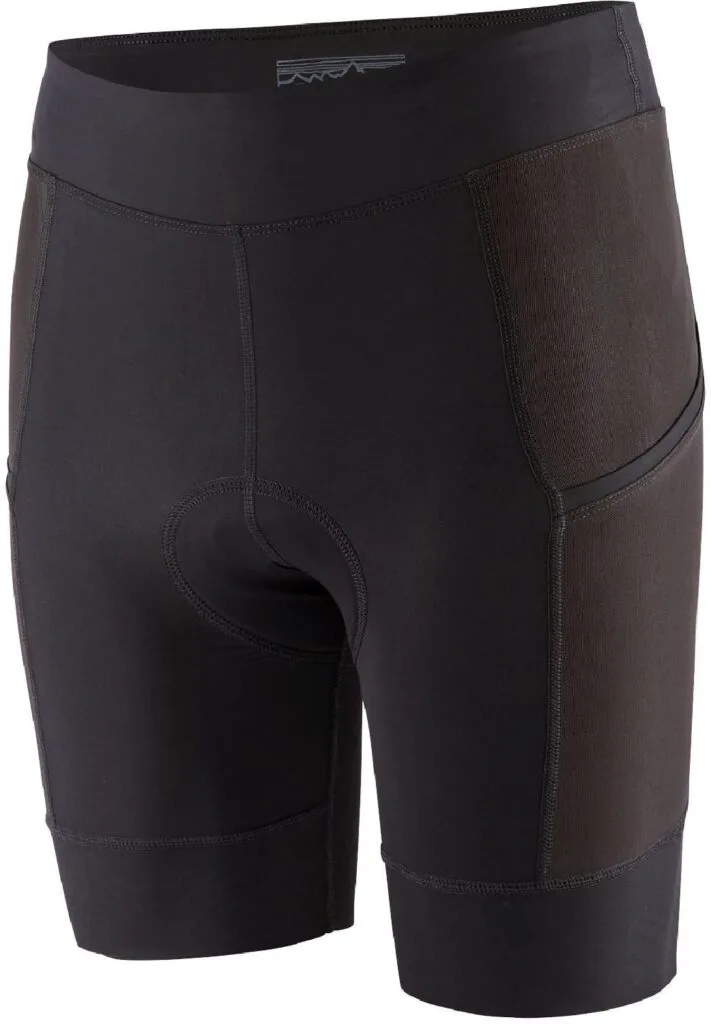 Patagonia Dirt Roamer Liner Short
If there's one article of clothing/gear that's specific to cycling and might actually be imperative, it's a solid pair of liner shorts with a padded chamois. And we love these from Patagonia. They're not only made of mostly recycled materials, but they have pockets! Meaning you can ride in just your liner if you prefer (though even the solid back fabric is a bit see-through when stretched) and still keep snacks and your phone handy. We also love the mesh side panels, which keep things cool and breezy on brutally hot summer rides. Tip: Size up. Fitted Patagonia items tend to run a bit smaller than other brands. Find the Dirt Roamer Liner Short here.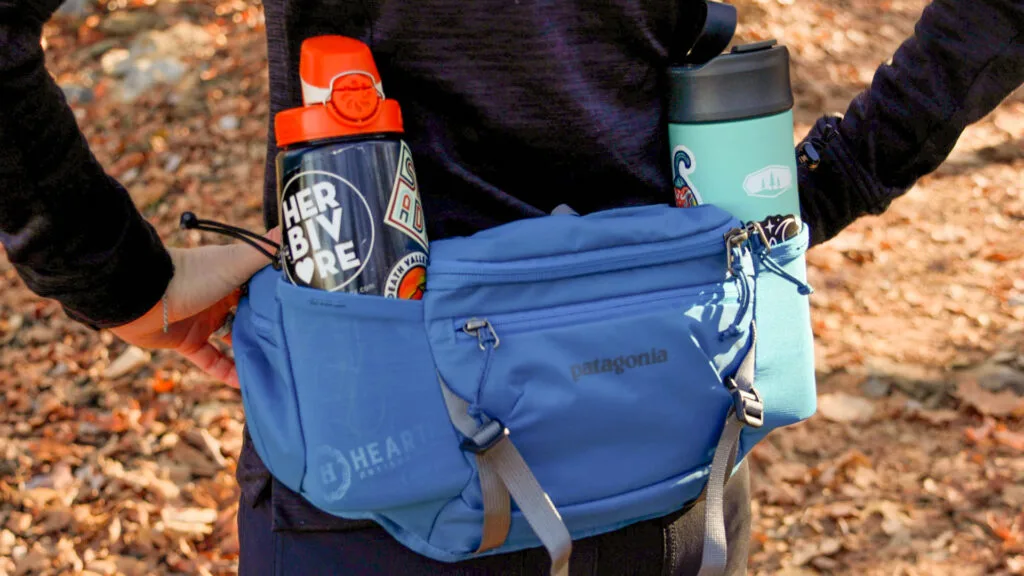 Patagonia Dirt Roamer 3L Hip Pack
You may be aware that for short hikes I'm a bigger fan of hip packs than day packs. But the same goes for mountain biking. Why carry a heavy and bouncy backpack on my sweaty back when I can just strap a hip pack to my waist? And of all the hip packs we've tested, for biking, the Patagonia Dirt Roamer is my favorite. It's light, breathable, can hold two water bottles plus a hydration pack and all the repair and safety tools you need, plus snacks. It stays put on rough trails, wipes clean, and is made of recycled materials. Snag one here.
Favorite Mountain Biking Gear: His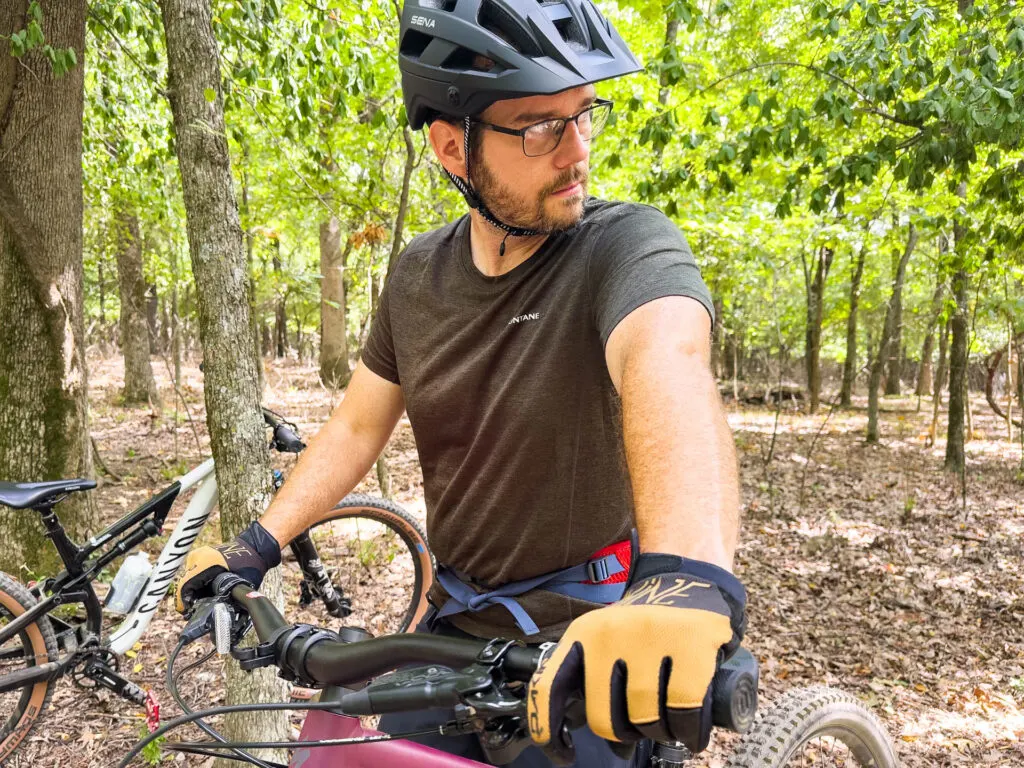 Montane Dart Shirt
Another shirt that's not technically a mountain bike jersey (but that's hardly required), the Montane Dart is made of recycled materials, but also offers a really nice fit, is stretchy, feels durable, and comes in an attractive handful of colors. It's not necessarily the most breathable shirt, so it might be more at home in mild to warm temps as opposed to brutally hot, but it performs well in all conditions. It's a well-constructed shirt that's built to last and has the benefit of being as at home on hiking trails as biking trails (or paddle trails or wherever else you go to play). Sizing is European, so you may want to order a size larger than you usually wear. Bonus: it's a budget-friendly find. Find the Montane Dart here.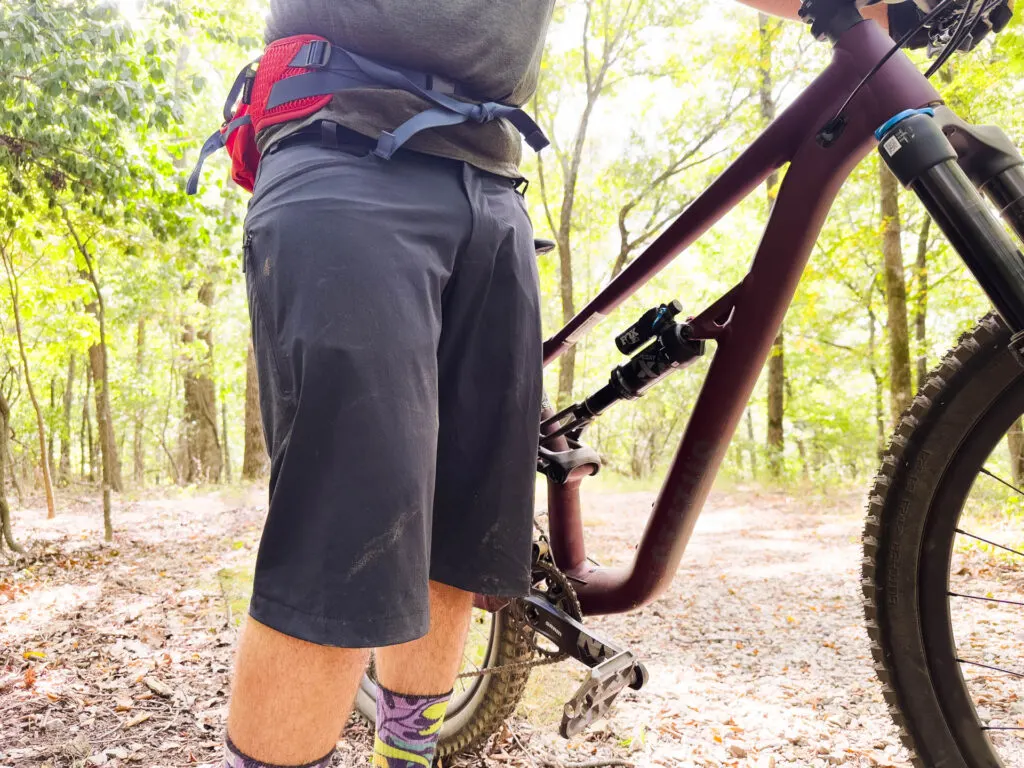 Rapha Trail Shorts
They may be a bit longer for shorter riders (they cover Josh's knees), but The Rapha Trail Shorts have nice adjustment straps on both sides if the waistband is a little too big. There's a bit of stretch to the fabric, and while it isn't made of recycled materials, Rapha does prioritize repair over replacement and not only educates customers on how to repair via their website, but every item of clothing also comes with several patches that match the fabric of that item so if you punch a hole in your shorts, you can patch them up quick and easy so they look fresh and new. The side pockets are roomy with nice long zippers that make stashing snacks and phones super easy, but there's also a smaller secondary pocket inside that's perfect for keys or other small valuables. Front hand pockets are also a welcome feature and the style is low-key enough that you won't get side glances if you end up wandering around town in them after a ride. Find the shorts here.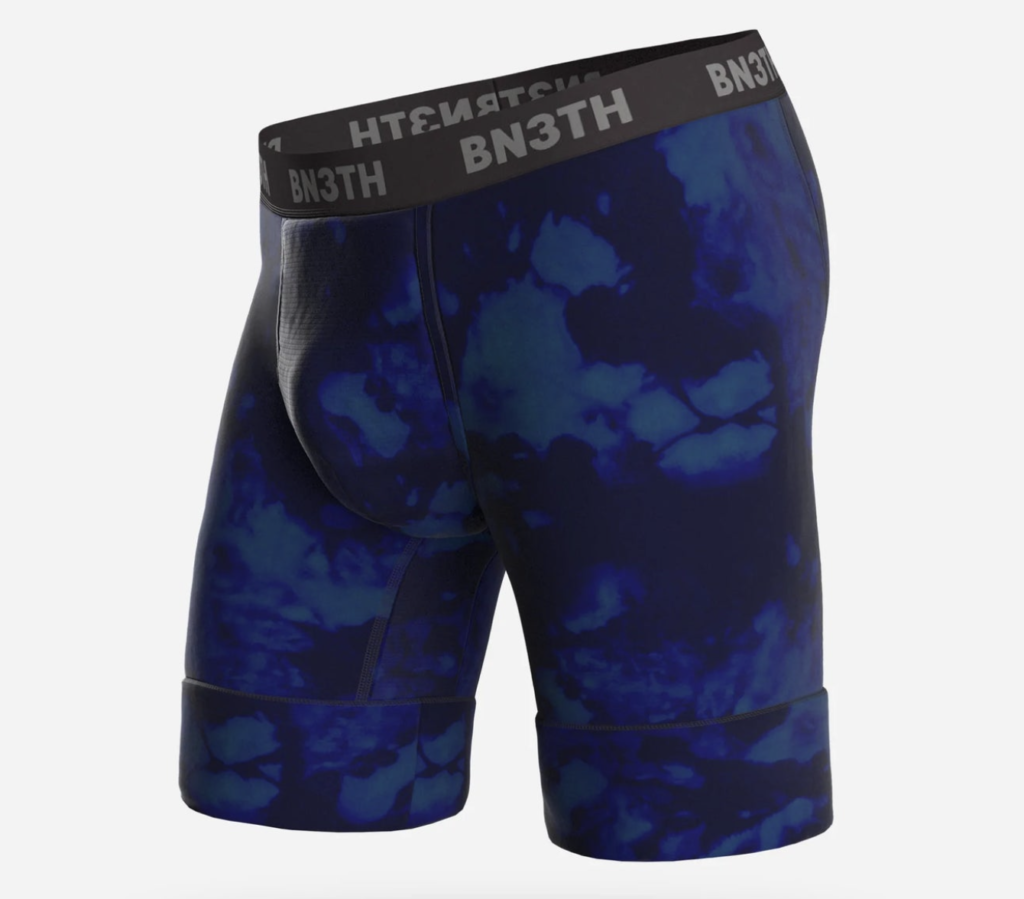 BN3TH North Shore Bike Liner Short
BN3TH has long made Josh's favorite sustainable underwear thanks to the brand's well-designed pouch that cradles, well, you know. So naturally, he was super stoked to hear they now offer a chamois liner. The MyPackage Pouch Technology is accommodating and supportive, the padding comes up higher in the front than many other shorts, making them more protective, and the length was just right. They stayed perfectly in place during long rides and made spending hours in the saddle on rugged trails vastly more comfortable. Plus they come in super fun colors and patterns from XXS–XXL. Order a pair here.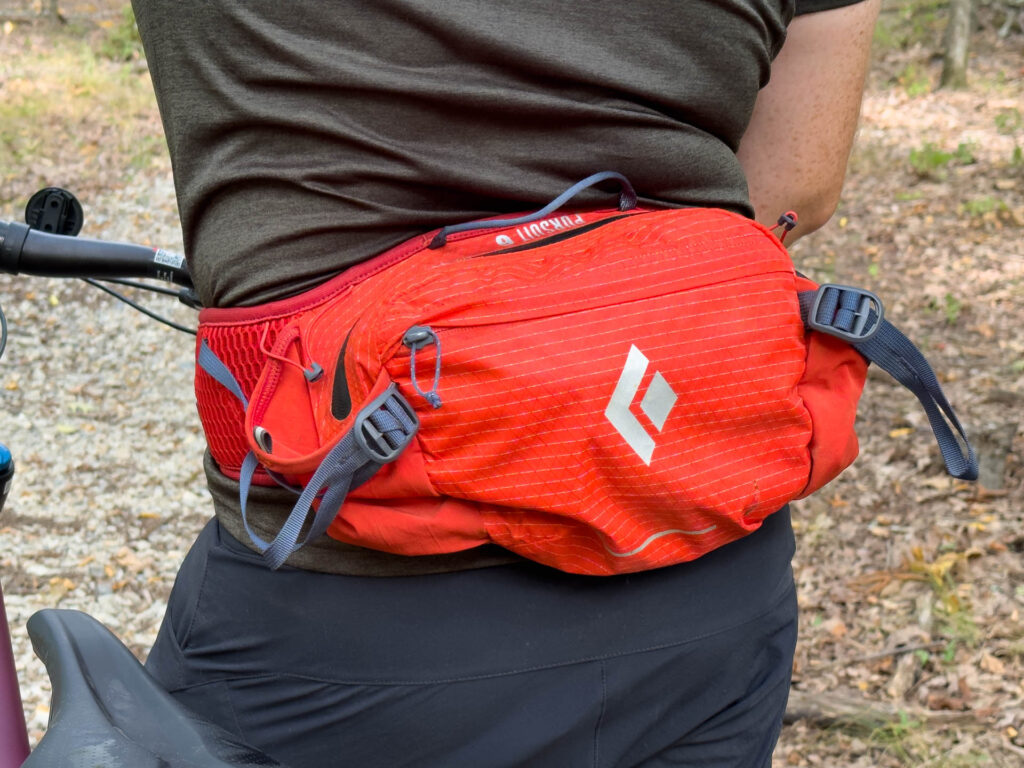 Black Diamond Pursuit 6 Hip Pack
One of our top two favorite hip packs for mountain biking, this one has it all: water bottle pockets, the capacity to hold a small lumbar hydration reservoir, a comfortable and flexible waist belt, plenty of room for snacks and repair tools (and a first aid kit), plus it's made of more responsible materials. Check it out here.
Other Favorite Mountain Biking Gear + Accessories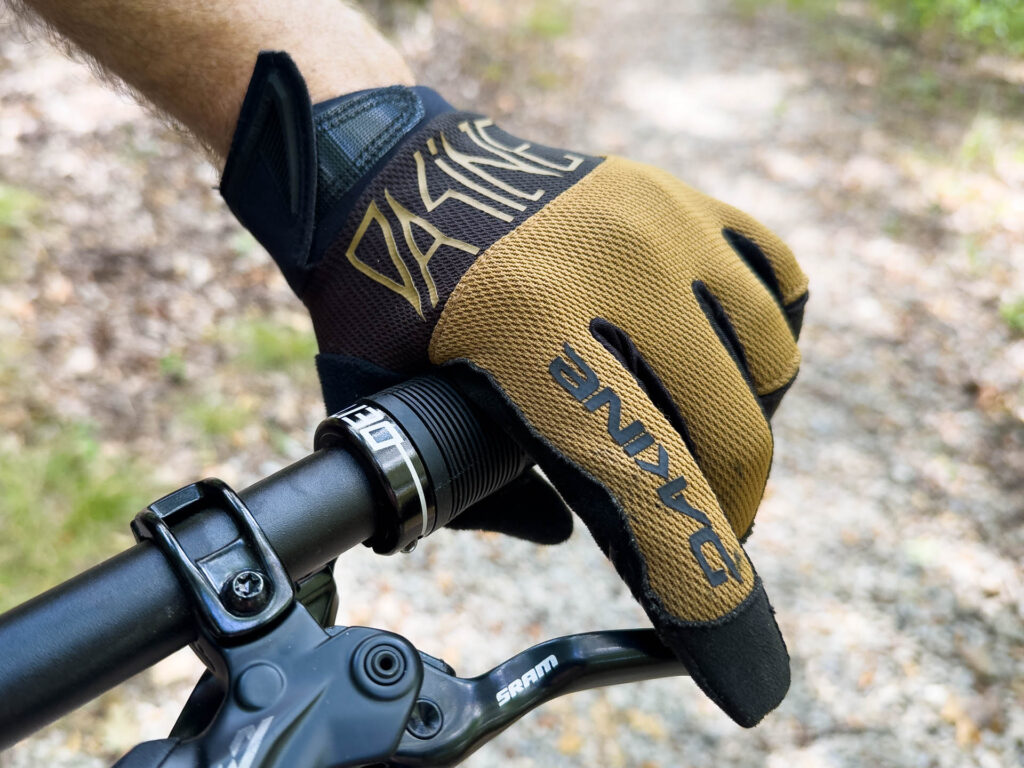 Dakine Syncline Gel Gloves
Made of partially recycled materials, these comfortable gloves come in several sizes so they're practically guaranteed to fit like a, well, glove. There's gel padding on the palm to help absorb some impact from rough trails, a microfiber panel on the thumb for wiping snot or sweat, and they're touch-screen compatible. Win. They come in several colors for men and women and are stretchy, fit perfectly, and should stand up to a fair amount of trail abuse. They may feel snug at first, but they stretch to fit. Just try to pry them off our cold dead fingers. Find the gel glove here, or if you prefer a smooth palm, find the gel-less Syncline glove for women here and men here.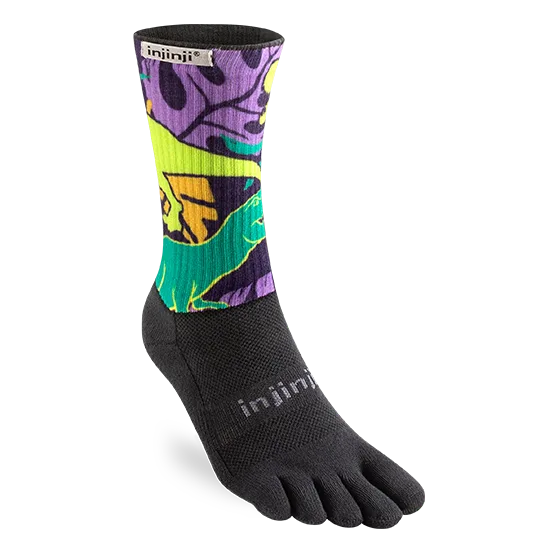 Injinji Toe Socks
If you saw our list of favorite synthetic hiking socks, you probably noticed a wild pair of toe socks on there. That's because these quirky socks from Injinji are some of our faves for both hiking and mountain biking. They're not too hot, they prevent blisters on your toes, and they come in fun colors and patterns. Order a pair or three here.
Optic Nerve Fixie Sunglasses
We love a solid pair of bike-specific sunnies to protect our eyeballs from sun (and sticks and dirt that try to slap us in the eyeballs). And our newest fave pair are from the Fixie line from Optic Nerve. We adore the reflective lenses of the FixieMax, but there are also photochromic lenses available (think Transitions lenses) that are perfect for riders who regularly spend time hopping from sun to shade and back again. Plus, they stay put while you're riding, have an adjustable nosepiece, and are made of castor bean oil resin instead of a bunch of virgin plastic. Order the FixieMax Photochromic here and the FixieMax here and use code TERRADRIFT to get 20% off!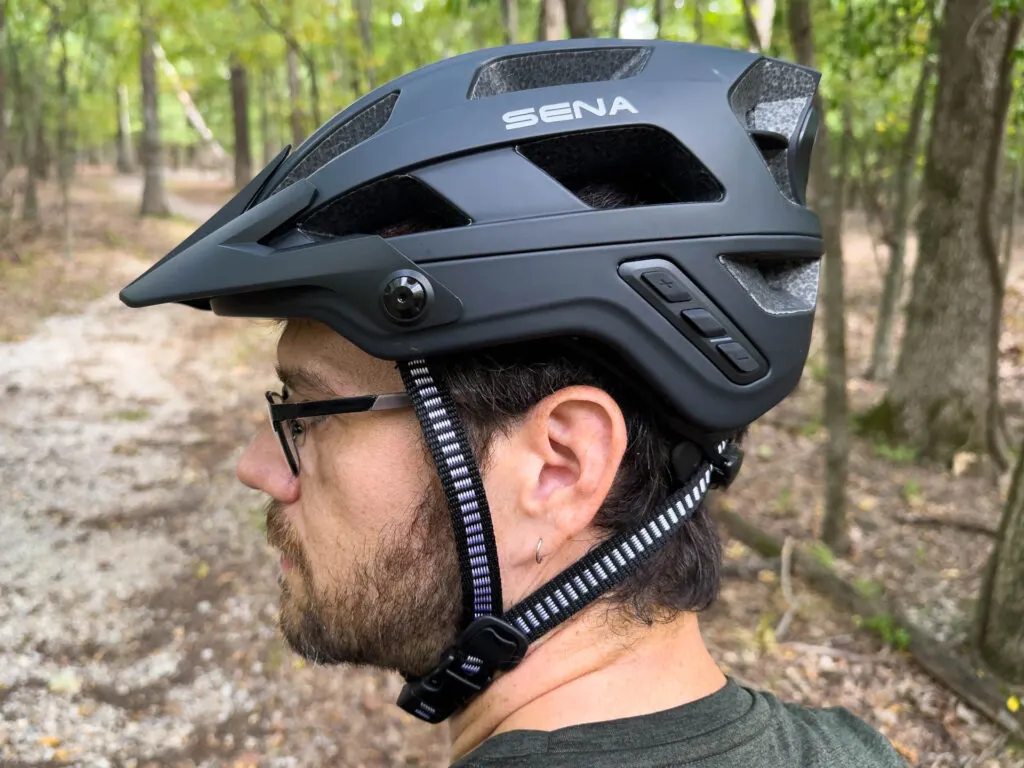 Sena M1 Evo Intercom Helmet
Riding with intercom helmets changed the way Josh and I ride. For the first time, we are able to easily chat while we pedal, including on trails where we not only chat about travel plans and what videos we have to shoot this week, but can alert one another to challenges or obstructions ahead. Or just trash talk when one of us has a harder time pushing up a long climb. We love the Sena M1 Evo trail helmet, a rad mountain bike helmet, but the Sena Pi (watch the review here) is also a fantastic option because it can be swapped between helmets, meaning you can use it with just about any helmet you already have for almost any sport. Snag yourself an M1 Evo helmet here or a Pi here.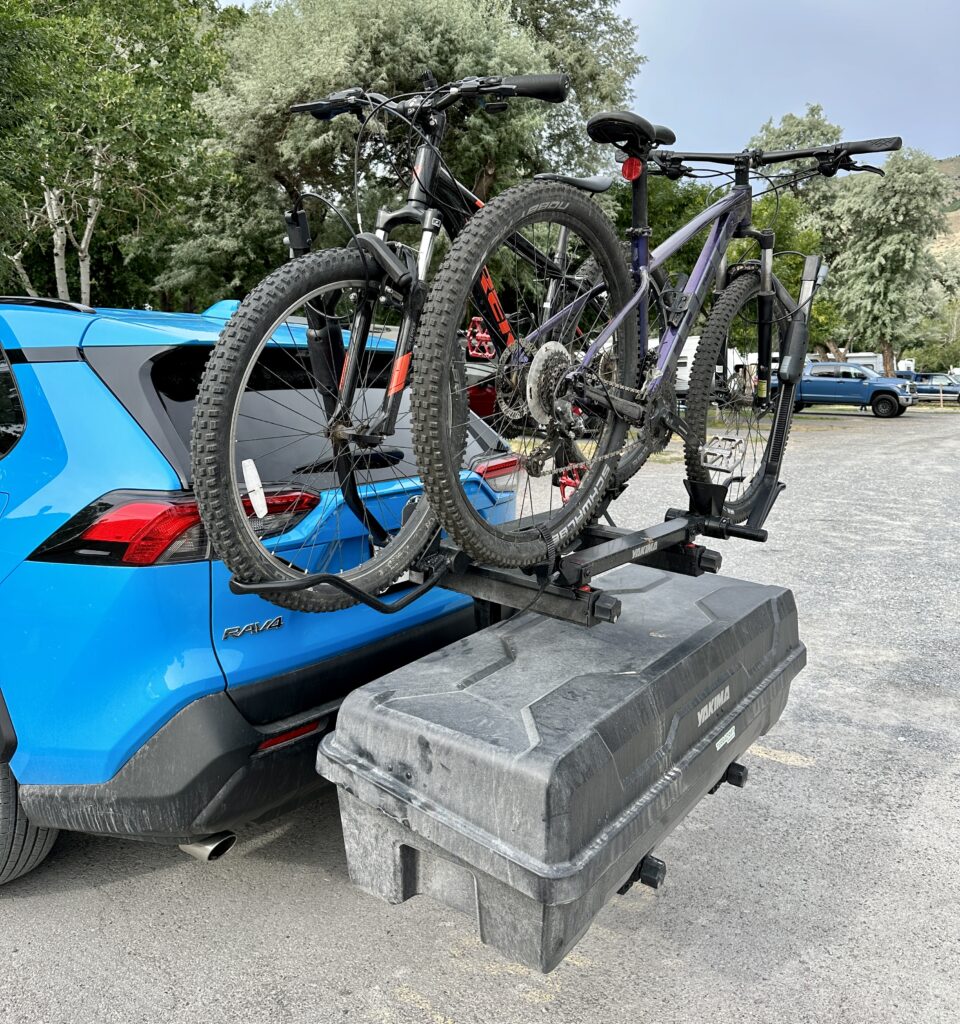 Yakima Exo System Bike Rack
While it may be overkill for those looking for just a simple hitch-mounted bike rack for the back of their car, for those of us who also go road tripping, overlanding, and frequently travel with tons of gear, including our bikes, we're not sure if there's a better setup than the Yakima Exo System. It's not cheap, but it may be the most versatile system we've ever seen (watch our full review of the Yakima Eco here). You can swap out the bike rack for a cargo box or rack or take it all by stacking one on top of the other! It's an excellent choice if you frequently have an overloaded car and no roof rack. Order a Yakima Exo System here.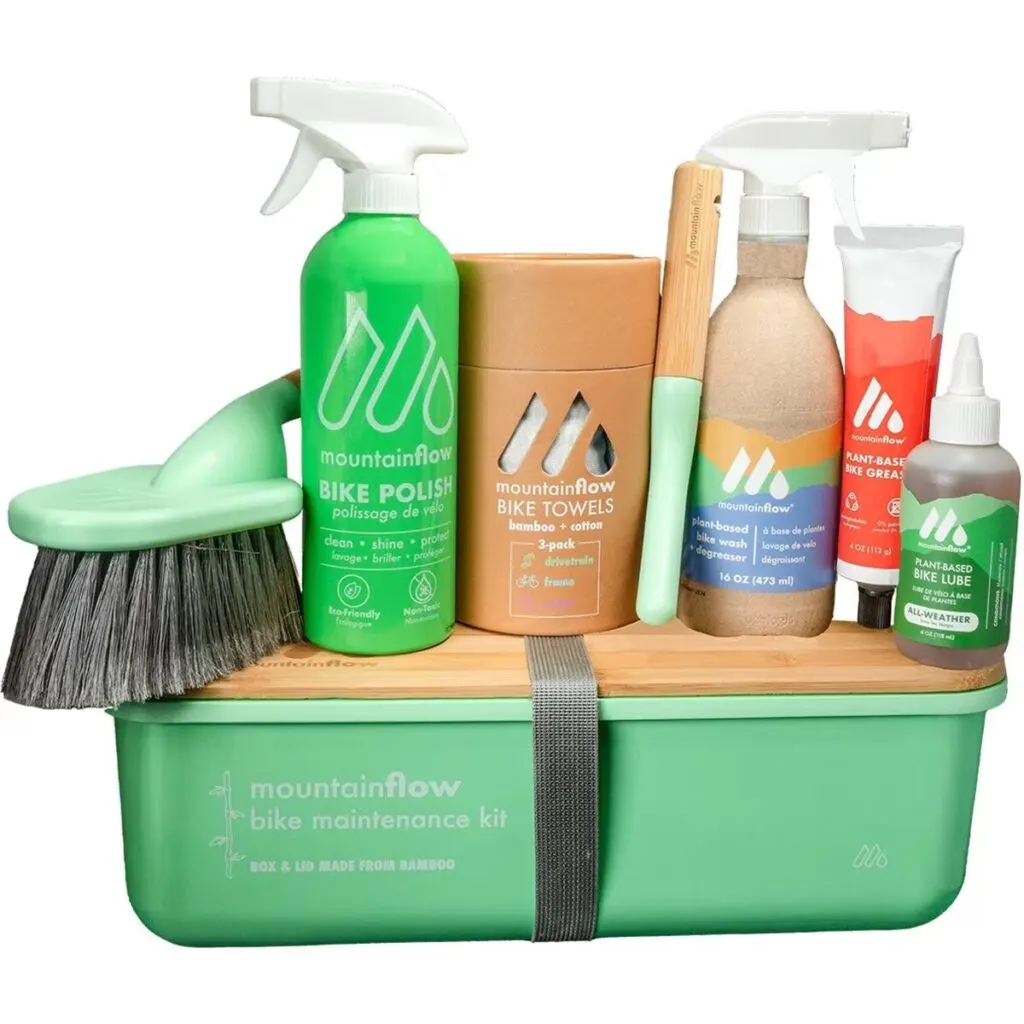 MountainFlow Plant-Based Bike Care Kit
Cleaning your bike should be part of regular bike maintenance, but a lot of care and cleaning products contain harsh chemicals or non-biodegradable waxes, usually in unsustainable packaging. Not the MountainFlow Plant-Based Bike Maintenance Kit. While there is still some plastic present, all the contents of the bottles are plant-based, not petroleum-based, and more eco-friendly, plus the towels are made of cotton and bamboo instead of plastic-based microfiber. In the kit: bike wash and degreaser, polish, two types of chain lube for wet or dry conditions, bike grease, and bamboo and recycled plastic cleaning brushes, all packed up in a sleek and convenient bamboo storage box. Love. Buy individual items on REI or order the whole kit on Backcountry.
Bottom Line
While you certainly don't need a full wardrobe of specialty clothing to enjoy mountain biking, if you ride often, you may well want to invest in some high quality, sustainable items that can make every ride more enjoyable. If so, these pieces of gear will do the job nicely. Now get on your bikes and wander on already!
•
This post contains affiliate links, which means when you clicky-click and make a purchase, we may receive some compensation. Don't worry, it won't cost you any extra, but you will be supporting Terradrift! That's what we call a win-win!
Alisha is a freelance writer and photographer based in Austin, TX. She loves her tiny house, vegan food and experiencing the community of travel in far away places. She's also pretty sure she's addicted to coffee. alishamcdarris.com