Intercoms, music, directions and safety all in one extremely convenient package? That's the Sena R1 Evo. And if you didn't think you needed a smart helmet for cycling, you couldn't be more wrong.
We recently tested out Sena's newish cycling helmet complete with their already well-respected intercom technology, and feel very strongly that anyone who cycles, even if it's "just" for recreation or commuting, needs to know about this helmet. That's how much we liked it.
But we're getting ahead of ourselves! Let's start with the facts and then move into the R1 Evo's pros and cons and whether we think you should snag a couple for yourself (spoiler alert: we do).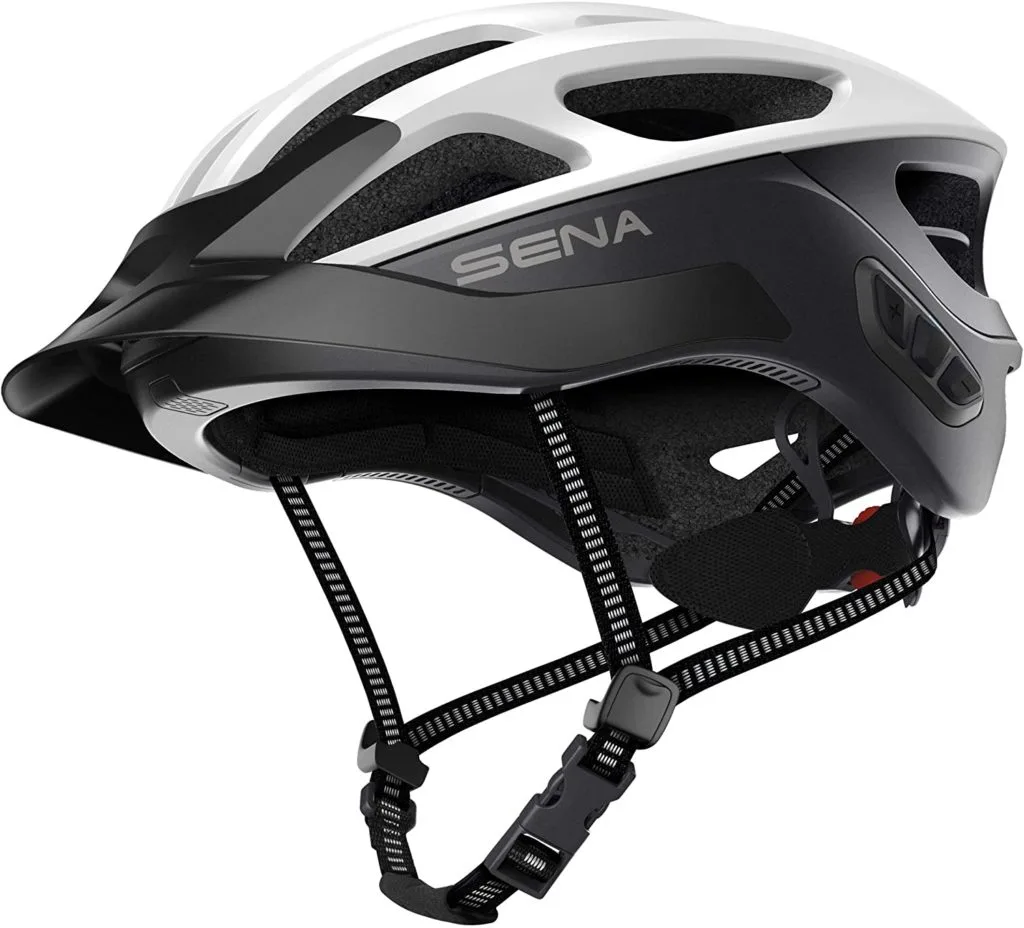 About the Sena R1 Evo Smart Helmet
For starters, it comes in two colors: black and white, and is equipped with microphones, speakers, Bluetooth technology, FM radio with a 10-preset station memory, and Sena's Mesh Intercom system with nine channels to choose from. Sena says the intercom will work for up to a half-mile, which is a pretty good distance. There's also a built-in taillight with three different settings: solid, and a bright and dim flash.
There are several buttons that allow you to switch between features and so forth, but you can also use voice commands, both for the helmet (for example, say, "Hello Sena, turn taillights on…") and for your phone. As in, you can talk to Siri. Or whoever the android version of Siri is. But you can't just talk TO your phone, you can make calls WITH your phone thanks to Sena's impressive noise-canceling technology.
Now, the helmet battery should last you about 7-10 hours per full charge, which is a solid amount of time before you need to recharge via USB, but battery life will of course depend on the features you're using. And speaking of features, there's also an app you can use to switch between functions and customize a few settings. You can use the smart helmet with fitness apps, too, though we didn't try that feature. Because we don't use any fitness apps.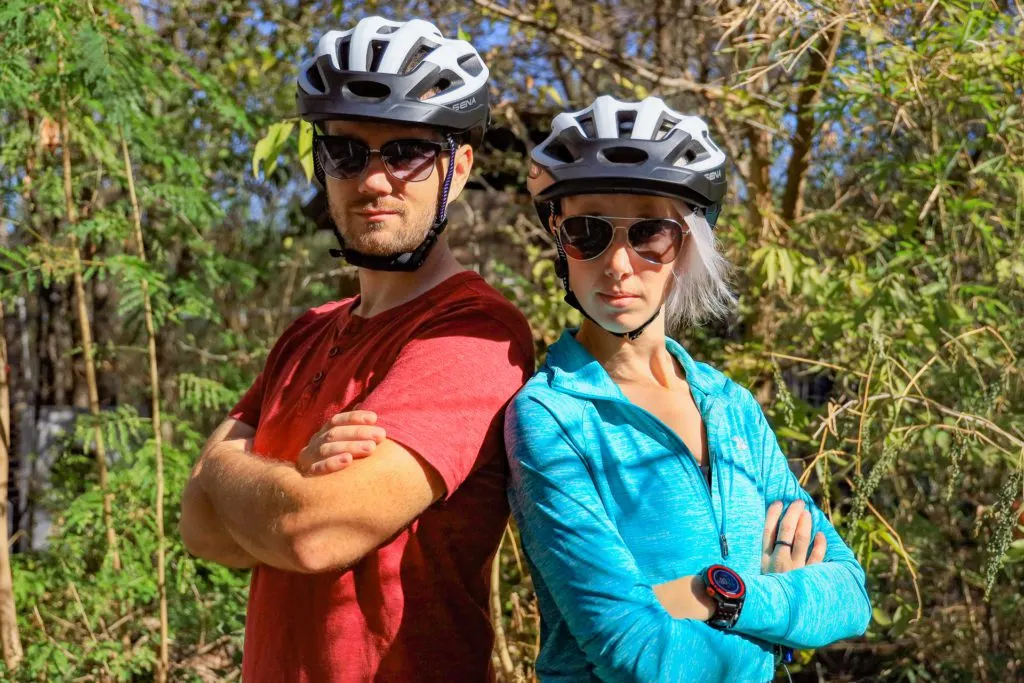 Who this Smart Helmet is For
Let's set the scene. Multiple scenes, maybe. Say you're out cycling around a new city trying to figure out how to get to that vegan bakery you've heard so much about, but in order to get there you've got to fumble with your phone to get directions, you're constantly taking your eyes off the road to see if you've missed a turn…its a mess.
Or maybe you're just riding around town with your best bud, shouting at each other over traffic noise in order to carry on a conversation so much that you've lost your voice by the end of the day.
Or maybe you're a solo cyclist and you just want to enjoy the simple pleasures while you peddle, like listening to your favorite tunes or true-crime podcast. But earbuds or headphones mean wires that get tangled in your helmet, buds that threaten to pop out of your earholes, and you're muffling the sounds of traffic and pedestrians around you, which can be unsafe.
Maybe you commute to work and you're late more often than your boss would like and you're afraid you're gonna miss that important phone call if you hit one more red light.
Many a cyclist, ourselves included, have struggled with some, if not all of these situations. And the Sena R1 Evo addresses them all.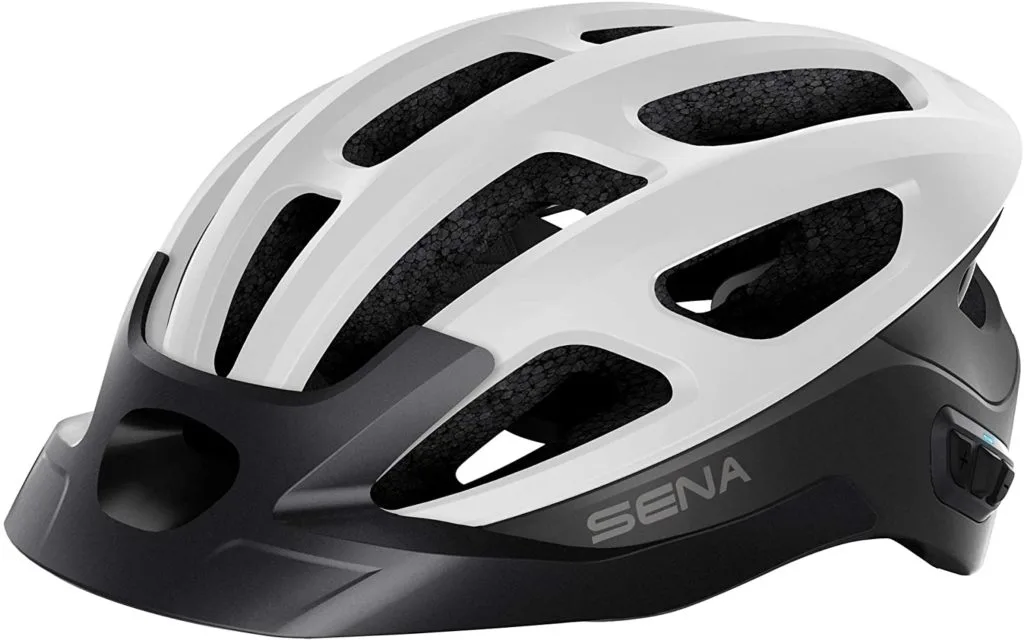 Pros and Cons
But before we get into our full review, let's talk pros and cons when it comes to the Sena R1 Evo.
Pros:
Clear Intercom for effortless conversation between up to 9 people
Listen to music through your favorite phone app
Get directions spoken to you
Custom fit for extra safety
No earbud or headphones required (they're not safe, anyway)
Long battery life
Easy-to-remember voice commands for many functions
Excellent noise-canceling technology
Safety light built-in to the back of the helmet
Cons:
Helmet mistakes a lot of words and sounds with the trigger phrase, "Hello Sena"
Can't use intercom and listen to music at the same time
Siri sometimes struggled to understand our commands
Lots of button combos to remember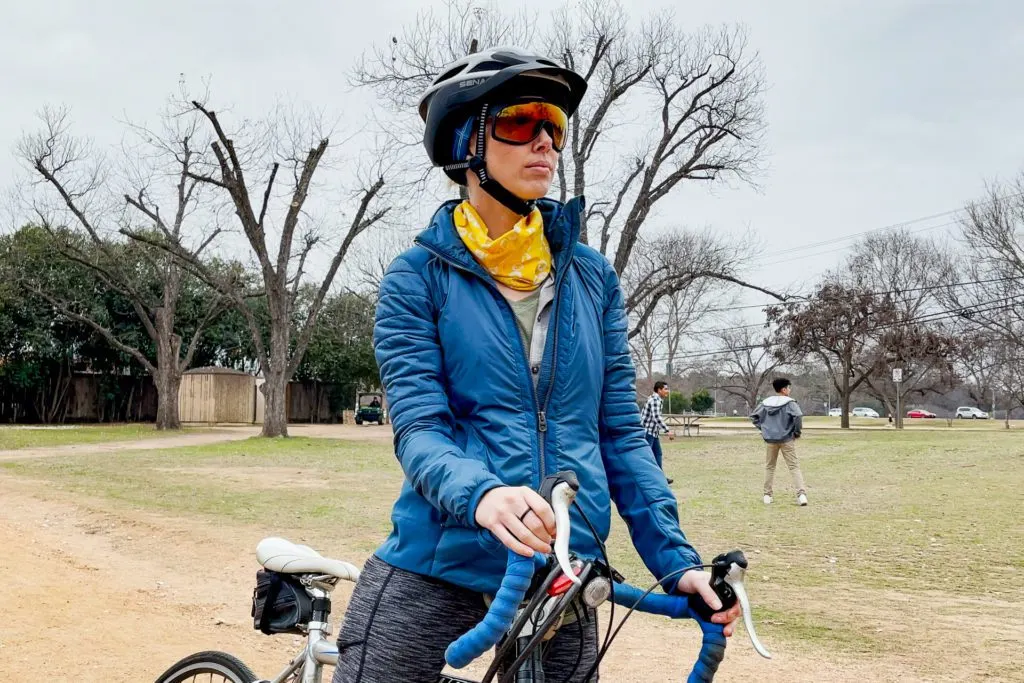 What we Thought of It
Honestly, it's pretty great. Right off the bat, we were very surprised at how much we actually talked to each other when it didn't involve yelling at the top of our lungs, repeating everything we said at least once, and turning to look over our shoulder so the person riding behind could hear. You could just speak at a normal volume and carry on a conversation. Usually, we have to go on nice long walks in order to have the sorts of chats and discussions we had on our bikes. It was great. We like being able to talk to each other while we ride, and you could always hear the other person clearly. Even with traffic noise and when we got separated by maybe ¼ mile, the intercom came through loud and clear.
The ability to listen to music or other audio through the speakers in the helmet was a huge plus. When I'm cycling alone, I like to have something to listen to: music, audiobooks, whatever. But I don't like using earbuds. My dad always taught me that wasn't safe because it blocked other noises around you like approaching cars and sirens–or other cyclists announcing themselves while passing–but I also don't find most earbuds that comfortable, and the ones I like all have cords, which are a nuisance when wearing a helmet cause they get all tangled and stuff.
But with the Sena, you connect your phone via Bluetooth and you can use your favorite app to play music. And nothing's in your ears, so you can still hear the ambient noise around you, which is great. And despite the tiny speakers, the sound quality was actually pretty good.
But it's not just music you can listen to: it's directions, too. Just set your destination in your fave map app before you take off and you'll get audio directions piped into the speakers as you ride, just like you would in your car! And yes, you can listen to music and get directions at the same time. As for music, you may have to open whatever app you're using to play your media of choice before you're on the bike depending on the app.
However, there's plenty you can do via voice command once you're pedaling. You can ask Sena to turn the Mesh intercom on and off, ask her to play music, even turn on the safety lights on the back of the helmet! And by pressing and holding the center button, you can activate your phone's assistant to do things like read text messages and make calls. And because of Sena's noise-canceling technology, calls were perfectly clear. The person on the other end had no idea we were speeding down the road, wind whipping past the mic, no joke!
Of course, there are things we nitpicked about, too. For example, you can't listen to music AND use the intercom at the same time. It makes sense from a technical standpoint, but it would be cool in the future if there were a push to talk function (like a walkie-talkie) where you could also listen to tunes or directions.
The only other thing we didn't love, but will obviously get used to, is the lack of buttons. Naturally, you don't really want 15 buttons all over the helmet, each with its own unique function, but since there are only three, there are a lot of button combos to remember. Hold down these two to turn it on, press them once to turn it off, hold this one for one second to switch to the intercom, three seconds to connect to Siri…It's a lot. And if you don't use the helmet on at least a weekly basis, all the combos could be hard to remember. In fact, it might not be a bad idea to keep the little manual handy for use as a cheat sheet or just look at the quick start guide available for download via the Sena app.
These are little quibbles, really, and not complaints that really take away from the fact that I'm super excited to be able to carry on a conversation while I ride with others or safely jam to some AC/DC when I'm riding alone.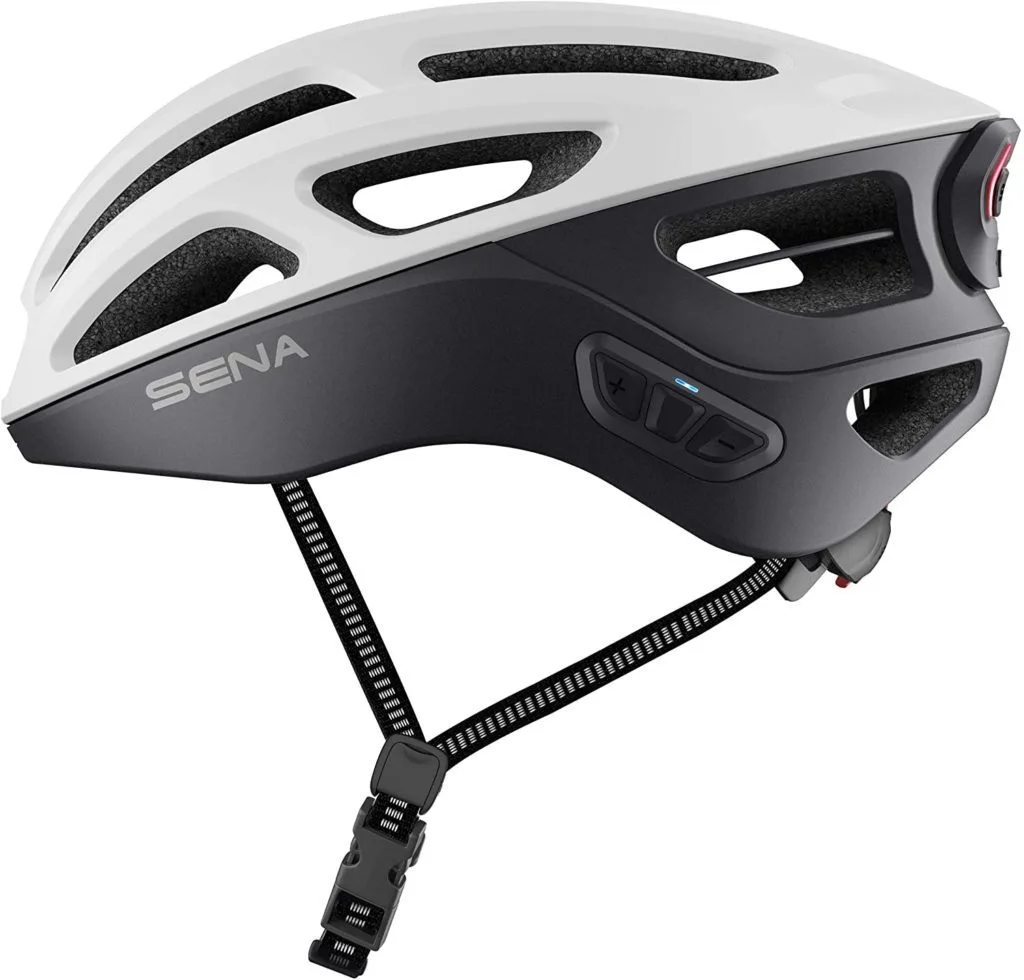 The Bottom Line
As with any new tech, there's a learning curve, but this is a really cool helmet that does a lot. You can chat with up to 9 other cyclists who also have the helmet, listen to music, get directions, check your text messages, even pretend you're in the office and take business calls while you're enjoying some time in the saddle.
While the Sena R1 Evo may have been designed with more professional cyclists and racers in mind, it's just as nice to have if you're a recreational or commuter cyclist like we are. Like, really nice. Surprisingly nice.
Think you might need to check these out for yourself? (You do.) Find the Sena R1 Evo here. And then get on your bike and ride! Wander on.
•
Looking for more gear reviews? Find them all right here.
*This post contains affiliate links, which means when you clicky-click on a link and make a purchase, we may receive a small percentage of the sale. Which means you get a dope new helmet and we get to keep these reviews coming! You rock.
Alisha is a freelance writer and photographer based in Austin, TX. She loves her tiny house, vegan food and experiencing the community of travel in far away places. She's also pretty sure she's addicted to coffee. alishamcdarris.com