I've recently become a big fan of hip packs. I prefer fanny packs to backpacks for short hikes and most mountain biking, they're easy to travel with, they hold just the right amount of snacks, and they keep my back from getting all sweaty when I'm playing outside. So we went searching for the most sustainable hip packs for all manner of outdoor adventure and put them to the test to see where each excelled. The goal: to help you find the perfect waist pack for you that also happens to leave a lighter footprint. So here are 6 sustainable hip packs for hiking, biking, or whatever it is you like to do outdoors.
Sustainable Hip Packs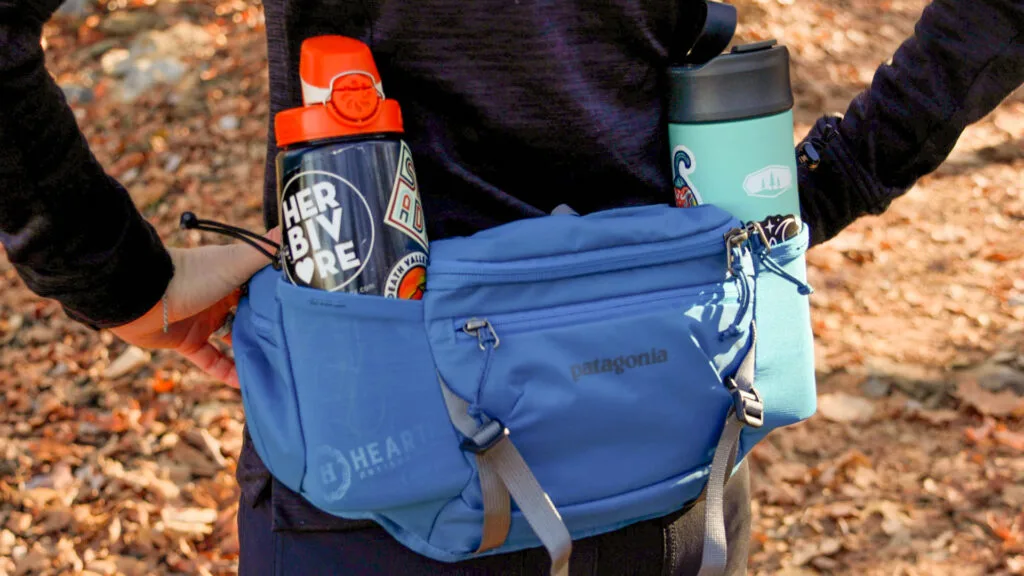 The Patagonia Dirt Roamer Waist Pack quickly became my go-to for mountain biking. The capacity is perfect for a few hours outside (there's room for snacks, a repair kit, spare tube, keys, etc.), there are multiple zipper pockets, including on the hip belt for easy access to snacks or a cell phone, it's super comfy no matter how long you're wearing it, and I love the water bottle pockets. There's one on each side so you can have quick access to hydration no matter what. And it hugs your hips and stays put as you bounce down the trail. Trust me–if nothing fell out when riding the rocky trails of NW Arkansas on my used hardtail, then nothing's gonna fall out.
Ding: if the accessory straps at the bottom–which are super helpful for carrying extra gear like knee pads or a jacket, btw–aren't cinched down tight, they have a tendency to unhook and dangle by your butt.
Why it's sustainable: This waist pack is made of 100% recycled materials and features a PCF-free DWR (read more about what that means here).
Price: $69
Features
Lightweight
Large main pocket
Zippered front pocket
Two stretchy mesh water bottle pockets
Deployable accessory straps
Two zippered hip pockets
---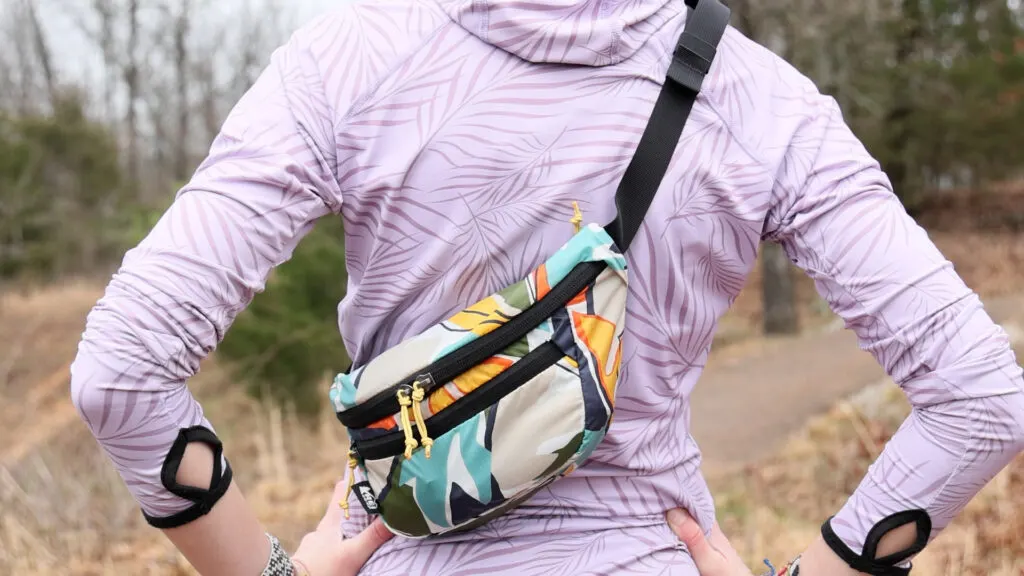 If you're looking for a low-profile fanny pack that holds just the right amount of stuff for a short hike or a wander around town, The REI Co-op Trail 2 waist pack is the one. In fact, it might be our new favorite all-rounder for chill outdoor adventures, travel, you name it. It sits comfortably and totally not bulkily around your waist and I dig the multiple zipper pockets, including one on the back that's the perfect place to stash important items like cash, credit cards, or your passport. It also works well paired with an ultralight pack that doesn't have hip belt pockets so you can keep snacks and stuff close at hand. Bonus: It comes in a wide variety of fun colors and patterns so you can really do you. Plus it comes in solids and prints and is the most budget-friendly hip pack on this list.
Ding: it's pretty small, so it's not going to hold enough snacks or supplies for a full day on the trail.
How it's sustainable: This guy is made of recycled nylon and recycled polyester and is Bluesign approved.
Price: $29.95
Features
Front and back stash pockets
Bucket-style main pocket
Water-repellent finish
2 liters
4.3 ounces
---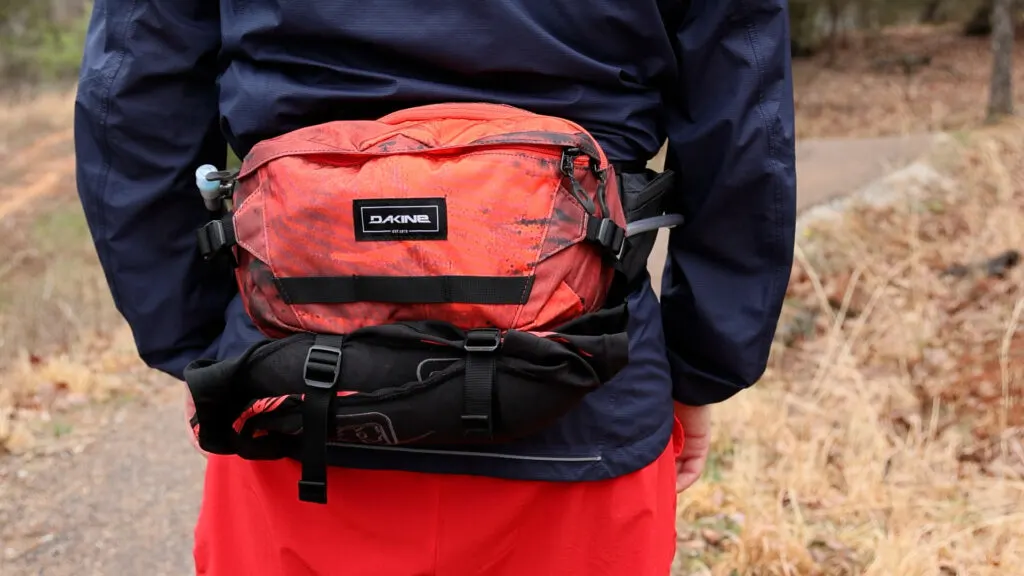 The Dakine Hot Laps 5L is the only fanny pack on this list with a hydration reservoir, which is super handy if you hate having to finagle to get a water bottle in and out (but does bump up the price point a fair amount). But that reservoir keeps the weight created by carrying water completely centered in the middle of your lower back instead of unbalanced on one side or the other like with water bottle pockets. The pack has accessory straps on the bottom, a must for lashing bulky gear, side compression straps that let you compress the load and keep it close to your body as your drain your reservoir or if you're not using it, AND a daisy chain in case you need to strap extra gear or supplies to the outside. Plus, we love a fanny pack with hip pockets so we can keep snack bars and lip balm handy. It also comes in a 2L and 1L version if you're looking for something more compact.
Ding: The back panel and wings don't feel as breathable as some of the other models. And the price point is high for a hip pack.
How it's sustainable: This hip pack is made mostly of recycled polyester.
Price: $100
Features
2L lumbar hydration reservoir w/ quick disconnect
Phaser bite valve and magnetic buckle auto-locates and secures the hose
Lightweight, weather-tight construction
Breathable air mesh back panel
Internal organization
Padded, fleece-lined, zippered phone pocket
External attachment straps
Safety light attachment
---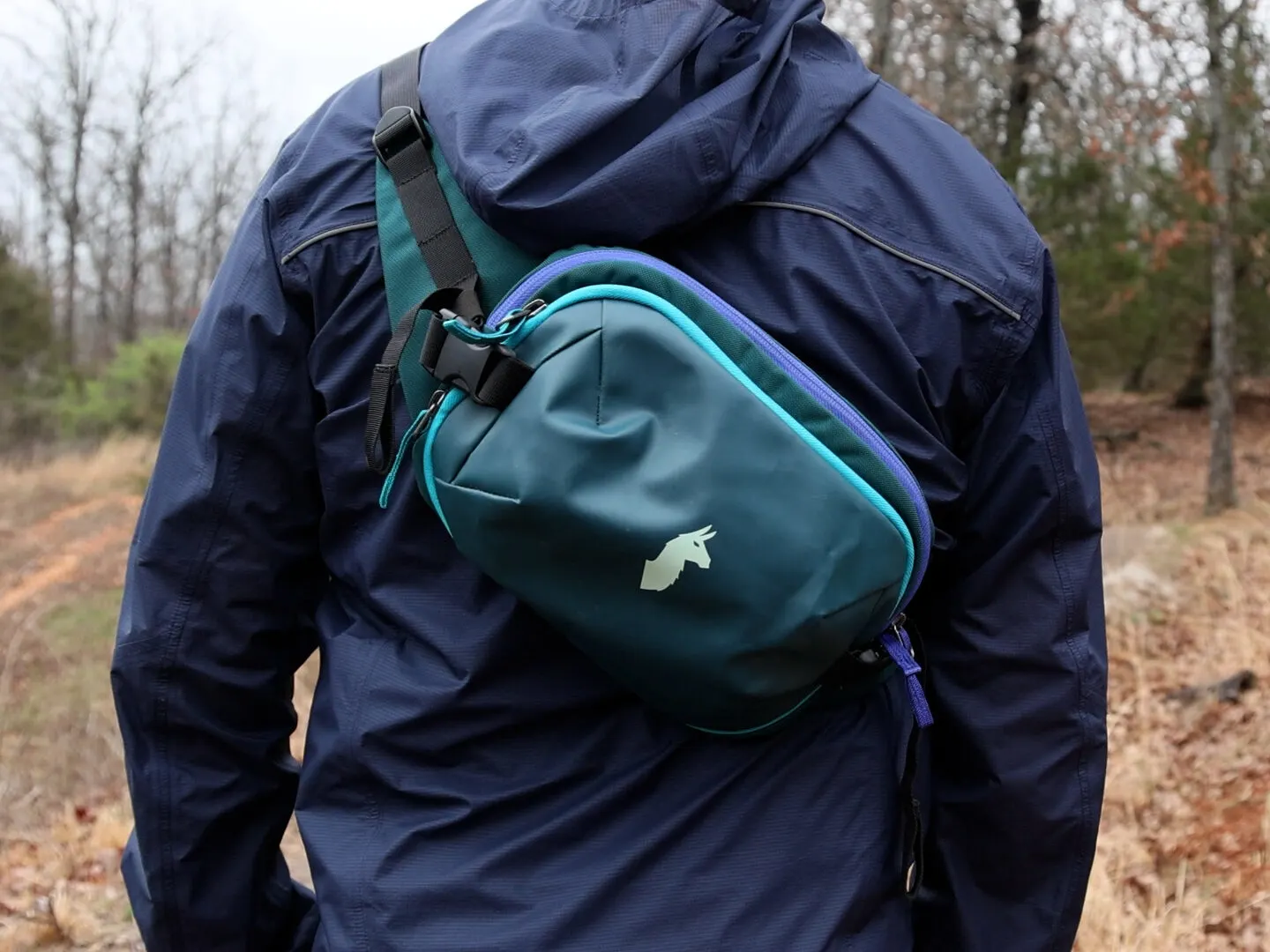 The Cotopaxi Allpa X fanny pack is ruggedly durable, can hold a ton, and looks good doing it. It's not as comfortable as the Patagonia Dirt Roamer, but it's more spacious. I mean, this thing feels way bigger thanks to its clever design and construction. Wide straps keep it in place, multiple zipper pockets keep stuff organized, and the durable material on the outside is not only resistant to scratches, punctures, and scrapes, but is supremely easy to clean. Bonus: it nestles perfectly in the top pocket of the Allpa 35 or Allpa 42 travel bag (our very favorite travel backpack), which means it's easy to pack and use as a toiletry kit or a smaller adventure pack when traveling. Plus it comes in a slew of fun colors and is the most size-inclusive pack on this list (the waist straps extend the most).
Ding: There are no water bottle pockets or accessory loops that would allow you to attach gear like jackets and such to the outside of the hip pack.
How it's sustainable: While this hip pack isn't made of recycled material, it is made of super durable and long-lasting materials, which will keep it out of a landfill longer. Plus Cotopaxi is a conscious and sustainable company that supports both environmental and social organizations. Their motto? Gear for Good.
Price: $75
Features
Butterfly-style opening for easy access
Side release buckles for compression
Main compartment two-way zipper
Wings can be stowed in the back panel when traveling for easier packing
Rounded corners and darts give the front pocket more volume for packing
Fits perfectly inside top pocket of Allpa 35L and 42L
---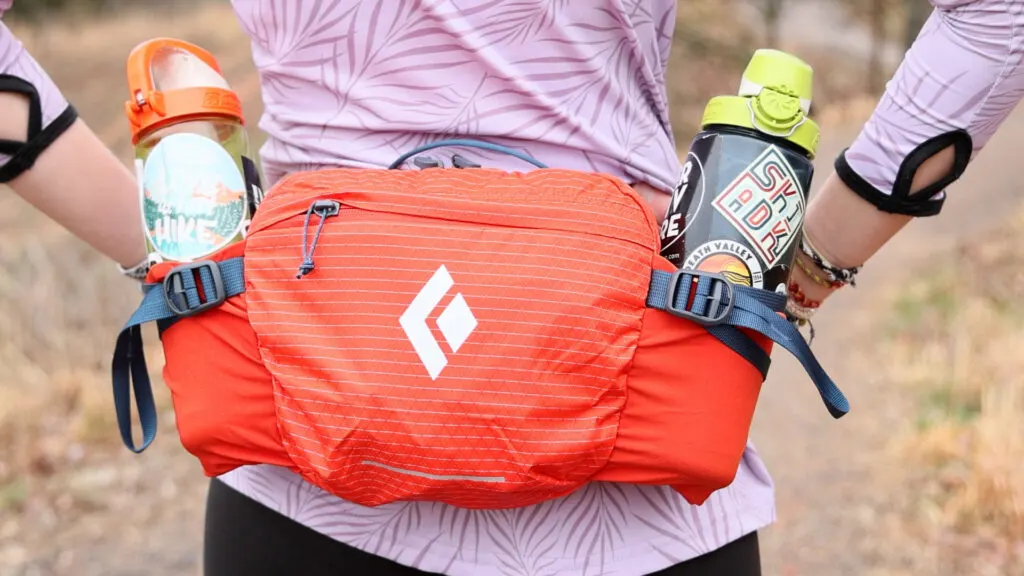 The largest hip pack on this list, the Black Diamond Pursuit 6L doesn't feel like the largest. On the contrary, the flexible wrap-around design and low-profile main compartment with it's pliable materials fits close to the body and doesn't feel at all oversized, even on my small person. But it's still plenty roomy and there's space for a lumbar hydration reservoir, keys, snacks, bike repair tools, there are organizational compartments, even two water bottle pockets with compression straps and bungees for added bottle security. And I'm a big fan of the reflective details. The Continuous Fit hip belt means the back and side panels are all one piece for a more seamless (and comfy) wrap-around experience that stays put and doesn't feel bulky or unnatural.
Ding: There are no accessory straps on the front or bottom to attach items like jackets or other bulky items.
How it's sustainable: This pack is made of 100% recycled materials. Black Diamond is also a founding member of the Outdoor Industry Association's Climate Action Corps, advocating for sustainable recreation practices, trade policy, ethical business innovation and increasing outdoor participation plus partners with dozens of social and environmental orgs.
Price: $74.95
Features
Custom BD Continuous Fit harness provides seamless on-the-move comfort
Water-resistant main zipper
2 exterior zippered pockets
2 quick-access side water bottle pockets
1 interior zippered pocket with key clip
Breathable back panel
Unisex fit
---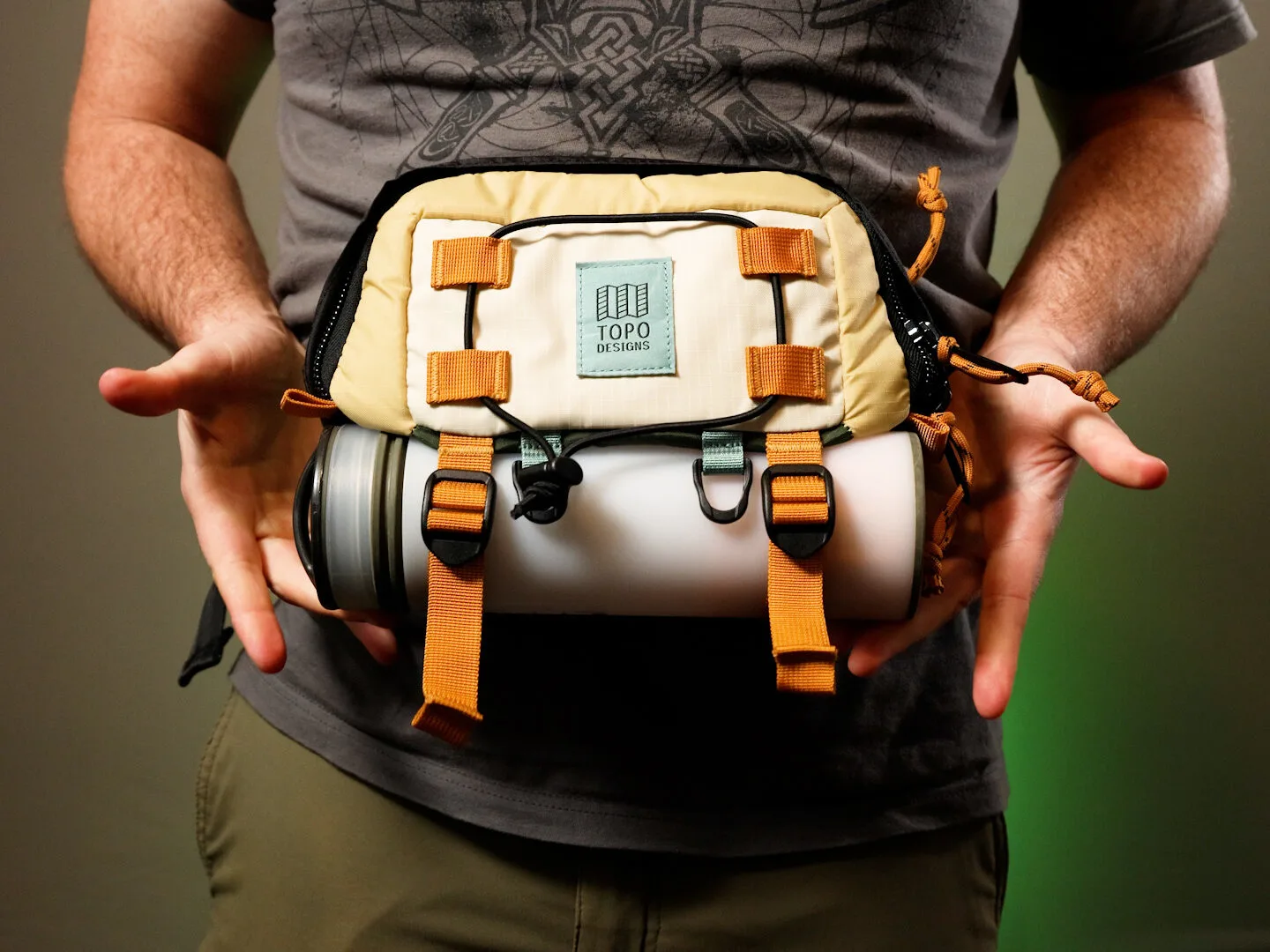 For those who like to flaunt some classic mountain style in the outdoors or on city streets, the Topo Designs Mountain Pack is the way to go. With a super spacious main pocket that opens wide for easy access, you can carry bulky gear with ease. No overly streamlined hip packs without adequate storage space here! The Mountain Pack comes in a variety of color combinations, including bright hues and more subdued tones. We love Topo Designs for their durable bags (like their 30L Travel Bag), and this is no exception. The RidgeBack Panel helps mitigate sweat and there are accessory straps, d-rings, and an adjustable shock bungie on the front so you can carry along all your odds and ends.
Ding: There aren't any water bottle pockets, but the accessory straps on the bottom could secure a bottle in a pinch.
How it's sustainable: This hip pack is made of 100% recycled materials.
Price: $59
Features
100% recycled lightweight nylon
Quick-access top accessory pocket
Exterior shock cord bungee attachment with cord lock
D-ring accessory attachment points
Adjustable compression straps
Molded RidgeBack panel
Dual-adjust waist strap with quick-release D-ring hardware
---
So are you a fan yet? Might you be soon after learning about some of these?! We're pretty sure there are hip packs for every type of outdoor lover here, so go wild! Just remember to shop responsibly, repair your gear to keep it in play for as long as possible, and wander on!
•
This post contains affiliate links. That means when you clicky-click and make a purchase, you help support the two dirtbags behind Terradrift and keep the sustainable content flowing!
Alisha is a freelance writer and photographer based in Austin, TX. She loves her tiny house, vegan food and experiencing the community of travel in far away places. She's also pretty sure she's addicted to coffee. alishamcdarris.com