Spring has has officially sprung! And we couldn't be more excited about it here at Terradrift (if it would only stop raining for more than five minutes so the mountain bike trails could dry out…)! Because spring backpacking might be the best backpacking. And we do love some early season backpacking gear (think insulated sleeping pads, cozy but lightweight insulated jackets, and lighter packs).
So I hit the trail in Big Bend National Park this month with a handful of other rad, outdoorsy journalists to enjoy the season, test some fresh new gear, and drink some whiskey.
Yes, whiskey. Because Stillhouse Whiskey invited me on the trip guided by Big Bend Boating and Hiking Company and they brought plenty! Including their brand new peanut butter whiskey. 🤤 And I gotta say, drinking your s'mores is the next best thing to eating them if you happen to be in a fire ban region (we were)!
Miles were logged, elevation gained, views enjoyed, company appreciated, and a lot of good gear got the opportunity to shine. Here's the spring backpacking gear we put to the test.
---
Big Agnes Sun Dog 45L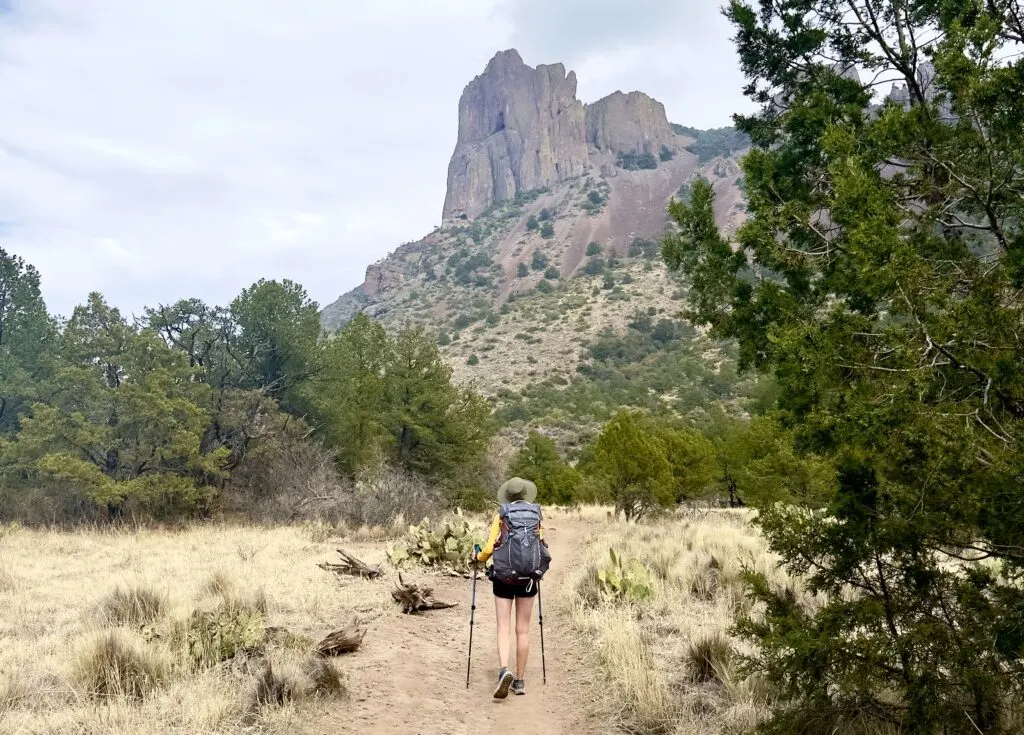 Let's start with the Big Agnes Sun Dog 45L, which weighs 2 pounds, 13 ounces, which could certainly be considered light if not ultralight, while still being able to handle heavier loads–heavier than I'm gonna carry, anyway.
I think their max recommendation is 40 pounds, which is pretty heavy. But it does have an aluminum frame, so that helps.
Anyway, I was Obviously a huge fan of the Big Agnes Impassable 20L day pack, so I was excited to test this with all its load stabilizers and lifters, and it didn't disappoint.
The straps felt good, but the pack is only available in one size, so if you're a larger than average human, fit could potentially be a bit tricky since the harness isn't fully adjustable. I'd recommend trying one on at a local retailer, just in case.
However, the men's version of this pack–the Prospector 50L–is available in medium and large, so that's absolutely an option.
That said, while I liked the hip belt pockets–their spacious size and the fact that they're moderately repositionable–the belt itself isn't quite small enough.
I realize I'm a tiny human and very much not "average," and it does happen frequently that I have a hip belt cinched down as tight as it will go, but that doesn't mean I'm not a little disappointed.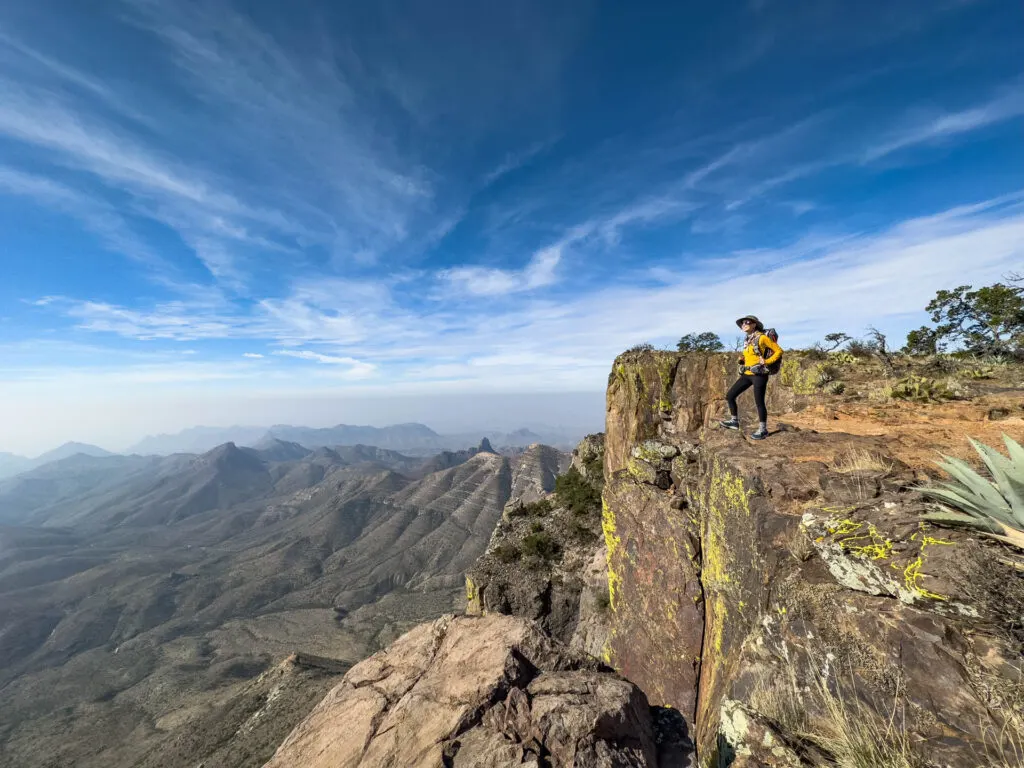 I mean, for those of us on either side of the spectrum–small or large–hip belts can be a real issue, so hopefully Big Agnes with offer some extended sizing in the future. The hip belt did fit well enough, but barely. And I would have liked it to be tighter a few times.
Otherwise, the pack was comfortable, even on day two, and I dig all the pockets. Plus it comes with an ultralight trash can bag for collecting your trash–or stuff you find on the trail. I mean, it's moderately useful, I guess, and more reusable than a zip-top bag, but it's not my favorite feature.
Speaking of features, I like the idea of a back panel that opens up for ease of access, but honestly, I didn't use it when backpacking. Mostly because I forgot it was there.
I only used it when I was traveling and wanted to get to a jacket I knew was packed down in the middle of the bag.
The only other thing I didn't love about the bag was the lack of accessory straps for a sleeping pad. I didn't backpack with my Z-rest this time, but if I had, there's really nowhere to lash it to the outside of the pack unless I bring my own straps or webbing.
There are plenty of attachment points, though, so that's great. I just miss these kinds of features when they're not built in. It's definitely not a make-or-break type thing, just good to think about if you're gonna buy a new pack.
That said, I would totally backpack with the Sun Dog 45 again, no question.
---
Black Diamond Coefficient Hoody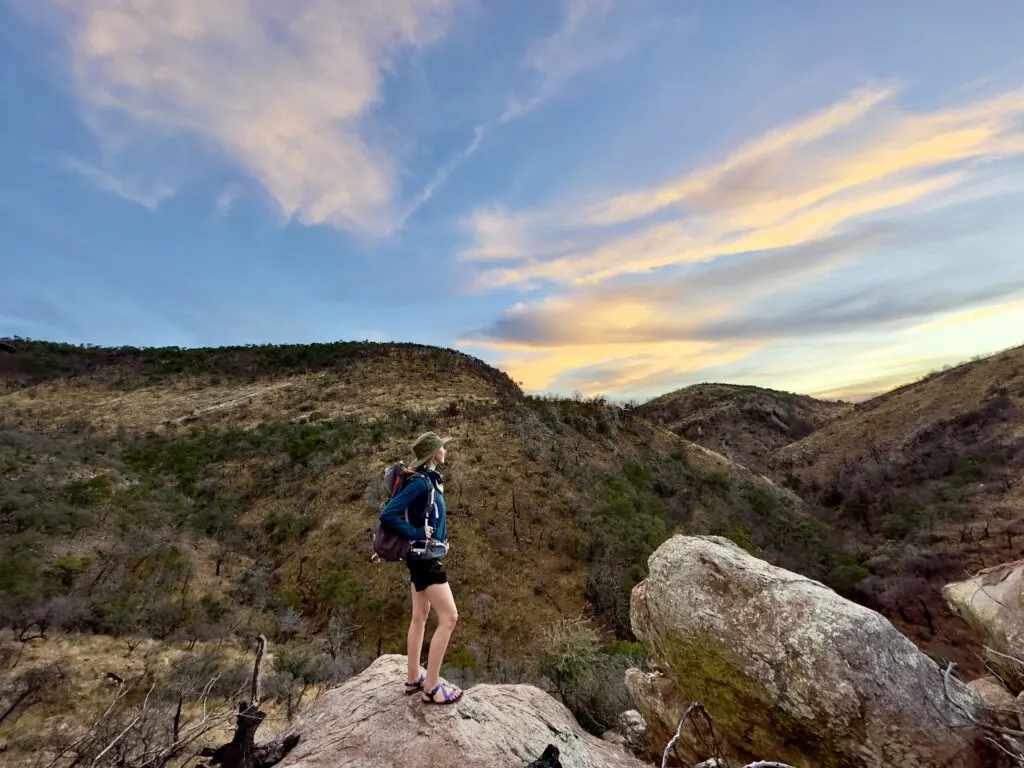 Spring backpacking can mean warm days and cool nights, so I brought along the Black Diamond Coefficient Hoody as a mid/outer layer. And it didn't disappoint. I loved the snug hood, the perfectly placed thumb holes, the fitted tailoring, and that the interior is a soft fleece power grid but the exterior is a more robust nylon. That means it can handle some scuffing and snagging and stand up to rugged terrain. I mean, it is Black Diamond, after all. Makes sense.
The only thing I missed was hand pockets, but if you're wearing it with a pack or harness, or as a midlayer, you wouldn't be able to get to them anyway, so, again, not a deal breaker. Also, this color, am I right? The whole hoody is Bluesign approved.
---
Outdoor Vitals Vario Jacket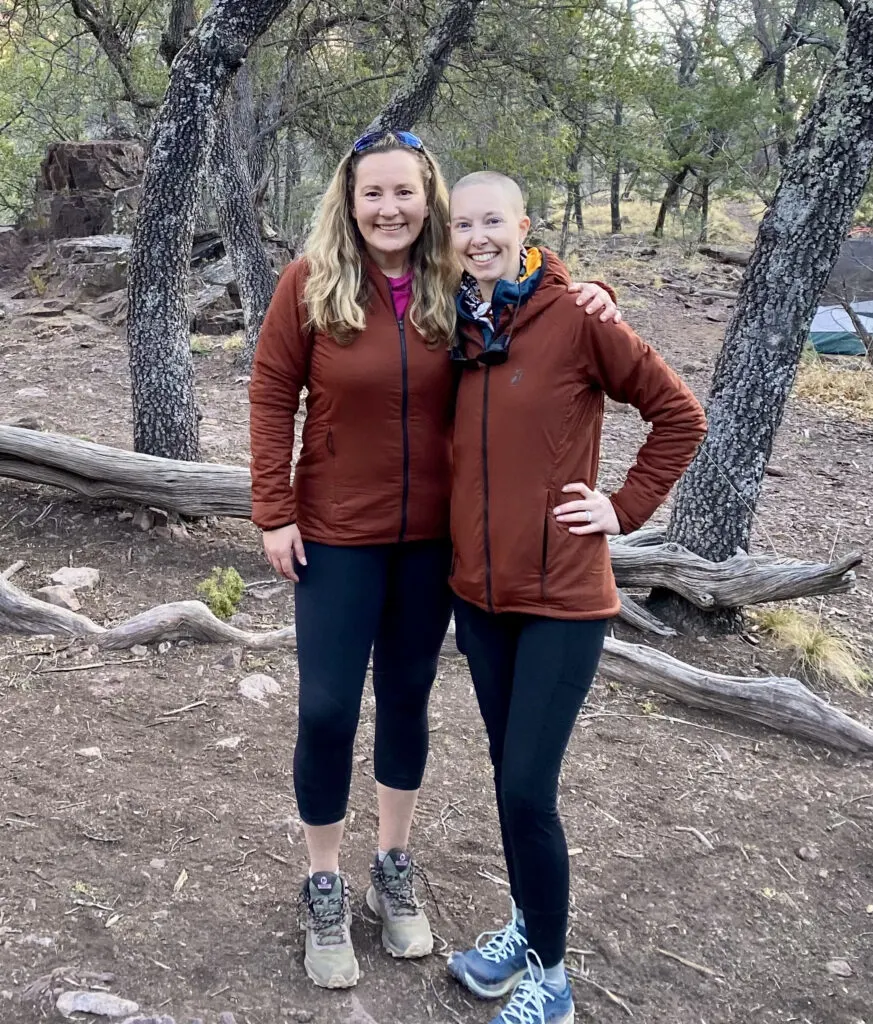 My insulated outer layer was the new-ish 9-ounce Vario Zip-up jacket from Outdoor Vitals, which kept me cozy in the mornings and evenings (and when sleeping).
I tested the brand's similar Ventus pullover a summer or two ago, which is even more ultralight, but it wasn't made of particularly sustainable materials. Plus, I prefer the ease of a zip up on most occassions that are likely to have me shedding layers regularly.
The Vario has armpit perforations for venting–which I'm obsessed with–and features insulation made of recycled materials, so I do like the jacket better. It even has zippered hand pockets.
It's also nicely fitted, which makes it a great midlayer, and the whole feel of it was pleasant–very similar to a companion's Arcteryx jacket, which is a fair bit more expensive.
---
Topo Athletic Pursuit 2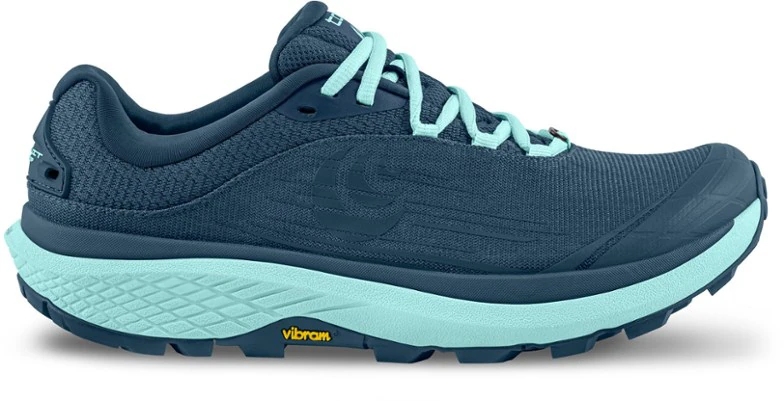 When I backpack, I prefer trail runners to boots because they're more flexible, more breathable, and they're lighter and easier to move in. Plus, I prefer zero drop shoes, and the Topo Athletic Pursuit shoes are all of those things.
Usually I wear Altra Lone Peaks, but I wanted to give something different a try. These, after all, are made of more recycled materials, which is a plus, and they still have that nice wide toe box, which is a must for me if I don't want to abuse my toes. Which I don't.
But these were a fair bit more stiff and supportive than the Lone Peaks, a feature that might be a real draw for some people.
And indeed, I did not hate these shoes. They required no breaking in, were comfortable, but they offered a bit more correction and support in the heels and arch than I personally like. Basically, they were farther from being a minimalist-type shoe than I prefer.
But if you like more support and heel cradling and a denser sole, then these will likely suit you well.
I do think they look slightly more like clown shoes than other wide toe box styles though. If I'm being totally honest. I felt a little silly walking through the airport with them. Like I was wearing old lady orthotic shoes or something. But that's me.
The traction on trail was on-point, though, so zero complaints there.
---
Rab Ionosphere 5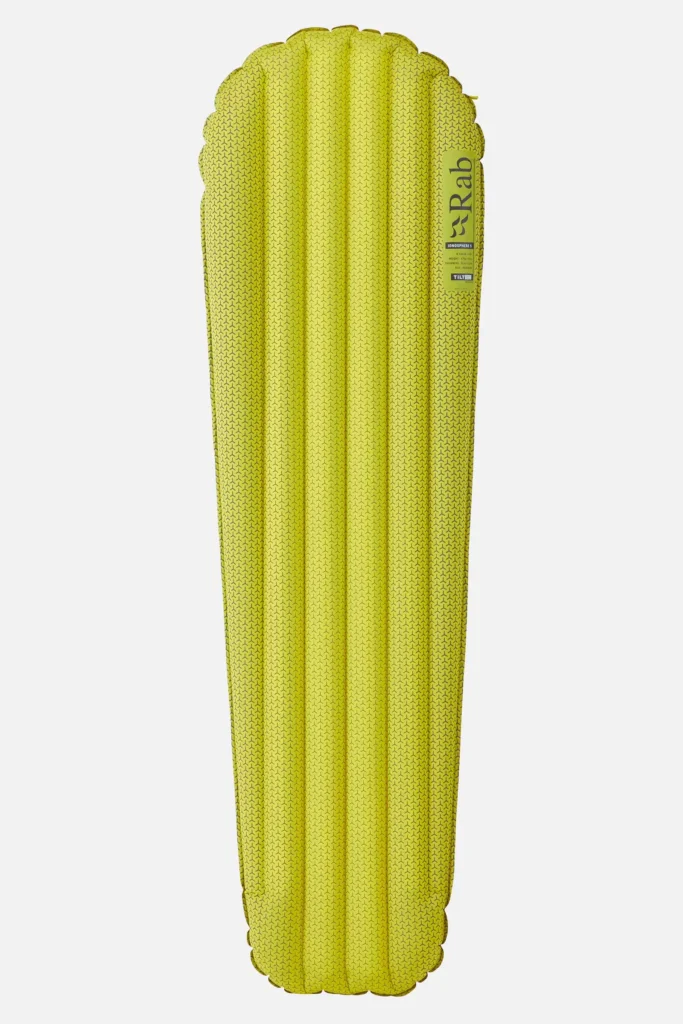 At night, I curled up on top of the Rab Ionosphere 5. It weighs 19.4 ounces and was comfy and kept me warm from the ground up with its 4.8 R-value, a great rating for spring backpacking. Bonus: it came with an ultralight pump sack, which is rad. AND it's made with recycled fabrics and recycled synthetic insulation!
I was pleasantly surprised to find it wasn't super noisy, either, which a lot of insulated sleeping pads can be. But it didn't crinkle obnoxiously when I rolled over or moved in the middle of the night and the self-proclaimed inflatable pad hater in the tent next to me also gave it a thumbs up because he didn't hear me moving around either. So that's a win!
---
Rab Stratosphere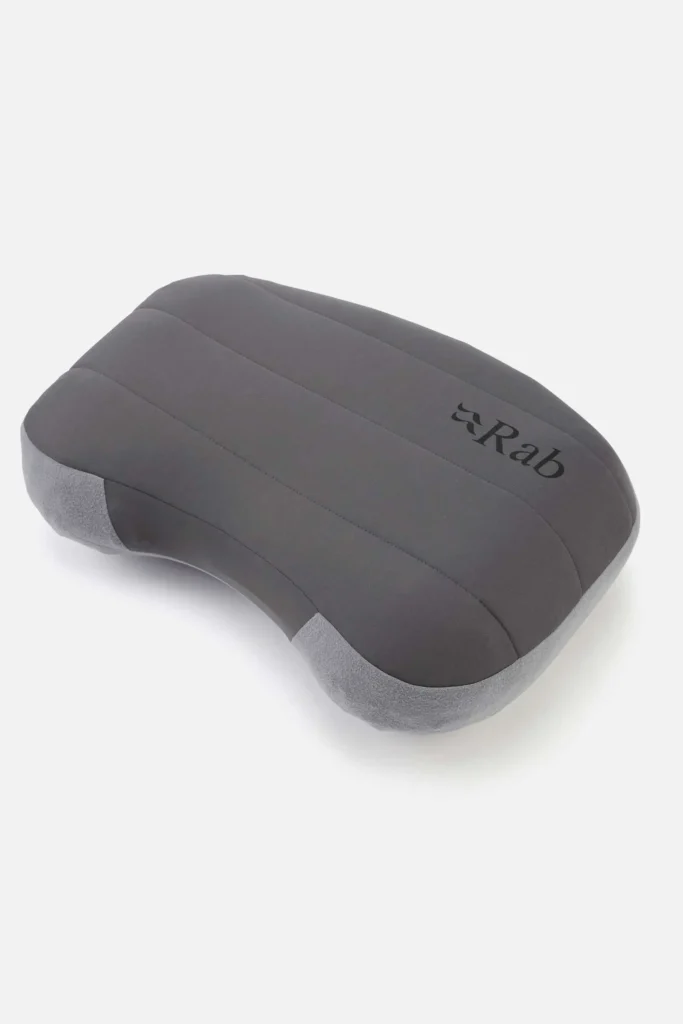 I paired my pad with the Rab Stratosphere inflatable pillow, which, though it's a little crinkly if not blown up all the way, might be my new favorite backpacking pillow. It packs up small, weighs only 95 grams, is filled with just a touch of recycled synthetic insulation, and the cover is stretchy and soft. I'm a big fan. So was my noggin.
---
Thermarest Space Cowboy 45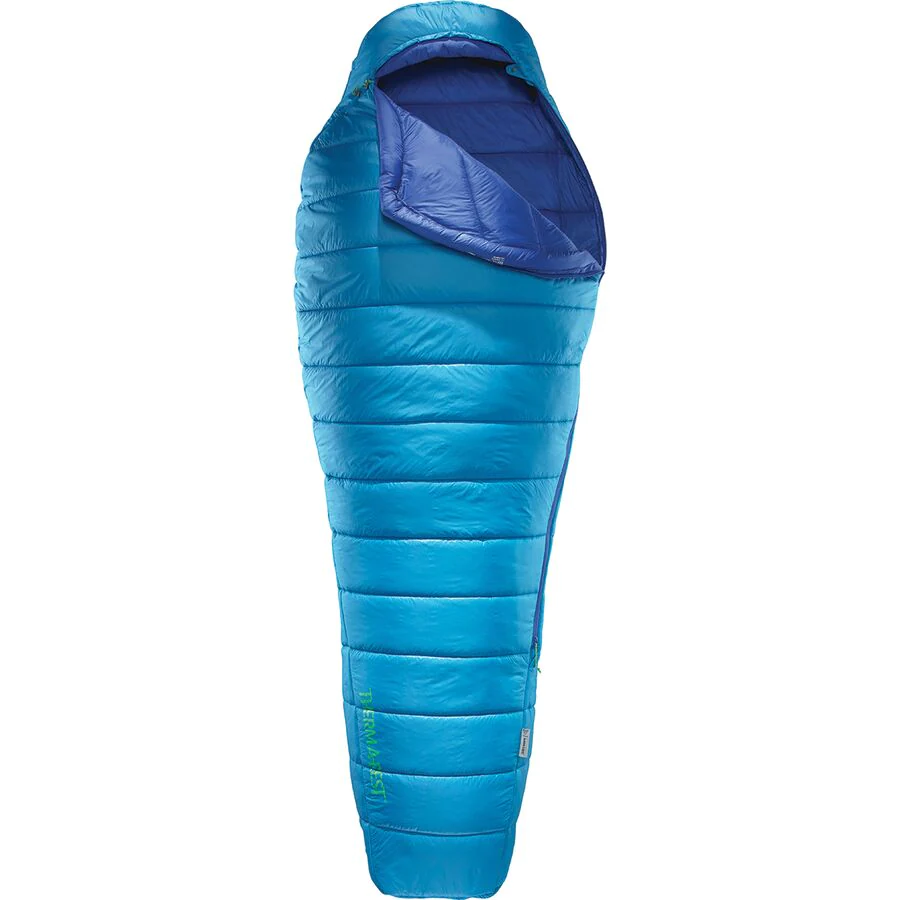 Not gonna lie, I pushed the limits of my sleeping bag, the Therm-a-rest Space Cowboy 45, which weighs about 1 lb, 12 oz, uses fabrics made of recycled materials, and comes in three sizes. While the limit rating of this bag is 45ºF, the comfort rating is 52ºF, and the overnight lows hit close to 45 or just below. That said, I wasn't shiver-level cold during the night, just a little chilly (read more about sleeping bag temperature ratings here).
It could have been a lot worse, though, if not for those very handy pad straps that kept me connected to the pad. They kept me from rolling over with my bag instead in my bag. The difference is that if you roll over with your bag, you're exposing a whole new cold spot to the air and it'll be harder to stay cozy inside. So yeah, those straps were very much appreciated.
This is a minimalist-type bag for late spring backpacking in warm climates or summer adventures–it doesn't have an interior pocket or a zippered foot box or anything–but there are still small zipper baffles, a cinch-able hood, and a square foot box (ftw!).
Plus it's light and super packable. And how about those 90's-tastic colors, am I right?
---
Other Gear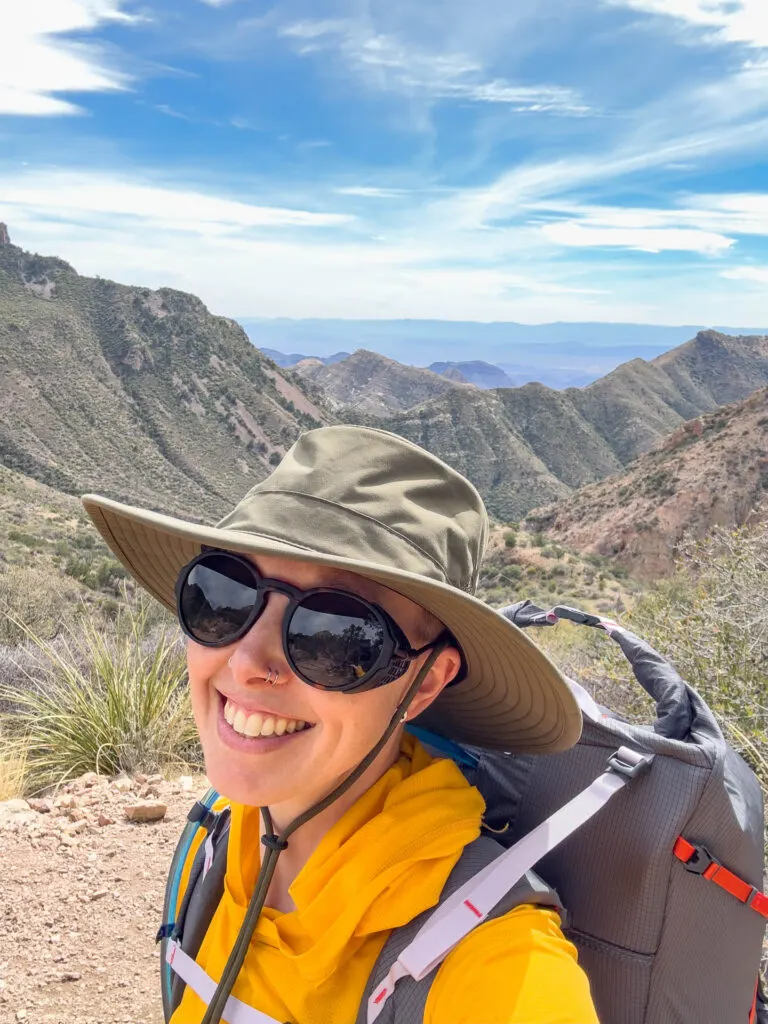 We've already reviewed some of the other gear we used on this trip, like the Gossamer Gear The One tent and the Outdoor Research Echo Hoodie, which is made of 100% recycled materials. But we also wore a recycled Tilley Modern Airflow hat, which we may never take off, and used the Hydrapak Flux bottle, which was a great bottle for holding electrolytes in addition to a full reservoir of water, but I also loved that on travel days it rolled up teeny tiny so it wasn't in the way. And I gotta say, I've tried a solid handful of collapsible bottles and I don't like most of them.
But this one was easy to hold and drink out of–just squeeze or sip–and as long as I didn't have the filter attachment on, after I finished drinking, it sucked in air and returned to its normal size, so it was way more functional than a lot of products like it.
And the Ombraz armless sunglasses, the Viale, a brand new style, complete with side shields to help with that bright desert glare, might be my new favorite sunnies. Plus Ombraz plants 20 trees for each pair sold, making them carbon negative, and as a bonus, I don't have to adjust the arms to fit my lopsided ears!
Oh, and in case you skipped the intro, our evenings were made celebratory thanks to an abundance of peanut butter s'mores whiskey from Stillhouse (which comes in a can, so you can take the whole thing backpacking!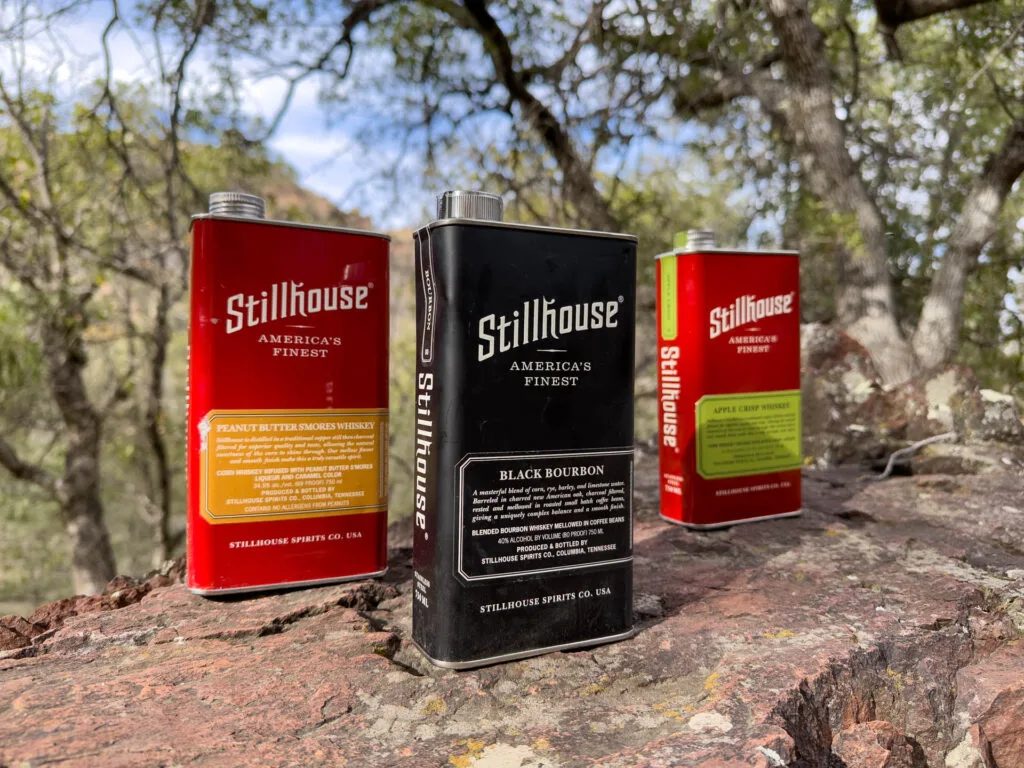 Bottom Line
If it's time to update your gear closet this season, this sustainable spring backpacking gear won't disappoint. Just don't forget to recycle, upcycle, repurpose, or repair your old gear first. No sense in letting good gear go to waste!
Now get out there, enjoy the season, and wander on!
•
This post contains affiliate links, which means if you clicky-click and make a purchase, you help support the small team here at Terradrift and help keep the gear reviews flowing. You rock.
Alisha is a freelance writer and photographer based in Austin, TX. She loves her tiny house, vegan food and experiencing the community of travel in far away places. She's also pretty sure she's addicted to coffee. alishamcdarris.com