Winter is coming (cue Game of Thrones theme). And winter means it's time for fair-weather campers and backpackers to put away their gear for the winter. But why? Winter camping offers months of quality outdoor time during a season when far fewer people are clogging trails and booking campsites. It's the perfect time to get outside! But most folks are reticent for the sole reason that they're afraid they're going to turn into a popsicle while they're trying to sleep (yours truly not excepted). Fortunately, there's a solution: insulated sleeping pads (together with an appropriately cozy sleeping bag). And lucky you, we recently reviewed four insulated inflatable sleep pads for backpacking that will keep you cozy all night long, no matter what the mercury says. Read (or watch) to find the one that's right for you.
A Bit About Insulated Sleeping Pads
Let's start with the basics in case you're new to this whole sleeping pad thing. What makes an insulated pad different from any other inflatable sleeping pad? Well, they're insulated, for starters.
That means they're designed with sleeping outdoors in winter in mind, for cold-weather camping during the fourth season. How they're insulated varies from brand to brand, though. Some have reflective coatings inside the baffles. Others have synthetic insulation stuffed inside. And others rely on clever and sciencey design to hold in the warmth.
In any case, they're meant to keep the cold (via convective heat loss) from seeping up through the ground into your sleeping bag-swaddled body.
And they all have different R-Value ratings, which, if you're familiar with construction or home insulation, works the same way: The higher the R-Value, the more insulating the pad and the warmer it will keep you. Generally, it's recommended that you aim for an R-value of at least 4 when sleeping in sub-freezing temps and at least 5 if the mercury drops below 0º Fahrenheit.
But some of these aren't rated that high, so what are you to do (especially if you don't want an arsenal of sleeping pads in your gear closet)? Consider layering an insulated pad (or a non-insulated inflatable sleeping pad) with a closed-cell foam pad for even more warmth. Those can add an R-Value of between one and two so you can sleep cozier.
Naturally, you'll want your sleeping bag to be rated for at least the forecasted lows, too (read about what sleeping bag ratings mean here and a whole bunch of recommendations for synthetic sleeping bags here), and you can even add a cozy sleeping bag liner to boost your bag's rating by a few degrees.
The Insulated Sleeping Pads

Quilted I-Beam construction
Larger outer rails to keep you comfortably centered in the middle of the pad
Quiet two-way stretch material on top for a comfier sleeping surface
PrimaLoft® Silver Insulation with a built-in heat-reflective barrier
3.5 inches thick with 4.25-inch outer chambers
Comes in 5 sizes, including longer and wider widths to fit a wider variety of backpackers
Quick-inflation valve offers micro adjustments
Comes with an inflation pump sack made from upcycled excess pad material
Antimicrobial treatment inside the pad that prevents microorganism growth
The smallest pad weighs 25 ounces
4.3 R-value
Comes with a replacement valve seal and repair patches
$159.95 – $239.95
The Big Agnes Q-Core Deluxe is super comfy. It's ultra plush and the fabric on top even has a sort of non-slip quality to it. Together with those extra large side rails, we had no problem staying put on the pad. And no matter how we slept–side, back, stomach–we were supremely comfortable.
Bonus: Most of the sizes even fit in the pad sleeves of Big Agnes sleeping bags like the Lost Dog and Sunbeam for an integrated sleep system! Ding: it doesn't pack down super small if that's a concern. Find it on REI here.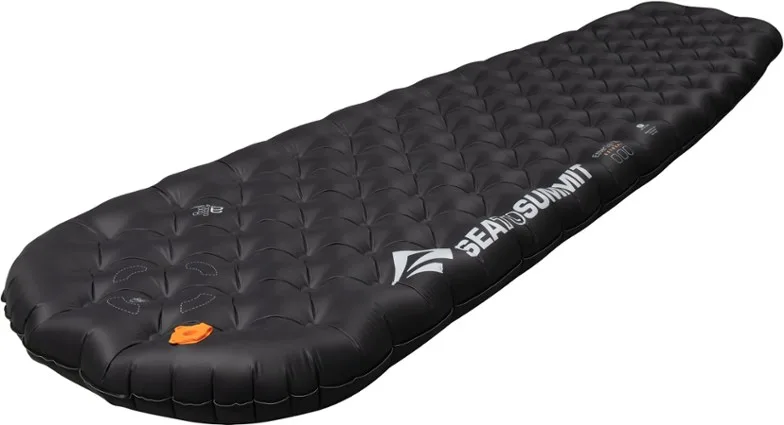 Features Air Sprung Cells that offer stability and comfort
Dual-density layers of THERMOLITE® insulation inside the pad prevent convective heat loss
High flow-rate valve
Antimicrobial treatment to prevent mold growth inside the pad
Included pump sack
Features Pillow Lock™, which can be used to attach one of the brand's Aeros™ pillows to mat
Comes in two sizes and two shapes: rectangular or mummy
Comes with self-adhesive patches for puncture repair

4 inches thick

Regular mummy pad weighs 25.4 ounces
6.2 R-value
$199.95 – $219.95
The Sea to Summit Etherlight XT Extreme is very comfortable and perfect for backpackers, no matter how you sleep. The quilted designs makes sure of that. Plus, it's one of the warmest on the market, so no stacking with a closed-cell foam pad required here!
But full disclosure: it is one of the noisiest pad on this list, so bring ear plugs. Find it here or on REI here.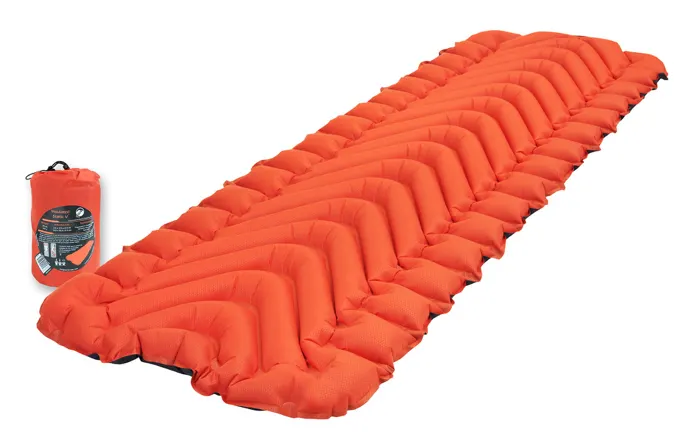 Patented V-shaped design for support and comfort
The design also helps keep you centered on the pad all night
Design inhibits air movement while tossing and turning, which helps warm air stay put
Inside the pad, Klymalite™ lofted synthetic insulation creates additional warmth
Comes in one size
Available in three colors
Comes with a lifetime guarantee
Weighs 24 ounces
2.5 inches thick
4.4 R-Value
Available in a hammock-specific version, too
$84.95
We're very familiar with Klymit pads as we've been using the non-insulted Static V for years now and find them comfortable despite their relative thinness compared to other pads. In any case, this one may be the quietest of the four pads. And while it's not the thickest, we rarely felt the ground, even when side sleeping.
It might not be the most plush of the pads on this list, but the solid R-value, price point, and compact size when all packed up are definitely winning features. Find it here or on Backcountry here.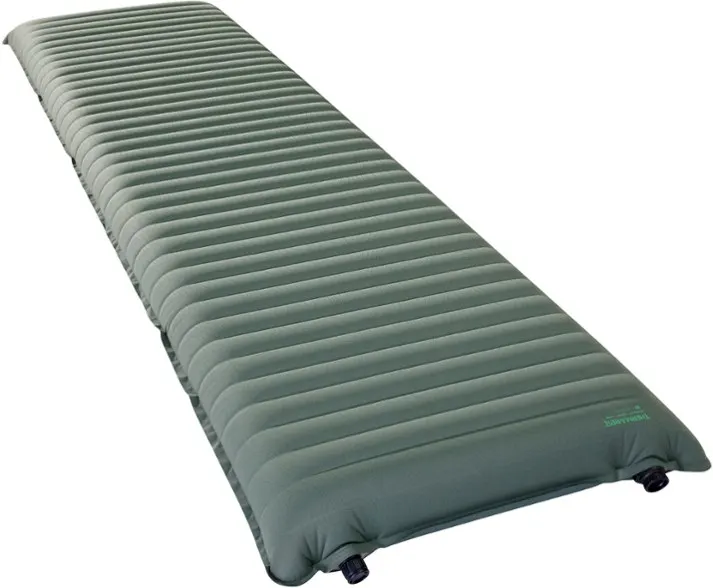 Features a Triangular Core Matrix, a construction model that doesn't require bulky fill materials
Two one-way valves in one for easy inflation or deflation
Comes with a pump sack
Repair kit included
Comes in four sizes, including an XL version
Limited lifetime warranty
Weights 23 ounces
4 inches thick
3.7 R-value
$149.95 – $209.95
It may not be the warmest pad on this list, but it is the lightest. It's also the most rigid of the pads we tested, so if you like a thicker pad with more support, this is the one for you.
Full disclosure: It's best for folks who don't move around a lot in the night as the absence of vertical baffles means it's fairly easy to roll off of the pad if your sleeping bag doesn't have a pad sleeve, so take that into consideration. Find it here or on REI here.
Bottom Line
Can't decide which insulated sleeping pad is right for you? Here are our recommendations in the simplest of terms: If you're on a budget and love a lifetime warranty, definitely go with the Klymit. If you like a plush sleeping surface and an extra wide pad, the Big Agnes is the one for you. Like support? Tend to stay stationary while you sleep? Check out the Therm-A-Rest NeoAir. And if you want the absolute best warmth rating for cold weather camping, nothing beats the Sea to Summit.
But it all boils down to you and your sleep style and preferences. So grab one for winter camping adventures, sleep warm out there, and wander on.
Alisha is a freelance writer and photographer based in Austin, TX. She loves her tiny house, vegan food and experiencing the community of travel in far away places. She's also pretty sure she's addicted to coffee. alishamcdarris.com