We're big fans of Big Agnes. We love their tents because they're ultralight and awesome. We love them more now that they've started using solution dying because they're even more sustainable. So it makes sense that we'd want to try out some of their other gear, too. Namely, their sustainable synthetic sleeping bags: The women's Sunbeam and Men's Lost Dog. Wanna know what we thought? Read or watch for our full Big Agnes sleeping bag review.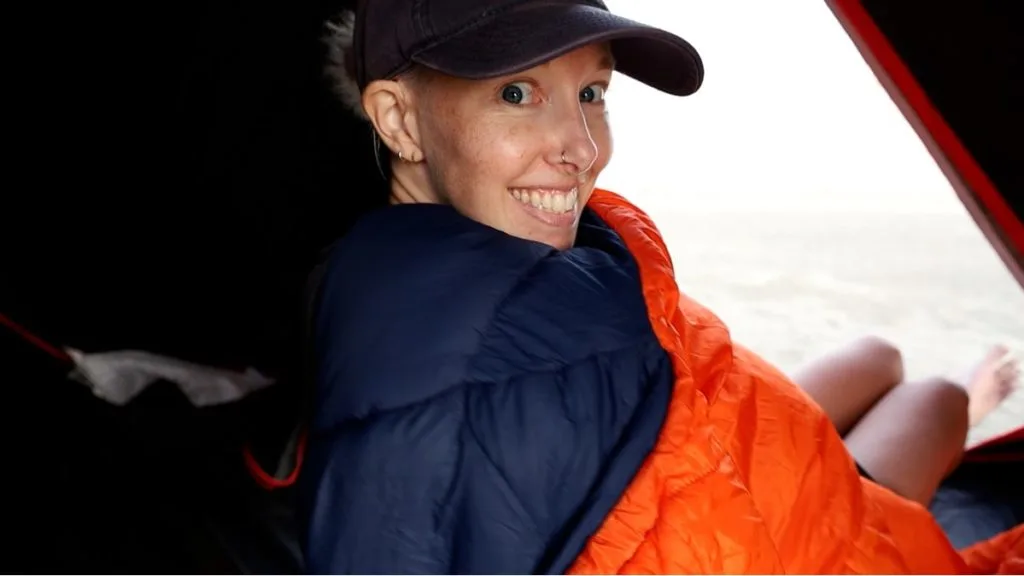 About the Sunbeam and Lost Dog Sleeping Bags
Let's start with the facts, shall we? For starters, the Big Agnes Sunbeam 15 and Lost Dog 15 (for women and men, respectively) are made with recycled synthetic insulation and rated for temps down to 15ºF. There's also a 0º and 30º version, but we rarely camp in temps in the single-digits and in warmer temps you can just unzip and sprawl, so for us, 15 is the multi-functional sweet spot.
The men's Lost Dog 15 weighs in at 3lbs 3oz and the women's Sunbeam regular at 3lb 5oz. Why is the women's heavier if it's physically smaller? Well, If you saw our post about sleeping bag temperature ratings, you know women's specific bags are rated differently because women tend to sleep colder and, as a result, our bags are usually just a smidge bigger and heavier.
But either way, both of these bags have some very nice comfort features, like a very plush draft tube and collar, which is very cozy, an adjustable hood, and a pillow barn so you can stuff a pillow or wad a bunch of extra clothes in there for a place to rest your head that actually stays put.
But maybe the most interesting feature is the back of the bag, where instead of more insulation, there's a pad sleeve where you're meant to slide an inflatable sleeping pad–ideally one from Big Agnes.
This allows the brand to make a smaller, lighter bag by eliminating extra insulation that's probably not doing a whole lot of good (because if you're laying on it, insulation gets compressed, which means it's not really insulating you anyway), but also, it keeps you comfortably centered and on top of your sleeping pad all night long.

Big Agnes Sleeping Bag Review: Our Thoughts
So how did it work? Well…OK. We'll list the pros and cons of each Big Agnes Sleeping bag and then break it down.
Pros:
Super cozy draft collar feels like being tucked in
Draft tube behind zipper keeps cold air out
Pillow barn keeps a pillow in place
No chance of rolling off your sleeping pad in the middle of the night
Bags zip together if you order them on opposite sides
Cons:
Not warm down to 15º
No compression sack included
Doesn't pack down super small
For starters, I love the draft collar. Some might call it an unecessary comfort feature, but it's delightfully cozy. It wraps around your shoulders inside the bag and makes you feel like your mother just tucked you in. It's a welcome feature and one of my favorites.
The pillow barn was a hit, too. We aren't the only outdoorists who struggle with keeping their pillow in place all night long and trying to decide wether to put their inflatable pillow inside their bag or outside or whether they should even bother…A pillow barn is the only way I've experienced so far to actually keep your pillow under your head. Love it.

The pad sleeve was at the very least a feature we were excited to test out. Neither of us tend to have a problem staying on our sleeping pads throughout the night, but I do tend to get tangled in my bag when I turn over. And over. And over. All night long. So I thought this could be really helpful for keeping track of where the opening of the bag actually is.
And it is good for that. But you do have to have the right sleeping pad for the feature to be the most effective. Obviously a Big Agnes sleeping pad will offer the best sleeping experience. You caaaan use another brand's pad (we did), but it may not fit quite as well.
The pad sleeve is also meant to cut down on weight and improve compressibility so it will pack down lighter and smaller for backpacking, which is nice. That said, it doesn't pack down much lighter or smaller than similarly-rated synthetic bags, which was a bit disappointing, because the truth is, you're giving up a bit of warmth in the trade-off.
See, since there's no insulation on the bottom of the bag, in temps cooler than 60º, you're absolutely going to need a sleeping pad in that sleeve. And in really cold temps, you're gonna want an insulated sleep pad. without one, you're gonna be cold. In just mild, 45º temps, when we rolled over without a sleeping pad tucked in the sleeve, we could feel the cold air immediately through the thin fabric of the back panel. That wouldn't happen if there was insulation back there.

And speaking of temperatures, well, let's just say that 15 is probably the absolute lower limit rating–the lowest temperature the bag is good for. But even that is definitely a stretch. We used these bags in 30º temps and were still quite chilly if not downright cold.
We weren't thrilled with the size of the bags or the stuff sacks either. They packed down a bit smaller than our Marmot Trestles Eco 20 bags, but not by much. And they came with stuff sacks, but not compression sacks. Of course, there are plenty of brands that don't include quality compression sacks with their bags because they assume everyone just wants to get their own to suit their individual needs, I guess, but I'd still prefer one with my bag.
As for the other stuff, I love that you can get these bags in multiple lengths and sizes to suit your height (which makes for a more accurate temp rating) AND you can pick which side your zipper is on so you can zip two bags together to snuggle with your camping buddy. Always a plus.

Bottom Line
All said, though, this is a high-quality bag with a lot of really nice, high-quality features that make it really comfortable. It's made of quality fabric, the recycled insulation is lofty and sustainable, that draft collar is super cozy, and the pad sleeve is pretty innovative–if not for a very specific style of sleeping. Is it a little bulkier than we would have liked? Sure. Is the temperature rating at least 15 degrees off? Probably. Would that stop us from buying it again? Nope.
Is the Sunbeam or Lost Dog for everyone? Of course not. But if you want a sustainable synthetic bag, always plan to pair it with an inflatable sleeping pad, don't plan to push the temperature rating limit, and want a very cozy and feature-rich piece of gear, then yeah, you're gonna dig these bags. Find the Sunbeam 15 and the Lost Dog 15 here.
Now go sleep outside and wander on.
•
Looking for more synthetic sleeping bags? Check out this post.
Alisha is a freelance writer and photographer based in Austin, TX. She loves her tiny house, vegan food and experiencing the community of travel in far away places. She's also pretty sure she's addicted to coffee. alishamcdarris.com