Beaumont, Texas isn't on most people's radar. Most Texans aren't even aware of all the outdoorsy goodness this city in Southeast Texas has to offer. But allow us to remedy that! Because besides being the largest city between Houston and New Orleans, there's plenty to entice outdoor enthusiasts to make Beaumont more than a pit stop on their way to someplace else (Big Thicket National Preserve, for starters). So grab your day pack and a dry bag or two and get moving! Because there are plenty of things to do outdoors in Beaumont. And that means it's playtime!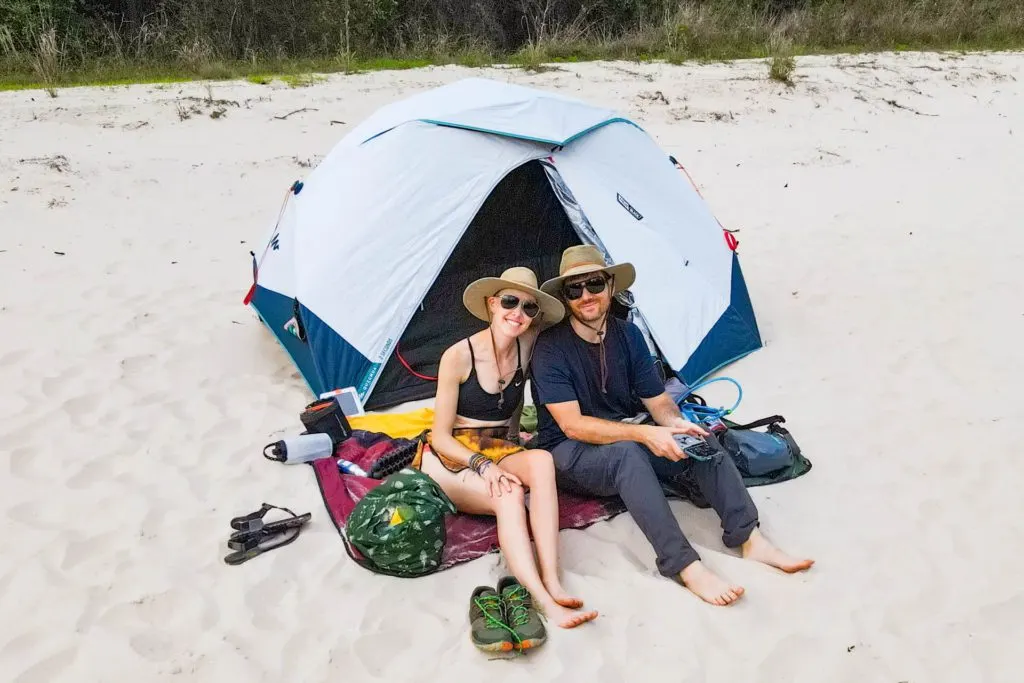 Sleep
First things first: you're gonna need a place to sleep if you're staying in the area for more than an afternoon (which you totally should). There's not much in the way of cool, local sustainable hotels, but options for camping in Beaumont abound. Pitch your tent in Village Creek State Park or rough it in the backcountry in Big Thicket National Preserve. Or head south of town and camp on the beach at Sea Rim State Park for a more coastal experience. You can't go wrong with any of them.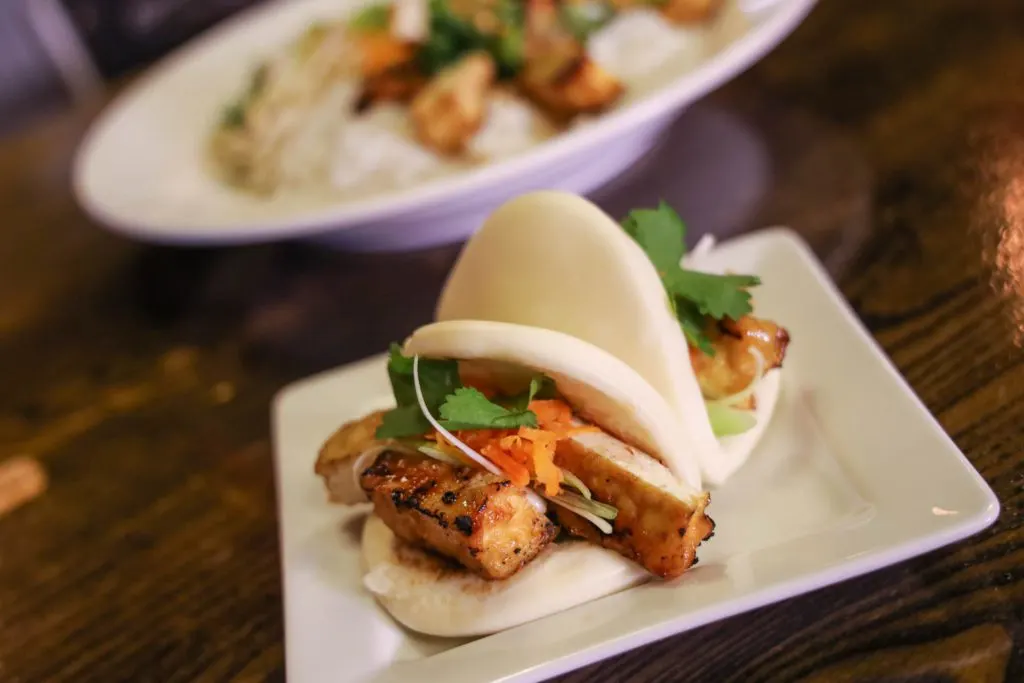 Eat
At first glance, there doesn't seem to be much in the way of vegan food in Beaumont (and you know how we love to eat), but take heart: while there may not be any dedicated vegan or vegetarian restaurants, there is enough vegan food in Beaumont to keep you full and happy! Have lunch or dinner at JW's patio where delicious and nutritious (no, really!) grain bowls and salads can easily be made vegan. Enjoy a vegan bahn mi or crunch roll at Vietnamese restaurant Sweet Basil. Savor truly flavorful meat-free Thai dishes at Chaba Thai, grab an Impossible burger at Daddio's, fill up on falafel and tabouli at Elsa's Greek Grill, and top it all off with an overflowing cup of fruit or limeade covered with chamoy and chili powder at La Real Michoacana. And if you need snacks or meal ingredients to cook for yourself, Basic Foods is a health food store that's anything but (vegan cheese puffs and jerky FTW!).
Play
Now for the main event: playtime! Fortunately, there are plenty of things to do outdoors in Beaumont, Texas, so slather on some sunscreen and get to it!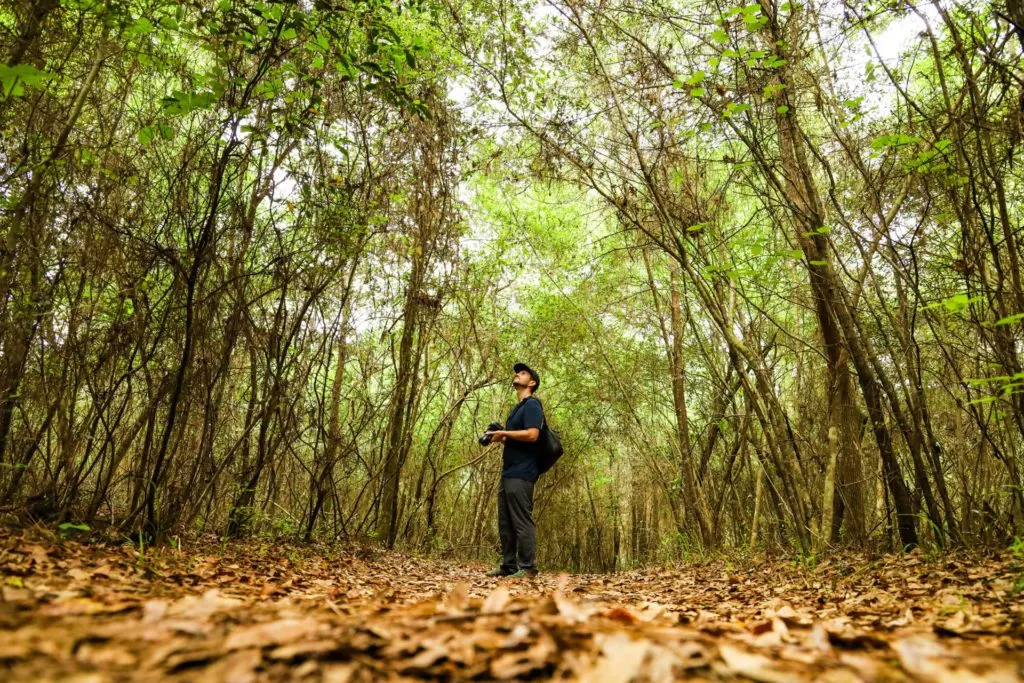 Big Thicket National Preserve is the crowning jewel of outdoor adventure in Beaumont. Outdoor enthusiasts come from far and wide to experience the trails and extraordinarily diverse flora and fauna in this park. For starters, 4 out of 5 of the carnivorous plants found in North America grow here! Check them out on trails like the Dew Drop Trail and Pitcher Plant Trail. Then stroll and wander at your leisure. And don't forget your binocs, because the bird activity alone is insane. If you want to spend the night, you can! It's free to camp anywhere in Big Thicket (just get a free permit at a visitor center). And if backpacking is your jam, there are longer trails for those multi-day excursions.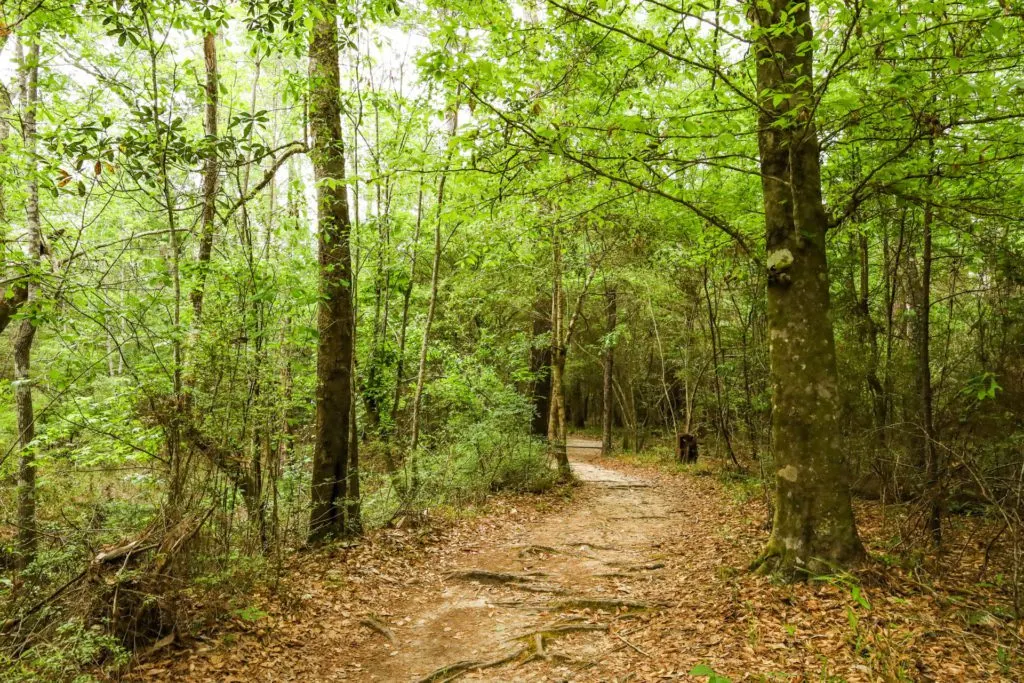 Village Creek State Park may not be a sprawling state park, but it still has plenty of hiking, camping, and playtime opportunities, including great views of, and access to, Village Creek itself (a tributary of the Neches River). You can swim (just keep an eye out for alligators), paddle on the Village Creek Paddle Trail, hike miles of wooded trails, and spend a few nights camping, too. Spend at least an afternoon at the park on the edge of Big Thicket and bring your camera to capture some wildlife.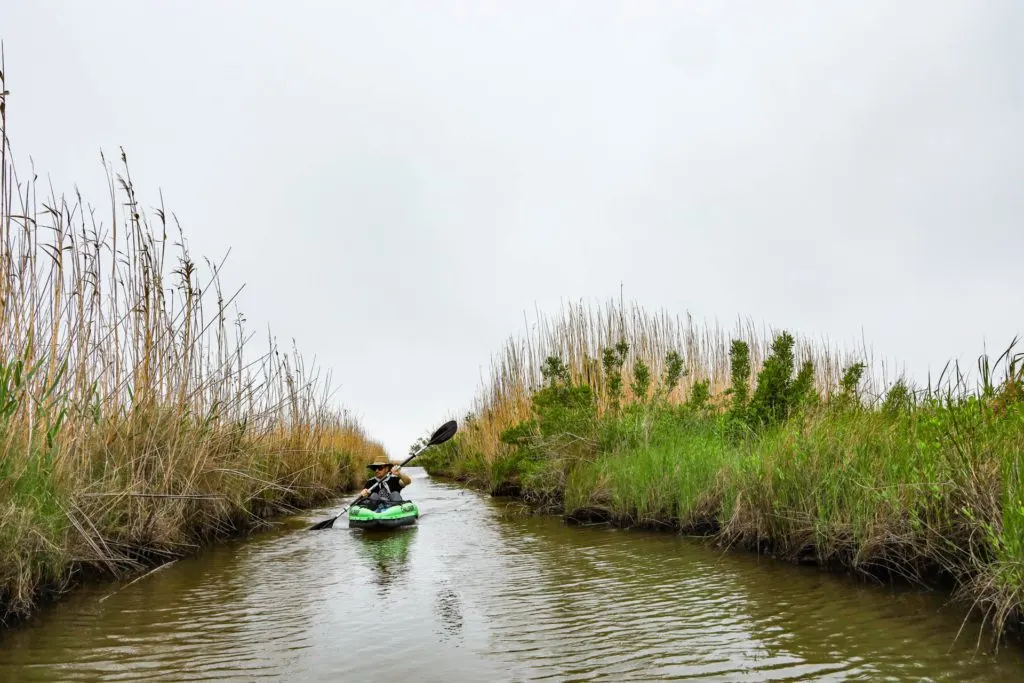 Located about 45 minutes south of Beaumont, Sea Rim State Park offers easy beach access for fun afternoons playing in the Gulf of Mexico plus camping options. There are proper sites with full hookups, or you can camp on the beach, primitive style, for just $10 a night! It's walk-up camping (no reservations) but there's plenty of space. And since you can drive on the beach (you don't even need 4WD) and there are bathrooms and outdoor showers nearby, it's just like car camping, but with waves lulling you to sleep every night. Just make sure to bring the bug spray, because mosquitoes can reach plague-level proportions in the middle of the night when the wind dies down. You can also explore several paddle trails through the marshes (if you're lucky you'll see an alligator or two!) and even camp on a floating platform in the middle of a brackish lake! Check to see if the park is renting kayaks or canoes before you go, though. COVID pumped the brakes on their rentals, but hopefully they'll be up and renting again soon!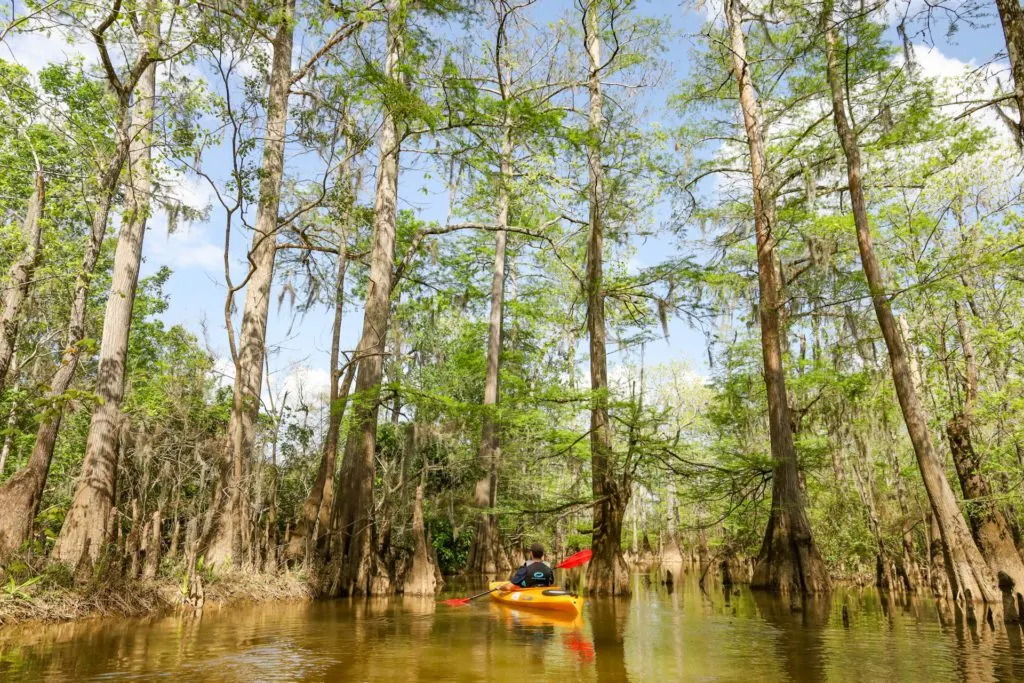 Kayaking
Of course, it's not just hiking and camping you'll find in and around the city; you can kayak in Beaumont, too. There are a number of well-marked paddle trails, including on Village Creek (where you can camp overnight for free on a sandbar if you like), plus the Cook's Lake to Scatterman paddle trail where you can paddle among and between cypress trees and tupelo for an intimate water-based but also super foresty experience. Bring your own kayaks or canoes if you have them or rent some (or book a guided trip) from Gerald at Big Thicket Outfitters!
Of course, there's coastal kayaking at Sea Rim State Park, too (see above).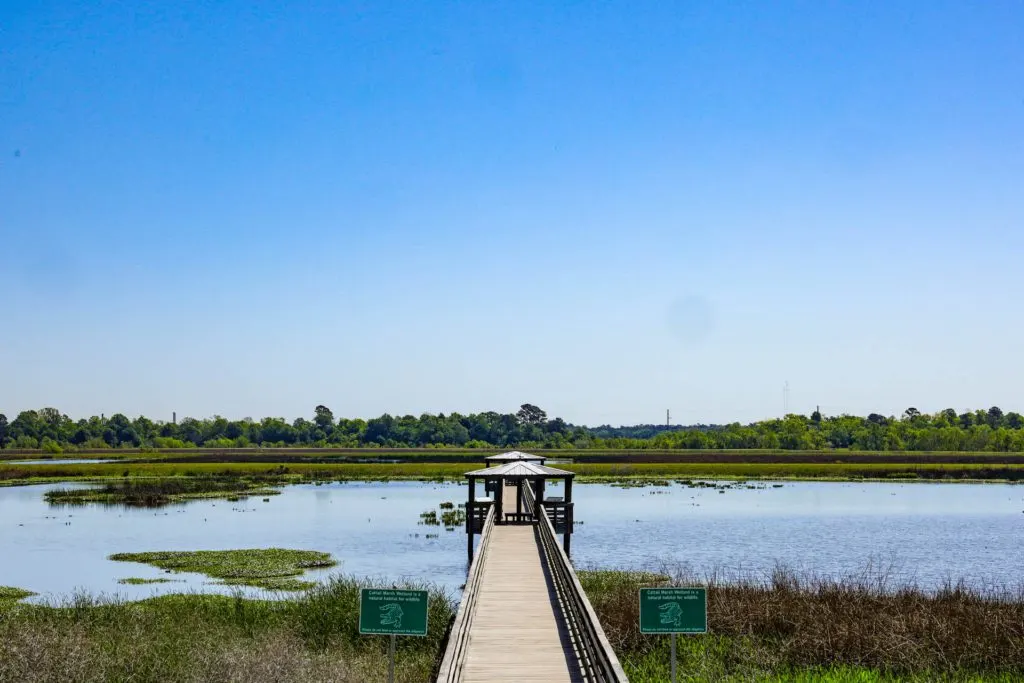 Cattail Marsh & Beaumont Botanical Gardens
Right down the road from one another, Cattail Marsh and the Beaumont Botanical Gardens are basically a two-fer. And they're both free! Make sure to stop in the learning center at Cattail to chat with the knowledgeable team and learn a thing or two (or attend outdoor yoga classes or guided walks on the weekends), then take your time walking around the flat, wide, gravel trails that loop around the marshes (there are 12 miles of them!). Bring your camera and binoculars because this place is a birder's paradise (whether you'd call yourself a birder or not, you're gonna dig it). If you're lucky, you might just see a few alligators, too! And all in a picture perfect wetland that actually doubles as the city's last step in their water treatment process! Too cool. Just bring your hat and sunscreen because there's not a lot of shade out there.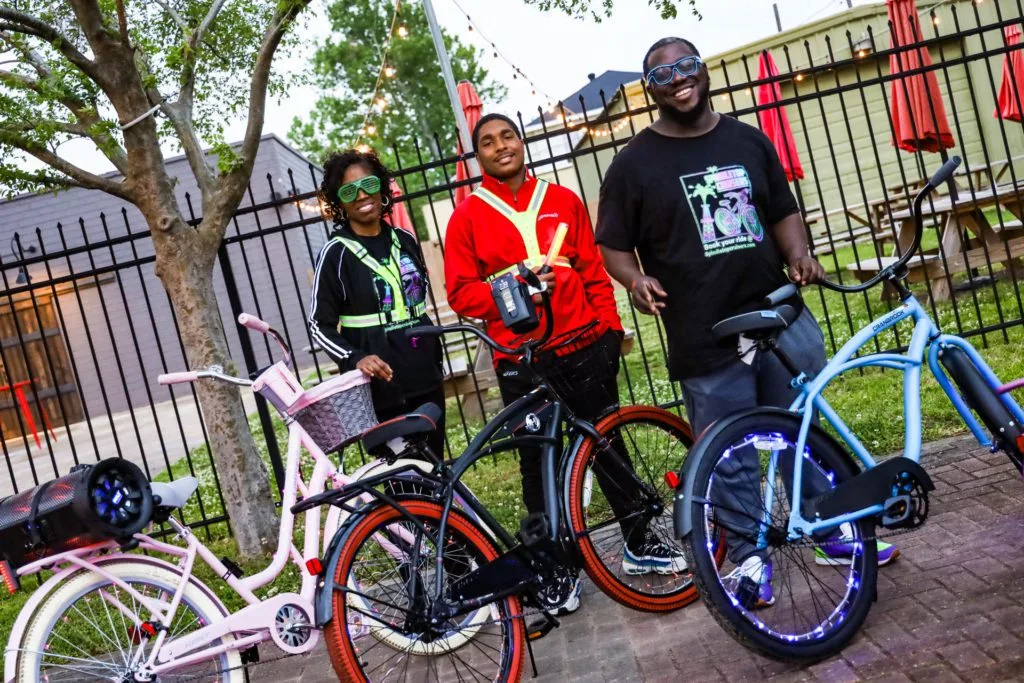 If cycling around a new city wasn't fun enough, Spindletop Cruisers makes it even more so. With rockin' tunes pumpin', a knowledgeable and energetic guide, and bikes and glasses outfitted with colorful lights, who could ask for more? Plus, as you ride around compact downtown in the day's waning light, you'll stop at several historical hot spots and Insta-worthy murals for snapshots and info. We suggest making the tour a first-night stop so you can make a mental note of museums or locations you'd like to return to later. But honestly, it'll be a blast no matter when you go! Also, turns out it's pretty fun to attempt to dance while riding…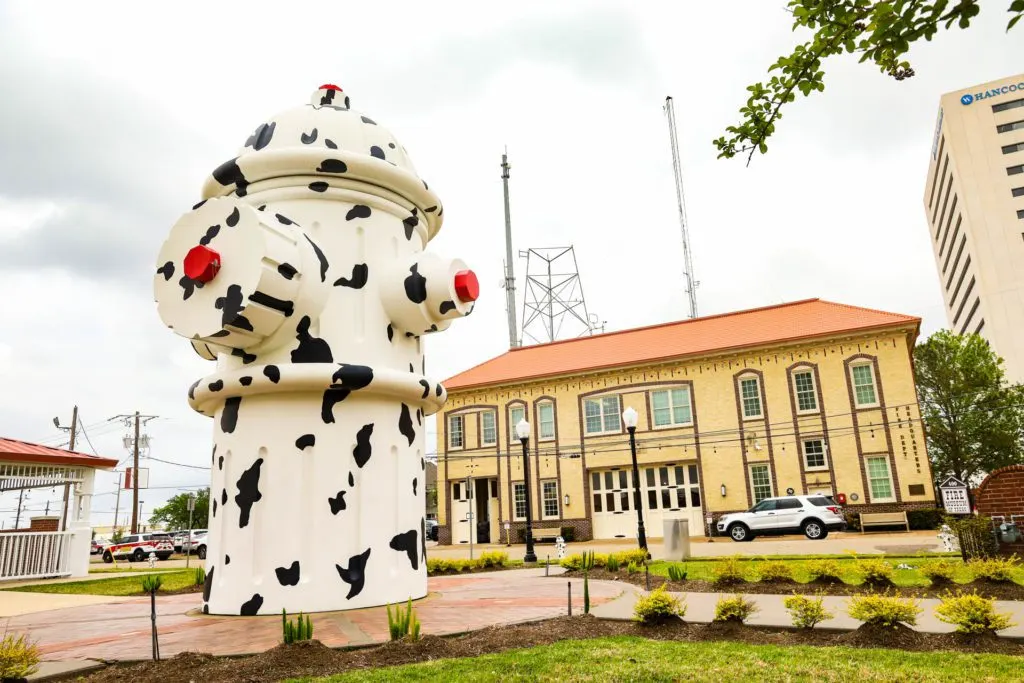 Museums and History
OK, so it's not outdoors, but if you get some inclement weather, there are a solid number of museums to explore in Beaumont. Check out the Tyrrell Historical Library, the Fire Museum of Texas (complete with the world's largest working fire hydrant out front, which is basically an Insta-must), and the Spindletop Gladys City Boomtown Museum. For art, stop into the Art Museum of Southeast Texas for awesome temporary exhibits. Many of the museums are free and the ones that aren't are just a few bucks.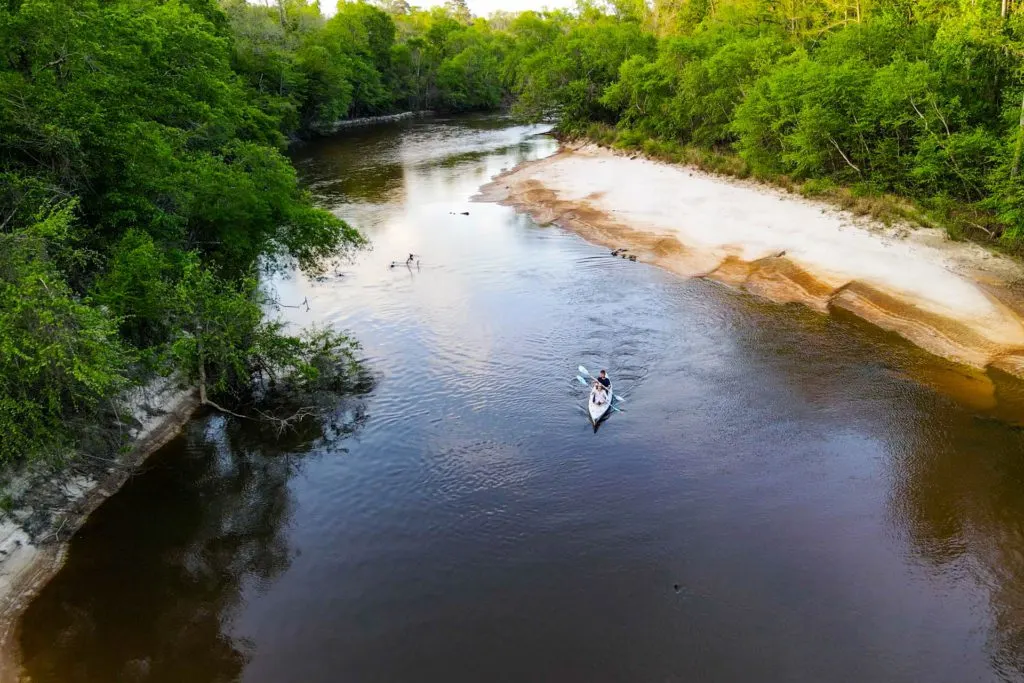 Things to Do Outdoors in Beaumont: Bottom Line
If you didn't think Beaumont, Texas was worth a visit, think again. There's plenty to keep you busy in nature's playground for at least a few days, if not longer. So don't write off this surprising destination, yet, because there's plenty of adventure waiting in the woods and waterways. Now get out there and wander on!
•
Find even more surprising destinations here!
Alisha is a freelance writer and photographer based in Austin, TX. She loves her tiny house, vegan food and experiencing the community of travel in far away places. She's also pretty sure she's addicted to coffee. alishamcdarris.com