We love kayaking. There's just something about gliding around on the water on a warm sunny day that's simply magical. But we've missed kayaking. Since we moved away from Florida, took up traveling (a lot), and moved into a tiny house home, we haven't owned our own kayaks despite the fact that we live in a city with a lake/river running right through it. Why? We neither have a place to store a pair of kayaks nor a roof rack to transport them to the river (though we have been known to call on a pair of noodles and a handful of ratchet straps to do the job). But we missed having our own boats so we could take them traveling, stop paying so much on rentals, and head to the water whenever it beckoned. So we got excited when we learned about the brilliant fold-up Oru Kayak, but let's be honest, that ingenious piece of craftsmanship isn't in everybody's (i.e. our) budget. So we went with the next best solution: an inflatable kayak. What did we think of it? Read on to hear our Intex Challenger K1 Kayak Review.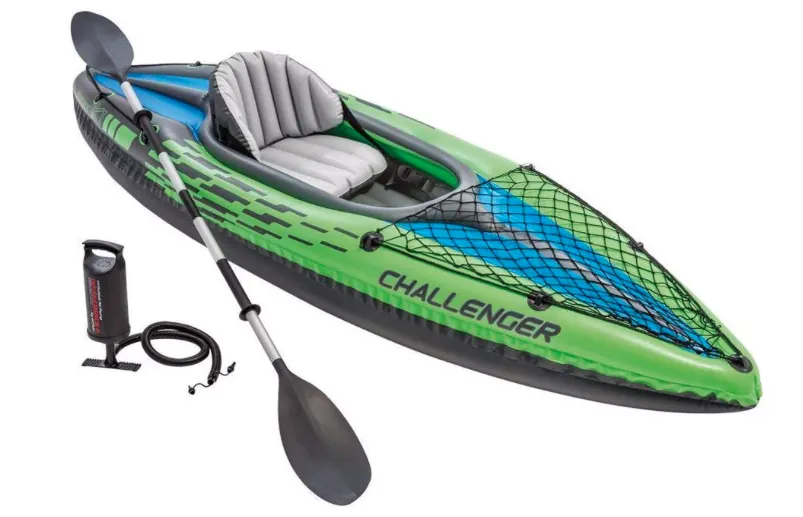 Challenger K1 Kayak Review: The Craftsmanship
I didn't expect much regarding make and materials. First of all, because these are inflatable kayaks from Amazon.com. Secondly, because they cost well under $100 each. That said, we were fairly surprised at the quality of the kayaks themselves. The material seems thick and sturdy, which means it shouldn't tear or puncture anytime soon and should stand up to a fair amount of wear and tear. If it does spring a leak, though, each kayak came with several patches, which is nice.
The air pump that's included is of so-so quality. In fact, one of them came apart while I was using it, though it was easily put back together. The paddle is fairly flimsy, too. Honestly, that paddle will probably be the first thing to break, though I imagine it will last us at least a couple of years. Fortunately, you can find higher quality collapsible paddles if you need or want one.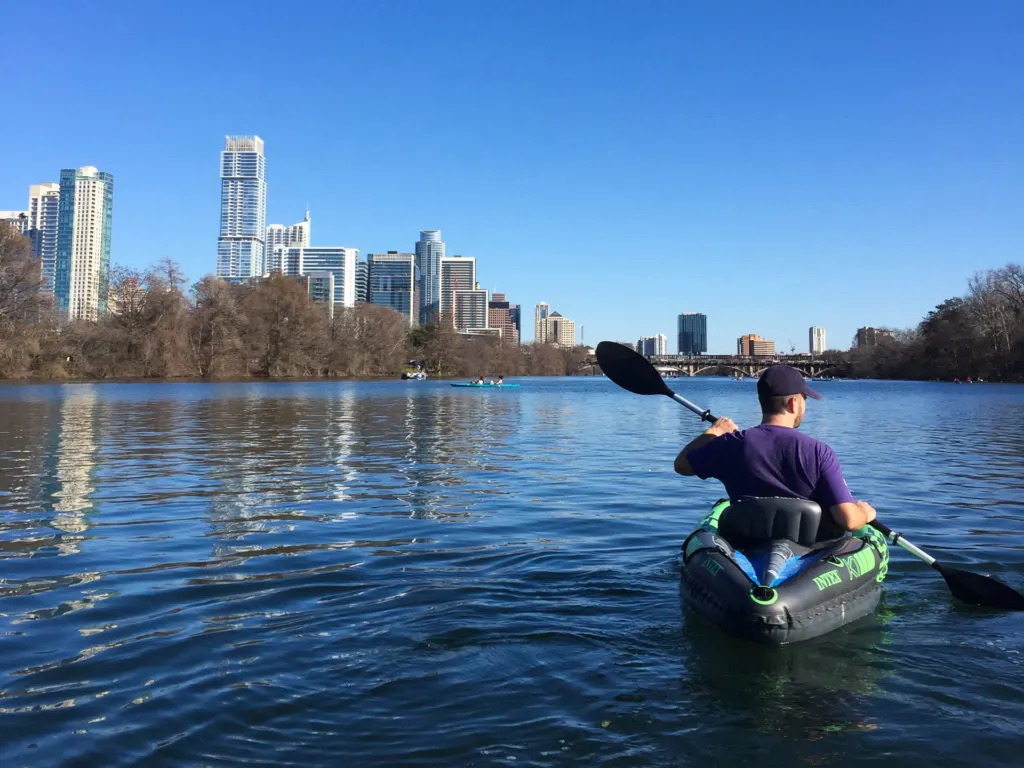 The Setup and Teardown
We timed ourselves the first two times we inflated our kayaks, both times right on shore next to a launch point. Having never completed the task before, we expected setup to take a little longer the first time. And we were correct. It took us each about 20 minutes to get our boats water-ready. The second time, though, when we no longer had to check directions or search for buckles and fill holes, we cut that time in half: 10 minutes from removing the bags from the trunk to putting the kayaks in the water.
Not bad considering we used to spend at least that long heaving conventional boats on top of our Prius and making sure they were securely attached with our homemade roof rack implements.
As for teardown, as you might expect, getting all the air out of the kayak isn't as easily done as filling it up. It probably took us another 10 minutes to roll them up and stuff them back in their travel bags. Ever tried to re-fold one of those giant road maps? Think of it kinda like that, but filled with air that you need to push out. As a side note, consider keeping a towel in your car to dry the inflatable kayaks before you deflate them. That way, you don't put them away wet and you can keep mold at bay a while longer.
The Experience
As for the experience of paddling our new Intex Challenger K1 kayaks, it was about as expected. It certainly wasn't the smooth, swift ride of a 17-foot fiberglass boat, and these inflatable models aren't going to be winning any races, but who cares?! They were super fun to paddle, can totally be used to play bumper boats, and were even pretty comfortable. Because the seats are inflatable, too (though Josh preferred the lower part of his deflated so he could sit lower in the kayak), there's a lot of cushion for your tush and the backrest can be easily adjusted.
There is also a detachable skeg on the bottom of the boat to help keep you headed in a semi-straight direction, but do expect the nose of the kayak to swing back and forth a bit when you paddle, especially if doing so aggressively. That said, it was still easy to keep on course, steer, and maneuver. And it was also great for kicking up your feet and lounging while you float!
Um, also, a cheap inflatable kayak is *always* better than no kayak, so…
Space
As for space in and on the boat, there's a fair amount. If you're a terribly large individual with crazy long legs, the Intex Challenger K1 Kayak might not be for you. At 5'3″ and 5'6″ we had plenty of room for our legs in front, but the inflatable cone that goes down by your feet to hold the cockpit open for your toes takes up some room, so keep that in mind.
The space behind the seat can all be used for storage. You could easily fit a dry bag or backpack back there (probably a sleeping bag and tent, too), you just won't be able to easily access it without removing the seat, so only store things you don't need at arm's reach back there.
For those items, there's a mesh cargo net on the bow and grab line around the bow and stern so you can strap or lash more gear (waterproof gear or in a dry bag) on top of the kayak. We used both areas and it worked out just fine for holding a dry bag and life jacket.
Challenger K1 Kayak Review: Pros &Cons
Pros
Inexpensive
Easy to store
Easy to transport and travel with
Lightweight
Fun
Comfortable
Cons
Slower than a conventional kayak
Have to dry it out
More easily punctured than a conventional kayak
Takes time to inflate/deflate
Not a ton of foot space
Moderately flimsy paddles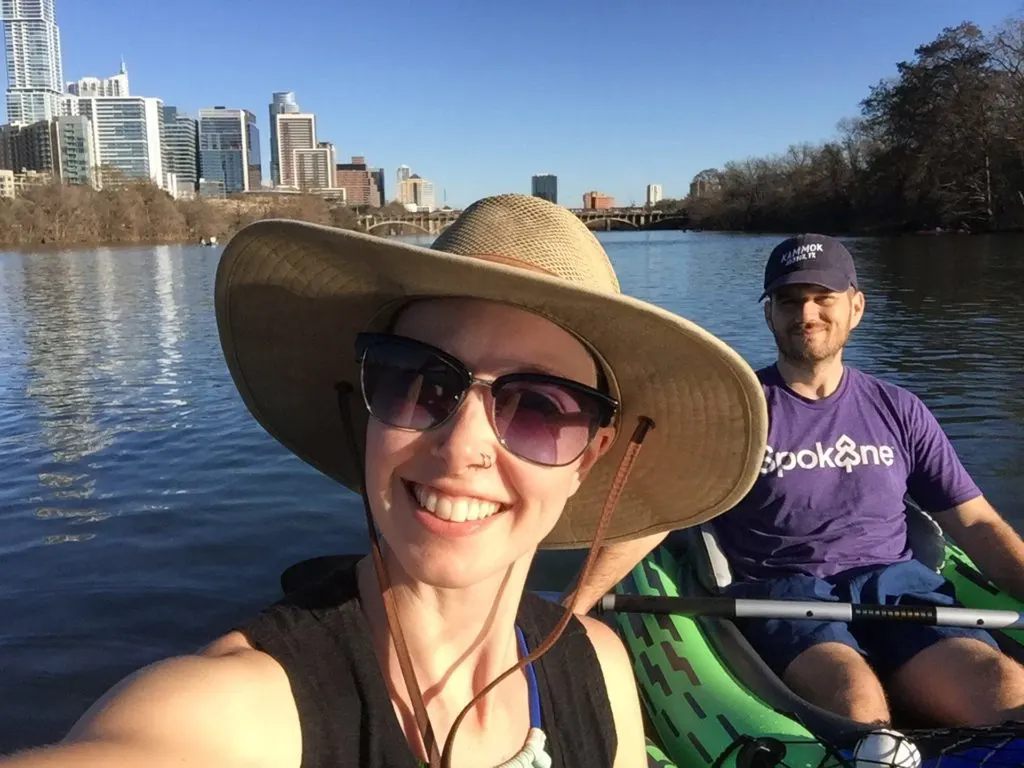 Challenger K1 Kayak Review: The Bottom Line
All said and done, we have no regrets about buying a pair of Intex Challenger K1 inflatable kayaks off of Amazon. None. Whatsoever. I, personally, couldn't be more stoked that I can once again head to the river for a paddle or a float any dang time I want. The fact that it's not as fancy or swift as more expensive traditional kayaks doesn't bother me at all. As I said, a cheap inflatable kayak is better than no kayak any day. Also, it has been a real conversation starter the few times we've taken it out already as strangers ask how we like it and we air high-five fellow kayakers in the exact same model. We see you. We know you. We get you: you live in a small space, love the outdoors, and don't have the cash to drop on a fiberglass boat either! Samesies.
Besides, now we can load up the kayaks when we set out on a road trip and have ourselves some water-based adventures in cities around the country. Secluded backcountry campsites you can only get to via water access? We're comin' for you!
Find the Intex Challenger K1 Inflatable Kayak here. Prefer a two-seater? There's also an Intex Challenger K2 available here.
*This post contains affiliate links, which means e may receive a small percentage of any purchases made after you clicky-click through a link. If you do, thanks for keeping this boat afloat.
Alisha is a freelance writer and photographer based in Austin, TX. She loves her tiny house, vegan food and experiencing the community of travel in far away places. She's also pretty sure she's addicted to coffee. alishamcdarris.com