Want a sleeping bag that does more? Why wouldn't you?! Because one bag for three seasons is a beautiful thing. Allow us to introduce you to the UST Monarch: a multifunctional sleeping bag that can take you from spring to summer to fall camping (plus cozy evenings by the fireside) without missing a beat. Read (or watch) all about it in this here UST Monarch review.
I'm not gonna lie, when I first heard about UST, I took a quick poke around the brand's website and I wasn't all that intrigued. Their camping gear seemed like it appealed more toward fun, relaxed family outings than serious outdoor pursuits, so it just didn't seem my speed. And most of it didn't seem that sustainable, so I largely ignored the brand.
But after seeing the logo start popping up all over the place, I decided maybe it was worth it to dig a little deeper. And I'm glad I did. Because after testing the UST Monarch sleeping bag, I'm all about it. The number one reason? Versatility.
Is it the perfect bag for every kind of camping adventure? Well, probably not. It's not super light or ultra compact for backpacking–though it's not too shabby in either department. It isn't gonna do the job in below freezing temps. But you know what it IS good for? Just about any other type of camping. In just about any other type of weather. We'll break down the deets and then tell you what we thought of it after we tested it out.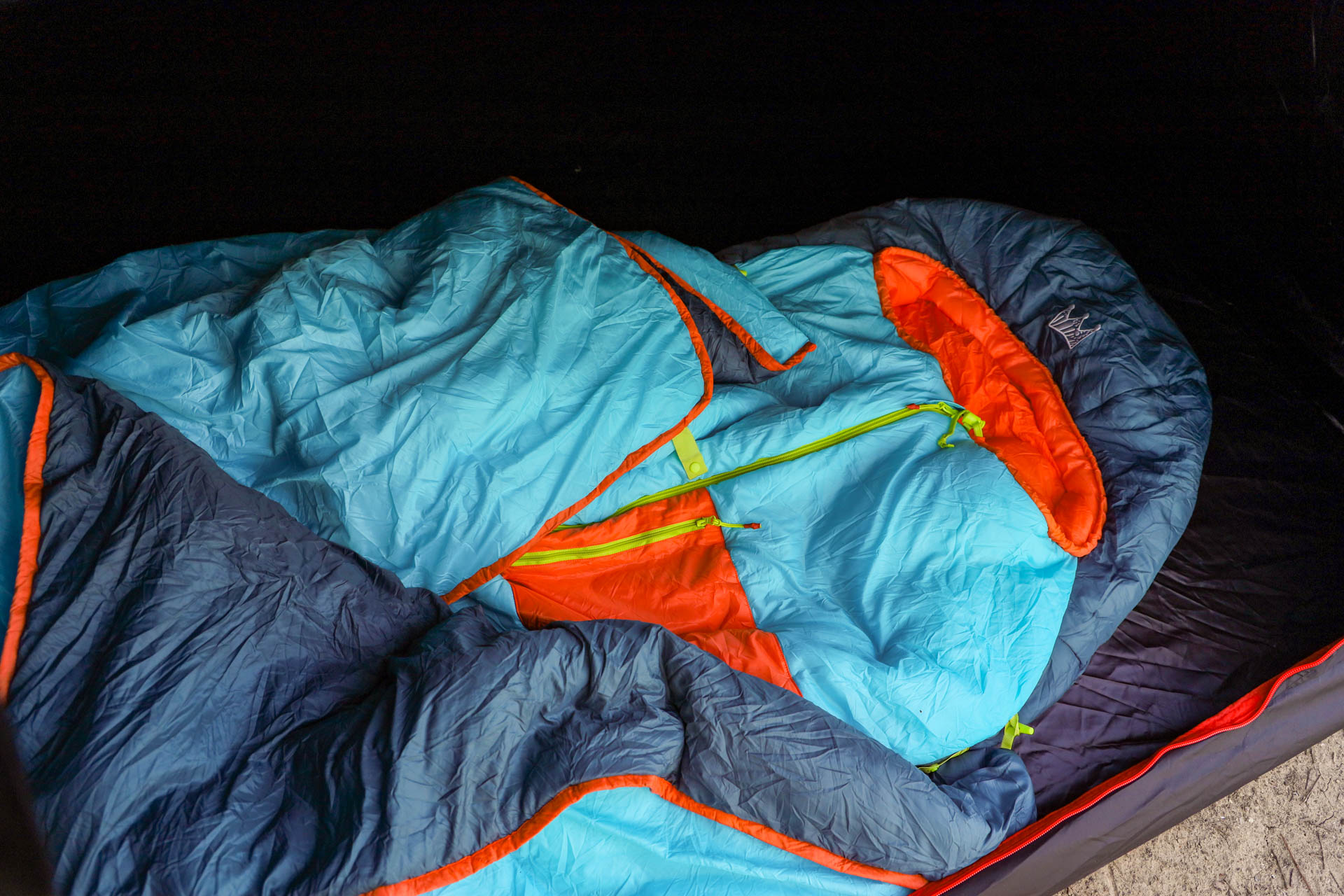 The UST Monarch Sleeping Bag Deets
For starters, what makes this sleeping bag so unique is that it's modular. Yes, modular. As in multi-functional. As in useful for more than just one or two applications. And we love multitaskers. We have to; we live in a tiny house and don't have room for 4 separate sleeping bags per person, but we also don't have the budget for 4 separate sleeping bags per person. So one often has to do for multiple seasons and functions. And the Monarch does that. In fact, it could potentially replace up to four sleeping bags, plus a camp blanket and pillows.
For starters, there's the main body of the Monarch (which uses recycled synthetic insulation, by the way). It has a zipper down the center, a chest pocket for your phone or headlamp, as all good sleeping bags should, plus a draft collar and draft tube behind the zipper and a pillow sleeve, all features you don't usually find on less "serious" sleeping bags, which is a plus.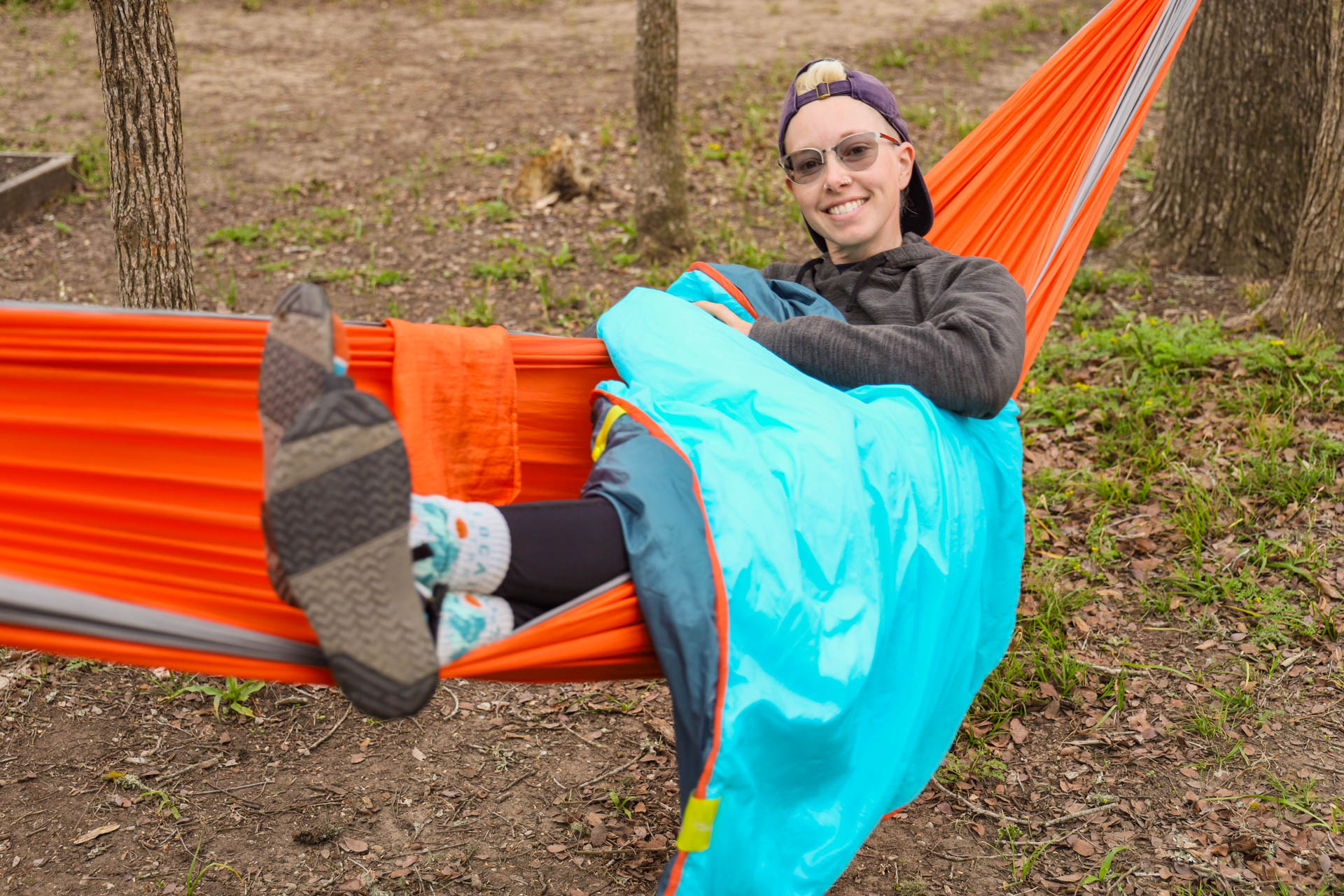 There's also a zipper at the foot box, which allows you to open up the bag at the bottom and give your feet some room to breath on warm summer nights. On its own, the body is great for warm-weather camping with a temperature rating of 37ºF.
The bag also comes with two detachable wings, which are filled with the same eco-friendly insulation. You can attach one via a series of toggles and loops on one side and snaps on the other to increase the temp rating to 27ºF, or you can attach both wings for a temp rating of 17ºF!
Those are the lower limit ratings, of course (read about how sleeping bag temperature rating work in this post). The comfort ratings are 45º with just the body, 34º with one wing and 29º with both wings. You can also detach the wings, stuff each into its own pocket, and use it as a very comfy pillow, or use either as a blanket around camp.
The whole thing weighs 3 lbs 8 oz (or 2 lbs without the wings attached) and all comprised into the included compression sack it measures about 13″x8.5″. Not tiny, but not super bulky, either, and it comes in a regular and short length, the widest point of which is 32″ across. It is coated with a DWR finish, which we could have done without for sustainability purposes (read about DWR in this post).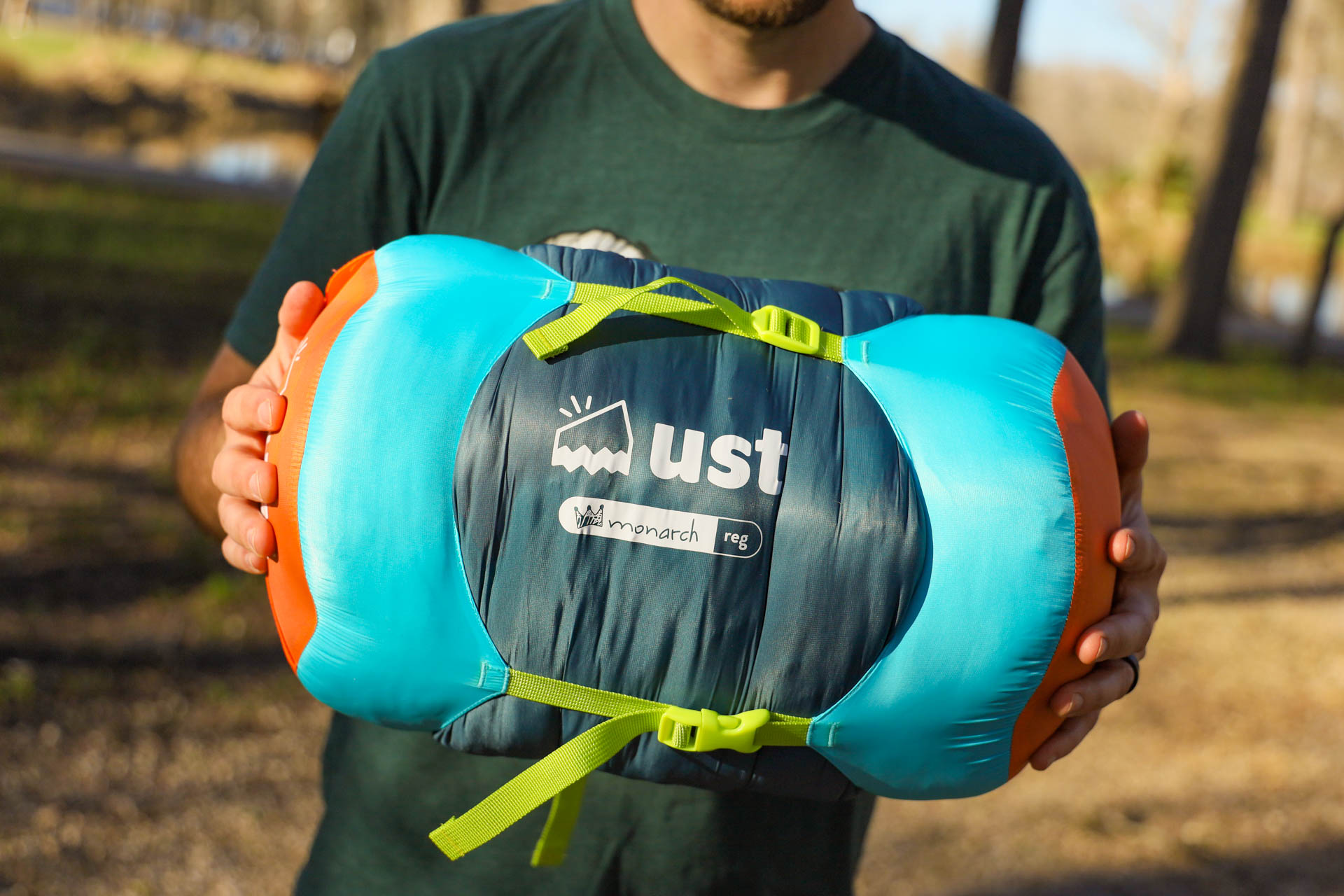 The UST Monarch Sleeping Bag Review
But I was still dubious about this bag. I mean, at first glance, it seemed like it might be kind of low-end. There weren't any stitched baffles to hold the insulation in place, the zipper on top felt odd (I've never in my life used a sleeping bag with the zipper on top), the draft collar seemed kinda flimsy, and the removable wings didn't cover the foot box, which seemed weird. I mean, that's usually the first thing to get cold, right?
And then there was the temperature rating. I was pretty sure there was no way this bag was gonna keep me warm down to 17º F.
But I was surprised to find that not only did I like the bag, it was actually quite cozy. I camped in temps that hit overnight lows of 40º, if not lower, and with both wings on I wasn't even kind of cold. Not even a little. I actually had to shed a layer and my hat in the middle of the night because I was sweating. That never happens. I am a very cold sleeper.
The next night the low was around 50 and I threw off both wings in the middle of the night and was exceedingly comfortable without them. Meanwhile, Josh got chilly every time he rolled over in his Big Agnes Lost Dog 15 (although he did not have a sleeping pad in the pad sleeve, which is essential for warmth).
So basically, sorry for underestimating you, UST. That's my bad.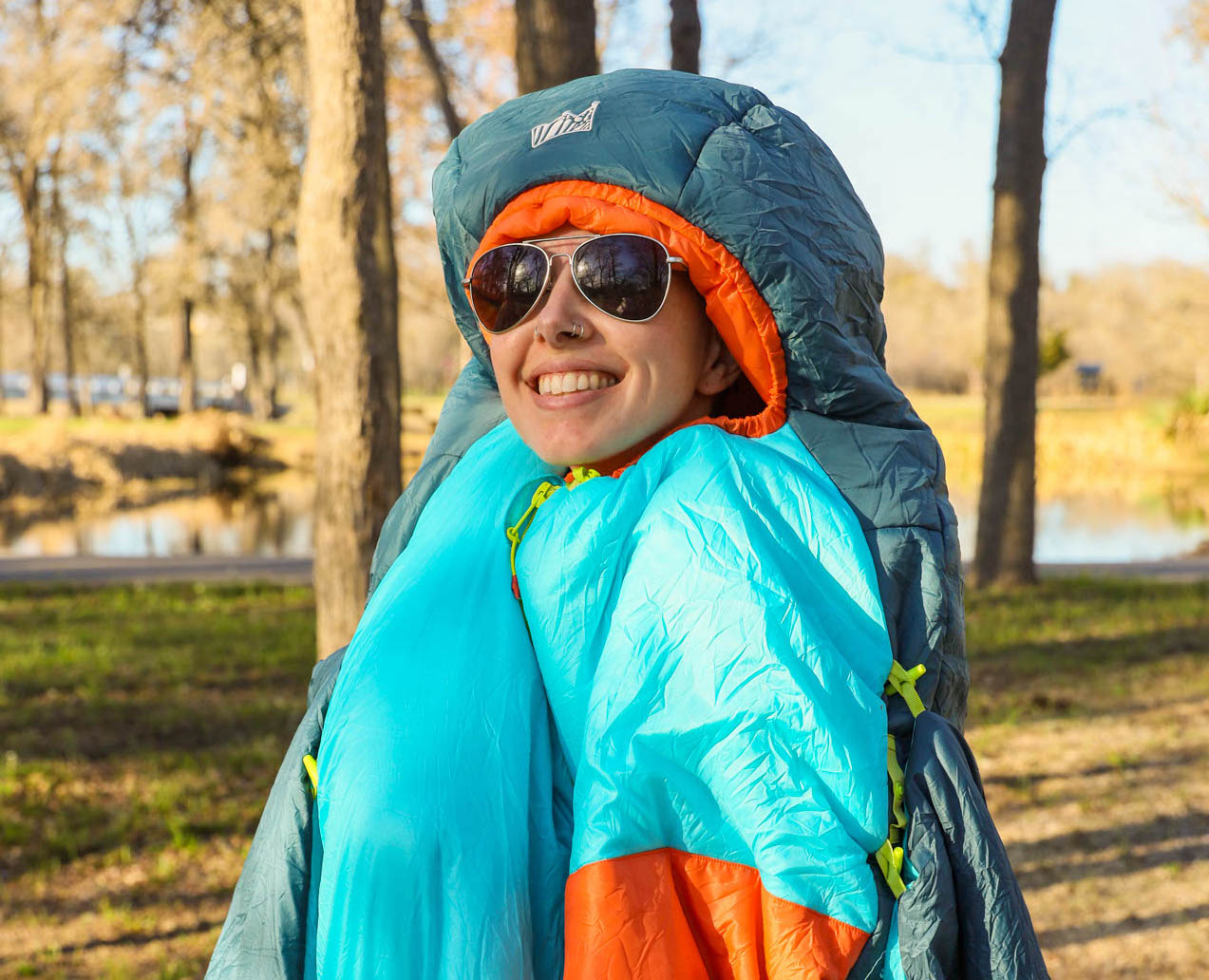 Did I still find the absence of baffles strange? Sure. It's easier to get tangled in loose fabric without some strategic stitching, though that's not all baffles are for, of course. Was the floppy and bisected draft collar still kinda wonky and unwieldy? A little bit. But it still worked. Did I get used to the zipper down the center. Yeah. Almost immediately.
That said, that zipper placement means you can't attach two sleeping bags together if you're trying to get cozy with a camping partner. Which is a nice feature to have. But the UST Monarch hood cinches easily and the footbox has more insulation than I thought so, no, my feet didn't even get a little chilly.
I do wish the accessory pocket was on the inside of the bag instead of the outside. A pocket on the outside makes any gear like a phone or headlamp you put in there not only harder to get to, but doesn't insulate battery-powered items, which is important to do in colder temps that can drain batteries.
But I loved the removable wings. Each one stuffs into a very plush little pillow and one wing makes a pretty great blanket or shoulder wrap when you're just hangin' out around camp. Plus it's all super soft and squishy. And it's fun colors. Which I appreciate. Because I like fun colors. In the outdoors, anyway. Ninety percent of my day to day wardrobe is black…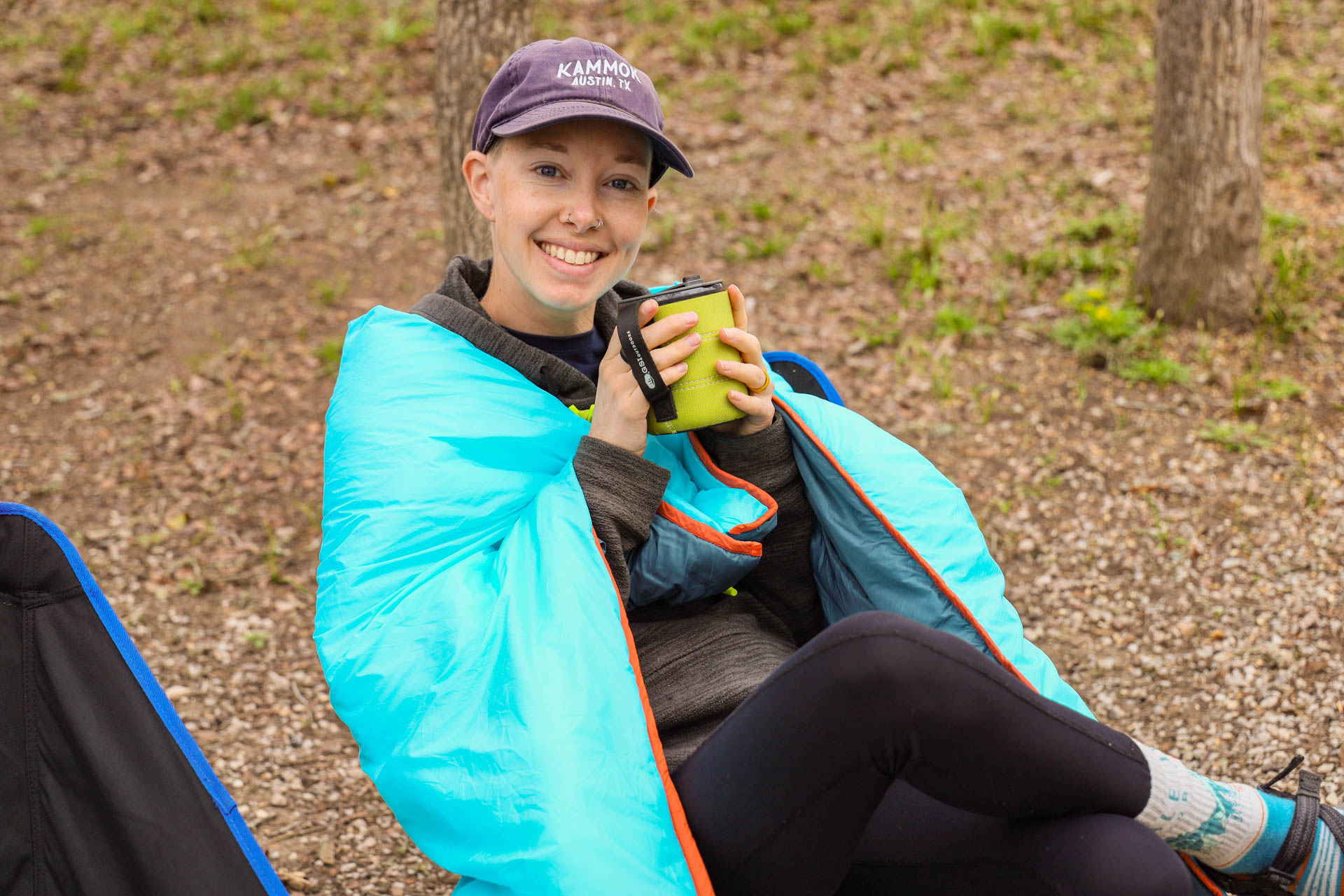 Pros:
Versatile for cold- or warm-weather camping
Removable wings double as pillows or blankets
Ventable foot box for warm nights
Warmer than expected
Draft collar
Draft tube
Stash pocket
Comes with a compression sack
Recycled insulation
Roomy
Soft nylon fabric
Cons:
Not a super sustainable brand
Gear pocket on outside instead of inside
Can't zip two bags together
Not super lightfoot backpacking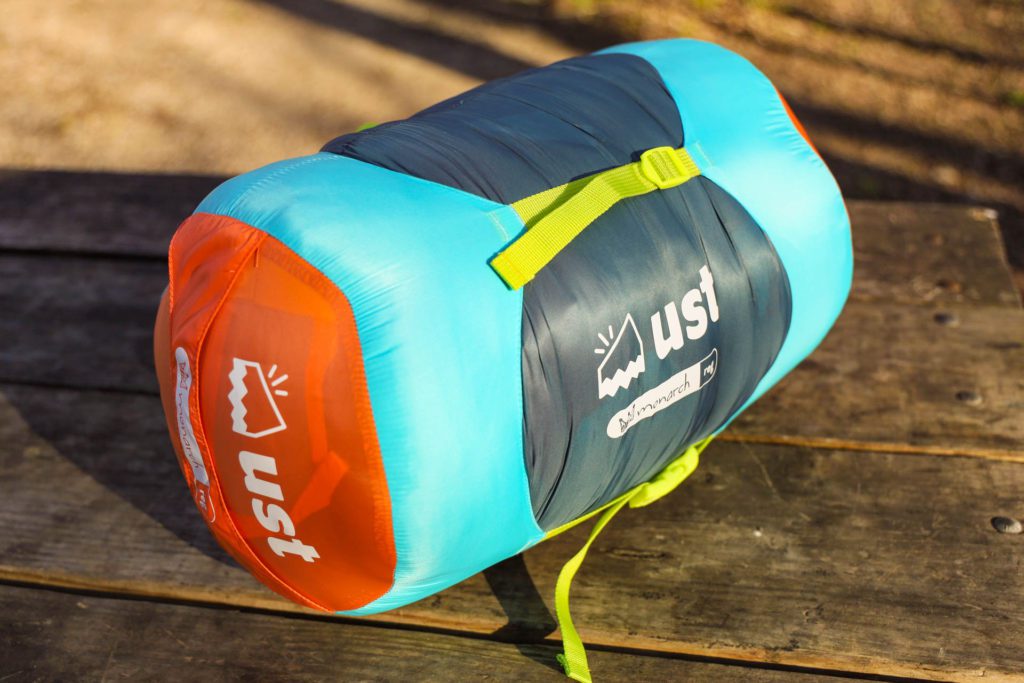 Bottom Line
Long story short, UST is one of few outdoor brands that doesn't take itself too seriously but still, apparently, makes some pretty dope gear.
The only thing we'd like to see in the future is more of an emphasis on sustainability. The Monarch is the only item right now that uses any kind of recycled materials and the brand itself doesn't have any significant sustainability measures in place, but they do offer a warranty on defective gear that says they'll repair or replace it.
And they are reducing single-use packaging and shipping materials, so that's a good start and a definite plus. I'm curious to see what other sustainability measures they'll implement in the future, though. So consider yourself challenged, UST.
What do you think? Could you use a quality multitasker like the UST Monarch in your gear closet? You didn't discount it right off the bat just because it doesn't take itself too seriously did you? Either way, check out the Monarch for yourself here, then go sleep outside. And stay all cozy and comfy with one bag that does it all when you do.
•
Looking for more synthetic sleeping bags for backpacking? Find a a whole list organized by temperature rating here.
•
This post contains affiliate links. That means if you clicky-click and make a purchase, you may be helping support Terradrift and all the hard work we put into these reviews. You rock.
Alisha is a freelance writer and photographer based in Austin, TX. She loves her tiny house, vegan food and experiencing the community of travel in far away places. She's also pretty sure she's addicted to coffee. alishamcdarris.com