Sleep is super important when you're backpacking. And frankly, we've found that we sleep better when we have an inflatable pad under our tired bodies. And when we sleep better, we're less prone to becoming super cranky backpackers. And nobody likes hanging out with super cranky backpackers. So get comfy, sleep better, and enjoy spending the night outdoors with one of these three inflatable sleeping pads for backpacking.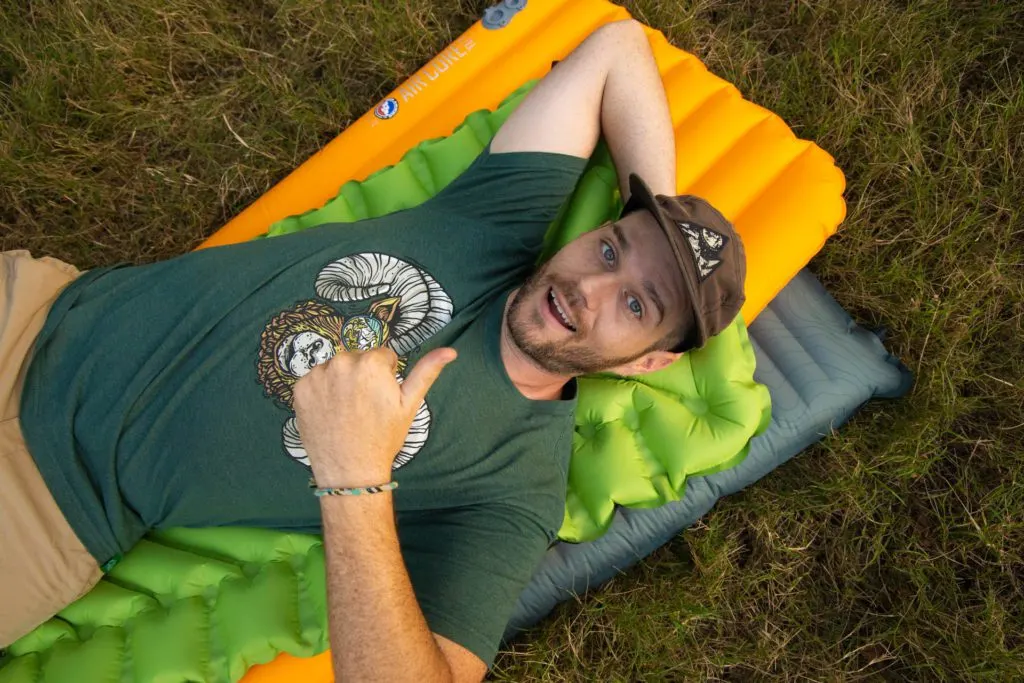 Three Inflatable Sleeping Pads for Backpacking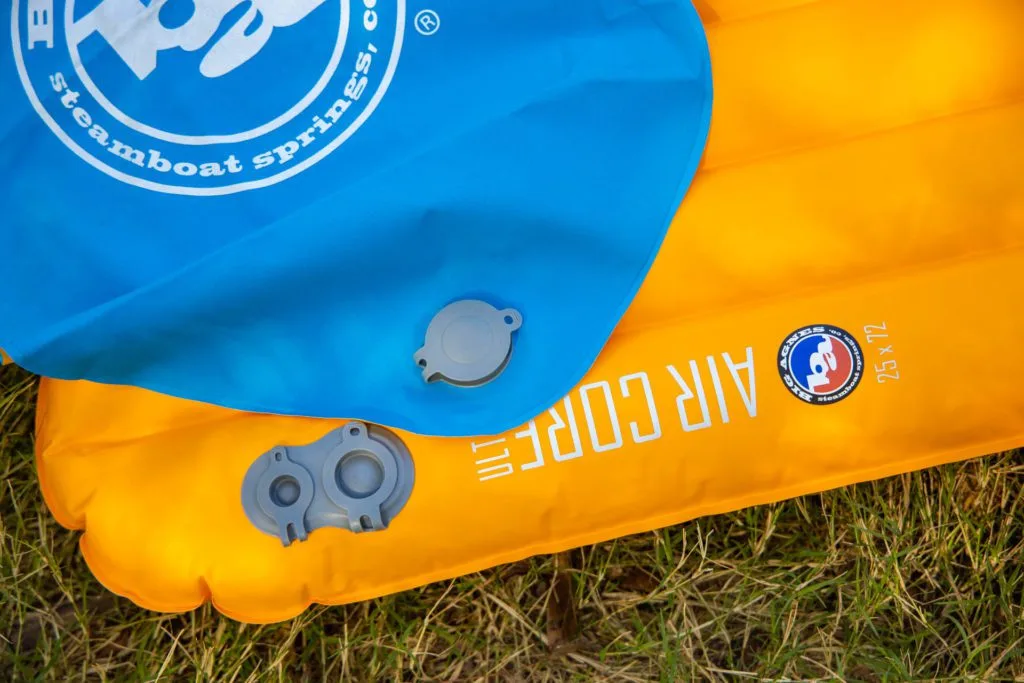 First, the deets:
3.25 inches thick with 3.5 inch thick outer chambers to keep you centered on the pad all night.
High volume valves with micro adjustment functionality so you can quickly inflate, deflate, and easily customize your ideal firmness.
It comes packed in a stuff sack with a couple repair patches and a replacement valve seal.
Includes a pad Inflation Sack, which is made from upcycled excess pad material.
There's an antimicrobial treatment inside the pad to prevent mold and mildew growth.
It's made of super durable nylon.
Has an R-value of 1.4, making it a warm weather pad.
Comes in three sizes: either 72″ or 78″ long and 20″ or 25″ wide.
They weigh between 18 ounces to 24 ounces.

Next, the review:
the Big Agnes Air Core Ultra is definitely the cushiest of these three pads at over 3″ thick, meaning it keeps you from ever touching the ground beneath you no matter how you sleep.
Of course, since it's so thick, it also takes a bit longer to inflate than some of the others whether you're using the inflation sack or your lungs. I typically prefer the latter, honestly, because I find those things kinda unwieldy and not terribly efficient. Plus, I'm not likely to carry that much extra weight with me backpacking; the pump sack is actually pretty heavy.
The pad is also a bit on the heavy side, and a bit bulky all packed up. But that's the trade-off you're making if you want something ultra plush. On the plus side, though, it's made of a nice rugged, durable nylon that feels like it was made to last.
It's super easy to use the micro adjust valve, too. Just inflate, lay down, and adjust until you get the firmness just right. It's a handy feature, because honestly, fully inflated this pad is pretty firm. That may be perfect for you, but we like a little give, so it was nice to just let a little air squeak out so we could customize our comfort.
And yes, the side rails did seem to help keep us centered while sleeping, so that's a great design feature, though I do think it's the noisiest of the three pads on this list, FYI.
Bottom line: if you want a solid, study sleeping pad that's as comfortable as possible without having to sacrifice serious weight or cost savings, this is your guy. Plus, we love that it comes in several sizes to accommodate campers of multiple sizes. Huzzah for size inclusivity!
Also important to note: if you're combining this pad with a whole Big Agnes Sleep system, like the Sunbeam or Lost Dog sleeping bags we reviewed earlier this year, either width pad will fit in those pad sleeves, though the longer pad may not fit in the women's bags. Find it on Backcountry.com, here.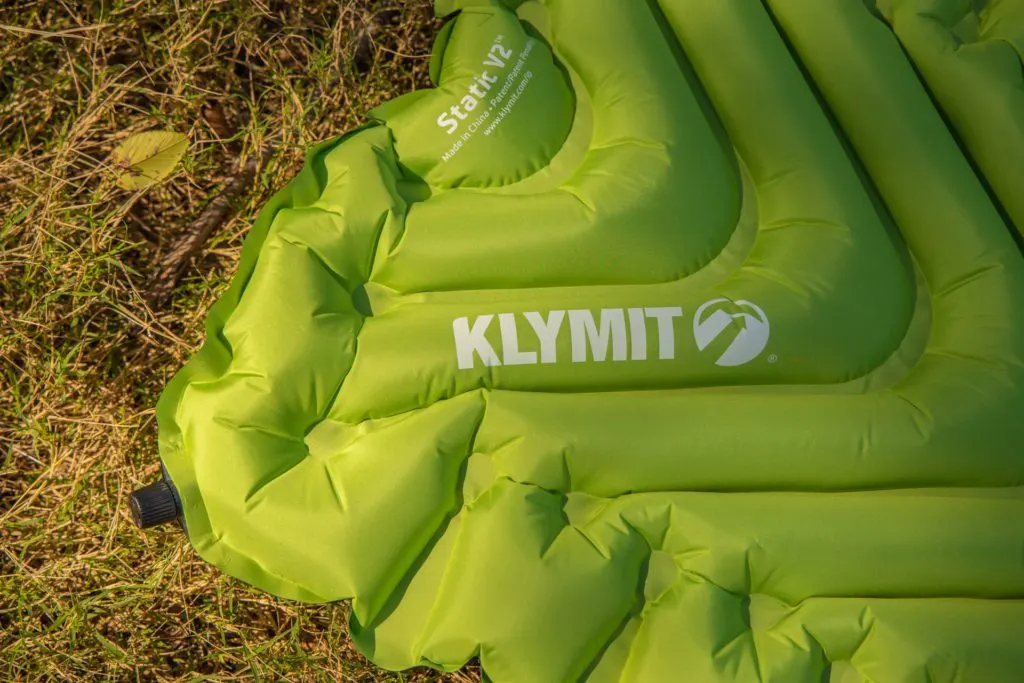 First, the deets:
It has an easy screw-to-tighten inflate valve that makes micro-adjustments super easy.
Features Klymit's Body Mapping Technology: a patented V-shaped design that's meant to be supportive and comfortable no matter how you sleep – side, stomach or back.
Side Rails designed to help keep you centered on the pad all night.
Deep Weld Patterning that aids in comfort and warmth retention (they create space that allows your sleeping bag to fully loft between you and the pad for improved thermal comfort).
72″ long and 23″ wide, plus 2.5″ thick.
Weighs 16 ounces.
Has an R value of 1.3.
Comes with patches, plus a lifetime warranty.
Next, the review:
We've been using an older version of this pad for years with few complaints. And in that time, we've only had to send one of our pads in once to be repaired when it sprung a microscopic leak, and it was free and easy, because Klymit guarantees their pads for life; you just have to send it in and they'll repair it.
It's quite a comfy pad even though it's not the thickest. You might be able to feel the ground a bit under your hips or shoulders if you turn on your side, but considering that's how I usually sleep and I still use this pad, it must not be that bad.
As for the deep-welded baffles, it's hard to say if they actually help with heat retention, but they do keep the pad comfortable. As in, no micro-adjustments required. We always just fill it to the max and it's perfect as is. The shape and design really feels like it's filling in all the space between you and the ground, like under your lower back.
And the side rails also have always worked very well at keeping us centered throughout the night. I'm a tosser and a mover and I've never once slid off this pad, so that's a win.
It's also light and packs down small, which I'm all about, because when I backpack I want to carry as little weight as possible.
It doesn't come with a pump sack, but you can purchase one separately if you really want one. It does take longer to inflate than some other pads because the valve is smaller, so air gets pushed through less quickly, but it's hardly a dealbreaker.
I find the pad very comfortable, especially for back sleeping and recommend it highly. Find it on Klymit.com, here.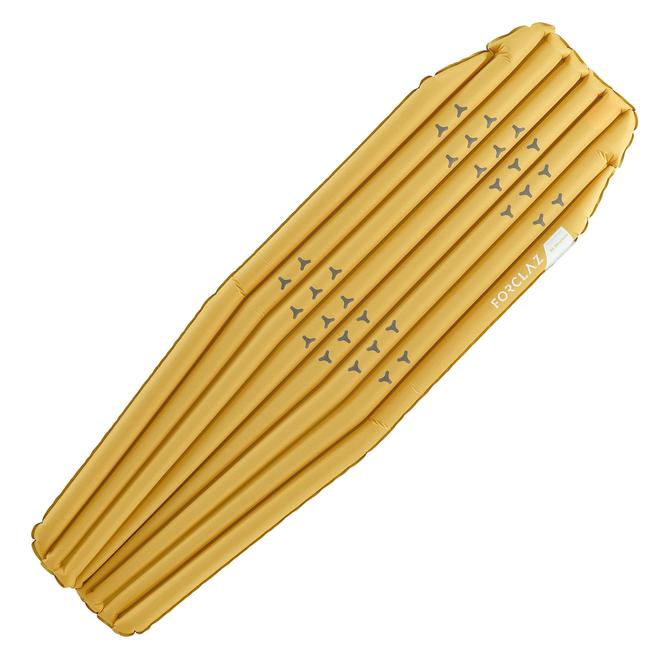 First, the deets:
Mummy-bag shape, which reduces excess fabric and therefore weight.
Designed with non-slip silicone patches on the top and middle that are intended to keep your bag from sliding around in the middle of the night.
A super efficient deflation valve and 2-way inflation valve that is micro-adjustable.
Comes in large and extra large, plus a short version
The large is just under 71″ long, 20.5″ wide, and 2.2″ inches thick.
It weighs 18 ounces.
An R-Value of 1.6.
Next, the review:
The Decathlon Forclaz 700 may have been the easiest to inflate of the three pads, by which I mean it took the least amount of time. The valves are large in order to allow a lot of air to pass through whether inflating or deflating.
And I totally dig the shape. After all, why do you need a rectangular sleeping pad if your sleeping bag isn't rectangular?
Shape aside, it's also comfortable and easy to adjust the firmness to your liking. And you will probably need to adjust the firmness as it's fairly stiff fully inflated. That said, the inflation and deflation valves are on the bottom of the pad, so if you do need to let a little air out, it's a smidge inconvenient to fold the top back, find the valve, and deflate a bit while you're on top of it.
Hardly a deal-breaker. The silicone patches are a nice touch, though. It does feel like they help keep a sleeping bag a bit more stationary when positioned on top of the pad.
It doesn't have side rails or anything like that, but because of the shape and those non-slip patches, we don't think we're going to have a problem with rolling off the pad. We haven't so far! And the fact that it's fairly compact when all packed up is an added bonus. Find it on Decathlon's site, here.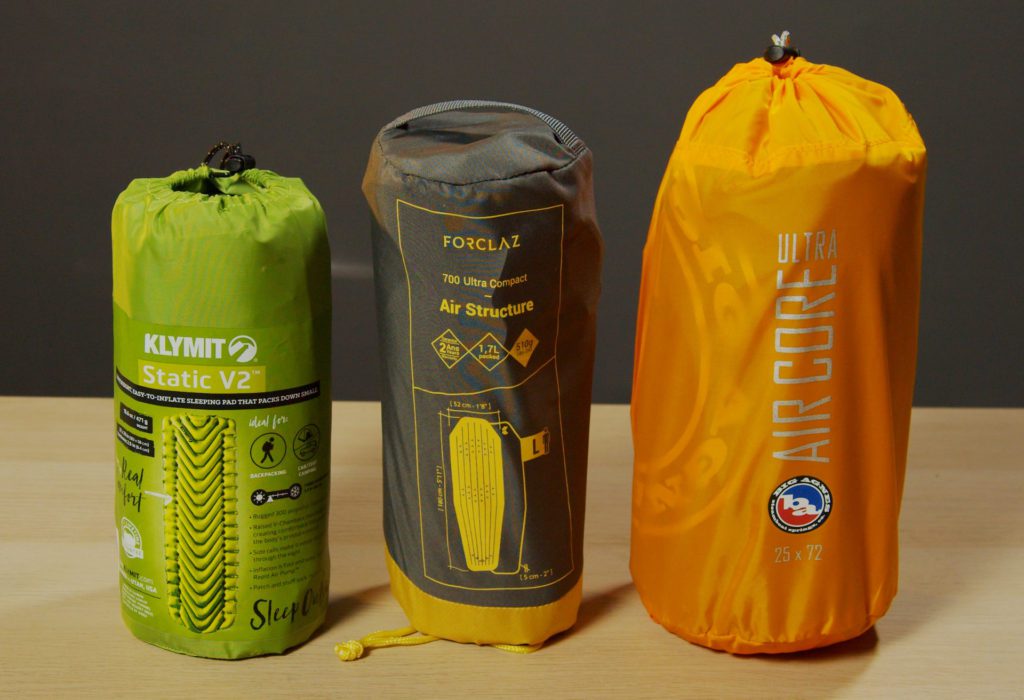 Bottom Line
Inflatable sleeping pads, like camping pillows (which we reviewed in this post), are a very personal choice. You just have to find the one that's right for you. Hopefully we've made that easier. If you don't mind sacrificing a little weight for added comfort and a wide range of size options, go with the Big Agnes Air Core Ultra (find it here). If you want to keep it light and small, the Klymit may be your best option (find it here). And if you want a happy medium that offers customizable firmness for not much weight, try out the Decathlon Forclaz 700 (find it here).
Whatever you sleep on, just get out there and wander on.
•
*This post contains affiliate links, which means when you make a purchase, we may receive a small percentage of the sale. But don't worry; you won't pay more, you just help support more great content like this from Terradrift!
Alisha is a freelance writer and photographer based in Austin, TX. She loves her tiny house, vegan food and experiencing the community of travel in far away places. She's also pretty sure she's addicted to coffee. alishamcdarris.com