A quality cooler, whether you're on a road trip or weekend camping trip, is a beautiful thing. After all, there's nothing worse than opening your cooler after gathering a team to lug it to the campsite, just to find out your ice has melted and your beer/hard cider/Topo Chico is warm and your hummus has already started growing green fuzz. We wouldn't wish that on anyone. So allow us to introduce you to the RovR cooler: the coolest, uh…cooler…for all manner of travel and outdoor adventure. Wanna know more? Read (or watch) to learn all about what makes the RovR RollR Cooler so rad.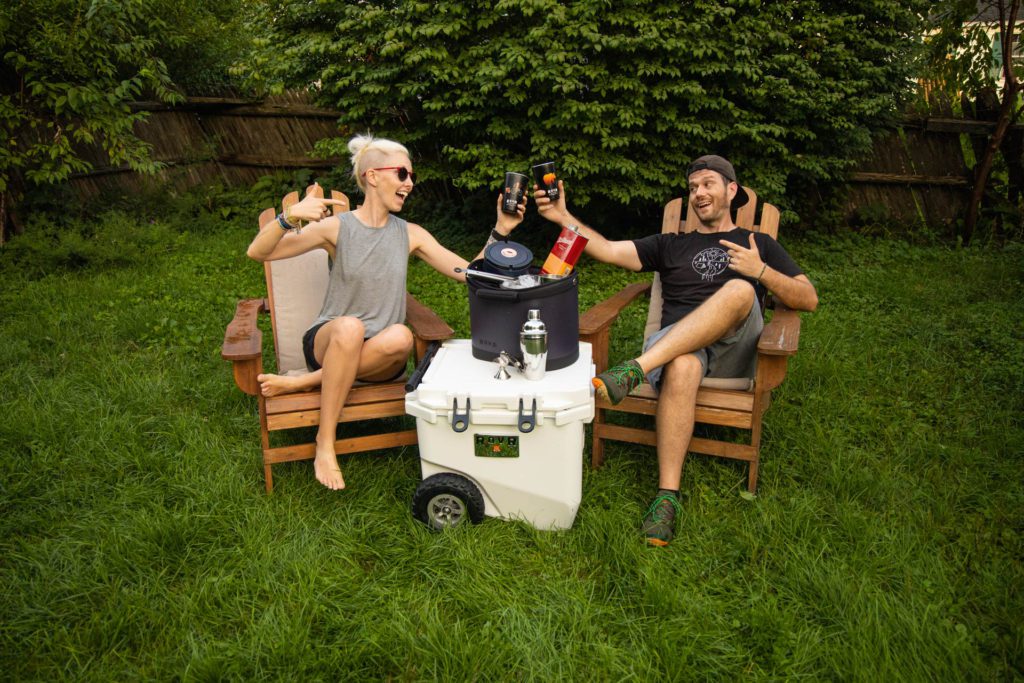 RovR RollR: The Deets
For starters, the Rollr comes in 4 sizes: 45, 60, 80 and 85. We tested the 45. It's just the right size for road trips and weekend outings: not so big that you can't cram it in the backseat, but not so small you have to choose between packing oat milk or hummus.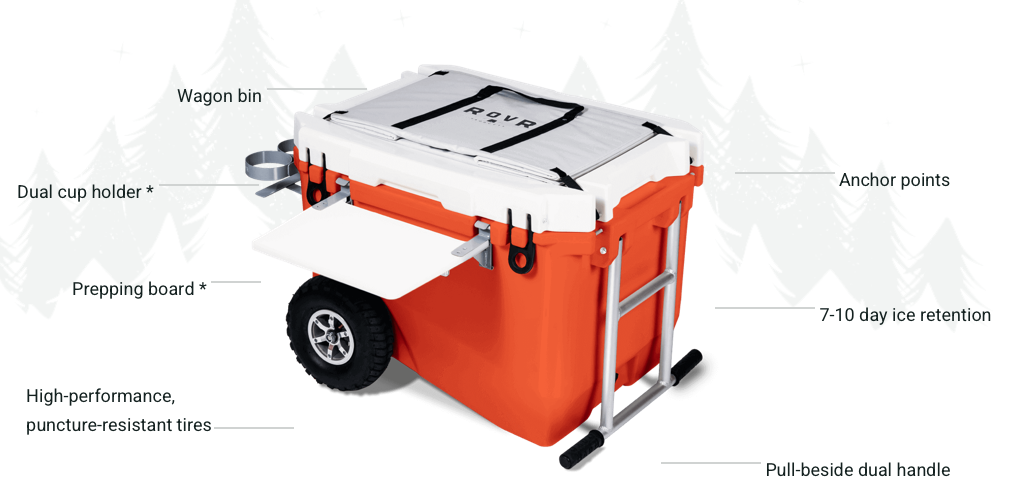 First, the features and accessories:
Included Wagon Bin for extra storage on top of the cooler
Puncture-resistant tires
Multiple anchor points for attaching things or strapping the cooler down
7-10 day ice retention
A handle that allows you to pull it beside or behind you
An interior dry bin
Drain plug for draining melted ice (aka: water)
An airtight gasket to keep in the cool
Add-on accessories like cupholders, a cutting board, even an umbrella holder
An optional BikR attachment to hook the cooler up to your bicycle
Bear resistant
Need more insight? We got you.
As the name suggests, this RovR cooler rolls. Over anything. These are all-terrain, puncture-resistant tires, son. So feel free to drag it down the trail to that walk-in campsite. It'll be fine. It can handle it.
But the wheels are just the start. The biggest selling point for me: the add-on features and functionality that make this cooler totally customizable and suitable for every outdoor adventure. The included Wagon Bin is fantastic for extra storage on top of the cooler. Pop it up to fill it with blankets, camp chairs, peanut butter pretzels, you name it, for easy carting to and from your campsite or picnic spot or fold it down to save space. Bonus: it also kinda works as a seat cushion when left on top of the cooler. And since it attaches via velcro, it'll stay put as you bounce down the sidewalk or trail whether it's empty or full.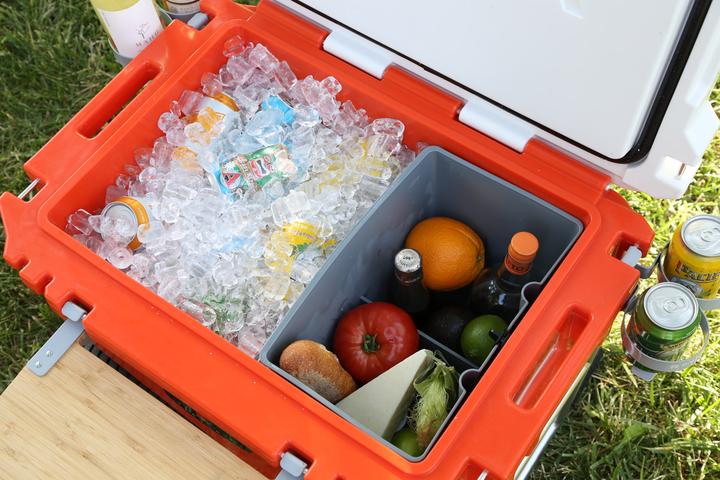 As for the inside, the removable dry bin that takes up about half the interior space so you can keep stuff like bread, cheese, or, I dunno, bags of seaweed, from getting waterlogged is a Godsend.
On the outside, there are multiple anchor points for attaching accessories (or strapping the cooler down in a truck bed or some such) like cupholders, a prep board, even an umbrella holder for big shade umbrellas. But maybe the coolest accessory: the BikR attachment kit that allows you to hook the cooler up to your bicycle and tow it around town! What?! I know!
Also, It holds a ton, which is important, including up to 60 cans of your favorite cold bevy. That's with 10 pounds of ice! Needless to say, it's definitely a feature-rich cooler!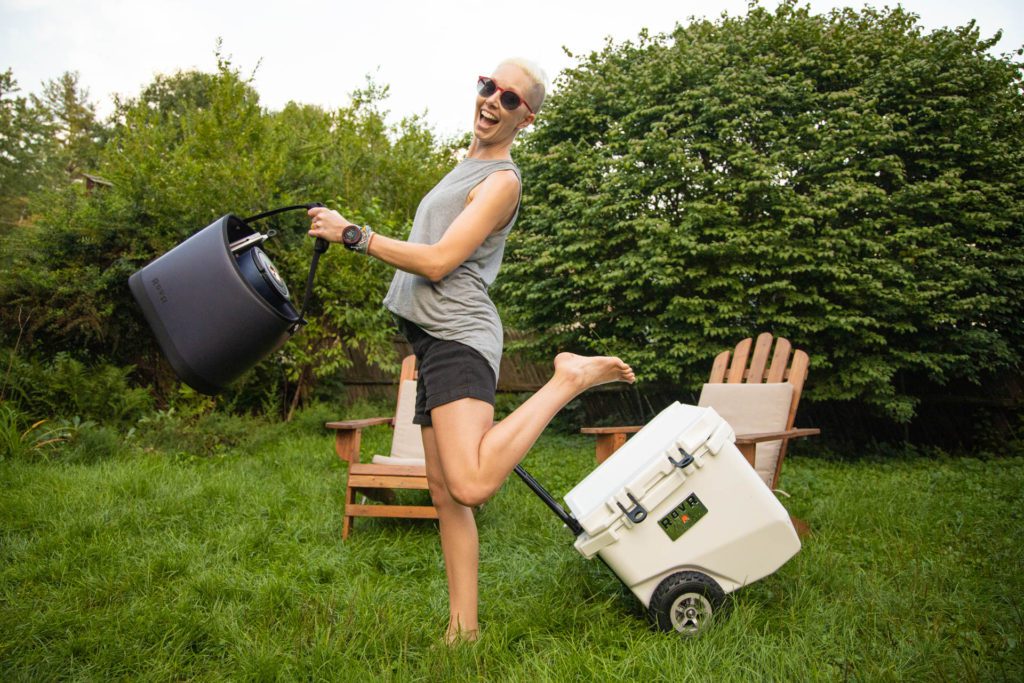 RovR RollR: The Review
But what did we think of this RovR cooler? Frankly, it might be our new fave, and possibly the best we've seen for outdoor adventures. We took it on an extended cross-country road trip that involved a ton of camping and very little dining out, and it kept our meal ingredients and snacks cold far longer than any other cooler we've ever used.
Plus, we weren't worried about bears or other critters getting into it if we left it out while we went for a hike thanks to the rubber latches that keep it securely shut.
The bin on top is perfect for carting snacks and extra gear from the car to the beach, campsite, whatever. But we also detached it and used it to hold snacks in the backseat when on that extended road trip.
And the bike arm? Brilliant! It was pretty easy to attach and may just make trips to the grocery store on the E-bike to stock up on almond milk and hummus almost as easy as taking the car. And yeah, we're definitely gonna tote it to parks and swimming holes for chill outdoor picnics. It's a super cool add-on feature that really makes this cooler stand out.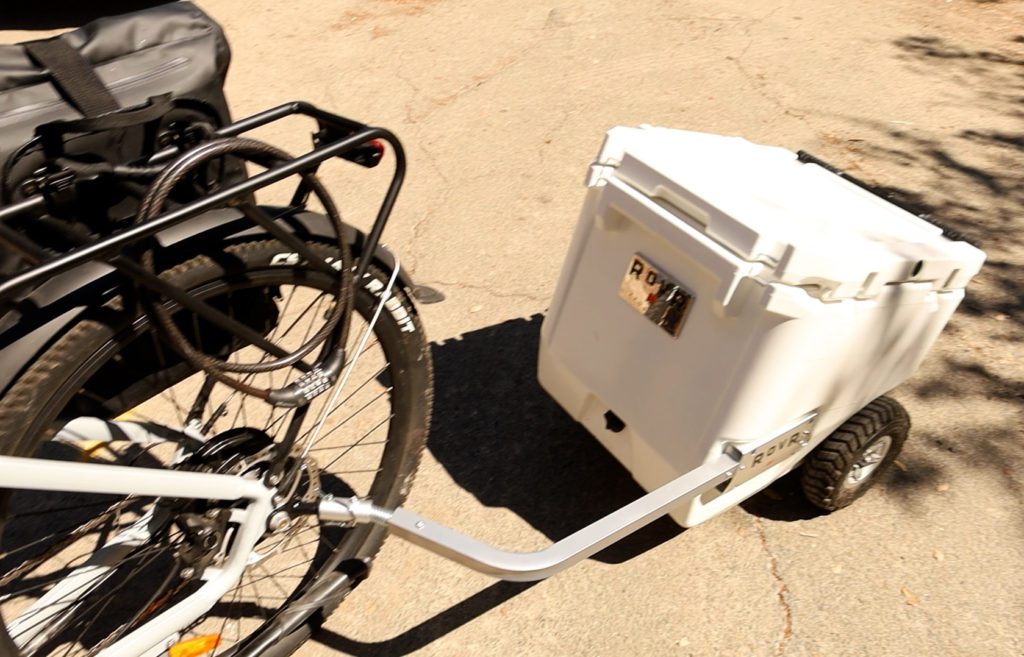 Plus, the RovR cooler really does keep things cold for a long time. Maybe not for 7 days, but that metric is probably best-case for a cooler that is packed full and kept closed, not one that's half full and opened and closed multiple times a day, sometimes multiple times an hour. But I will say a 10-lb bag of ice kept everything nice and cold for at least three full days of constant use. Which is pretty great.
And that dry bin! Let me tell you… We usually stick things like bread or dark chocolate in our cooler to keep it from melting or molding in the Texas heat, but that's stuff that gets ruined if it gets soggy, so being able to segregate it into a dry area that stayed just as cold as it would have if filled with ice was such a bonus. Why doesn't every cooler come with a dry bin?!
Also, totally unrelated to function but just as important, I love all the colors the RollR comes in! Yeah, the one RovR sent us to test is just white, but you can also choose from lime green, orange and yellow. On the plus side, while white may be plain, the nice, smooth surface will be perfect for stickers. And we've got lots!
Now let's talk price. No, the RovR RollR 45 isn't cheap at $399, but as it turns out, when it comes to coolers, price is more or less directly related to how cold your stuff stays. And as a reference point, that's exactly how much Yeti's ONLY wheeled cooler costs, and it doesn't have half of the accessory add-on options or useful features. So in our mind, if you're gonna invest in one quality cooler that's made to last, the RovR cooler gets our vote.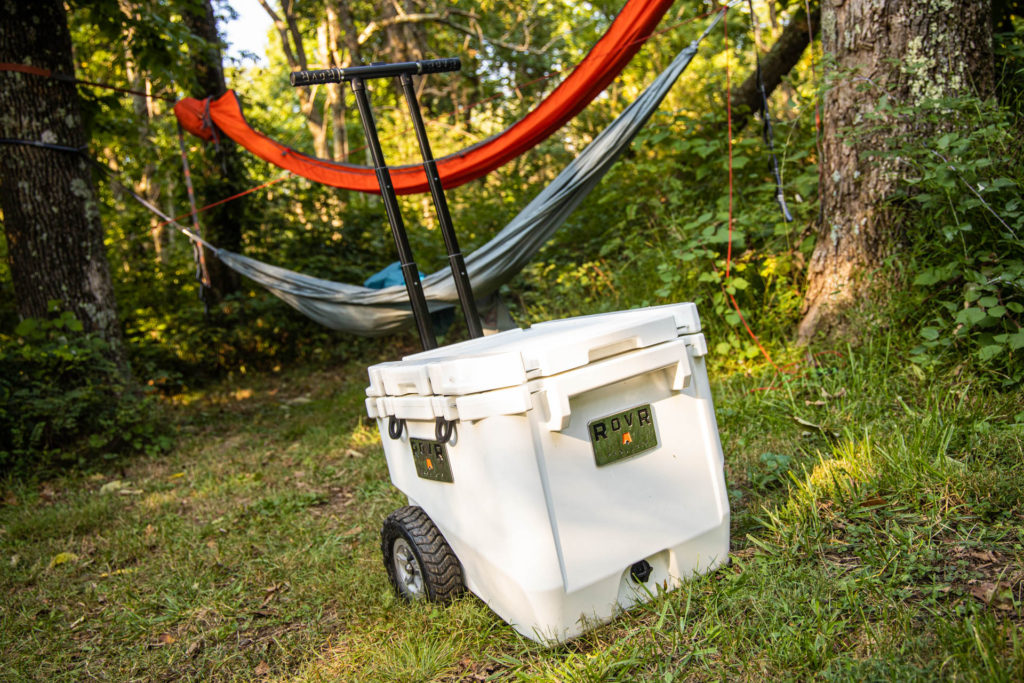 Bottom Line
Long story short, this cooler is going to be our new go-to for all manner of travel and adventure. And also grocery runs on the trusty e-bike… So if it's time to upgrade to a grown up cooler that *actually* fits into your adventurous lifestyle, go check out the RovR Cooler for yourself here.
Now pack your perishables, get out there, and wander on.
•
Looking for more gear reviews? Find them here!
•
This post contains affiliate links. That means when you clicky-click and make a purchase, you help support Terradrift, which doesn't cost you a cent extra. How serendipitous!
Alisha is a freelance writer and photographer based in Austin, TX. She loves her tiny house, vegan food and experiencing the community of travel in far away places. She's also pretty sure she's addicted to coffee. alishamcdarris.com