Gone are the days of baggy zip-offs, cheap nylon fabrics, and ill-fitting hiking pants. Welcome to the age of trail to tavern hiking pants: coverage for your legs that doesn't look like you just returned from 9 months studying worm habitats in the Amazon. Not that there's anything wrong with that. We're big fans of worm habitats and the people who study them. Or we would be if we ever met them.
But many of us prefer something a little more stylish and versatile these days. Namely, hiking pants that function as well on the trail or on the river or at the crag as they do heading out for drinks or dinner or tapas afterward. Because who wants to go home to change after a little 'ol day hike just so the restaurant host doesn't seat you at that corner table right next to the bathroom? And who doesn't love a single pair of pants that can do it all?
So don a pair of these stylish and sustainable hiking pants and enjoy wherever your adventure takes you.
Houdini
Houdini is a super sustainable outdoor brand that's utilizing everything from recycled and Bluesign materials to circular manufacturing! And the clothing on offer is often perfect for heading from the trail to the tavern. And they're perfect travel pants, too!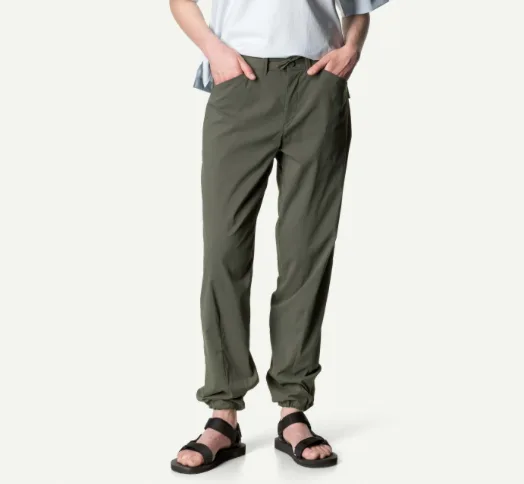 Need an easy peasy light and breezy pair of pants? These are gonna be your jam. They are seriously light and airy and absolutely wearable on the hottest and most humid days. I should know; I hate wearing pants when it's hot. But not these! Roomy without being overly baggy, the high-rise waist keeps them in place, but they also have a drawstring in the waistband and belt loops. Plus there's a bungee in the ankle hem and a secure front zipper pocket. Bonus: they are Bluesign approved and made of partially recycled materials. Find them here (also available in men's).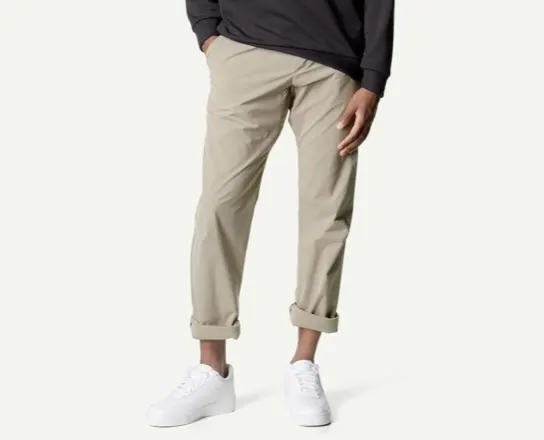 These pants legit look like dockers, making them the perfect pants to transition from trail to tapas. For real, when we first saw them we actually thought they were casual dress pants. So yeah, they're perfect for travel, adventure, commuting to the office, you name it! And you can feel good about wearing them because they are made of partially recycled materials AND they're recyclable! Find them here (also available in women's).
Coalatree
Coalatree is all about sustainable outdoor apparel. We've long been fans of their packable Kachula Adventure Blankets and coffee-infused, eco-friendly fleece Evolution Hoodie, but everything the brand makes is sustainable and designed for a mountain-to-city (MTN2CTY) lifestyle.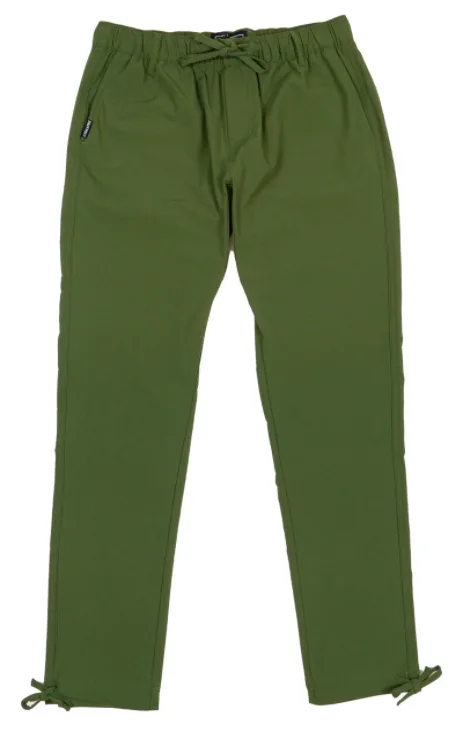 Made of Bluesign approved nylon, these pants have been touted as "damn near perfect," and we aren't arguing! They're water resistant, super stretchy, breathable, and are soft on the skin on the inside instead of rough and scratchy like most nylon. They're not at all stiff, either, making them the perfect, comfy, packable pants for every adventure, whether you're tooling around town or hitting the trail. And they're available for men and women.
Toad&Co.
Toad&Co takes sustainability seriously (read our Sustainability Spotlights with Toad&Co here). Which is why they offer so many items made from organic, recycled, or Bluesign materials. Including dope hiking pants for all manner of city or backcountry adventures.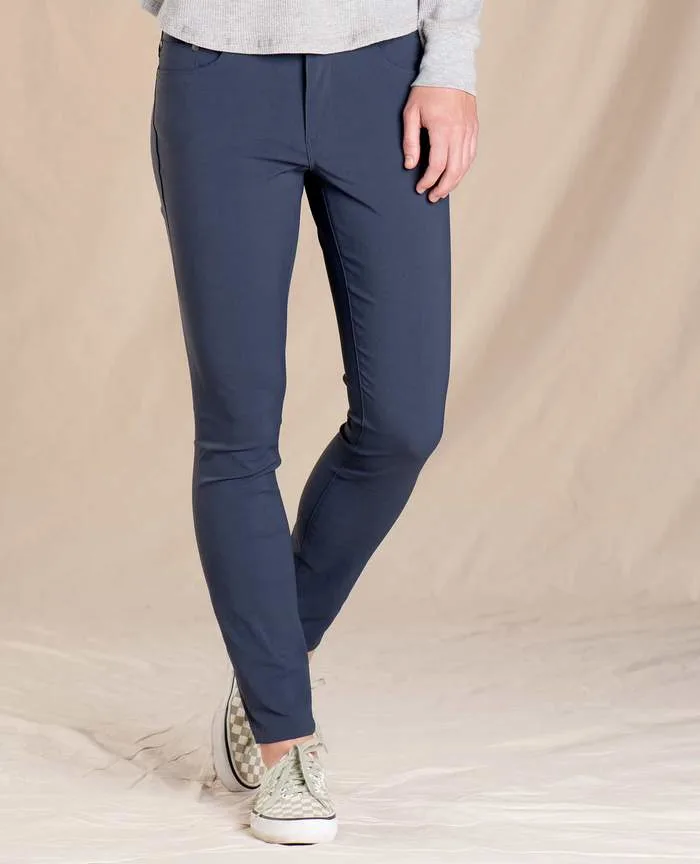 The Rover Skinny Pant may have been my first trail-to-tavern pant crush. It's easy to see why. It's made from partially recycled nylon, is super stretchy, and looks dang good. In fact, we've traveled in them, hiked in them, climbed in them, and gone to dinner in them and no one even noticed they were made of performance fabrics. They're that good. Find them here.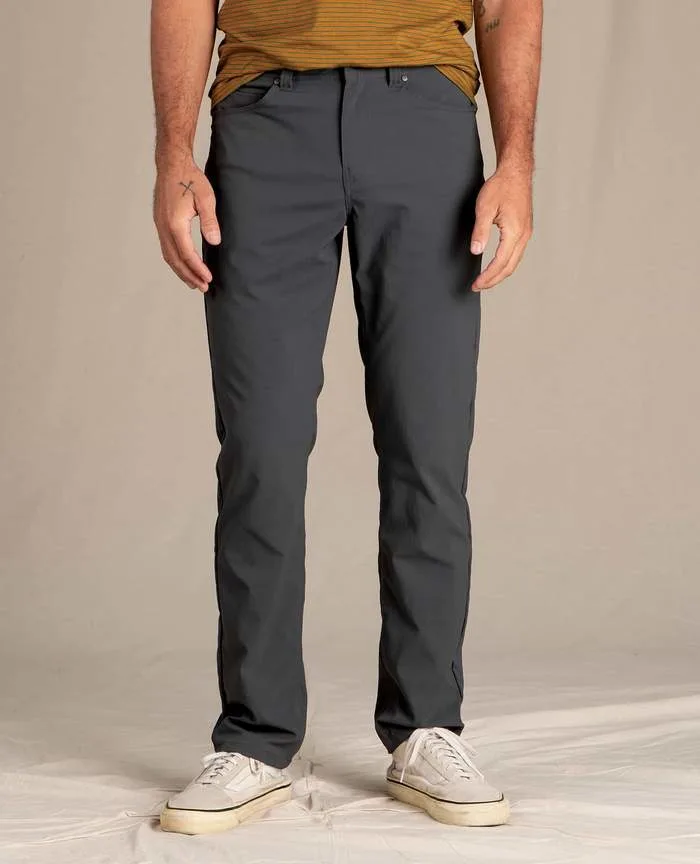 And for the dudes, more of the same! But with a less "skinny" silhouette… These outdoorsy pants are stretchy, comfortable, and made of the same partially recycled materials as the women's version. They have plenty of pockets–including a secure zipper pocket–and are even Bluesign approved! Score a pair here.
United by Blue
United by Blue is one of our favorite sustainable brands. And while most of their eco-friendly clothing is geared toward general lifestyle stuff, they have plenty of options that are perfect for travel and adventure.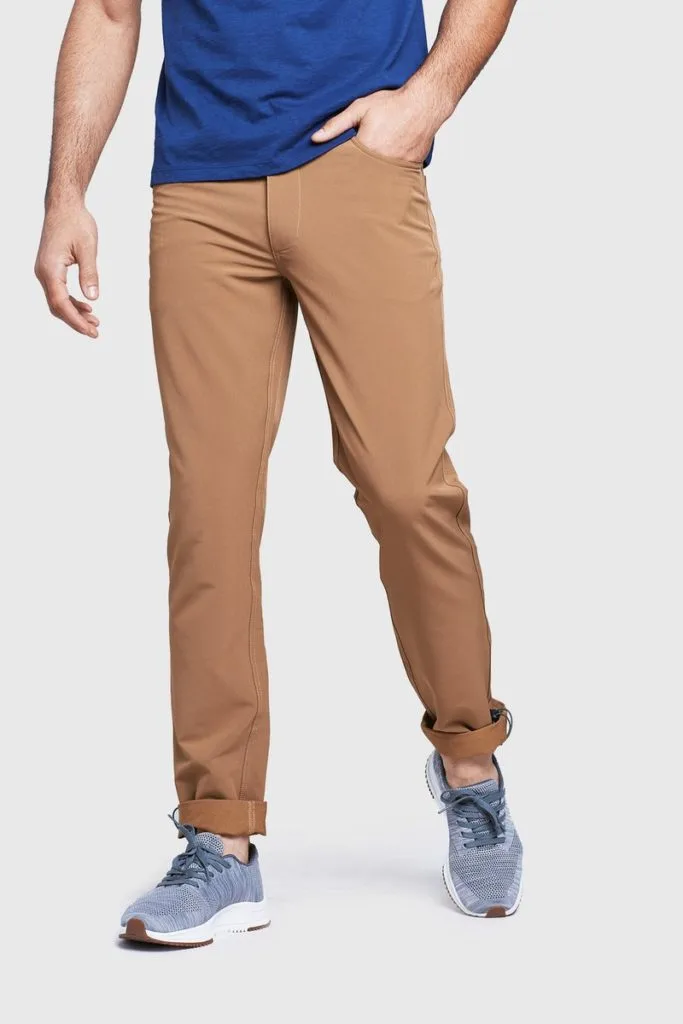 Only available for the dudes (I know, ladies, what a bummer), these pants are made from recycled polyester, made to stretch, and oh so comfy. Josh hardly takes them off! They are one of his favorite pairs of hiking pants, and since they look just as sleek at the bar as on the trail or water or in the climbing gym, there's really no reason to take them off! Find them here.
prAna
prAna makes all kinds of dope sustainable clothing, but our favorite might just be the brand's new ReZion collection.
Alana Joggers
The women's Alana joggers are made with prAna's super sustainable recycled nylon ReZion fabric. But unlike many other nylon pants, it's not sticky and stiff. It's more like a cross between nylon and your favorite pair of jeans: sturdy, durable, but also comfy and flexible. And we're all about that zippered side pocket. Also: they are Bluesign approved and feature a PFC-free DWR treatment (read about PFCs and DWR here)! These joggers aren't fitted, so size down if you want a slimmer silhouette. Get a pair of Alana Joggers here.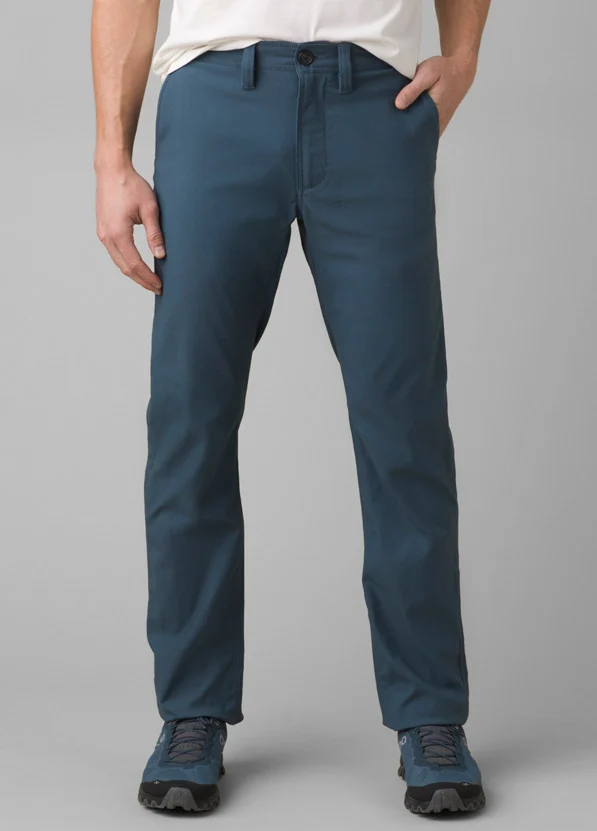 For a straight-forward, comfortable take on hiking pants that look just as good outdoors as in, the men's Alameda pants are no joke. Part of prAna's ReZion line, they're made from recycled nylon. Sturdy, durable, but also comfy and flexible, they are Bluesign approved and feature a PFC-free DWR treatment (read about PFCs and DWR here), which is a win. Find the Alameda pants here.
Kühl
Kühl knows rugged outdoor adventure, so it makes sense that they'd offer at least one stylish trail to tavern pant. Unfortunately, their sustainable offerings are still few and far between, but these men's outdoor pants will do the trick no matter where you're headed.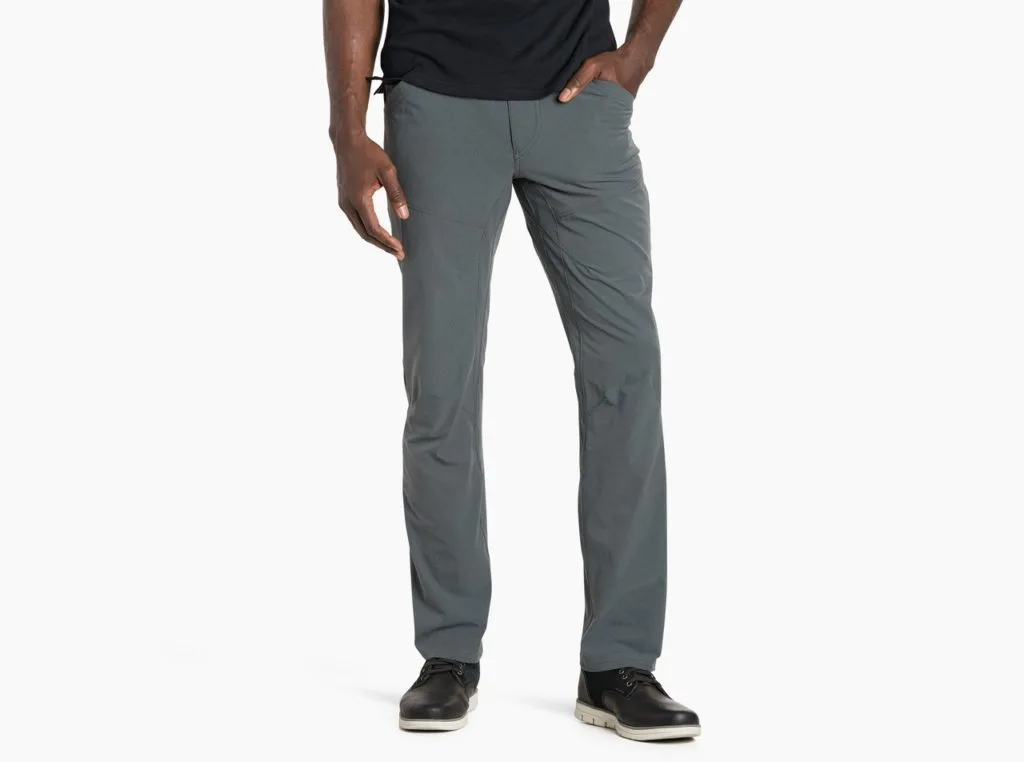 OK, so these look a little outdoorsy, but in a cool, stylish way, not a zip-off nylon kind of way. And even though they are entirely polyester (partially recycled), they feel more like a light pair of ripstop khakis, which means they're comfy. Plus they have 7 (!) pockets! Win. Find them here.
Fjallraven
Fjallraven makes plenty of cool clothing, but since they slap leather patches on most of it, we never paid much attention to the brand. Until now.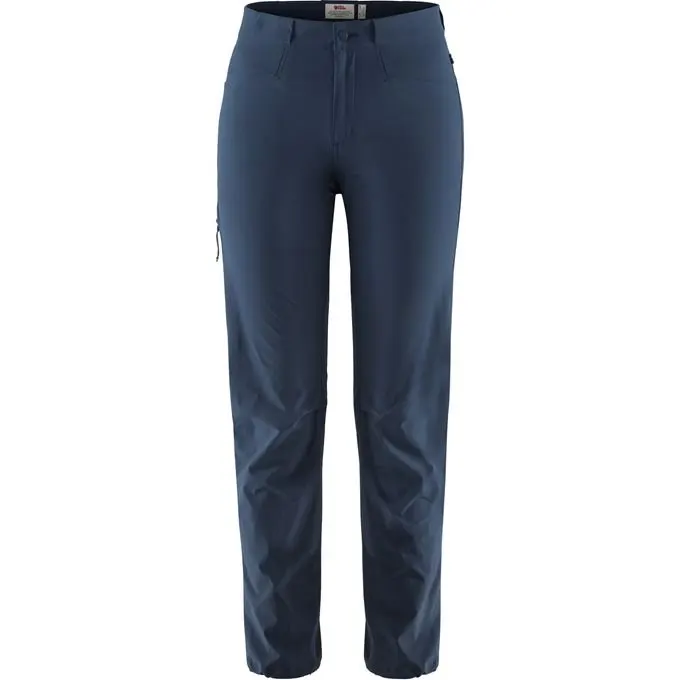 While these pants aren't quite as outdoor-incognito as some of the other options on this list, they're far from looking like the rugged outdoor wear that's kind of Fjallraven's M.O. Super light and airy, they're unbelievably stretchy and comfortable and perfect for all manner of warm-weather outdoor activities, from kayaking to camping, hiking to climbing, and then you don't have to feel too underdressed when you hit up your favorite taco stand afterward. Find them for men and women on Backcountry and watch our video review here.
Bottom Line
Hiking pants don't have to look so uncool anymore. In fact, some of the sustainable pants on this list have made it into our regular (limited) rotation of day-to-day clothing! They're that good. Of course, if you prefer the zip-off, 90's hiking pants look, more power to ya. You do you. But if you're looking for a pair of versatile, outdoor-ready pants that can do more (like take you from the airport to city streets to backcountry trails to dinner and everywhere in between), these pants have you covered (literally and figuratively). So clothe thyself then get out there and wander on!
•
This post contains affiliate links, which means purchases you make after clicky-clicking may help support Terradrift! But don't worry! You won't pay a dime more for your dope new pants.
Alisha is a freelance writer and photographer based in Austin, TX. She loves her tiny house, vegan food and experiencing the community of travel in far away places. She's also pretty sure she's addicted to coffee. alishamcdarris.com