Who doesn't love a sleek and streamlined insulated jacket? Cozy and layer-able, they might be the perfect multitasking piece of outdoor clothing: you can wear one as a midlayer on cold hikes, an outer layer on mild trail days, ball it up and use it as a pillow, pack it in your carry on, throw it on to go to the gear shop down the road…synthetic insulated jackets are just so dang versatile! So we rounded up 7 of our favorite sustainable options that are guaranteed to keep you cozy on any outdoor adventure! Check 'em all out to find out which one is perfect for you.
Why Synthetic Insulated Jackets?
Why no down on this list? We'll tell you. We don't advocate wearing down because A.) we're vegan and we don't use animal products, B.) synthetics are way more versatile, and C.) down is way more expensive.
Why are synthetics more versatile? For starters, if synthetic insulation gets wet, it'll still keep you warm, so it's a great option for potentially sweaty or damp adventures (think rain, snow, sleet, mist, creek crossing, etc.). If down gets wet, it becomes effectively useless. That makes synthetic jackets an excellent midlayer or outer layer (read about how to layer for hiking here).
Plus, synthetic insulated jackets are easier to clean; they don't require special detergent or cleaning instructions (though any jacket with a water repellent coating–or DWR–should be washed using dedicated gear wash). And since we're taking about sustainability here, down isn't a more responsible option. In fact, down and synthetics are hard to compare on that front because they're so different and have such different impacts.
That said, just about every jacket is made of synthetic outer fabric, so it's not like the whole thing is magically biodegradable just because it uses down insulation. Additionally, soooo many jackets are now made with synthetic insulation made of either biodegradable materials or recycled plastics, which reduces their footprint significantly.
And those are the puffer jackets we're gonna highlight right here and now!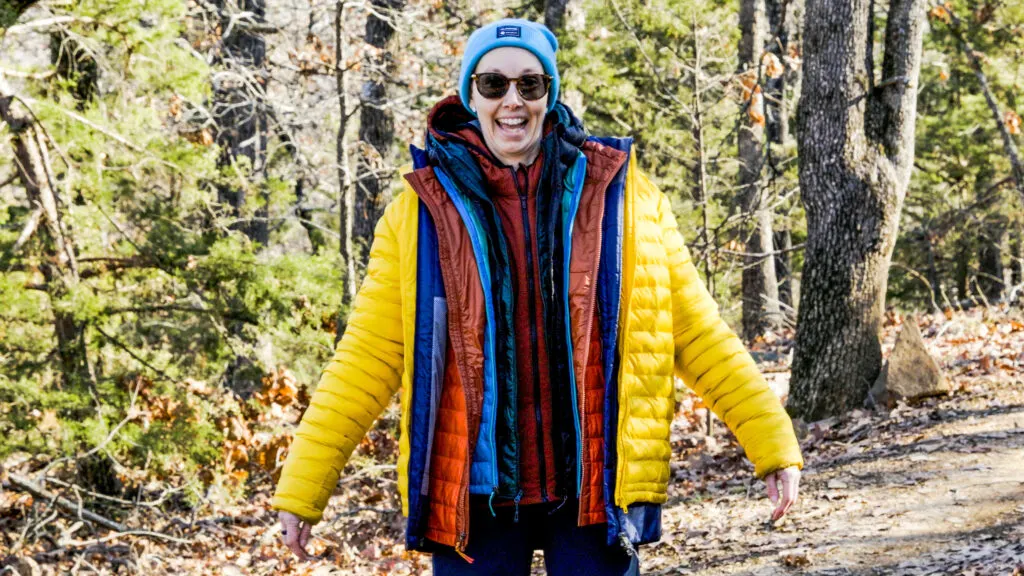 7 Sustainable Synthetic Insulated Jackets
Midlayer jackets and coats are all different and serve different purposes. So to reduce the amount of waste that's created by too many jackets hanging in your closet unused, we're here to help you find the perfect one for you.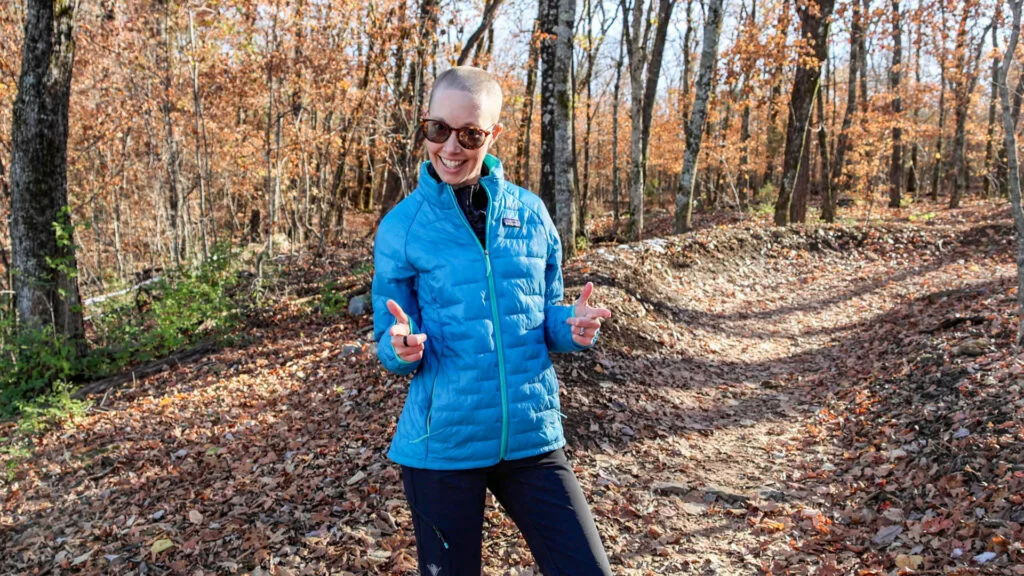 Weight: 8.3 oz
Cost: $279
The Patagonia Micro Puff insulated jacket has been around for a while now, but as of this year, it got a major sustainability upgrade: it now features synthetic insulation AND fabric made out of 100% recycled fishing nets!
That's a big deal because nets are a notoriously difficult thing to recycle and usually just end up in landfills or floating in the ocean. But the more important factor where wearability is concerned: this is a warmer, lighter, more sustainable Micro Puff than any Micro Puff that's come before! In fact, according to Patagonia, it features the best warmth-to-weight ratio of ANY jacket they've ever made (including down) and has the highest compressibility of any of their synthetic jackets.
Notable features include a bungee at the waist, zippered hand pockets and two internal pockets, plus there's a hooded version available.
Pros:
It is impressively thin and light. The thinnest jacket on this list, in fact.
a quality midlayer to wear between your base and outer layers that's not remotely bulky,
Super packable
Impressively sustainable
Cons:
Not as cozy feeling as some other midlayer jackets
Fabric isn't as soft to the touch
Find the women's Micro Puff here and men's Micro Puff here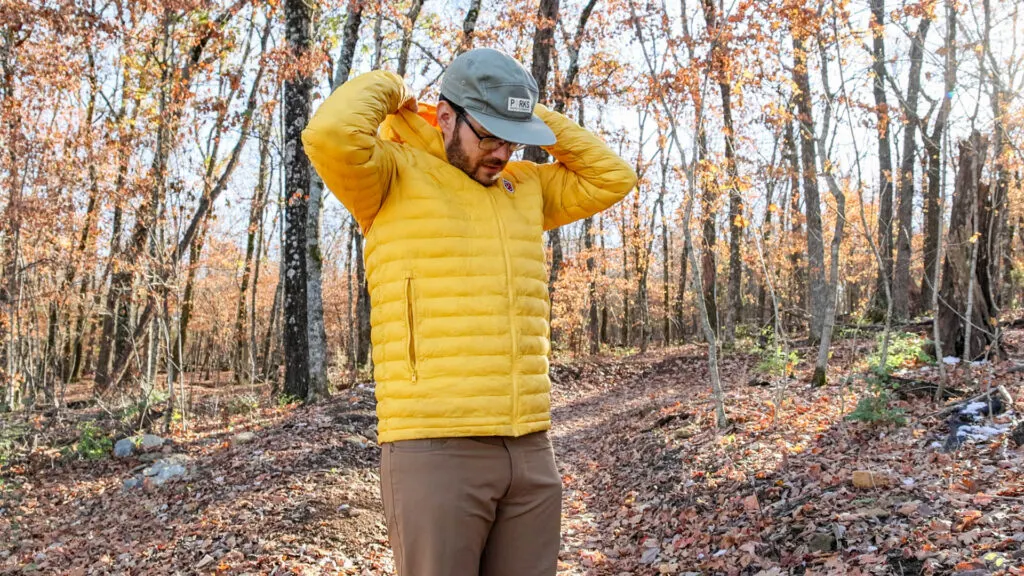 Weight: 17.5 oz
Cost: $210
This may be the jacket whose insulation most closely resembles down. It's puffy, it's fluffy, it's super cozy. That's because it's filled with 100% free-fiber insulation that's made of recycled polyester and gives it a very down-like puffiness and loft. Plus the outer fabric is really soft to the touch.
It's a fair bit heavier than the other jackets on this list, but may be one of the warmest, too. We frequently wear it as an outer layer when hiking in chilly weather.
Plus, it has excellent features like a hem bungee AND an interior zipper pocket that the whole jacket packs into, plus elasticated cuffs and a closely-fitted hood to keep out the chill. It's REALLY warm for its size and works well under a roomy shell for winter hiking and such.
Pros:
Super warm and cozy
Soft, flexible and comfortable
Packable
One of the most affordable jackets on the list
Cons:
Bulkier than other midlayer jackets
Heavy for a packable jacket
Find the women's Expedition Latt here and the men's Expedition Latt here.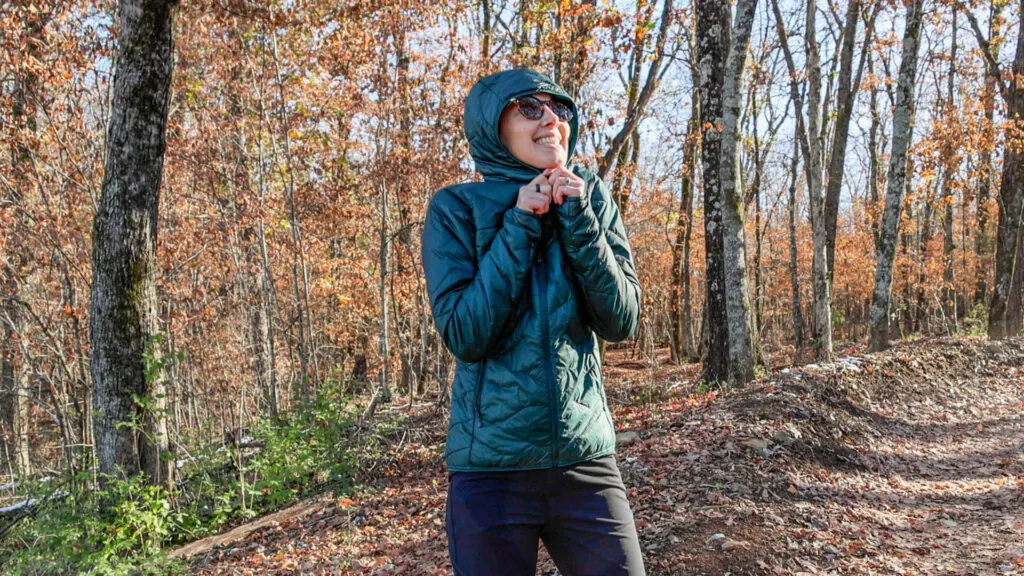 Weight: 9.6 oz
Cost: $219
Also available sans hood, this sleek midlayer jacket is made of fabric that is Bluesign approved. It's not made of recycled materials, though, which feels like a missed opportunity. That said, the fabric is soft and supple and it's a very comfortable layer.
Plus, Outdoor Research says the VerticalX™ SuperStrand insulation is just as soft, light, and lofty as 700-800 fill down because the lofted polyester strands in the design of the insulation mimic the shape of down clusters, but connected along a strand, which gives it a lightweight, cozy feel that's very soft to the touch and easy to move in. It also layers seamlessly under a shell and wears comfortably as an outer layer. Plus it's nearly as light as the Patagonia Micro Puff.
There aren't a lot of bells and whistles like bungees, but we don't feel like that's a con, especially if you're layering it under another jacket. There are still two deep inner pockets for stashing gloves, glasses, or maps. Plus the unique stiching, excellent fit, and drop hem make it imminently wearable.
Pros:
Soft, flexible and comfortable
Easily packable
Super layerable
Ultralight
Cons:
Less sustainable than other jackets on this list
Fewer features
Find the women's SuperStrand LT Hoodie here and the men's SuperStrand LT Hoodie here.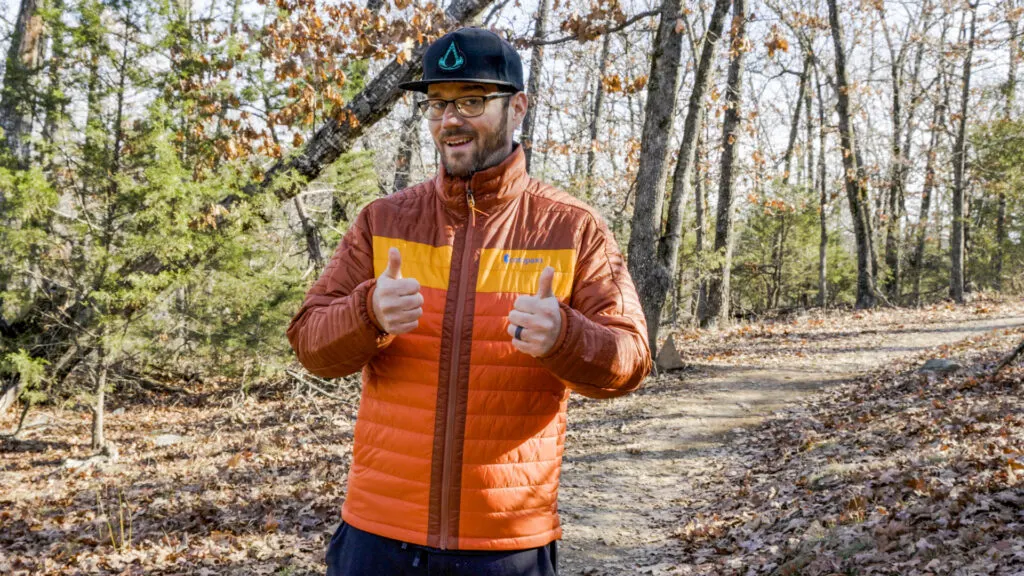 Weight: 12.7 oz
Cost: $215
We've long been fans of this conscious and sustainable brand that makes "Gear for Good" with an emphasis on protecting people and planet. This jacket is available with a hood or without, has a bungee around the hem, and is available in the most fun colors. Plus the water repellent is PFC-free.
The fabric is made with 100% recycled nylon and the insulation is PrimaLoft Gold P.U.R.E., which stands for "Produced Using Reduced Emissions" and is made using 100% post-consumer recycled polyester.
Plus it's super low-profile, meaning if you're layering it under a warmer jacket or a shell, it won't bunch up or get in the way. Win. It keeps you warm without without the bulk and looks good doing it.
Pros:
Available in fun and unique colors
Thin but warm
Easily layerable
Recycled materials and insulation is made using reduced emissions
Cons:
Not as soft as other jackets on this list
No interior pockets
Find the women's Capa Insulated Jacket here and the men's Capa Insulated Jacket here.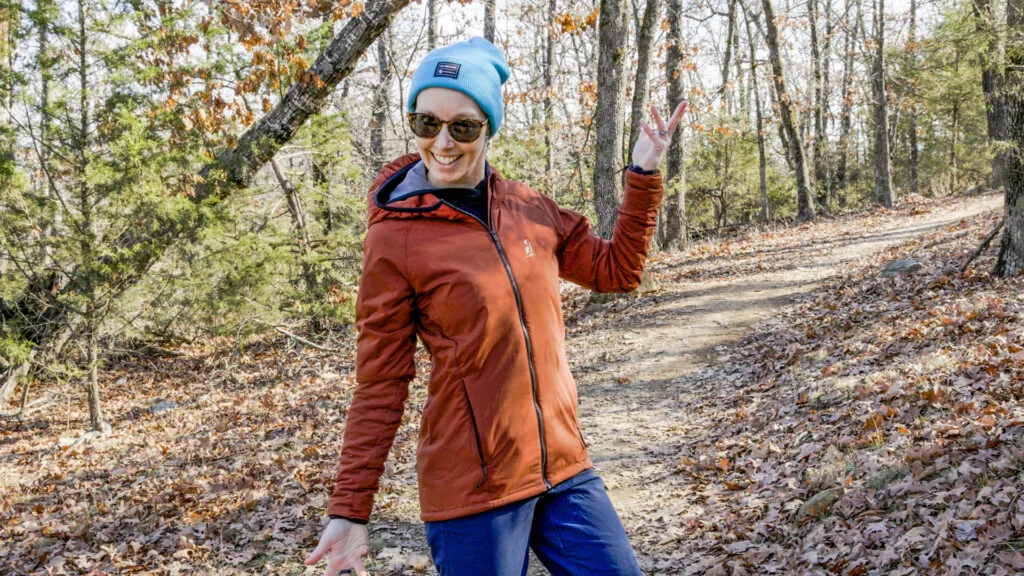 The big boys aren't the only ones in the puffer jacket game, here. So allow us to introduce you to cottage brand Outdoor Vitals and possibly my new favorite insulated jacket for layering: The Vario.
This brand specializes in ultralight gear for backpackers, and we love the similar Ventus pullover hoodie, so we weren't surprised to like this one even more. It's super light, packs up small, AND has thumb loops for easy layering functionality, plus perforated pit vents to help regulate body temp during high output activities.
The insulation is made of 50% recycled materials and it's interesting stuff: the structure resembles coils, which stretch and expand during movement, allowing more heat to escape when you're moving, but contract when the fabric isn't being stretched, making it more insulating. Plus it features a bungee at the hem and the material is soft and pliable.
This is also one of the few jackets I tested that fit as snuggly as I'd like a midlayer to fit: with just enough room for a semi-fitted base layer and isn't at all bulky under an outer layer. It's slim and streamlined, so if you want it roomier, consider sizing up.
Pros:
Excellent warmth to weight ratio
Soft,pliable, and comfortable
Extremely packable
Fits snuggly
Pit vents
Cons:
Only available in 2 colors (3 for men)
Softer fabric may not stand up to as much abuse over time
Find the Vario Jacket for women here and the Men's Vario here.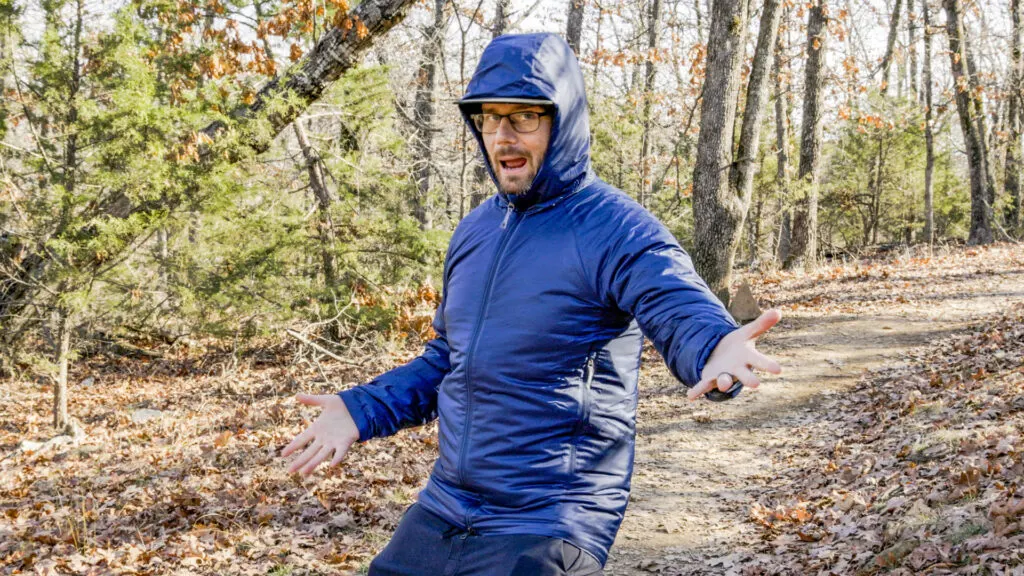 Weight: 13 oz
Cost: $300-$320
Swedish for "down-free," The Dunfri is from one of our favorite underrated sustainable brands: Houdini. But what makes this insulated jacket so great? It's completely circular! That means it's made of 100% recycled materials AND it's recyclable! You do have to send it in to Houdini or drop it off at one of their retail stores to be recycled, but that's a huge win for sustainability. It's also Bluesign approved.
But just as importantly, this jacket is ridiculously cozy and fluffy and made of the softest outer fabric of any of the jackets we tested. In fact, putting it on feels like a warm hug.
It may not come cheap, but it's the most feature-rich jacket on this list: it has a hem AND hood bungee, an inner zipper pocket, a two-way zipper, plus the oversized hand pockets are high enough to get into with a pack or harness on AND function as vents so you don't overheat. It's also light and supremely packable.
Bonus: the brand also has a lifetime warranty and will repair your Dunfri if something goes wrong. Which means you will be using this jacket for a long, long time. If we had to pick one jack to invest in from this list, it would be this one.
Pros:
Super warm
Exceedingly soft and comfortable
Packable
Recycled AND recyclable
Cons:
More expensive
Fabric is a touch on the delicate side
Find the Houdini Dunfri for women here and the Men's Dunfri here.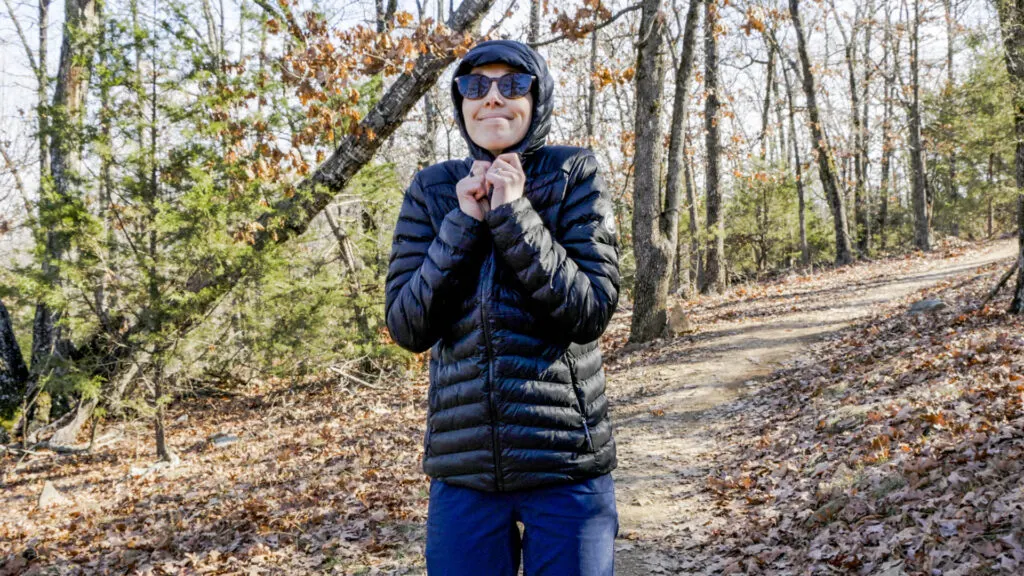 Weight: 14.2 oz
Cost: $219
This is an adventure-ready jacket that's as cozy as it is stylish. It's a Bluesign product, utilizes a PFC-free DWR, is insulated with EcoDown 100% recycled insulation made from post-consumer plastic bottles, plus all the fabric is made of recycled materials, too.
It's extra cozy and the insulation feels lofty and delightful, similarly to down, and is one of the warmer and thicker jackets on this list. Plus it's more fitted. That means it may require a more snug base layer if you don't size up and possibly a looser outer shell jacket
It features elastic cuffs that help the sleeves stay put, there are 2 bungees on the fitted hood, and it packs up pretty small, though not as small as other jackets listed here. It's also quite light for how cozy it is. And it's pretty dang cozy. It might even be the warmest for the price. Plus, it's stylish enough to wear as an outer layer around town.
Pros:
Very warm and cozy
High loft
Packable
Soft fabric doesn't restrict movement
Cons:
Bulkier than other insulated jackets on this list, so may need a roomier outer layer.
Heavier than some other mid layer jackets
Find the women's Albula Jacket here and the Men's Albula Jacket here.
Insulated Jackets: Bottom Line
Long story short, there are plenty of warm, sustainable, synthetic insulated jackets out there for all manner of outdoor pursuits. And depending on whether you need a midlayer, outer layer, or combination of both, you're sure to find the perfect specimen on this list. So layer up, stay warm out there, and wander on.
•
This post contains affiliate links. That means if you clicky-click and make a purchase, we may receive a small percentage of the sale. But don't worry; you won't pay any extra for the privilege. You just help support more great content from Terradrift!
Alisha is a freelance writer and photographer based in Austin, TX. She loves her tiny house, vegan food and experiencing the community of travel in far away places. She's also pretty sure she's addicted to coffee. alishamcdarris.com