It's a debate as old as time…Or probably just as old as the 90's or whenever hip packs, bum bags, waist packs, fanny packs, or whatever you call them in your neck of the woods came into vogue: Which is better for hiking and other outdoor activities? A hip pack or backpack? They are, after all, very different animals. And serve very different purposes and functions. Or do they? We'll break down what each does best in this backpack vs hip pack showdown to help you decide which you want to carry on your next outdoor excursion.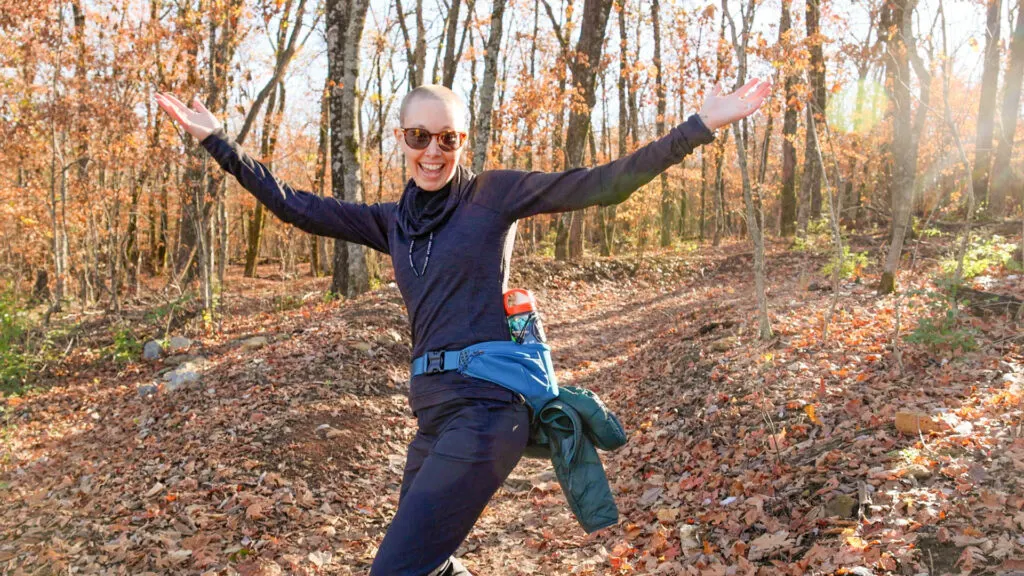 Hip Pack
While backpacks have long been the standard when it comes to gear carry when outdoorists hit the trail, it's certainly not the only option. And while hip packs may have once been more popular with moms carting snacks at amusement parks, a new breed of spacious and capable hip packs have hit the market in recent years and given backpacks a run for their money.
There are a three main types of hip packs in the outdoors:
Ultralight varieties often worn by thru hikers and other UL backpackers whose packs may not have pockets in their hip belts.
Trendy slings designed for more urban day hikes and exploration.
Large capacity varieties that are designed to hold gear, water, and more with exterior attachment points and multiple pockets.
We're gonna focus on the last one, namely, the Patagonia Dirt Roamer Waist Pack 3L, but there are plenty more to choose from, some of which are even larger, like the Osprey Talon 6 or the Dakine Hot Laps 5L.
But on to the pros and cons of a hip pack!
Size and Capacity
Pros
Yes, a hip pack may be small but it is mighty. Heck, I'd say its smaller size is actually a pro: after all, less stuff means less weight to carry up those technical climbs.
But most good-sized hip packs are still big enough to hold snacks, water bottles or a hydration bladder, a headlamp, first aid kit, even a jacket strapped to the outside. Basically, everything you need for a moderate day hike.
Cons
Smaller capacity does mean you have to pack smart and you may not be able to bring as much extra gear or sustenance as you need for longer or more technical hikes. So they aren't the perfect choice for every excursion.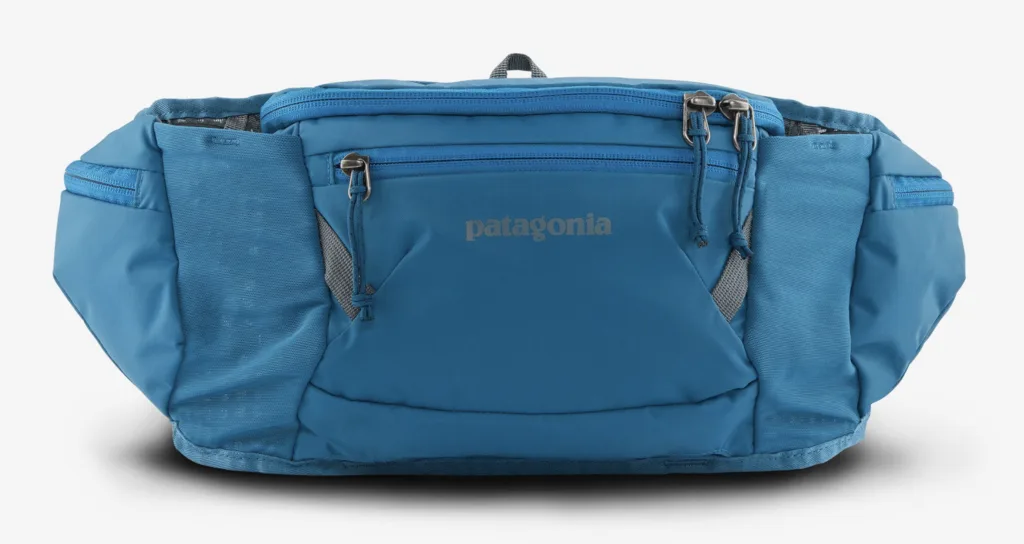 Versatility
Pros
Hip packs are perfect for short day hikes, walking the dog, mountain biking (one of our fave ways to use a hip pack), cross-country skiing, you name it. Anything you do where you only need a few essentials, nothing beats a hip pack.
Cons
Hip packs aren't as versatile as backpacks for everyday use, of course, due mostly to a hip pack's smaller capacity. You can't ride to the library or carry a six pack in most hip packs. So if you only have the funds or space for one piece of gear, a hip pack may not be able to do as much.
Comfort
Pros
You wanna talk about comfort? A heavy pack on your shoulders isn't it. A hip pack takes all the pressure off your back and shoulders so you don't feel like you need a massage after every excursion. It also helps keep your back cool and less sweaty on warm hikes.
Cons
A heavy, fully-loaded hip pack can put pressure on your hip joints, and if it's too heavy and worn too tight, it could make hiking feel harder by slowing blood flow to your lower extremities. But that would be a pretty extreme case of over-packing and over-tightening.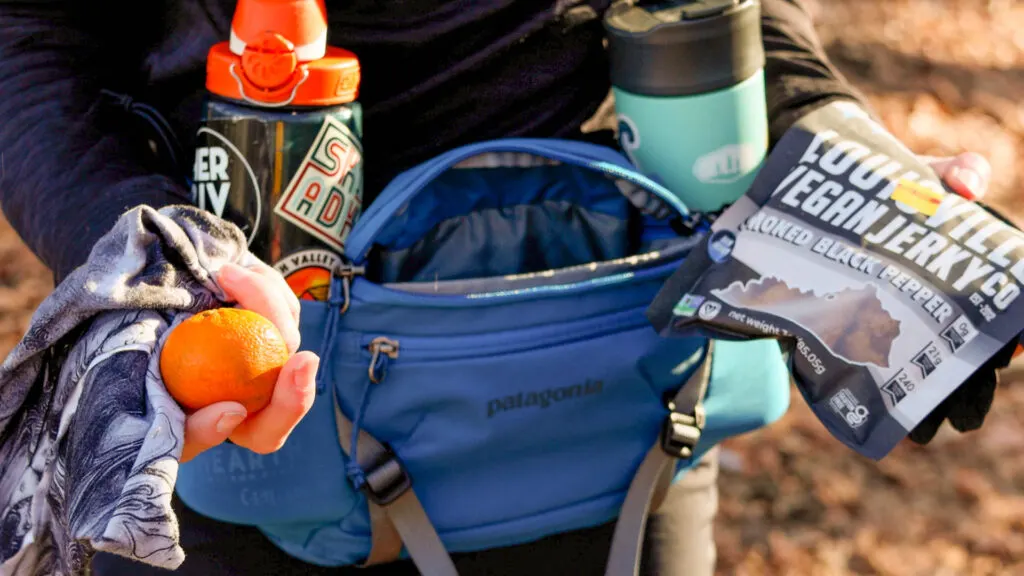 Accessibility
Pros
Nobody wants to have to dislocate their shoulder to pull a water bottle out of a side pocket. And it sucks to have to slow down, stop, take off your pack, and dig around in it just to find a protein bar. You don't have to with a hip pack. Just swing it around, grab what you need on the go, and continue on your merry way. Everything is always within reach!
Cons
That said, there are usually fewer organizational pockets and compartments in a hip pack and you may have to cram more stuff in smaller spaces, which could make small items harder to find.
Functionality
Pros
Hip packs are are highly functional when it comes to wearability. Just consider layering: If you are too hot or too cold you don't need to remove your pack to remove or add a layer. If it's raining, your jacket may even cover up the whole hip pack, keeping it and its contents safe and dry. Hip packs also tend to have lower profiles and be less cumbersome than backpacks.
Cons
If you do have to remove or add a layer, there's usually only room for one, often strapped to the outside of the bag. Additionally, if you're wearing your hip pack mountain biking, it won't offer your back as much protection if you wipe out.
Tips
Look for one that's big enough for the gear you usually carry.
Some hip packs feature water bottle holders while other come with hydration reservoirs; choose one that holds the hydration method you're most comfortable with.
Get one that suits your intended purposes.
Find one that fits your frame for the most comfortable wear.
Look for organizational pockets if you don't like to dig in a bottomless pit for your sunscreen.
Check for accessory straps and attachment points on the exterior of the bag so you can attach more gear.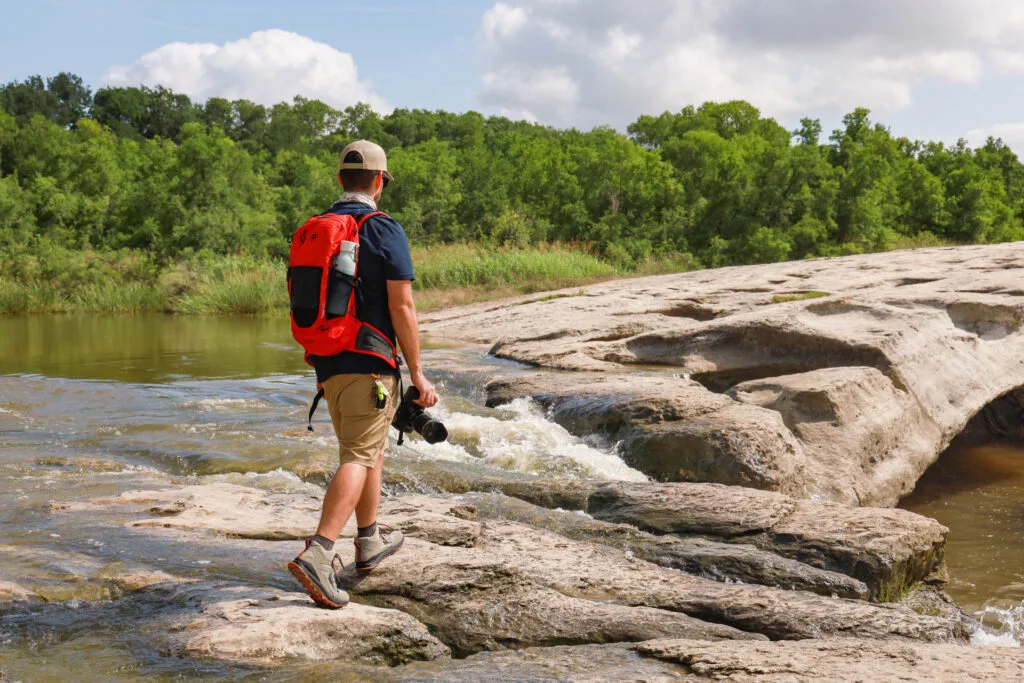 Backpack
A crowd favorite, multi-faceted contender, and the standard in outdoor recreation (for good reason) is the tried-and-true backpack! With more carry capacity and an abundance of features, daypacks are available everywhere in an astounding number of styles, sizes, designs and colors and are suitable for just about every outdoor adventure.
Just some of the options:
Low-profile hydration packs with just enough space for a few essentials plus water.
Vest-style packs designed for fast-paced activities like trail running.
Sport-specific backpacks like those designed to carry skis or climbing gear.
Large capacity daypacks for extended day hikes.
We're going to focus on the last one, a do-it-all champion that excels at day hikes and more. The Jack Wolfskin Kingston 22 is featured in many of the photos, but options abound, including one of our faves, the Big Agnes Impassable 20.
Size and Capacity
Pros
This is where a backpack excels: it can carry so much more than a hip pack: more snacks, more water, more layers, all of the ten essentials, plus extra gear or supplies, meaning it's more suitable for longer hikes. Additionally, backpacks come in sizes ranging from svelte 10L varieties to capacious 30L models and beyond so you can get one that suits your purposes and gear.
Cons
Sometimes all that space is overkill and you end up carrying a half-empty bag of gear. Conversely, it can be easy to overload a large daypack with items you don't need just because you have the space, making it heavier.
Versatility
Pros
If you want to bring along a camera or extra snacks or have more than 5 miles to hike or need to stop at the grocery store on your ride home from the trail, a backpack can handle it all. It can be used when hiking, mountain biking, running errands, cycling across town to pick up a new pair of hiking boots, you name it. On and off the trail, they are more versatile than hip packs.
Cons
Versatility doesn't always mean "right for the job." Versatility is great if you can only have one piece of gear, but often has drawbacks if you're trying to use one thing for every trip.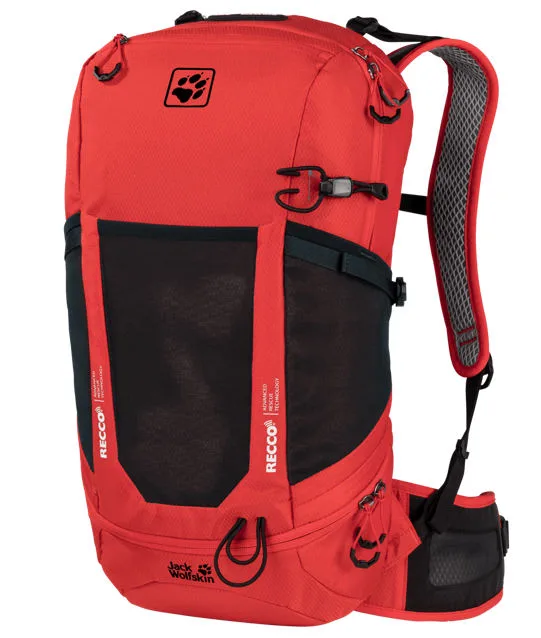 Comfort
Pros
A backpack makes it easier to transfer the load you're carrying between your shoulders and hips. That makes a pack that's stuffed with heavy, essential gear more comfortable to carry than if the weight were all on your hips as it would be with a hip pack.
Cons
If you suffer from regular back or shoulder pain, backpacks, especially full, heavily loaded packs, can be vastly more uncomfortable than hip packs.
Accessibility
Pros
Backpacks tend to have more pockets, and therefore more organizational options than hip packs, which means you may not have to dig around to find a pocket knife for three minutes. Everything can be stated in its place so it's easy to locate.
Cons
Grabbing water bottles, protein bars, maps and more often require stopping and removing your pack to grab the items you need. And frequent stops can make it harder to move quickly down a trail if making good time is your goal.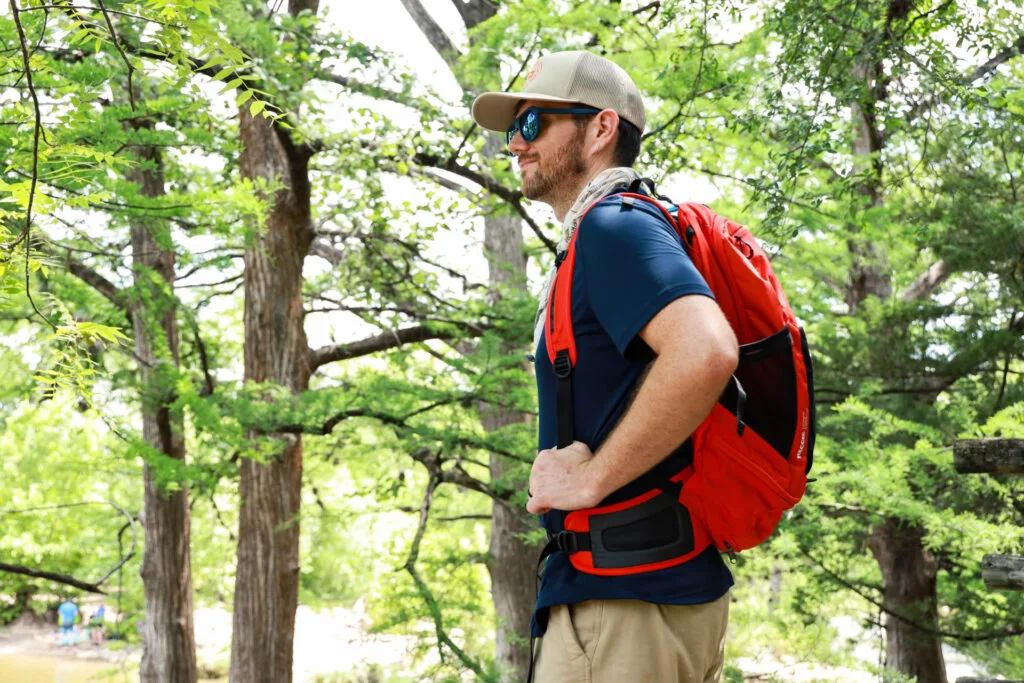 Functionality
Pros
In foul weather, it's nice to have a dedicated rain cover for your daypack to keep its contents safe and dry, and many packs come with one right out of the box. Additionally, a well-featured pack with have ample daisy chains, compression straps, cinch cords and more to lash large or unwieldy gear like trekking poles or ice axes to the outside, making it highly functional for a wide variety of situations and activities.
Cons
You likely have to stop and remove your pack in order to add or remove clothing layers, which can slow you down. Backpacks are often also more cumbersome in tight or narrow spaces.
Tips
Choose a pack with a capacity that suits your needs–no larger or smaller.
Look for exterior features like accessory straps and daisy chains for ultimate versatility.
Get a pack that comes with a rain cover.
Organization is key: more pockets tend to be more useful.
Try on your pack to see if you can reach a water bottle in the side pockets.
Opt for a model with a hip belt for transferring the weight off your shoulders.
Backpack vs Hip Pack: Bottom Line
Which piece of gear is best? That largely depends on you and the type of adventures and activities you participate in most often. Us? We have lots of backpacks and love them, but we are also die-hard believers in hip packs for short hikes, mountain biking, and more. Basically, we aim to always choose the right tool for the job at hand. What about you? Let us know which you prefer and why in the comments!
Alisha is a freelance writer and photographer based in Austin, TX. She loves her tiny house, vegan food and experiencing the community of travel in far away places. She's also pretty sure she's addicted to coffee. alishamcdarris.com