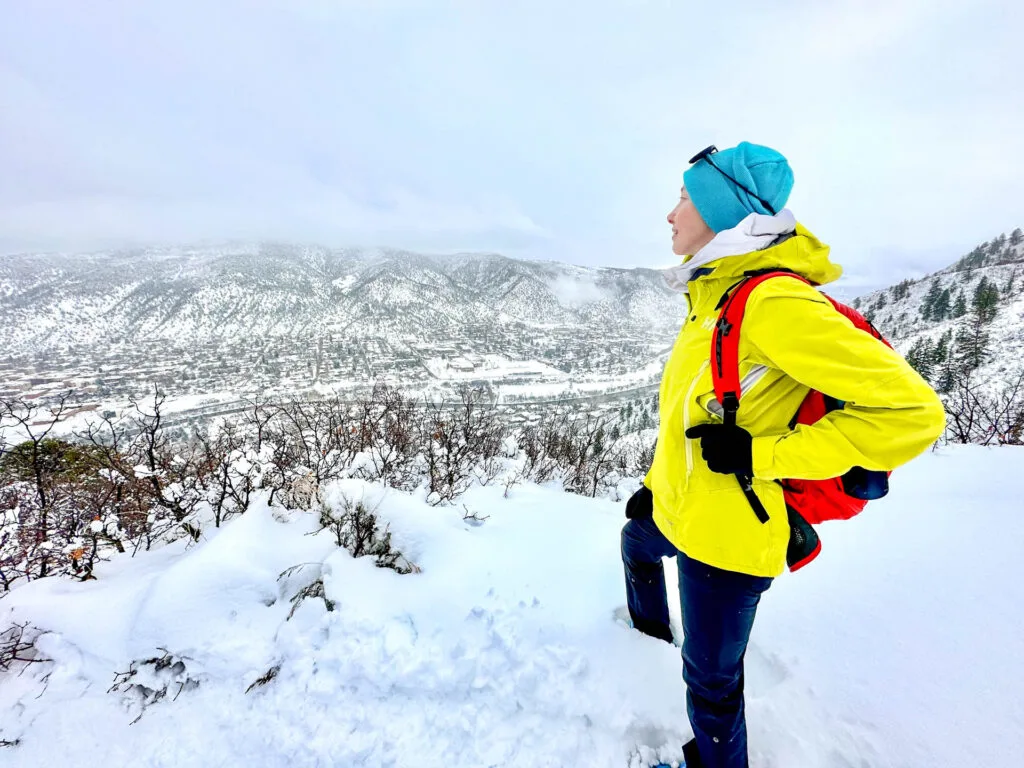 If you find yourself in Aspen or its surrounds during ski season, but downhill skiing isn't really your thing, fear not! There are plenty of winter hikes near Aspen to keep you occupied. Just lace up those waterproof boots, grab some traction devices or snowshoes, and hit the snowy trails! You'll get epic views, great photo ops, and have a great time on uncrowded paths that don't require expensive lift tickets or waiting in long lines. I know–could it get any better?! Here are 5 winter hikes near Aspen, all within a 45-minute drive (give or take).
5 Winter Hikes Near Aspen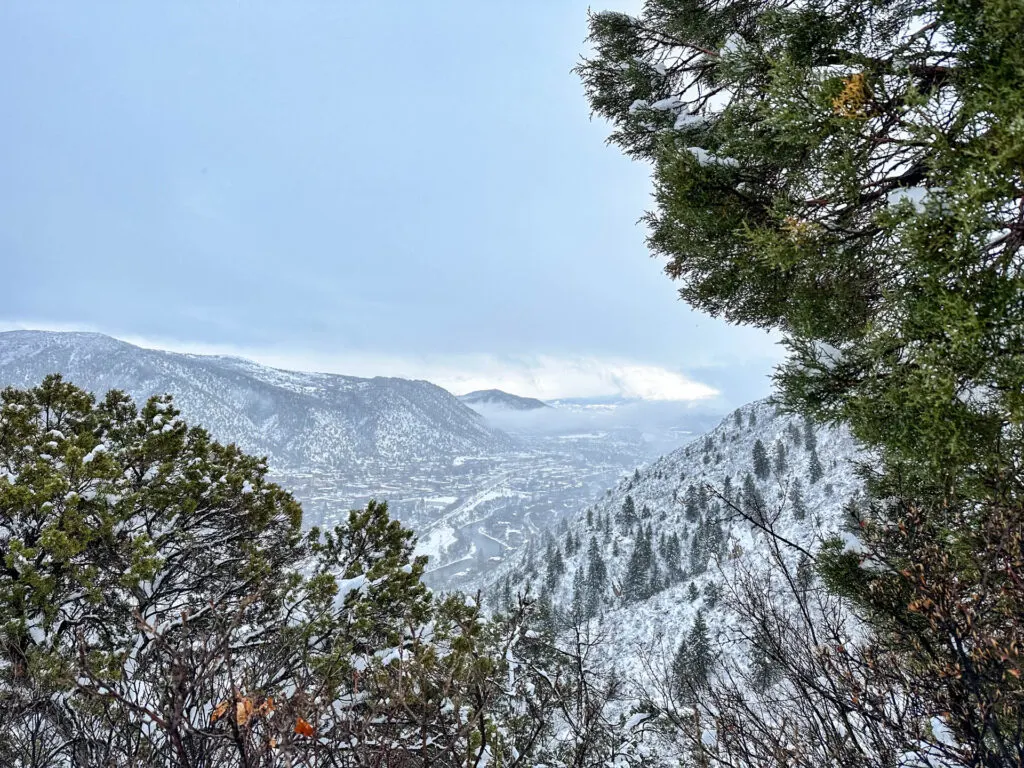 Red Mountain, Glenwood Springs
Ready for a strenuous hike up, up, and up? We promise the views up Red Mountain will be worth the effort. A number of trails, plus a winding road (in case you don't want to brave the deep snow) lead all the way to the top of the mountain where you'll find the giant lighted cross that hovers over the city in the dark. You may need spikes or snowshoes depending on the depth of the snow, but you might also want to bring a lightweight sled if you're feeling playful; when the snow is just right, you can sled down much of the mountain instead of hiking! Uh, backcountry sledding? Yes, please!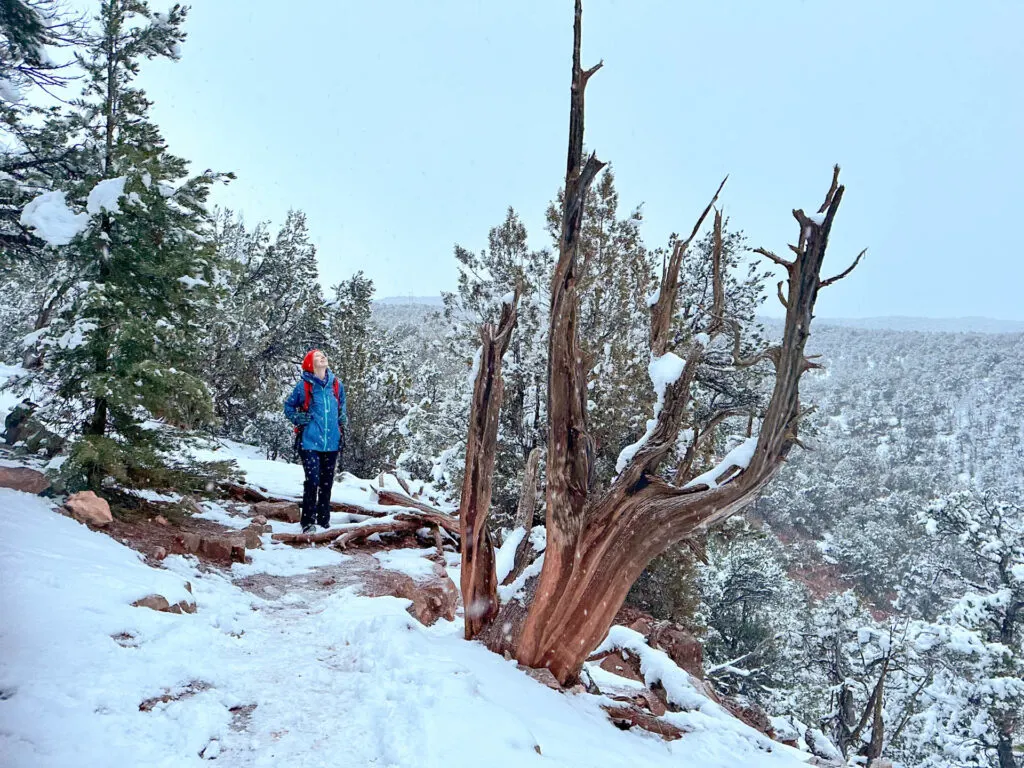 Red Hill, Carbondale
Located right at the turnoff to Carbondale on route 82, the Red Hill Recreation Area trail system, which is popular with mountain bikers in warmer months, is a delight in the winter. You'll want to bring spikes at the very least as there are lots of rocky sections of trail that can be slick when covered in snow and ice, but enjoy a hike up and back down again on any of the zig-zagging loop trails, most of which are doable in 1-2 hours. You'll get big views of snow-covered mountains, dark green pines, and lots of juniper. There's plenty of parking in the lot plus porta-potties and the trails are well-marked.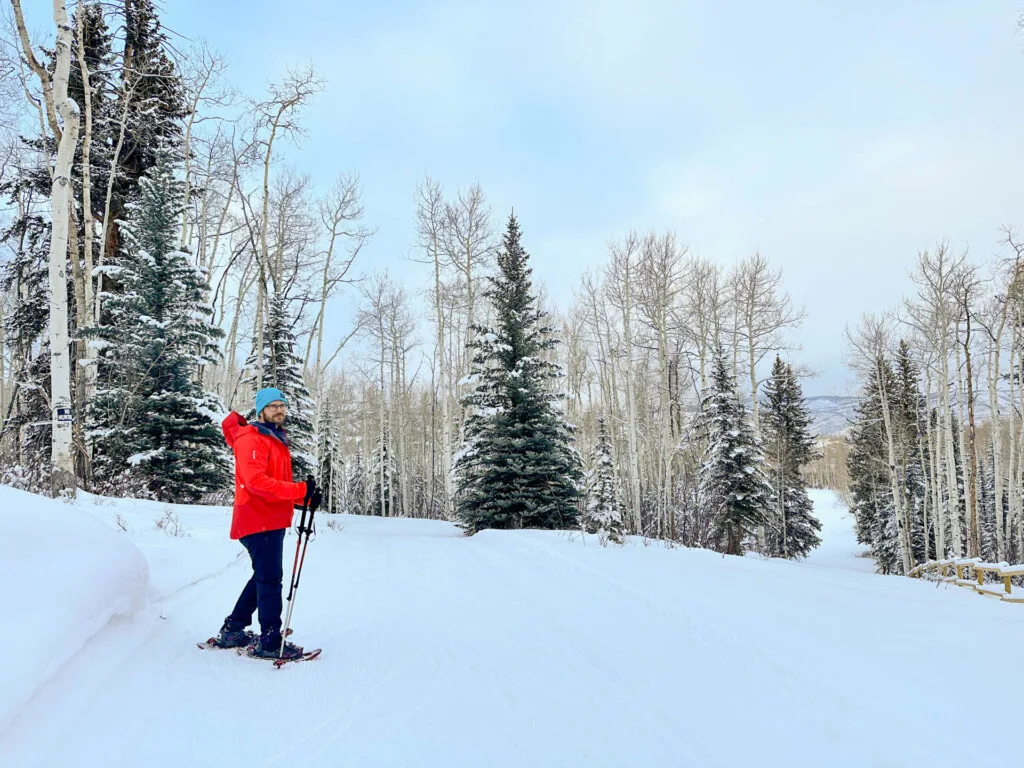 Aspen Snowmass Nordic Trail System, Aspen
The Aspen Snowmass Nordic Trail System is the largest free nordic trail system in the country with 90km of groomed trails to explore on foot or via cross country skis. Most of the trails are open to snowshoeing in winter as long as you keep to the sides and don't walk in the ski tracks, but hiking sans snowshoes is a no-go. There are several trailheads to choose from: at the Nordic Center, Tom Blake Trailhead, or at the small trailhead parking lot up W. Buttermilk Road. On some sections, be prepared for uphill or downhill slopes!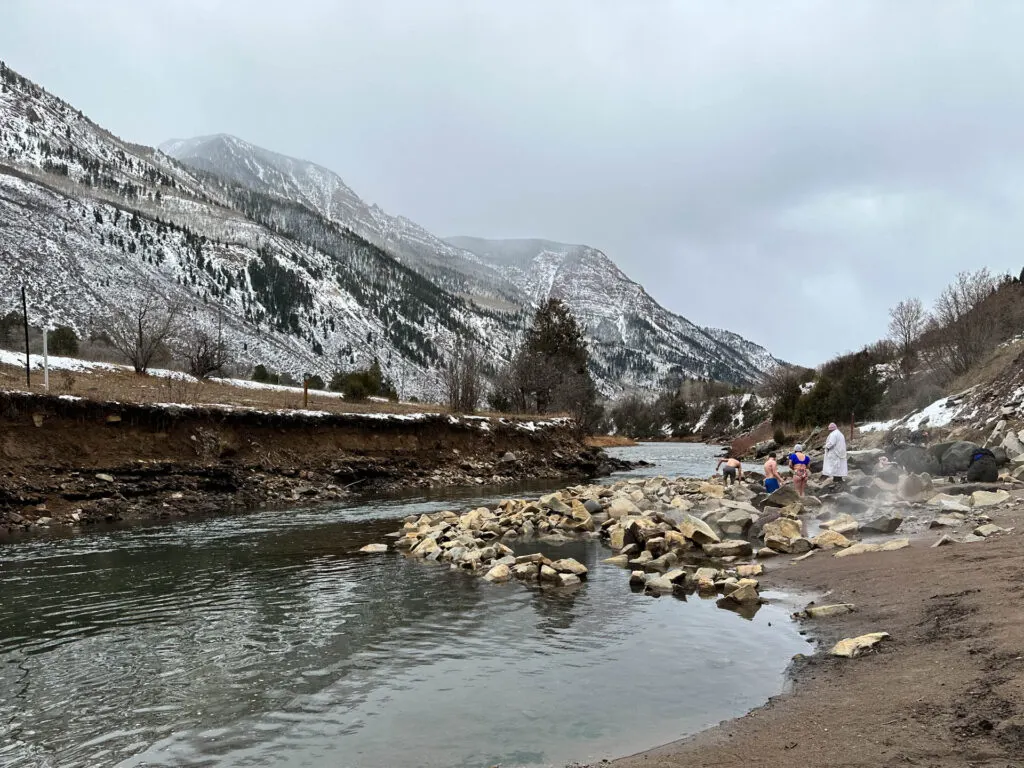 Penny Hot Springs, Redstone
OK, so Penny Hot Springs isn't a hike per se, but you do have to walk down a slope to get to it, so… But it's totally worth a visit on a rest day or post-hike, day or night! Why? Uh, because free natural hot springs, that's why! Just drive out through Carbondale (Google Maps knows where to take you), park in the roadside turn-out, head down the rocky path to the river, and enjoy the various pools. Their temps will vary depending on the water level of the river and rock placement, so move around until you find a zone that suits. Don't forget a cozy towel or robe for the chilly (but brief) walk back up to your car!
Winter Hiking Tips
•
This post contains affiliate links, which means if you clicky-click on a link and make a purchase, you might be helping to support Terradrift! And it doesn't even cost you any extra. That's what we call a win-win!
Alisha is a freelance writer and photographer based in Austin, TX. She loves her tiny house, vegan food and experiencing the community of travel in far away places. She's also pretty sure she's addicted to coffee. alishamcdarris.com