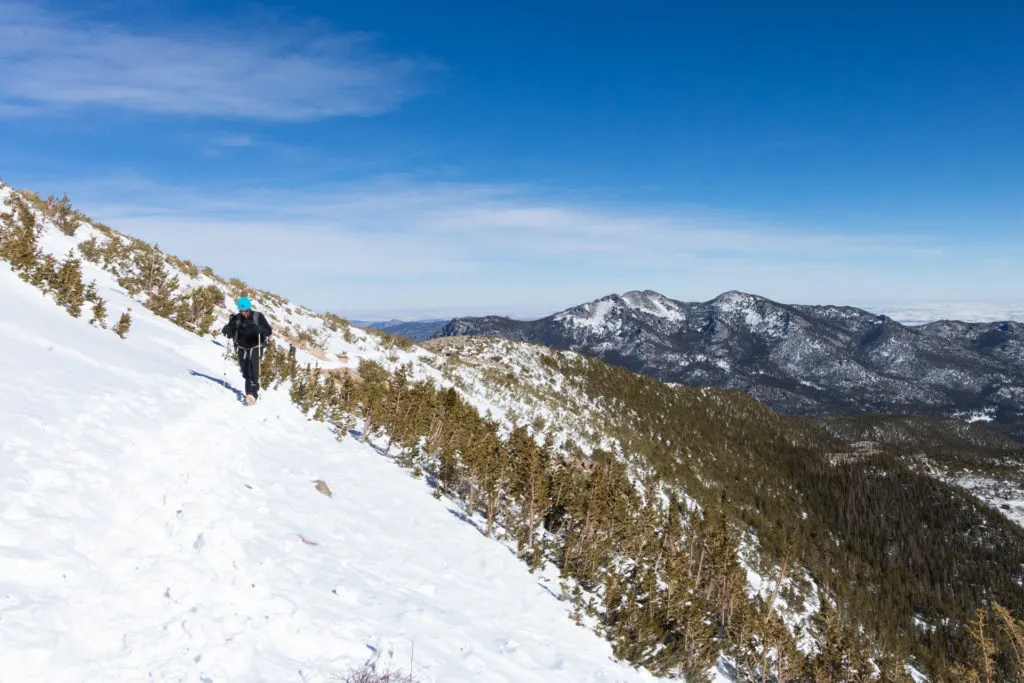 Winter is a phenomenal time to get outdoors to explore. There are fewer people crowding trails, it's quieter, the views are spectacular, and frankly, snow makes everything more magical. But if you don't have the right gear, getting out to hike in snowy or icy conditions can seem scary. But it doesn't have to! All you need are the right tools and gear to keep your feet firmly planted on the ground (literally). And that means hiking spikes. But if you're wondering what kind of traction devices you need for winter hiking, we'll break down the three main types, right here, right now.
Hiking Spikes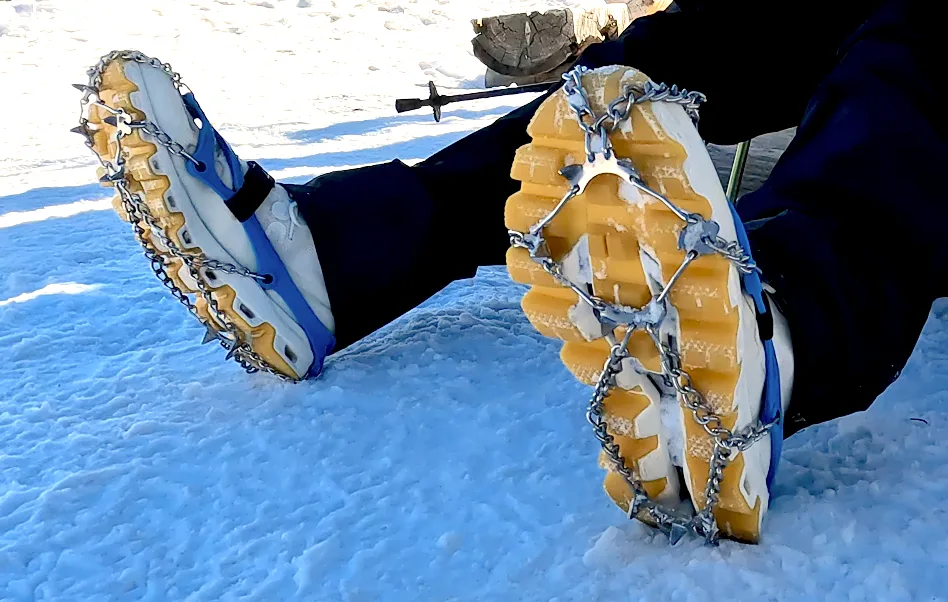 Microspikes
The most popular piece of gear for traction when winter hiking are microspikes. That's because they are multifunctional, lightweight, packable, and super easy to use. Most feature thin metal chain links that create a sort of web over the bottom of your shoe. In many cases, there are small metal teeth or spikes attached to those chains. It all attaches to your shoes or boots via a stretchy rubber or silicone bands that wraps snuggly around the sides, toes and heels of your boots.
Those chains and spikes dig into ice and packed snow to give you more solid purchase with every step, thus preventing you from slipping and falling whether you're going uphill, downhill, or strolling along on a flat surface. Most microspikes come in several sizes and styles, but can generally be worn with any shoes or boots, making them a great all-around piece of gear for your winter hiking arsenal.
There are several times of these hiking spikes: brands like YakTrax call on tight steel coils that criss-cross over your sole to keep you upright, smaller nano spikes or ice cleats like those from Due North are best suited for leisurely strolls on surfaces like flat frozen lakes or icy sidewalks, but our fave are the microspikes from Veriga, which are perfectly suitable for any and all of the above and offer plenty of peace of mind when climbing or hiking on precariously slippery or snowy trails.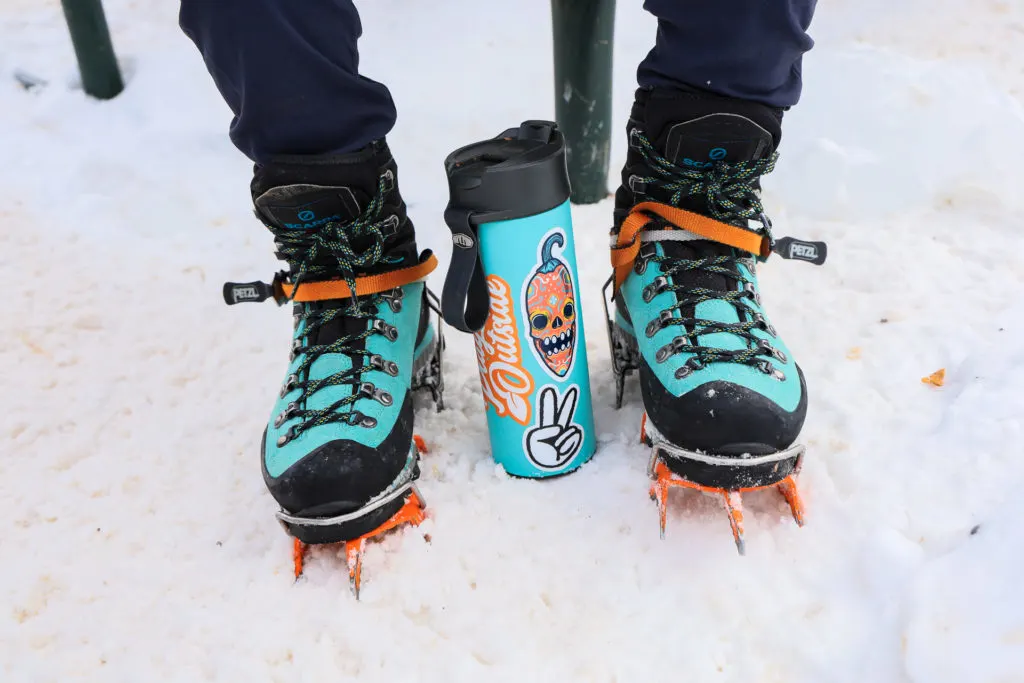 Crampons
Unlike micro spikes, crampons are designed for use with mountaineering boots. Their intended use is mostly reserved for mountaineering, ice climbing, and similar extreme (and vertical) winter pursuits.
They feature large spikes that extend not only from the bottom of the crampons (and your boots), but off the front, too, so you can get some serious purchase on sheer walls of ice, vertical icy climbs, and the like. Most wintery outdoor pursuits like general hiking and backpacking don't require crampons or mountaineering boots (unless you're summiting a 14-er, of course), but it's handy to know when they'll prove useful.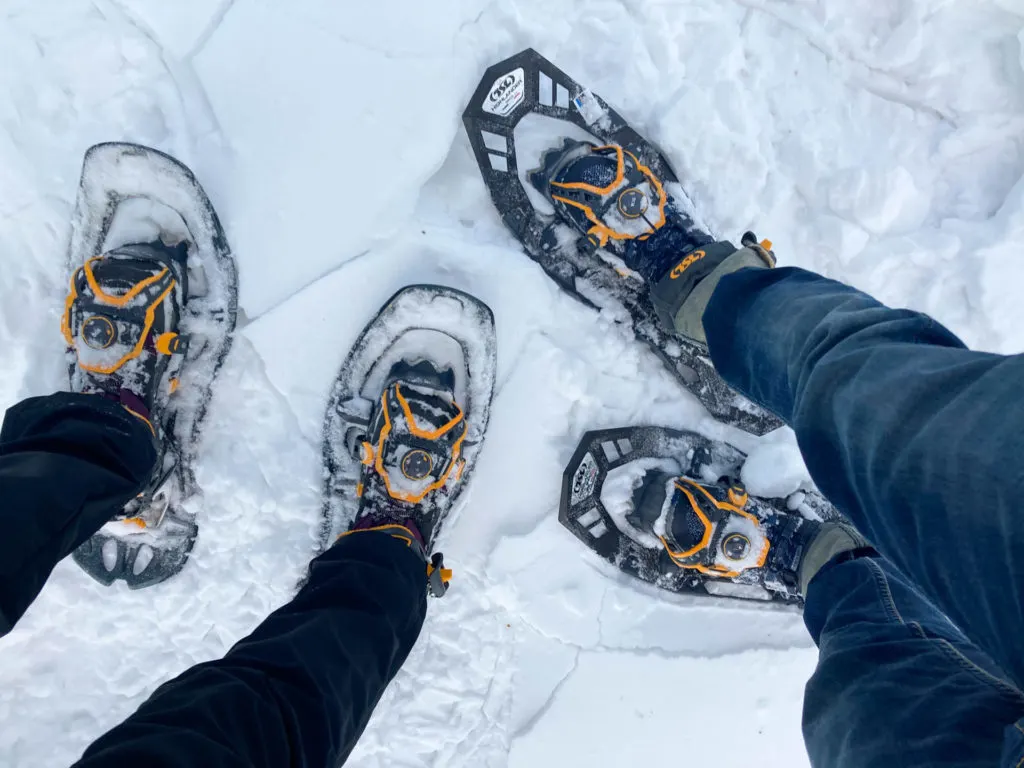 Snowshows
Unlike the first two hiking spikes and traction devices, snowshoes are for snow more than they are ice, though if you're hiking in terrain that features a bit of both, you're still golden. Long gone are the days of giant tennis-racquet-esqu shoes you strap to your boots, though; these days, snowshoes are more streamlined and technical, featuring rigid plastic or metal platforms with metal and plastic teeth and spikes on the bottom and around the edges. Their purpose: to keep you on top of deep snow and the teeth dig in to keep you from sliding around on packed or icy snow when hiking up or downhill.
Most are designed to fit just about any hiking boots and shoes and are adjustable. We like the TSL Symbioz Hyperflex Phoenix and the TSL Highlander Adjust for everyday snowshoeing (check out our review of them in this post), but there are plenty of models out there, some of which are designed to be lightweight for backpacking, budget-friendly for newbies, and super durable for performance.
Bottom Line
Don't let a little snow and ice keep you indoors! Strap on the right hiking spikes or winter traction device for whatever conditions you expect to face and get out there and wander on! Oh, and stay safe. That's also important.
•
Need more winter gear? Check out these posts featuring sustainable gloves and mittens, sustainable snow pants, sustainable coats and jackets, and our guide to layering.
•
This post contains affiliate links. That means when you clicky click on a link and make a purchase, you may help support Terradrift. Thanks for that. You rock.
Alisha is a freelance writer and photographer based in Austin, TX. She loves her tiny house, vegan food and experiencing the community of travel in far away places. She's also pretty sure she's addicted to coffee. alishamcdarris.com