It's officially ski and snowboard season! Which means it's time to dust off the ol' snow pants and hit the slopes (or the sledding hill…). But if yours have seen better days and are ready to be retired, take a look at these rad, sustainable snow pants that promise to keep you warm, dry, and lookin' fly on the lift, on a toboggan, or in the backcountry, while simultaneously doing less damage to the planet. You know, the one you ski on… So check out these sustainable snow pants and get out there and enjoy the season already!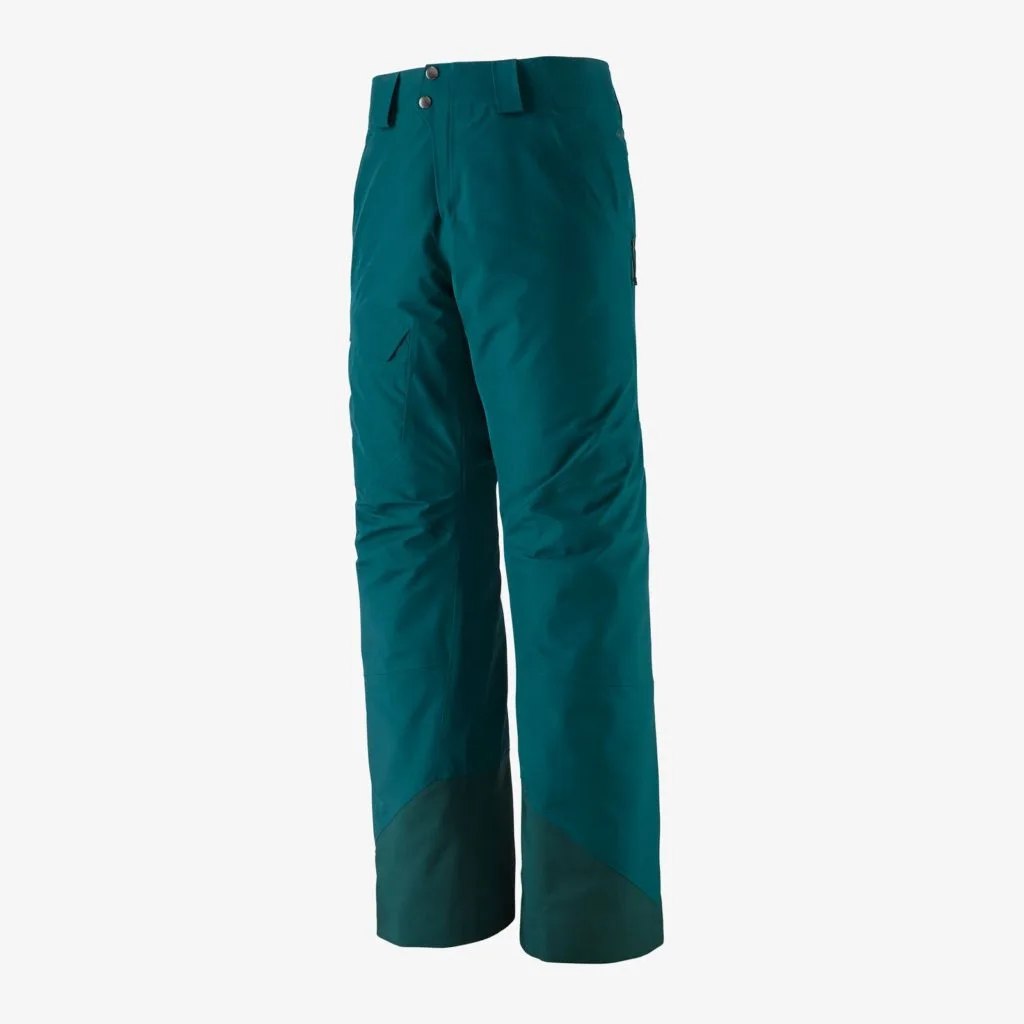 Patagonia Powderbowl Pants
These pants have all the bells and whistles like an adjustable waist, mesh-lined thigh vents, and a RECCO reflector to help locate you if you get lost out there (!), plus are made with 100% recycled GORE-TEX fabric and are Fair Trade Certified, to boot! Find them for men and women. Also available: the more budget-conscious and mostly recycled Snowbelle Pants for women and Snowshot Pants for men.

Picture Organic Clothing Track and Exa Snow Pants
What's more sustainable than synthetics made of recycled materials? Synthetics made of plants. And these pants are made of a bit of both: 58% sugarcane-based polyester and 42% recycled polyester. Plus they feature PFC-DWR and zippered thigh vents, an elastic waist, and come in several colors and patterns. Find the Track pants for men here and the Exa pants for women here.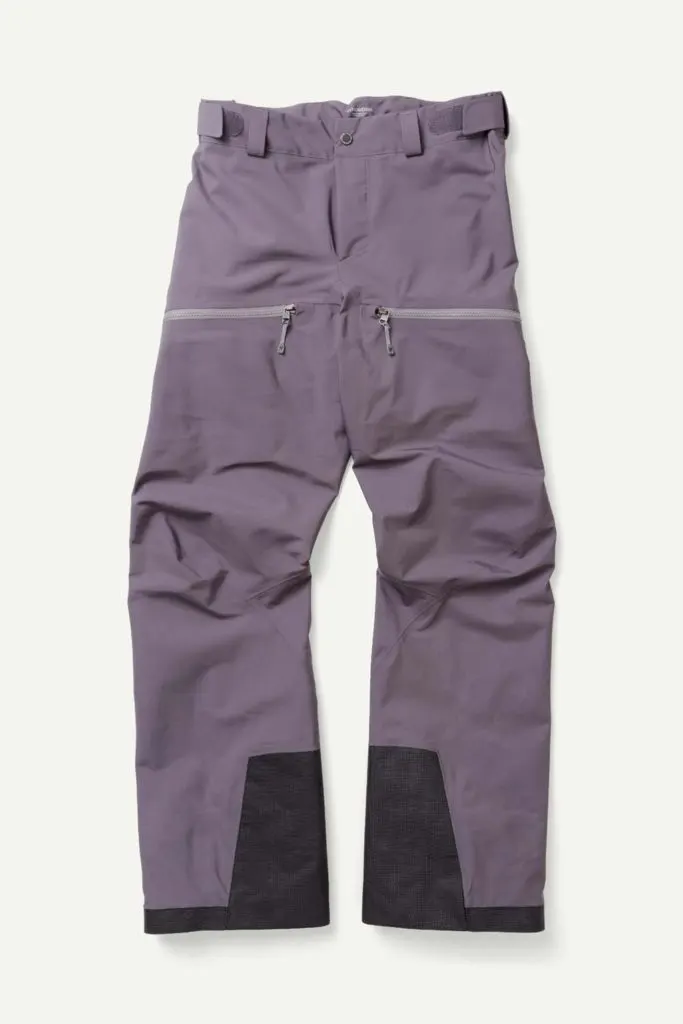 Houdini Purpose Pants
If you're looking for non-insulated snow pants that promise to perform in any condition, but are also super versatile for all manner of snow activities, the Houdini Purpose Pant is for you. They are not only made of recycled materials, but are also recyclable at the end of their useable life (!), making them a totally circular product. Plus, they're Bluesign approved, PFC-free, and feature 3/4 length zippers on the legs, a velcro-adjustable waist, and are available in a multitude of colors. They're the most expensive pants on this list, but from a brand that's 100% committed to sustainability. Find the men's here and women's here. Or find them on REI. And if you're looking for an all-around cold weather hiking, mountaineering, and layering pant for use in snow, we're obsessed with the Motion Top Pant for women and men.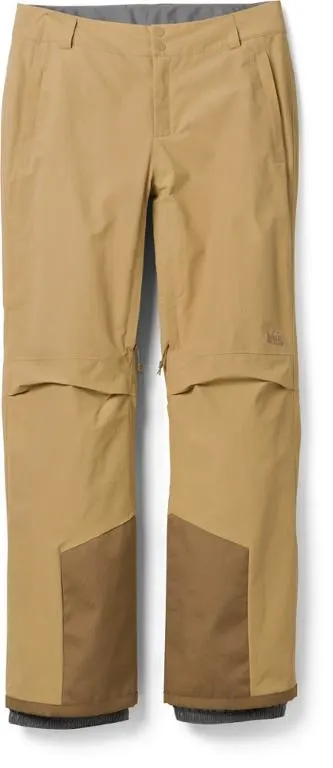 REI Powderbound Insulated Snow Pants
Made of partially recycled materials, Bluesign approved, and Fair Trade Certified? Yup, these snow pants are all of the above and more. Plus they're waterproof, windproof and breathable, feature belt loops and an adjustable waist, zippered thigh vents, and come in two neutral colors for men and women. Bonus: They're the most budget-friendly pants on this list if you're trying to stretch your dollars.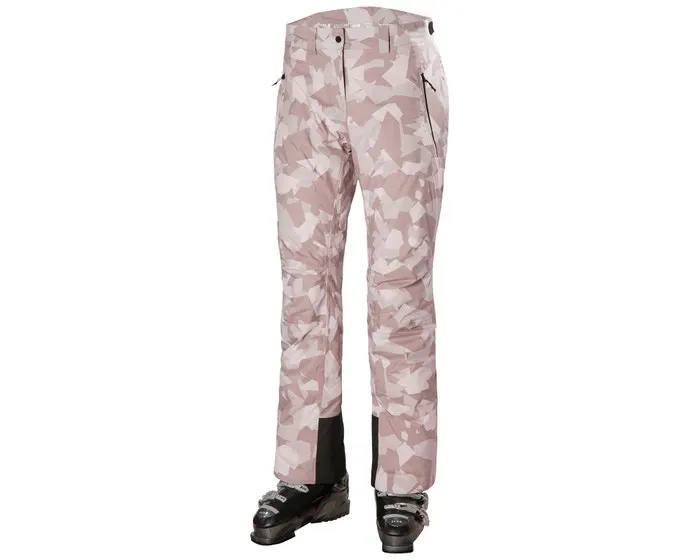 Helly Hansen Snowstar and Bonanza Mono Material Pants
These sustainable snow pants are not only super durable, made of partially recycled materials, and feature PFC-free DWR, they're ALSO made of a single (mono) material, which means they can be recycled at the end of their usable life! And there's nothing more sustainable than circular manufacturing. They also have detachable boot gaiters, an adjustable waist, and thigh vent zips. Find them in several colors for women and men.
Sustainable Snow Pants
When it's time for a new pair of snow pants, opt for a pair of sustainable snow pants whether you're riding, roughing it, or just building snow men in the front yard. Because every piece of gear that does less damage to the planet and requires fewer unsustainable materials makes a difference. So gear up, get out there, and wander on. Oh, and stay warm and dry, too, K?
•
Want more cold-weather gear? Check out our list of sustainable coats and jackets here and sustainable gloves and mittens here!
•
This post contains affiliate links, which means purchases you make after clicky-clicking may help support Terradrift! But don't worry! You won't pay a dime more for your dope new sustainable snow pants.
Alisha is a freelance writer and photographer based in Austin, TX. She loves her tiny house, vegan food and experiencing the community of travel in far away places. She's also pretty sure she's addicted to coffee. alishamcdarris.com