Many people who happen to be familiar with the Lake Placid region in New York think of it as a delightful summer destination (I mean, the lake says it all, am I right?). But those in the know know that it's just as magical in the winter and provides a whole different experience. And it's a rad experience. We recently spent some time playing in the snow in the area, so here's our recommendations for all manner of Lake Placid winter activities so you can enjoy the fourth season.
Things to do in Lake Placid in Winter
Stay
Ready to kick back and relax? Here are a few options for cozy lodging.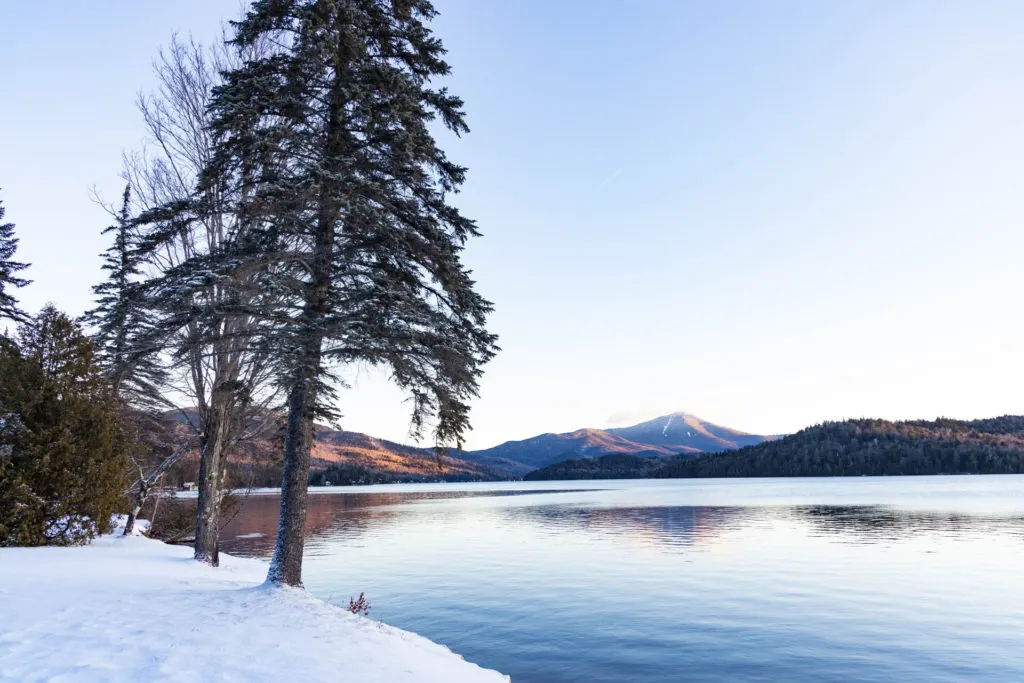 We had the pleasure of staying in this cozy beauty of a hotel and didn't want to leave. Definitely not for the budget-conscious set, it offers an experience unlike just about anywhere we've ever stayed. There was a fresh stack of firewood and a fireplace stuffed with starter every evening when we returned to our cabin, expertly decorated rooms and shared spaces, a picture-perfect view of Lake Placid right outside our window, and super luxurious details at every turn. And the lodge restaurant can absolutely accommodate vegan diets. Bonus: though everything was decorated in true upscale lodge style, we didn't spot a single taxidermy animal anywhere on the property. Instead, mounted moose heads, bears, and more animals were all carved wooden masterpieces! Huzzah for no dead things on display! Check it out here.
Looking for an inexpensive option? This might be the best deal in the area, especially for solo travelers. Dorm rooms start at $30.50, though there are private rooms, too. It has all the amenities you need, including a full kitchen, in a fun, relaxed, communal atmosphere (or so it seems–full disclosure: we didn't stay here, but probably would have if we were traveling on our own dime). Check it out here.
Prefer a stay somewhere in between hostel and luxury cabin? Might we suggest Airbnb? There are tons of homes, rooms, and vacation rentals available that offer private and comfortable rooms in that Goldilocks sweet spot between budget-obsessed and break-the-bank.
Play
There's much to do in Lake Placid in winter. So layer up and get out there!
Ready to hit the slopes? Skiing and snowboarding at Whiteface Mountain is one of many must-do Lake Placid winter activities. Don't know how to ski or snowboard? They'll teach you. Just sign up for lessons and spend a few hours learning the ropes. We did! Then spend the whole day on the dozens and dozens of routes available on the mountain. Even if you're not a skier, you should definitely still stop by and purchase a Skyride gondola ticket so you can go to the top of Little Whiteface and enjoy the epic views.
If downhill skiing isn't your thing, maybe Nordic skiing (also known as cross country skiing) is. Personally, I love the activity. Explore the groomed trails at Mt. Van Hoevenberg (where you might get passed by olympic hopefuls, btw) or take a lesson to get your bearings. Inside the lodge, you can warm up and grab a bite (yes, even a vegan bite or two), watch athletes train for olympic competition, catch other athletes run the world-renowned luge, skeleton, and bobsled tracks (it's a trip, believe me), even take a hike around the property.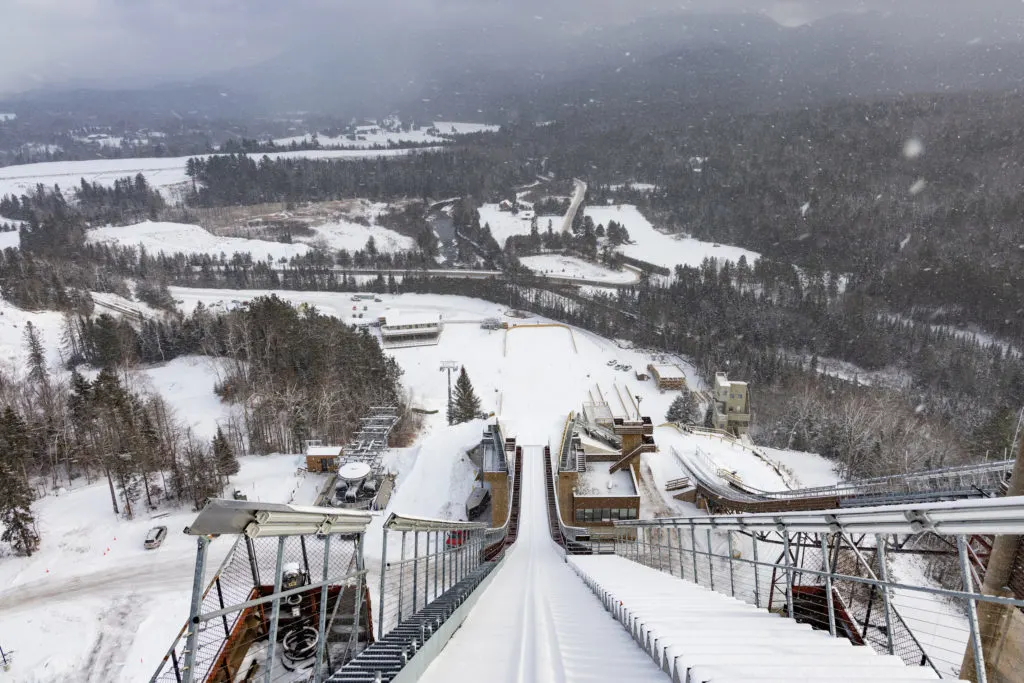 This is where skiers–including olympic athletes–go to train for ski jump competitions. They fly down sky-high towers to launch themselves over 100 meters through the air! If you're lucky, you can catch them in action. But even if there aren't any athletes jumping while you're there, the views from the top of the tower are impressive, and a ride up the mountain on the gondola offers breathtaking views of snow dusted pines and peaks that stretch for miles.
Lake Placid was home to the Winter Olympics twice: in 1932 and 1980. And a lot of the gear and related paraphernalia from those events are on display at the Olympic museum in downtown Lake Placid: Signed jerseys, skates, photos, you name it. Even if sports aren't really your thing, the free museum and gallery is fun to peruse if only to see how much sports equipment has evolved over the years. (Note: the museum is being renovated, so the temporary display is smaller than usual, but still open to visitors).
Want to skate with the greats? You can on the Olympic Oval where medals were won and records were set. Rent a pair of skates or bring your own and spend an hour or a whole day taking turns around the ice. Don't forget your mittens!
Snowshoeing, Hiking and Cross Country Skiing
A few more must-do Lake Placid winter activities: snowshoeing, hiking, and cross-country skiing, which you can do on your own in plenty of places around the area. A local fave: The Jackrabbit Trail. It's 18 miles long, but you can do sections of it on foot, with snowshoes, or with cross-country skis, depending on how deep the snow is. Bring your own gear or rent one from an outfitter in town (such as High Peaks Cyclery or Lake Placid Ski and Board). Fun fact: the trail goes right by Lake Placid Lodge and the lodge offers free use of snowshoes and skis for guests.
Eat
If you're gonna spend the day enjoying all manner of Lake Placid winter activities, you're gonna need to refuel. Here are a few solid places to find a good meal (including vegan options).
Pizza, beer and burgers (including vegan varieties) FTW! Seriously, sometimes that's all you want after playing in the snow all day. And this joint will not disappoint. Get yourself a sampler flight so you can try a wide variety of what the brewery has to offer.
Stock up on snacks, meal ingredients to cook in your room, treats, even grab a sandwich, smoothie or soup from this health food store and deli. It has plenty of vegan options and is a great option for a quick lunch or snack stop.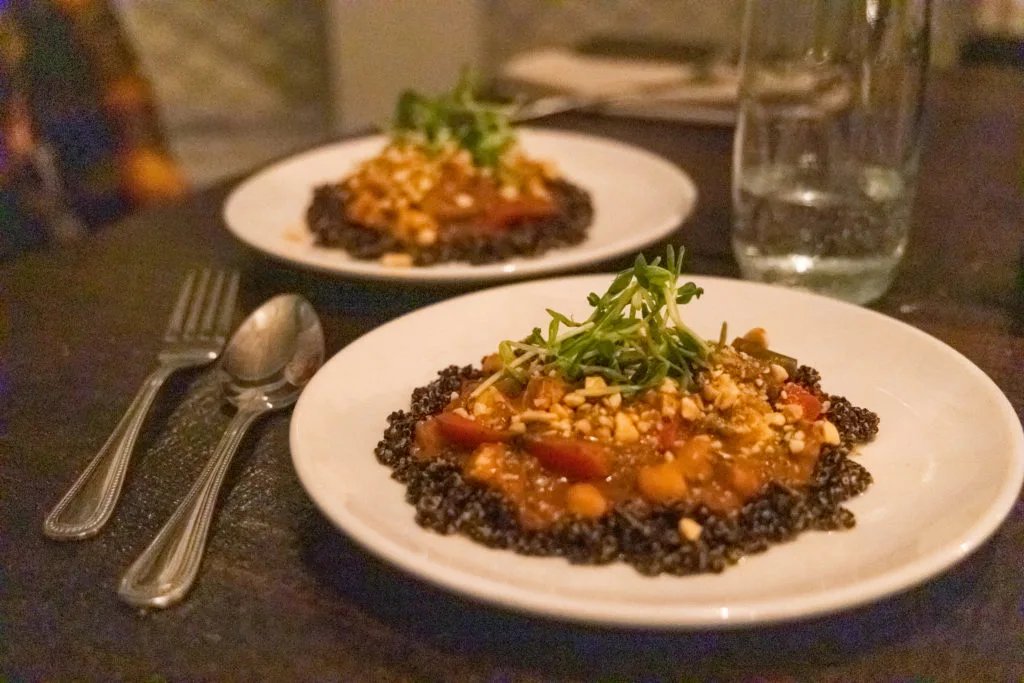 We recommend making a reservation at Salt of the Earth if it's an upscale dining experience you're after. If you're vegan like we are, consider calling ahead to give the kitchen a heads up, but when we were there, there were several items on the menu that were vegan and did not disappoint in the flavor department. Bonus: there were warm vegan chocolate chip cookies for dessert!
There's no better place for aprés winter activity drinks than Top of the Park. In the second-story bar, you can enjoy views of the lake while sipping one of many, many unique cocktails. Might we recommend one that features kombucha? So kick back, cozy up, and enjoy yourself.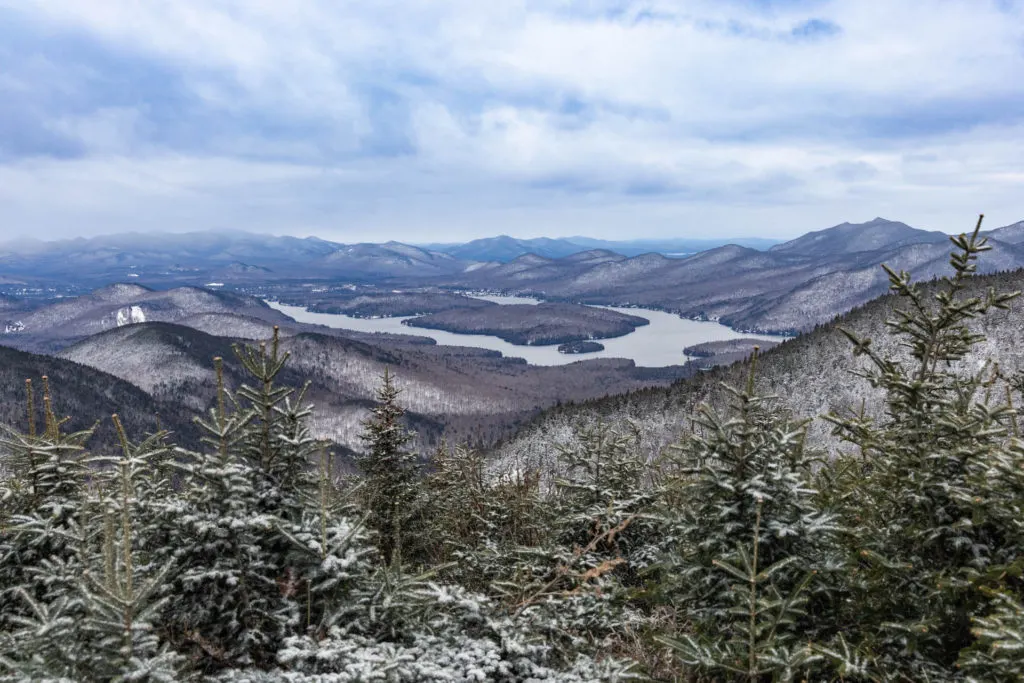 Lake Placid Winter Activities Abound
So I think it's pretty clear: Lake Placid is certainly not just a summer destination. So don't wait for the snow to melt; grab your coat and boots and enjoy all the winter season has to offer in Lake Placid, New York. Stay warm out there and wander on.
•
Want to check out even more surprising destinations? Take a look.
Alisha is a freelance writer and photographer based in Austin, TX. She loves her tiny house, vegan food and experiencing the community of travel in far away places. She's also pretty sure she's addicted to coffee. alishamcdarris.com