A portable, easily storable, foldable origami kayak? You betcha. And the Oru Beach LT is lit. Wanna see it in action? Watch our review video or read on for all the deets.
You may remember that we tested the Oru Inlet last year, and dug it, so we were stoked to try out the Beach, the Inlet's larger sibling. Longer, yes, but still designed for all manner of water-based adventures no matter how much experience you have on the water.
But if you aren't familiar with Oru, allow us to fill you in. Because the brand's kayaks are super dope. Their biggest innovative feature: They fold up into a compact–well, pretty compact–box for easy storage and transportation to and from the water. And that's a big win for apartments dwellers, those with smaller vehicles or no roof rack, folks who don't have garages, basically anyone who would have a hard time owning, storing and transporting a traditional kayak but, you know, still wants to paddle more than every once in a while.
But let's get into what else makes this kayak so rad.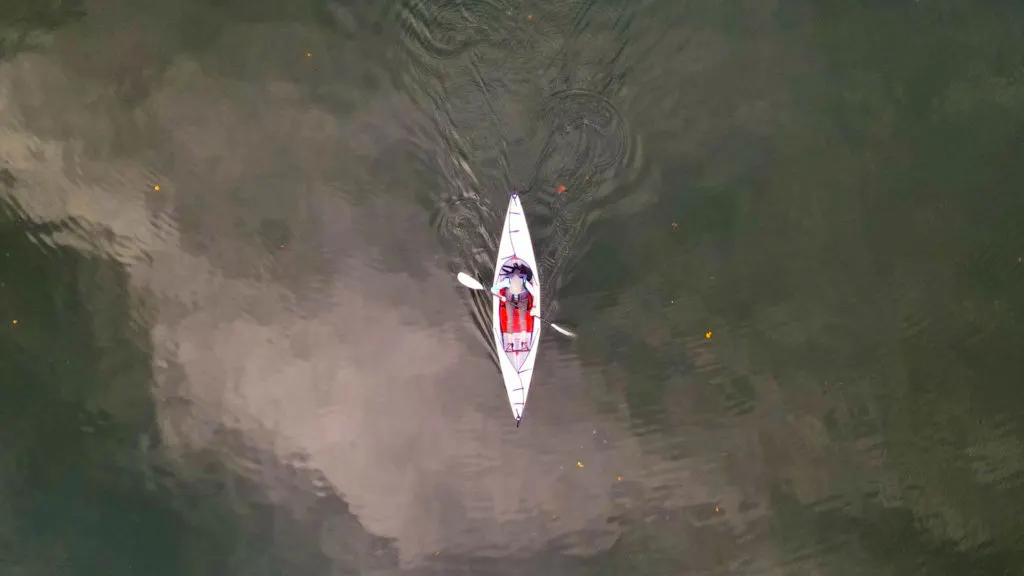 Oru Beach LT: The Features
For starters, the Beach has an updated design and easier assembly than the previous model, and certainly different from the Inlet.
It's 12′ 1″ long and intended for use on calm water, so think ponds, lakes, and slow-moving rivers, not whitewater or waves. You're gonna need the Oru Bay or Coast models for that.
It weighs 25 lbs and folds up into its own portable box with a shoulder strap, so it's easy to pick up, move around, even carry down the sidewalk or on a bus, though it isn't super tiny. It's still a bit unwieldy, especially if you're as small as I am, but not remotely as unwieldy–or as heavy–as a traditional boat. Plus, it only requires one person to carry it, so, bonus.

Because it folds up, You can stash in your trunk, your closet when you get home, on your balcony or garage, fit it in an elevator. It goes just about anywhere you do, really.
It has a big, open cockpit (24" wide and 69″ long, to be precise), so if you want your dog to tag along, or you're going kayak camping and loading the boat with gear, there's plenty of space. And it fits paddlers up to 6′ 6″ and 300 lbs.
It's made of 5 mm double-layered, custom-extruded polypropylene with a 10-year UV treatment. That means the kayak is puncture & abrasion resistant and made to last, plus Oru promises the boats can withstand tens of thousands of fold cycles. Which is a lot of fold cycles. Basically, this kayak is gonna last more than a few years.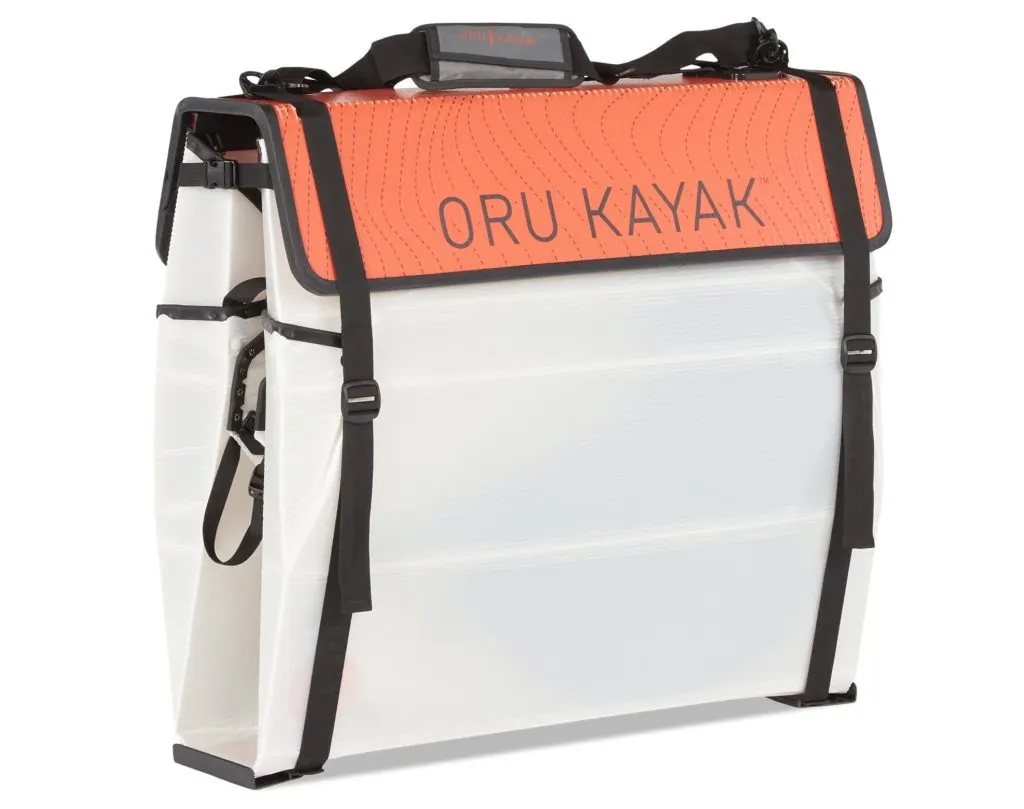 Bonus: All of Oru's boats come with a 1-year warranty, so if something does go awry right off the bat, you can always send it back for repair or replacement. Bonus bonus: you can also save some dough by buying one of those used or refurbished kayaks. huzzah!
There's an Adjustable footrest and an adjustable backrest, plus a seat pad for a little cush under your tush. You can also store gear in the bow and stern behind the removable bulkheads.
A Tension strap behind the seatback adds strength and stability, and the quick and easy buckle closure system makes it super simple to set up and tear down. Fairings also help it glide through the water for quick and easy paddling.
So what did we think of it?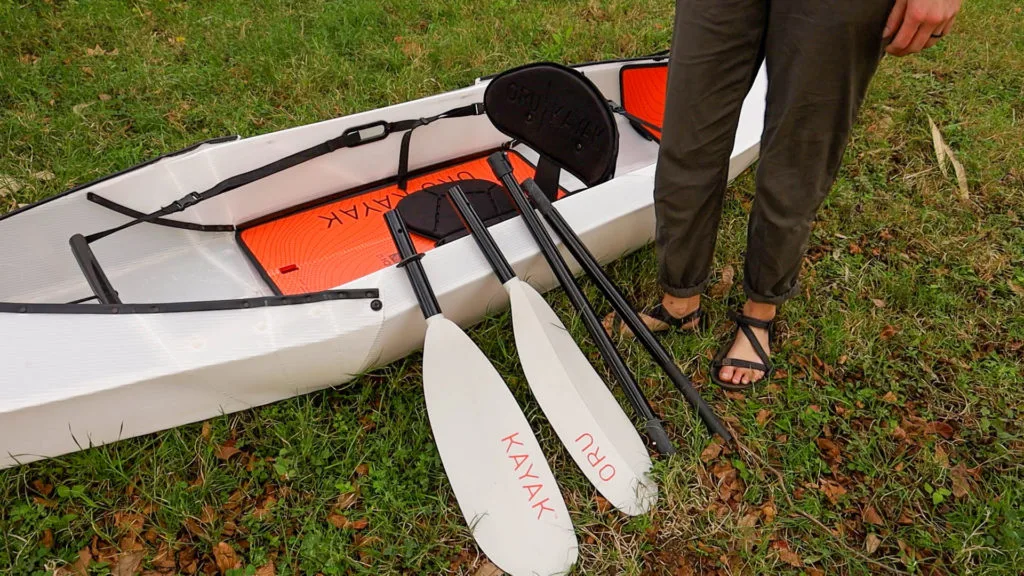 Oru Beach LT: The Review
First off, the Beach LT was incredibly stable on the water. It's so wide it would be very hard to tip once you're in it. And it was super easy to maneuver. I was actually pretty surprised and impressed at the turn radius of this thing; it's quite tight for a boat of this length.
It offered a very smooth ride and cut through the water at a pace that's pretty much on par with a similarly sized conventional kayak. There isn't a skeg, so, sure, The bow swung a bit from side to side when paddling, but just a tiny bit.
On the downside, You are basically sitting on the bottom of the boat. As in, the seat cushion is pretty thin (though it's thicker than Oru's original design). But if you like a little more cush under your tush, you may want to consider an additional seat pad for longer excursions.
The seat back, however, was comfy and supportive. It's nice to have the option to raise, lower, and tilt it to really dial in and change up your seating position. It doesn't seem like much, but it actually makes a pretty big difference in the comfort department.
The fiberglass and ABS Oru paddle is also adjustable (I like a good 60 degree feather, Josh likes a straight paddle), plus it breaks down into four pieces to fit inside the kayak box. It's sold separately or as a bundle package with the Beach and a life vest, FIY.
As for kayak assembly, it really is quick and easy. I watched the setup video on Oru's site once and had no problem whipping this baby into shape. In fact, once you've done it a few times, you can probably throw it together in about 5 minutes. Which, honestly, is less time than it takes to get conventional kayaks unstrapped and unloaded from a roof rack. So…
It's just as easy to fold back up. Again, I could do it without any trouble after watching the tear down video once. Too easy.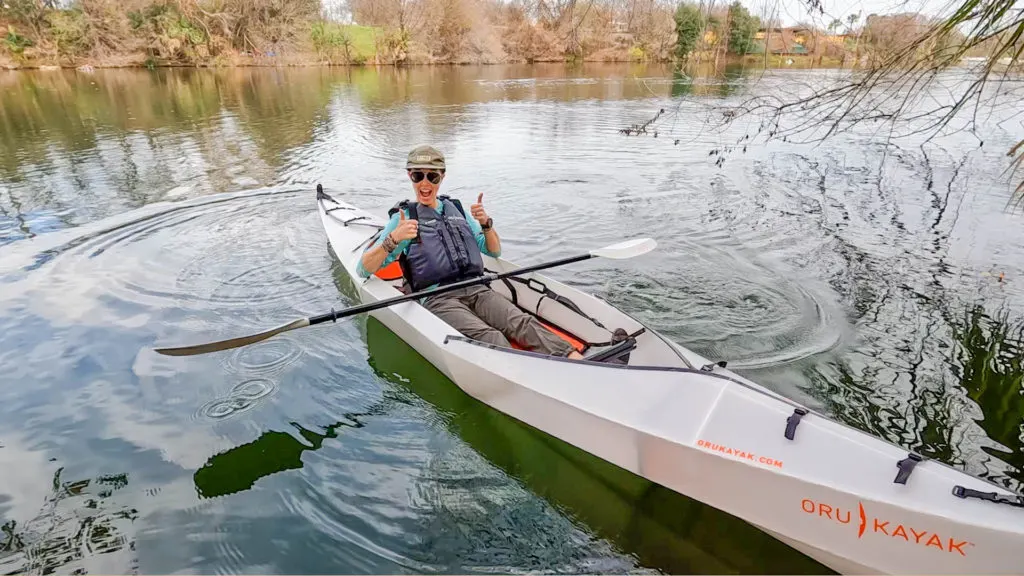 Bottom Line
the Beach LT is easy to use, super portable, more durable and long-lasting than inflatables (which we also tested)–not to mention innovative. It functions beautifully on the water, is easy to set up and put back away, and frankly, it looks dang good doing it.
The only downside, you WILL NOT be able to hit the water without half a dozen people asking you about your rad folding kayak. True story. But roll with it. Meet new people. Make some new friends. Be that cool individual that they go home and tell their dog about.
Anyway, if we had a pair of Oru's in our gear closet, we would be happy kayakers indeed.
So if you want to snag one for yourself, find the Oru Beach LT here.
Then get out there, paddle your own canoe–I mean, kayak–and wander on.
•
Want more kayak content? Check out What to bring kayaking – Kayaking essentials checklist here.
•
This post contains affiliate links. Which means if you score yourself a kayak using these links, you also help support Terradrift and more content like this!
Alisha is a freelance writer and photographer based in Austin, TX. She loves her tiny house, vegan food and experiencing the community of travel in far away places. She's also pretty sure she's addicted to coffee. alishamcdarris.com