The Oru Inlet Kayak is a lightweight, packable, easy-to-use, origami kayak and we recently took it out for a spin. Check out this cool, innovative boat that makes adventure accessible to travelers, apartment-dwellers, and adventure enthusiasts alike.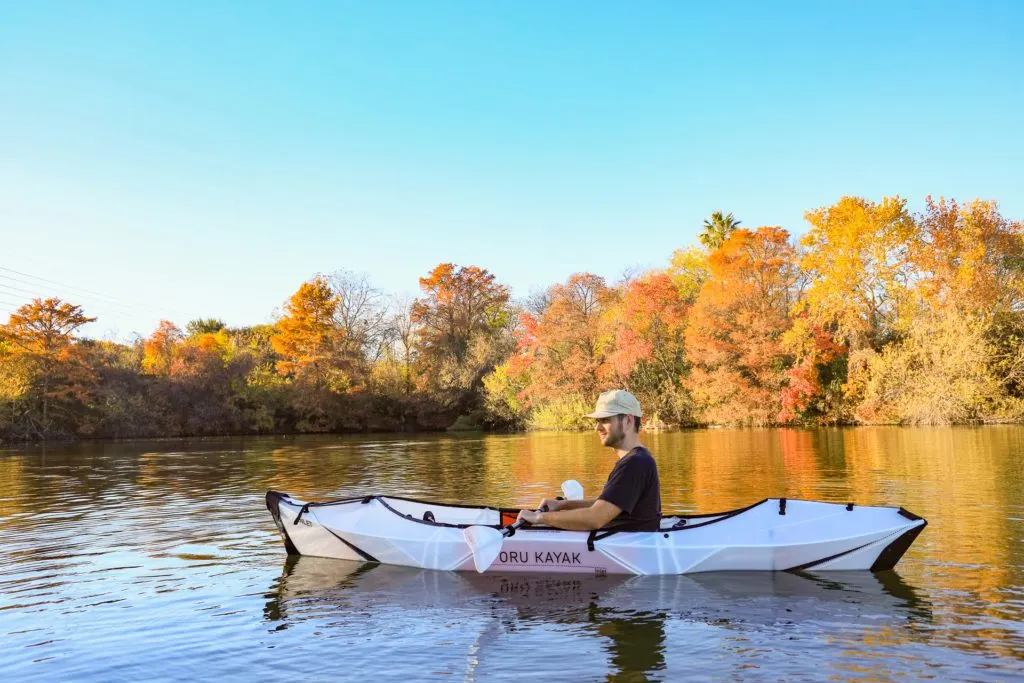 If you've been following us for any length of time, you know we love the water. Especially if it involves a kayak.(Maybe you saw our review of the inflatable Intex Challenger kayaks.) But in any case, you probably also know that we live in a tiny house and drive a Prius, so we don't have a lot of space–or a roof rack–to store or transport kayaks. Hence the inflatables, which we love.
But we've had our eye on another portable kayak for awhile now, and we finally managed to get our hands on one to test and review: the Oru Inlet kayak.
What's so interesting about this kayak? They fold up like a giant piece of corrugated origami, that's what.
Yes, you read that right. Oru designs kayaks that fold up into a compact box when you're done playing on the water, which means easy storage and easy transportation. That's a big deal for people who live in apartments, have smaller vehicles, reside in the city, etc., but still want to spend some time on the water every now and then, both near and far.
So watch the above video to get the lowdown, or keep reading for our Oru Inlet Kayak review.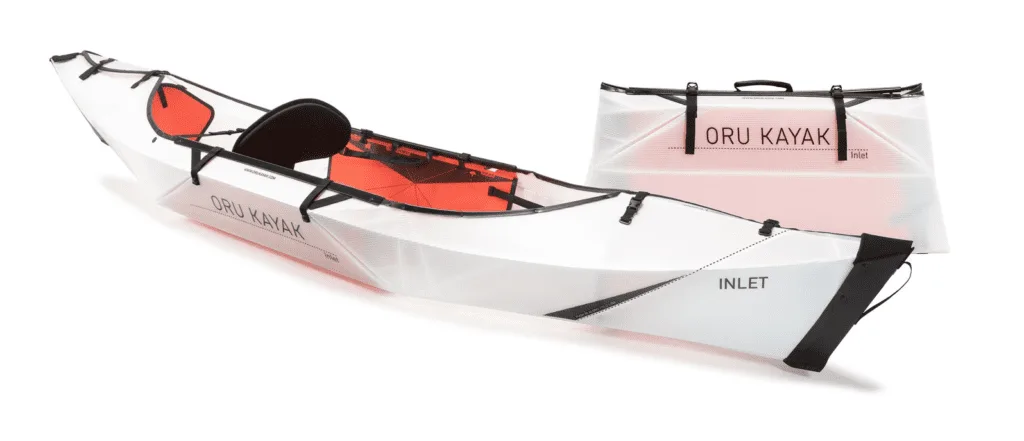 The Oru Inlet Kayak: The Deets
First things first: the technical stuff and what the Inlet is made for.
Weight: 20 lbs.
Length: 9'6″ feet
Width: 30″
Cockpit: 23″ by 44″
Max paddler height: 6'2″
Weight capacity: 275 pounds (allowing room for 1 adult + gear)
Kayak box: 42″ by 18″ by 10″ (all packed up)
Set-up time: 3 to 5 minutes
Price: Unlike the Intex Challenger inflatable kayak, the Oru Inlet isn't cheap at $899, which makes it more or less on par with many conventional kayaks.
Setup: It may take a few times to get the hang of it, but Oru offers a good setup video here. Essentially, you fold and unfold as necessary with a handful of velcro strips and buckles to keep everything rigid and in place.
Who can use it and where: What is the Inlet designed to do? Well, it's a recreational kayak designed for just about everyone, from the total novice to the experienced paddler. The Inlet is also Oru's lightest, most portable, and easiest to assemble boat. The 10-foot Inlet is meant for use on flat water, so think ponds, lakes, and slow-moving rivers, not whitewater, waves, or strong currents. (You're gonna need the Oru Bay or Coast models for that).

Portability: As for portability, it folds up into a box complete with handles (no extraneous stuff sacks or packaging required), so it's super easy to pick up, move around, even carry down the sidewalk or on a bus. And when you're not using it, you can stash it in your trunk, your closet, on your balcony or in your garage, you can even check it as luggage if you want to fly with it.
Size: It has a spacious, open cockpit, so if you want your dog to tag along, or, I dunno, your kid, I guess, there's plenty of space. But Oru says if you're taller than 6'2" or heavier than 275, you're gonna need a bigger boat.
(Did anybody get that reference…?)
What's it made of: 5 mm double-layered, custom-extruded polypropylene with a 10-year UV treatment. That means the kayak is puncture & abrasion resistant and made to last, even if you're sliding over rocks, running into docks, pulling them over sandbars, etc. And they're rated to withstand 20,000 fold cycles. Which is a lot of fold cycles.
And fun fact: All of Oru's boats come with a 1-year warranty, so if something does go awry, you can always send it back for repair or replacement.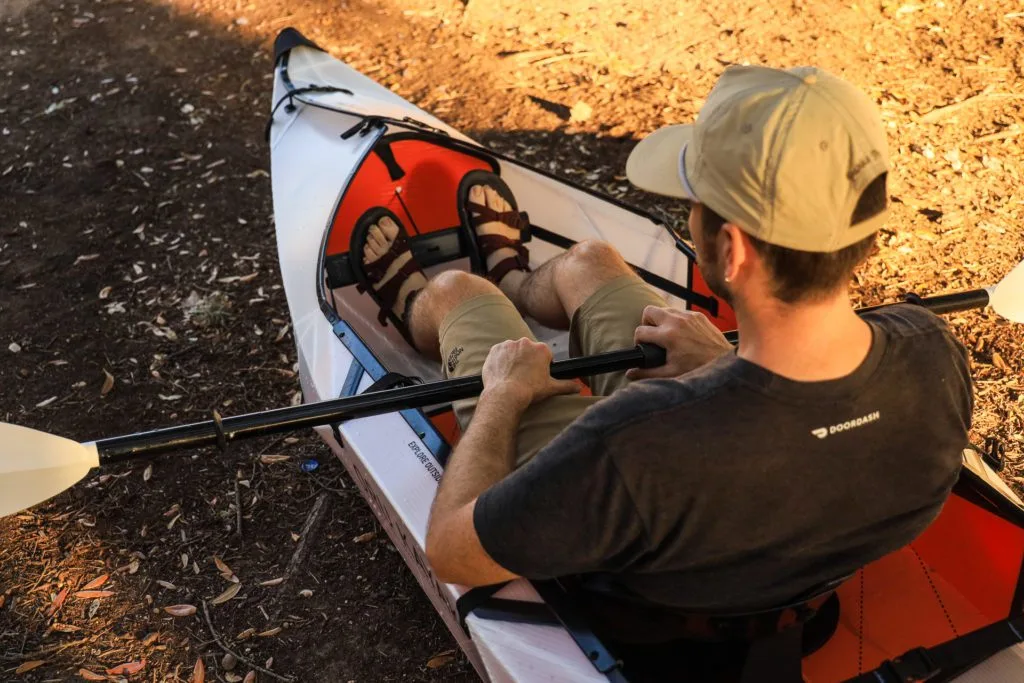 Features: There's an Adjustable footrest and an adjustable backrest, plus a seat pad to keep your tush off the hard plastic. The bulkheads are removable, so you can store stuff in the bow and stern. A Tension strap behind the seat back adds strength and stability, and the Quick and easy buckle closure system makes it super simple to set up and fold back down. There are also fairings that help it glide through the water for quick and easy paddling (though no skeg).
Options: You do have to buy the handy backpack-style carrying case and paddle separately (not to mention a life jacket, which is required to paddle in many places), but that's standard for most kayaks.
Oh, and did we mention it folds up like origami? Yeah. Super cool.
But how did it actually perform out on the water and what did we think of it?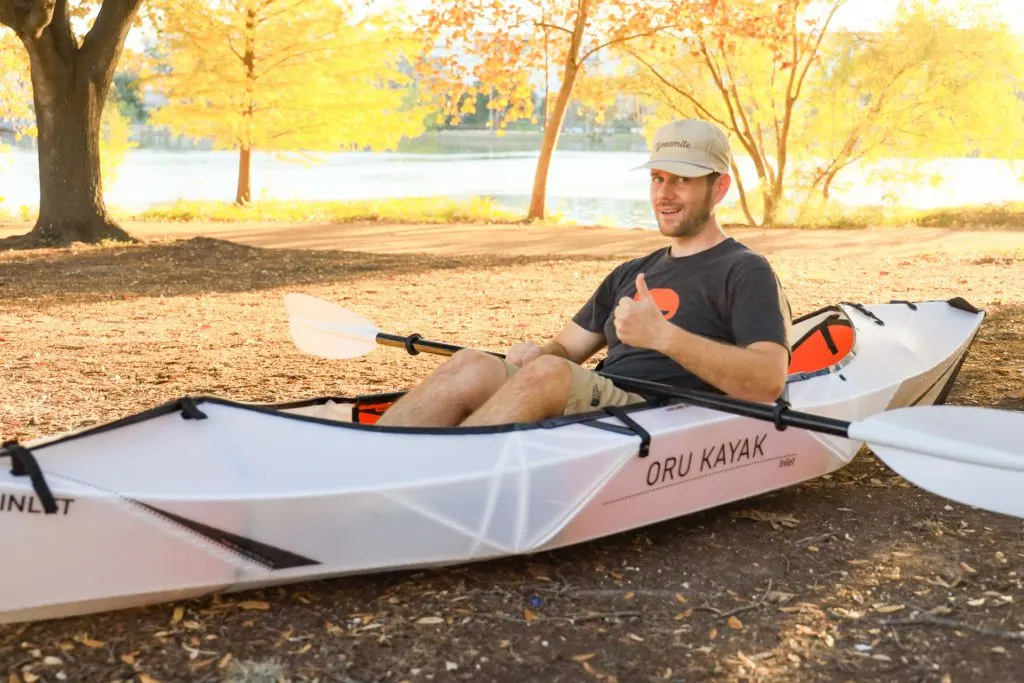 Oru Inlet: The Kayak Review
Function: First of all, the kayak was very stable on the water. It's so wide that it would be very hard to tip. And it was super easy to maneuver. It cut through the water surprisingly quickly, certainly at a pace that would be on par with a similarly sized conventional kayak. It was definitely faster and easier to paddle than our inflatables.
The bow (that's the front of the boat for the novices) swung a bit from side to side when paddling, but just a bit and not enough to ruffle our feathers. And not nearly as much as our Intex Challengers. Some of that extra movement could be due to the fact that there isn't a skeg. But all things considered, it cut through the water quite smoothly and we were impressed.
Size: As for the width, When I first sat in the Inlet, I was worried the cockpit would be too wide. I mean, I'm a small person and I thought it might make paddling difficult. But I didn't find it any more challenging than paddling our inflatables, so that's a plus. I suppose it just looks wider.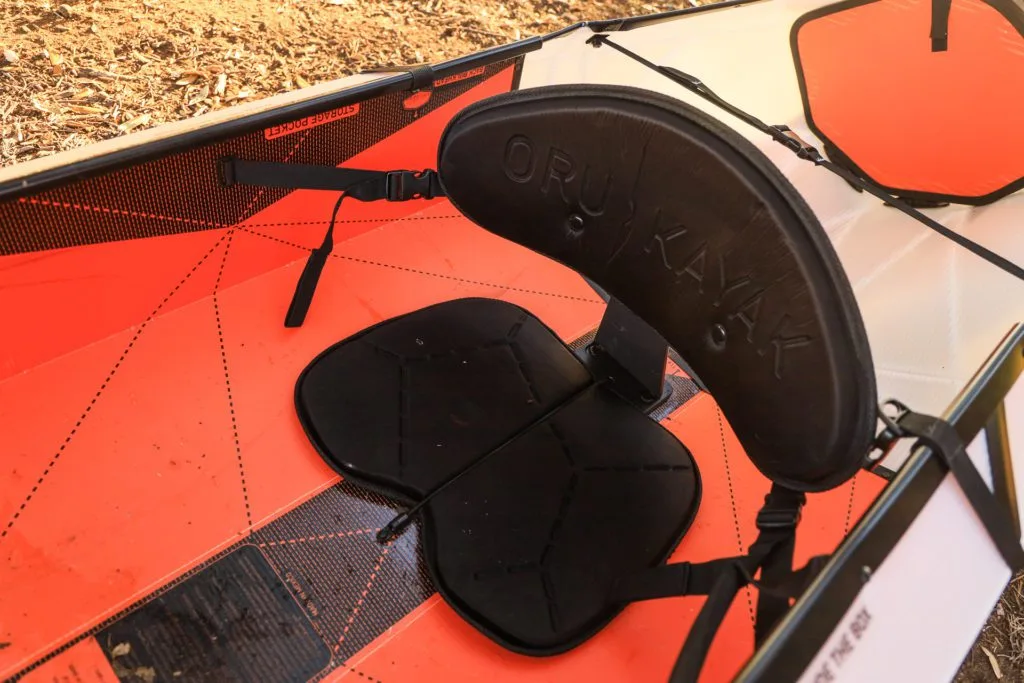 Comfort: That said, if you have a short torso, you may need a little extra cushion to raise you up a bit, because you are basically sitting on the bottom of the boat. That's mainly because the seat cushion is extremely thin. Don't get me wrong, it was certainly better than sitting directly on hard plastic as is the case in many conventional kayaks, especially budget-friendly ones, but there's not a lot of comfort or support there, so if you like some cush under your tush, you may want to consider bringing along an additional seat pad when you go for a paddle.
The super low seating position also means that if any water gets in the boat, you're gonna be sitting in a puddle. Just a heads up. I mean, that's not SO different from many conventional kayaks, but just putin it out there. In the summer, that's unlikely to be an issue, of course, but it you're paddling in colder weather (or water), it could become a smidge uncomfortable.
The seat back was definitely comfy and supportive, though, which was a pleasant surprise. I appreciated that it was adjustable (it easily slides up and down with the twist of a dial) so Josh and I could each really dial in the comfort level, even if we took turns with the boat.
Accessories: The Oru paddle, too, is adjustable, meaning you can swivel the shaft to set it to the angle you like (Josh likes his paddles straight and aligned, but I like mine at a 60º feather or angle). You can also increase the length of the paddle to suit your height and the boat you're in. Love it. And the pack, which is designed specifically for the inlet, makes carrying the Inlet around easy: it has duffle handles and backpack straps, plus a pocket for your paddle and other accessories, so you can hike down a trail with it or walk down the sidewalk to the nearest launch point. Not necessary, but definitely handy.
Assembly: As for assembly, when they say "Quick and easy," they're not joking. Once you've done it a few times you can just throw it together in about 5 minutes. That's less than half the time it takes to get our inflatables pumped and ready to go or conventional kayaks unstrapped and unloaded from a roof rack. Too easy.
Packability: And it's suuuper packable. Our inflatables might pack down a bit smaller, but only if you're really good at getting 100% of the air out and smashing them into a proper folded position, but not lighter (the Challenger is 27 lbs). And the inflatables are definitely more unwieldy. Because when it comes time to pack the Oru Inlet back up, you don't have to do any weird floor gymnastics to try to get all the air out, get the boat dried out, and stuffed back into its bag.
Ruggedness: The Oru Inlet is also going to last longer than inflatables. We've already had to patch one of our Challengers once and broken a paddle (not beyond repair) because of how frequently we use them. That makes the Inlet infinitely more sustainable in the long run. We definitely felt like we had to baby it less than our inflatables.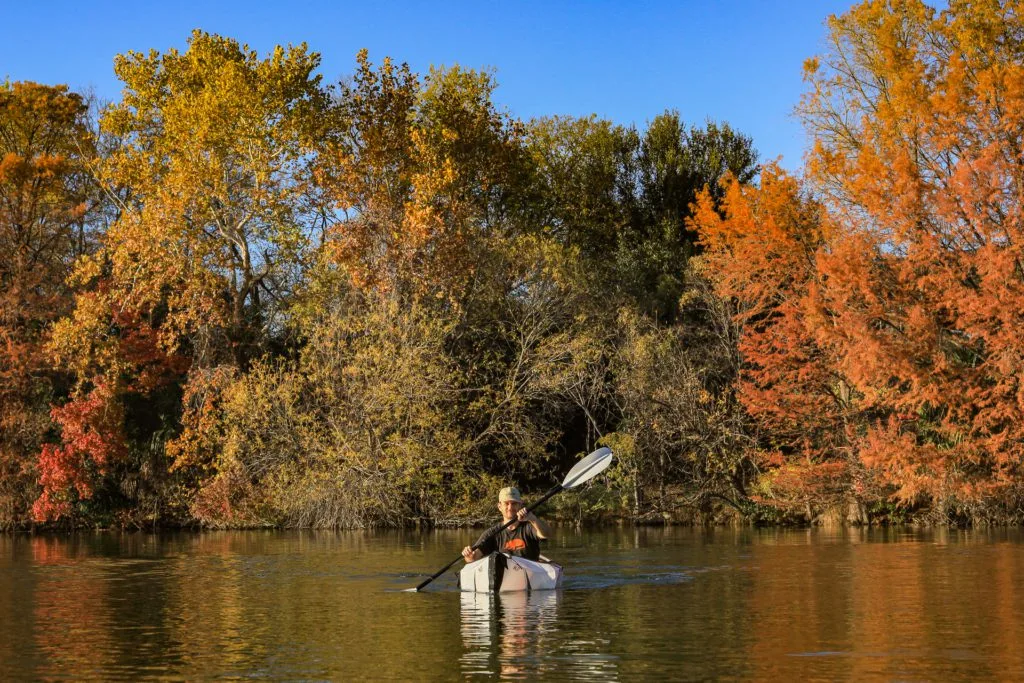 Bottom Line
The ease of use, portability, and ruggedness of the Inlet–not to mention the delightful innovation of a foldable kayak–makes this boat more than worth consideration in our book. It glides beautifully, is too easy to set up and put back away, and looks dang good doing it. And it makes spending time on the water and traveling to adventure with your kayaks imminently more practical and feasible, especially if you don't have the storage space for a conventional kayak (or two). Which is what Oru is all about: helping more people in more places connect to nature. And we can get behind that 100%.
Long story short: we absolutely would not mind having a couple of these in our gear closet. They'd see plenty of use in our beloved Austin and beyond, on road trips, and to reach those coveted island backcountry campsites. Ready to check one out for yourself? Find the Oru Inlet kayak here and the paddle and carry case here. Then get thyself out on the water and wander on.
•
*This post contains affiliate links, which means if you click a link and buy a kayak, you're supporting Terradrift because we may receive a small percentage of the sale. Thanks for that. You rock.
Alisha is a freelance writer and photographer based in Austin, TX. She loves her tiny house, vegan food and experiencing the community of travel in far away places. She's also pretty sure she's addicted to coffee. alishamcdarris.com