The Kingston daypack from Jack Wolfskin is one very sustainable pack that could literally save your life in an outdoor emergency.
The Kingston Pack with RECCO
Yeah. You heard me. Not only is this daypack made with 100% recycled materials and Blusign approved, this pack is outfitted with RECCO technology, which helps search and rescue teams locate you if you get lost in the wilderness.
Here's how it works: The patented RECCO technology is a two-part system, featuring an active detector, carried by the rescuer either on foot or in a helicoter, and a passive reflector, carried by the user. That's us.
The RECCO reflector is what makes you searchable to rescuers. It's a lightweight passive transponder that doesn't require power or any sort of activation to function. It consists of a diode and an antenna and that's it.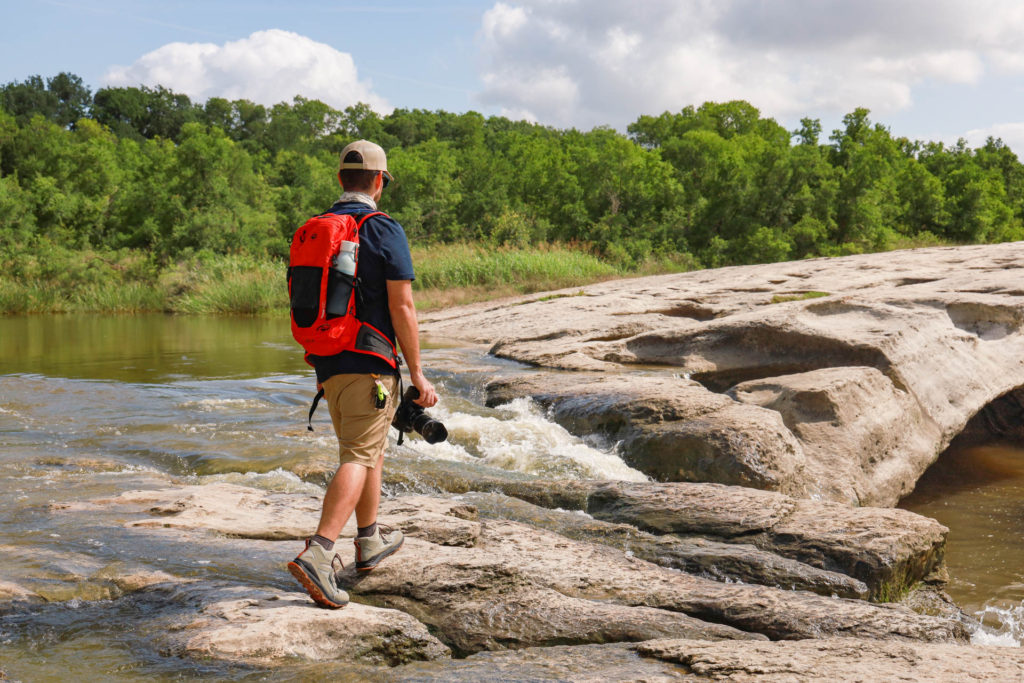 The RECCO detector emits a directional radar signal, like the beam of a flashlight. When the radar signal hits the RECCO reflector, it is echoed back to the detector and points the rescuer in the direction of the victim. Kind of like bat sonar.
The closer the detector gets to the reflector the stronger the signal, allowing the rescuer to pinpoint a lost hiker's location. And fun fact: they're designed to last a lifetime and won't ever wear out. They don't even require batteries or a subscription program!
You can buy reflectors to attach to helmets, backpacks, harnesses, you name it, but RECCO reflectors are also integrated right into a selection of products from more than 150 brands, including the Kingston 22 pack from Jack Wolfskin. It's actually built right into the little rubber strip on the top of the pack, offering peace of mind on every adventure.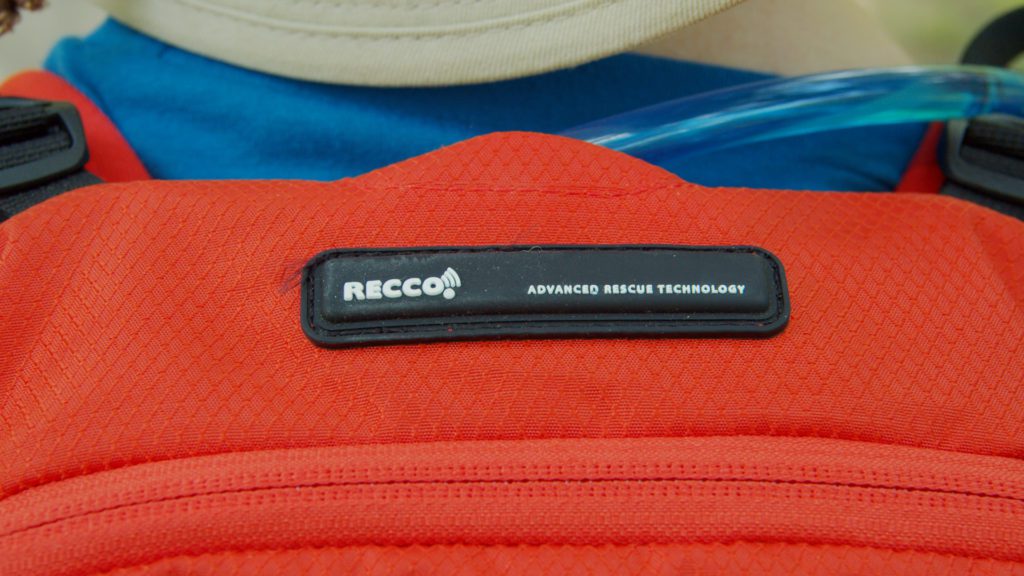 But that's not all we dig about this pack. It's also made of 100 percent recycled materials, is Bluesign approved, which is big, and is completely PFC-free. So yeah, it's sustainable.
It's a 22 liter pack (also available in 30L), so its nice and compact and perfect for day hikes. It has plenty of stretchy exterior pockets, accessory pockets, and of course a hydration sleeve. It even has a trekking pole attachment loop and a rain cover, which stuffs into its own pocket! And we love a day pack with an integrated (and removable) rain cover.
The back panel has a nice ventilation strip along the spine to promote airflow and it comes in a delightfully vibrant lava red and black.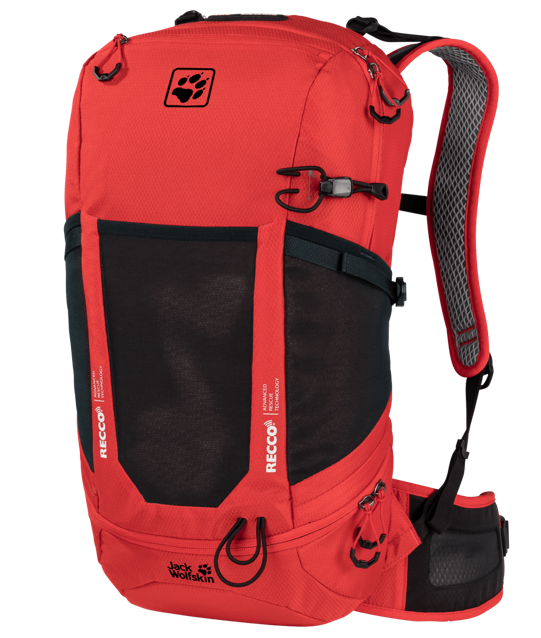 And we mentioned it's outfitted with RECCO tech, right?! So if you're hiking solo or in unfamiliar territory or have an accident out there in the wilderness, this pack can offer a lot of peace of mind.
It's no substitute for telling someone where you'll be and when you'll be back, of course–and you should ALWAYS tell someone where you'll be and when you'll be back–but this pack can literally help save your life in an emergency situation.
And since it comes in 22 and 30 liter, there's a size to suit every day hiker. So yeah, whether you're a seasoned outdoor veteran or new to the whole hiking thing, this pack is for you. So gear up, wander on, and stay safe out there.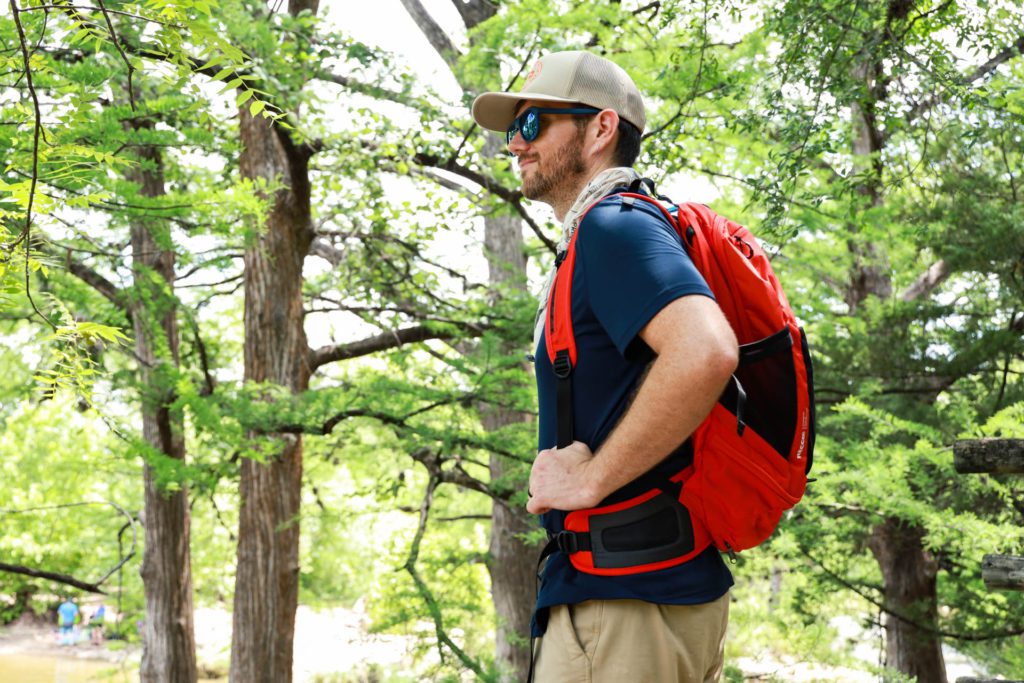 •
This post contains affiliate links, which means if you clicky-click and make a purchase, you may be helping to support this channel!
Alisha is a freelance writer and photographer based in Austin, TX. She loves her tiny house, vegan food and experiencing the community of travel in far away places. She's also pretty sure she's addicted to coffee. alishamcdarris.com