We love a good sun shirt here at Terradrift. Not necessarily because of any UPF claims (if you read our post on UPF clothing you know it doesn't really offer more protection than other clothing for most outdoorists), but because we love shirts designed to cover our delicate epidermis, wick sweat, and dry quickly all at the same time! Bonus if there're infused with any sort of anti-odor properties so that when we wear them for four days in a row on the trail, we don't smell so bad we make our campmates pass out.
So we tested out a few rad sun shirts recently to see how they performed in the great outdoors, what they were best for, and whether or not their anti-odor technology was all it was cracked up to be. Here are our faves.
Stench Scale: We will rate each shirt from 1 to 10, with 1 being only mildly offensive and 10 being nostril-burningingly repulsive. (A non-treated, sweaty, synthetic shirt we compared it to got an 11. 😅)
4 Sustainable Sun Shirt Reviews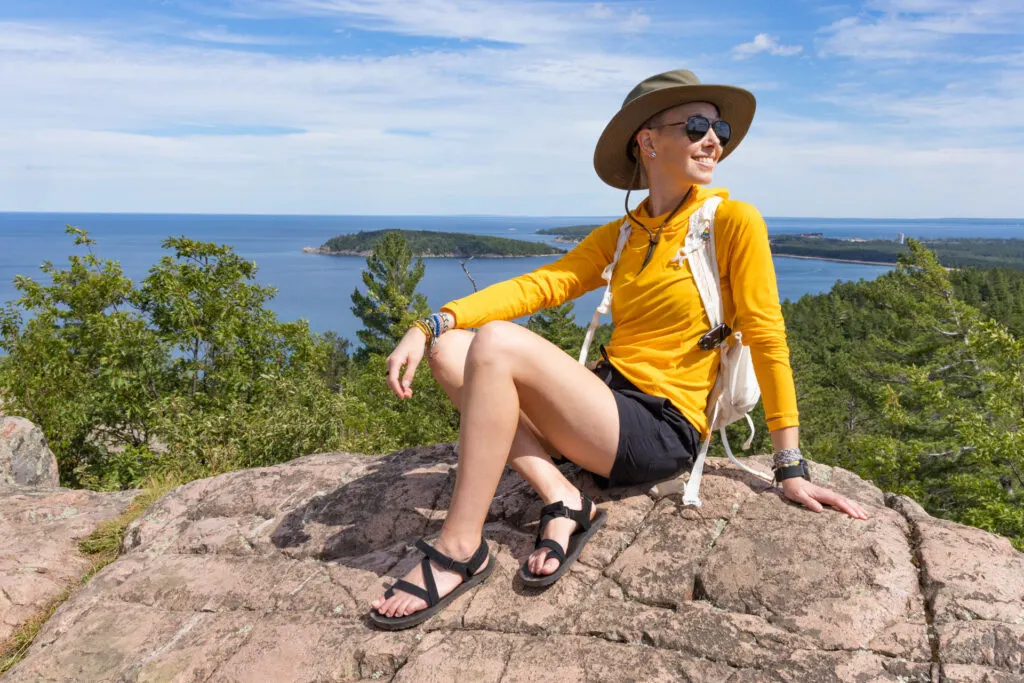 Outdoor Research Echo: Best for warm weather and ultralight adventures
The OR Echo line is a popular one with ultralight backpackers and thru-hikers for a reason: it's light, it's breathable, and takes up almost no space in a pack. Plus it comes in fun colors and plus sizes (up to XXXL!). Available in short sleeve, long sleeve, tank top and quarter-zip, the hoodie might be our favorite for summer adventures.
It's made with 100% recycled materials and features the brand's AirVent™ moisture management technology, an almost mesh-like fabric, that keeps you cool and dries super fast. It's also extremely light. The lightest on this list, in fact. There are also thumb holes in the long sleeve shirts–huzzah–and a pony tail hole in the women's version.
The shirts are only rated as UPF 15, but I'd say for most people and most adventures, that's perfectly sufficient. Plus, they feature ActiveFresh anti-odor technology to keep the shirt from smelling as bad after you sweat through it.
What we liked: I really dig this shirt. Honestly, it's probably my favorite of the bunch for summer wear. It's quite breathable for a synthetic shirt, ultralight–in fact, I watched PCT-thru-hikers go bananas for it–and compresses really small, which is great for backpacking. It fits well, the thumb holes are perfectly positioned, and that pony-tail h
Dings: The ultralight fabric MAY not be as durable as some of the other shirts on this list and the lighter colors are a bit see-through.
Stench Scale: 5/10. The anti-odor tech worked pretty well. After several days of sweaty activities, there was only some odor once it dried.
Find the men's Echo here and the women's Echo here.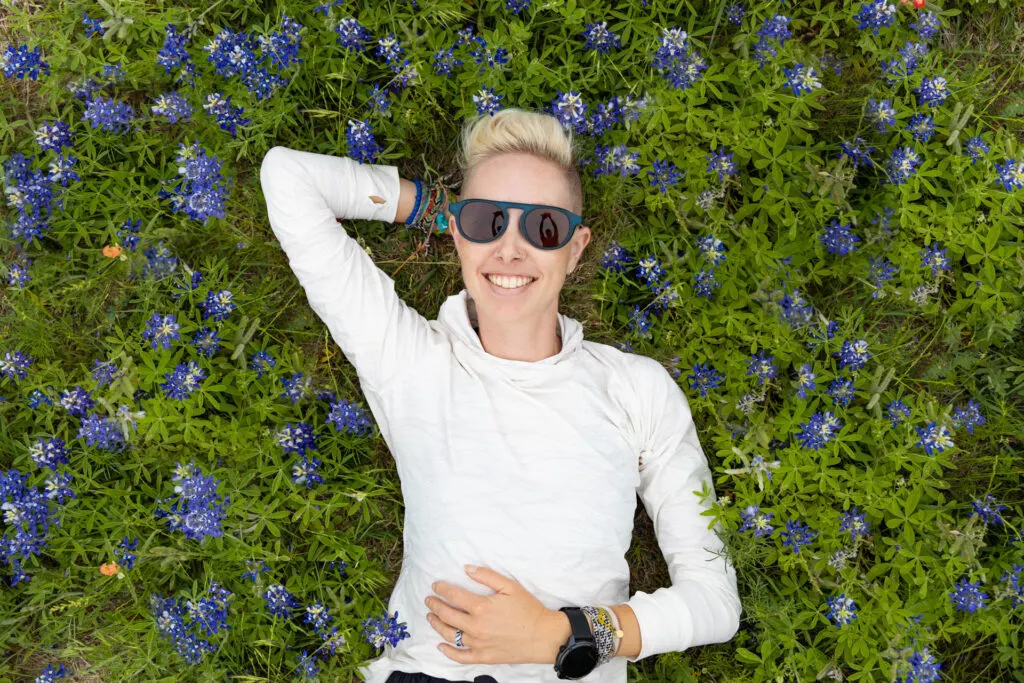 Coalatree Suray: Best for freedom of movement
This shirt, made of Acteev just dropped this September. It's available in a handful of light colors and subtle patterns and it's rated UPF 50+. The UPF protection comes from zinc, which is embedded directly into the molecular structure of the fabric. But that zinc also has anti-odor properties, so, double-whammy.
There are thumb holes, a zipper pocket on the right side seam that the shirt can stuff into for easy packing, and the silky fabric is fast-drying and super stretchy, which makes it ideal for activities that involve a wide range of motion like rock climbing or mountain biking.
What we liked: The Coalatree Suray is made with really stretchy fabric that's super silky to the touch and very bouncy, which means it has no trouble moving with you. I dig that it comes in light colors and subtle patterns, because, you know, sun. I don't love dark colors when I'm gonna be hiking in full sun for hours. And when it got damp with sweat, it felt cool on my skin while running in the summer.
Dings: While the fit of the shirt was fine, when using the thumb holes, the sleeves were definitely stretched out. And I don't think I have particularly long arms. And while the pocket on the side was a nice touch, it has limited application. A tube of chapstick or maybe a key and a credit card fits fine, but unless your shirt is super fitted, anything heavier bounces around when you move.
Stench Scale: 8/10. The anti-odor tech seemed to be the least effective of all the shirts on this list.
Find the the Suray here.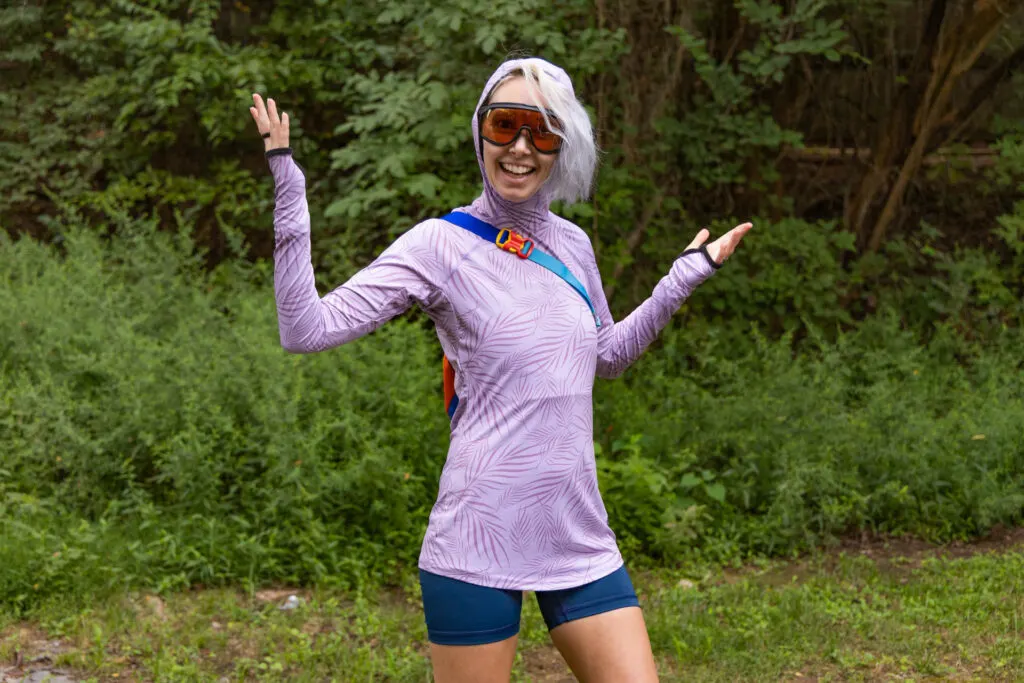 Blackstrap Brackish: Best for water-based adventures
The Blackstrap Brackish sun shirt is available in crew neck or hoodie, men's and women's, and in an average spread, but not exceptional. There are thumb holes, of course, but the hood is more fitted and snug than the other shirts on this list. Actually, the whole shirt is more snug and more fitted.
That's because Blackstrap makes gear intended to be used in, on, and around water. That means in addition to being UPF 50+, it's also chlorine and salt-resistant, meaning it shouldn't fade or deteriorate as quickly as cheaper clothing not purpose-built to be near water. It has nice long sleeves and a longer hem, too. It's anti-microbial, which means it will have some anti-odor properties, and is made right here in the USA.
The brand also has a waste up-cycling program so their scraps and off-cuts get put to use in gear like headbands and goggle covers instead of getting tossed in a landfill.
What we liked: If I was going to pick one shirt to wear swimming, tubing, to the ocean, the pool, you name it, it would be the Blackstrap Brackish. The fit is snug, which means it won't stretch out and flop around in the water. Plus, I really like the long hem, which covers your butt, a welcome feature when in swimwear.
The super stretchy fabric may be the most comfortable on the skin when compared with the others on this list. Less breathable than the OR Echo, but very soft. It doesn't feel as plasticy as synthetics sometimes can. Plus, the long sleeves allowed me to jam my thumbs in the purpose-built holes and there was still plenty of slack and room to move.
Dings: There aren't many neutral or un-patterned shirt designs to choose from, which may be a bummer for some (like me), and they are made of entirely virgin materials.
Stench Scale: 4/10. Not bad!
Find the men's here and the women's here.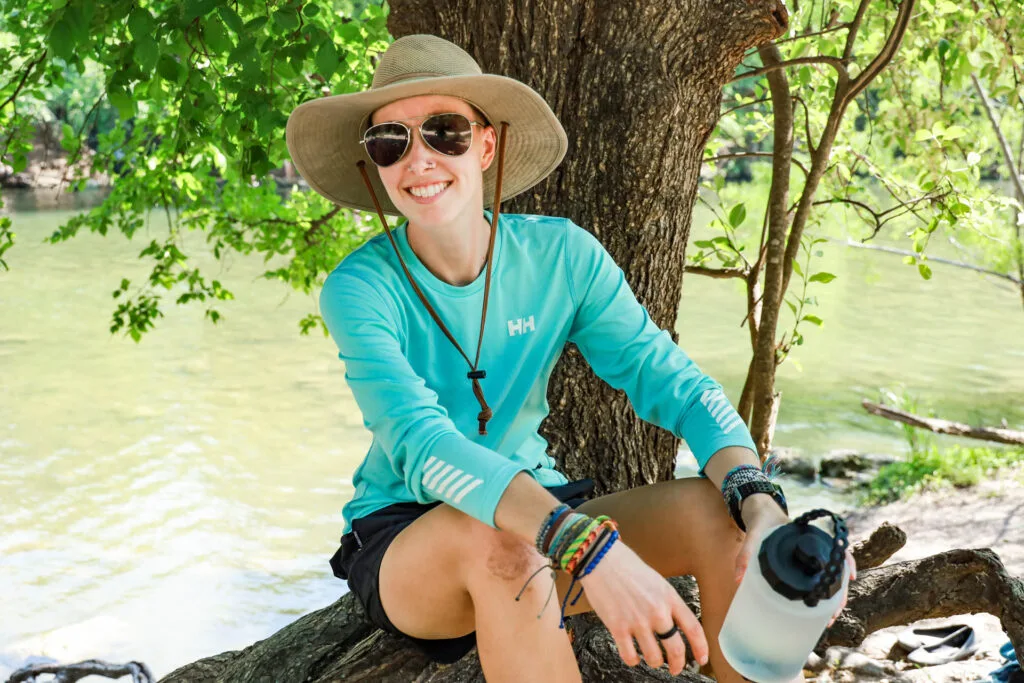 Helly Hansen Lifa Active Solen: Best for cool weather
The Helly Hansen Lifa Active Solen sun shirt is available in long- and short-sleeve versions, plus a hoodie, and in a handful of colors, mostly neutrals. The shirts are rated UPF 50+ and are made with 60% recycled polyester fabric, which is infused with S.Cafe technology, up-cycled coffee grounds that not only boost sun protection without having to use chemicals, but has anti-odor properties, too.
It's fairly lightweight, but the fabric is a little bit thicker than the others on this list, making it ideal for less sweltering days. That said, it also has more texture to it, so it doesn't cling to your skin the way some smooth synthetics can.
What we liked: The Helly Hansen Lifa Active Solen is the sun shirt I've had the longest. So I've used it in a lot of temperatures and situations. And while I think it's probably most comfortable in cooler weather, I do appreciate that the material doesn't feel sticky and clingy in warmer climates. In fact, it might be the least synthetic-feeling on this list.
Dings: Not many colors available.
Stench Scale: 2/10. We were pleasantly surprised to find that it seems the most natural odor-suppresent (coffee) is the most effective one. This shirt hardly smelled at all after testing.
Find the men's here and the women's here.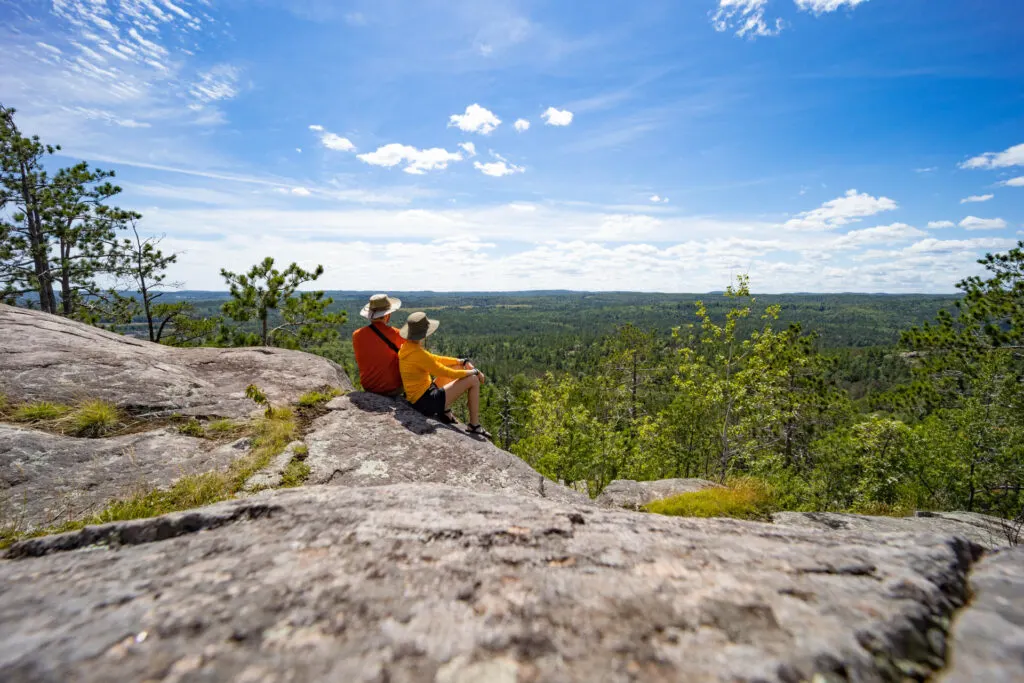 Bottom Line
Sun shirts are a great way to protect your skin and stay cool when participating in sweaty activities outdoors in the summer. (Pro-tip: soak the fabric with water for an amplified cooling effect.) They even function well as moisture-wicking base layers in cooler months. And it turns out, while anti-odor technology varies from brand to brand, it does seem to keep the stench at bay compared with untreated synthetic shirts, which caused panic and revulsion every time a hiking buddy lifted their arms within sniffing distance.
So protect your skin and stay cool out there. And don't require your companions to wear gas masks on day three of a week-long adventure. That's just rude.
•
This post contains affiliate links, which means when you make a purchase using the links above, you might be helping to support this channel and more great sustainability content!
Alisha is a freelance writer and photographer based in Austin, TX. She loves her tiny house, vegan food and experiencing the community of travel in far away places. She's also pretty sure she's addicted to coffee. alishamcdarris.com