Michigan's Upper Peninsula has been a favorite of ours ever since our first Michigan road trip in 2020. The coastline, the woods, the dispersed camping… In fact, we loved it so much we went back last summer to backpack on Isle Royale National Park! So when we got the chance to return again this summer (like a boomerang), we jumped at the chance to explore and see what adventurous things we could get up to in Marquette.
We spent three days marveling at the aptly named Lake Superior, jumping into it's frigid waters, watching competitive mountain bike races, discovering delicious vegan food and beer, and hitting some single track! So if you're wondering what to do in Marquette, Michigan, especially where outdoor adventure is concerned, we've got you covered.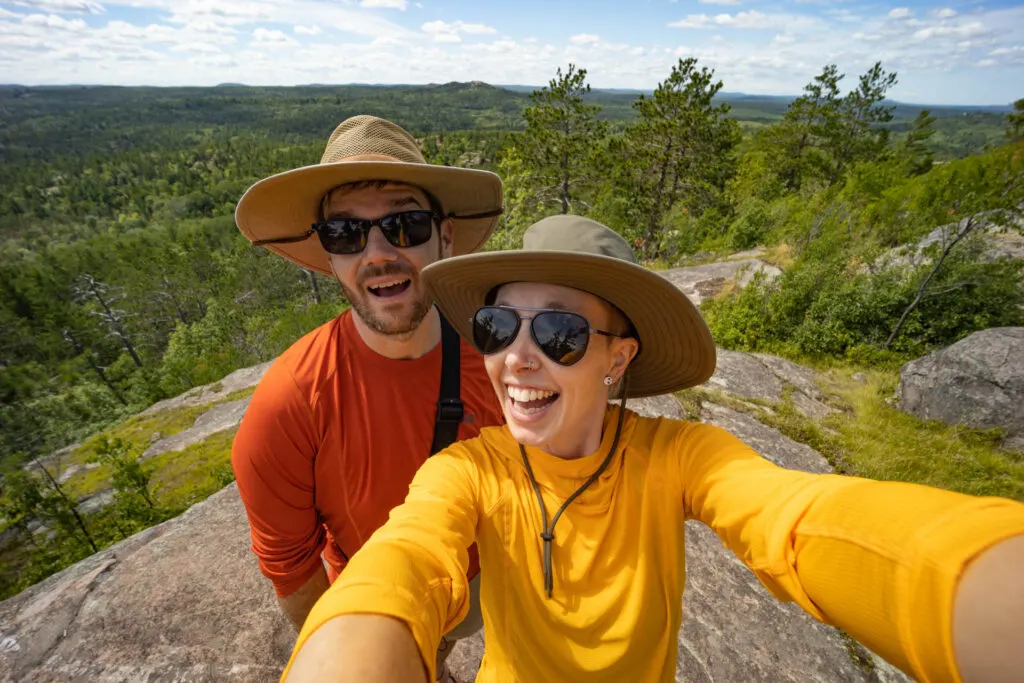 What to do in Marquette, Michigan
There's no shortage of outdoor adventure in Marquette. We recommend at least three or four days to explore as much of the area as you can.
Play
Get outside and explore. There's more mountain biking and hiking in Marquette than you could enjoy in months.
Lower Harbor Park
Whether you just want to have a picnic on the lawn with a view of Lake Superior, start a run, skate or cycle on the paved recreation path, check out the old ore dock, or attend one of the many waterfront events that takes place here (like the Festival of Sail that was happening while we were in town), head to Lower Harbor Park. It's a pleasant place to sit, relax, squeeze in some exercise, or just take in the views just a block or two from downtown.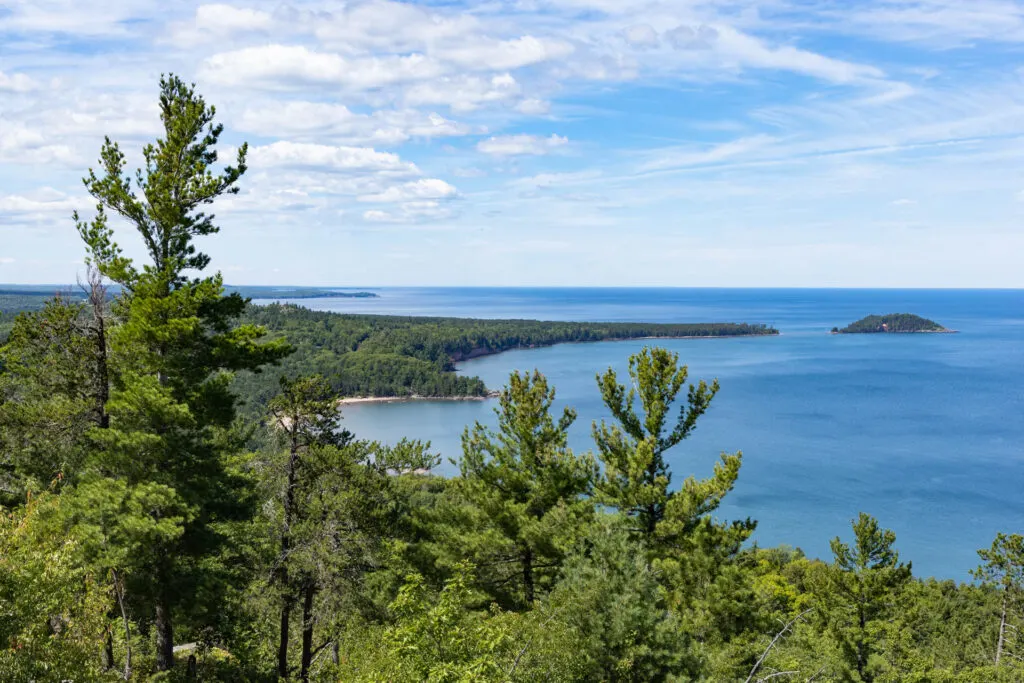 Hike Sugarloaf Mountain
Ready for a hike? Hit up Sugarloaf Mountain, which is a short drive from the city center. Most of the hike is forested and easy with a more heart-pumping section of stairs that leads you up and up, but the effort is more than worth it, trust us. Why? Because at the top you'll enjoy 360º views from multiple viewing platforms of Lake Superior and the rolling, forested landscape below. Picture perfect!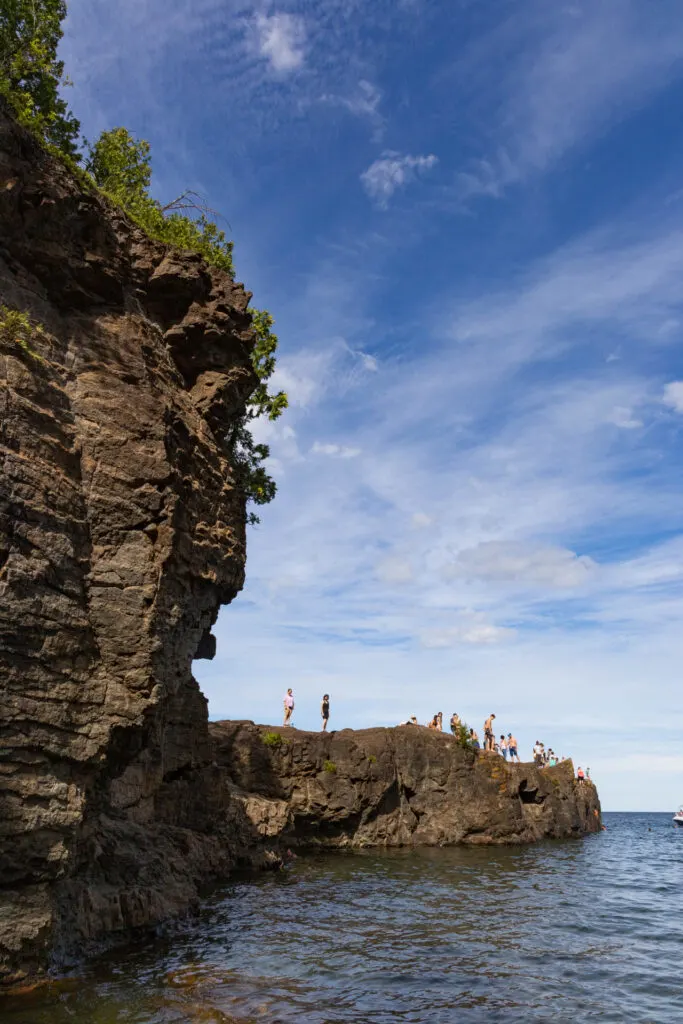 Presque Isle Park: Black Rocks Beach
Presque Isle Park is a lovely park ripe for exploration. What's more, you can easily ride your bike from downtown on the paved path if you don't want to drive! There are miles of trail within the 323 acres of parkland, and since it's situated on a chunky peninsula of sorts, a perimeter trail offers access to killer views of the lake from three sides, including a great spot on the western side that's perfect for sunset viewing.
But if you head over for a hike, don't miss an opportunity to check out Black Rocks Beach. It's the perfect spot for a very chilly dip in the summer (the water is super cold year-round, so be prepared) and you'll often see locals and visitors alike jumping into the blue water from the rocky cliffs just a few yards away from the beach. Yeah, it's cold, but who cares; come prepared to get wet and jump in anyway.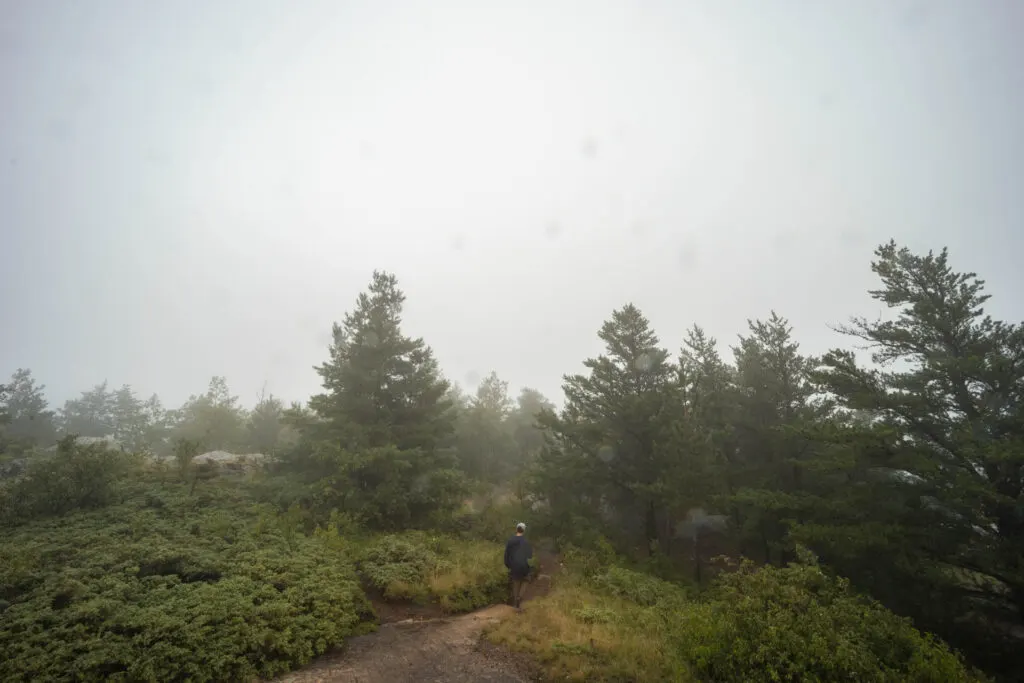 Hogback Mountain
When you're ready for a slightly longer hike with stunning views and a bit more challenging terrain, head to Hogback Mountain. You'll hike through lush forest to reach the top of the mountain, which offers stunning views of the surrounding landscape. Or so we're told. We visited on a particularly rainy day. But frankly, we were still pretty impressed with the moody vistas from the rocky mountaintop. Note that a recreation pass is required for this park.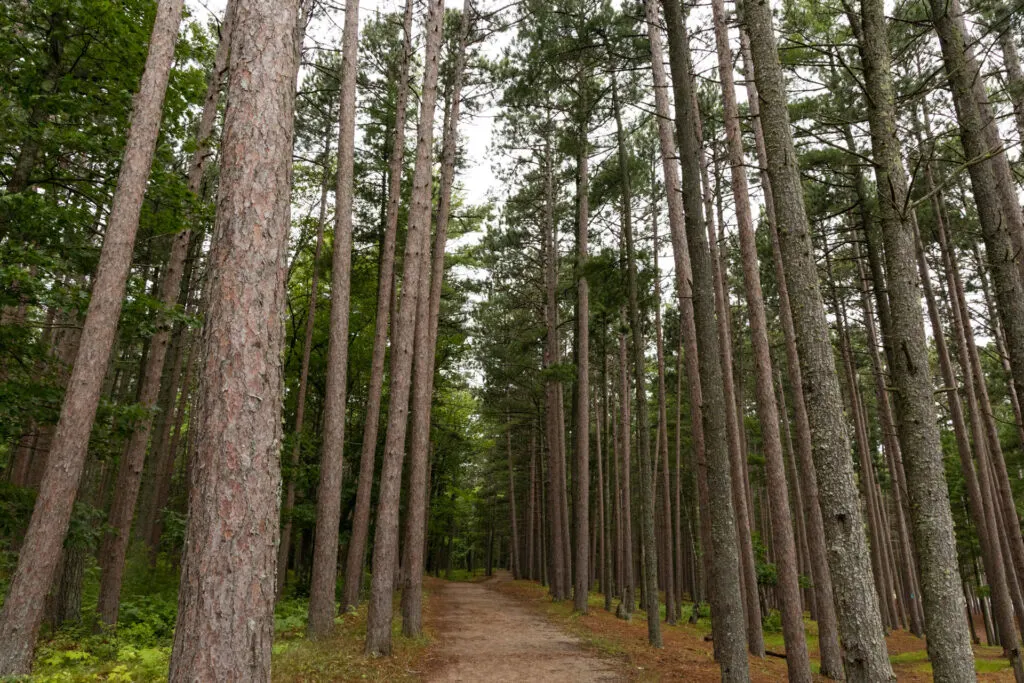 Little Presque Isle
Yup, there's a Presque Isle and a Little Presque Isle. So don't get them confused. Though, conveniently, they're not far from one another. And while Little Presque Isle may not be as spacious (as the name suggests), it's worth a visit even if all you do is stroll through the pines on the wide, flat trail to the beach and the lookout point where you can either chill on the sand or, on a calm day, and with sturdy sandals, wade through the water to the little island beyond. Note that a recreation pass is required for this park.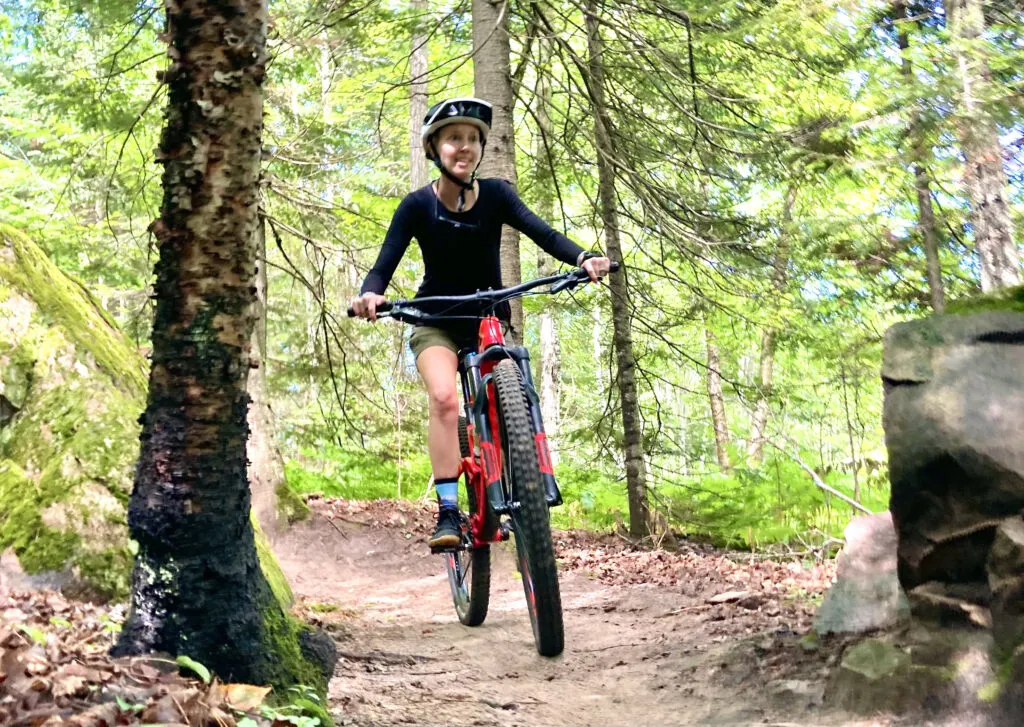 Mountain Biking
No trip to Marquette would be complete without a turn on some single track. And the city has some excellent options. The North Trails and South Trails on the Noquemanon Trail Network may be the most popular, with more beginner-friendly tracks existing on the North Trails. There are a variety of difficulty levels, but many run alongside lakes, waterfalls, and through varied and beautiful terrain. Spend a few hours at least exploring.
Didn't bring your bike? We didn't either. Rent one from MQT Bike Rentals, a small business we highly recommend!
Of course, if you're not the mountain biking type, you can also hike these trails or pedal a cruiser or road bike up and down the lakefront on the paved, 47-mile Iron Ore Heritage Trail, too. Oh, and if you happen to be in town for the Ore to Shore Mountain Bike Epic, go watch the 48-mile competitors take off at 35 mph and then hit the trails for a truly epic race.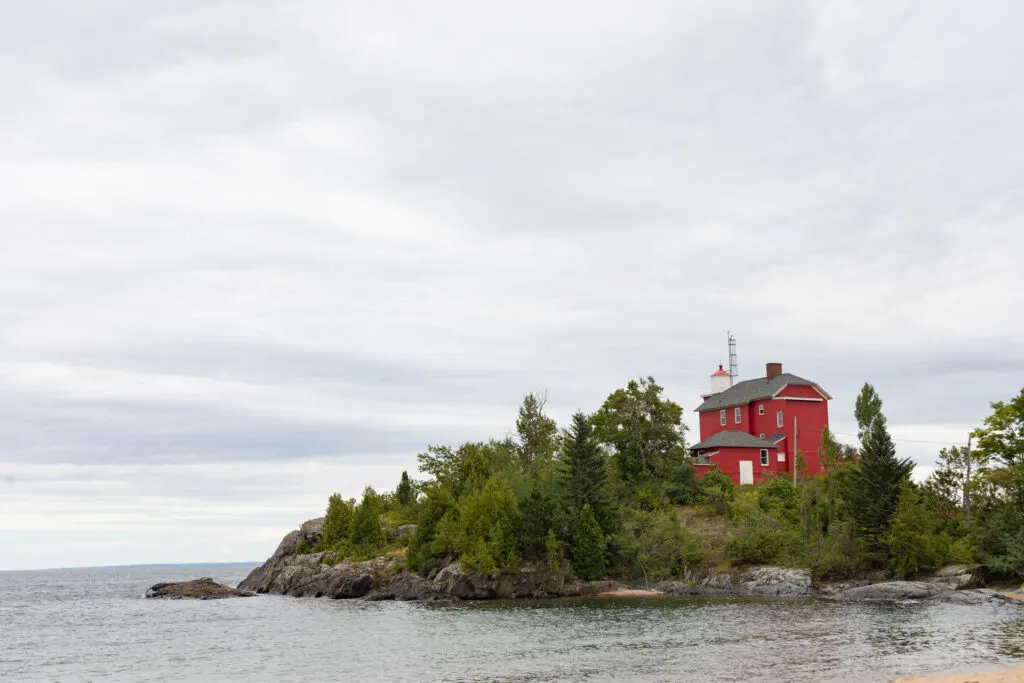 Marquette Harbor Lighthouse
No trip to Marquette (or indeed anywhere near costal Michigan) would be complete without a lighthouse visit. Fortunately, you don't have to go far: The Marquette Harbor Lighthouse is just a short drive or leisurely stroll or bike ride from downtown and Lower Harbor Park. So head over, snap some pics, limb on the rocky beach below the lighthouse, and explore history.
Eat + Drink
There's plenty to slake your appetite after a long day of playing outside. Even vegans and gluten-free folks will find enough to satisfy.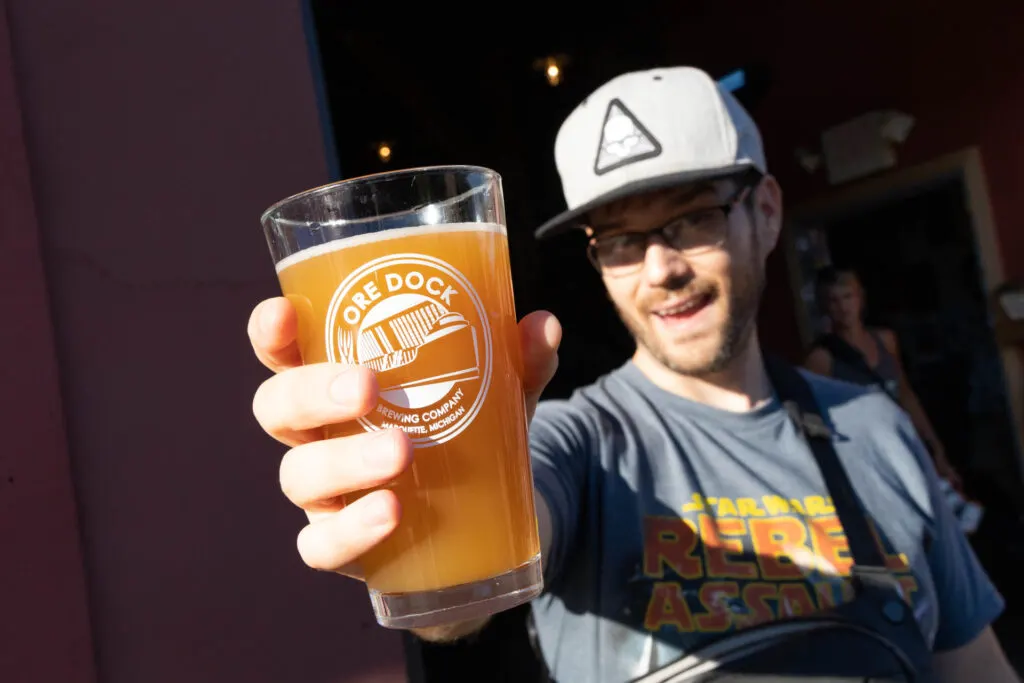 Local Beer
Want to sample some hops-based tastes of the region? There are a number of local breweries in Marquette. Head to Ore Dock Brewing Co. for Belgian beer, Blackrocks Brewery for IPA's, and Barrel + Beam for hard cider and farmhouse ale.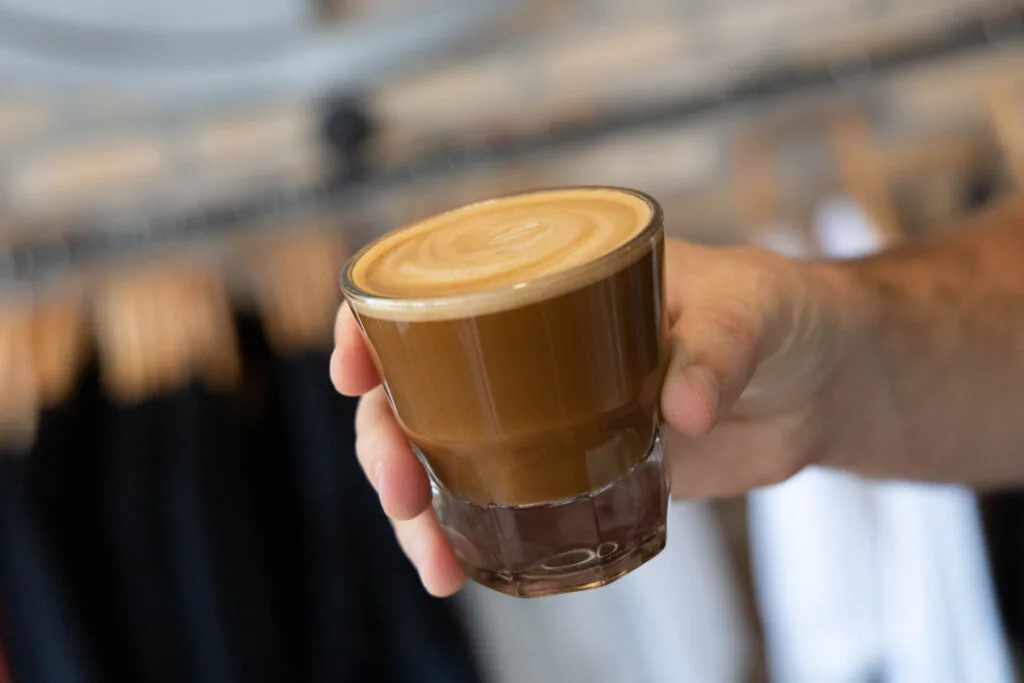 Local Coffee
We love coffee here at Terradrift, so it shouldn't come as a surprise to you that we visited all 5 local coffee roasters in Marquette in 3 days. The oldest roaster and our favorite of the trip: Dead River Coffee Roasters with The Crib (with it's vegan baked goods) coming in at a heel-stomping second. Also stellar: Velodrome, Contrast Coffee, and Provisions MQT.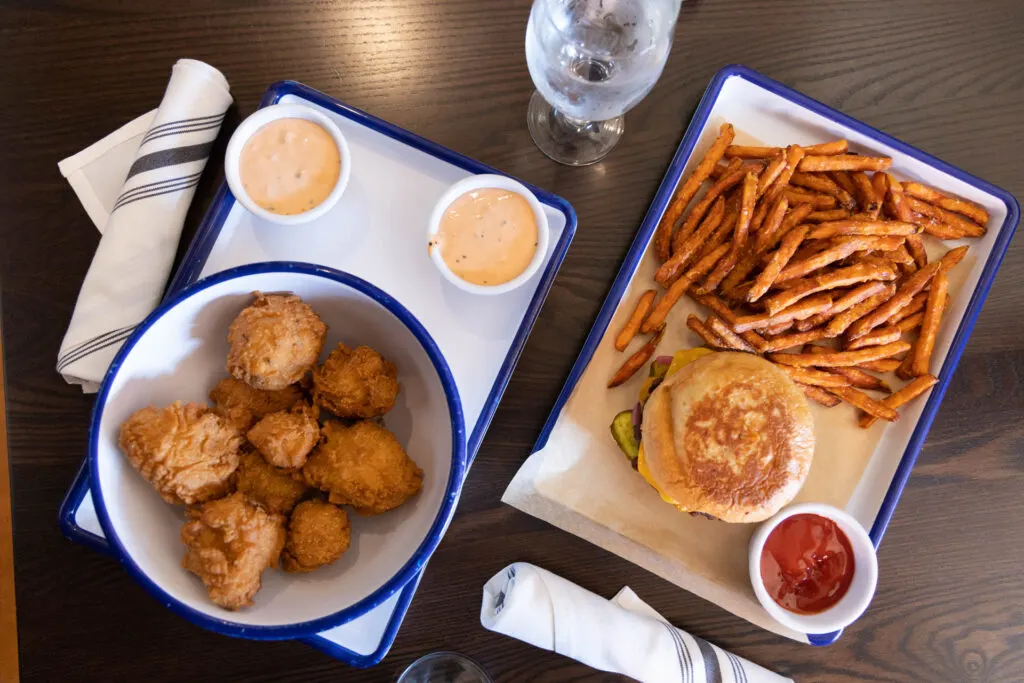 Northland Gastropub at Landmark Inn
Inside the historic Landmark Inn that sits high on a hill that overlooks the harbor is Northland Gastropub, which serves up tasty fare, including several Terradrift-approved vegan options (greasy Impossible burger and fried cauliflower bites, anyone?). It's also a bar, so you can sample local brews while you dine, but for a touch of class, head up to the 6th floor for cocktails at the mermaid- and nautical-themed Crow's Nest.
Uhh, bonus: the inn is purportedly haunted, so that's fun. If you want to experience the spooky happenings yourself, book a stay in room 604.
Iron Town Pasties
Technically located in Negaunee, we recommend stopping by Iron Town Pasties if you're even remotely nearby. After all, a pastie (the first syllable rhymes with fast) is a regional staple in these parts, and for good reason: a savory, warm, filled pocket pastry is 100% what you want on a cold Michigan morning. And they even have two vegan options! Just make sure to call ahead for those.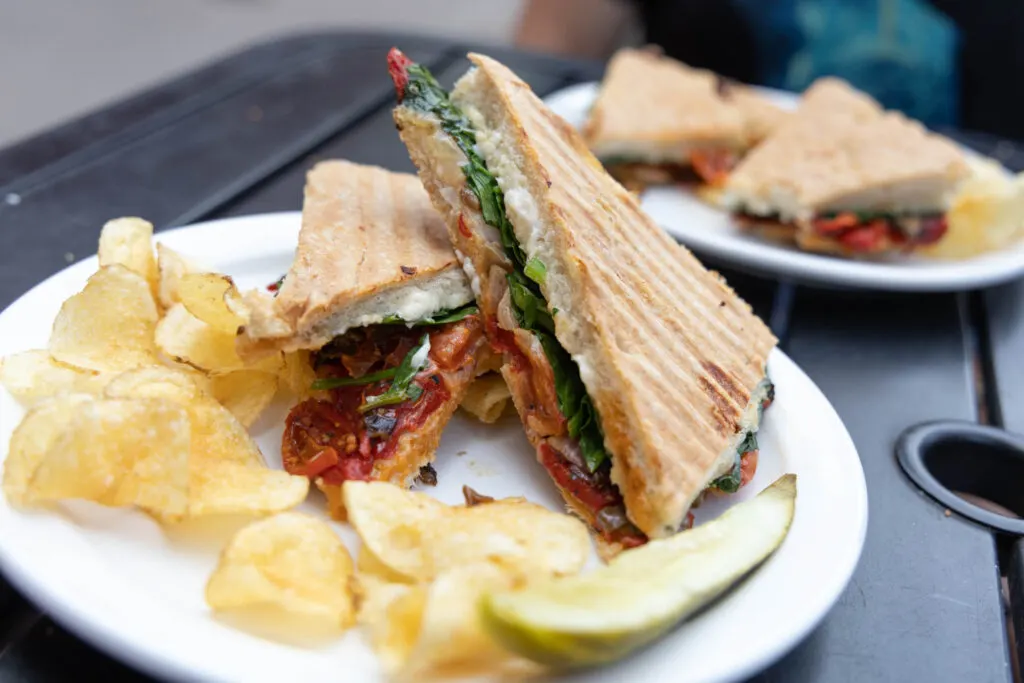 Babycakes Muffin Company
For sandwiches and baked goods (including a tasty roasted veggie sammy and muffins for my fellow vegans), head to Babycakes right on the main drag. Fill your belly, then take some treats to go.
Marquette Farmers Market
If you're in town during the summer when the farmer's market is on, make sure to stop by on a Saturday. Not only is there an abundance of fruit and veg, but coffee, baked goods (including gluten free and vegan options), and specialty items abound. Check the schedule here.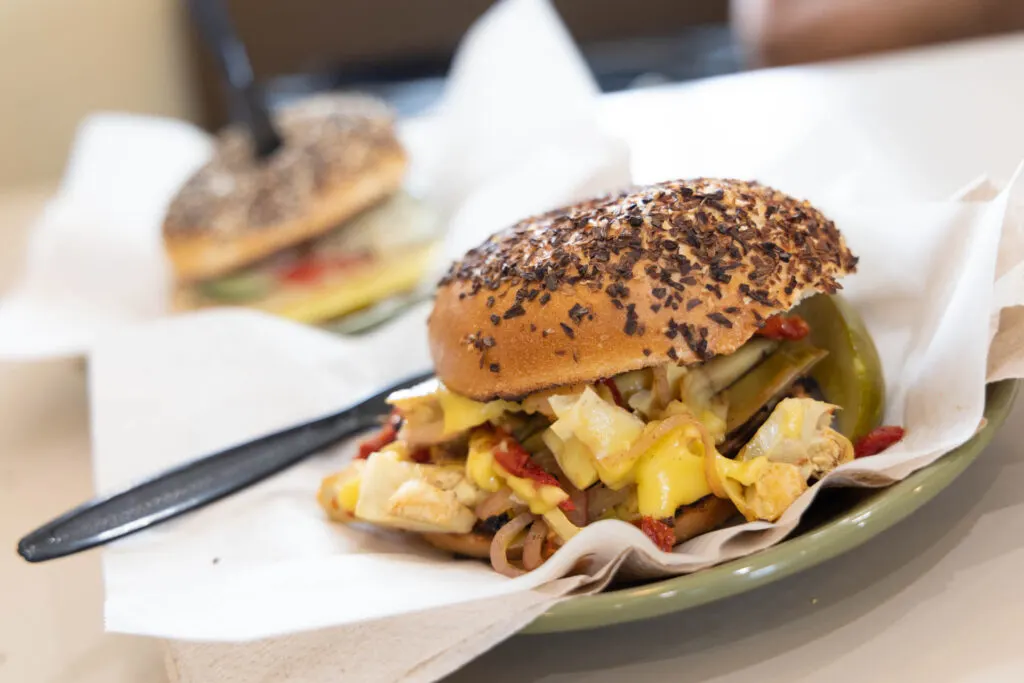 Third Street Bagel
Want to fill up fast and without breaking the bank? Third Street Bagel is where it's at. There are even a few vegan options, which are loaded with veggies. It's across the street from Blackrocks Brewing, so head over and quench your thirst after you dine.
Marquette Food Co-op
Whether you need groceries, snacks, a grab-and-go meal, or a cold sixer, head to the Marquette Food Co-op, which is just a short walk from the main strip downtown. There's something for everyone, including vegans and those with dietary restrictions.
Donckers
Like candy and chocolate? Head to Donkers. There are truffles, tons of candy, even vegan chocolate bark. And the restaurant upstairs offers lunch, including a vegan option or two.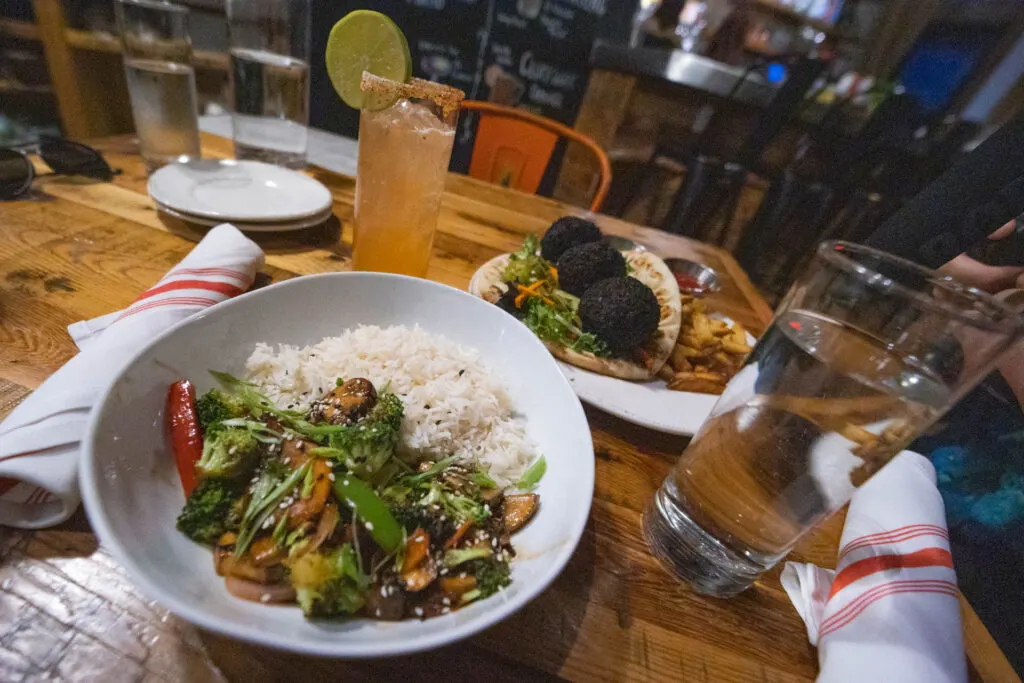 Delft Bistro
Like good food? And movies? Head to Delft Bistro. The restaurant, which is located in an old theatre, plays movies on the wall (sans sound) while you dine and many of the excellent cocktails are named after famous films. Plus, the food is good, that atmosphere is on point, and there are multiple vegan and GF options. Our humble recommendation: anything with the blackened carrot-ginger balls. Trust us.
Other
Sometimes, places and spaces define categories, OK? So shop, hang, or do whatever at these hot spots we recommend.
Snowbound Books
I have a problem. And it's books. As in, I can't pass up a local bookstore without going in and buying a title or two. And frankly, Snowbound Books may have the best curated collection I've seen in a long time. Seriously, I wanted to buy every book the staff, who are clearly awesome, displayed and recommended. So go check it out.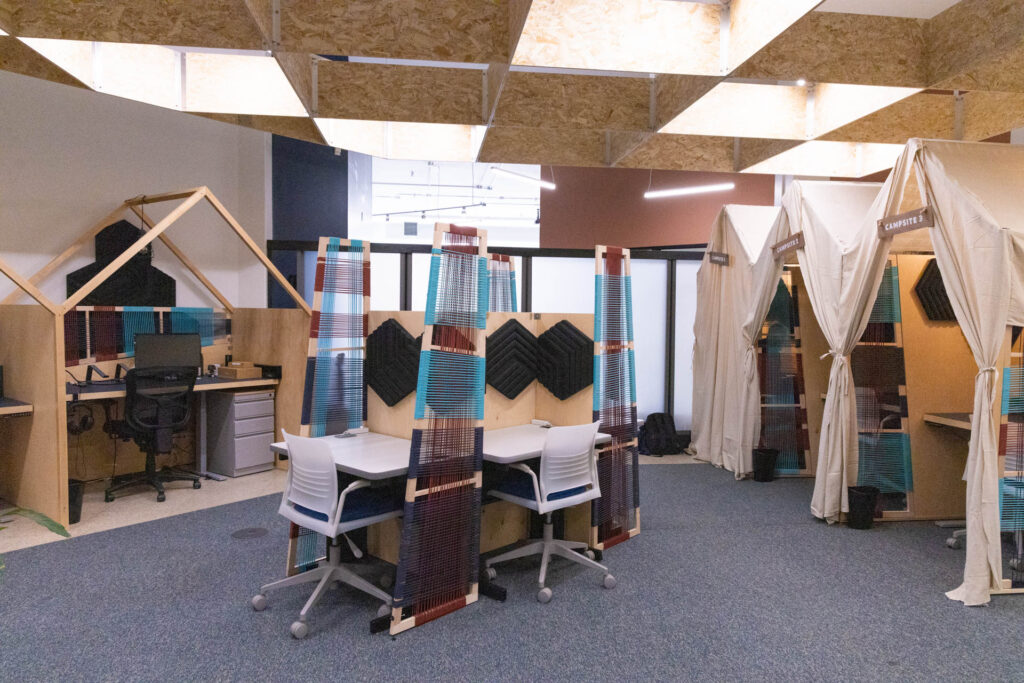 Campfire Coworks
In this age of remote work, when even folks who aren't travel bloggers need a place to knock out a few hours of productivity, a co-working space is a beautiful thing. Well, this co-working space is, and not just because it has a chill outdoorsy vibe. It's quiet, there are several distinct workspaces, food and drinks are available, and you can even score a day pass for $15, which is perfect for travelers. Check out Campfire Coworks here.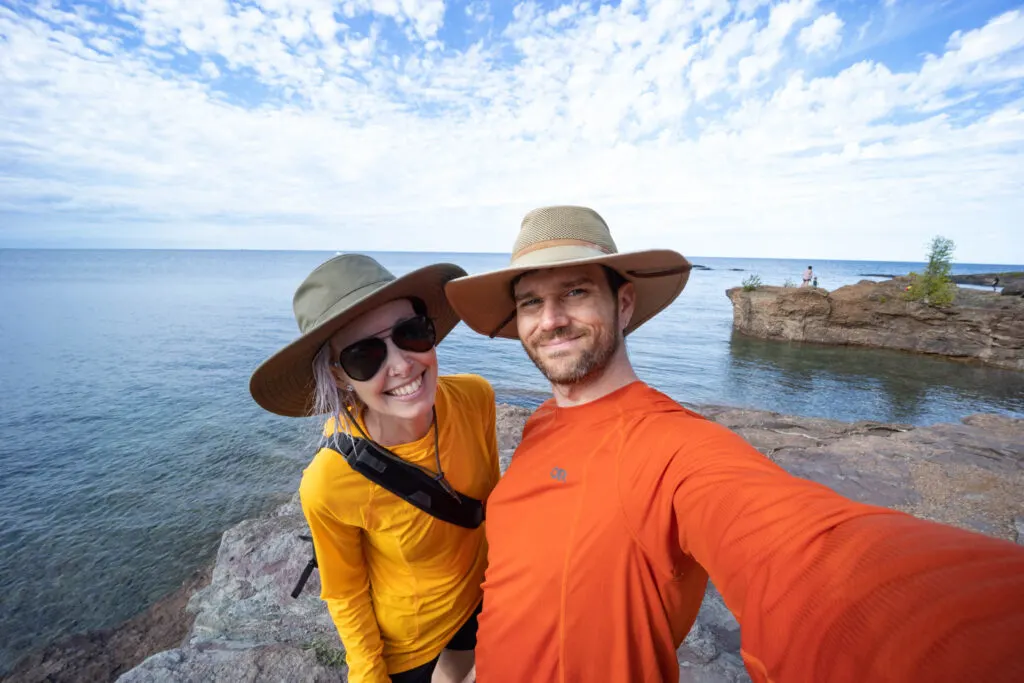 Bottom Line
There is no shortage of things to do in Marquette, Michigan, especially when it comes to outdoor adventure. So much so that we may have uttered a threat or two to relocate… But perhaps we should stick around to experience what winter is like first? I mean, I could go for some fat tire biking in the snow, cross country skiing and snowshoeing!
But in the meantime, we will dream of forested single track, epic lake views, and pine-scented hikes. And we recommend you get your adventurous self up to Marquette to wander on.
Alisha is a freelance writer and photographer based in Austin, TX. She loves her tiny house, vegan food and experiencing the community of travel in far away places. She's also pretty sure she's addicted to coffee. alishamcdarris.com