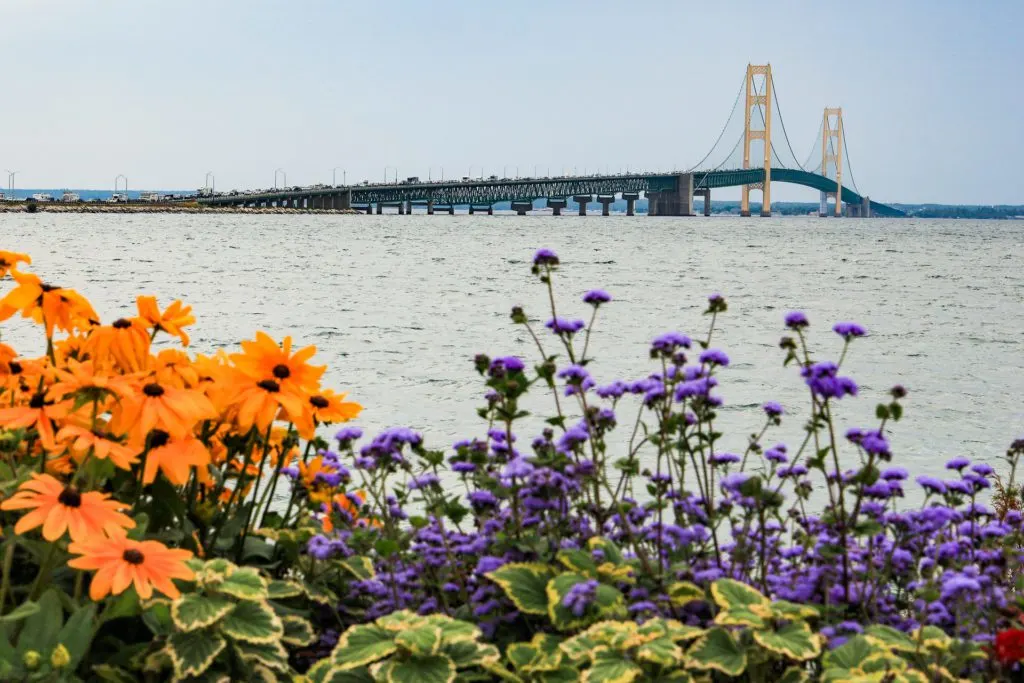 We grew up in Ohio. So it may come as a surprise that neither of us spent much time in Michigan growing up (for those of you who haven't looked at a map in a while, the states share a small border). So when we got the opportunity to take a socially distant road trip this summer (we love road trips!) filled with plenty of camping, stunning hikes, brilliant night skies, and very cold lakes, we thought, Why not? So we packed the car and set out on one very impromptu and outdoorsy Michigan road trip. Here are the deets so you can recreate it if you feel so inclined.
Michigan Road Trip Itinerary
I will say straight up that we more or less called this a familiarization trip. I.E. We barely scratched the surface, but now we know where we will be headed back for some more in-depth exploration. And you may notice there aren't really any cities on the route. That was on purpose. While we love a good city break to fill our bellies with excellent vegan food and explore unique shops, cultural attractions and makers, this summer just didn't seem like the right time to get into all that. So we erred on the side of caution and stuck with smaller towns (be sure to grab coffee or take-out at any of the towns between the major attractions) and outdoorsy destinations in order to keep ourselves and the locals as safe as possible! But that's doesn't mean we had any less fun!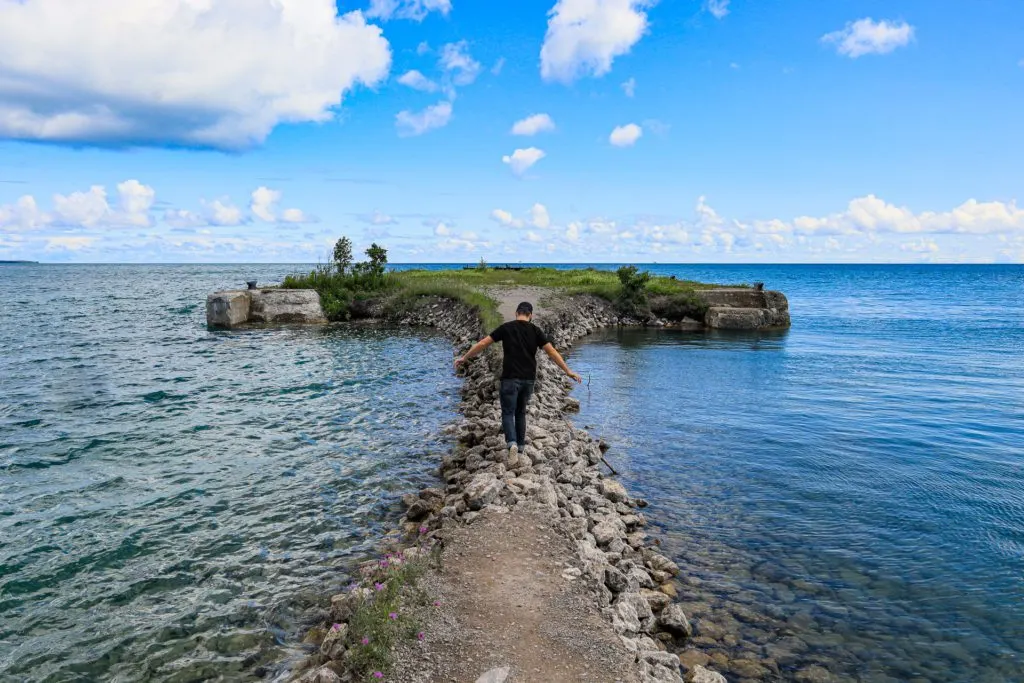 Rockport State Recreation Area
Start your Michigan road trip on the state's east coast, at Rockport State Recreation Area. I won't lie: the hiking in these parts is convoluted at best with trails and maps that aren't exceedingly well marked, and much of the trail we wanted to take was actually flooded, but this park does offer some stunning views of Lake Huron and excellent kayaking opportunities, plus dark skies. It was a bit too windy the day we were there to take out our inflatable kayaks, but with water that clear and blue, it was hard to walk away.
Plan to stay at least a few hours and make sure you have a Michigan State Park pass.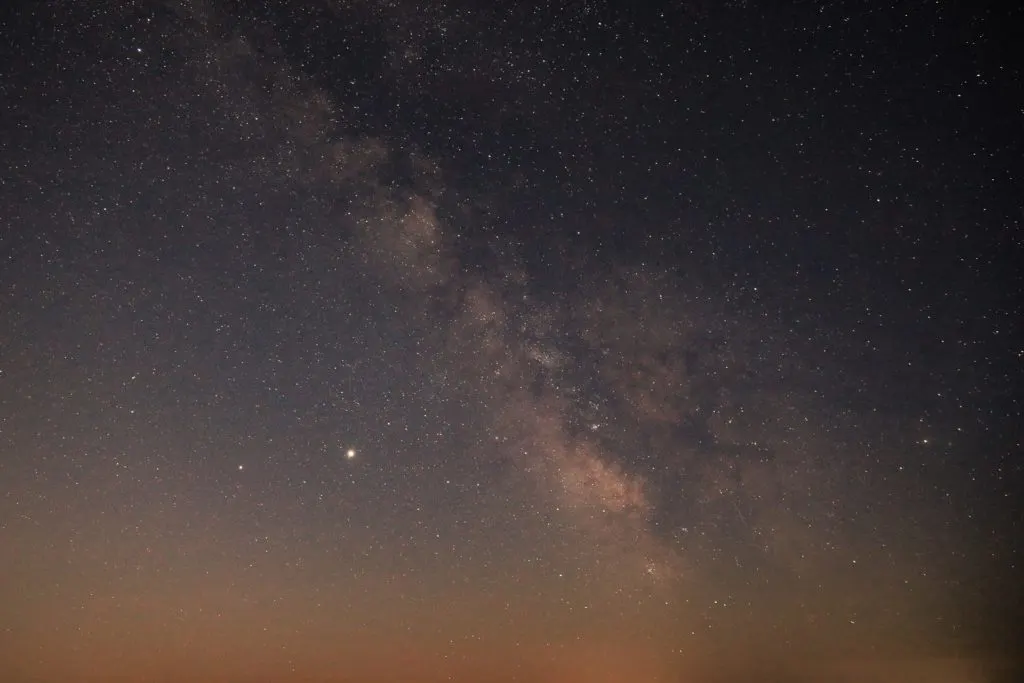 Mackinaw City
In our humble opinion, this city is more for passing through than posting up for a few days, but that's because it's very touristy (and we don't really care for that sort of thing). Besides, there's very little in the way of vegan food. It's mostly just fudge and salt water taffy. What you will find is great views of the Mackinaw Bridge, a stellar free campsite and kayaking at French Farm Lake, and a stunning night sky at Headlands International Dark Sky Park. Bring a chair or a blanket, set up on the lawn, and wait for the sun to set! On a clear night you can see the Milky Way in all its brilliance. And it's all free! Don't forget your red light to preserve your night vision.
Stay at least one night in the area, two if you plan to spend a day kayaking, taking a boat tour, or exploring.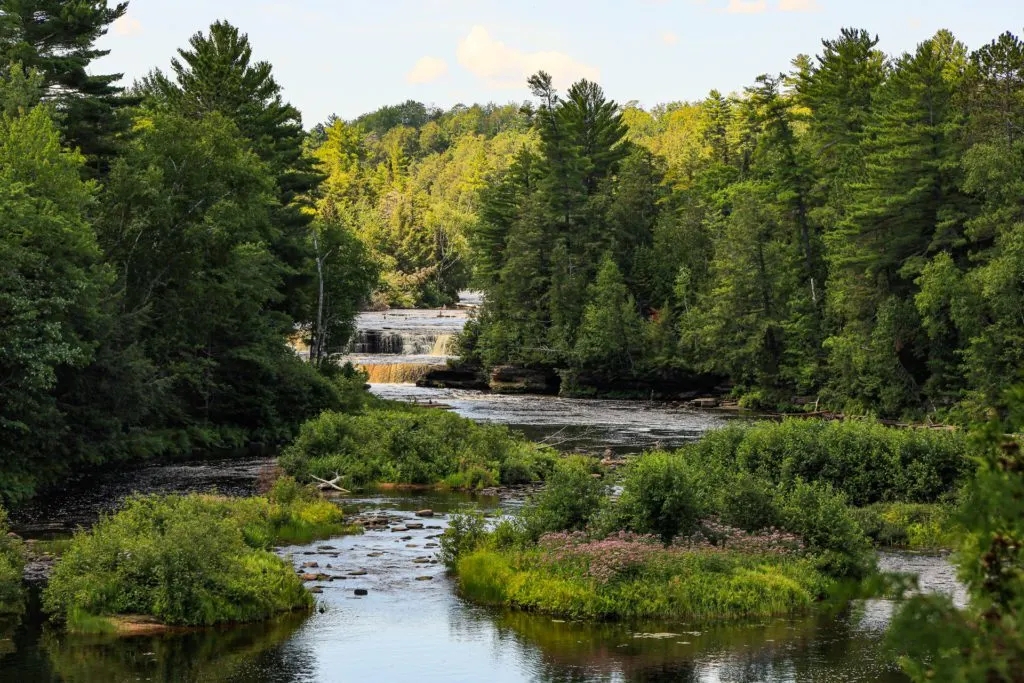 Tahquamenon Falls
Next, head across the Mackinaw Bridge to the Upper Peninsula. Our best advice, especially if you're vegan: stock the car with provisions, because quality sustenance up here is sparse at best, so plan to do a lot of your own cooking or sandwich-making. That said, the U.P. is well worth it. Tahquamenon Falls is a popular state park (you'll need to pay for a day pass at the gate if you don't have a $38 annual pass), so expect crowds on the weekends, but it is beautiful. The falls are amber-colored and after you take a good long look, abscond to some of the other trails in the park to lose the crowds. It's also worth it to spend the $7 per person to rent a row boat. You can row across the lake to the little island where you can go swimming, get up close and personal with some falls, and hike around the 3/4-mile trail.
You can also hike several miles to the Upper Falls (or drive) for a view of the more powerful (and tall) upper falls. Stay in the area at least one night, two to enjoy more hiking.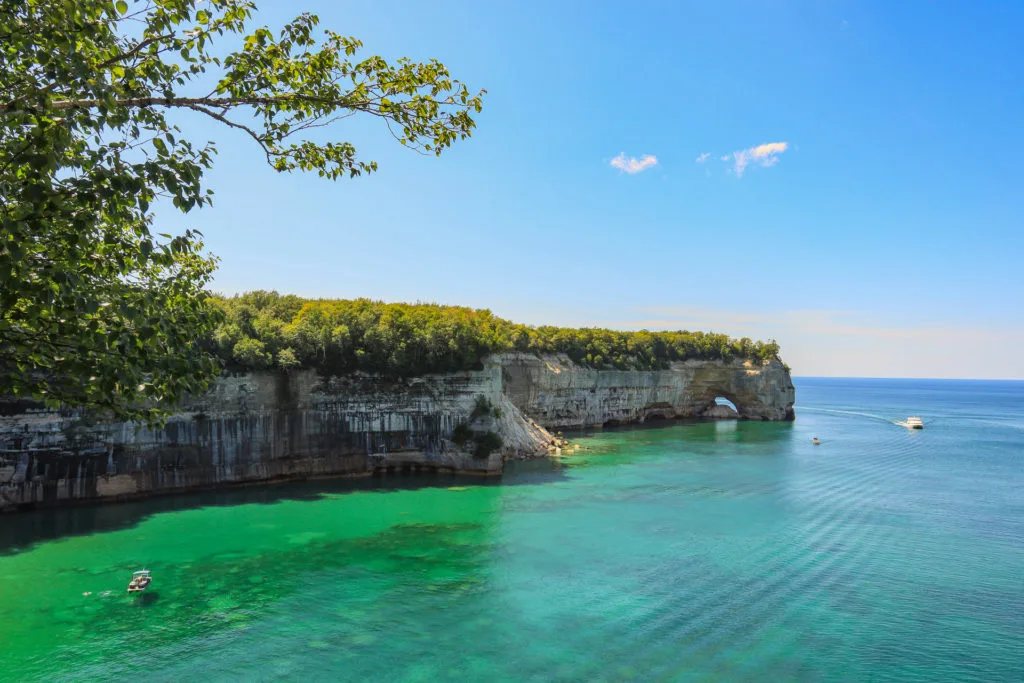 Pictured Rocks National Lakeshore
Another popular spot for hiking and swimming is Pictured Rocks National Lakeshore. And for dang good reason. You forget you're looking out at Lake Superior and not an ocean when you see the vast, clear, turquoise water. It's absolutely stunning. It's a popular one, but we recommend the Chapel Beach trail. It will likely be crowded, especially on weekends, but once you get to the beach (and take a break to swim in the cold water), if you hike west along the coast, the crowds thin out and you'll have more of the trail to yourself (and fewer people piling up behind you because you stop at every lookout to take another photo…just me?). You'll also come across Mosquito beach going this way, which is also lovely, and less crowded. You can also get a backcountry camping permit and spend a few days backpacking in the park if you plan ahead. I guarantee we'll be headed back to Pictured Rocks to do some of that, especially after noting that several campsites overlook beautiful beaches.
Entrance to the park is free, but arrive before 9am to beat the crowds and get a parking spot at the trailhead. Spend two or three days in the area to see more than just one trail.
Traverse City
Next, head back to the lower peninsula to Traverse City, a funky little town with a lot going on (usually). Here, you'll finally find good vegan food and quality local beer and cider (check out Rad.ish Street Food inside Coin Slot Bar and Arcade for dinner, drinks, and Sunday brunch). There's also a great pedestrian street with shopping, dining and coffee with a cool natural good store (Green Island Earth Friendly Goods) and a phenomenal local bookstore (Horizon) if you're as into that sort of thing as we are. But there are also public beaches, so you can swim, kayak, SUP, whatever you want, on Lake Michigan. As for camping, there are several campgrounds around the city, so check Campendium to find one if you prefer to skip the expensive hotel scene.
Spend at least a full day in Traverse City, if not two.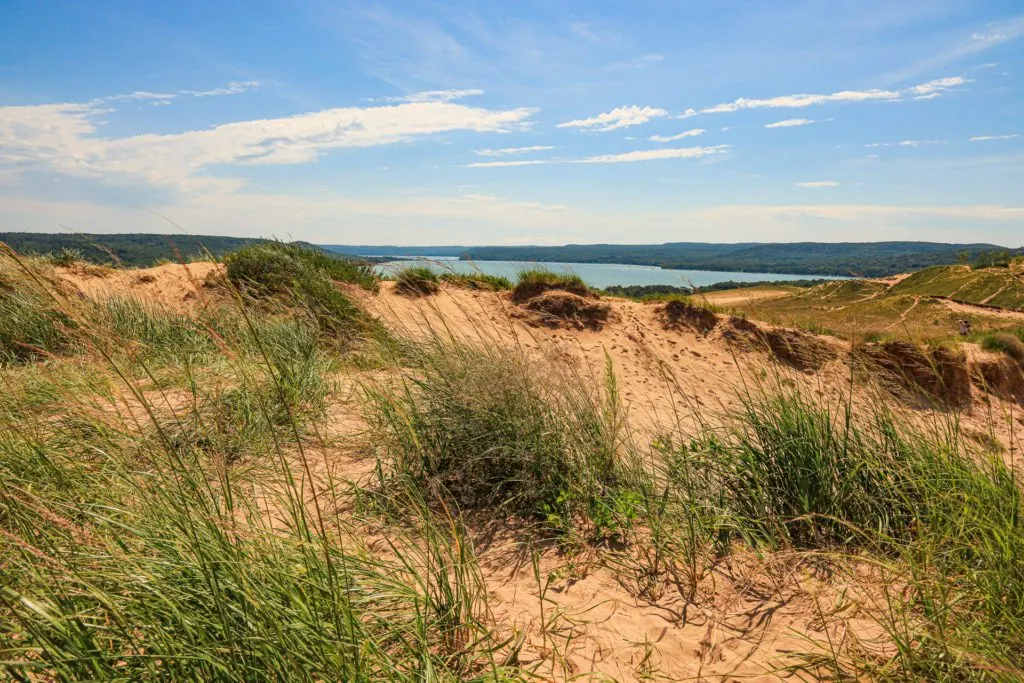 Sleeping Bear Dunes
No Michigan road trip is complete without a stop at the dunes. Another National Lakeshore, Sleeping Bear Dunes (and Acadia Dunes a bit farther south) offer good hikes with great views. At Sleeping Bear you can just hike to the top of the big dune for views as far as the eye can see, or you can trek all the way to a beach by Lake Michigan on a 3.5-mile roundtrip excursion through the sandy hills. But budget more time than you think you'll need–remember, sand is harder to walk on than packed dirt trails. Don't forget plenty of food and water!
While you're in the area, head to one of the public beaches along the lakefront for some sun and surf. There are plenty to choose from. Wherever you go, make sure to pop in at Grocer's Daughter Chocolate for some of their vegan chocolate options (including fudge pops!).
Spend the day. Might as well, admission to the dunes (and beaches) is free!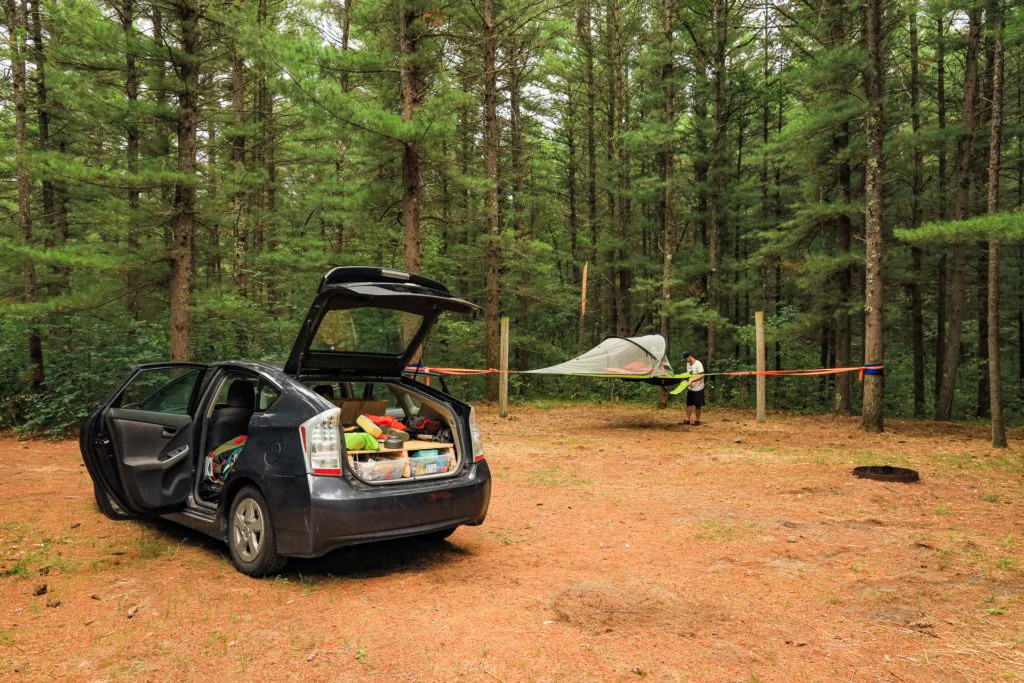 Huron-Manistee National Forest
Want to camp (or hike? Or kayak on a lake? Or enjoy the night sky?)? Head to Huron-Manistee National Forest. There's lots of free dispersed camping in this sprawling forest that covers a good chunk of the state and is split into two sections, but there are also small lakes that offer chill places to paddle and plenty of hiking trails. Stay a night or two and enjoy the quiet of the woods.
Choose Your Adventure
From there, choose your Michigan road trip adventure! Stop in Grand Rapids for food and beer. Head to Detroit for…food and beer. Or hit up Ann Arbor for, yes, food and beer, but also local art! The beautiful thing about a road trip, especially one that involves no set dates or bookings or hard schedules, is that you can go where you want, when you want, and spend your time how you want.
So load up the car, don't forget your mask, and wander on (responsibly)!
Alisha is a freelance writer and photographer based in Austin, TX. She loves her tiny house, vegan food and experiencing the community of travel in far away places. She's also pretty sure she's addicted to coffee. alishamcdarris.com