Not gonna lie, a little over a year ago when my dad said, "I really wanna go backpacking in Isle Royale National Park next summer; wanna come?" I was 100% not sure where the heck Isle Royale even was. So after a quick map search (it's an island in Lake Superior) and a brief discussion of whether it's pronounced roy-al as in Royale with cheese or roil as in the royal family (park rangers use the latter pronunciation), followed by a hearty bout of laughter brought on by my parents thinking I plan more than a month in advance…Isle Royal National Park was suddenly very much on my radar.
And then it so happened that Josh and I ended up doing an outdoorsy road trip around Michigan later that summer, so I looked up what was involved in making the trip because my dad had mentioned it wasn't easy to get to.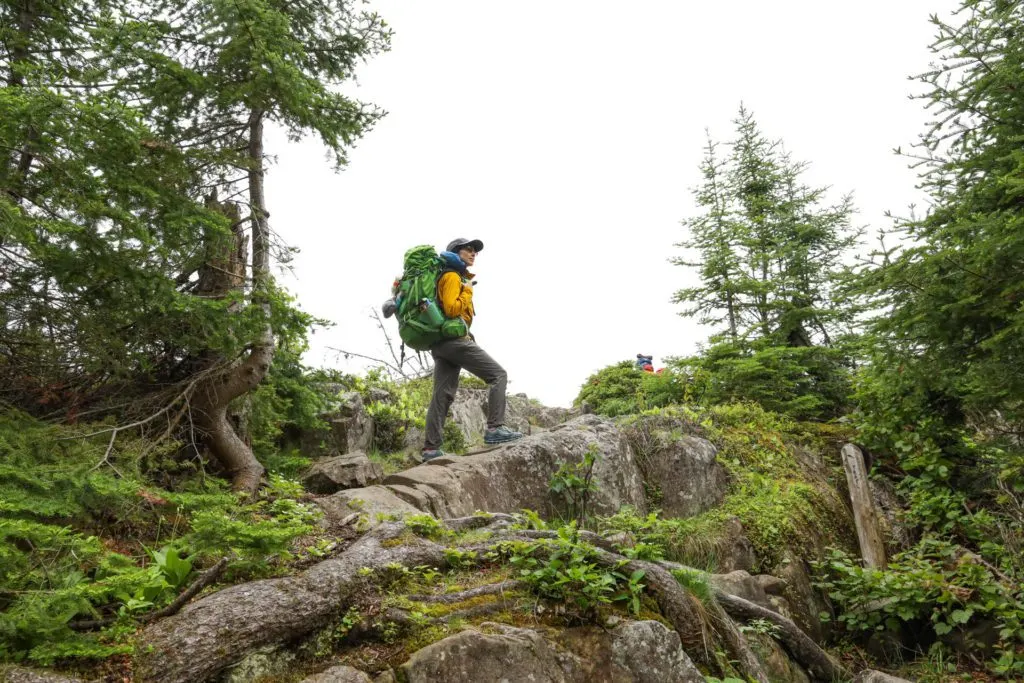 He was right. In fact, that summer of 2020, it was nearly impossible to get to. Why? Well, for starters, it's an island that's only accessible by private boat, expensive seaplane, or passenger ferry. There are no cars on the island and no way to get them there. And if that's not tricky enough, for nearly all of 2020, no ferries were operating due to Covid. And since I don't have a private boat and didn't care to drop $600+ for a roundtrip seaplane trip for Josh and I, we just shrugged and said, "Well, guess we'll just go with my parents next summer."
So we did.
But as I mentioned, getting to this national park–the least visited in the lower 48–is difficult and time-consuming, not to mention not particularly cheap. So we'll break it down for you, starting with a bit about the island, how to get there, the epic backpacking that awaits, and why you're gonna wanna stay more than just a day or two.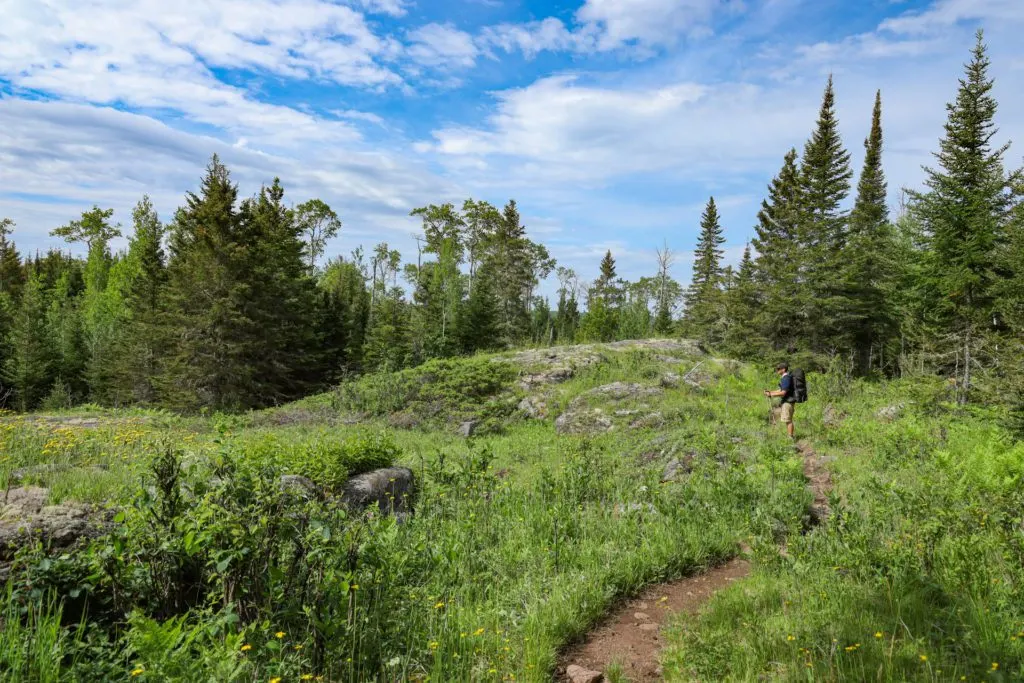 A Bit About Isle Royale National Park
Located "in" Michigan, the park is actually just a little speck of land barely more than 45 miles long. It's the ancestral land of the local Lake Superior Band of Chippewa (who work with the NPS to help manage and protect the park, btw) and several landmarks are named for the first people to explore, hunt and fish there. The highest point of the island, for example, is Mount Ojibway, and the island itself is also known as Minong: The Good Place.
There are no cars on the island–just some maintenance vehicles and tractors. And the only way to the island is by passenger ferry, seaplane and private boat.
You will need to either pay the $7 per person per day entrance fee or buy an annual parks pass ($60 for Isle Royale, $80 for an America the Beautiful pass) once you get to the island if you don't have one already. If you do, just don't do what I did and leave it in the glove box of your car back on the mainland…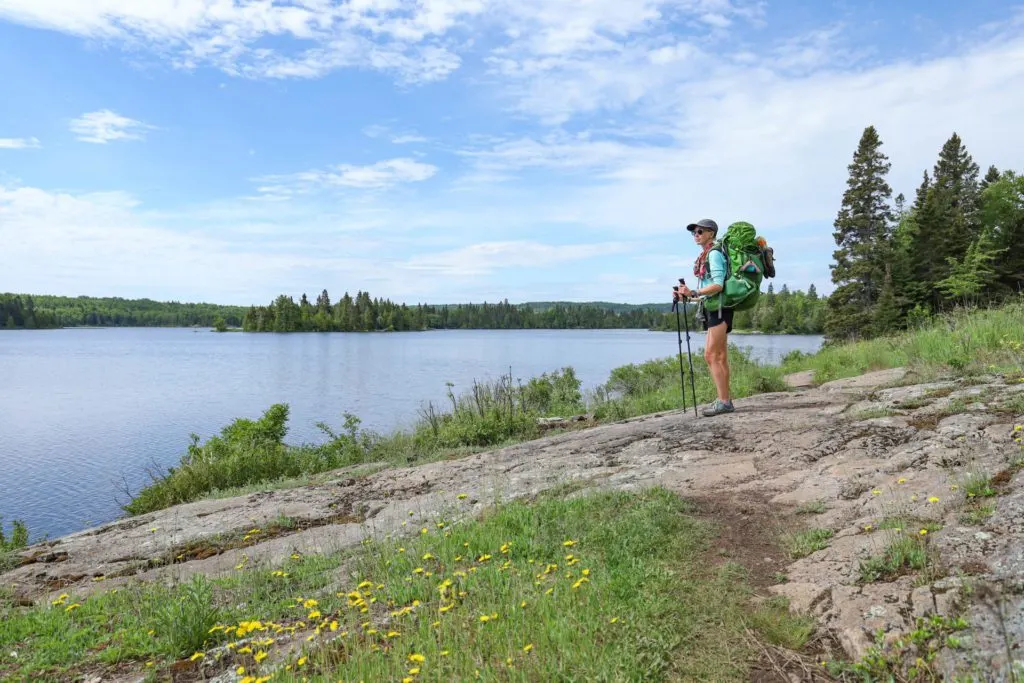 How to get to Isle Royale National Park
OK, you know your options, now it's time to pick. For the fastest, easiest way to the island, take a seaplane. You can check out a list of seaplane operators here that work out of Hancock, Michigan and Grand Marais, Minnesota. They also offer inter-island flights.
If you have your own boat, then you do you, my friend.
But most opt for the ferry. You can embark from three different ports in the U.S.: Copper Harbor, Michigan; Houghton, Michigan; and Grand Portage Minnesota. Check schedules and read more about each ferry option here. We took the Isle Royale Queen IV from Copper Harbor.
On the Island, there are two ports: Windigo and the more frequented Rock Harbor.
The Minnesota port is the closest to the island and offers the shortest ferry trip to Windigo (1.5-2 hours). Copper Harbor to Rock Harbor comes in second with a 3-3.5 hour trip, and Houghton is the longest at 6 hours to Rock Harbor.
You can also book a ferry from Rock Harbor to Windigo or vice versa if you'd like to travel by water instead of foot from one end of the island to the other in hours (about 5, to be precise) instead of days. Say, if you backpacked the length of the island on the Greenstone Trail but needed to get back to your starting point to catch the correct ferry back to your car.
Full disclosure: ferries often book up weeks, if not a month or more, in advance. So there's not a lot of wiggle room for last-minute trip planning here. At least not during the summer, which is peak season.
And a word of advice: bring motion sickness meds. Even if you don't think you'll get seasick. I've never gotten seasick in my life, but our ferry ride to the island was the worst thing I've ever experienced. The waves were rolling and the boat was bobbing up and down, backward and forward, and rocking side to side and it. Was. Miserable. My mom, Josh, even my iron-stomached dad all took Dramamine. I just shut my eyes and put in ear plugs and tried not to listen to the dozens of people puking into plastic bags all around me.
Seriously. Bring motion sickness meds. Just do it. Worst case, you'll enjoy a super smooth ride like we did on the way back and won't need them.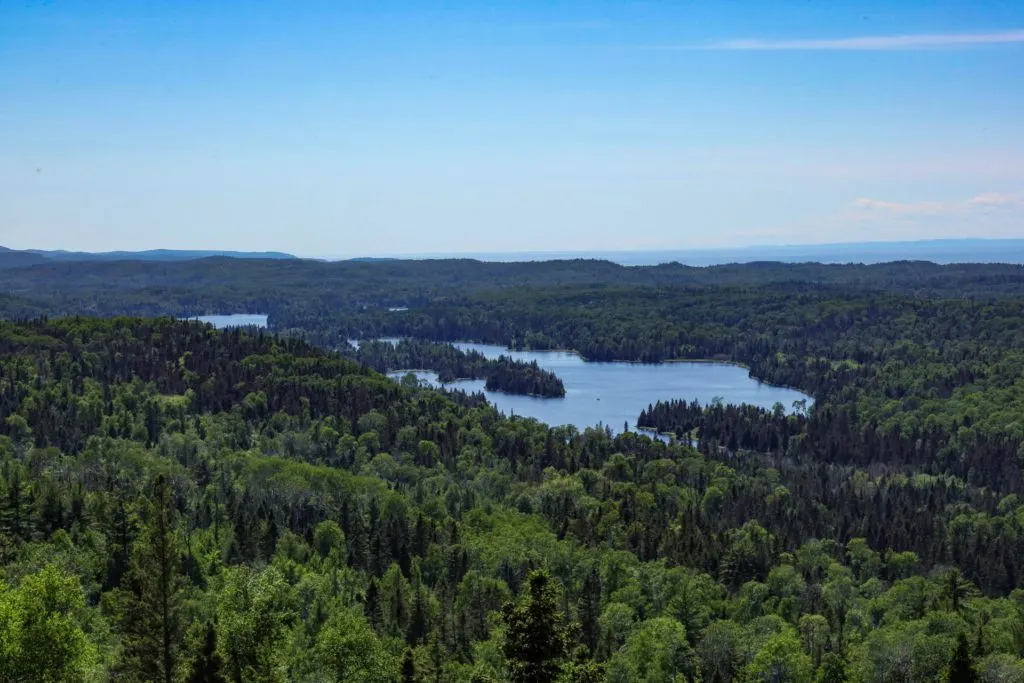 Where to Stay on Isle Royale
Now, some people are crazy enough to make Isle Royale a day trip. That's the most ridiculous thing I've ever heard. And it makes for a very long day. Besides, the island is stunning and there's much to explore, so you're gonna wanna stay a few nights. Maybe more. We stayed six.
There are several options when it comes to where to rest your head: the Windigo Camper Cabins, Rock Harbor Lodge or Housekeeping cabins at Rock Harbor, and backcountry campsites. We stayed at the latter–many of which featured shelters–as we were backpacking the entire time.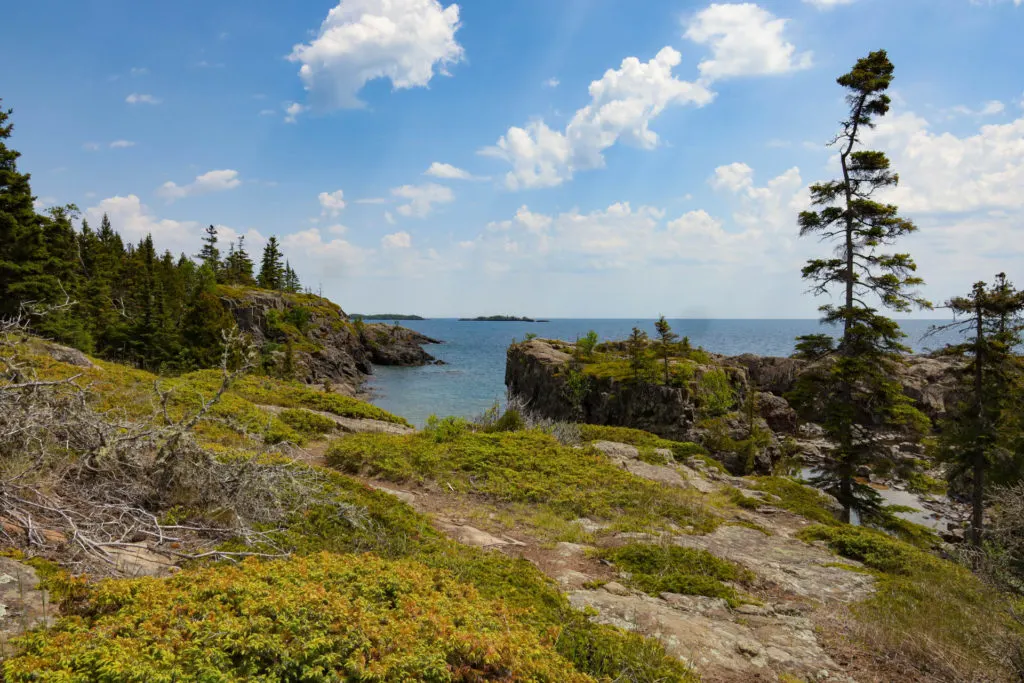 What To Do on Isle Royale National Park
OK, so you've arrived. Now what? Lace up those boots and get hiking, son!
Seriously, there are miles and miles of trails to explore and about a bazillion fewer people on those trails than you're probably used to at national parks. Backpacking, we maybe passed 3-4 other groups a day. On the last day, we crammed in an extra day hike and saw more, but there was still none of that leap frog nonsense, lines at lookouts, elbowing each other for photo ops, you know what I mean. It's glorious. It's a true escape to nature, so make the most of it.
You can kayak or canoe around the island within the many bays or across the island thanks to a series of lakes and portage trails. Pay a little extra to bring your own vessel (it should be at least 15 feet long) over on the ferry with you or rent one once you arrive (though you'll only be able to use it near the ports).
Experienced diver? You can also explore the sunken shipwrecks along the coast if you're keen.
What did we do? We backpacked. For 6 nights and 7 days. More on our itinerary momentarily, but suffice it to say there are plenty of trails and campsites all over the island. You can even hike from end to end on the Greenstone Trail, which more or less runs along the ridge of the island.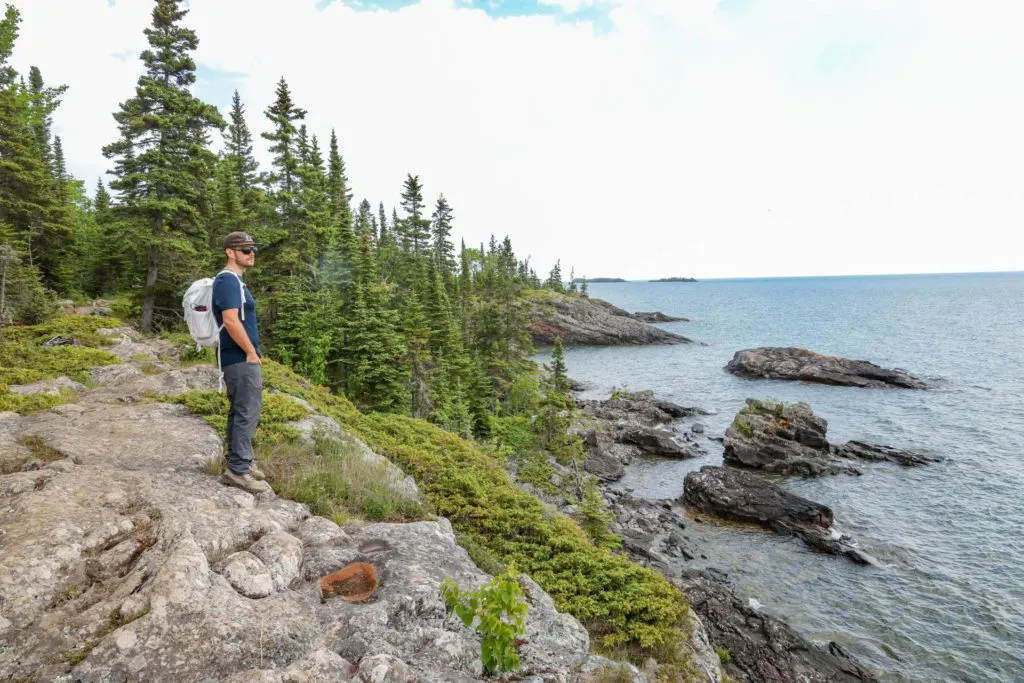 Backpacking Itinerary on Isle Royale National Park
Wanna backpack, too? We got you. Here's the route we took. Not too easy, not too difficult.
Day 1: Start at Rock Harbor, register our trip plan with the office, head out on the Rock Harbor Trail. Camp at Three Mile Campground
Day 2: Leave camp set up at Three Mile (we spent two nights there), take a day hike to Lane Cove, have lunch, hike back.
Day 3: Hike to Moskey Basin. Enjoy the view and lunch on the dock at Daisy Farm. Camp at Moskey Basin (probably our favorite campground of the trip).
Day 4: Pack up and hike to West Chickenbone Lake. Enjoy lunch with a view at Lake Ritchie on the way. Camp at West Chickenbone.
Day 5: Leave Chickenbone for Daisy Farm. Arrive in plenty of time to sit on the beach and enjoy the sun, then set up camp and take a quick day hike to the lookout tower on Mount Ojibway and enjoy spectacular views across the island before returning to camp to make dinner.
Day 6: Short hike to Three Mile. Set up camp, take a nap in the sun, play in the water, make dinner, and relax on your last night on the trail.
Day 7: Hike back to Rock Harbor on the Tobin Harbor Trail. Drop your bags outside the visitor center, and go grab lunch that wasn't freeze-dried! The Lighthouse Restaurant and Greenstone Grill have some vegan options. If you have time, absolutely hike out to Scoville Point and back. Breathtaking scenery awaits. Head back to the mainland via ferry/seaplane/boat.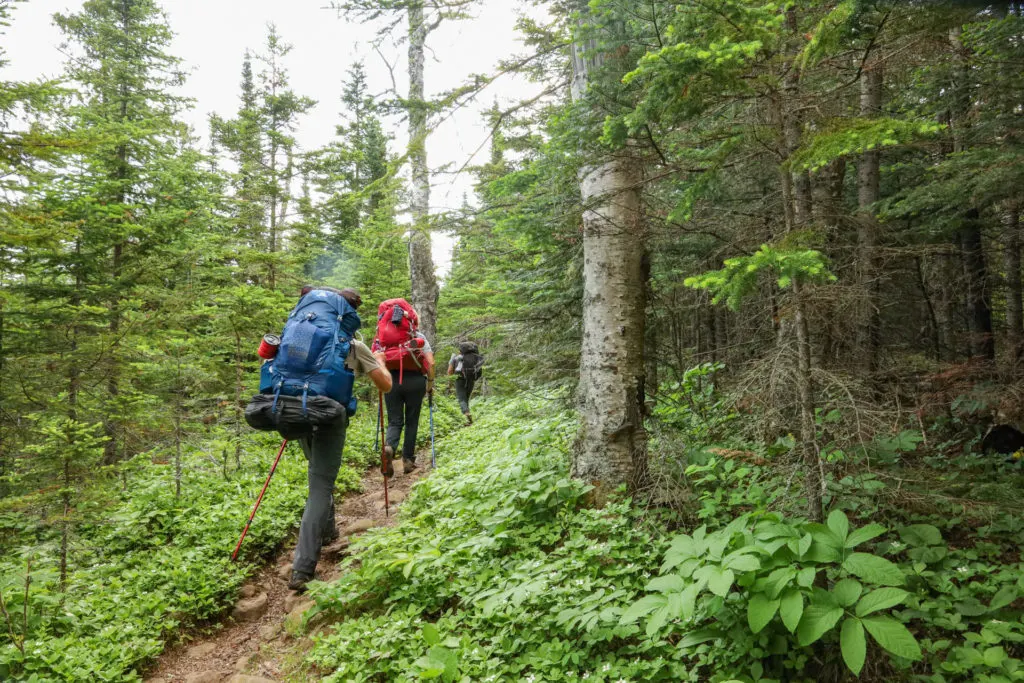 Tips for Visiting Isle Royale
This is proper backcountry wilderness, not camping with water and electric hookups and amenities, so you must come prepared to be self-sufficient.
Don't try to do too much each day; there's a lot of beauty to appreciate, so take your time.
Get a USGS topo map before your trip to aid in planning. Park maps are a bit convoluted and require a lot of point-to-point referencing.
Bring your camera. Not only are the views of rocks and shore and mountains and lakes just absolutely stunning, you'll likely see wildlife, too, from rabbits to beaver to moose!
Know that while this may be the least visited park in the lower 48, it sees the most return visitors, so don't be surprised when you start planning your next trip before your current one is even over.
The park isn't open in the winter (it is open April 16-October 31), but plan to take your trip during late spring, summer or early fall for the best weather. July is the busiest month, but before June and in September and beyond expect cooler temps.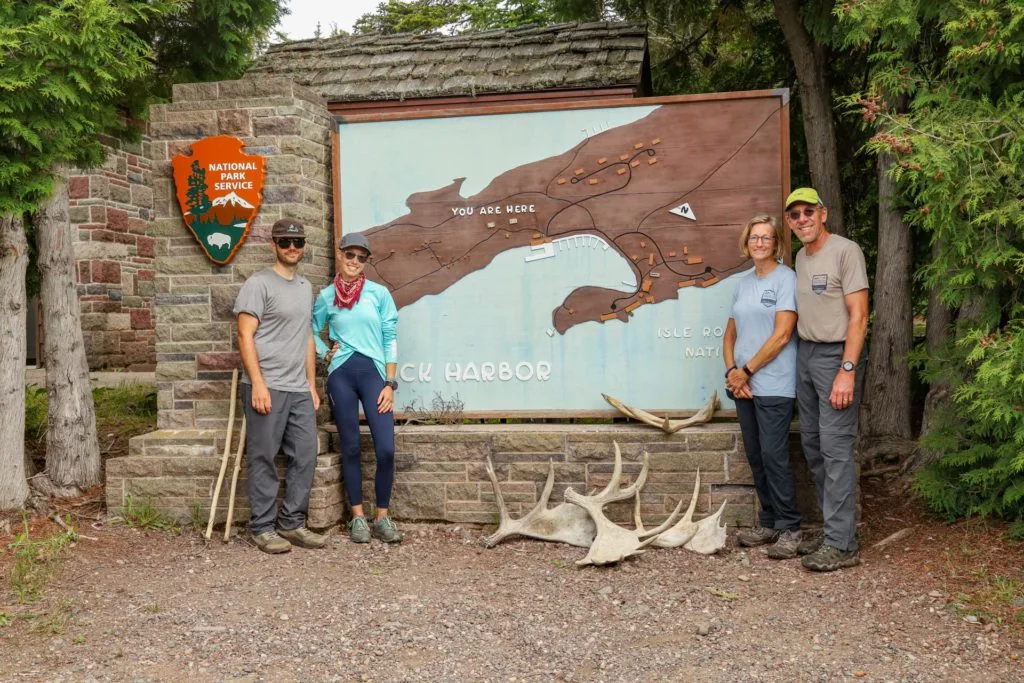 Our Experience Hiking Isle Royale
Uh, yeah, we'll be going back. And it probably won't be long, either. Because spending a week on an island backpacking with my mom and dad–the third backpacking trip that we've taken together in five years, including hiking rim to rim across the Grand Canyon and a rainy weekend in Red River Gorge–making fun of how much weight they were carrying while simultaneously being jealous of their camp chairs, reveling in the beauty of nature together and teasing my dad about how the student has become the teacher (he's the one who introduced me to backpacking more than two decades ago) was a blast.
But next time, I'm saving up for the seaplane! Ready to plan your own Isle Royale adventure? Wander on.
Alisha is a freelance writer and photographer based in Austin, TX. She loves her tiny house, vegan food and experiencing the community of travel in far away places. She's also pretty sure she's addicted to coffee. alishamcdarris.com