We're always on the lookout for a quality pair of kicks here at Terradrift. Usually, that means vegan hiking boots or shoes. But we don't live our lives in hiking books. In fact, we very frequently slip on a pair of sneaks for travel or just wandering around town. And when we do, we like those shoes to be sustainable and versatile. Enter the Astral Hemp Loyak. One sustainable, stylish, and yes, comfy, shoe. Because what else would you expect from us?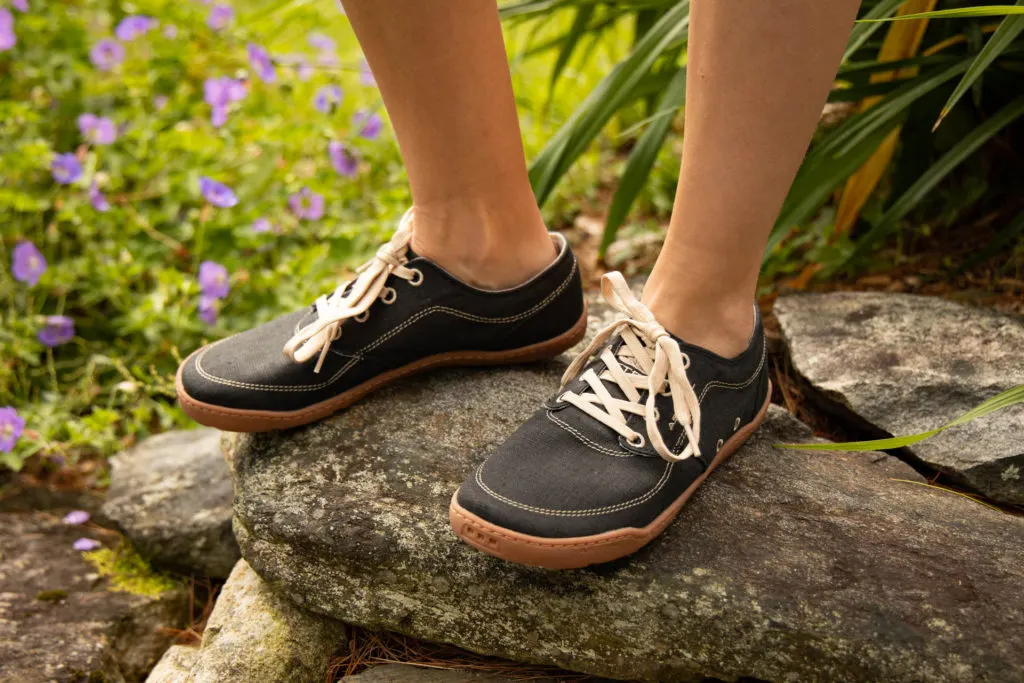 Astral Hemp Loyak: The Deets
For starters, this shoe is obviously made of hemp. I mean, it's right there in the name. And we love hemp here at Terradrift. Why?
Because hemp is more durable and sustainable than cotton canvas, which a lot of casual shoes are made of, and it's definitely more sustainable than synthetic materials. Hemp requires 79% less water to grow than cotton, doesn't require pesticides or fertilizers, plus is breathable and actually gets softer and more comfortable with age. It even biodegrades since it's a natural material. Read more about what makes hemp so sustainable in this post, but suffice it to say that it's just better all around.
And yes, the shoes are vegan, so there's that.
Of course, since they're hemp, they're not designed for use IN the water like many of Astral's other shoes. I mean, you can wear them in the water if you want. I guess. But they're hemp, so they're not gonna dry super quickly.
In addition to the hemp uppers, there are several other features that make these shoes totally rad. The soles are made of Astral's rubber formula, which is designed for slippery boat decks and wet rocks. So while the tread may not look super aggressive, you can trust that these shoes will keep you upright in wet conditions.
For you footwear minimalists out there (I count myself among your ranks), they're not quite zero-drop like our beloved Altra Lone Peak or the Xero Shoes Excursion Fusion–there's a one millimeter drop between the heel and toe–but they are still a fairly minimalist style shoe without excessive arch support or built-up heel, meaning you can still feel the earth beneath your feet to a fair degree.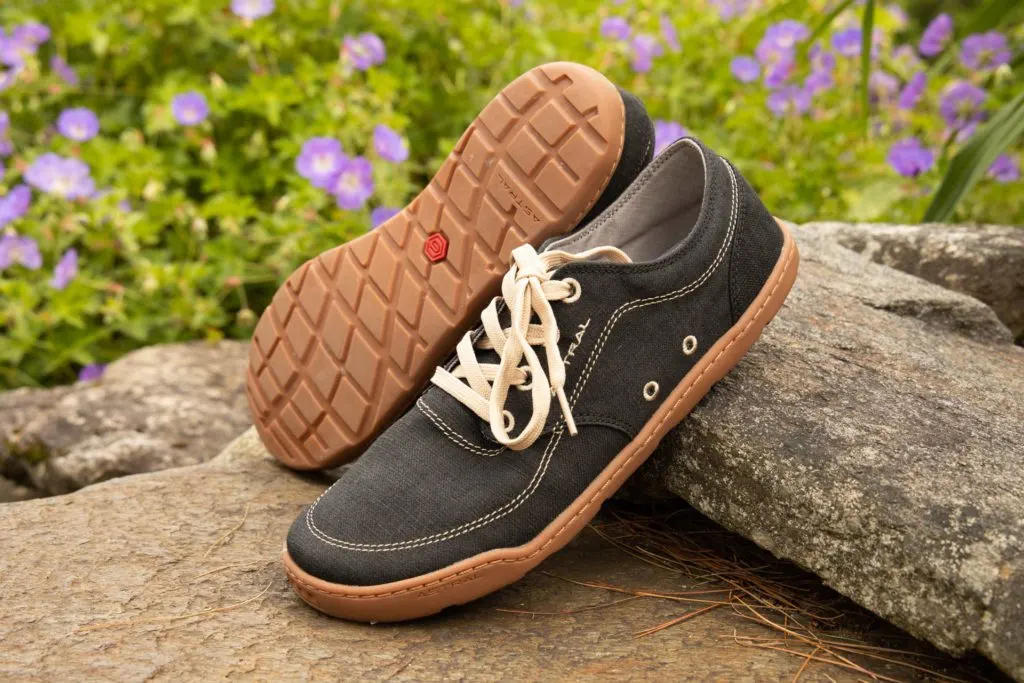 Astral Hemp Loyak: The Review
But you wanna know what we thought of them after wearing them for a bit, don't you? We'll tell you.
For starters, I love how lightweight and suuuuuper flexible they are. The flexible sole allows for wide range of motion, the toe box is nice and roomy, and the insole is just squishy enough to make wearing them all day a totally reasonable proposition. It makes the Astral Hemp Loyak perfect for travel, but also a near weightless way to shod your tootsies. It's like wearing virtually nothing.
So they're comfortable, yeah, but also functional and stylish. They're perfect for urban exploration, but also perfectly lightweight for travel AND suitable for mild off-road adventures. And they look dope.
I mean, I know style is a personal thing, but I think these are gonna be my new go-to sneakers for everything from skinny jeans to workout shorts to that one casual dress I own.
Yes, I own a dress. I know. Surprising. But I do.
As for sizing, they fit pretty true to size. I generally wear a 7 in minimalist shoes like these and that's what I have here and they fit just right. They are a bit wide, but I have pretty narrow feet, so they should still work well with average sized feet. And while they're comfy right out of the box, the uppers should get softer and more pliable with every wear (hemp and all that).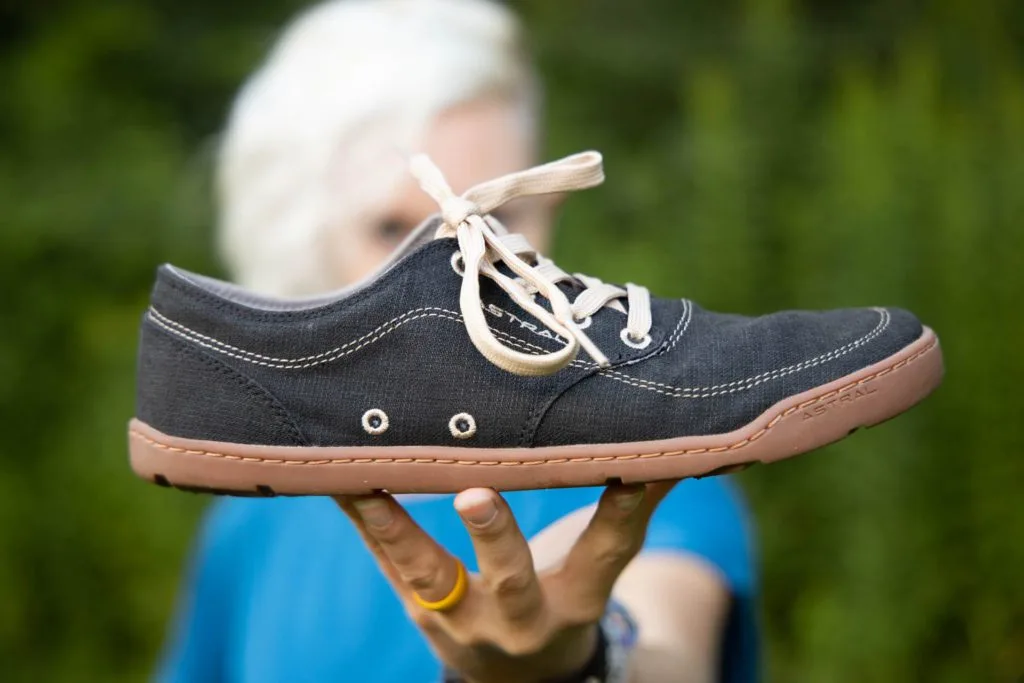 Bottom Line
I like Astral Hemp Loyak. They're stylish, they're comfy, they're light and flexible and fairly minimalist and sustainable and I think they're great. Time to replace your footwear? You should totally get a pair. We'll make it easy: you can find your favorite color and size for men here and women here.
Now get out there, outfit your feet with sustainable footwear, and wander on.
•
This post contains affiliate links. That means when you make a purchase after clicking on said links, you help support Terradrift! It doesn't even cost you any extra! Huzzah!
Alisha is a freelance writer and photographer based in Austin, TX. She loves her tiny house, vegan food and experiencing the community of travel in far away places. She's also pretty sure she's addicted to coffee. alishamcdarris.com