We're always on the hunt for the perfect bag. The perfect bag for travel, backpacking, day hikes, commuting around town on two wheels, you name it. But lately, we've been intent on finding the ideal bag for travel. And if we didn't find it in the Topo Designs Travel Bag, we sure came close.
We tested the bag out on a recent week-long trip to Denver, Colorado for the Outdoor Retailer Snow Show. We thought it would be the perfect chance to test the limits of this the smaller of the Topo Designs Travel bags (check out our comparison of the 30L and 40L here). And it was. We carried it light, we carried it heavy, we carried it for hours on end. We packed it full of too much stuff, strategically selected our wardrobe, and used it as my sole piece of luggage (it totally counts as a personal item for budget airlines like Frontier, Spirit, and Allegiant, BTW). And it held its own.
We carted it everywhere over 7 days, from the airport to public transport to our Airbnb, walking to and from and then all over the convention center for four days, and around town to run errands before we left. Here's our Topo 30L Travel Bag review after all of that and more.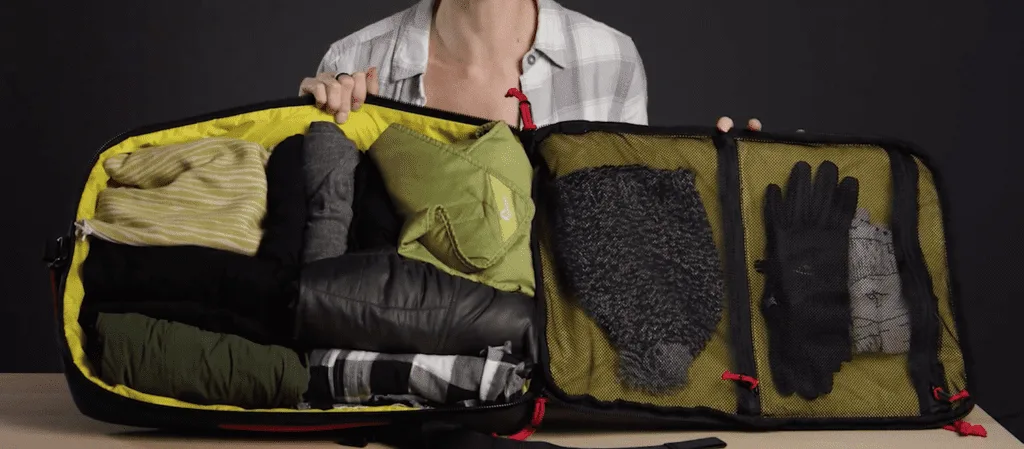 Let's start with the basics. Here's what I crammed into the Topo 30L Travel Bag for a week trip to Denver. Fun fact: after all of this, there was still some empty space in my bag:
Two pairs of pants (the Topo Designs Lightweight Tech Pants and Toad&Co Flextime Skinny, both excellent outdoor/travel pants)
One Flannel
One packable jacket (for Texas winters) that wasn't nearly warm enough for Denver temps
4 Pairs of socks/underwear (which could be washed in the sink)
3 Shirts
A hat and gloves (It was freaking cold in Denver)
snacks, a book, and various small tech items like phone chargers
A toiletry bag
In addition to my clothing for the trip, I also packed some work gear:
And on the way back, most of the free swag we picked up had to be shipped home, but I still had to cram:
two additional travel mugs full of smaller items
6 Magazines
Even more business cards
A water bottle and reusable tote clipped to the outside
I only brought one pair of shoes, which I deeply regretted because they were less than comfortable after the first full day of walking around the convention center, but I made my bed, so I had to lay in it. And unfortunately, despite my best efforts, my flattery and ultra-friendly personality did not score me a free pair of sandals at the Crocs booth. What are you gonna do? Did I mention I broke my toe the first day we were there so walking/my narrow approach shoes were even more miserable?
But you want to know about the Topo Designs Travel Bag, not my sore feet.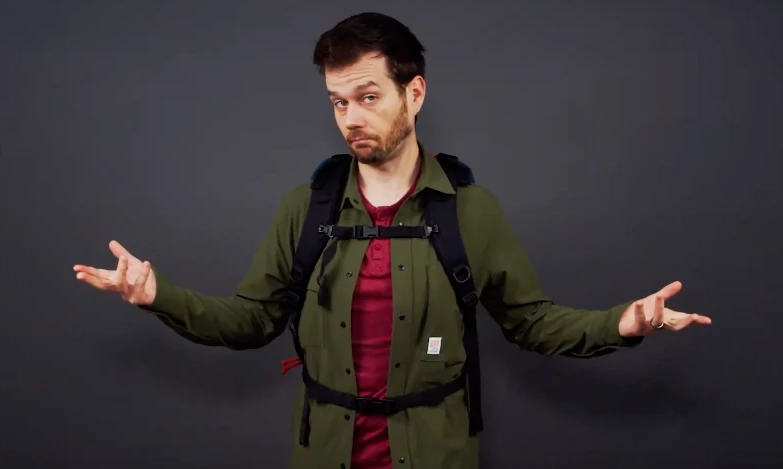 The bag was fairly comfortable on the way to Denver when it contained a lot less stuff. The hip belt was fairly useless when it came to distributing the load to my hips (it's just thin webbing, no padded hip belt on the 30L), but when I cycled with the bag the belt did help keep the bag from swaying, so it certainly serves a purpose.
When the bag was fully loaded on the way back, though, it was much heavier and more uncomfortable. Josh found it much less so than I did, which means it's likely that the wider shoulders you have, the more comfortable the carry. That said, I carried it around all day at the convention center for two out of three days and when it wasn't loaded down the straps weren't that much more uncomfortable than any other pack. However, they were stiff and not curved much, meaning they're just less suited for a small female's shoulders.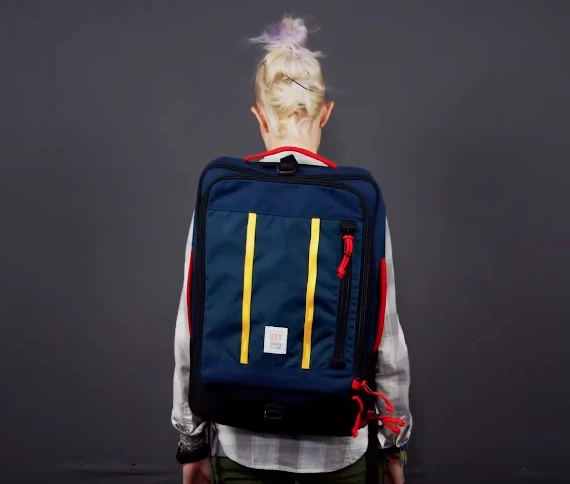 That said, I truly appreciated the butterfly opening of the Topo Travel Bag 30L. Usually, when we travel light, I use a more traditional backpack-style pack and just cram stuff in from the top. This bag was sort of the best of both worlds when it came to packing: it was a backpack that still fit within budget airlines' "personal item" parameters but functioned more like a suitcase or carryon. It made packing, unpacking, and digging through the bag's contents to find one particular item much easier. And less of a mess. Anyone who's tried to dig out a sweatshirt from the bottom of a backpack in an airport terminal and ended up with their entire wardrobe on the floor or the seat next to them knows what I'm talking about. It's hard to stay organized.
Not so with the Topo Designs Travel Bag. Because everything could be rolled or folded and fit into one clean, rectangular compartment that was easily accessible via a full butterfly-style opening, everything had its place and was easy to access without making a mess or spending 10 minutes digging for a camera battery when TSA wants to know what that fuzzy spot is on their X-ray machine.
I also appreciated the two zippered mesh pockets in the main compartment. They made it easy to keep small items like socks and gloves separate from everything else in the bag, which made them easy to find.
Alternatively, I found the pockets inside the two front-of-bag sections tedious. In the very front zippered pocket–which I love as a place to store quick-grab or easy-access items like snacks or books–there were two zippered pockets, but the mouths were so small and the pockets so deep that if your hand was any bigger than mine, you wouldn't be able to fit it in there. Likewise, the pockets inside the larger front zippered compartment were a mixed bag. One large pocket was perfect for a magazine or even a small laptop (13″ or smaller), so that was useful, but the other two were curiously deep so any small items you wanted to store like change, stickers, cards, backup batteries, etc. just sunk to the bottom and had to be dug out. They were just a little awkward. I would have much preferred two wider, more shallow pockets to two deep, narrow ones where things just vanish when you drop them in.
The one thing I knew right away I would have to deal with is the lack of a water bottle pocket. I hate it when bags meant for travel don't have a water bottle pocket. That said, there are plenty of D-rings and daisy chains, so I was able to clip my Nalgene to the outside of the bag using a carabiner and it wasn't too bad. You could also store a smaller bottle inside the bag without much trouble.
As for the laptop pocket, it's tricky. A 15″ laptop fits fine, but you have to finagle it in sideways. The process was smooth and easy when the bag wasn't full to overflowing, but after I had overstuffed it (as one sometimes does when traveling), I really had to work to get it in there. I also asked another individual carrying the same bag as a shoulder bag how he liked it. His main complaint that when carrying it over the shoulder like a laptop bag or briefcase, he said the laptop was tricky to get in and out easily. That said, this is not a gear bag. Did that stop me from trying to use it as a gear bag? No, it did not.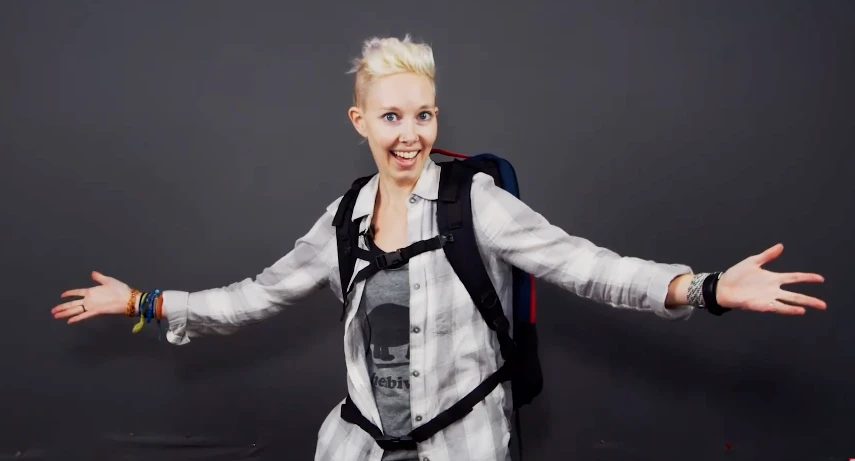 The Bottom Line
I will absolutely use this bag again for trips up to a week or two (I'm a minimalist packer, you should try it), especially if they don't involve me attempting to bring home way more crap than I left with. It was great for keeping things organized and easily accessible, it felt more like a suitcase than a typical backpack (man I would have loved to have had this bag in Guatemala last spring), and the multiple options for carrying style make it pretty versatile. I also love that for longer trips or those during which you might want a smaller daypack for wanders around cities, the bag is designed so you can clip the Rover Pack, Y-Pack, or Global Briefcase (Regular or 3-day) onto the front. And the fact that it counts as a free personal item on airlines like Allegiant and Frontier? Extra bonus.
If you're planning on wearing it on your back for an extended period of time for days in a row or really pack it heavy, you may find it fairly uncomfortable, but overall, it's a quality pack that will last for years and is designed with travel in mind, which is good, 'cause it's not particularly cheap at $189. But it just might be the last bag you ever need. Or at least for a while… Score yourself this do-everything bag here and wander on!
*This post contains affiliate links. That means we may receive a pittance from any sales that result from you clicking and buying. But don't worry, you won't pay any extra for any dope products we've recommended.
Alisha is a freelance writer and photographer based in Austin, TX. She loves her tiny house, vegan food and experiencing the community of travel in far away places. She's also pretty sure she's addicted to coffee. alishamcdarris.com