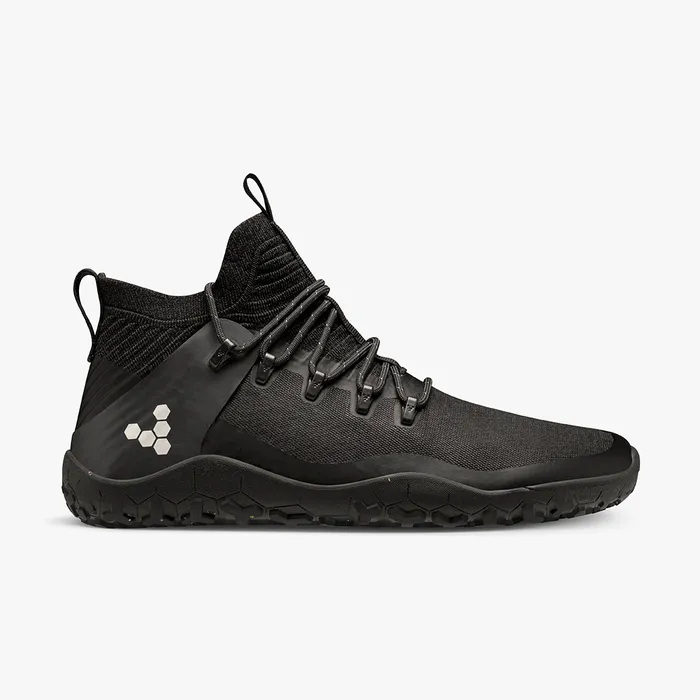 If you're ready to shop for your first pair of hiking boots (or your first pair in a while), finding hiking boots that fit comfortably and correctly can seem a daunting task. So many shapes and colors and brands and styles! Plus, hiking boot sizes and shapes are all over the place, meaning you can't just swap brands, order the same size you ordered with your last shoe, and expect them to fit exactly the same. Hiking boots and shoes are more complicated than your run-of-the-mill sneaker or even running shoes. But while color, style, and brand name may be the first details that catch our eye, fit is the most important factor when purchasing new hiking boots. But how do you correctly fit hiking boots and which type should you get? We'll break down how to do just that right here, right now in our beginner's guide to buying hiking boots.
And to help you narrow down your selections, here's a cheat-sheet of a whole bunch of synthetic vegan hiking boots!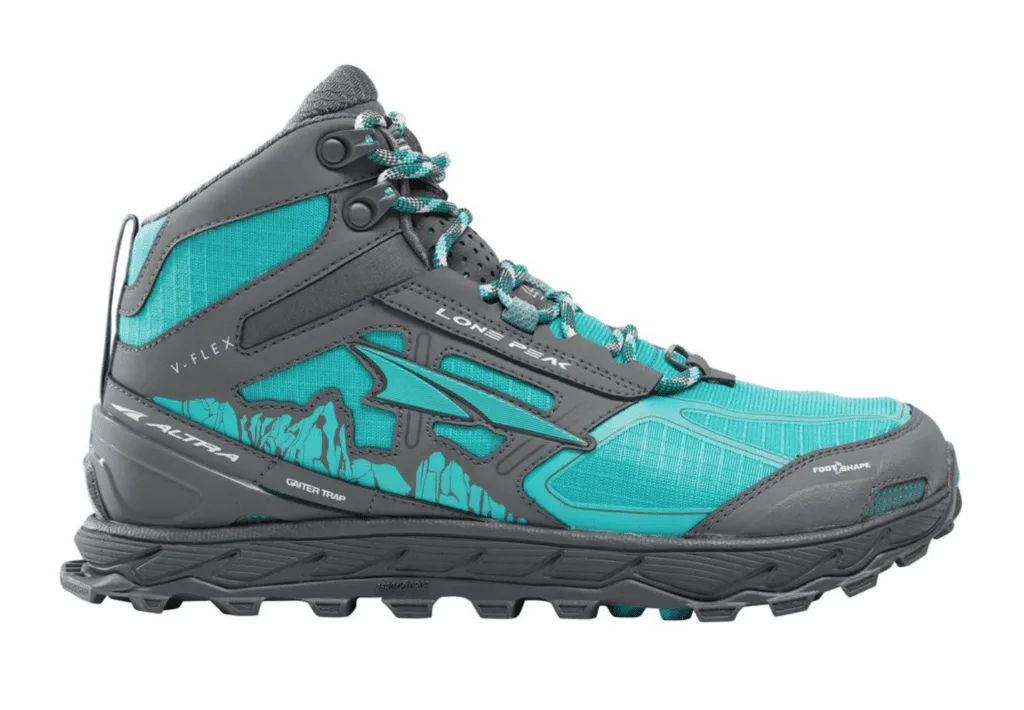 Fit
First things first: find the right size when shopping for new hiking boots. Too many people (myself included) have hiked in shoes that are too big or too small and paid the price in blisters, smashed toes, or uncomfortable pressure points. For me, it's usually because I found a pair of shoes on clearance that were only a half-size too small so would probably be fine, right? Right?
Wrong. Never get a half-size too small. Never. In fact, when it comes to hiking shoes, you should order up a half-size. That said, they shouldn't be too loose anywhere in the shoe except for your toes. If your foot is sliding around inside your shoe even when they're tied tight, that's not a good fit (also a recipe for blisters and skinned feet). You can go and get your feet measured at a specialty shoe store, but you'll probably be just as successful if you simply go try on a bunch of different types and sizes of hiking shoes.
As for dialing in the perfect fit, try these tips for finding hiking boots that really fit:
Wear hiking socks. When you try on hiking boots, thick hiking socks will help you know how boots will really fit in real-world hiking scenarios.
Try boots on at the end of the day. Or after you've been walking for a while. That way, your feet will be a bit swollen–like they will be when you're actually hiking.
Walk around in them. Stroll up and down the aisles, ask if the store has one of those fake rock incline ramps, or at least some sort of incline so you can feel how the shoes feel on the incline and decline. Take your time.
Have inserts? Bring them along. They take up space in the shoe and can alter the fit.
Be aware of seams or pressure from different parts of the shoes. Some spots are easily "broken in" while others will just aggravate and make hiking uncomfortable.
Don't compromise on comfort. If the arch support is in slightly the wrong spot or your toes feel cramped in the toe box or your heel slips and no amount of lacing or re-lacing assuages the issue, move on. Don't try to make ill-fitting shoes work.
Your toes shouldn't hit the end of the shoes when walking downhill. If they do, you're going to be uncomfortable after a few hours of hiking. Leave about a thumb's width between the end of your longest toe and the end of the boot.
Take the shape of your foot into account. If you have narrow feet, look for a narrow shoe. Wide feet=wide shoe. Makes sense, right? Keep your toes in mind, too. My toes splay when I walk, so a shoe with a wider toe box is more comfortable than a narrow one. And don't forget about flex points. Note where your foot bends and whether it matches up with where the shoe bends.
Break in your boots before a big hike. How important this is depends on the style of shoe (low-rise, sneaker-style shoes don't usually require as much breaking in as more sturdy high-rise versions), but it doesn't hurt to get your feet used to a new shoe before starting a 3-day backpacking trip when once you realize the shoes are uncomfortable or rub in all the wrong places it's too late. Leather boots, (which we don't recommend, anyway), will take a lot more breaking in.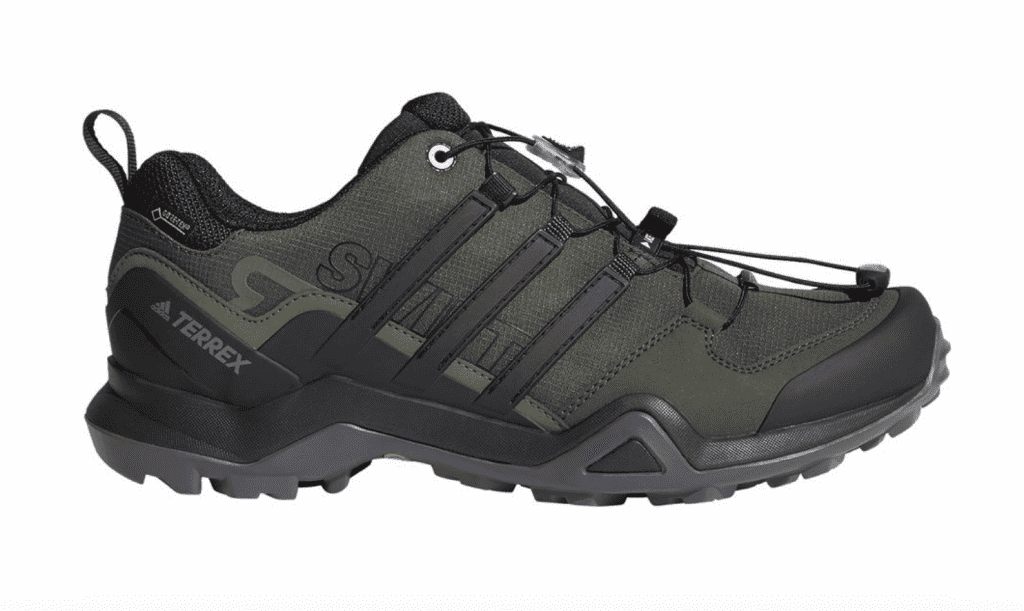 Types of boots
While fit is the most important feature of a hiking boot to get right, the type of boot you get comes in a close second. OK, not that close. But definitely second.
While fit needs to be carefully dialed in and applied to all hiking boots and shoes, they type or style of boot you want will largely depend on your personal preference and the type of hiking you're planning to do.
Mid-rise or high-rise boots: These are the boots that come up to or over your ankle bones. These types of boots are often preferred for difficult hiking where things like mud, snow, or water crossings are expected. They also tend to be fairly heavy-duty for rugged adventures and warmer than their low-rise counterparts. I know I wished I had some mid- to high-rise boots when backpacking in Alaska! That said, many prefer them simply for the extra support they give. They also tend to have sturdier and stiffer soles that will hold up better under heavy pack weights and abrasive terrain.
Low-rise hiking shoes: I personally prefer a low-rise hiking shoe for their lighter weight and flexibility whether hiking or backpacking, but to each their own. Like any other hiking boots, these shoes should have aggresive tread that can safely see you across various types of terrain. That can often include trail running shoes, which more and more long-distance ultralight hikers are opting for these days.
Waterproof or non-waterproof: Another feature that largely depends on preference is waterproofing. Unless, of course, you often hike in snow or wet conditions, in which case, definitely opt for waterproof hiking boots–you're feet will be much more comfortable. If, however, you're a fair-weather hiker, it's mostly up to you whether you want waterproof boots or not. Waterproof hiking shoes don't tend to be as breathable, and while they will keep your feet dry much longer than non-waterproof shoes, if you're caught in a 4-hour deluge or have to cross a knee-high stream, you're feet are definitely going to get wet either way. But for splashing across rocky streams, tromping through snow, or hiking through dewy grass or light rain, waterproof boots do come in handy. We like the On Cloudrock Edge Raw, but here are some other waterproof (winter) hiking boots.
Minimalist, barefoot, or zero-drop shoes: Again a matter of preference, but more and more brands are popping up that make minimalist, barefoot, or zero-drop shoes (like one of our favorite brands, Xero Shoes). This means that (respectively) the shoes have less padding or support than traditional shoes, they're made to feel like you're not wearing any shoes at all by eliminating all unnecessary padding and support, or there's zero difference between how far your forefoot and heel are from the ground. The claim is that they are better at letting feet be feet, and I mostly agree, but pick a shoe that feels comfortable, not one that's trending right now. Personally, I love the Altra Lone Peak for backpacking and the Vivobarefoot Magna Trail for day hikes.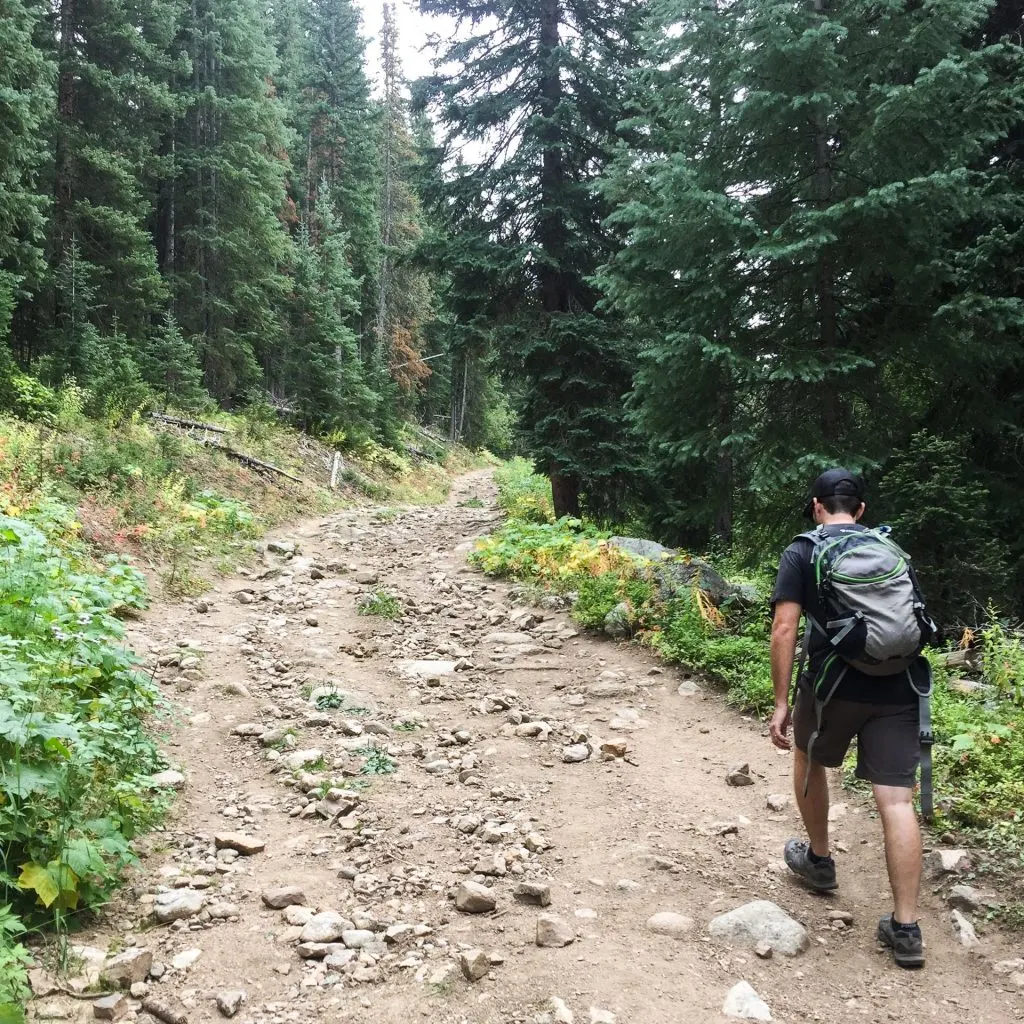 Tips for buying hiking boots
When you're ready for a new pair, the best thing to do is to head to an outdoor retailer near you and try all the shoes on that your little feet can handle. If that's not an option or you simply prefer to order online, purchase from a retailer with a good return policy. REI, for example, will let you return (almost) anything for any reason with any amount of wear in the first year you own the item if you're unsatisfied with it. Which is awesome, because sometimes you don't realize a hiking boot isn't going to work for you until you've hiked in it a few times and gotten it totally filthy. They'll still take it. And then re-sell it at the next REI Garage Sale, which we are totally obsessed with and are an amazing place to find used and new gear for drastically reduced prices (you do have to be a member, though, so become an REI member here for just $20–it's for life!).
It's also easy to order online if you're sticking with the same tried-and-true brand, just replacing an older model with a similar one. Generally, fit and feel don't change much over just a few seasons, so unless you're going for a very different model, you should expect a similar fit to what you're used to.
Hopefully, that helps you figure out how to fit hiking boots! We hope we've taken some of the mystery out of it, but if you still have questions or suggestions of you own, ask away in the comment below! And wander on!
•
How important is finding the right fit for hiking boots?
The right fit is more important than brand, color, and style. An ill-fitting boot has the potential to make a hiking or backpacking trip miserable.
When should I try on hiking boots?
Prefereably later in the day or after a bit of walking around. That way, as you feet will be a bit swollen and sore, you'll get a more accurate picture of how a hiking boot will fit and feel on the trail.
Should I wear special socks to try on hiking boots?
Yes, you should wear the socks you'll be hiking in when you try on new boots so you get a more accurate fit.
Should I get leather or synthetic hiking boots?
We always recommend synthetic over leather. Not only is leather extremely unsustainable and environmentally harmful, but it also takes longer to break in.
Alisha is a freelance writer and photographer based in Austin, TX. She loves her tiny house, vegan food and experiencing the community of travel in far away places. She's also pretty sure she's addicted to coffee. alishamcdarris.com