We've traveled all over this great wide world (including all over the U.S.), and while travel backpacks and the perfect pair or trail to tavern pants so we can pack less and experience more are always on our radar, the quest for the perfect vegan boots for travel has been a personal mission of mine for years. That's because when I travel, I travel light, often only bringing along one or two pairs of shoes total.
So I want those shoes to be able to do it all: take me from the hiking trail in the morning to a cafe for lunch to a cidery at dinnertime. I want to be able to wear them mountain biking, for a hike to a rad viewpoint, and into town without people staring at my feet and grimacing in disgust.
Naturally, style is relative and shoes I might find perfectly suitable to wear with nice jeans you might think are ridiculous, but here are a handful we think fit the descriptors "stylish" and "functional" supremely well (and are often packable, to boot–see what I did there?).
So we dug in, put our feet in boots, pounded the pavement, hit the trails, tested a few travel-friendly boots that also happen to be vegan, and found five of our faves.
The Best Vegan Boots For Travel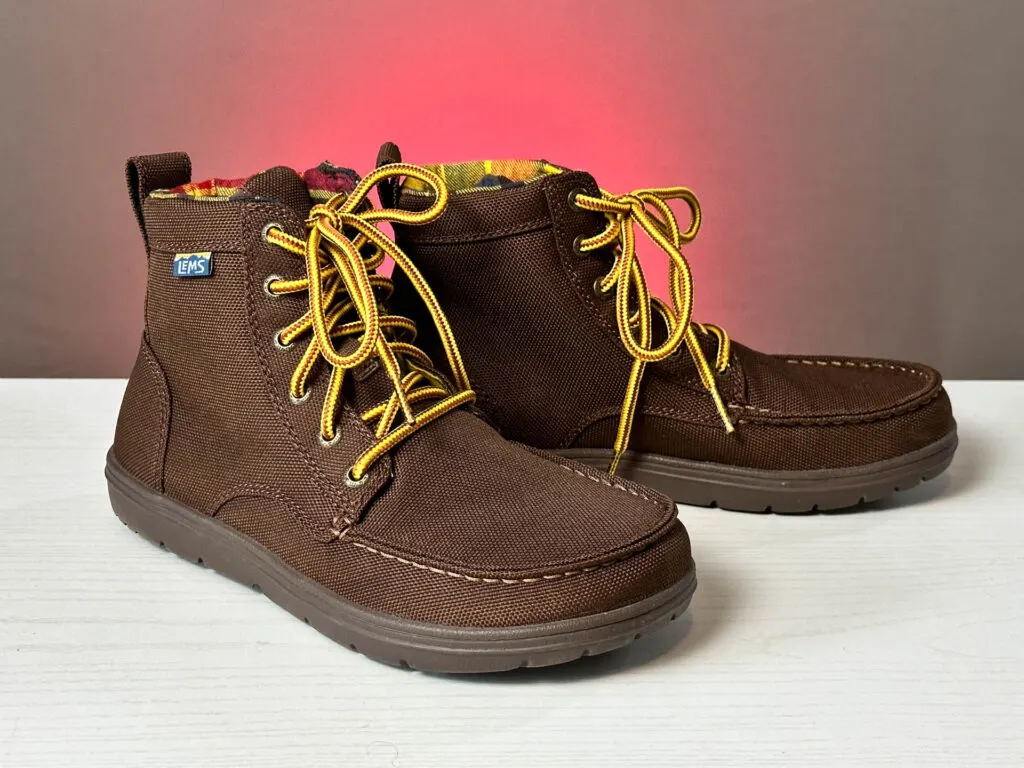 Lems Boulder Boot: The Chill Multi-Tasker
If you ask us, there's no better boot to pair with flannel than the Lems Boulder, especially if you're a fan of flexible footwear with zero drop that are also super comfy to wander around it. They are minimalist boots, which means there's no aggressive arch support, unnecessary cushioning, or chunky heel, but that's why we love them. They move with your feet, are cozy in cooler temps, and give off a chill lumberjack vibe that, not gonna lie, we're here for.
They're available for men and women in two colors: black and brown. The soles don't feature terribly aggressive tread (though there's a vegan version of the Boulder Summit that does), but for easy hike, they'll do nicely.
What we liked: We love the light weight of these boots and the flexible, comfy footbed and sole. They're cozy, too, making them ideal for spring and fall travel. Plus, when you're done with the, Lems encourages customers to donate gently used shoes to Souls4Soles, an org that provides shoes and clothing to people in need.
What makes them great for travel: They look good enough to wear around town with jeans, are comfy for long days on your feet, and are capable enough to take out on easy trails.
---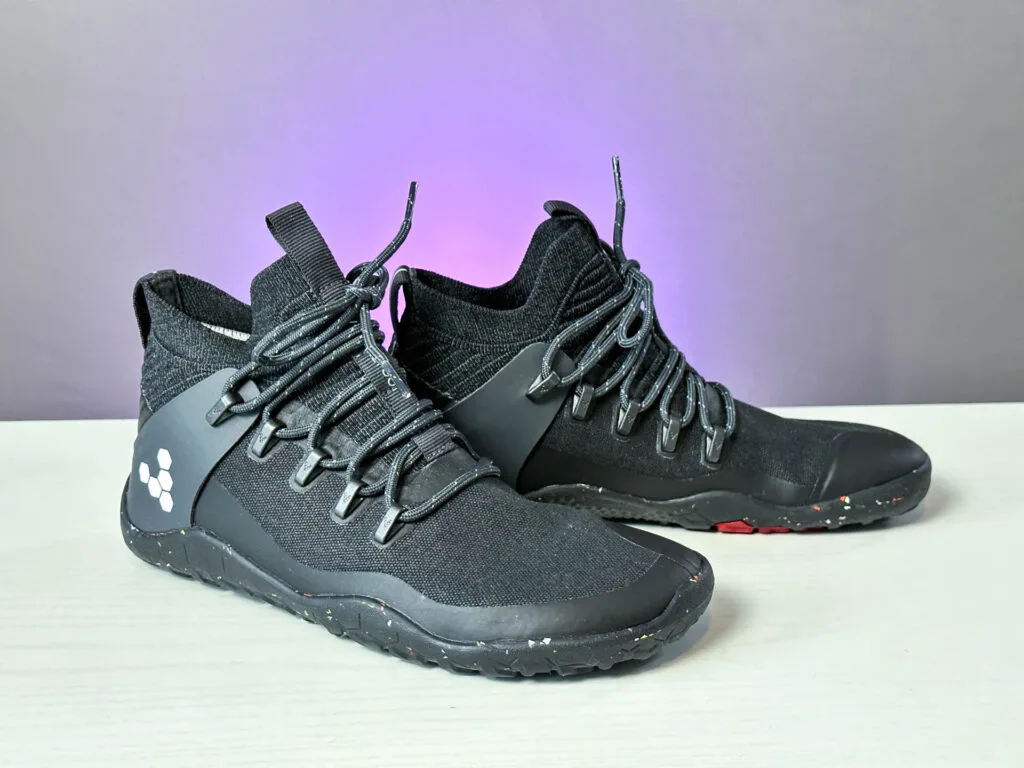 Vivobarefoot Magna Trail II: The Sleek Barefoot Boot
We've tested and reviewed previous models of the Vivobarefoot Magna Trail before, and let's just say we're big fans. In fact, they quickly became my go-to boot for travel because they didn't take up much room in my bag, fit well, were suitable for hiking, and looked pretty decent with a pair of skinny jeans! Bonus that they're also barefoot shoes, which happens to be they type of footwear I prefer.
And the updated version got a few welcome tweaks, like an all-black construction (which I dig) and an ankle sock that makes the boots way easier to slide on and off. Win! They're not waterproof, but I've been known to spray them down with Nikwax if I'm expecting wet weather when I travel. Works like a charm. Also worth noting that the men's version of this shoe is nearly sold out as of posting, but if you're a dude, you can always order a women's pair and size up!
What we liked: The barefoot style sole and flexible upper make them supremely packable and once you get used to barefoot shoes, they're super comfortable for all-day wear. Plus, they're made of recycled materials and the brand's ReVivo program encourages customers to send their used shoes in for refinishing and reselling!
What makes them great for travel: Not only are they packable and streetwear stylish, but they dry quickly when wet, and the combination of the barefoot sole and sticky traction make them excellent hiking boots.
---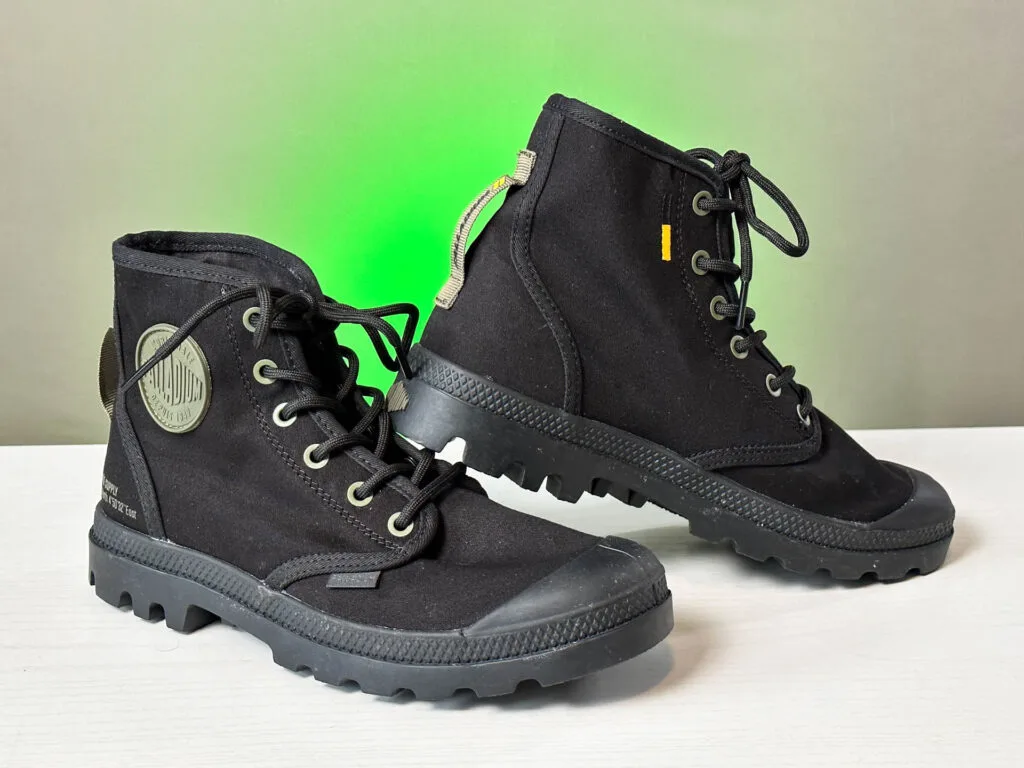 For a classic combat boot style that's not only comfortable, but sustainable and suitable for hitting easy trails around town, look no further than the new Palladium Pampa Hi HGT. Made with organic cotton, the uppers are pliable and flexible, the soles are way lighter than that other famous brand of combat-style boots, and they're totally trail-ready. I'm not saying we'd take them backpacking or on any 12-mile day hikes, but they'll definitely hold their own on shorter, less technical adventures near town.
They come in a slew of colors so you can choose your fave, and the canvas is designed to dry quickly so you can get back to adventuring after wet weather.
What we liked: We dig the classic combat boot style with an upgrade in functionality and a lighter weight. Bonus: we love shoes made of organic cotton. They don't fit as snuggly as other boots on narrow feet, though.
What makes them great for travel: This is a one-and-done boot if you're traveling to any place you expect to be strolling city streets more often than technical trails, but if you're planning short excursions from town, these will do nicely.
---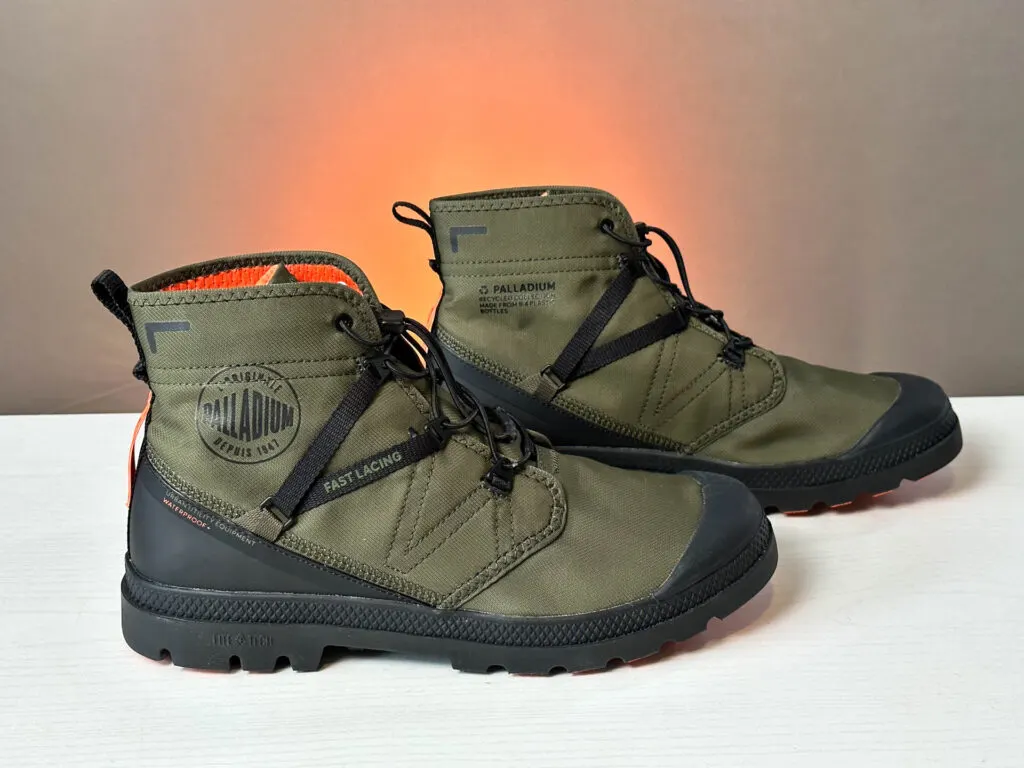 Love the Palladium style but want something that can handle a bit more precipitation, off road adventures, or puddly weather? This is your boot. The uppers are still uber light, but are made of 9.4 recycled plastic bottles and feature a waterproof membrane to keep precipitation outside your boots where it belongs. Coupled with a speed lacing system and sticky soles with deep tread, these can not only handle some rocky terrain, but give off some serious street style vibes, too.
They do run a bit big, though, so consider getting a half size smaller than you normally would. Bonus: they come in a delightfully wide range of colors for men and women.
What we liked: The uppers are flexible and not overbuilt, which means there's plenty of freedom of movement and those speed laces are just too easy.
What makes them great for travel: They are lightweight, packable, waterproof, and bring some serious street style while still being highly trail-ready.
---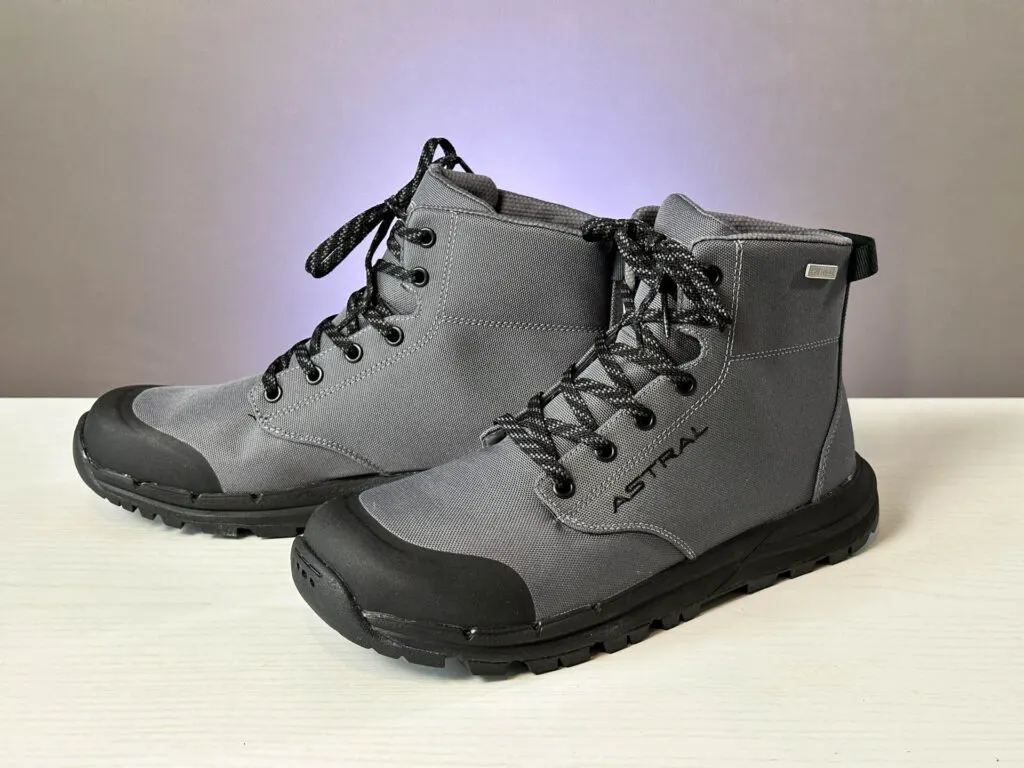 Astral Pisgah: The Built-For-Adventure Boot
A bit more concerned with support than style? We won't say these Astral Pisgah's aren't stylish (we'd totally wear them into the bar post-hike), but they're certainly better suited for the outdoors over urban adventures. Why? Because those soles are STICKY! They should be, they're made with Astral's G rubber. Makes sense, because the brand is known for designing shoes meant to be worn in, on, and around water. So yeah, you can trust the grip on these bad boys in wet and slippery weather and on wet and slippery surfaces.
They come in two colors for men and two for women, and are made of recycled polyester, which makes them more sustainable than synthetic boots. Bonus: they're waterproof!
What we liked: A minimal drop in the footbed (just 4 mm) makes them more natural to walk in that other built up boots, plus they're comfy to walk in for hours. Bonus: They'e made of recycled materials.
What makes them great for travel: While this shoe may be better suited for trail-centric travel, we wouldn't be embarrassed to wear them with a pair of jeans into the local brewery. Plus they're waterproof, which means your feet will be protected from soggy situations.
---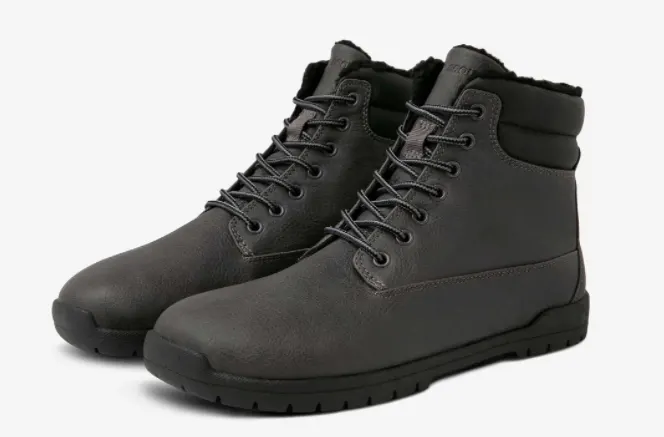 Feelgrounds Patrol Winter: The Classic Barefoot Multitasker
Like the street-style look of Timberlands but not so much the leather, heft, and clunky soles? If you're ready to give barefoot boots a try (and you totally should), get yourself a pair of Feelgrounds Patrol boots. They're warm in cool weather, waterproof, stupid flexible, and even have tread that can handle off-road adventures. There's also a Patrol Lite if you're looking for something for spring or fall.
Another favorite Feelgrounds barefoot boot is the Chelsea, which give serious Blundstone vibes, but, you know, lighter, more flexible, and better for your feet and spine. Once I put these babies on this fall, I never took them off. They're more suitable for light outdoor activity as opposed to serious hikes, though. If that's what you're looking for, check out our review of two different barefoot hiking boots here.
What we liked: The cozy lining in the winter version makes these boots feel like you're actually wearing slippers. We love that they're street-style forward but also capable on hiking trails. Plus they're flexible and feel like wearing much lighter sneakers, all with the barefoot benefits of a wide toe-box and zero drop.
What makes them great for travel: Both the Patrol and Chelsea look great with a variety of styles depending on where you're headed. Plus, they're pretty light for how warm they are. They're especially suitable for cool to cold-weather travel.
---
Bottom Line
What defines "the perfect travel boot" may be relative, but if your goal is to pack just one or two pairs of shoes on your next trip, a sleek look, capable tread, and comfort after long days of wear are of the utmost importance. Especially if you're going to be sliding your feet into the same pair day after day. So hopefully, we helped you find one that's right for you. If we did, or we missed your favorite, let us know in the comments! Then get out there and wander on already!
•
Want more foot-related content? Check out this article with over a dozen vegan hiking boots or this one about vegan hiking socks!
•
This post contains affiliate links, which means if you clicky-click and buy a pair of boots, you help support Terradrift. Which is cool, because we're a small, hard-working team. You won't even pay any extra! That's what we call a win-win.
Alisha is a freelance writer and photographer based in Austin, TX. She loves her tiny house, vegan food and experiencing the community of travel in far away places. She's also pretty sure she's addicted to coffee. alishamcdarris.com