You know we love us some Peak Design products (maybe you missed our review of the Sling bags on YouTube?). But we also love us some innovative and integrative travel bags, too. So you can imagine our excitement when we got our hands on a setup from the Peak Design Travel line: the 30L Travel Backpack, Packing Cubes, and Wash Pouch. And as soon as we did, we got to testing. Ready to know what makes this travel packing system so dang great? Read on (or watch) to find out.
Why a Complete Travel Packing System?
I'll tell you. Because when everything in your travel kit works together, it takes a lot of the headache out of packing. And if there's anybody who does travel kits that work together better than Peak Design, I haven't found them.
See, I'm *real* fond of organization. Especially when I'm traveling. Because my packing situation tends to get out of hand quickly. By which I mean, you should see my bag after about 15 minutes of arriving in a destination; It's like a bomb went off. Clothes are scattered literally everywhere. And if I have to dig for a pair of socks on a bus or plane, oh, boy. It's about to be a hot mess inside my luggage.
But a good travel packing system is like a balm to a traveler's soul: it keeps the inside of your bag organized and in appropriate working order and looks dang good doing it. So let me break down all the parts and pieces that make the Peak Design Travel line maybe the best available.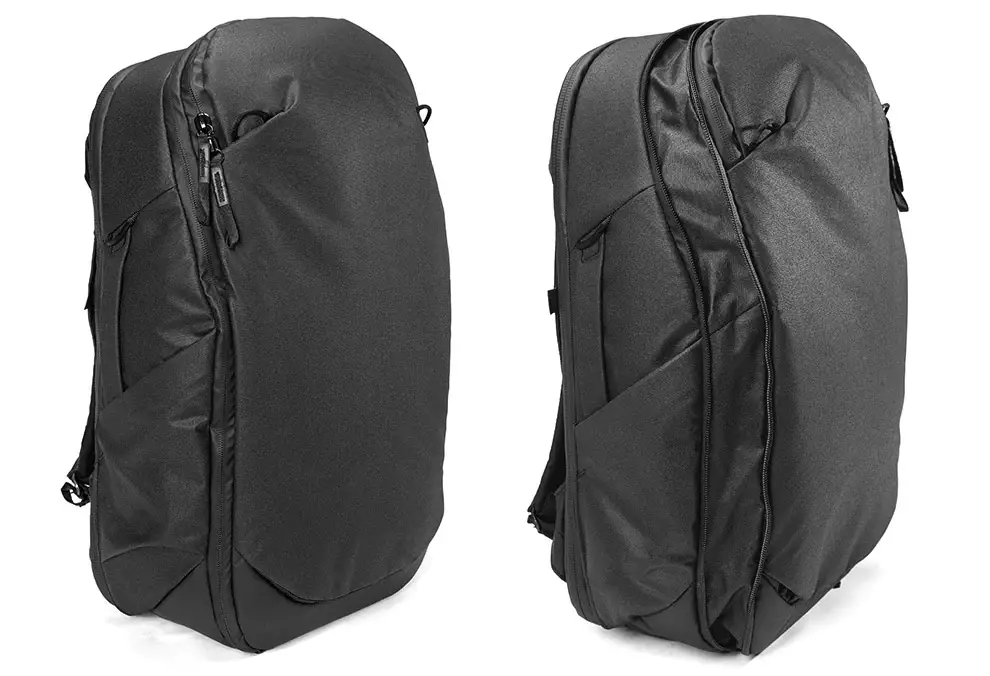 Let's start with the Backpack, shall we? Here are some of the features that make this bag so great:
Perfect carry-on size (also counts as a personal item on budget airlines!)
Theft-deterrent zipper pulls
Luggage pass-through for roller bag carry
Padded shoulder straps stow under magnetic flaps
Expansion zips offer more packing space or compression
Side pockets for water bottles, tripods, etc.
Top front zippered pocket with more pockets for keys, glasses, passport, etc.
Internal zippered mesh pockets
Padded, dedicated laptop and tablet sleeves
Swivel shoulder straps for comfortable carry and easy stowage
Stowable sternum strap
Grab handles on all four sides of the bag (and the back)
Weatherproof 100% recycled nylon canvas exterior
Ultralight padded foam throughout to protect valuables

High-visibility grey interior

Designed to fit Peak Design Packing Cubes (up to 3 units)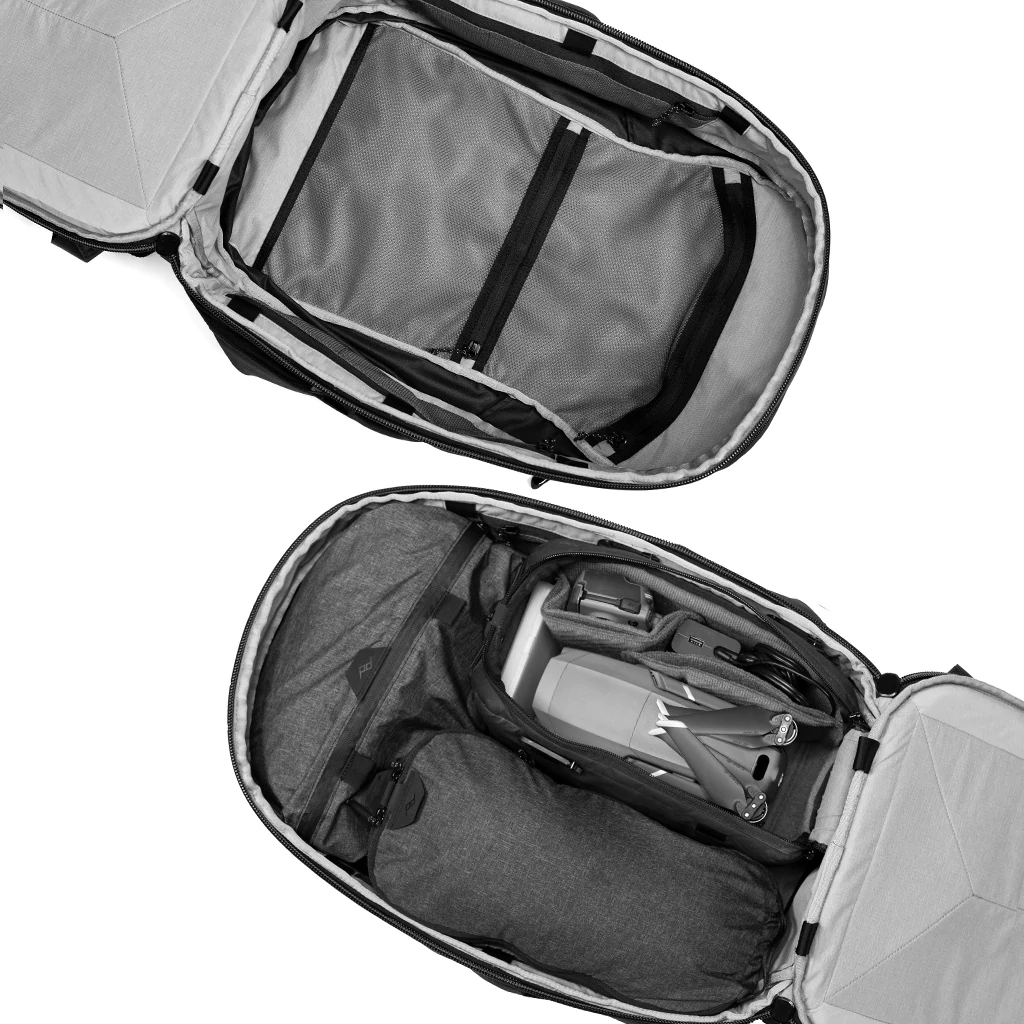 But you want more than a list of features, don't you? Happy to oblige.
For starters, this bag is perfect for short trips like long weekends (though as a ultralight packing pro, I think it would work for a week or longer, too–on a recent 4-day road trip, I was able to fit everything I needed in this sucker: laptop, power cables and hard drives, toiletries, all my clothes, a book, accessories like headphones and notepads, everything), but also everyday carry. Say commuting to the office with your laptop and extra clothing and gear.
Do take note, though, that if you're as into PD gear as we are for the photography aspect, the 30L Travel Backpack only fits Peak Design Camera Cubes when it's fully expanded. If you're planning on carrying a significant amount of camera gear, you may want to upgrade to the 45L bag.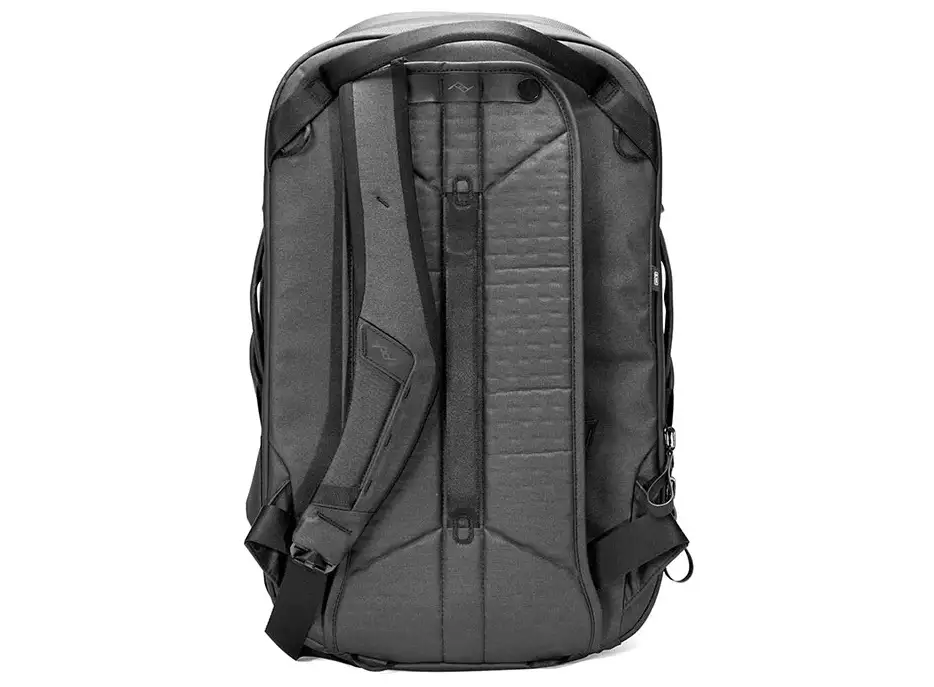 Whether or not you're a photographer, though, the organization inside the bag is stellar. There are pockets inside of pockets, here! I love all the organizational options available so you can keep cords, cables, accessories, socks, you name it all in their proper place.
One important thing to note: if you're vegan like we are, only the black color option is vegan. The other colors–at least for bags and such–feature leather patches, which, honestly, Peak Design? Why are we still doing that? (Read about why we don't recommend leather in this post)
And if you want even more organization and the ability to cram even more stuff inside this travel bag, get yourself some packing cubes.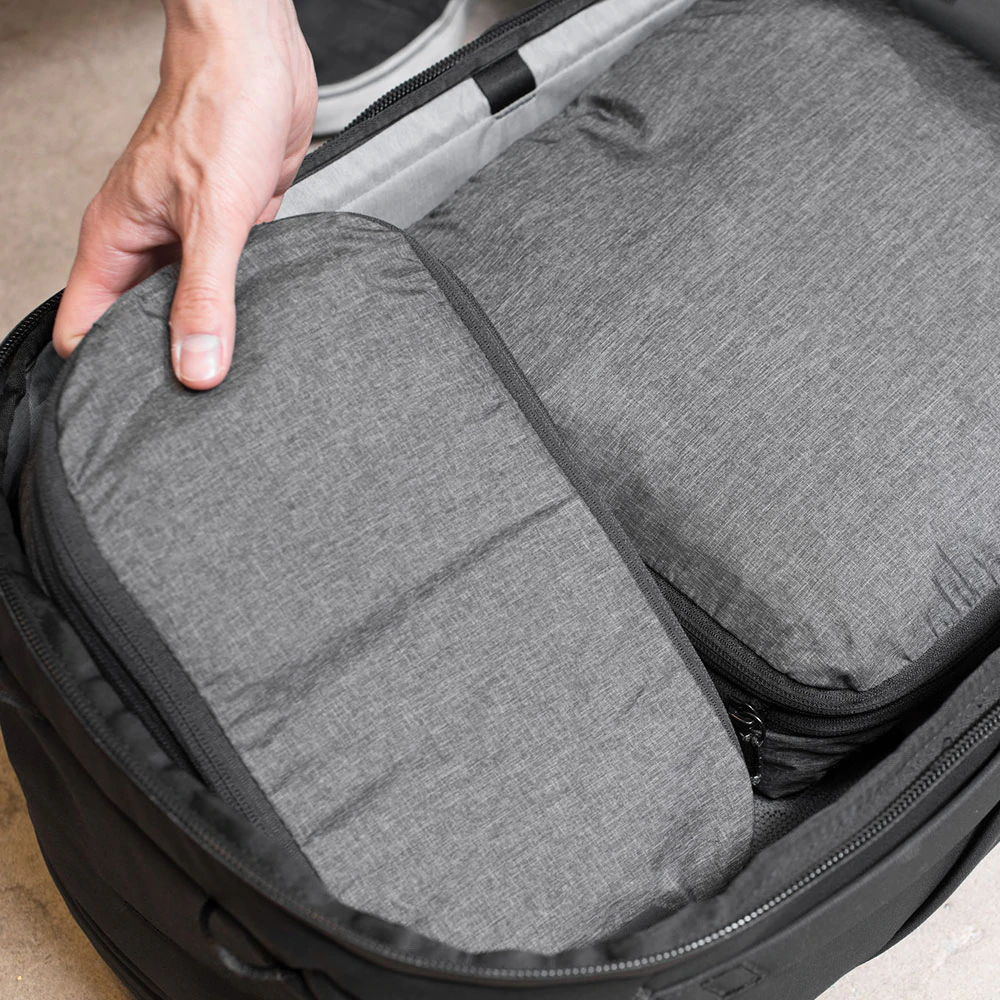 Why these packing cubes? I'll tell you why.
Expansion/compression zip provides extra packing space, plus the ability to compress contents once packed
When compressed, fit two Packing Cubes in the space of one!
Ultra-fast tear-away main opening
Dual zippered compartments for separating clean and dirty clothes
Moving divider auto-adjusts size of each said compartment
Top and bottom handles for easy handling
Ultralight weatherproof ripstop nylon/poly material
Self-healing fabric automatically closes small punctures and abrasions
Lifetime guarantee
They're sustainable: Fair Trade Certified, 100% carbon neutral, 100% recycled shell fabric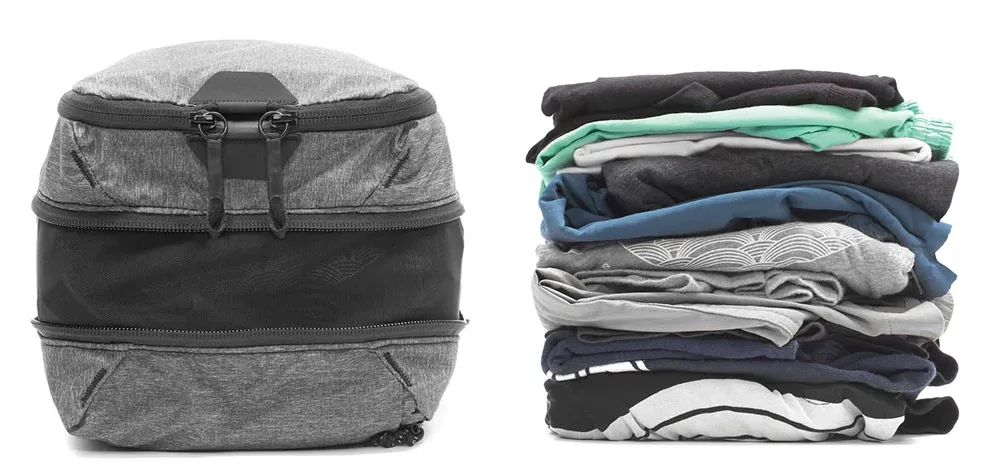 Honestly, I've never really been sure if I'm a packing cube type person. But dang. Turns out they can really come in handy. Especially when you travel like we do, where you're packing lights and one backpack or duffle is serving multiple purposes on every trip.
Like, after we arrive at a destination, we typically empty our bags on the bed, backseat, in the tent, etc., then repack them with whatever we need for a day on the town or the trail.
Packing cubes kept everything organized and in one place so it didn't look like our bags just exploded all over the room. Super handy. Plus it kept the inside of the bag organized so we could fit way more stuff inside.
And of course there's the compression, too, which you don't get with most packing cubes. I was honestly surprised how much fit in each cube. Ten shirts in the small, which expands from 4.5 to 9 liters, and 20 in the large, which expands from 8 to 18 liters.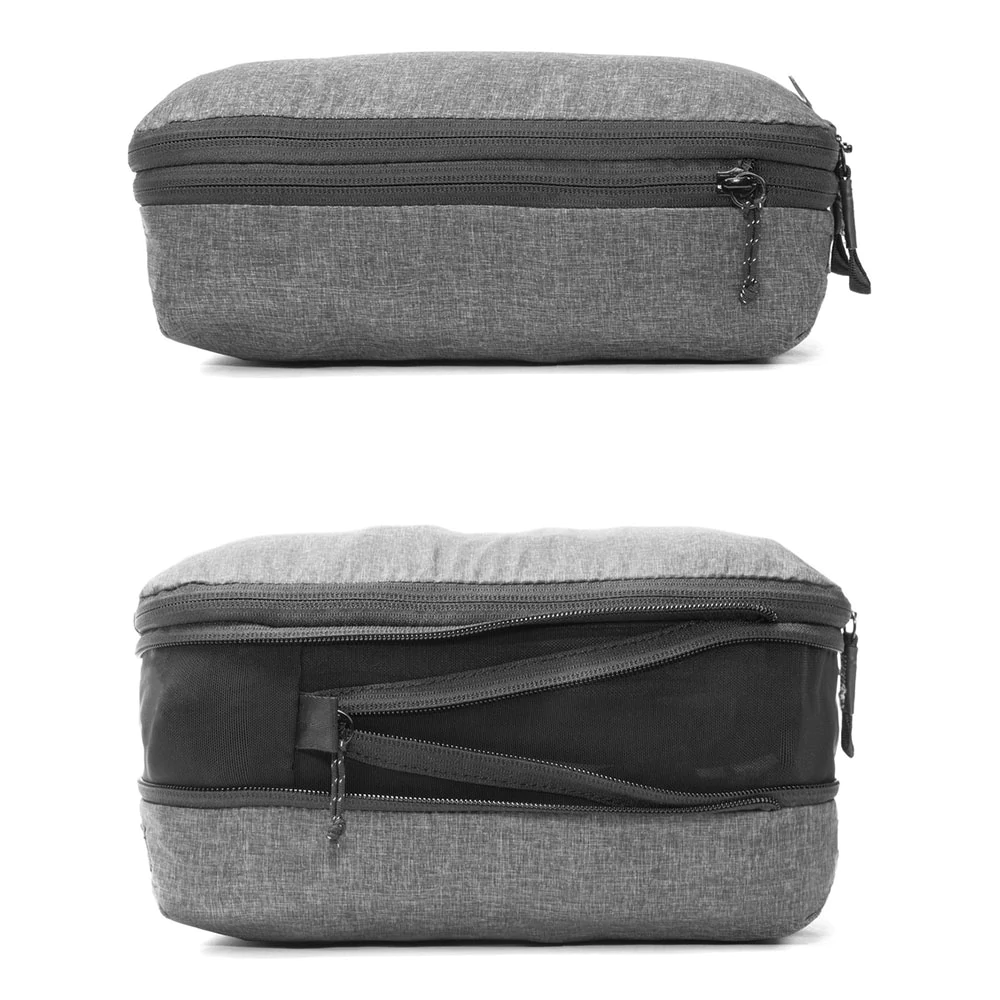 Or, if you're a practical human and don't JUST pack T-shirts: two pairs of shorts, leggings, three shirts, several pairs of socks and underwear, a swimsuit, a travel towel, and a hat fit in the medium with room to spare. Plus there's a separate little zipper compartment on the bottom where you can stash dirty stuff separate from clean. Cool, right?
They're super easy and quick to open–just pull on the tabs–but don't close quite as quickly. Not a huge deal in my book as I'm usually in more of a hurry to dig stuff out than I am to put it back in.
Sustainability bonus: the charcoal and sage fabric is solution-dyed while this Raw color is completely undyed (read about why undyed gear is beneficial in this post), which is the most sustainable option of all.
But you're also gonna need somewhere to put all your toiletries!
I'm a sucker for a well-designed dopp kit (aka wash pouch).
Sits upright when open for easy access
Compact, but holds 2.5 liters!
Stowable aluminum hook for hanging on shower curtain rods
Exterior grab handle
Interior and exterior materials easily wipe clean
Interior pockets have pull-out lining for easy cleaning
5 interior silicone-coated mesh pockets for smaller items
2 interor open storage spaces for larger items
Magnetically-sealed toothbrush pocket with pull-out lining for easy cleaning
Interior zip pocket for smaller items
External zip pocket for razor or other items
Weatherproof nylon DWR-impregnated shell
Lifetime guarantee
Sustainability features: Fair Trade Certified, 100% carbon neutral, 100% recycled shell fabric, plus black fabric is solution-dyed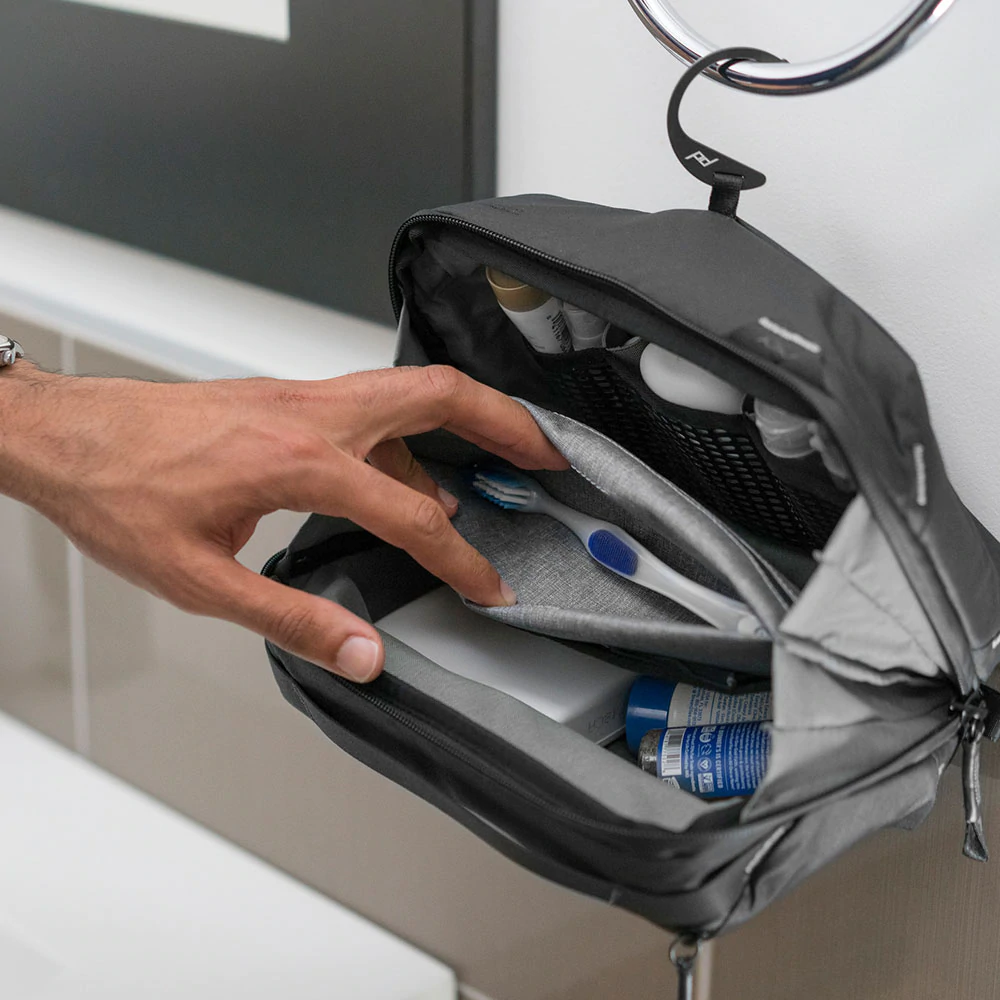 Long story short: I dig the Peak Design Wash Pouch. It stands up on the counter, but can also be hung on a shower curtain rod or hook without spilling stuff all over the place and there are two sides for storing things, which helps keep everything organized, which, did I mention I'm a fan of…?
It also helps separate his from hers if you're traveling with a partner. Or his from his. Or hers from hers. Or theirs from theirs. All of the above, really.
But again, only the black pouch is leather-free.
Bottom Line
All together, these Peak Design Travel bags and products make for a pretty stellar packing system. No, it's definitely not a cheap packing system at just under $360 for the 30L Travel Backpack, medium and small Packing Cubes, and Wash Pouch, but it is one that will last. I mean, this might be the last packing system you ever buy. Which is kinda the point. You can even shop their used site to save some cash and give gently used gear a second life!
Plus it comes from a brand that puts sustainability at the forefront of everything they do. And that's a plus. As in, Peak Design is a Certified B-Corp, 100% carbon neutral–in fact, they helped found the program Certified Climate Neutral–and all their products come with a Lifetime guarantee, so if something goes wrong, they'll fix it or replace it.
So yeah, you should check out Peak Design's travel gear if you're in the market for a new bag and organizational tools. Find it all here:
Then get out there, travel the world, and wander on.
•
This post contains affiliate links, which means we may receive a teeny percentage of sales when you clicky-clicky and gear up! That helps support our small channel!
Alisha is a freelance writer and photographer based in Austin, TX. She loves her tiny house, vegan food and experiencing the community of travel in far away places. She's also pretty sure she's addicted to coffee. alishamcdarris.com