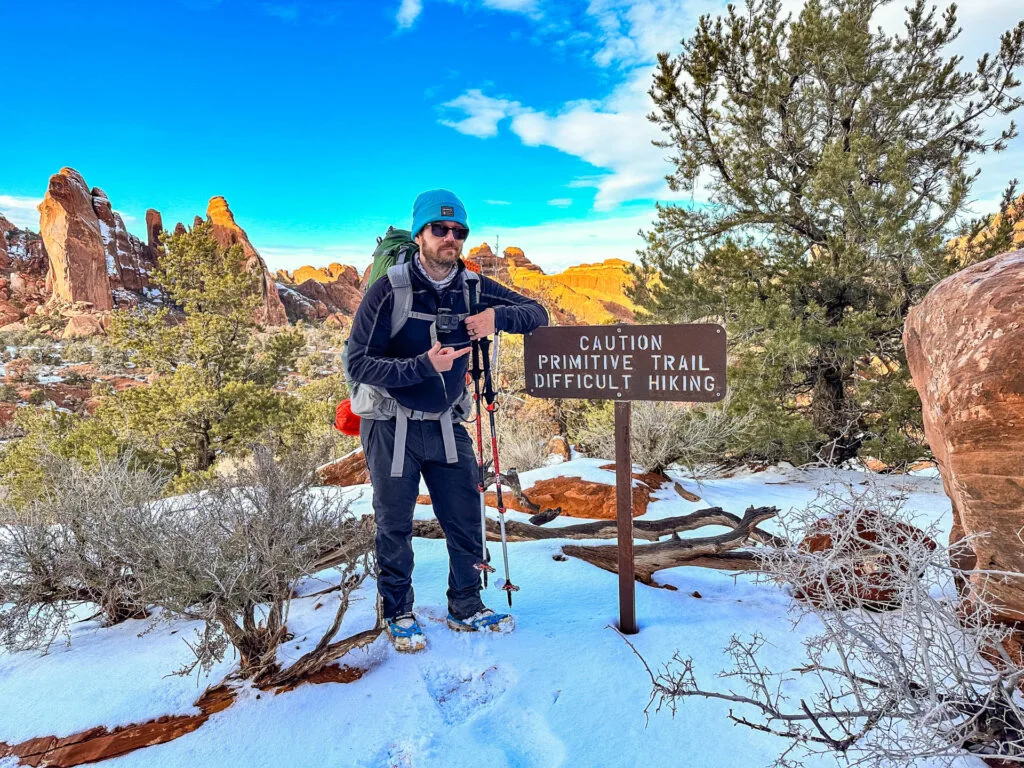 It's winter! Which means snow and ice for many of us, which means a lot of folks are hunkering down indoors instead of getting outside to play. But I refuse to let snow and ice keep me from enjoying time outside, taking winter hikes, or exploring new parks and trails. So right after I layer up (check out our guide to layering for winter hikes here), my next move is to strap some traction devices on my feet.
What are traction devices, you ask? I didn't know either until I started winter hiking in super snowy regions like Colorado. But they're brilliant and make snow- and ice-covered trails totally hikeable in wintry conditions. They come in many forms: Snowshoes, micro spikes, and crampons. But we're going to focus on micro spikes because they're not only accessible and easy to use, they're useful for all manner of outdoor adventures, from teaching your niece to ice skate on a frozen lake, crossing a snowy mountain pass, or hoofing it around town after freezing rain. So here are some of our favorite traction devices. (Learn more about traction devices and which to use in this article).
Micro Spikes
Versatile and function, micro spikes come in many different forms and offer solid purchase on packed snow and icy via spikes or teeth. They usually stretch to fit around your shoes or boots for easy on and off usability.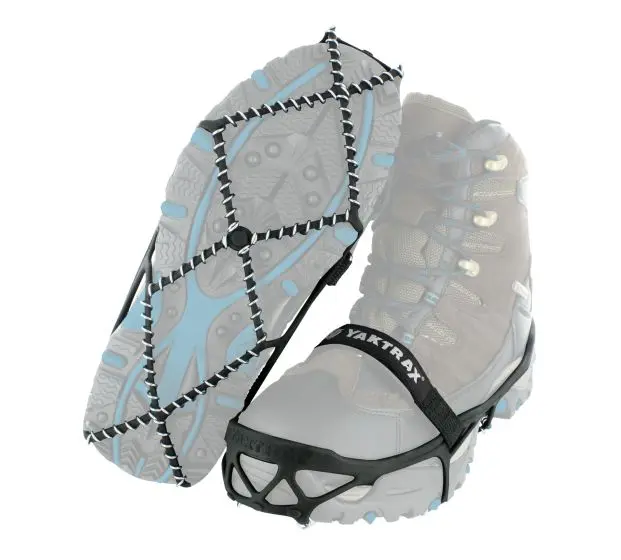 Yaktrax is a popular brand for a reason. They're light, flexible, and simple to use. They call on tight stainless steel coils that criss-cross over your boot sole to provide traction. They're best for super packed snow or ice that isn't quite frozen solid. They're handy to have and easy to transport, but aren't as aggressive as actual spikes. Order a pair of Yaktrax Pro traction devices on REI.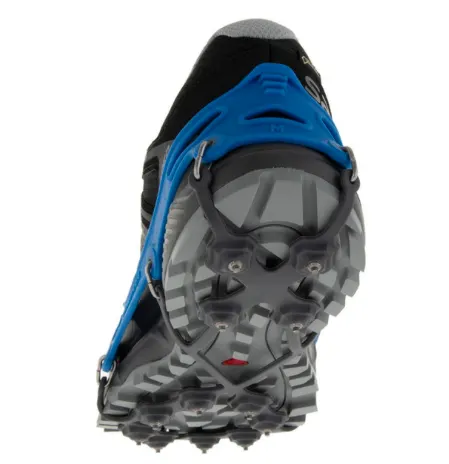 If it's more running errands around town or kicking it by a frozen lake that you have in mind, these EXOspikes pull on over your shoes and offer 12 low profile tungsten carbide spikes plus stacked traction beds for a solid grip on dense snow and ice. These are also a great choice for winter runs and walks around town. Order a pair of Kahtoola EXOspikes on REI.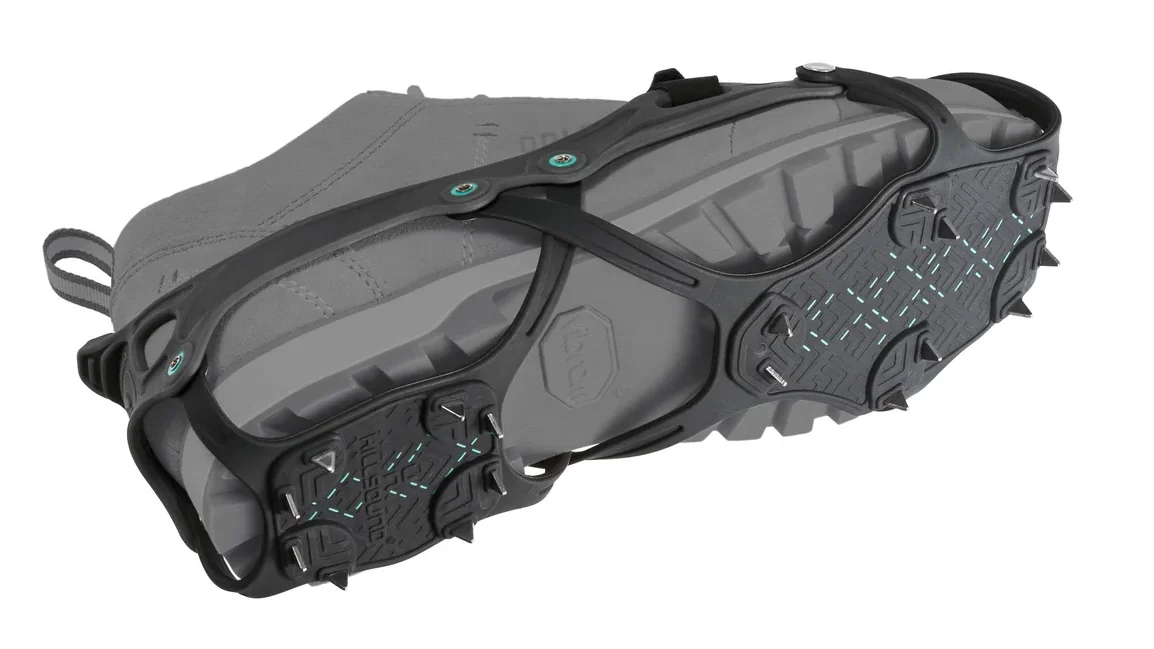 These are best suited for easy hikes or leisurely strolls on surfaces like flat frozen lakes or icy sidewalks, plus winter runs on frozen trails. The steel teeth embedded in the solid plastic plates that cover the bottom of your shoes may be less burly and aggressive than full-on crampons, but the pointed teeth still offer more than enough grip so you don't slip and a hook-and-loop strap keeps them in place. Find the FlexSteps here.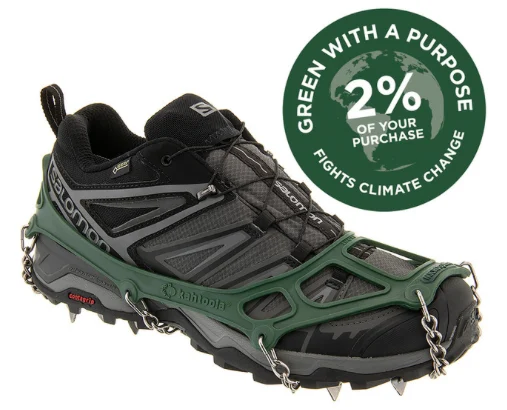 Hitting frozen, steep, or mountainous terrain? These aggressive spikes can handle it. When packed snow or ice cover trails, you can still move confidently through the trees or over rocks without losing your footing thanks to 12 hardened steel teeth and welded chains. Plus, get the green pair and Kahtoola will donate 2% of sales to 1% for the Planet. Buy a pair here.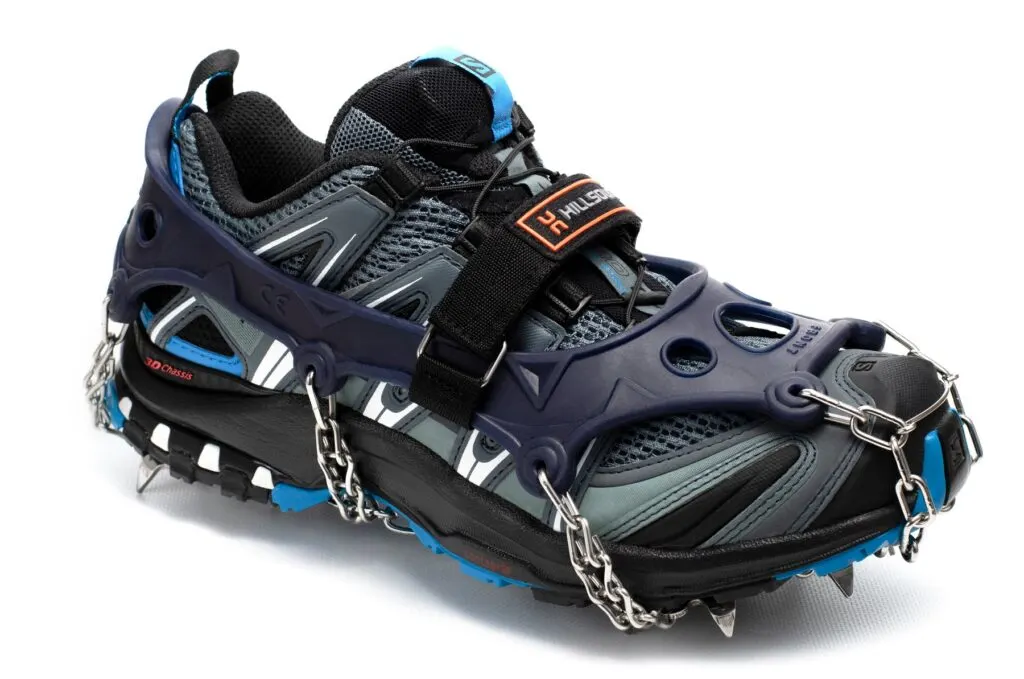 Planning to tackle an icy hike or trail run? These Trail Crampons (which are technical traction spikes), are the perfect rugged, dependable tool for the job. Eighteen bigger spikes and sturdy chain links practically guarantee solid footing, plus a hook-and-loop strap keeps them in place and they come with a handy storage bag. Order a pair here.
•
Ready to hit some winter trails or what? Get out there, just don't forget your micro spikes!
•
This post contains affiliate links, which means if you get yourself some new spikes, you also help support Terradrift and the teeny team who runs it. Win-win.
Alisha is a freelance writer and photographer based in Austin, TX. She loves her tiny house, vegan food and experiencing the community of travel in far away places. She's also pretty sure she's addicted to coffee. alishamcdarris.com