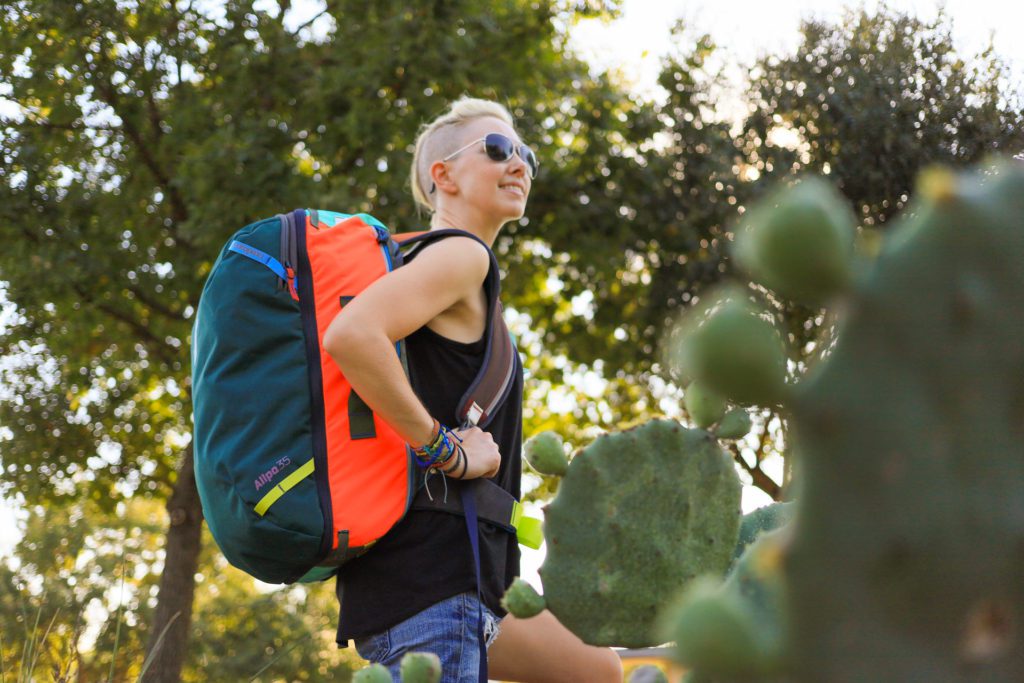 Here at Terradrift, we're always on the lookout for the perfect bag for travel. And no lie, that's a pretty tall order. Of course, "the perfect bag" will look different for everyone–someone on a luxury vacation in Europe is NOT gonna be considering the same bags as someone backpacking through South America for three months–but for those of us who prefer to shoulder a pack rather than roll around a suitcase and carry on our luggage instead of trusting it to those black holes at the airport where luggage disappears and–finger crossed–eventually comes back out again, the Cotopaxi Allpa 35L Del Dia bag may be the perfect travel bag, especially if you consider sustainability a top priority.
And we. Freakin'. Love it. So watch or read to find out what makes it so dang great (and if it's the perfect travel backpack for you, too).
Cotopaxi Allpa 35L Del Dia: Pros and Cons
Here are a few things we particularly appreciate about this bag (and a few we don't)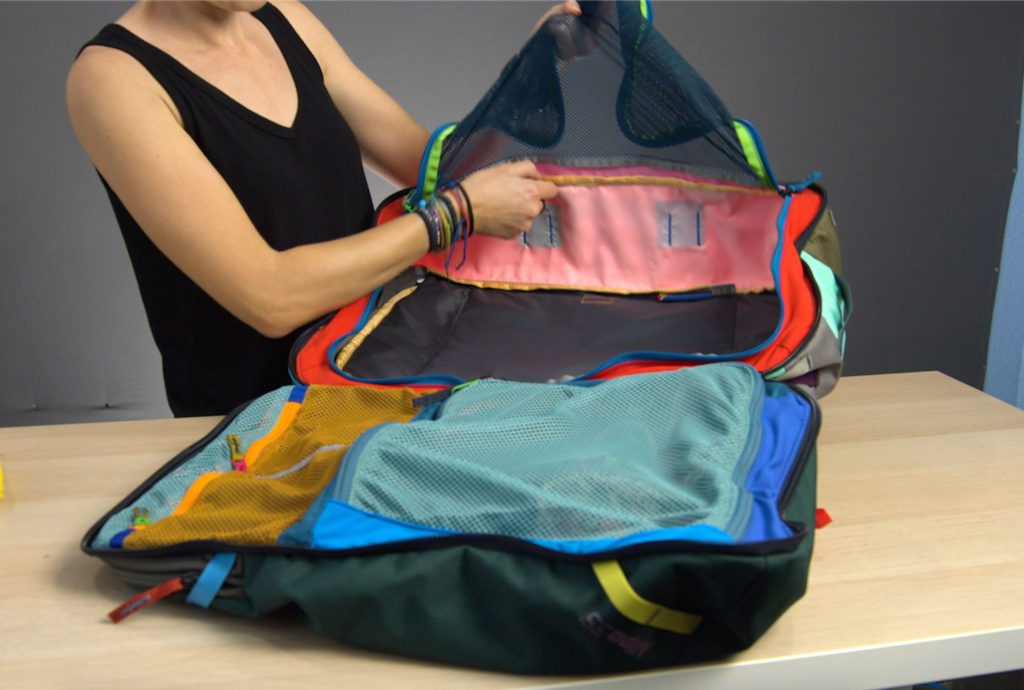 Pros:
The butterfly opening: it opens just like a suitcase, so it's easy to prop the bag open in the backseat of a car or on a campground picnic table, or on the old dresser in your in-law's house…
Space: you might not think it by looking at it, but I got all my clothes and shoes for an entire two month road trip in this thing.
Organization: there's the main pocket, accessory pockets, a very spacious pocket for shoes, dirty clothes, or whatever, and a big front top pocket that fit a pair of sneakers. Keep everything separate and in its place (and utilize packing cubes if you like)
Rain cover: don't be afraid of a little wet weather. The included rain cover will protect your bag and its contents in the rain.
Laptop pocket: fits up to a 17″ laptop with ease, plus has a padded tablet sleeve in there, too.
Theft-proof zippers: so you don't have to worry about somebody snatching the stuff inside when you're exploring city streets.
Tuck-away straps: don't want to carry it like a backpack? No problem. Tuck the straps away for hand-carry (or easy storage).
One-of-a-kind colors: no joke. No two bags are exactly alike because the employees get to pick every piece of fabric and notion that goes into the bag.
Super comfy: we found the bag and straps very comfortable, even after carrying it for a while. The padded hip belt helps distribute heavy loads.
Sustainability: maybe our favorite feature. Cotopaxi, which is already a super eco- and culture-conscious brand, takes their mission a step further by taking leftover fabric from other outdoorsy projects and repurposes it to make their Del Día bags, thus saving said fabric from ending up in a landfill and going to waste.
Unique: you'll never accidentally grab someone else's bag off the carousel again (nor they, yours).
Carry-on friendly: not "personal item" friendly–so don't try to carry it on for free on cheapo airlines like Spirit and Frontier–but on most other airlines, this counts as a carry on.
Cons:
No water bottle pockets: we've said it before and we'll say it again–there should always be water bottle pockets on travel bags. But since most suitcase-style bags or those designed to transition from one style of carry to another (the Topo Designs Travel Bag, for example) don't often have water bottle pockets, this is only a minor complaint.
No daisy chain lash points: While there are lash points on the corners of the bag, they aren't the most convenient for attaching items to the outside of the bag because they're so far apart.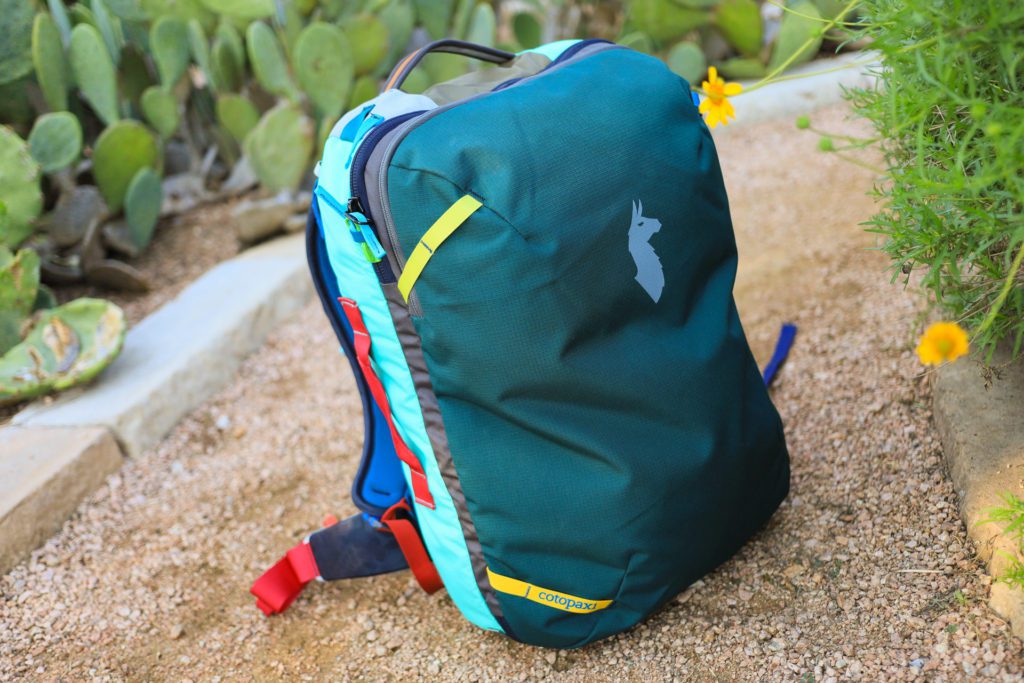 Sustainability
For starters, Del Día is the term Cotopaxi uses for their one-of-a-kind products made with 100% repurposed materials.
Maybe you noticed that this particular bag is a whole freakin' mish-mash of colors and fabrics. That's on purpose. I mean, yeah, it makes it a totally fun and unique bag that no single other human on the planet has, but it's also made of remnant (leftover) fabric that's often too small to be used for a whole bag, so ends up just getting trashed. Del Día bags keep that from happening.
That's a win, because it means garbage isn't piling up and causing harmful greenhouse gases as it slowly breaks down over decades or centuries, but new materials also don't have to be manufactured to create this bag. Plus, it looks way cool.
Plus, the folks sewing the bags together get to pick the color combinations and fabrics of these bags, so it's sort of a fun, empowering thing for the employees in Cotopaxi's fair trade factory, too.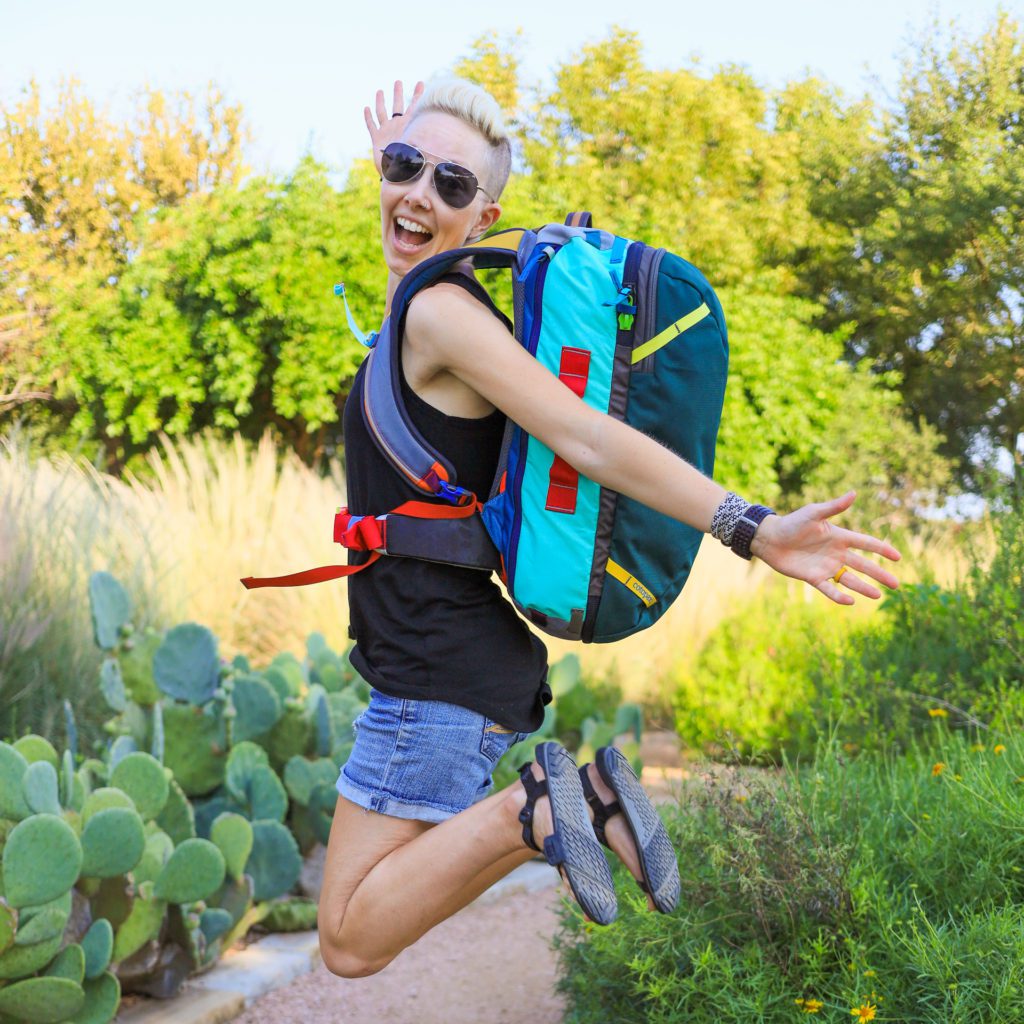 The Bottom Line
We really like the Cotopaxi Allpa 35L Del Dia. Not only did everything stay put during our travels, it remained easy to locate thanks to all the organizational features. And this pack is surprisingly comfortable. We've carried similarly sized packs loaded with stuff on other trips and they're not this comfortable. So if you'll be soldering this pack a fair amount, fear not: your shoulders shouldn't start screaming at you to give them a break for some time.
And one more time, at the risk of sounding like a broken record, this is just a fun travel bag! Every zipper and fold and organizational pocket is a vibrant surprise! You can even choose the color combo you like on Cotopaxi's website or roll the dice and have them pick one for you. It'll be like Christmas because you'll have no idea what you're actually getting!
Find the Allpa 35L Del Dia here.
As for traveling with it, it absolutely beats traveling with a top-loading backpack where you have to empty the entire bag just to find one cable or pair of socks because everything just gets pushed to the bottom and turns into a jumbled mess. It's the best of both worlds: still a backpack for easy movement wherever your feet take you, but also opens like a suitcase so you can easily sort through all your stuff.
Long story short, the fun, functional, and sustainable Cotopaxi Allpa 35L Del Dia is my new favorite travel backpack to date. Now I just can't wait until I can take it somewhere really exciting…like, anywhere that requires a boarding pass…
Wander on.
Alisha is a freelance writer and photographer based in Austin, TX. She loves her tiny house, vegan food and experiencing the community of travel in far away places. She's also pretty sure she's addicted to coffee. alishamcdarris.com