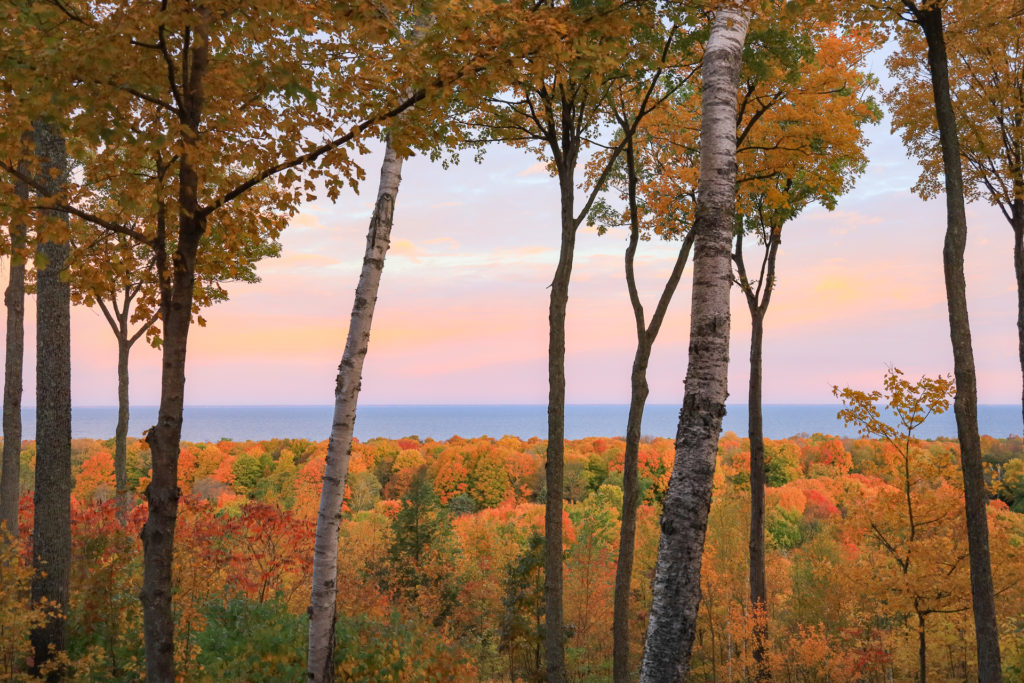 It's fall, y'all! (FYI, we totally don't say "y'all…) And if you're like us, you've got cool-weather hikes with colorful foliage on the brain. Fortunately, across the country (yes, even in Texas–lookin' at you, Sam Houston National Forest), you can indulge in fall hikes that are perfect for leaf peeping. We've rounded up 3 for you right here, right now, all of which we've personally experienced and know are hot spots for a cool outdoor adventure. So pack an extra layer and get going!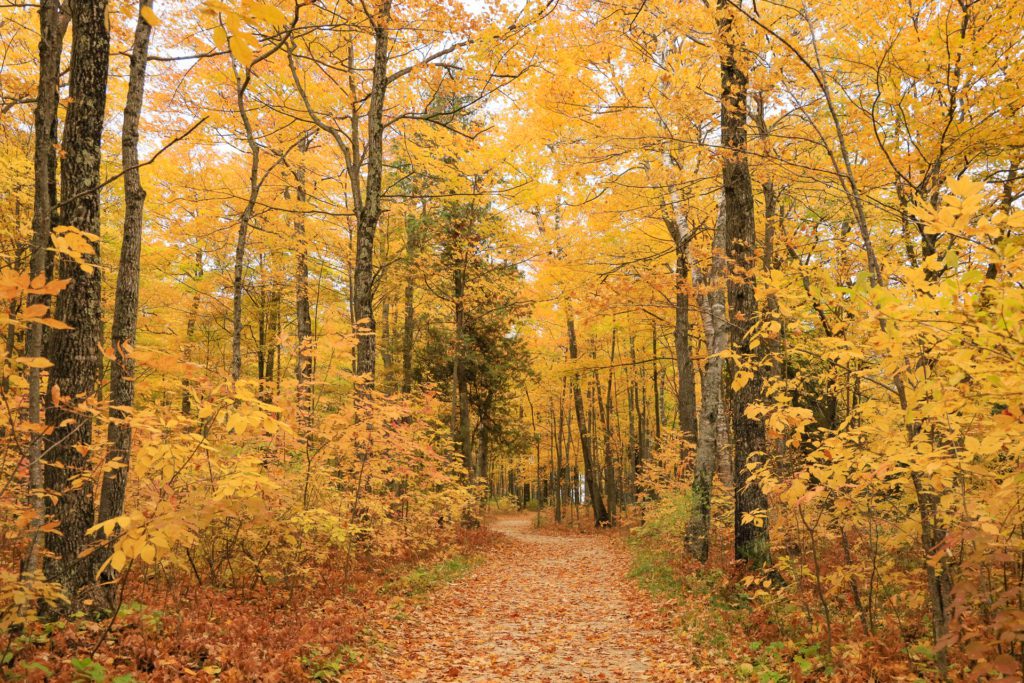 Door County, Wisconsin
Take it easy in Door Country, Wisconsin, which makes up almost all of the eastern peninsula that juts out into Lake Michigan. There are plenty of parks and trails to choose from with great fall hikes and it's a stellar destination to relax, do some leaf peeping, and enjoy the (literal) fruits of the season (uh, that'd be apples…). Read about Door County in more detail here.
Hike: Pick a park, any park. The most visited is Peninsula State Park, which has miles and miles of wooded trails and stunning overlooks. Whitefish Dunes offers some great fall photo ops of dunes, woods, and waves, and Potawatomi State Park is home to meandering trails through very colorful woods.
Stay: Don't give up stunning views in exchange for a nice place to lay your head; the Landmark Resort offers suites that look out over acres of colorful trees, plus the bay beyond! It'll be the perfect place to start (and end) every day.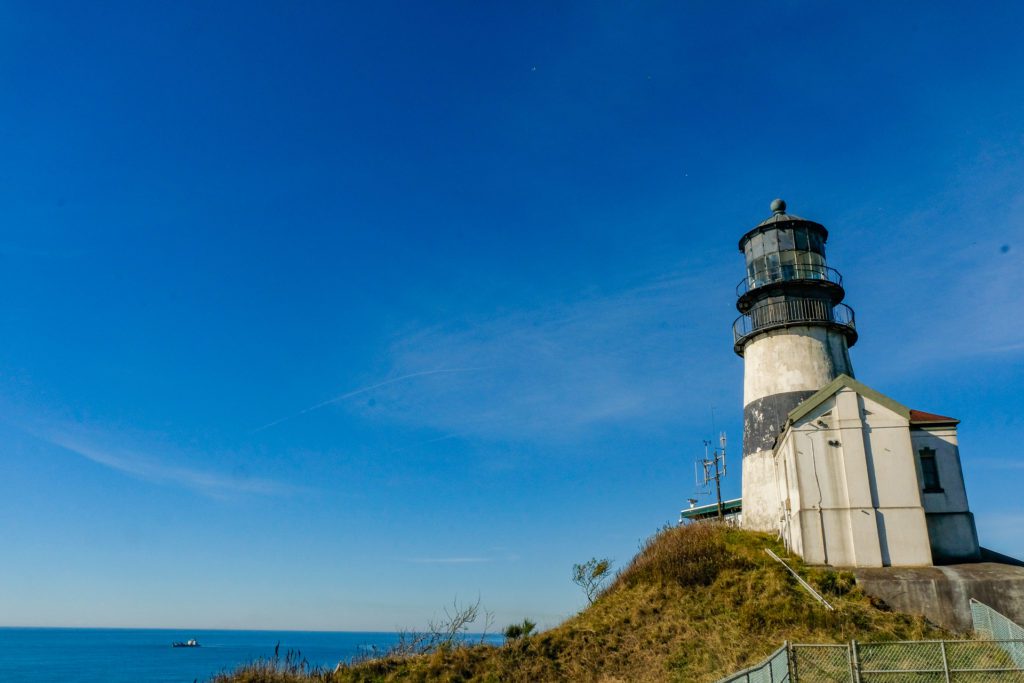 Long Beach Peninsula, Washington
Beaches and colorful fall foliage? You Betcha. Lighthouses? Those, too. Sustainable hotels with distilleries next door? Yes, please! It may look like a sleepy Pacific Northwest beach town at first glance, but there's so much to explore here, from a whale skeleton on the beach to cranberry bogs to paved biking trails to coastal hikes. And plenty of fall hikes and color.
Hike: Start at Cape Disappointment State Park, for the name if not for the hiking. There are 8 miles of trails within the park, so pick one and start strolling! Prefer an easy, accessible stroll (or cycle) that follows the sandy beach before disappearing into the woods? Hit up the paved Discovery Trail. Then see what else you can get up to in the area over on our post about things to do on Long Beach Peninsula here.
Stay: Adrift Hotel doesn't just say they're eco-friendly (and then still wash your towels even though you obviously hung them back up…), they walk the talk. There are recycle bins in every room and the hotel is even a Certified B Corp. And the onsite restaurant, Pickled Fish, can even make a few of their menu items vegan.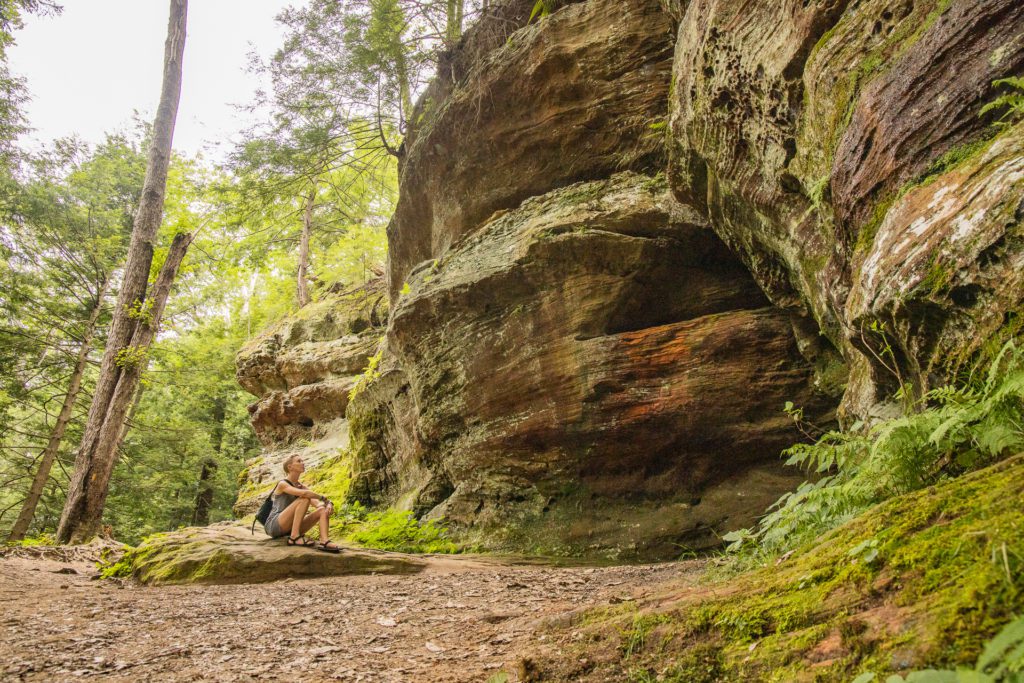 Hocking Hills, Ohio
Central Ohio's Hocking Hills is a surprising destination like no other. With rocky limestone cliffs, rolling green hills, vast lakes, and lots of hiking trails, you're gonna want to spend more than a day or two exploring. And in the autumn, expect stunning fall hikes with abundant foliage.
Hike: There's plenty of hiking in the Hocking Hills area of Ohio, much of which is right in Hocking Hills State Park. Some of the most popular? Old Man's Cave, Rock House, Cantwell Cliffs, and Conkle's Hollow. You'll see caves, you'll see cliffs, you'll see tons of fall foliage! And if you're looking for even more to do while you're in the area, check out our post about outdoor adventure in Hocking Hills here.
Stay: Cherry Ridge Retreat is truly a retreat to nature. Each cabin is set far from all the others on the spacious property so you'll neither hear nor see any of your neighbors. Enjoy a lovely cabin, a hot tub, maybe some star gazing, and then wander some of the on-site trails before the sun sets.
•
Got some ideas? Get out there and wander on!
Alisha is a freelance writer and photographer based in Austin, TX. She loves her tiny house, vegan food and experiencing the community of travel in far away places. She's also pretty sure she's addicted to coffee. alishamcdarris.com