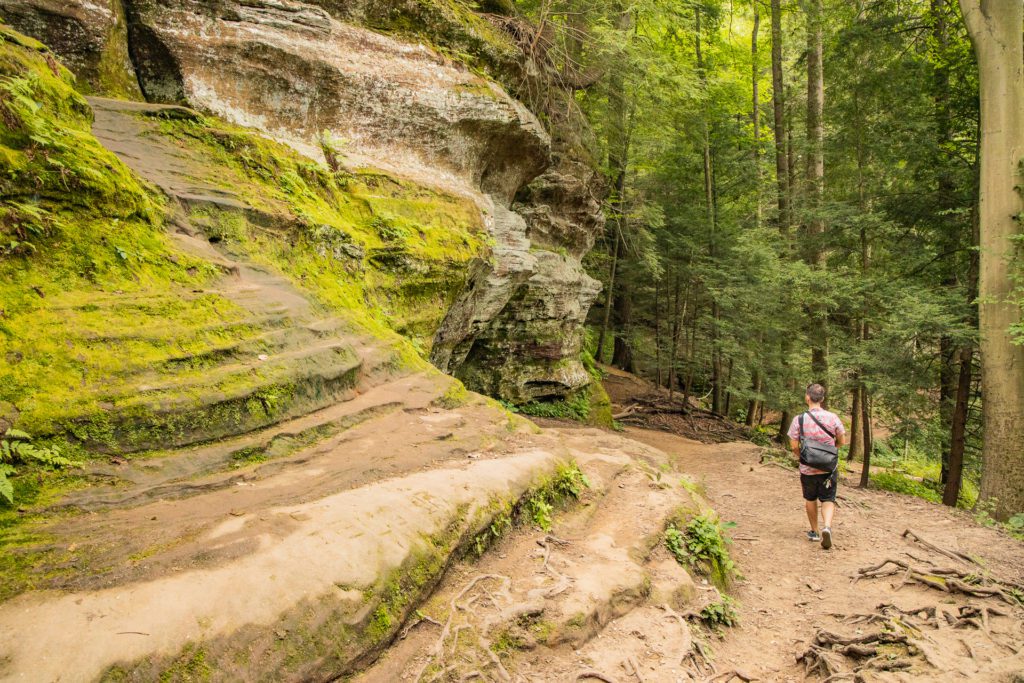 If you didn't grow up in Ohio or near Ohio, you may have never heard of Hocking Hills. In fact, you may be mumbling under your breath right now, "What even is a Hocking Hills?" Allow me to enlighten you. It's a fabulously outdoorsy destination in central-ish Ohio for those looking to get away and experience the outdoors, all within driving distance (if you live in the midwest/Great Lakes region, anyway…). But what kind of outdoor adventure in Hocking Hills Ohio can you expect? All kinds. We'll break it down for you.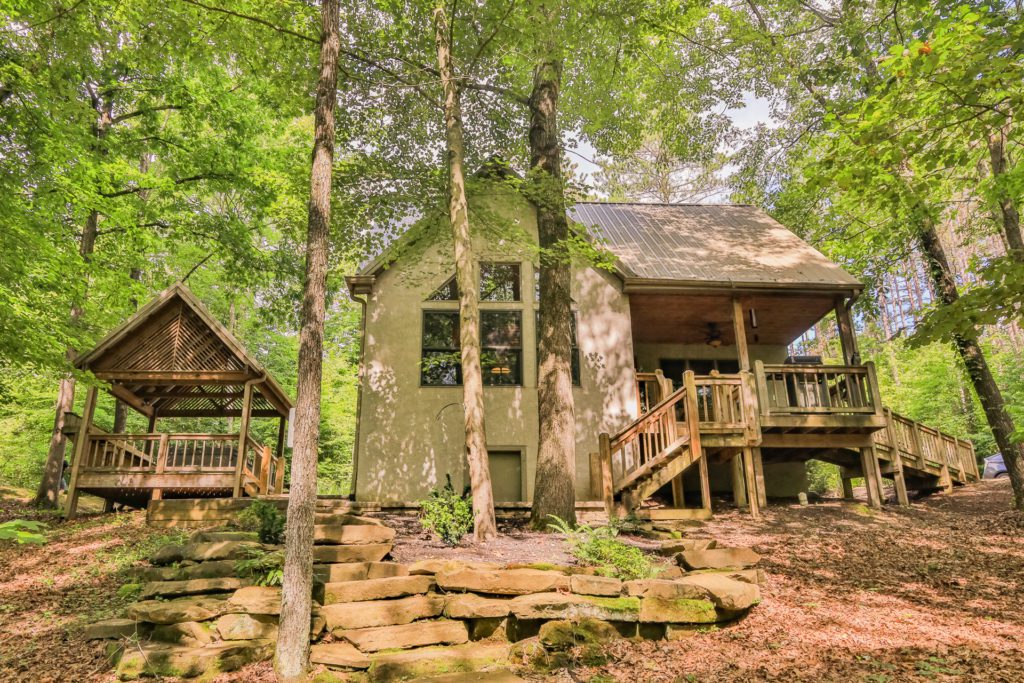 Outdoorsy Stays
Camping: There are plenty of places to lay your head each and every night, but if you prefer to rough it, camp to your little heart's content. Book a campsite at nearby Lake Hope State Park and enjoy some waterfront activities, camp right in the park at Hocking Hills State Park Campground at a site with or without electric hookups (so you can charge those camera batteries), or take it to the backcountry and hike into Zaleski State Forest for some proper primitive camping.
Cabins: For the most secluded luxury cabins we've ever stayed in, head to Cherry Ridge Retreat. Each unit is totally private from all the others so you can enjoy that hot tub without worrying about seeing/hearing/smelling(?) the family in the next cabin over enjoying theirs. Or, if you'd like to add apple-picking to your list of on-site activities in the fall, book a few nights at Four Seasons Cabins alongside Hocking Hills Orchard and try some of the 1,500 (!) varieties of apples the owner grows after a U-pick sesh.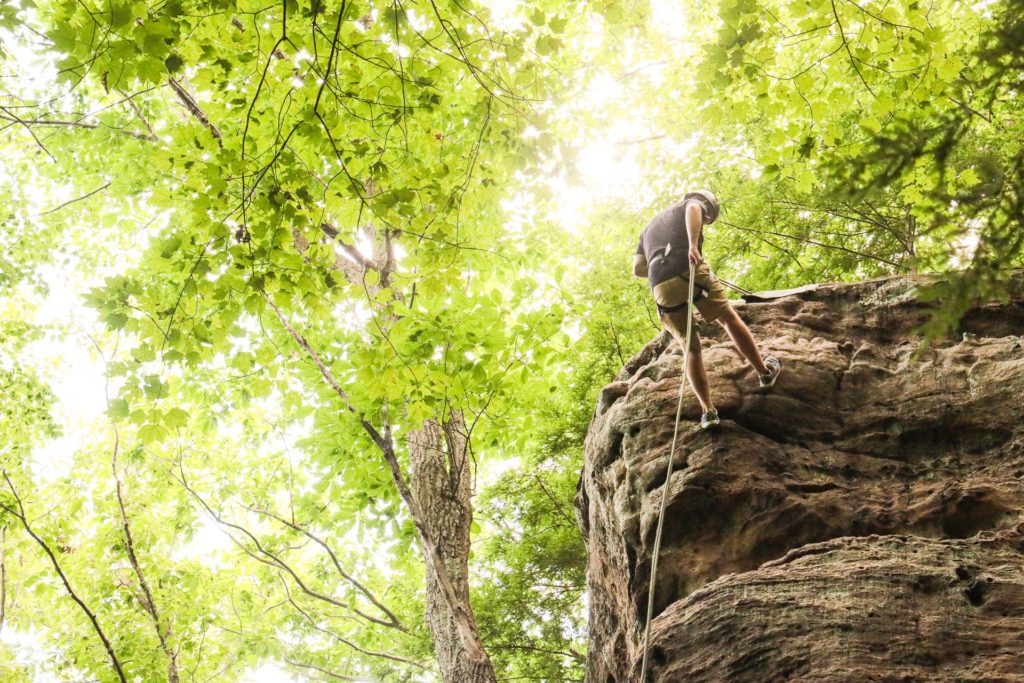 Play Outside
Hike: There are plenty of places to go hiking in Hocking Hills Ohio and all of them are spectacular, more reminiscent of the geography of Red River Gorge in Kentucky than most of the rest of Ohio. Some of the most popular trails are Old Man's Cave, Conkle's Hollow, Cedar Falls and Rock House. But Cantwell Cliffs and Ash Cave are pretty great, too. Find most of them (along with descriptions) right here. Most trails are shady and beautiful with waterfalls, streams, caves, and picturesque rock faces and cliffs and will provide plenty of great photo ops. And as of this writing, all the trails have been turned into one-way hikes to better facilitate social distancing!
Rappel (or eat plants): Learn to rappel or rock climb at High Rock Adventures. It's a great introduction to either activity if you've never done either outdoors before but are keen to try. Because who doesn't like to dangle dozens of feet above the ground suspended by a rope?! If you're an experienced climber or prefer to keep your feet on the ground, however, check out High Rock Adventures' Medicinal Edibles tour and learn all about the native (and invasive) plants in the area that are not only good eating, but have healing properties as well. (Can we get some of that jewelweed for our mosquito bites, please?)
Zipline: There are so many zipline courses to choose from in the area, but we'd tell you that Hocking Hills Canopy Tours is the best, especially if you're concerned about social distancing. You can book a private group experience for just you and your family and zip through trees and across fields on nearly 1 mile worth of lines on their X-Tour (or one spectacular 1/4-mile zip if you feel the need for speed – the Superzip will send you flying at up to 50 mph!).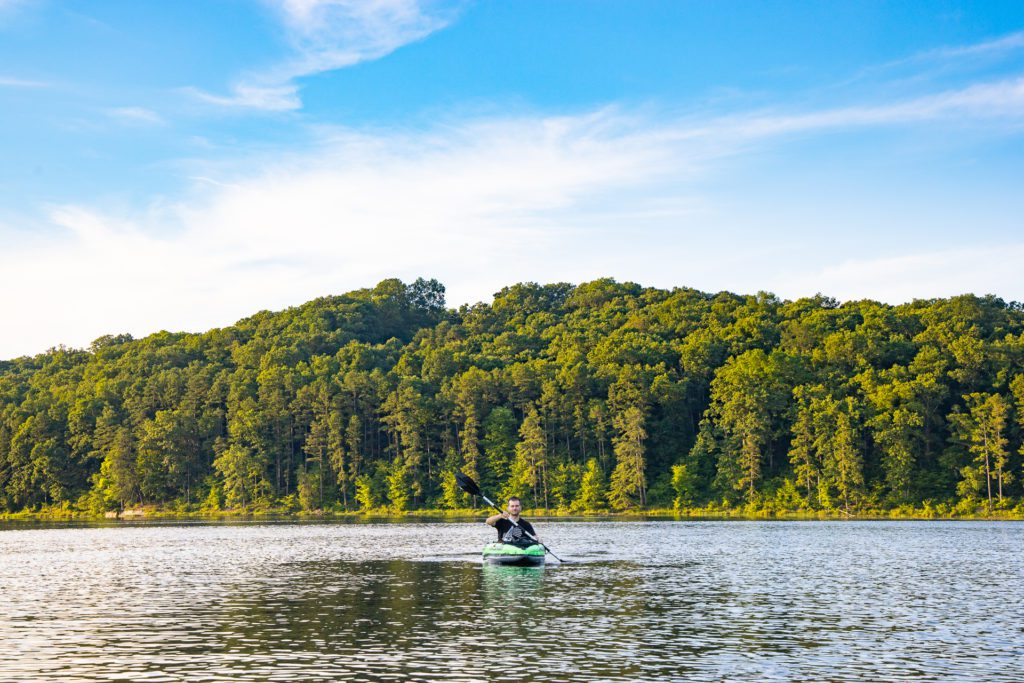 Kayak: There are plenty of places to put in around Hocking Hills, but we recommend an early morning or late evening paddle around Lake Hope. Bring your own kayaks, rent one from The Boat House located right on the lake, or take a guided tour with Mimi at Touch the Earth Adventures to find beavers at dusk or paddle by the light of the moon! You can also paddle the Hocking River with rentals from Hocking Hills Canoe Livery.
Learn About Pollinators: Want to learn a thing or two about butterflies and moths? Maybe see a few in action while you enjoy a chill walk in the woods? Head to Butterfly Ridge Butterfly Conservation Center. And if you're not afraid of being bombarded by moths from every direction, ask about the night moth experience where you can show up after sunset and watch the moths (some of the 600+ varieties the couple who runs the place have documented on-site) flock to lights on a big white canvas. You may be surprised how interesting (not to mention colorful, large, small, fuzzy, patterned…) moths can be, especially when a hundred or more pepper the sheet! Bonus if you can get one to land on your finger.
Get Smithy: OK, so a blacksmith shop isn't exactly "outdoorsy" per se, but it's freaking dope, so do it anyway. You can schedule a private tour of Lockhart Ironworks to see their operation and enjoy a demo of how they make their stunning heirloom skillets (that are great for campfire cooking, btw), but you can also take an 8-hour blacksmithing class and learn how to do it yourself on most weekends ($150).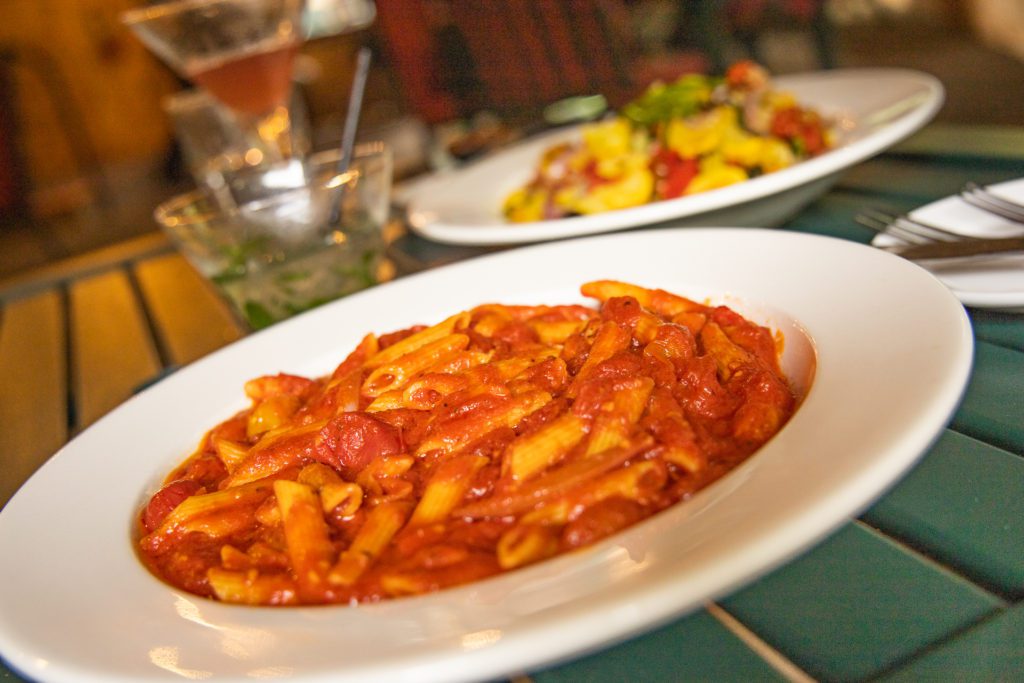 Eat & Drink
I'm not gonna lie, Hocking Hills Ohio is not one brimming with vegan food. So we ended up eating at a Chipotle-esque local burrito place called Maya a handful of times. However, if it's a nice meal you want, The Ridge Inn Restaurant can accommodate with one or two options and Kindred Spirits, the restaurant and bar inside the Inn & Spa at Cedar Falls, will do a phenomenal job of filling your belly (just ask for the vegan options). And if you're planning to cook for yourself, Weaver's Market and Deli has quite a few bulk ingredients and staples stupendously suitable for vegan cooking.
If it's booze you want, look no further than Hocking Hills Moonshine. The owners have a rich history of making moonshine that goes back generations and the owners distill it (almost) just like papaw used to (but, you know, legally). They even offer delightfully flavored (and less potent) options for those of us who can't stomach more than half an ounce of the 151-proof stuff.
Prefer more hops in your bevvies? If you don't mind a drive out of town, you can't beat Rockmill Brewery. The brewery is located on an old horse farm, so there's plenty of room to spread out outside (important during these pandemic days). They specialize in Belgian-style brews but have something for everyone. So go try a flight and take a stroll around the lake. You won't regret it.
If you're more of a wine drinker, well, there's no shortage of grape-based beverages to break up your outdoor adventures in Hocking Hills Ohio. Find your favorite new winery for a glass, tour or tasting here.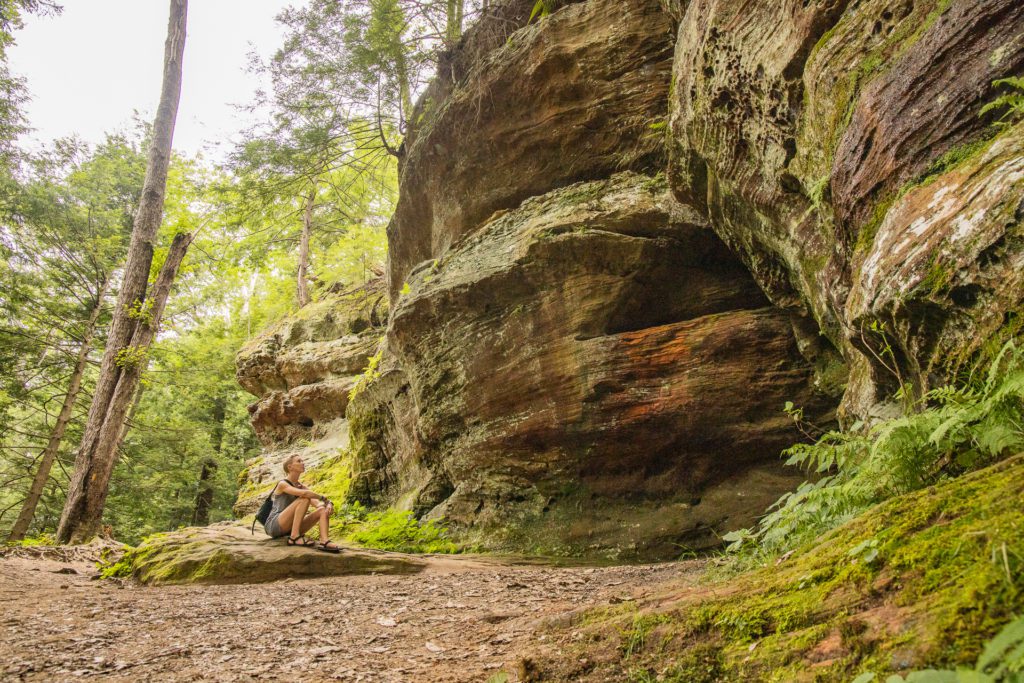 Bottom Line
There's plenty to do in Hocking Hills Ohio. We hadn't been since we were kids, so it's safe to say we were pleasantly surprised to return and be reminded that Ohio isn't all rolling hills and cornfields after all. In fact, the area is worth a visit whether you grew up around these parts or not. The scenery alone makes it worth the trip! So load up the car and get out there! Wander on.
Alisha is a freelance writer and photographer based in Austin, TX. She loves her tiny house, vegan food and experiencing the community of travel in far away places. She's also pretty sure she's addicted to coffee. alishamcdarris.com