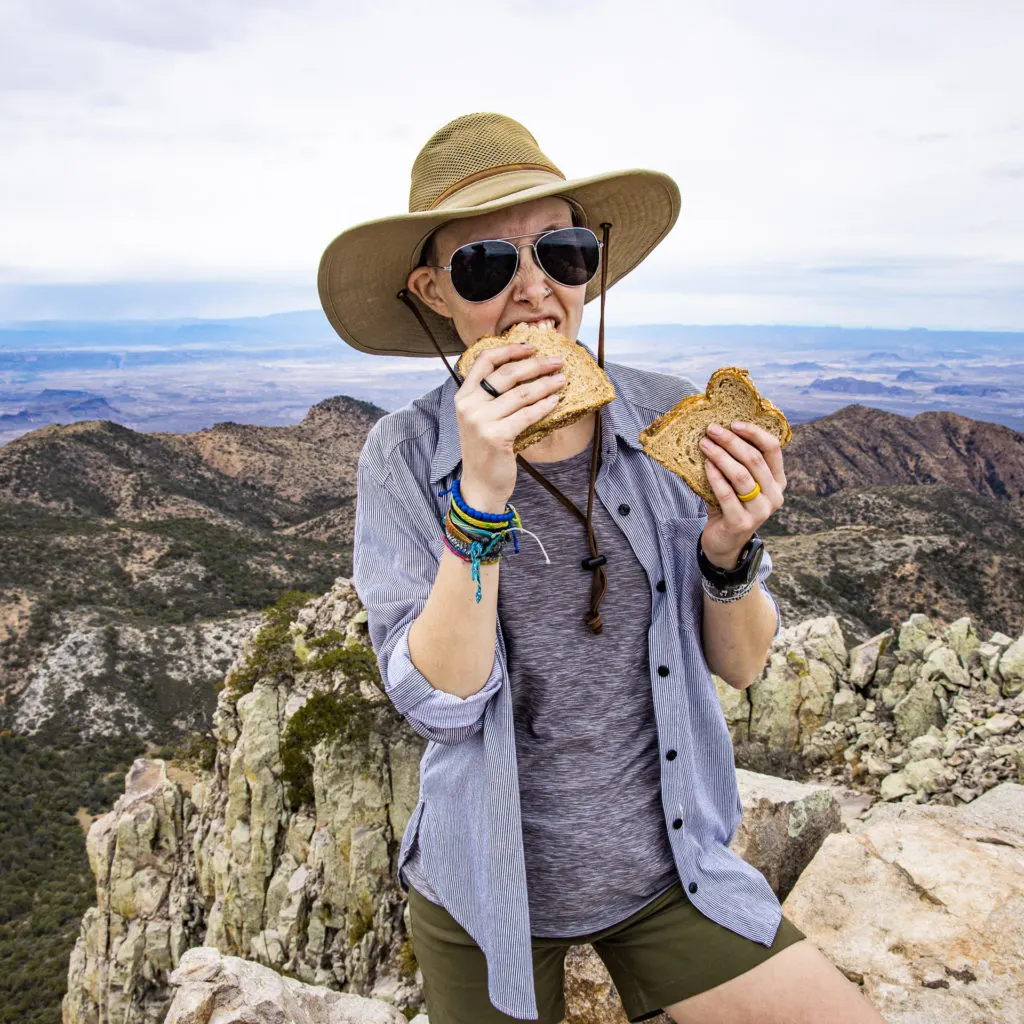 We reserve special snacks for trail days. Snacks like vegan jerky and stroop waffles.⁠ But if you're looking to eat less meat and dairy on the trail, searching for ideas for vegan hiking snacks, or just looking to mix up your munchie game, here's a list of some of the packable, un-crushable, calorie-dense things that fuel us on our adventures.
Vegan Hiking Snacks for the Trail
Vegan Jerky: We love Unisoy and Primal strips.
Peanut Butter Packets: Make your own by putting pb&J in bags or get pre-packed packets from Split Nutrition.
Olives: Grab a jar of your fave and drop into reusable bags or grab a few Olove packets.
Vegan Toona: Eat it right out of the packet or bring a handful of crackers or flatbread! We like Good Catch.
Salted Nuts: Make sure they're salted! Your body needs the sodium when you sweat.
Fruit Leather: We like fruit leather instead of dried fruit because it doesn't usually contain added sugar. Buy some or make your own using a recipe from our e-cookbook.
Vegan Caramels: Cocomel's are delicious and contain fat and energizing carbs.
Untapped Maple Stroop Waffles: They're vegan, delicious (and come in maple, coffee and raspberry flavors), and maple syrup is a low-glycemic index food, which means longer-lasting energy.
Vegan Cheese Sticks: Daiya makes cheese sticks that are super easy to throw in your daypack (find them at your local health food store).
Vegan Cream Cheese Cups: Bring veggies, crackers or bagels for dipping and spreading and you're set! (find them at your local health food store.)
Protein Bars: We reviewed a whole bunch of them on our YouTube channel! Just pick your favorite vegan bar and load up! Our newest fave? Skout Organic bars. No added sugar, real, organic ingredients, and 10 grams of protein. Yes, please!
•
*This post contains affiliate links, which means when you fuel up for adventure, we can, too! Thanks for supporting Terradrift!
Alisha is a freelance writer and photographer based in Austin, TX. She loves her tiny house, vegan food and experiencing the community of travel in far away places. She's also pretty sure she's addicted to coffee. alishamcdarris.com