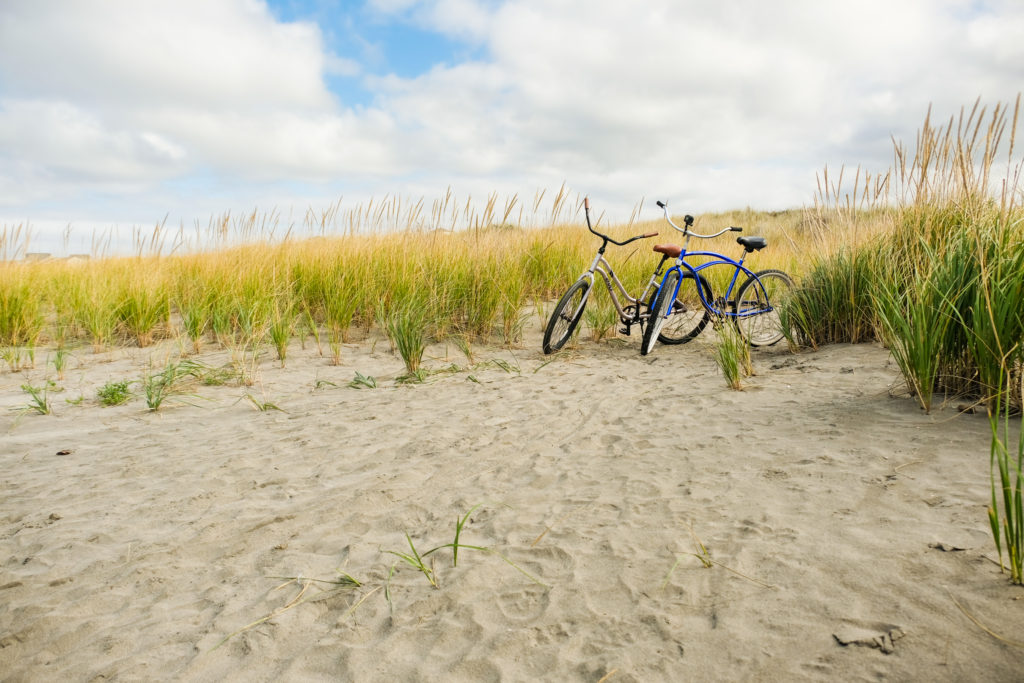 Forget about the over-crowded and tourist-laden strip of sand in Southern California–Long Beach Peninsula, Washington is where it's at. And it's way more chill and natural than the famed L.A. neighborhood. We enjoyed it for the relaxed, outdoorsy, small-town vibe (think month-long writer's retreat to finish that novel) and think you might just, too. But in case you want to do a smidge more than lounge on the beach and wait for artistic inspiration to strike, well, we've got you covered. Here are some of our favorite things to do on Long Beach Peninsula, Washington.
Where to Stay on Long Beach Peninsula, Washington
Adrift Hotel: There are a respectable smattering of hotels in and around the Long Beach Peninsula, but this is our top pick. Not only do they offer free bikes for guests to borrow, but they have recycle bins in the rooms, too! A lot of hotels claim to be "green," but Adrift actually is. Much of the modern decor is made from recycled wood, they use solar to power most of their basic electricity needs, utilize rainwater collection, and use non-toxic biodegradable cleaning products. Plus, the lobby lounge is actually the most unpretentiously inviting and comfortable that I've ever seen, there's a free coffee and tea bar and the snacks available for purchase include vegan options, animals are welcome, and the on-site Pickled Fish restaurant will happily modify a handful of menu items to accommodate vegans. There's also the Adrift spa and distillery next door.
Shelburne Hotel: If classic and historic B&B-style rooms and decor are more your style, try the Shelburne Hotel. Owned by the same folks at Adrift Hotels, this elegant residence-style accommodation is also eco-friendly and the on-site Shelburne Pub is one of the only restaurants on the Long Beach Penninsula where you can order chef-prepared vegan items right off the menu. Huzzah! There's also a billiards room for evening drinks and games. The Shelburne is located down the road from Adrift in Seaview.
Things to Do on Long Beach Peninsula, Washinton
Ride or walk the Discovery Trail: Take a walk or get on your bikes and ride (<–Yes, that's a Queen reference). The Discovery Trail is 8.5 miles long and runs alongside the beach for most of that distance, separated only by dunes covered in picturesque waving grasses. It stretches all the way to Cape Disappointment State Park (Is that the best name for a state park?!) and North Head Lighthouse. Don't miss the whale bones by the boardwalk!
Learn About Cranberries: Maybe you don't think you care to learn about cranberries, but how do you know until you do? The Cranberry Museum is open year-round and you can learn about the history and process of cranberry farming and then stock up on all the cranberry paraphernalia (including actual cranberries) in the gift shop. It's not a big museum and it's free, so it's worth a gander. Then, if you happen to be in town during the first two weekends of October or thereabouts, ask who's harvesting. If you're lucky, you'll be sent to one of the many cranberry bogs on Long Beach Peninsula and you can marvel at the harvesting operation, maybe even get invited to hop on a truck to take a closer look!
Go Surfing: Washington may not be the first place you think of as a surfing destination, but you can certainly take part! Schedule a lesson with Skookum Surf Co. who will give you a wetsuit and board and show you the ropes. Already know how to surf? Well, you can also rent a board if you prefer.
Cape Disappointment State Park: Beaches, hiking trails, lighthouses, viewpoints…it's all here. You'll need a Discover Pass ($11.50 for a day pass or $35 for the year) to enter, but it's good for all the state parks in Washington (including nearby Fort Columbia and Leadbetter Point State Parks), so explore away. Spend an hour or spend an afternoon. Just spend it in nature.
Explore the Arts: Artists seem to flock to the Long Beach Peninsula. Fortunately, that means there's plenty to look at. Find the galleries, theatres, and festivals that celebrate fine arts in the area.
Chill on the Beach: Locals love the silver sand beach along the peninsula. You'll find them meandering up and down the broad beach at all hours of the day and night, but they seem to especially love taking in the sunrise. Personally, I only watch the sunrise when I've accidentally booked a 6 am flight, but you do you. I'm more of a bring-a-book-and-bask-in-the-sun kind of beachgoer, myself.
Where to Eat on Long Beach Peninsula, Washington
There aren't a plethora of vegan options on Long Beach Peninsula, but seek and you will find. And booze? They've got that, too.
Shelburne Restaurant & Pub: When we dined at the historic Shelburne Pub, we were impressed to find at least three vegan items on the menu, all marked as such. Naturally, we ordered all three and none disappointed. It's a rare thing to find tasty vegan nachos with vegan queso at a conventional restaurant, but the chef clearly knows what's up and the menu is seasonal.
Pickled Fish: Listed vegan menu items were in short supply for breakfast, lunch and dinner, but a quick inquiry made with our server proved that the restaurant knew their way around a vegan dish and the kitchen was more than happy to accommodate.
Roots: On a sunny day, order at the window of this little shack and take your goods to go or sit on the patio and enjoy the sunshine. Smoothies and acai bowls are the hot ticket items here, so fuel up and feel good.
North Jetty Brewing: The one and only brewery on Long Beach Peninsula, this will likely be your go-to for drinks. Get a flight to sample a whole handful of their offerings or fill a growler and take it to go.
Adrift Distillers: If spirits are your thing, stop by this unique distillery for a tasting or a bottle to take home with you. You can do single tastings for $1 each and learn all about their process. Make sure to grab a bottle of cranberry liqueur made from local cranberries! There's also gin, vodka and white whiskey.
If you find yourself near Southwestern Washington (and I suggest you do), spend a few days on this picturesque peninsula. Maybe even schedule a stop on Long Beach Peninsula on a longer adventure like we did during our month-long road trip up to and down the West Coast. Wander on!
Alisha is a freelance writer and photographer based in Austin, TX. She loves her tiny house, vegan food and experiencing the community of travel in far away places. She's also pretty sure she's addicted to coffee. alishamcdarris.com