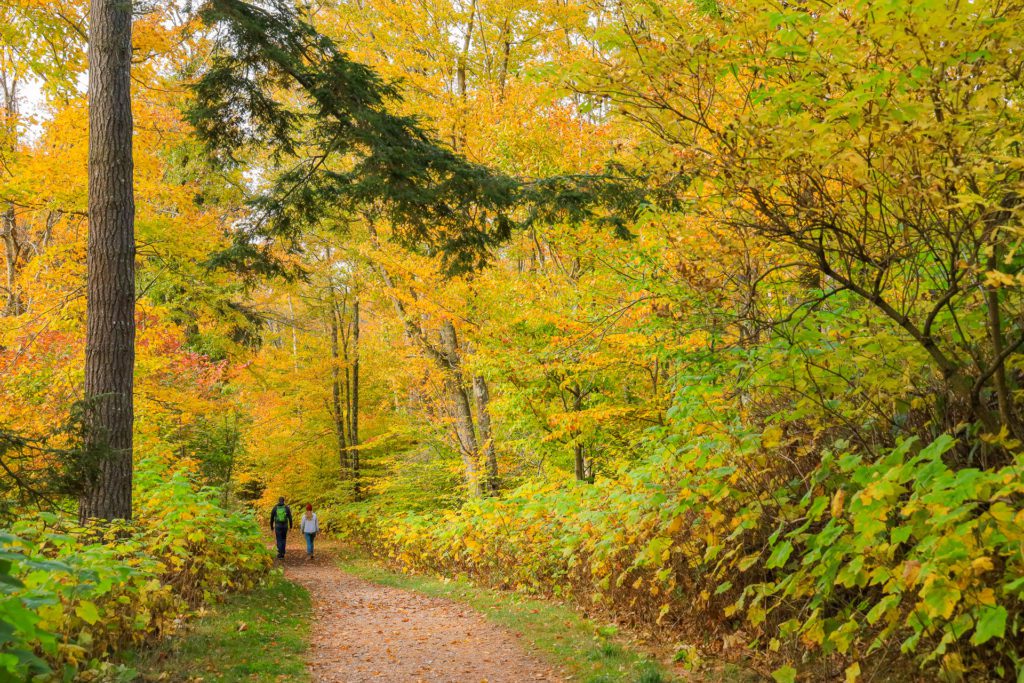 If you're like us, you read the title of this article and abruptly proclaimed, possibly out loud to an entirely vacant room, Where the heck is Door County, Wisconsin?! I get it. We didn't know either until about two weeks ago. But that's the whole dang point of these Surprising Destination features, isn't it? To open your world to new, under-the-radar, totally legit destinations that nobody else is talking about but are still totally baller. So buckle up, because we're about to introduce you to you new favorite place to lace up those boots and get hiking, kayaking, snowshoeing, leaf peeping, apple sampling, lighthouse touring…we could go on, but we'll just let you keep reading and find out for yourself what a delightfully surprising and outdoorsy destination Door County truly is.
Sleep
Need a place to stay while you're traipsing around the peninsula? No problem. There are scores of places to choose from, but these are the one's we've seen with our own two eyes are think are worthy of your attention.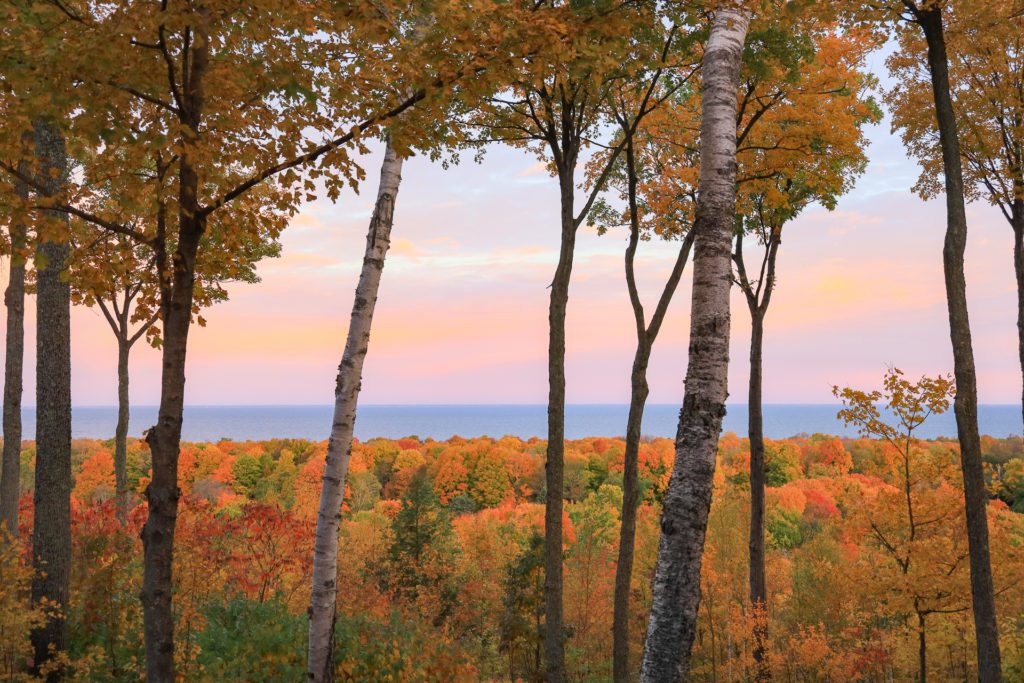 Landmark Resort
Enjoy a wooded retreat? Definitely book a room at the Landmark. The suites offer full kitchens (which you're gonna need if you're vegan like us or have dietary restrictions), living rooms, even balconies so you can step outside and enjoy the view from above the treetops. And if you get antsy, there are hiking trails in the acres of woods behind the property, so enjoy a shady stroll any time of day. It's especially spectacular in the fall! Learn more about the secluded property and book yourself a room with a view here.
Edgewater Resort
Dig that classic, historic seaside hotel vibe? The Edgewater is the place to be, no doubt. The rooms make you feel like you're staying in an oceanfront cottage somewhere in New England and you get views of the bay (don't out yourself as a tourist and call it "the lake"), which is right across the street. And if you feel so inclined, you can enjoy a nice stroll around the quaint town of Ephraim between kayaking, hiking, or snowshoeing. Check it out here.
Egg Harbor Campground and RV Resort
Prefer to pitch a tent or roll up in your camper van or RV? We got you. We obviously prefer camping, too. And I've gotta say, this campground was stunning! There was no shortage of vibrant leaves in the fall, which means plenty of shade in the summer! Campsites aren't private, per se, but the natural surroundings more than make up for it! And you can walk down the road for snack at Wood Orchard Market (more on that below)! Check out their website here.
Eat
Not gonna lie, Door County isn't overflowing with vegan and vegetarian options. So come prepared to cook some of your meals if you have any sort of dietary restriction, but rest assured: there are indeed a handful of options where you can get your grub on. And for even more vegan option curated by a local, check out the insta account @DoorCountyVegan.
Heirloom Cafe & Provisions
Maybe it's because we realized within 5 minutes of entering this swanky little cafe that it had ties to our beloved Austin (the Radio Coffee and Waterloo Records stickers in the bathroom and the Topo Chico in the cooler tipped us off, then employees confirmed that it's owned by a pair of former Austinites), but it was love at first sight at Heirloom Cafe & Provisions. The cafe sells a number of locally made or specialty crafted items, including eco-friendly goods and art, but they also have a few vegan options on the menu. The hummus pita (pictured above) was both pretty and satisfying. Plus they offer quality coffee (naturally) and a grab-n-go cooler. You can even pre-order a meal to go for a mid-hike snack!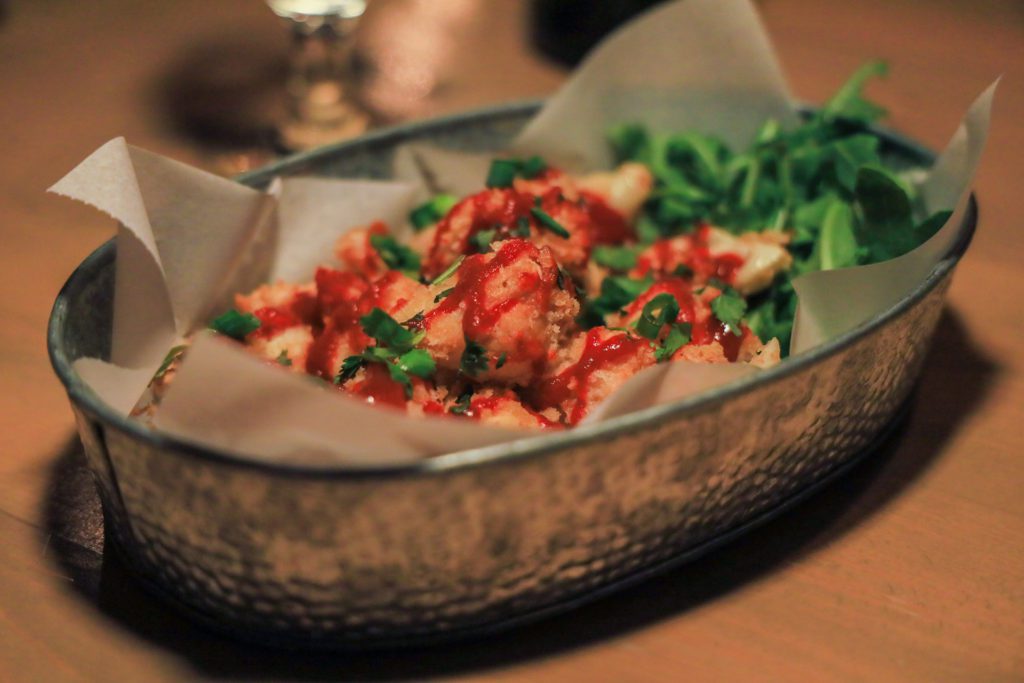 Thyme Cuisine
It is my opinion that any restaurant that's named after a plant should have at least a handful of solid vegan options. And though they're not all listed on the menu, Thyme was more than willing to adjust a few dishes in order to make them vegan. Curry, General Tso's, an Impossible Burger and cauliflower bites were all on the menu when we were there, but if you'd like to enjoy a nice evening out (the restaurant is located at Maxwelton Braes Lodge and golf course), Thyme can accommodate. Check 'em out here.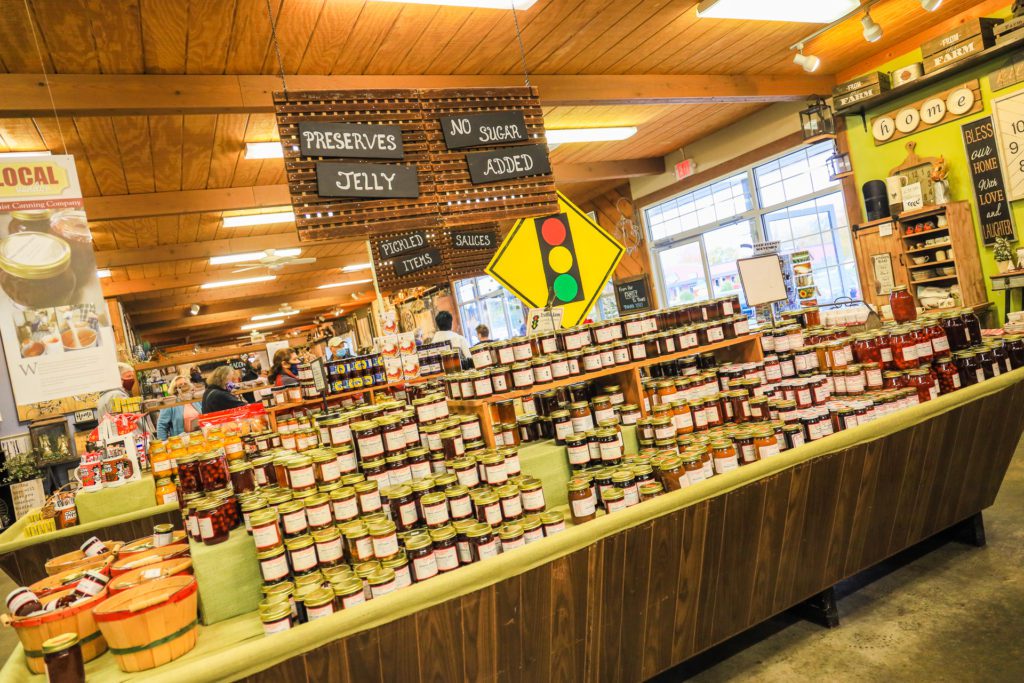 Wood Orchard Market
Wood Orchard Market is less of a place to grab a meal than it is a great place to stock up on snacks, fruit, and locally-made edibles. While it's not located on an orchard, the apples are from locally-owned Wood Orchard and are fresh and delicious. Honeycrisp and Smitten apples are their bread and butter, but you'll also find an overwhelming variety of cherry products made from the region's wealth of the summer fruit. I'm talking jams, jellies, hot sauces, horseradish, you name it. And keep an eye out for the dark chocolate-covered dried cherries from Cherry De-Lite, because those are vegan (and delicious). Find other local products there, too, from wine to cider to handmade gifts.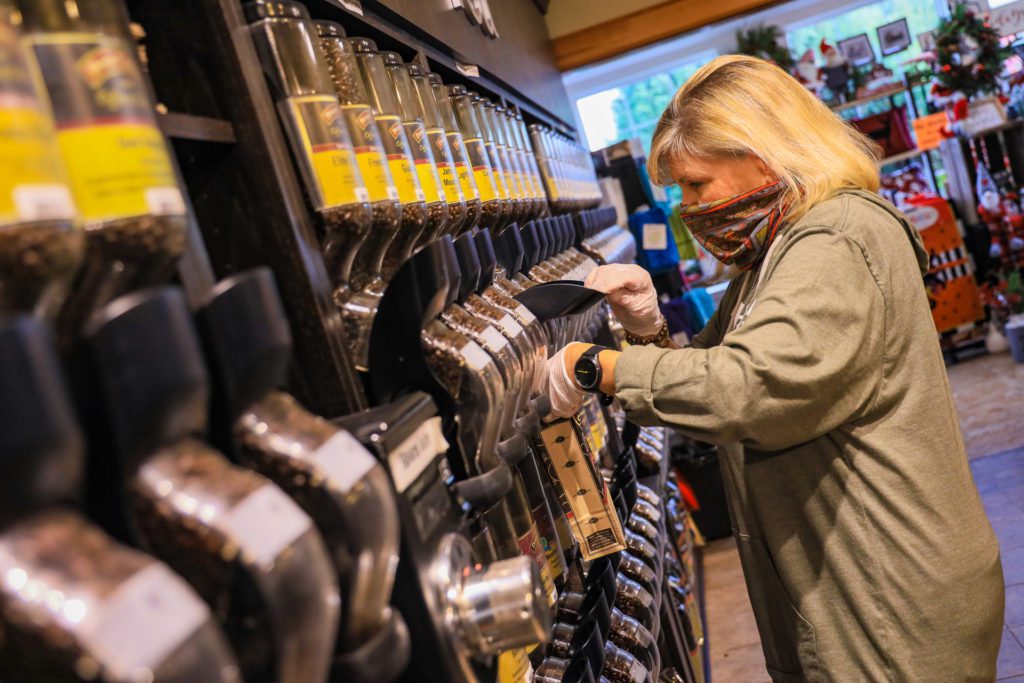 Door County Coffee & Tea Company
Like flavored coffee? This is your spot. With more than 100 different types of coffee, over half of which are flavored options (blueberry cobbler or highlander grog, anyone?), your only problem should be deciding which ones you want to take home. Seriously, the number of choices is overwhelming! Grab a latte or a bagel while you're there (adding peanut butter and local cherry jam makes for a good brekky or lunch to-go), then caffeinate to your little heart's content. Find out more about the small-batch roaster here.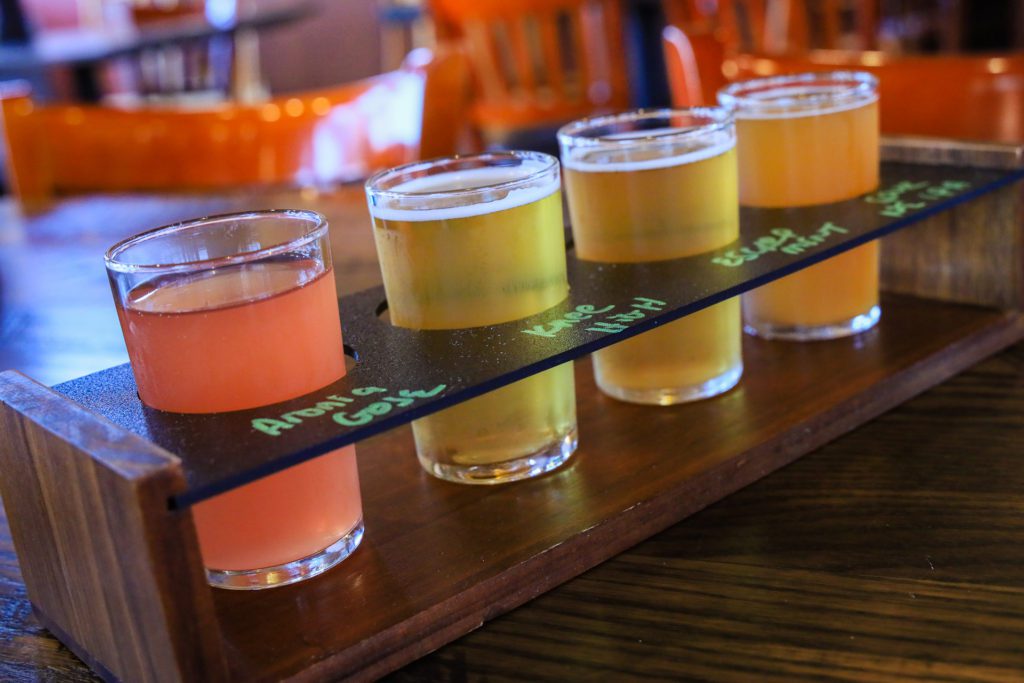 Booze
There's no shortage of wineries, breweries and distilleries in Door County, so drink up! You know, responsibly. Find a whole list of options here. But definitely try Island Orchard Cider's cherry cider and Bridge Up Brewing Company for quality beer.
Play
Now for the good stuff, am I right? From cherry-blossom viewing to fruit-picking, snowshoeing to hiking in the 5 state parks on the peninsula, there's no shortage of ways to get outside and play in Door County! Note: State parks require either a day pass or annual sticker pass, which you can purchase here.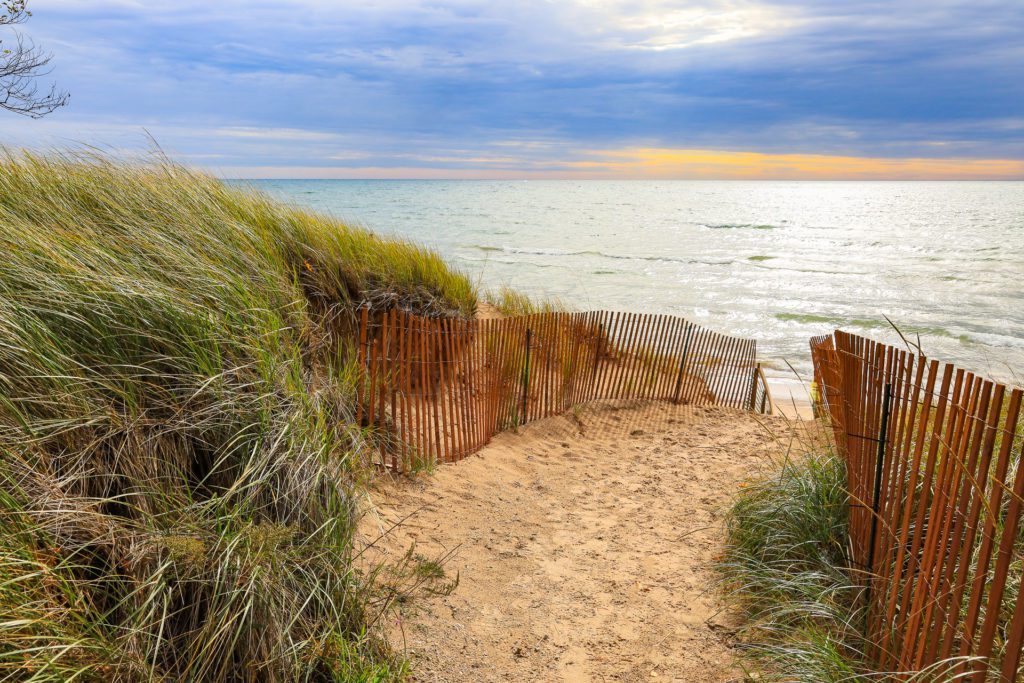 Whitefish Dunes State Natural Area
Home to the highest dune in Wisconsin (don't get your hopes up…it's not that high…), Whitefish Dunes is a spectacular place for a hike or easy mountain bike ride any time of year. Fall colors are spectacular and in the winter you can snowshoe on one trail and cross-country ski on several more. There are also several beach access points within the park, launch points for kayaking, and quiet trails perfect for a leisurely wander.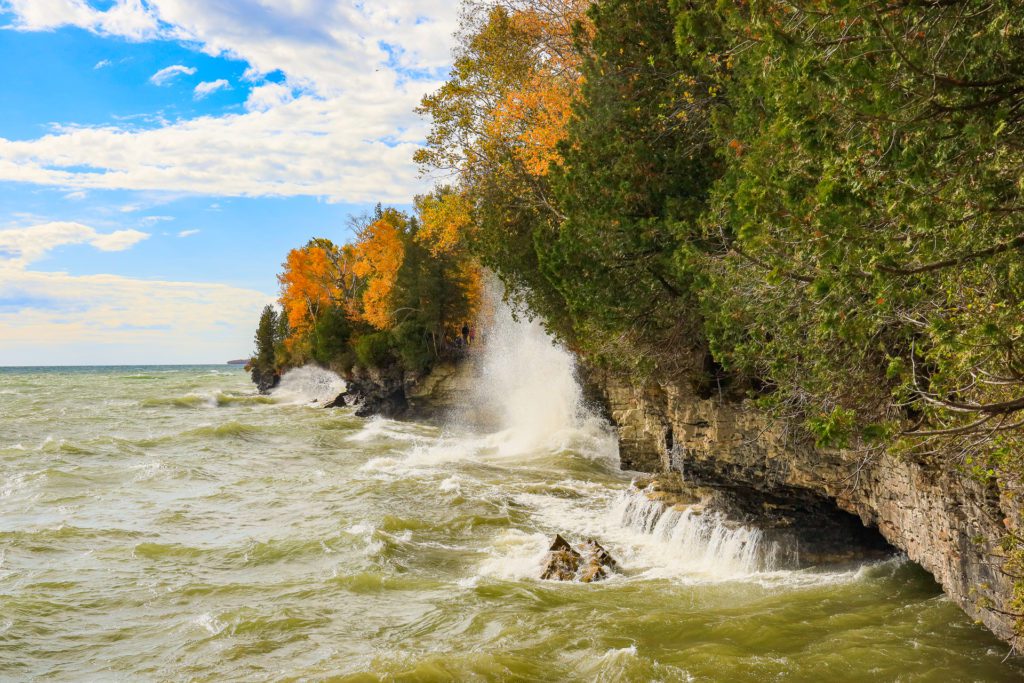 Cave Point County Park
Just down the road from Whitefish Dunes is Cave Point park, which is a free county park. And you should definitely plan to make a pit stop. There aren't as many trails, but the views of Lake Michigan and the waves crashing against the rocks are spectacular! Pro tip: Stand close-ish to the edge on top of a cave and feel the power of the waves through your feet! On calm summer days you can even kayak along the coastline to get a better look at the caves themselves.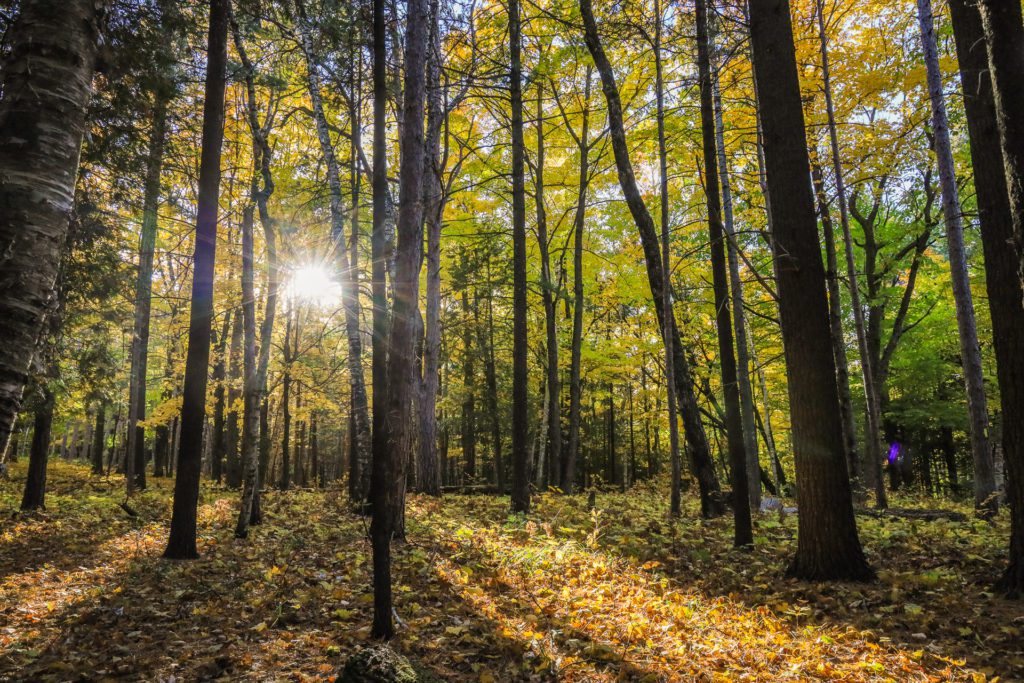 Potawatomi State Park
Named for the Native American Tribe who resided in the area before Europeans settled there, Potawatomi State Park offers miles of hiking trails, including a stretch of the cross-state Ice Age Trail (maybe you remember the trail from our post on Elkhart Lake). But besides hiking, biking, water activities and camping, the park offers dedicated cross-country ski trails in the winter plus snowshoeing and even snowmobiling trails! So don't let the cold keep you from recreating outdoors!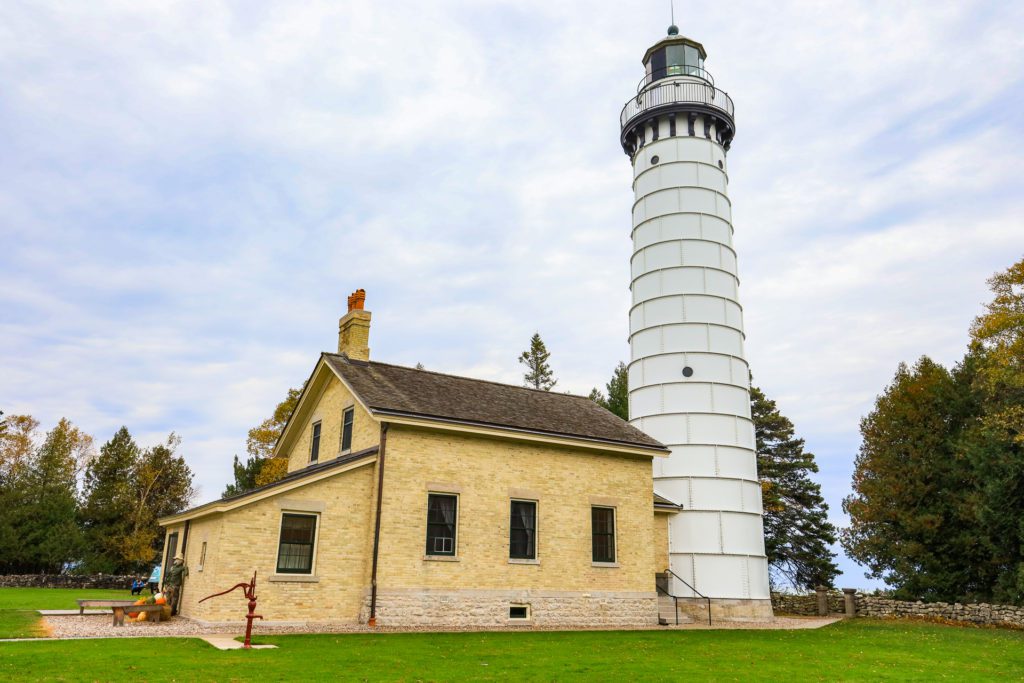 Cana Island
This little island is also a lighthouse station and shouldn't be missed. I mean, where else can you ride a wooden hay wagon pulled by a tractor across the causeway to go tour a lighthouse? Nowhere that I'm aware of! The light station is owned and operated by the Door County Maritime Museum (more on that below), so there's an entrance fee involved ($10 for adults), but the wagon ride is free! The entrance fee does get you access to the lighthouse, though, and if you're lucky, the light tower will be open and you'll have access to impressive views after you climb the 97 steps of the spiral staircase. The island is only open from May through October, though, so plan accordingly. Find out more about Cana Island Lighthouse here.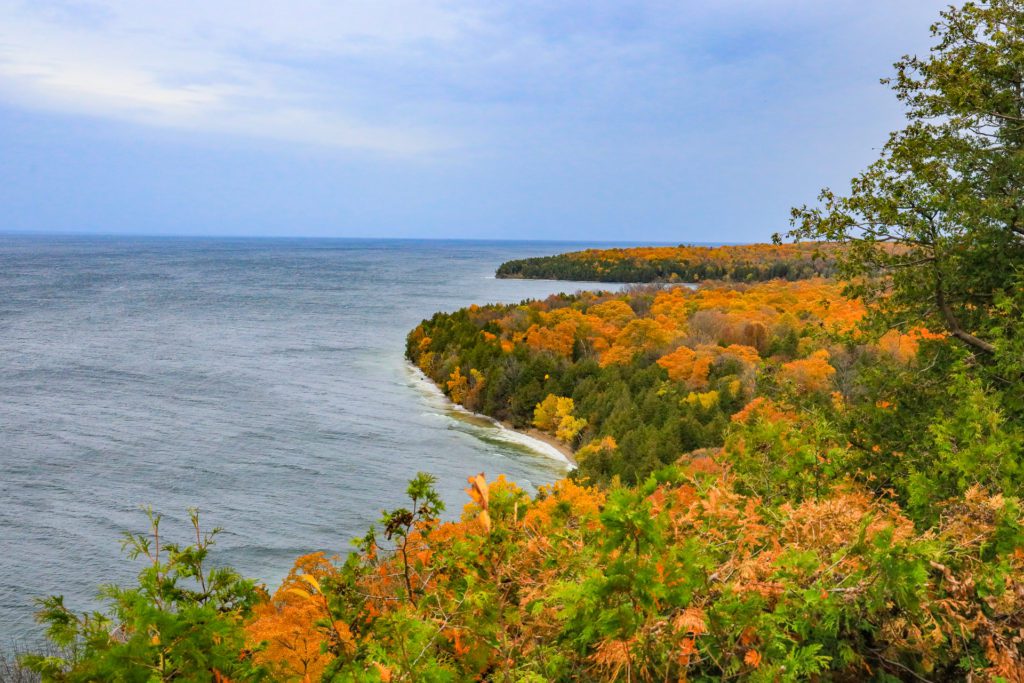 Peninsula State Park
Peninsula State Park is the most visited park (and attraction in general) in the entire county. We totally get why. In the fall, colors are abundant and mesmerizing. Hiking on the wooded trails (including Eagle Trail, a more challenging hike than you'll find elsewhere in the county) is a must-do, but don't leave without heading up to the overlook to gaze across Green Bay (the body of water, not the city) and a curving stretch of coastline. You can also camp, launch a canoe or kayak, swim, or mountain bike in the park, plus take a tour of the lighthouse.
Stargazing at Newport State Park
We were not fortunate enough to experience unclouded night skies while we were in Door County, but from what we hear, this park offers a spectacular place to kick back and enjoy some nighttime views of the cosmos. A wilderness state park, it's the first one designated as an International Dark Sky Park. And you can enjoy shimmering views of stars (and the Milky Way) on clear nights, plus the sounds of Lake Michigan lapping at the shore nearby. Plan your visit here, then let us know what we missed!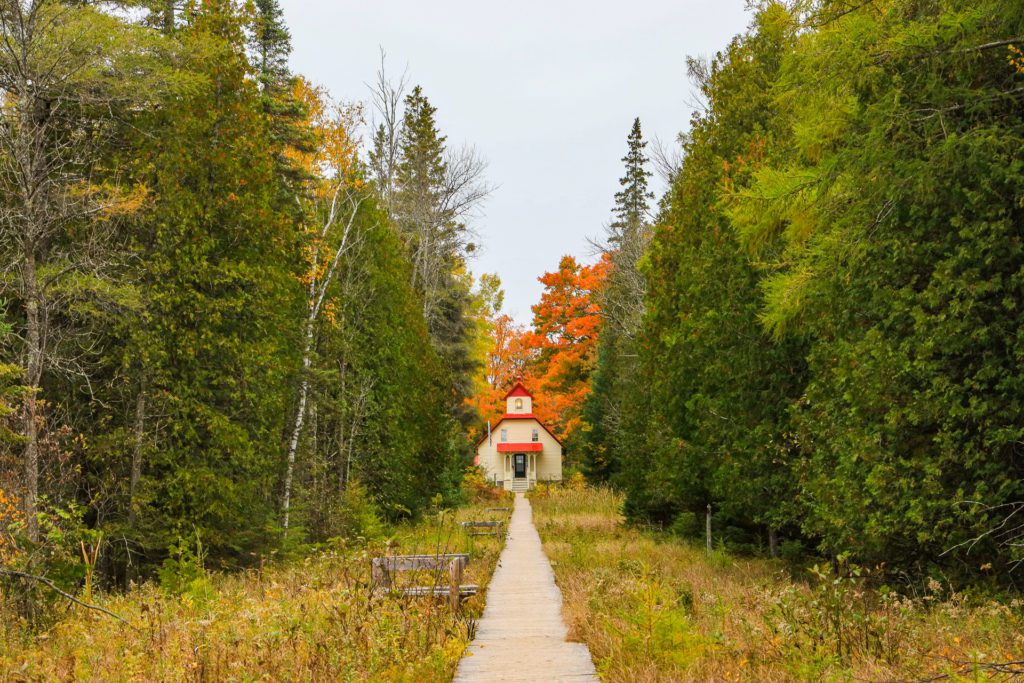 Ridges Sanctuary
Like to learn a little somethin' during your walks in the woods? Pay a visit to Wisconsin's oldest nature preserve. It has accessible boardwalks, wooded trails, beaches and lighthouses. It's a delightful place to wander for hours, plus experience the ridges and swales that occur on the peninsula. It's also an Audubon Important Bird Area, if you're into birdwatching, and the Bailey's Harbor Range Lights (an old dual-building lighthouse setup) are perfectly picturesque. You can even take a naturalist-led walking tour. There's a $5 entrance fee and tours are $8 for non-members. Learn more here, then look closely for the sanctuary's 26 (!) species of orchids.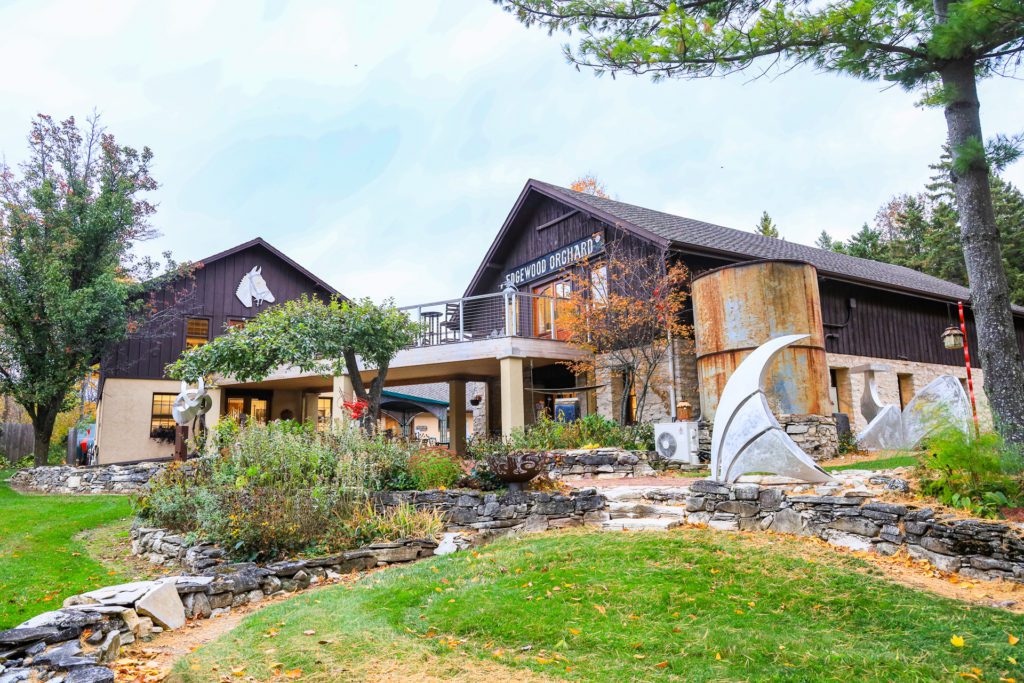 Edgewood Orchard Galleries
Rainy day? Just want to give your feet a break from all the hiking? Take a quiet respite at Edgewood Orchard Galleries. Look, we're not always a fan of art galleries, but we sure dig this one. Partially housed in an old barn, the exhibits are by artists from all over the country and include paintings, sculptures, jewelry, you name it. There are several floors to explore in multiple buildings, plus a few short sculpture trails around the property to enjoy larger or more outdoor-centric sculptures and art. And the views of the woods around the property aren't too shabby, either.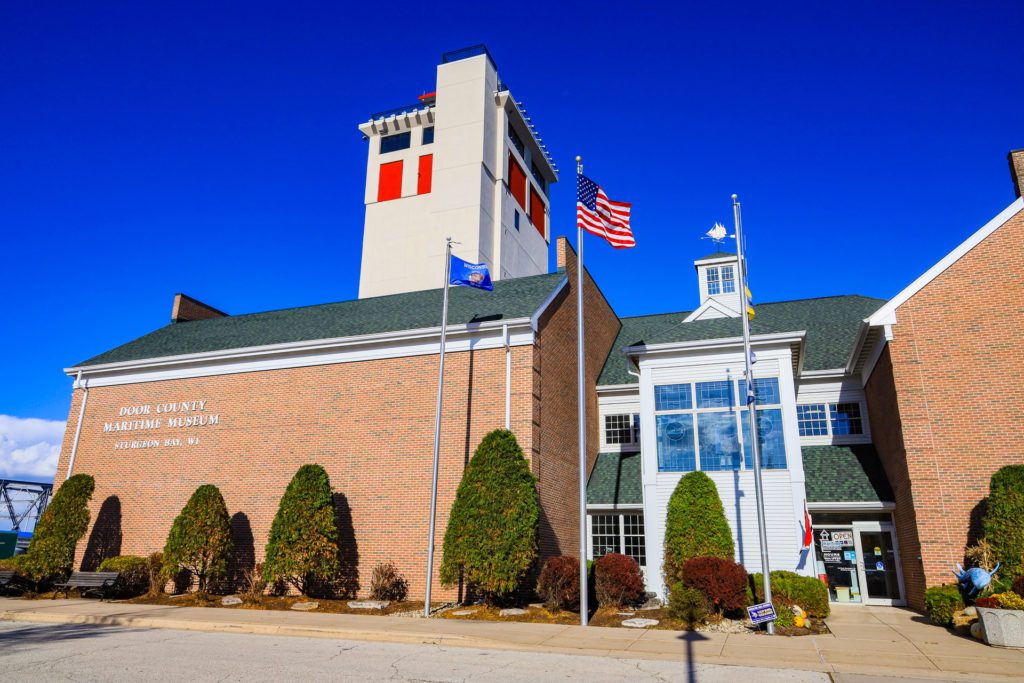 Door County Maritime Museum
Not gonna lie, I heard Maritime Museum and I was like, pass. Not really my thing. But the interactive and interpretive exhibits in this museum offer some interesting insights into the past and current maritime culture of Door County (including the scads of shipwrecks dotted around the peninsula). There are hand-built ship models, engines on display, stories of ships constructed in Sturgeon Bay that were used during WWII, and more. And when the brand new lighthouse tower with 10 floors of new exhibits (not all of which will be accessible right away) and observation deck open in May, there will be even more reasons to visit. Check hours and admission and such here.
Kayaking
Kayaking abounds in Door County. After all, it is a peninsula, which by definition means it's surrounded by water. And there are plenty of places to put in and/or rent a vessel (or take a guided tour if you're so inclined). Door County made a great database to help you find just that, which you can search here.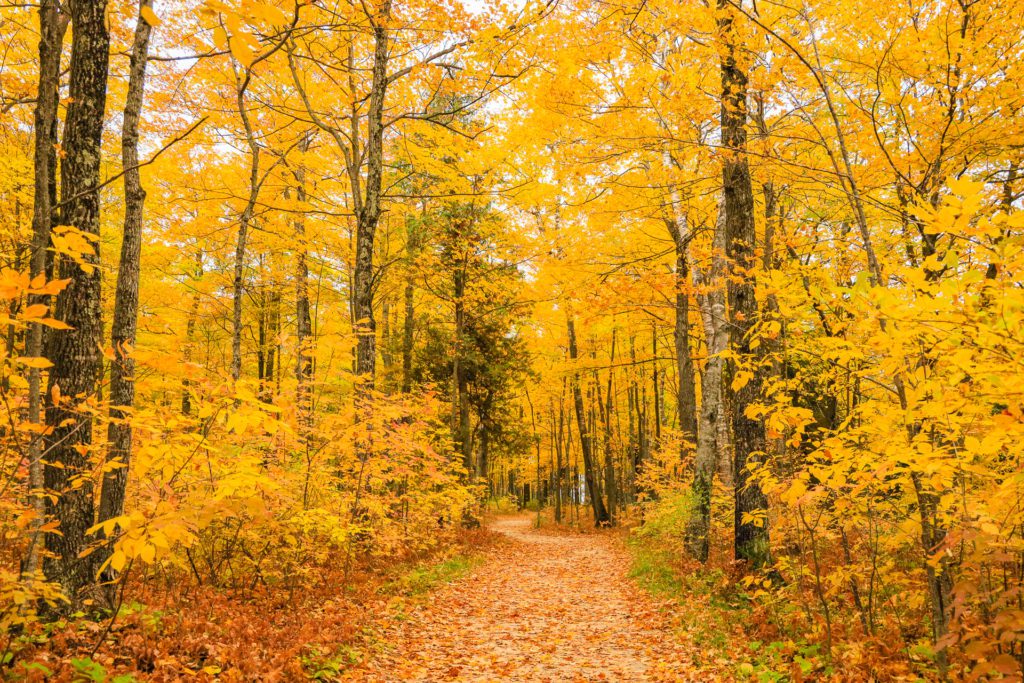 The Door County Bottom Line
Door County, Wisconsin is a surprising Destination filled to the brim with outdoor activities, adventure, and diversion. It's a place worth visiting any time of year (though we may be partial to the fall…). But cherry blossoms in the spring? Kayaking all summer? Snowshoeing and cross-country skiing in the winter? We'll take all of the above, thank you. What do you think? Ready to pay Door County a visit? Get out there and explore some surprising destinations this season. Wander on.
•
Looking for more surprising destinations? Check out our other features.
Alisha is a freelance writer and photographer based in Austin, TX. She loves her tiny house, vegan food and experiencing the community of travel in far away places. She's also pretty sure she's addicted to coffee. alishamcdarris.com