Wisconsin. Not gonna lie, it's not really a state that was ever high on our list of places to visit, even growing up in the midwest. I mean, isn't the whole state just one big block of cheese? Sure, I had passed through Wisconsin's borders a time or two growing up, but the state as a whole never really left an impression. Until now. But that's the thing about some destinations: they're so nestled away you'd never even know they existed until you find yourself knocking at their door. That is Elkhart Lake, Wisconsin: a delightful little retreat just 2.5 hours away from Chicago, but just secluded enough that many city dwellers in nearby Sheboygan don't even realize what's sitting right on their doorstep. A surprising destination that offers a chill getaway that's absolutely worth considering.
We stayed for a three-day visit recently and were pleasantly surprised by what we found: a laid-back retreat where taking it easy is top priority and low-key outdoor activities abound (much like one other delightfully surprising destination: Long Beach Peninsula, Washington). Ready to kick back and relax for a few days? Here's how to spend 3 outdoorsy (but not strenuous) days in surprising Elkhart Lake, Wisconsin.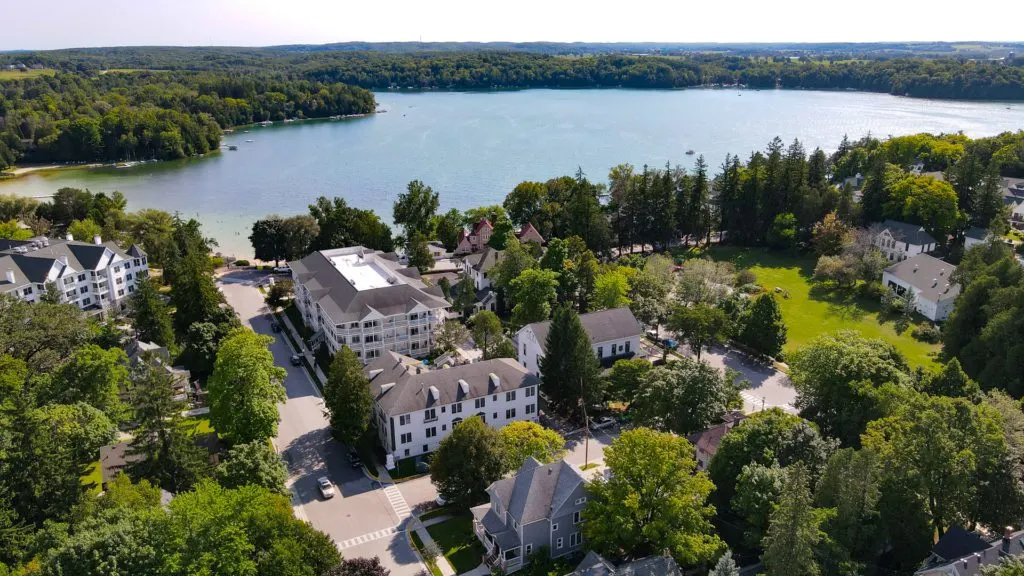 Sleep
You're gonna need somewhere to lay your head. Fortunately, Elkhart Lake has plenty of places to kick off your shoes at the end of the day.
Siebkens Resort
One of three main resorts in Elkhart Lake, Siebkens Resort is the oldest continuously operating resort. There's a lot of history here, including connections with the famed Elkhart Lake open road races, but it also has all the modern amenities you want in a quality stay. Our favorite feature: condo-style rentals with full kitchens and the staff's willingness to put together a totally vegan in-room breakfast! And the on-site dining room?! Well, we'll get to that later.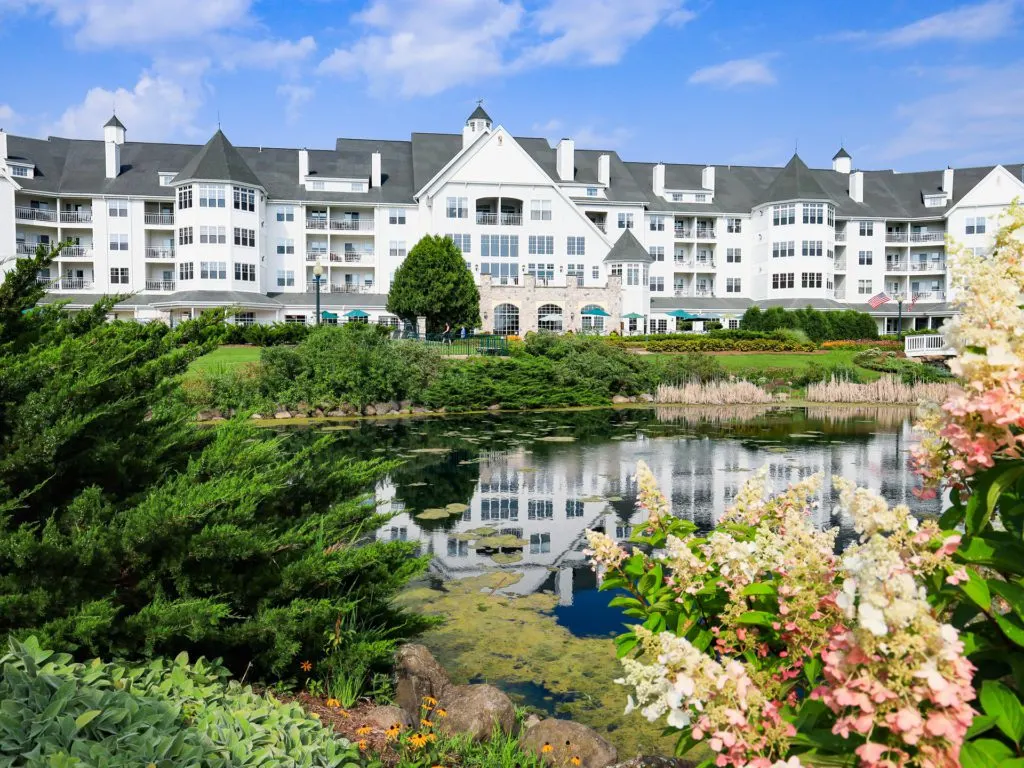 Osthoff Resort
The largest and fanciest of the Elkhart Lake Resorts, the Osthoff has it all: dining, a spa, watersport rentals…and it's posh as all get-out. There's an indoor and outdoor pool, spacious suites for the whole fam (or just you…), and a big 'ol garden if you just want to relax by the pond. Wanna treat yourself? This is the place to do it!
Shore Club
The most modern of the resort properties in Elkhart Lake is the Shore Cub, home to bike rentals, a swank boutique, and the famous Tiki Bar and Lounge. Forgot your Hawaiian shirt? Buy one in the gift shop. Then kick back and enjoy the afternoon on the lawns (or the lakefront), warm up next to the outdoor fire pits on chilly evenings, and enjoy the live music and entertainment that takes place year-round.
Marsh Campground
On a budget? Or simply prefer to sleep outdoors than in? We got you. Book a campsite at Marsh Campground, which is only 2 miles up the road from Elkhart Lake and offers plenty of space for both tents and RV's, plus an observation tower for enjoying the sunset. Showers, too, if that's important to you…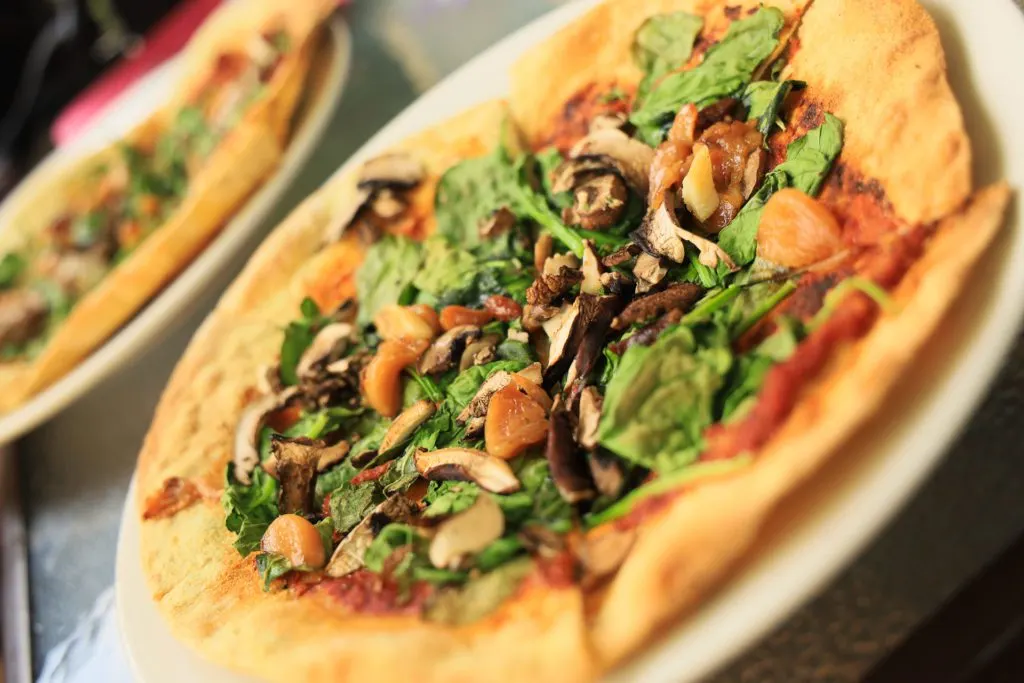 Eat
Not gonna lie: at first glance, there aren't a lot of vegan options in Elkhart Lake. That said, the caliber of dining options for such a small destination are nothing to sneeze at. So if you're vegan or vegetarian, call ahead, warn them that you're coming, and get your grub on! Side note: there aren't a lot of places to stock up on groceries in Elkhart Lake (the closest grocery stores are down the road in Plymouth), so bring some staples with you so you don't have to venture too far for meal fixings if you'll be cooking for yourself. As for quality snacks, wine, a few perishables and more, Vintage Elkhart Lake can help you out with that (right now it's online order with curbside pickup only).
Lake Street Cafe
An easy stop for lunch or dinner, Lake Street Cafe has a number of items that can easily be made vegan, including unique salads and cheese-less pizzas. Ask the server for recommendations and then go nuts. Bonus: the nice big outdoor dining area offers plenty of space for social distancing.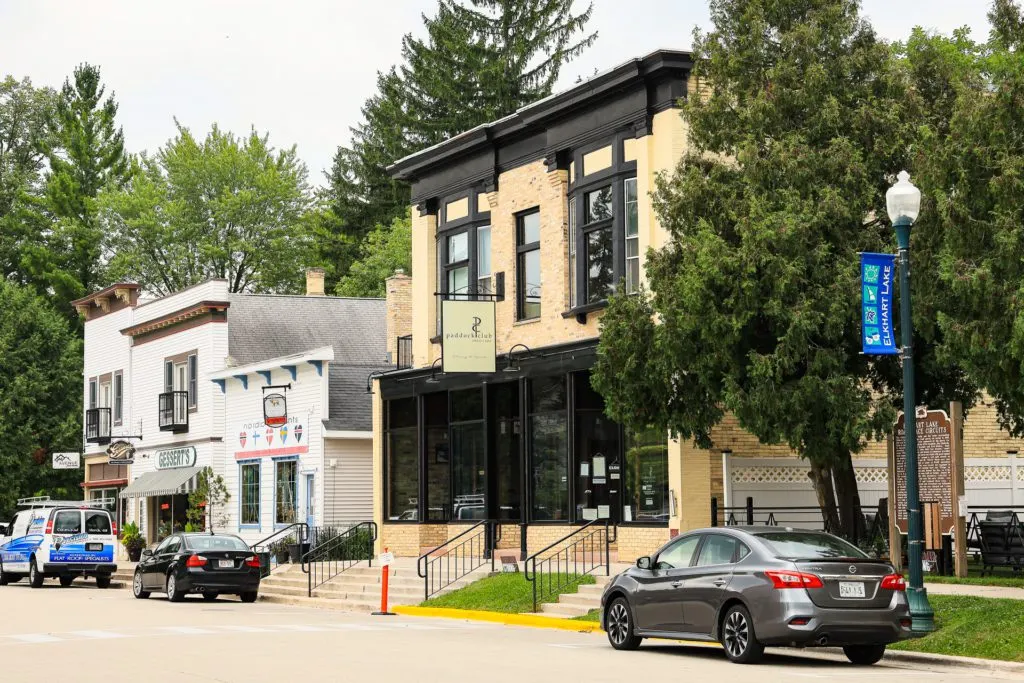 Paddock Club
One of the best vegan meals we had in Elkhart Lake came from Paddock Club. There's nothing specifically vegan on the menu, but since the chef knew we were coming, she offered to whip something up. And since she's a real and proper chef, she nailed it! Flavorful and filling, Paddock Club did not disappoint. So treat yo' self.
Siebkens Dining Room
Maybe the best meal of all, however, came from the main dining room at Siebkens Resort. There are several dining spots on resort property, including the famed Stop-Inn, which celebrates the area's road racing culture, but the main dining room is where you go for a nice sit-down dinner. Again, the staff knew to expect a pair of vegans, so the meal was multi-course and delicious. And the cocktails were on point (anyone who can make foam out of aquafaba and uses fresh herbs from their garden knows what they're doing in the bartending department). And good news: The kitchen may be adding permanent vegan items to the menu soon, so huzzah!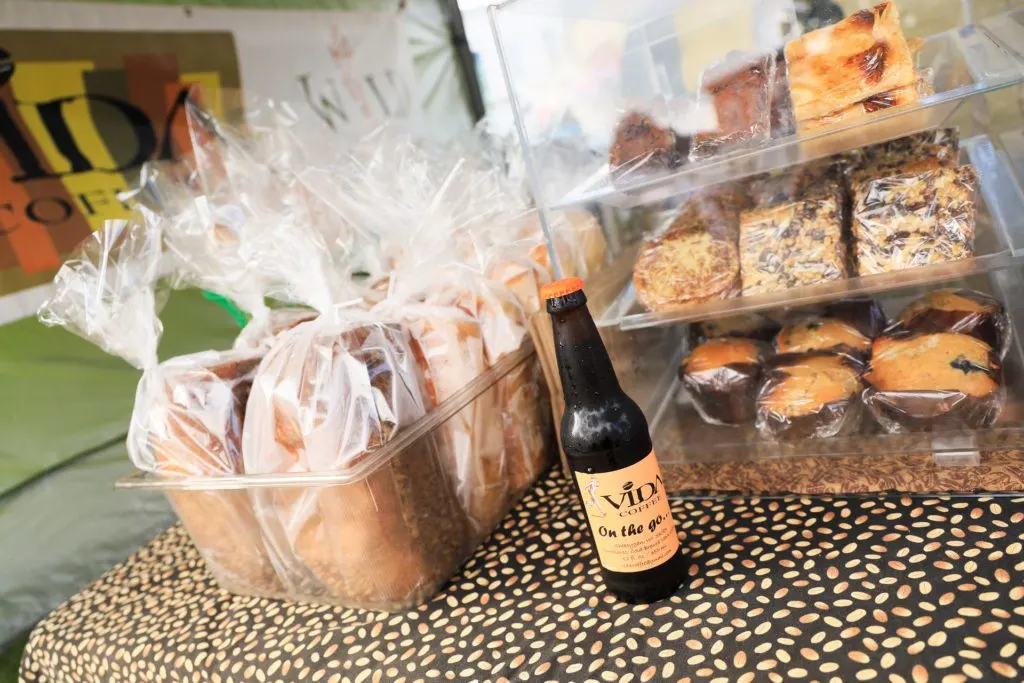 Wild Carrot
If you're in town over a weekend when the Elkhart Lake farmers market is on, make sure to stop by Wild Carrot Cuisine. Baked goods abound, and while not much is labeled, just ask what's vegan and you'll get a whole list of options both savory and sweet. The cocoa bombs are, excuse the wordplay, the bomb, and many of the offerings are also gluten-free. Bonus: tasty cold brew coffee in a glass bottle!
Gessert's
Look, sorbet is in no way, shape or form ice cream. And usually vegans are not pleased when their only option for frozen, dairy-free dessert is frozen sugary fruit water, but at Gessert's ice cream parlor, the sorbet truly hits the spot, especially on a hot afternoon when you just want a refreshing treat post beach day. So get some and enjoy!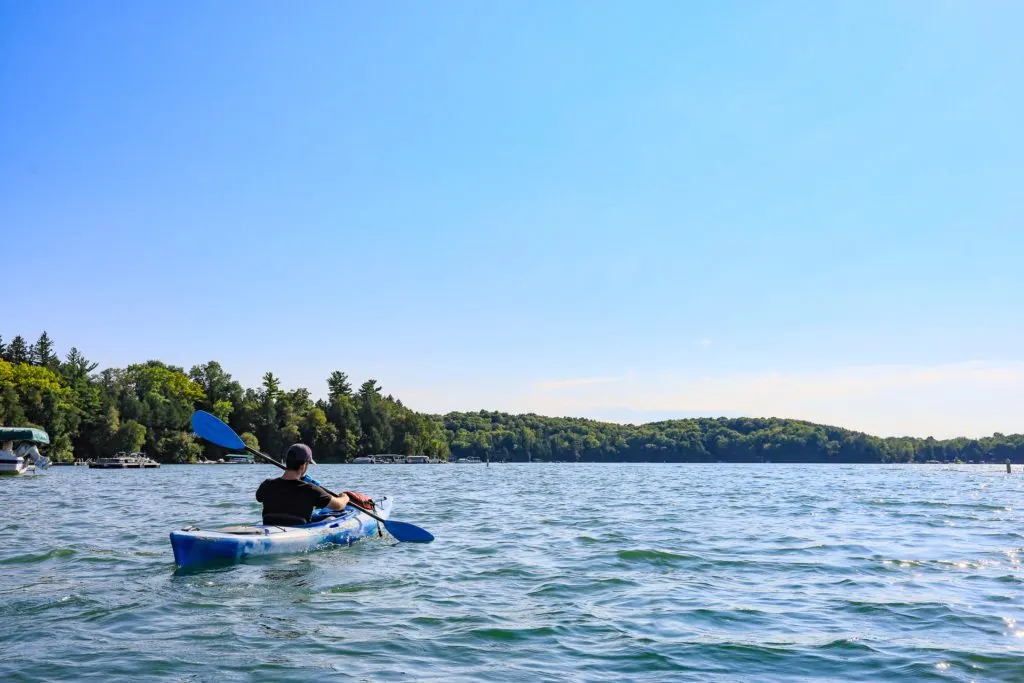 Play
Play all day at Elkhart Lake. That's really the whole point of the place…
The Beach
We'd be lying if we said the lake and accompanying beach weren't the main attractions at Elkhart Lake, 'cause they are. So bring your beach blanket, a bag of snacks, plenty of water, and some sunscreen. Then lay back and soak up some sun, kids! There are multiple access points, so have a wander and find the one for you! And relax knowing that Elkhart Lake is one of the cleanest in the state, so swim your little heart out.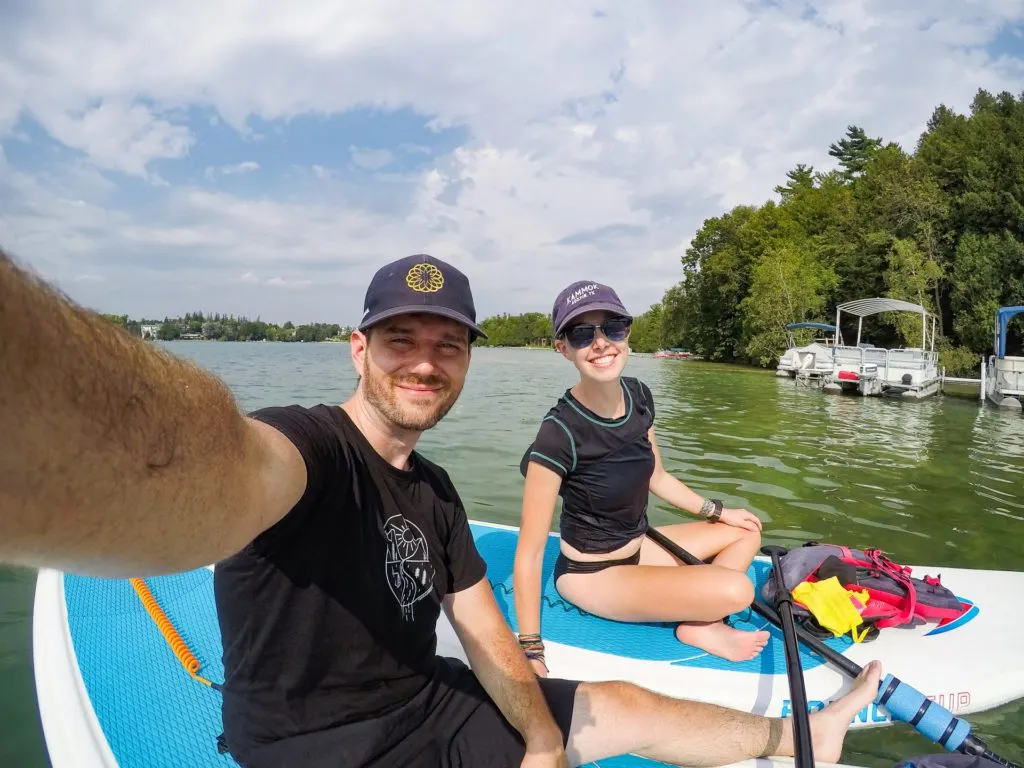 The Lake
With a body of water this good looking, you're gonna wanna get wet. Sure, you can go swimming at the beach, but why not venture out a little farther? If you brought your own boat (like a speed boat or pontoon), the only public dock is on the opposite side of the lake from the town, but there are several access points for kayaks and SUP's. Didn't bring your own? No problem. The Osthoff and the Shore Club rent watercraft right from the beach, including kayaks, SUP's, hydrobikes, paddleboats and more. So get moving!
Around Town
Even we can't spend all day every day on the water (but we can sure come close). So if you want to take a short break to tool around town, you can! Elkhart Lake is exceedingly walkable (we didn't get in our car once!), so take a stroll to some of the shops, galleries and small businesses in the center of town or rent a cruiser bike from the Shore Club and do some peddling. The whole area is fairly flat, so an easy ride is easily within reach.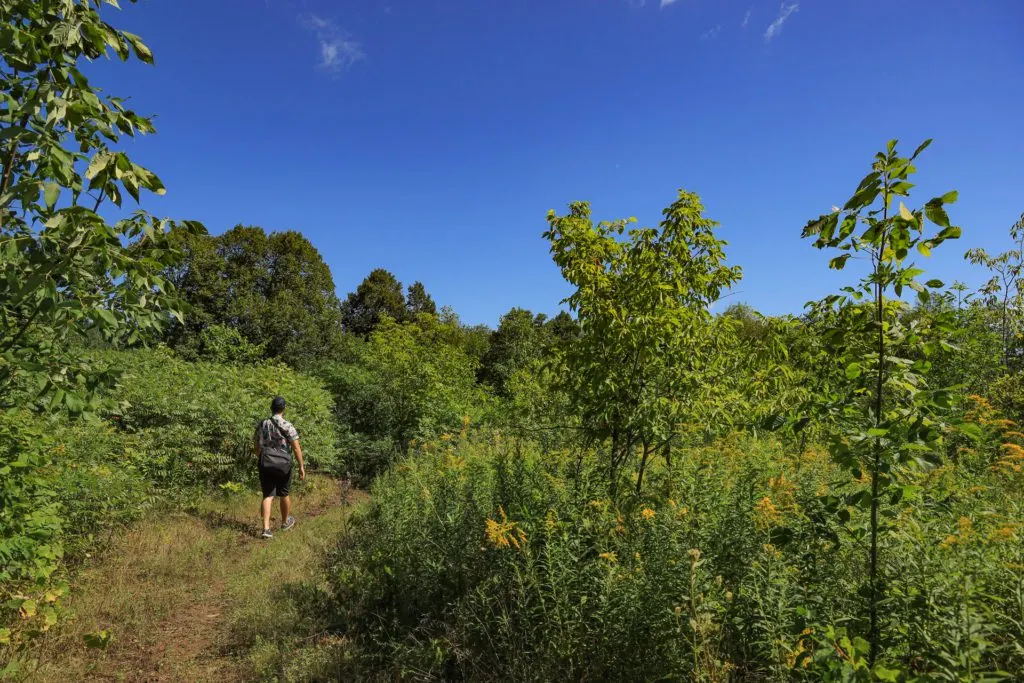 Take a Hike
Get your body moving on a nearby hike, many of which are just a short drive or bike ride from town center. Hoof it at Rocky Knoll Trail where you'll find three winding looped trails through woods and colorful prairies or head to one of the Ice Age Trail trailheads or the Kettle Moraine State Forest Northern Unit. Both offer strolls that are fairly easy and offer a great escape into nature (without many crowds). Rocky Knoll can be tricky to find since it's on the same property as a health center campus, but head to the western corner of the property and you'll find a sign and a trailhead.
Mountain Bike
Bring your own mountain bike or rent one from the Osthoff for a few hours and shred it on one of the three Rocky Knoll Trails that's open to hikers and mountain bikers. Difficulty varies, but most of the 1- and 2-mile trails are generally accessible to beginners and are sparsely used, so you may get the whole trail to yourself!
Aspira Spa
I don't know if it qualifies as playing, but when playtime is over (or in the case of a rainy afternoon), unwind at Aspira Spa at the Osthoff. Opt for a massage, facial, reiki, or any number of fancy shmancy spa treatments from expert therapists. Book two in one day and you'll even get to waltz around in your own robe and slippers! Posh (and oh so relaxing)! It all looks a bit different than usual in the light of the pandemic, but it's still totally worth it.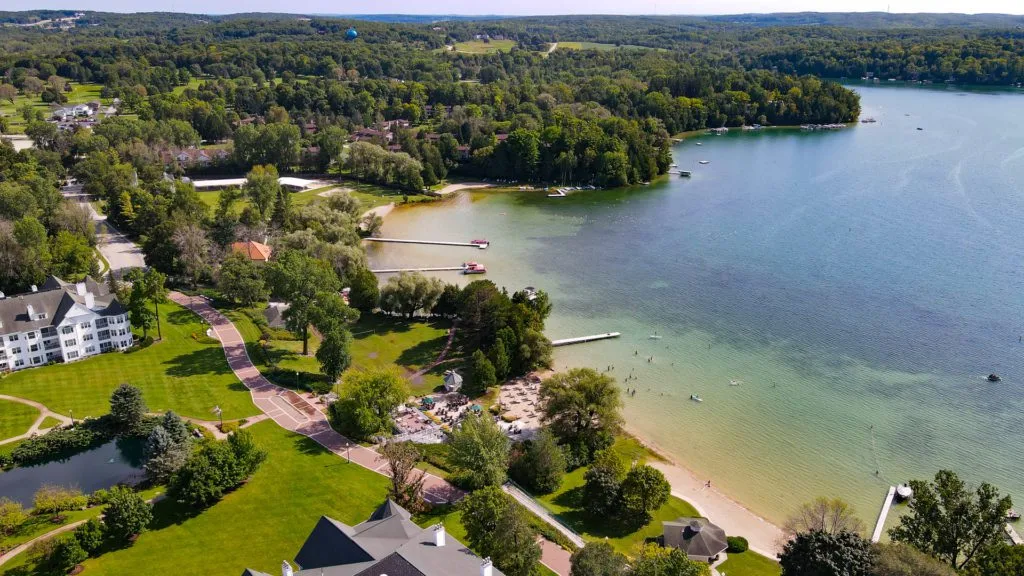 Bottom Line…
Long story short, Elkhart Lake is a delightful and surprising destination. One of those gems of a place that's in a league all its own. And it proved to be a chill place to get outside and play, explore, and kick back and relax for a weekend. Because there are no worries here! Now get out there and wander on!
Alisha is a freelance writer and photographer based in Austin, TX. She loves her tiny house, vegan food and experiencing the community of travel in far away places. She's also pretty sure she's addicted to coffee. alishamcdarris.com