While it's true that most of us aren't traveling extensively right now, many of us are still tooling around our respective states in our trusty road-trip-mobiles, camping at nearby state parks, or playing outside in our own (sometimes literal) backyards. And it's probably safe to say that most of us are looking forward to the day in the (hopefully) not-too-distant future when we can hop on a plane and enjoy some proper adventure travel again. Either way, it's always a good time to talk about sustainable travel. So whether you're just milling around town, road tripping across the state, or flying off for an international itinerary (one day…), here are some sustainable travel tips for more eco-friendly adventures, wherever they might be.
Sustainable Travel Tips
Bring a Refillable Water Bottle
This is literally the very least you can do when it comes to sustainable travel. If you're NOT bringing at least a reusable water bottle like a Nalgene, what's your deal? Still stuck in the 90's? Missed the whole eco-conscious movement? Join the rest of us in the 21st century and bring your own dang reusable bottle. Wherever you go. Even if it's in a country where water isn't safe to drink straight from the tap (like in Guatemala), chances are that hostels, hotels and even restaurants will have reservoirs of purified water where you can fill up your own bottle. If not, that's why we love the LARQ water bottle that purifies your water using UV-C (we wrote about how UV-C kills all the baddies in this post about water purification). So for the love of all that's good and holy, ditch the single-use plastic bottles and bring your own. And if bag space is your complaint, you have no excuses; we rounded up several collapsible water bottles for travel in this post.
Don't Forget the Utensils
If a reusable water bottle is the baseline, then reusable utensils (including straws) are the next step. If you bring your own silverware (or spork), you can opt out of taking disposable (and non-recyclable) plasticware when you order takeout. Or cook at the campsite. Or eat in the back of your car. Either way. Our favorite kit is the United By Blue utensil kit because it comes with a metal spork, chopsticks, straws, and a straw cleaner and is all wrapped up in a handy dandy carrying case so you can keep it all organized. Get one. Or two. It's a handy thing to keep in your car, pack, suitcase, you name it.
Bring Your Own Bag
This is one of the easiest sustainable travel tips, but so few people actually do it. Chances are, you bring your own bags when you go shopping at home, so why wouldn't you when you're traveling? We always have at least one packable, reusable tote bag (we love this packable tote from United By Blue made from recycled polyester) in the car or in our luggage when we travel. And when abroad, bring a daypack or messenger bag for day-long outing so if you do any shopping you can put your newly acquired treasures (or groceries) in it instead of taking a plastic bag that you'll either throw away immediately or have to carry around for several hours.
Take Public Transportation (Or Better Yet, People-Powered Transportation)
Traveling within driving distance? You've got options when it comes to transportation. Instead of flying, why not take a bus or train? Or carpool? We've carpooled many times, from the South Rim to the North Rim of the Grand Canyon, from Seattle to Portland, and even up part of the East Coast of Australia. It'll save gas and reduce the number of cars on the road. Once you've reached your destination, skip the taxi and walk, take the bus or rail, or rent bikes so you can pedal wherever you're going. If you will be renting a car, see if there are any hybrids available or opt for a model that sips the least fuel.
Stay at Eco-Conscious Hotels or Hostels
If you won't be camping the whole time you're traveling (not even we do that), choose your accommodations wisely. Book a locally-owned stay if you can and look for places that care about their impact on the environment (like the Adrift Hotel in Long Beach, WA). Find out if they recycle, if the property is powered by renewable resources like solar or wind, or if they implement other resource-saving features (many Hostelling International properties in the U.S., for example, use shower heads that encourage guests to shorten their showers via color-changing lights and stats about water usage in the bathrooms). You can also try homestays or short-term rental properties like Airbnb. They may not seem that much different, but they use up a lot fewer resources on cleaning, laundry, electricity, personnel, etc.
If you do stay at a hotel, don't believe most of what they say about their environmentally-friendly practices if they are a chain. We've never been to a hotel that didn't still wash our towels after we hung them up (usually the requested signal for "don't wash my towel after I've used it once"). So instead, put the "Do not disturb" door hanger on the outside of your door and leave it there for the entire length of your stay. It may help to alert the front desk that you will not want your room cleaned while you're there, as some places will continue to knock and offer housekeeping even with the sign in place. Finally, leave those tiny toiletries where they are! They are a serious waste issue. Bring your own in refillable bottles!
Choose Your Tours Wisely
Not all tours (or tour companies) are created equal. If you'll be taking a tour while on your trip, do a little research. Ideally, tour companies should utilize locals to lead the tours and offer experiences and give back to the local community in some way. In addition, sustainable travel and tours will often have certifications or be members of sustainable tourism groups. Check websites and don't be afraid to ask if you can't find any information on tour companies' principles, affiliations, or practices. Some good options to get you started: Tours By Locals, Intrepid Travel, and Authenteco Travel concierges.
Skip the Cheap Souvenirs
If you want to bring something home from your travels, opt for something locally made, even handmade, instead of produced on some assembly line in China and shipped in. I'm not saying don't buy anything (we like stickers, patches and flag pins from the places we've been), but if you're going to drop a bunch of cash on souvenirs, make them quality, sustainable, locally-made items that support the local economy (and that you won't be able to just order on Amazon when you get home).
Offset Your Footprint
Whether you're flying or driving, you can opt to offset the carbon footprint your mode of transportation created. It'll cost a few bucks, but there are online calculators and websites that help you figure out how much depending on where you went, how you traveled, etc. Many airlines will offer the option to offset emissions right when you're booking. But if you'd prefer to do it later on your own, use sites like Sustainable Travel International (endorsed by WWF) or Atmosfair to calculate your footprint and its cost and then use organizations like Gold Standard or Climate Action Reserve to purchase offsets.
Eat Vegan (And Local)
Yeah, yeah, I know. It's not a popular talking point among the general population, but here's the unfortunate truth: the factory farming industry does more damage environmentally speaking than all transportation methods around the world combined. That's kind of a big deal. So offsetting your flight is only moderately helpful if you're just scarfing meat and dairy once you reach your destination. Naturally, we'd love it everyone ate vegan more often for the environment, but we know that's easier said than done, so if you're willing and really want to focus on sustainable travel, consider reducing your meat and dairy intake to one meal a day. We promise you won't die of malnutrition. We haven't and we've been doing it for over 15 years! And whether you're eating vegan or not, skip the chain restaurants and dine at local restaurants that use local ingredients instead.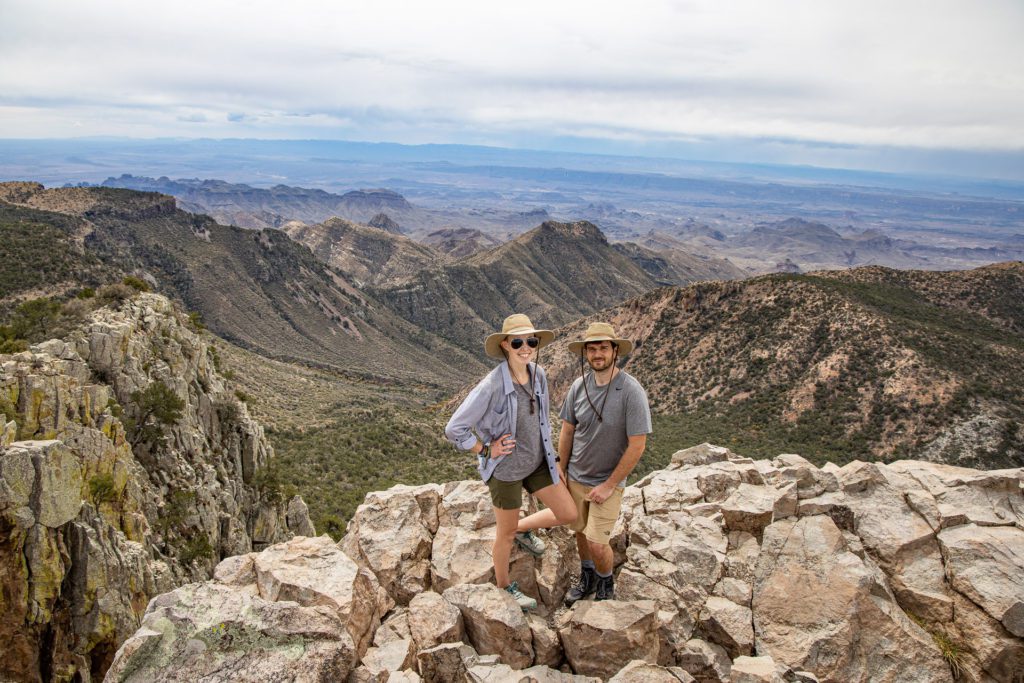 Sustainable Travel Tips: The Bottom Line
However you travel this year and beyond, check your footprint and venture out responsibly with these sustainable travel tips. And if your think we missed one or two clever ideas (or we enlightened you to one you'd never considered before), drop us a note! Now get out there and explore (responsibly and sustainably, of course). Wander on!
•
*This post contains affiliate links, which means when you make a purchase, we may receive a small percentage, but you'll never be charged more. It simply helps support more great content!
Alisha is a freelance writer and photographer based in Austin, TX. She loves her tiny house, vegan food and experiencing the community of travel in far away places. She's also pretty sure she's addicted to coffee. alishamcdarris.com