Looking for a water bottle that doesn't take up much space? A vessel you can toss in your backpack or glove compartment or carry-on and easily take with you wherever you go? We thought you might be. Well, you're in luck! 'Cause we rounded up the best collapsible water bottles on the market specifically designed with travel and the outdoors in mind so you can easily find the perfect one for you. So fill 'em up, sip regularly, and wander on (fully hydrated, of course)!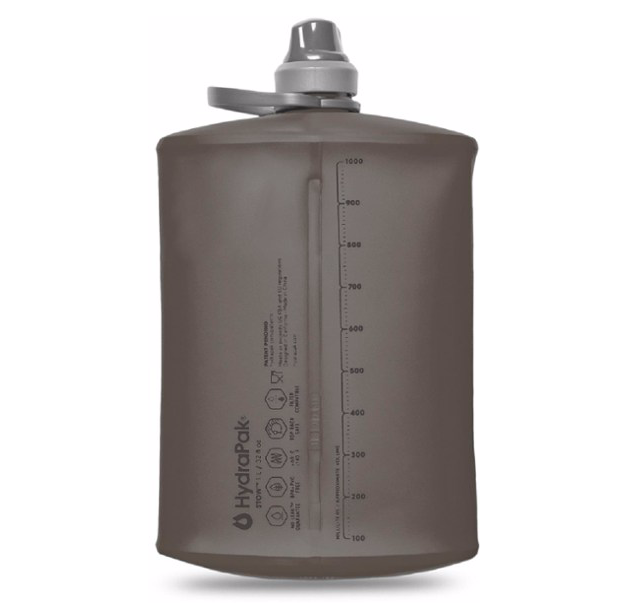 HydraPak Stow Bottle
The first of the outdoorsy collapsible water bottles is the HydraPak Stow Bottle. It's ultralight and completely collapsible, but the soft-sided bottle conforms to oddly-shaped spaces like pockets and has a sports cap instead of a screw-top or pop-top. This does mean you have to give it a little squeeze to release the liquid inside, but it is compatible with threaded water filters that are designed to be used with squeezable purification systems like the Sawyer Mini, so that's a plus. It's made of durable TPU (a type of plastic) and HydraPak recommends sticking with cold or warm water, not hot, when filling it up. And yes, it's more rugged than it looks, but if it does manage to spring a leak or otherwise malfunction, HydraPak offers a Beyond Lifetime guarantee, so rest easy. Order a HydraPak Stow Bottle in 500ml or 1L!
Pros: Lightweight and smashes flat, plus can be used with a water filter.
Cons: Difficult to smoothly slide into a traditional backpack water bottle pocket.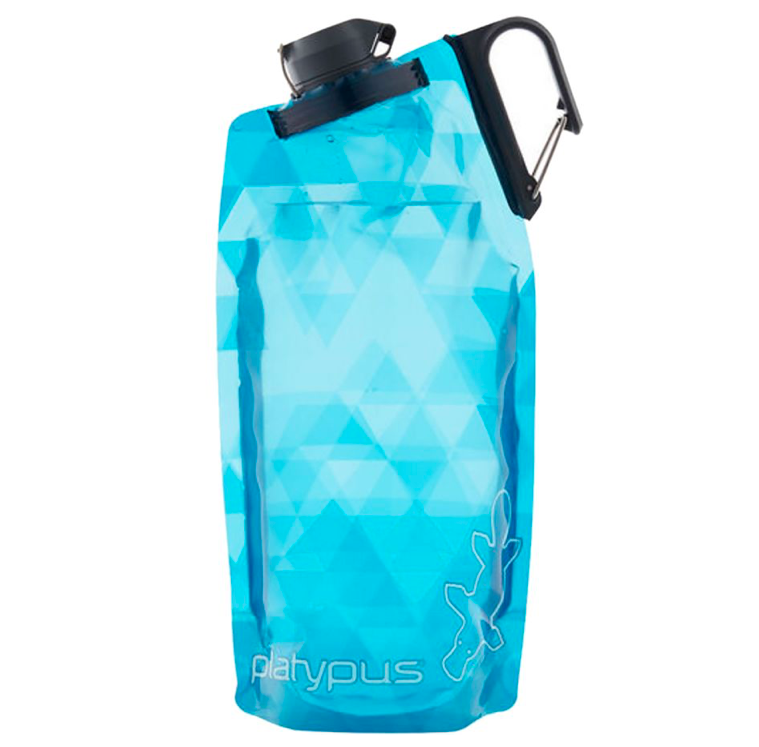 Platypus
Platypus is known for hydration bladders and collapsible water bottles. And the Platypus DuoLock SoftBottle is a godsend for travelers, ultralight packers, road trippers and more. Empty, it folds flat, taking up almost no space in your bag. The lid stays securely latched shut so there are no surprise spills, and if you fill it up and can no longer fit it inside your bag, the clip on the top makes it easy to attach to the outside and go. It's made of BPA-free plastic and is available in a handful of colors and patterns. Score one here!
Pros: Folds almost entirely flat, has a lid safety latch, plus the flip lid keeps the mouthpiece clean.
Cons: Difficult to clean and get completely dry.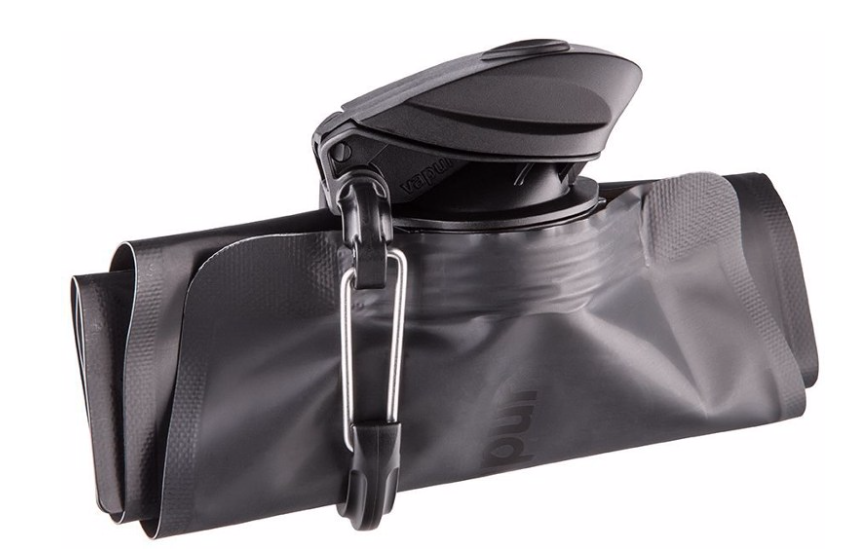 Vapur Element Water Bottle
Similar to the Platypus DuoLock SoftBottle, the Vapur Element collapsible water bottle folds flat, but it also rolls up into a neat little package, held in place with its own attached clip. Super convenient. Like the Platypus, it's plastic and can be difficult to palm since it lacks structure, but is ideal for situations where you don't have room/don't want to make room for a bulky bottle. The flip-top keeps the mouthpiece clean, which is a definite bonus (though it doesn't have a safety lock like the Platypus), and it comes in a small selection of colors. Get one here!
Pros: Folds or rolls flat, plus the flip lid keeps the mouthpiece clean.
Cons: Difficult to clean and get completely dry, plus the lid doesn't lock (though it is fairly secure).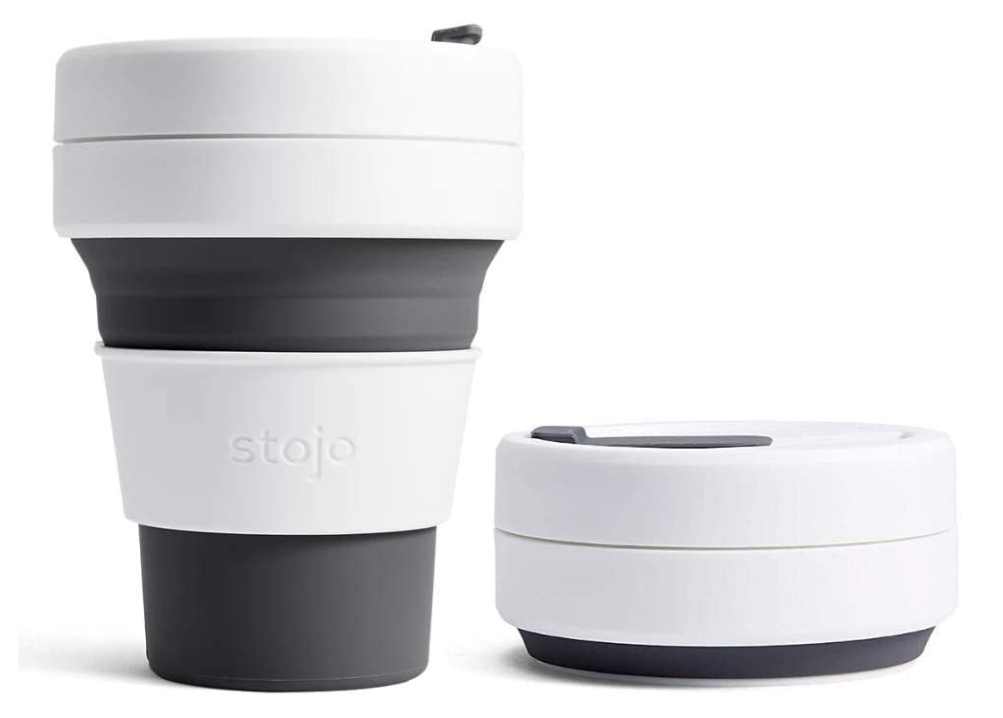 Stojo
The Stojo is my favorite collapsible travel mug. It's made of silicone and plastic (the lid and sleeve) and can be used for hot or cold beverages, but it's obviously designed with hot bevies in mind. It collapses down to be just under two inches (the sleeve nestled up in the folds), so it can be stashed in a pack or jacket pocket easily. It comes in a nice, compact 8-ounce, 12-ounce, 16-ounce and 24-ounce plus it's available in a slew of colors so you have options. And that handy sleeve both keeps the cup rigid for hand-holding and keeps your fingers from getting burned. Order yourself a Stojo on Amazon.
Pros: Collapses fairly flat for easy stashing, perfect for hot beverages.
Cons: Doesn't keep hot beverages hot.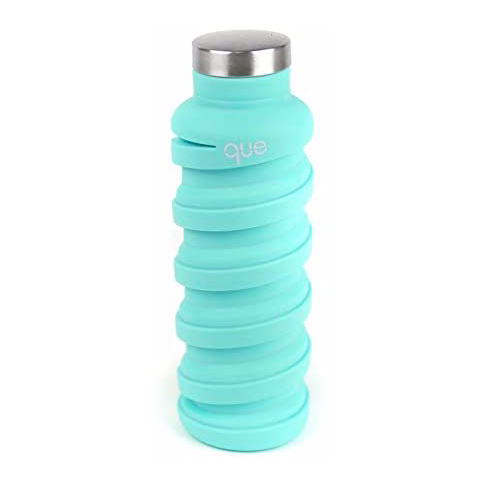 Que Collapsible Water Bottle
This water bottle by Que collapses a little differently. Instead of folding flat or rolling up, it sort of…squishes. It shrinks to half of its full height when collapsed, so it's not the smallest option on this list, but it does hold its shape when full or empty better that some of the other options, so if that's a selling point for you, this is your guy. It also holds cold and hot liquids, but there's no insulation, so really hot beverages will make it too hot to hold. It has a stainless steel lid and the body is made of silicone, plus it comes in fun, bright colors. Find the Que bottle on Amazon.
Pros: Keeps its form even when not full.
Cons: Only collapses to half its full size.
•
Did we miss any exceptional collapsible water bottles? Which are your favorites? Share 'em so we can check 'em out!
•
Looking for a way to purify the water that goes into that collapsible water bottle? Check out our post on backpacking water filters!
*This post contains affiliate links, which means when you hydrate, we can, too. Just, you know, on a much smaller scale…
Alisha is a freelance writer and photographer based in Austin, TX. She loves her tiny house, vegan food and experiencing the community of travel in far away places. She's also pretty sure she's addicted to coffee. alishamcdarris.com