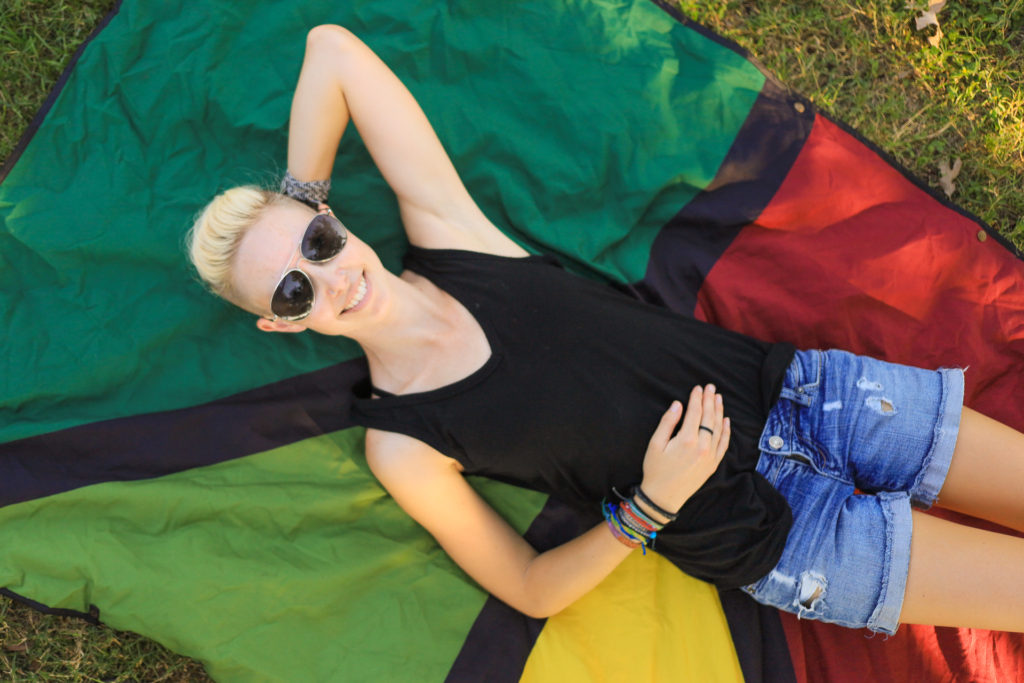 I'm a sucker for a good outdoor blanket. A soft, cozy, durable blanket that can accompany me on all of my adventures. Fortunately, there are several brands making not only high quality outdoor blankets, but sustainable ones, too. And since so many of the are so much more than basic rectangles of fabric, you better believe they'll be perfect for everything from backpacking in the mountains to weekend camping trips to picnics in the park and outdoor movies on the lawn. So if you'll be adventuring outdoors this season (or any season), check out these sweet sustainable outdoor blankets designed with adventure in mind.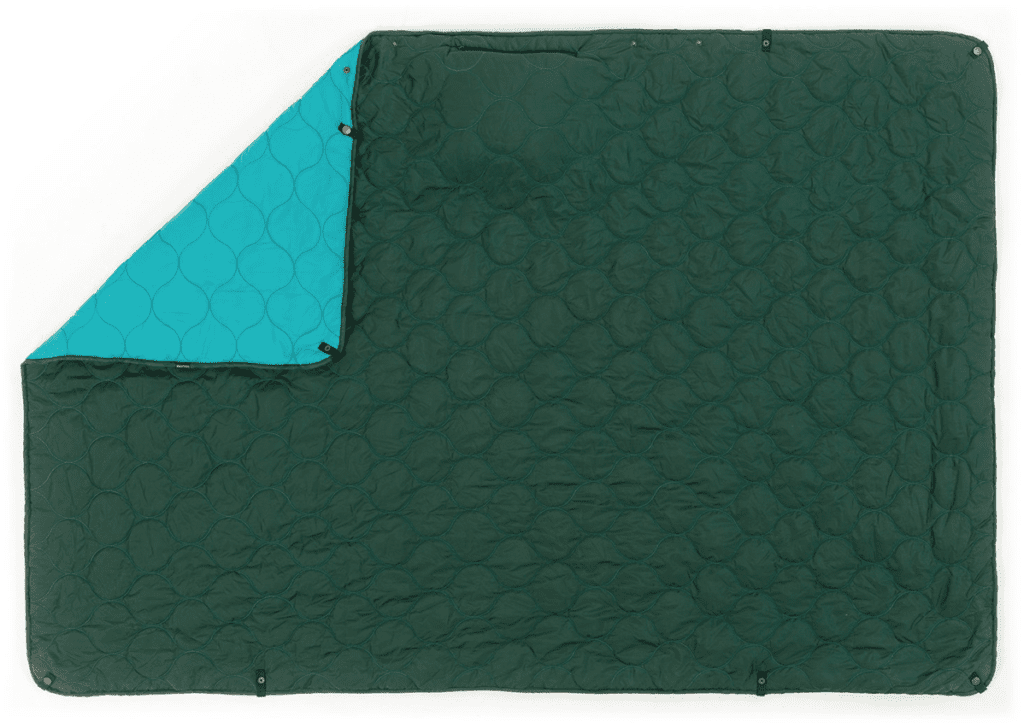 Coalatree Kachula
Coalatree is all about sustainability (we love their fleece Evolution hoodie, which is made from recycled polyester and coffee grounds), and that extends to their line of blankets, which are so more than just blankets. Snap on a hood to make it a water resistant poncho! Button it up to wear it like a cozy cape! Snap the sides together to create a warm-weather sleeping bag! Stuff it in its handy zipper pocket and you have a pillow! And when you're done playing, just shake it out to get rid of sand, dirt, water and more! We love it for its versatility, but also for its durability.
There's the original Kachula for all manner of outdoor adventure, plus the Puffy Kachula, which is made of Bluesign materials and filled with recycled synthetic insulation to keep you cozy in the great outdoors. Find the Kachula here and the Puffy here! Snap 'em together for even more warmth! Then get your adventure on whether you're enjoying an outdoor movie in the park, sitting around a campfire, or road tripping around the state.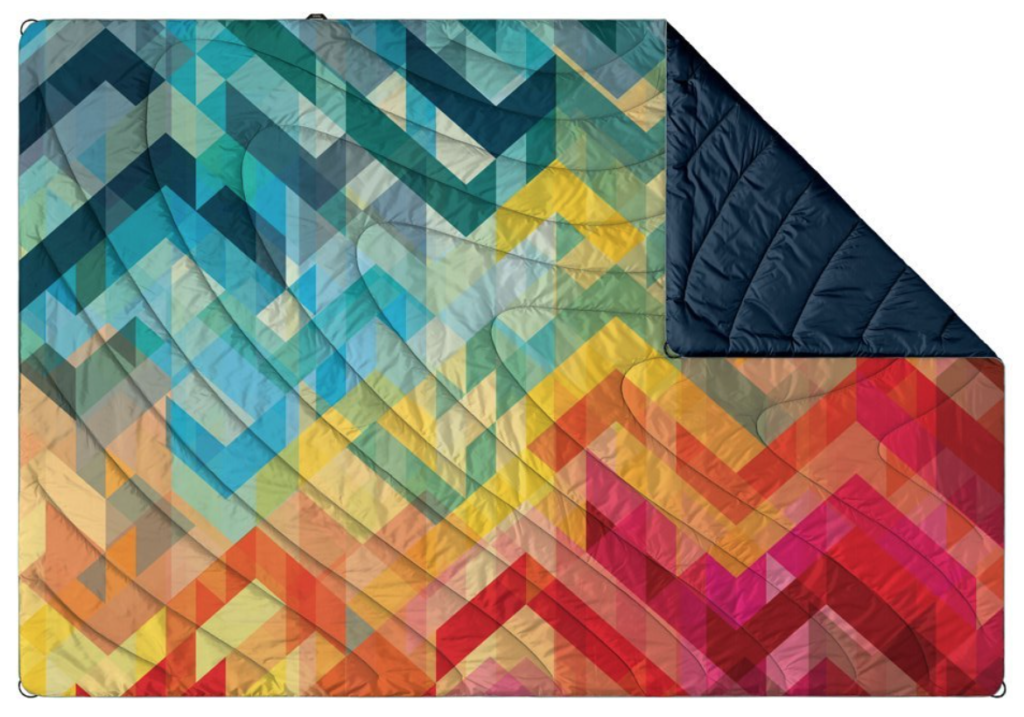 Rumpl
Rumpl practically invented the modern outdoor blanket. And their attention to detail and innovation shows: the outdoor blankets they make are soft, cozy, and sustainable to boot. And while many of their products contain down (eww, down), a solid portion of their line utilizes synthetic insulation (yay, synthetics), much of which is made from recycled plastic. The blankets are weather resistant, made of recycled materials, have a cape-clip for easy wearing (the one-person size, anyway), corner loops for staking it down or rigging creatively, they pack into a convenient stuff sack, and several come in three sizes: junior, 1-person and 2-person.
Rumpl's Original Puffy is the classic all-around favorite. But there's also the NanoLoft Puffy Blanket, which is filled with synthetic insulation made from recycled materials that is designed to mimic down. Not small enough for you? The NanoLoft Travel Blanket packs down to the size of a Nalgene bottle! Now that's an outdoor blanket designed for adventure!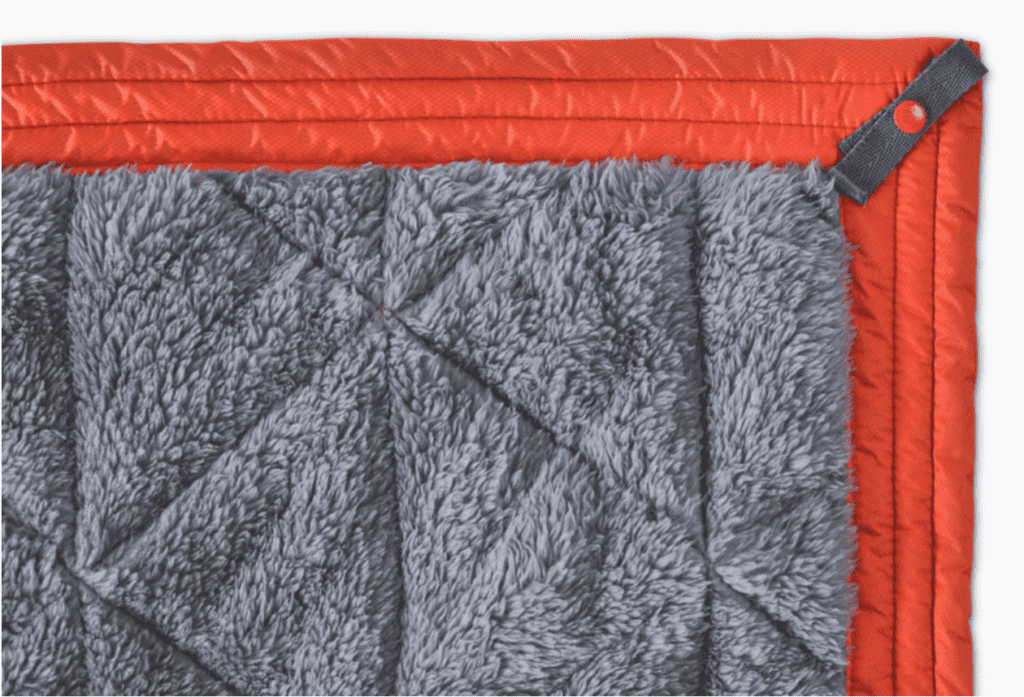 Kammok
It's an outdoor blanket! It's a poncho! It's a sleeping bag! It's the Kammok blanket lineup! We love Kammok for their dope backpacking hammocks (lookin' at you, Mantis), but the brand's outdoor blankets are just as great. A series of snaps down the sides allow ultimate versatility and the blankets all integrate with Kammok hammocks plus several connect and layer with other Kammok adventure blankets.
The Bobcat 55º Backpacking Quilt (not to be confused with the down-insulated 45º version), is the brand's puffy blanket. It's filled with Bluesign EcoLoft synthetic insulation made from recycled plastic, treated with a DWR finish for wet conditions (or picnic spills), and can be used as a hammock under quilt or warm-weather sleeping bag. The Field Blanket and Mountain Blanket, on the other hand, are cozy, fleece-lined, water repellent, and perfect for car camping and everyday adventures (whether or not you also own a Kammok hammock). Both can be worn as ponchos, plus, they can hook together for layer-able warmth! The main difference between the two? The Field Blanket has a fine micro-fleece lining while the Mountain Blanket a thick, plush lining that's super soft and warm.
An Outdoor Blanket for Every Ocassion
So whether you're hitting mountain trails, camping close to home, cuddling up in front of the fire pit (or fireplace), sleeping in the back of your car on a cross-country road trip, or just spending an afternoon lounging at the park, these blankets offer a comfy, cozy, versatile, rugged, and sustainable way to enjoy the outdoors. So grab a blanket and wander on!
•
*This post contains affiliate links. That means if you get yourself a dope new blanket, we may receive a percentage of the sale, and the heat here at the Terradrift Headquarters can stay on for another month or so…
Alisha is a freelance writer and photographer based in Austin, TX. She loves her tiny house, vegan food and experiencing the community of travel in far away places. She's also pretty sure she's addicted to coffee. alishamcdarris.com