*For a review of the updated Jaybird Vista 2, check out this post.
We like music. Also audiobooks. And podcasts. But not as much as music. We listen when we road trip, when we run, when we fly, when we cycle, when we train, when we kayak and sometimes even when we hike (but that's less often, 'cause we like to hear nature–and no speakers! Ever!). And up until now, we've been using regular ol' earbuds with a cord (a cord!) when we do them all. Not anymore. Allow us to introduce you to the Jaybird Vista, the true wireless headphones that will stand up to whatever you can throw at them, making them the best headphones for adventure.
For real, these things are branded as "earthproof." That means you can drop them in the dust, let them tumble off a cliff, run in the rain, sweat all over them, and they'll still work like a dream. See? Earthproof. In fact, they are apparently the only headphones tested to military standards. I don't know exactly what that means, but it's got to be good.
So we tested out a pair for a few weeks to see how we liked them. The conclusion: these are some super handy, super hardy, great-sounding earbuds that might just be the best headphones for adventure.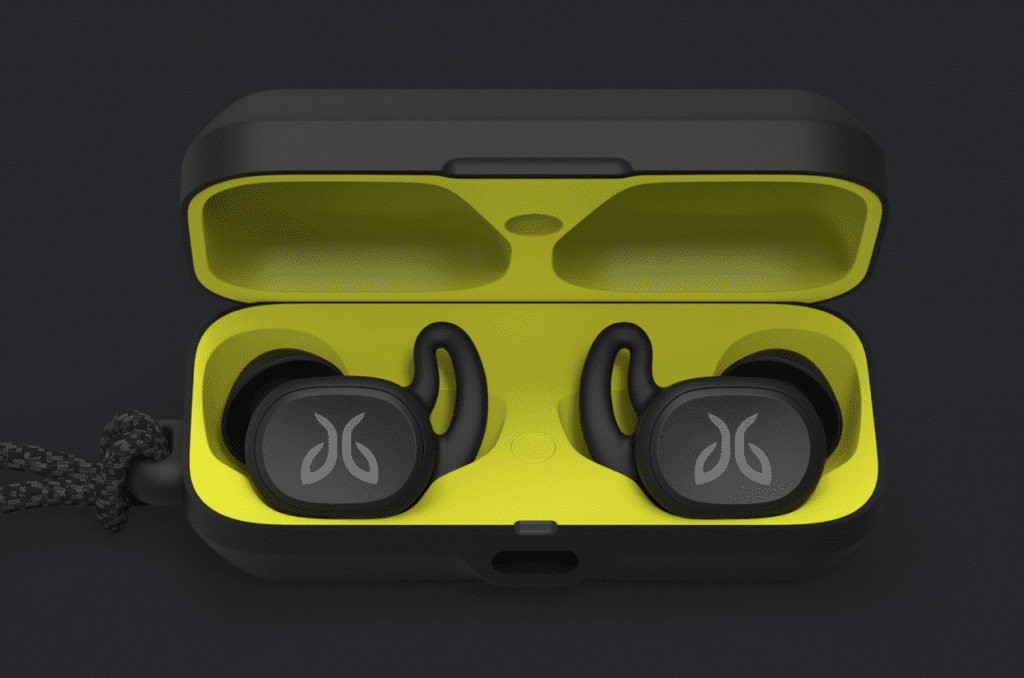 Jaybird Vista: The Specs
16-Hour Battery Life with Conveniently Small Charging Case (That's 6 hours per earbud plus the case can charge them for 10 more. That's up to 32 hours if you're only using 1 earbud!)
IPX7 Waterproof and sweatproof, dustproof, shock- and drop-resistant (These things can take some abuse and withstand whatever outdoor elements you can throw at them. They say the planet is their proving ground)
Sport Fit (They fit snuggly inside your earholes)
Capsule Construction Seals Against Elements (No water or dust getting in those delicate techy nooks and crannies)
JBS1 Wireless Technology (Advanced wireless Bluetooth connectivity FTW)
Premium Sound with Custom EQ (Download the app and create customizable EQ settings so music sounds the absolute best for your unique hearing profile)
Music & Calls (Just listen or make a Bluetooth call – there are built-in microphones in each earbud)
Jaybird Vista: The Review
(Want to watch the review instead of reading? Check out the video above.)
Right off the bat, the first thing we noticed was the sleek case design. It's nice and small and fits easily in a pocket (even those stupidly tiny waistband pockets commonly found in women's athleticwear). We were big fans.
The fit, however, was a bit tricky at first. You have to sort of insert, then twist the earbuds in place to get them to stay. Once they're in, though, they're in. We weren't at all worried about them falling out when we went for a run, cycled around town, or did a bit of violent headbanging.
That said, they're not super tiny. They do come with three different sized eargel adapters for different sized ears, but the sizes have more to do with the flange bit at the top that holds the bud in place than the bit that's actually going in your ear. That means if you have small ears (like me), they might become a smidge uncomfortable after a while. Even Josh found that his ears started feeling a bit sore after an hour or so of continued use. Maybe we just have sensitive ears??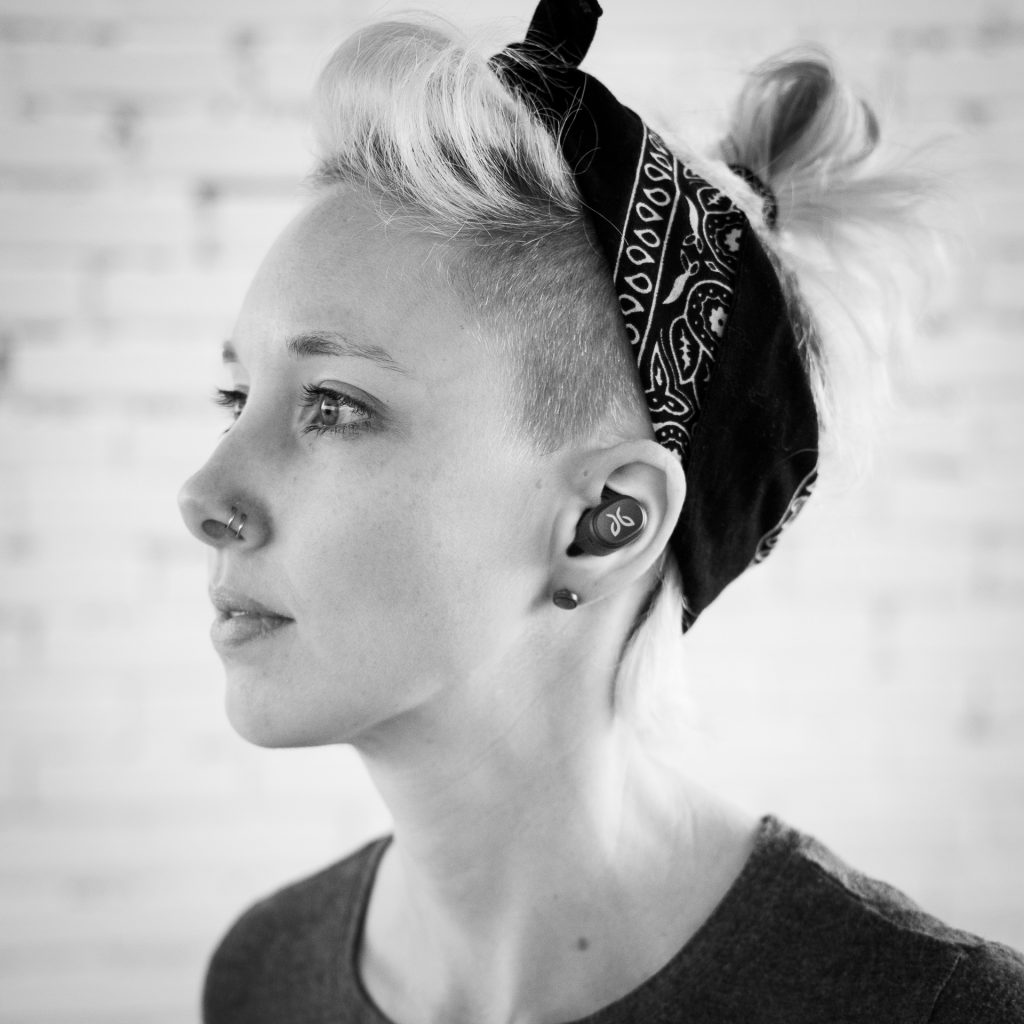 As for sound quality, it was pretty great. And the custom EQ feature in the app made it even better. It guides you through a hearing test of sorts to determine what frequencies you respond to, then creates a setting that your ears hear best. Super cool. Especially because one of my ears is super jacked up where hearing is concerned and this helps compensate for that. The earbuds also offer passive noise-canceling. That means they suction into your earholes so well they block out a significant amount of surrounding noise.
But because of that, I actually didn't like them as much as I hoped I would for phone calls. As a freelance writer, I perform lots of phone interviews with sources and subjects of the articles I'm writing and type notes while they're talking. So I use headphones with a mic while I do so. I thought it would be awesome to be cord-free while I work, but the earbuds are so suction-y that hearing myself talk sounded super weird and not altogether pleasant. Like a muffled echo of my own voice inside my head. Try plugging your ears with your fingers and talking and you'll see what I mean. It's no fun to carry on a convo like that. It was more tolerable with one bud in and one out, though, and you can use either bud on its own, so that's a win.
But this isn't a review of the best headphones for making work calls. It's a review of the best headphones for adventure.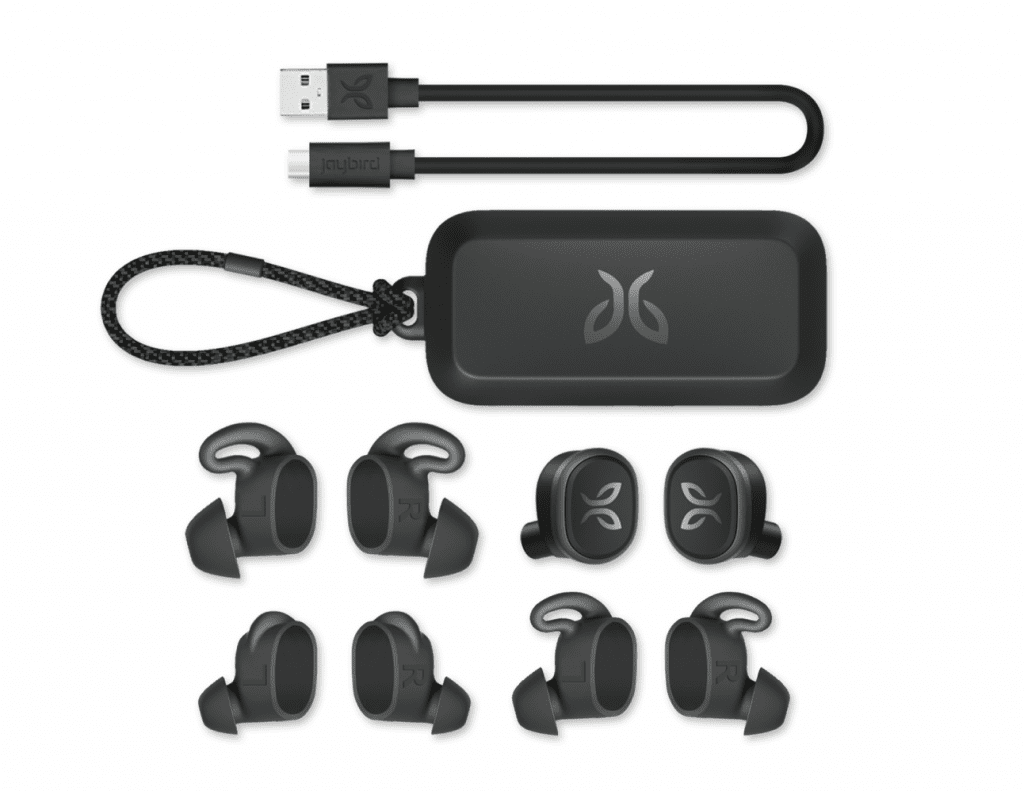 Jaybird Vista: Best Applications for the Best Headphones for Adventure
So what are these Earthproof headphones best for? We especially liked using one while cycling (on the non-road side, naturally) because there wasn't a cord to get tangled in our helmet straps. They were great at the gym where the noise isolation really tuned out obnoxiously loud grunters. And we loved that we could each take one bud on an excursion like a bike ride or plane and listen to the same thing without messing with a headphone splitter or cables. And the fact that we don't have to worry about dropping them in or around puddles/dirt/rocks? That's peace of mind you can't buy.
Well, I guess you can, because you're buying the headphones…
That said, they're secure, awesome-sounding, take-anything-you-can-throw-at-them earbuds for the outdoors. Plus, the battery lasts longer, they're cheaper, and more sport- and outdoor-oriented than those wireless Apple earbuds everyone seems to love. So get your hands (ears?) on a pair of the best headphones for adventure and wander on.
*This post contains affiliate links, which means we may receive a small commission if you treat yourself to a pair after clicking on a link.
Alisha is a freelance writer and photographer based in Austin, TX. She loves her tiny house, vegan food and experiencing the community of travel in far away places. She's also pretty sure she's addicted to coffee. alishamcdarris.com