We've reviewed a couple of lay-flat hammocks (like the Tentsile Una and Connect) in the last year, but the Haven Tent is one impressive model that combines the best of a tent and hammock into one amazing sleeping experience: an exceedingly flat sleeping surface and an exceedingly comfy hang. Wanna know what we though about it? Watch our video or read on for our full Haven Tent review!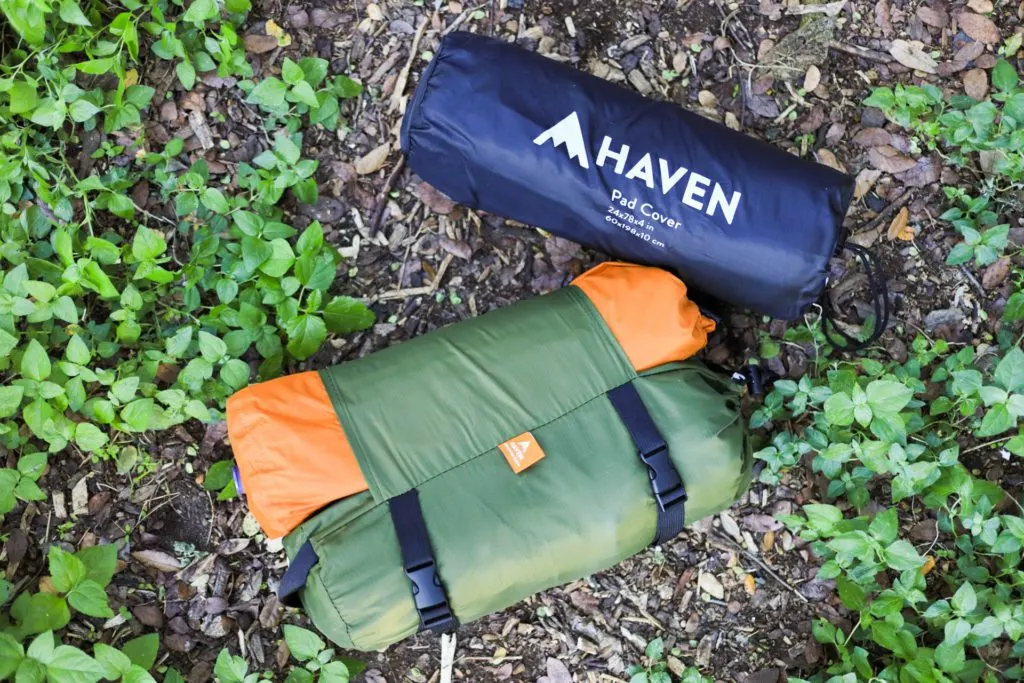 The Haven Tent: The Deets
First of all, this isn't your typical hammock. And it's obviously not a traditional tent. It's an uber comfy sleep setup that brings the comfort of your bed at home into the great outdoors. It starts with a luxurious 4″-thick, super cushy inflatable pad in either an ultralight version or insulated. We tried out the insulated cause, you know, it was cold outside when we tested it. You can even add on a neoprene cover if the overnight lows will be especially brutal.
It hangs from two trees using two straps, much like a regular hammock system. But it's rectangular instead of…whatever shape a hammock is…which is partially why it's able to offer an almost entirely lay-flat hang. The most lay-flat hang of any of these kinds of hammocks we've tested, in fact. See, there are two spacer bars, one that goes at each end of the hammock, that keep the whole thing open and structured.
It also has a removable bug net and comes with a rain fly to keep you safe from inclement weather. And yes, you can even convert it to a ground-pitch if you happen to be camping where there aren't any trees, all you need is a pair of trekking poles.
The whole package weighs just under 7 lbs. and the structure all set up measures 78″ long and 24″ wide, meaning it's fairly spacious. Plus it can hold up to 265 lbs! It's not super compact, though when it's packed up, so don't confuse it for an ultralight backpacking option.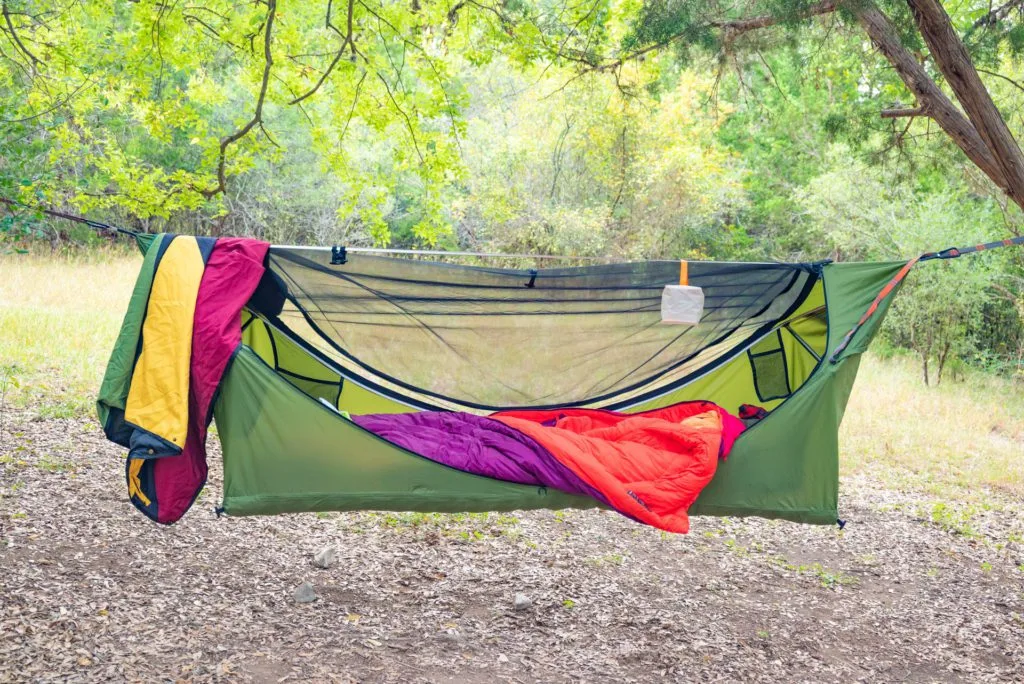 Haven Tent Setup
Setup is very similar to a traditional hammock. Find yourself two healthy, strong trees to hang from that are at least 15" in diameter. Then wrap the straps around the trees at about head height. Keep in mind for the Haven, unlike with a conventional hammock, you'll want the strap on the head side to be a bit higher since your head is heavier than your feet.
Clip the ends of the hammock into the strap loops so the ridgeline is nice and taught, then insert the spreader bars into these little pockets and inflate–not over-inflate–the sleep pad and tuck it into the corner pockets to keep it in place.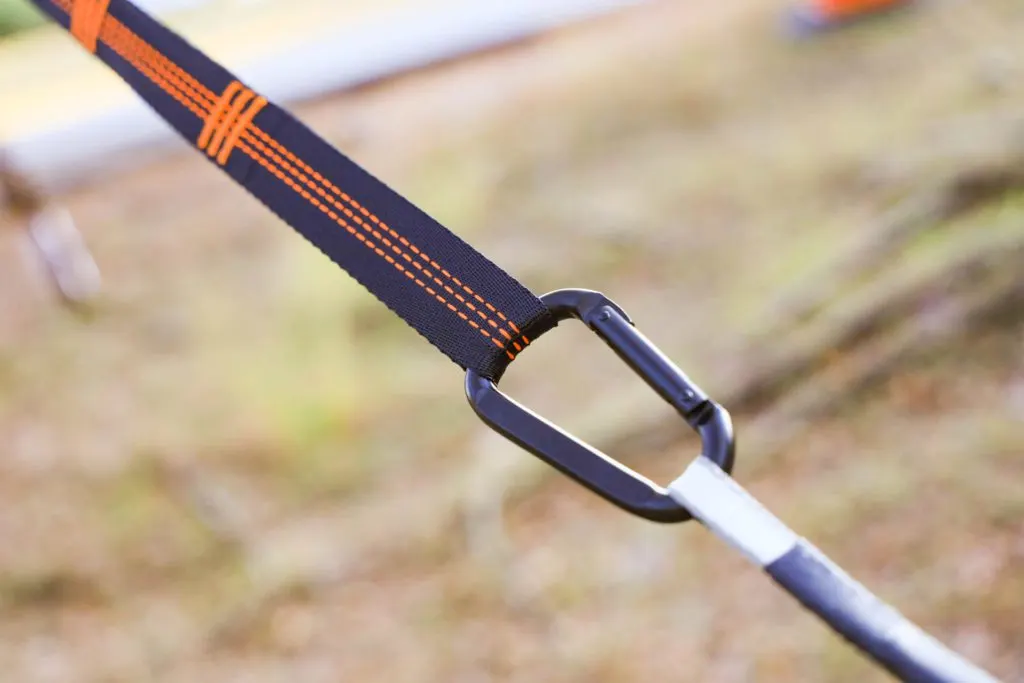 Then, if you want/need the rain fly, use the tiny carabiners that came with the Haven. There are two holes at either end of the center seam. The 'biners clip through each hole, then onto the straps. Again, make sure it's taut.
Once you have it set up, there are a few tricks to lay comfortably. In a regular hammock, you lay diagonally to get as flat as possible. In the Haven, however, all you have to do is make sure your butt–generally the heavy center of your body–is right smack bang in the middle. Move too far up or down and your head or feet are going to sag. If it doesn't feel right, shimmy yourself up or down until you feel like you're laying flat.
If you're using the fly, stake it out or roll it up with or without the bug net and you're done!
Voila! A lay-flat hammock setup ready to offer a good night's sleep.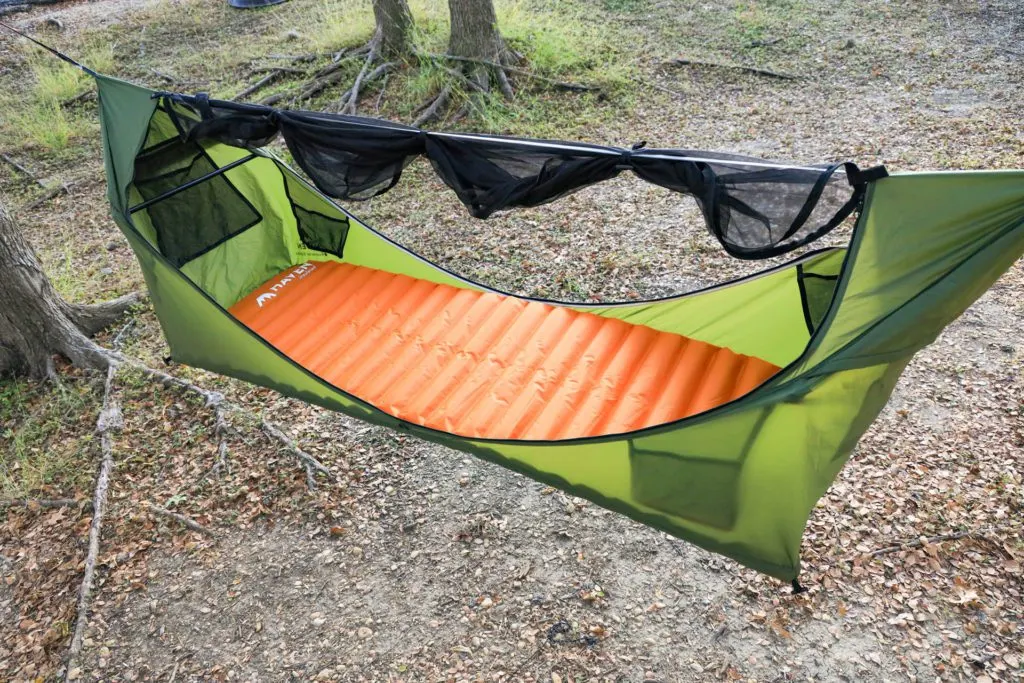 Haven Tent Pros and Cons
Want a quick breakdown of the pros and cons of the Haven Tent? We've got you.
Pros:
Super comfy sleeping surface and sleeping pad
Almost completely lay-flat
Can be converted to a ground pitch with trekking poles (no extra accessories required)
Setup is similar to a traditional hammock (hangs from two trees)
Lots of pockets
Enough room to store gear inside
Included fly makes it suitable for camping in all seasons
Cons:
Straps could be a bit wider to better protect trees and longer for more versatile hangs
It can be a little tippy and unstable if there's too much movement
Not super light or compact for ultralight backpacking
No sustainability aspects to speak of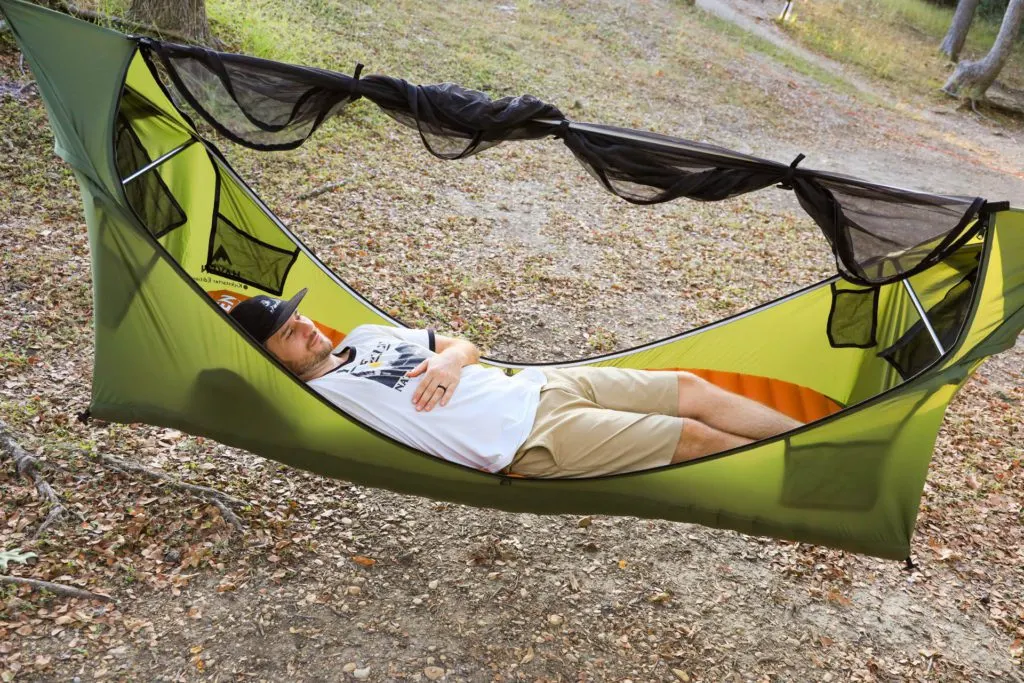 Haven Tent Review
But you want to know what we thought of the Haven Tent and how it performed, don't you?
Right off the bat, let me just say that yes, the Haven is as supremely comfy and offers a surprisingly good night's sleep as it claims. And, I haven't ever felt the need for a lay-flat hammock because I don't have a problem sleeping in a conventional hammock (it's certainly more comfortable than sleeping in a tent on the ground). But you know what? The Haven was surprisingly comfy and really did let us lay almost entirely flat. I enjoyed the very plush inflatable pad and even stayed cozy all night long in cooler temps.
I also really appreciated the oversized pockets on both ends of the hammock. There are three on each end! This lets you choose which way you'd like to point your head, sure, but they also offer plenty of storage space for phones, maps, books, headlamps, all the trash you forgot to take out of your pockets at the end of the day…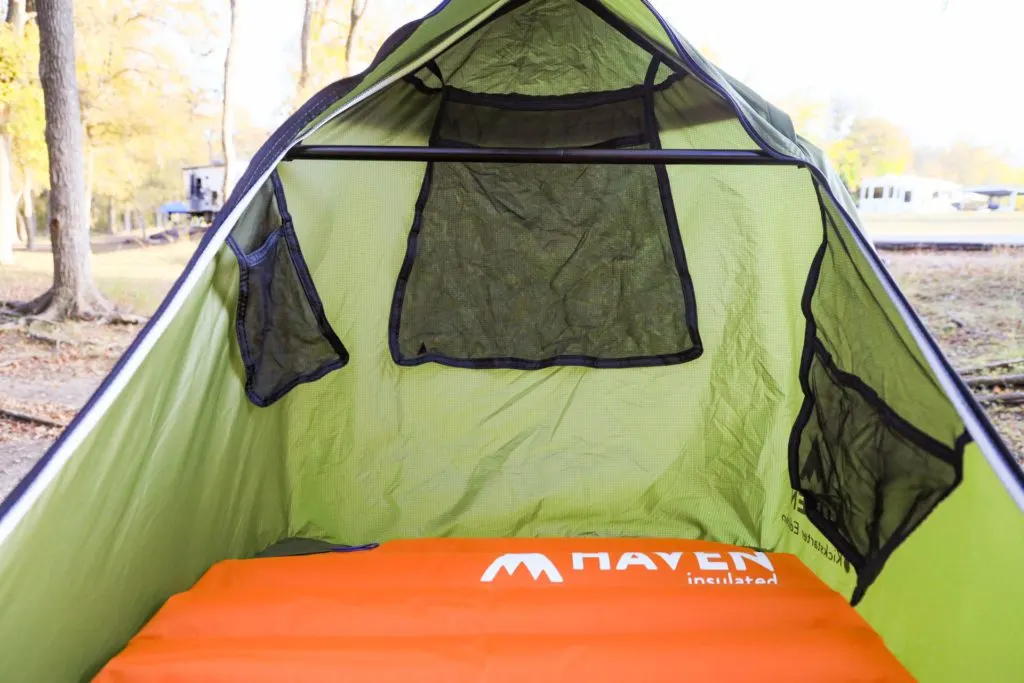 And I felt very protected from the elements in this thing. Wind, water, cold, I was feeling pretty cozy inside. So was all of my stuff. Yeah, I prefer to clip my gear like backpacks and shoes and such outside my tent or hammock if the weather is good, but the sturdy ridgeline is actually designed to hold all that stuff inside the Haven if it's super cold or supposed to rain or snow so you can clip it inside with you and keep it safe and dry.
In fact, I quite liked how much space there was inside. Sure, I'm a relatively small person, but anyone up to 78" and 285 lbs. can fit comfortably in here. There's plenty of headroom and you can even move around, prop yourself up, roll over…
But that leads me to the one issue I did have with the Haven: because of those spreader bars that help create all that extra room and help the Haven lay flat, it's not super stable. If you're not careful and you sit up and shift your weight too much to one side, you might feel like it's gonna just flip you right out.
Not gonna lie, if it wasn't for the bug net, I would have fallen out of the Haven at least once or twice. Because if you're trying to change or get in and out of your sleeping bag, or fish for the headlamp you dropped, and your body weight isn't evenly distributed, the Haven gets very tippy.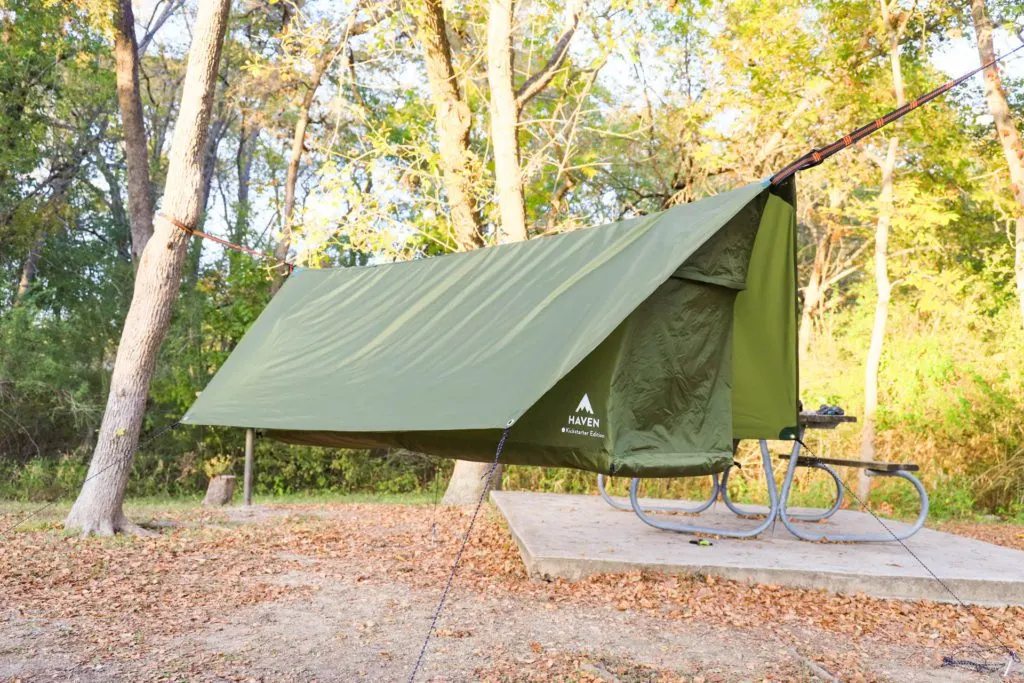 That said, once you're situated, just rolling over or shifting positions in the middle of the night didn't cause any of that, so once you're laying down and sorted, you should be good.
But one other thing I do really love about the Haven is how easy it is to set up as a bivy on the ground if there are no trees around. Some hammock tents require you to purchase a separate ground setup kit, but all you need for the Haven is a pair of trekking poles, which you probably already have anyway. And that solves the problem so many hammock campers have to contend with: what do I do if there aren't any trees, say, in the desert or on a rocky cliff? The Haven has it sorted.
The only thing we'd really like to see improved upon is the brand's sustainability efforts. There aren't many to speak of yet, but according to Haven, they're working toward cleaner production and materials and setting up way to donate to conservation efforts. In the meantime, they're focusing on reuse and maintenance, having customers send in damaged tents on Haven's dime so the brand can repair them, then donate or sell the tents as discounted refurbished items. It's definitely a start and managing waste is certainly important. In the future, we'd love to see the Haven made out of recycled materials or solution-dyed fabrics to make it a more earth-friendly option.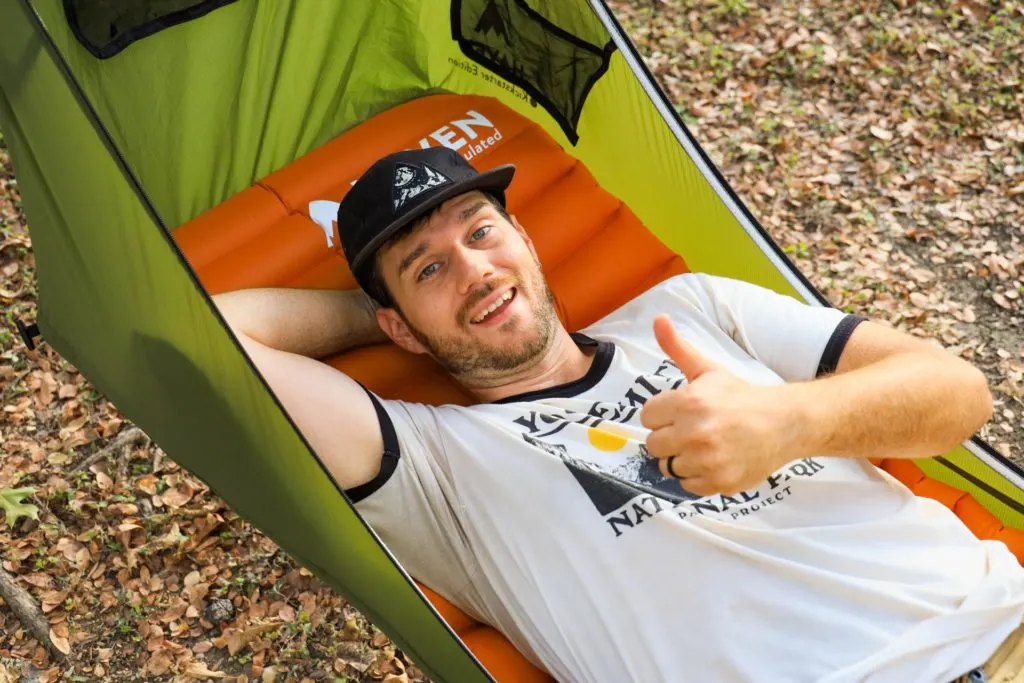 Bottom Line
So who's the Haven for? Pretty much anyone who finds sleeping in a tent on the ground uncomfortable but still wants a lay-flat experience and enjoys a bit more structure and space than a traditional hammock offers. Campers who want a super comfortable sleeping surface will love the Haven, though backpackers will find it a bit heavy for a one-person setup at nearly 7 lbs. with the pad. And it's obviously fairly bulky. And if you have really poor balance, maybe consider a different sleep setup. But for everyone else, it's a very comfortable, cozy lay-flat hammock for the outdoors that feels a lot like curling up in your own bed at home. Which is always a plus.
Want to check out the Haven for yourself? Find it here and use code TERRADRIFT for $20 off your purchase! Wander on!
Alisha is a freelance writer and photographer based in Austin, TX. She loves her tiny house, vegan food and experiencing the community of travel in far away places. She's also pretty sure she's addicted to coffee. alishamcdarris.com